This is not the fastest broccoli cheese soup you'll ever make, but it just might be one of the best. Time and a little bit of effort are all that is needed to take this simple soup from a kitchen staple to a family favorite.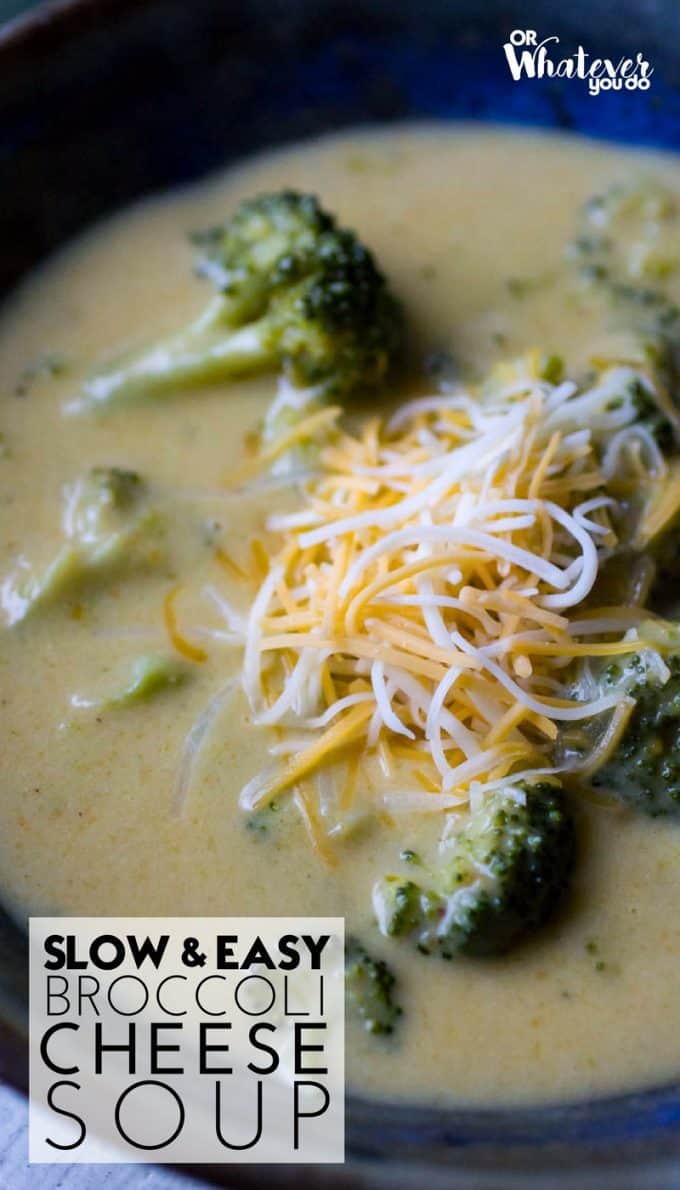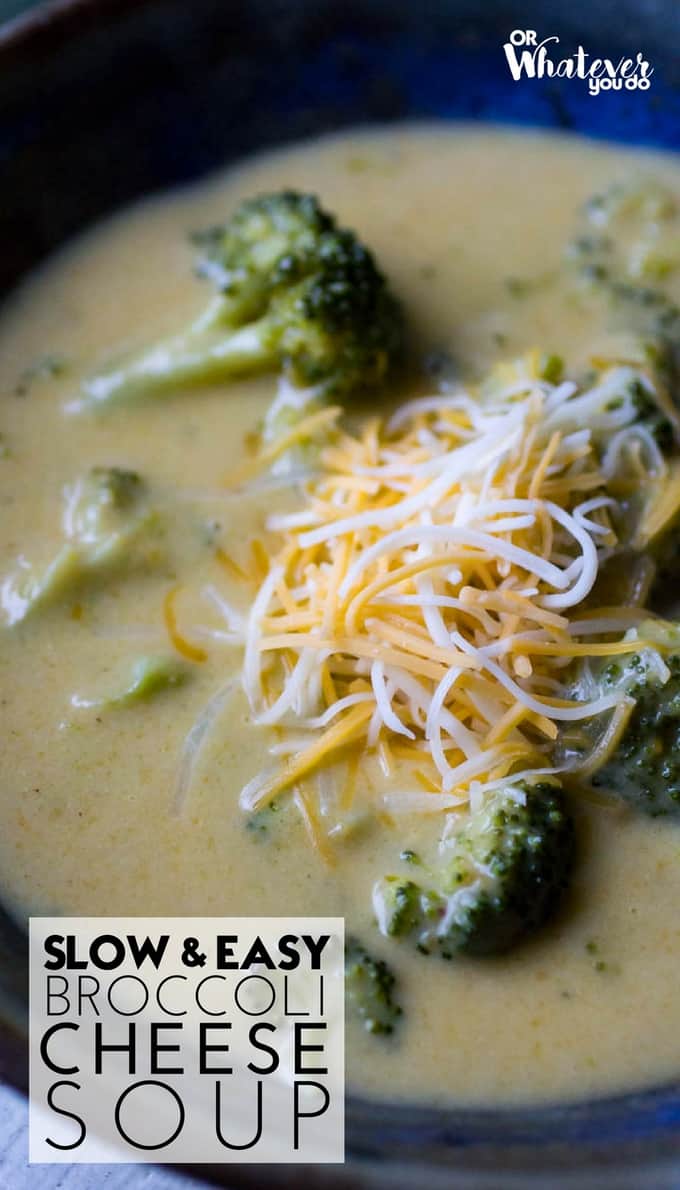 Creamy Broccoli Cheese Soup
I'm not saying there is not a legit place in your kitchen for the ultra-quick version of this soup.
Heck, I'm not even saying there's not a place for the pre-made or canned varieties. I LOVE me some Costco Broccoli Soup and use it pretty regularly to throw together a weeknight no-thought broccoli noodles.
I have a couple of cans of various "cream-of" soups in my cupboard, right now, in fact. (Side note: make my homemade cream of chanterelle next time you find some of those in the store. OH.MY.GOSH.)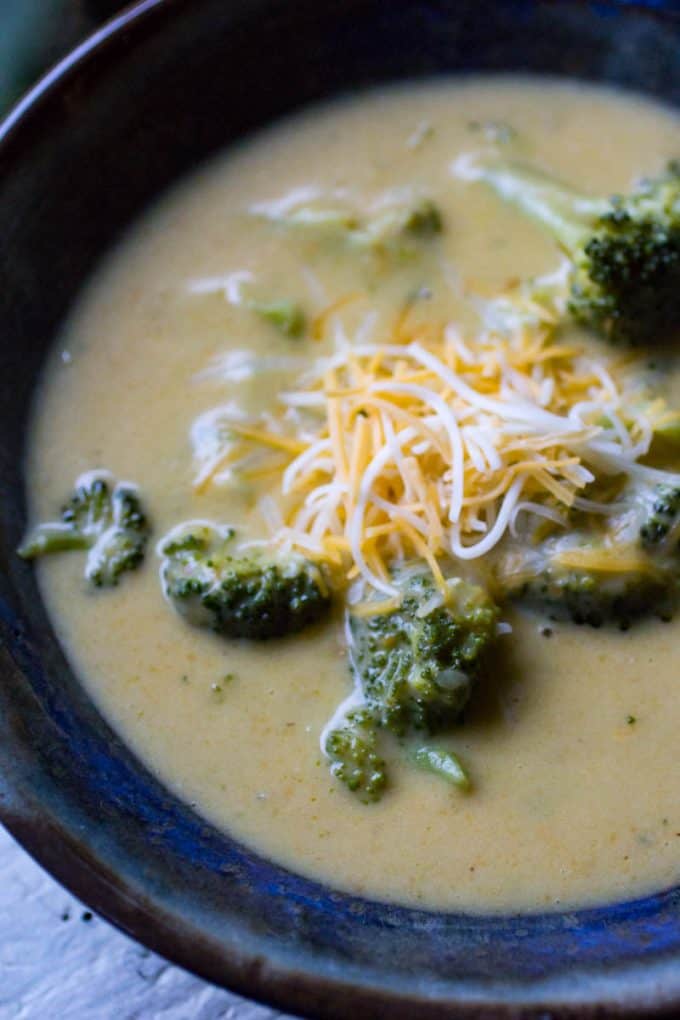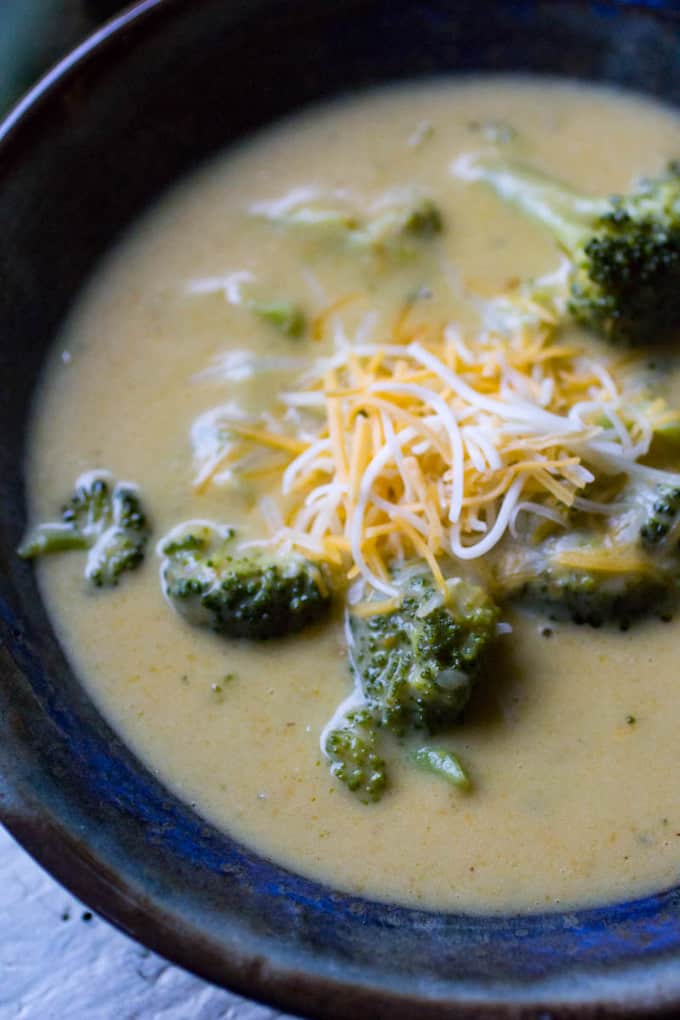 All I am saying that is if you LOVE this kind of soup, you are really going to want to try this particular version because it might just be the best one you've ever had.
How to Make Great Cheesey Broccoli Soup
The key is…time.
Time on the broth.
Time to make sure it is blended and smooth.
Time to properly brown the roux.
Sometimes that little bit of effort can really have an impact on the final dish, and this is one of those times.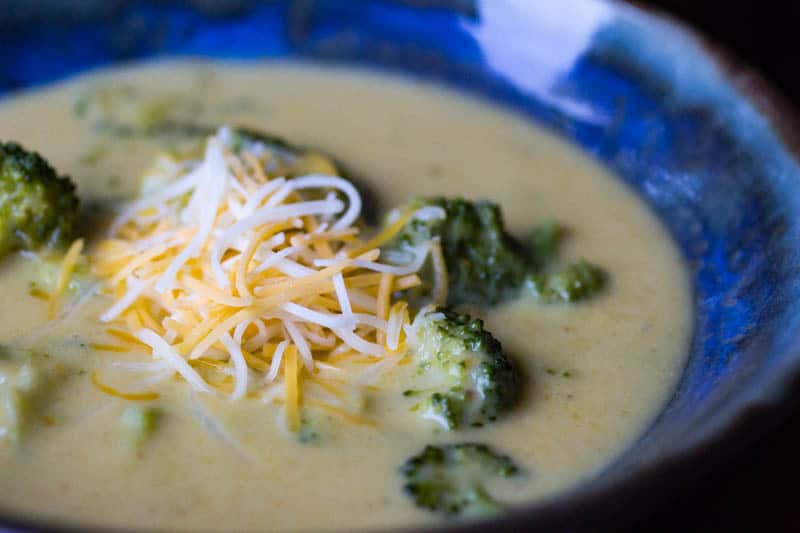 How to Make GOOD Roux
I don't know about you, but I get a really weird satisfaction from having a really beautiful, smooth, golden brown roux that is just PERFECT. It smells a little bit nutty, but not quite to the toasty stage yet. It is a must in all of my cream soups that are thickened a bit. Chowder especially, along with this broccoli cheddar.
When I was growing up, the only roux I'd ever seen was a raw roux. Just flour and cold water mixed up and poured in and then simmered to thicken the gravy.
That worked pretty well, but I remember there were times when no one wanted to make *enough* gravy because to make enough for an army, thick enough to be called gravy, it took a LOT of that raw flour slurry. That can lead to bland gravy, and since we are all obsessed with sauce and gravy up there THAT CANNOT HAPPEN.
When I finally learned that you could also make roux with FAT, and cook it? That was a big game-changer in my cooking.
BIG TIME.
A really good beef fat roux thickened beef gravy is probably my most favorite meal ever.
Can I Double the Recipe?
We are always cooking for a crowd here, as most of you know, but even so, I will still double the recipe pretty often so we have some for leftovers or the freezer. Make some for a new mom in your life, or an old mom that might just need a night "off" from cooking.
Double the batch and save some an easy dinner later in the week. Broccoli noodles continue to be a family favorite here. Add a crunchy topping and you've got yourself a good old-fashioned casserole.
Homemade milk rolls would be a perfect pair for this hearty, comforting soup! If you are in the mood for a great potato soup, this Rustic Potato Soup from Vegetarian Mama will hit the spot!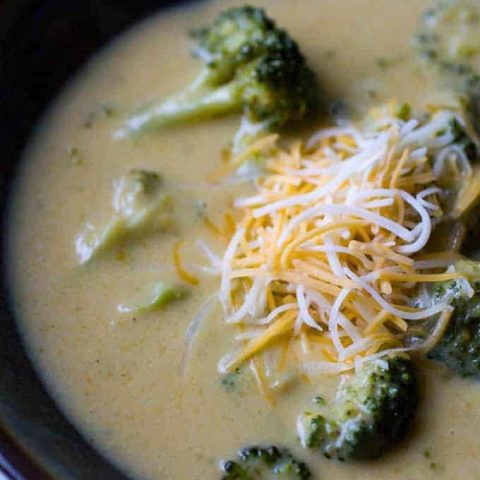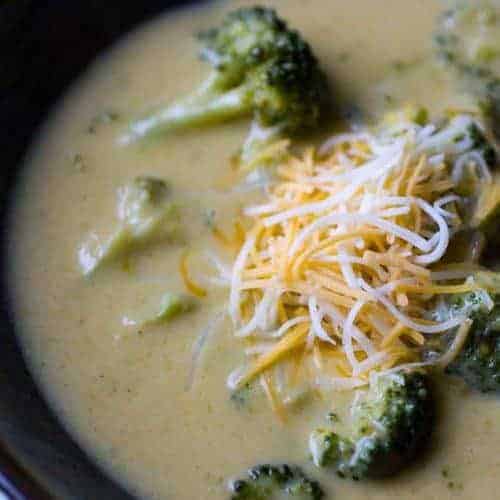 Creamy Broccoli Cheese Soup
Total Time:
1 hour
10 minutes
This is not the fastest broccoli cheese soup you'll ever make, but it just might be one of the best. Time and a little bit of effort are all that is needed to take this simple soup from a kitchen staple to a family favorite.
Ingredients
Roux
1/2 cup salted butter
1/3 cup all-purpose flour
Soup
1/2 cup onion, chopped
1/3 cup celery, chopped
1/2 cup carrots, chopped
3 cups broccoli stalks
2 quarts chicken stock
1 1/2 teaspoons salt
1/2 teaspoon garlic powder
1/4 teaspoon pepper
4 cups broccoli florets
1/2 cup cream
Instructions
Roux
Melt the butter in a small non-stick skillet. Whisk in the flour, and cook over low to medium-low heat, stirring frequently, until the mixture is golden brown. This can take 20-30 minutes sometimes. Set aside when done.
Soup
In a medium to large stock pot, place all of the soup ingredients except for the florets and the cream.
Simmer over medium heat until all of the vegetables are soft. Using an immersion blender, blend until completely smooth.
Stir the roux into the soup and add the broccoli florets. Simmer until the mixture is slightly thickened, frequently stirring, for about 5 minutes.
Reduce heat to low, and add the cream and slowly stir in the cheese. Serve immediately with crusty bread.
Nutrition Information:
Amount Per Serving:
Calories:

520
Saturated Fat:

23g
Cholesterol:

117mg
Sodium:

1267mg
Carbohydrates:

20g
Fiber:

2g
Sugar:

6g
Protein:

23g
Nutrition data provided here is only an estimate. If you are tracking these things for medical purposes please consult an outside, trusted source. Thanks!