Our lemon pepper smoked salmon will give you a bright fresh smoked salmon taste, and all with a fresh lemon pepper seasoning. You will find this lemon pepper smoked salmon recipe is simple to follow, and you will swoon over the final product.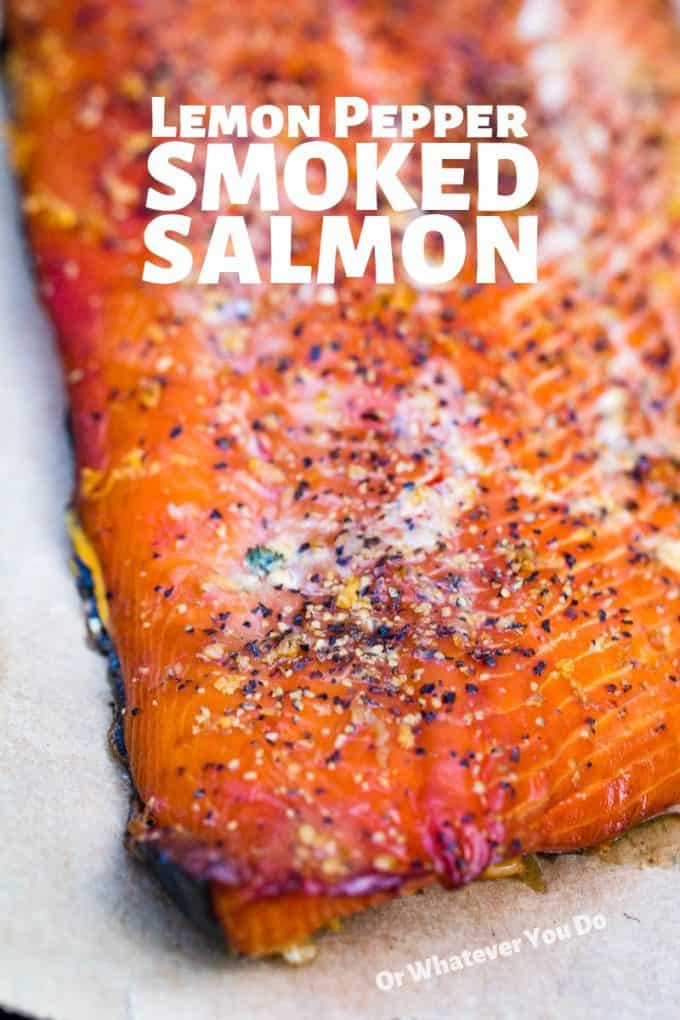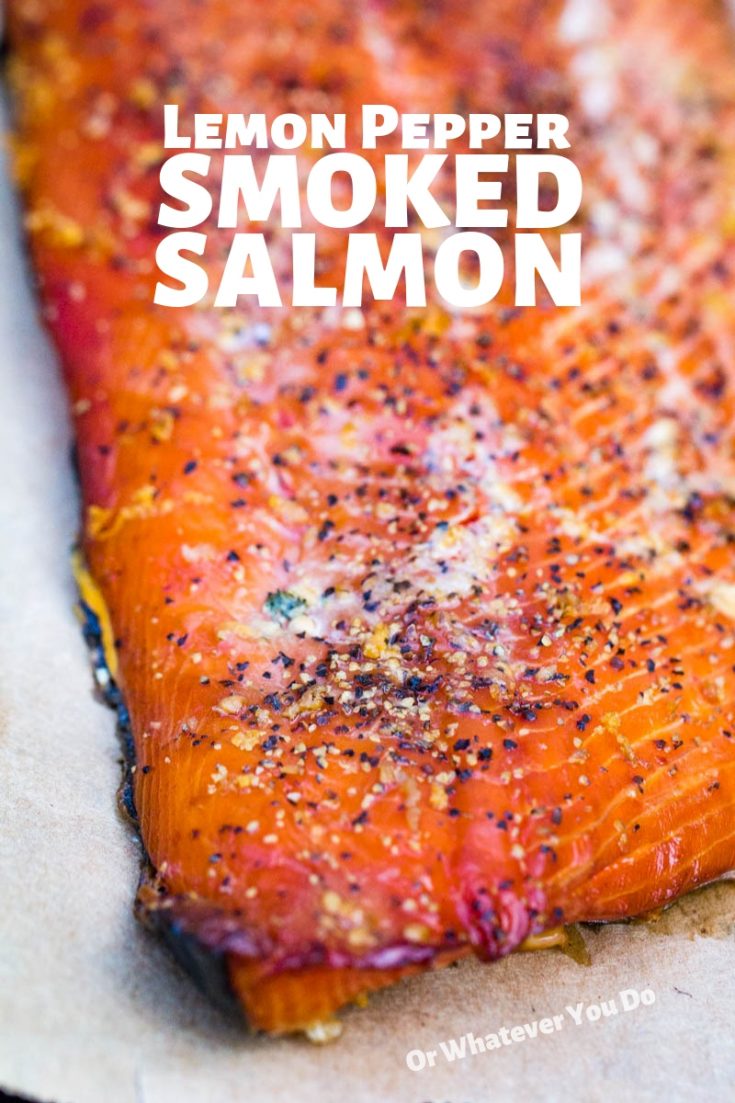 Lemon Pepper Smoked Salmon
We love salmon around here. It is so delicious, and here in the Pacific Northwest, it is also insanely fresh.
Smoking salmon on your Traeger Grill is always a delicious way to change up from an oven-baked or straight-up grilled salmon recipe, and you can use the smoked salmon in so many different ways.
More Easy Traeger Recipes here!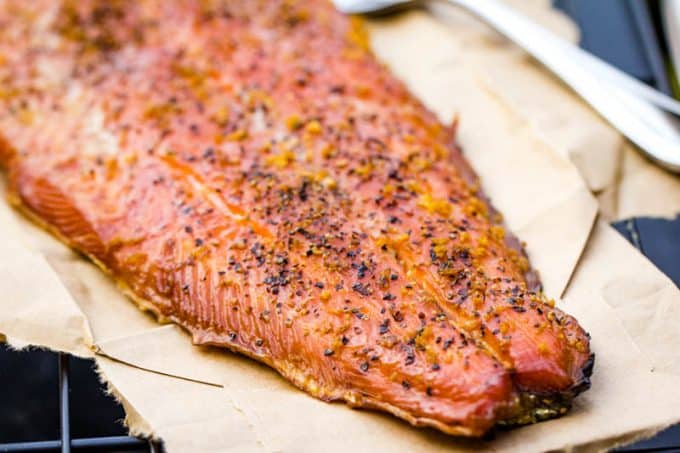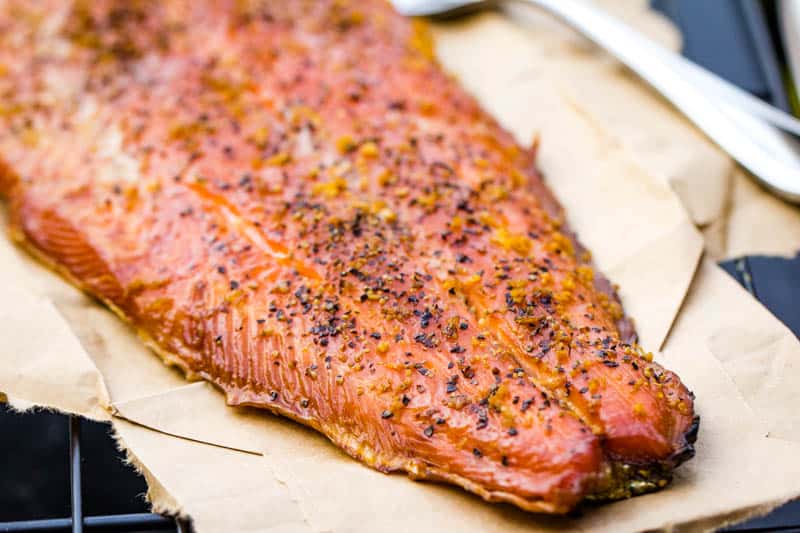 Hot Smoked Salmon
If you want to learn how to make homemade lemon pepper smoked salmon, you came to the right place.
Smoking salmon at home is easy, especially if you have a pellet grill. We smoke salmon a few times a month around here, and there isn't much better as a snack or to bring out for your company than fresh, home-smoked salmon.
Serve it with crackers and some local cheese, briny olives, and a glass of wine, and you've got yourself one hell of a charcuterie board.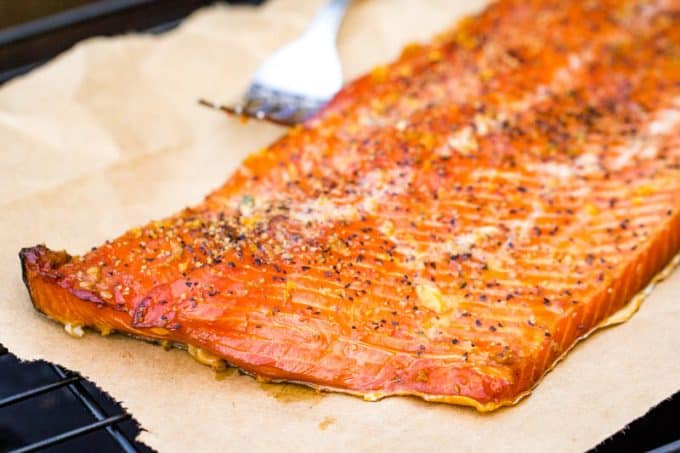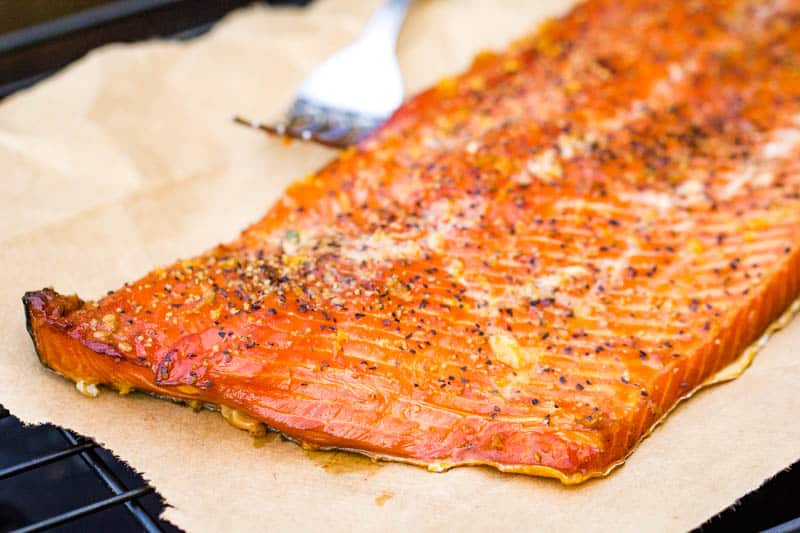 How to smoke salmon safely
Hot Smoked Salmon is completely safe as long as you follow good food handling practices, and ensure that you are keeping things clean, sanitary, and cooking it properly.
Make sure your salmon hits 150° for at least 30 minutes, for instance, and when you are cleaning and prepping the fish it is very important to keep the area clean and prevent cross-contamination.
Once the fish is smoked, it is equally important to take precautions to prevent cross-contamination after the cooking is over.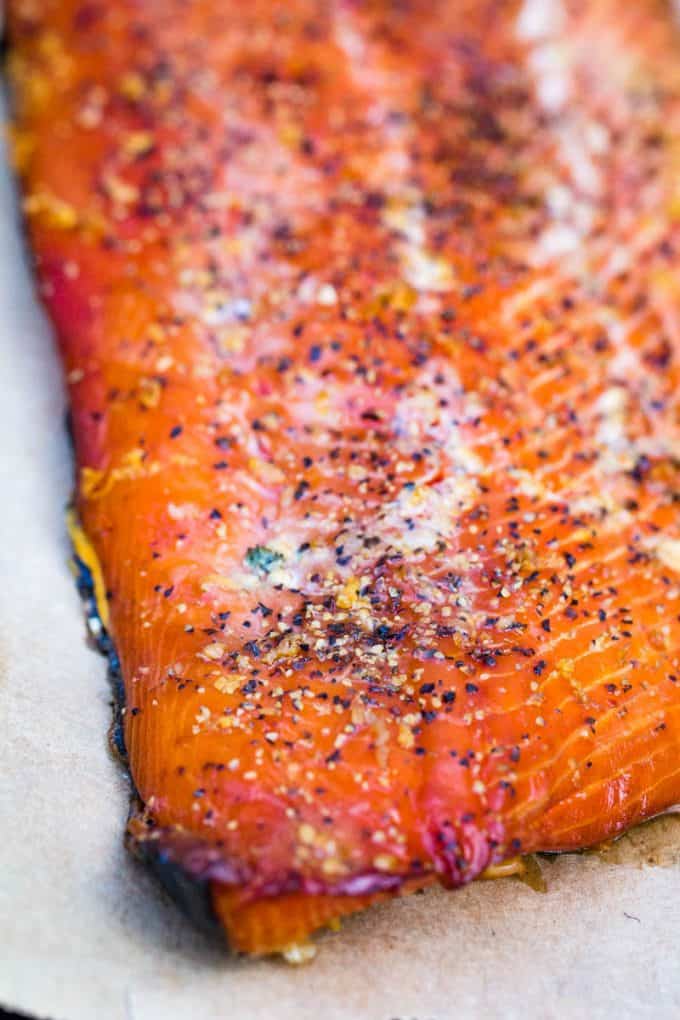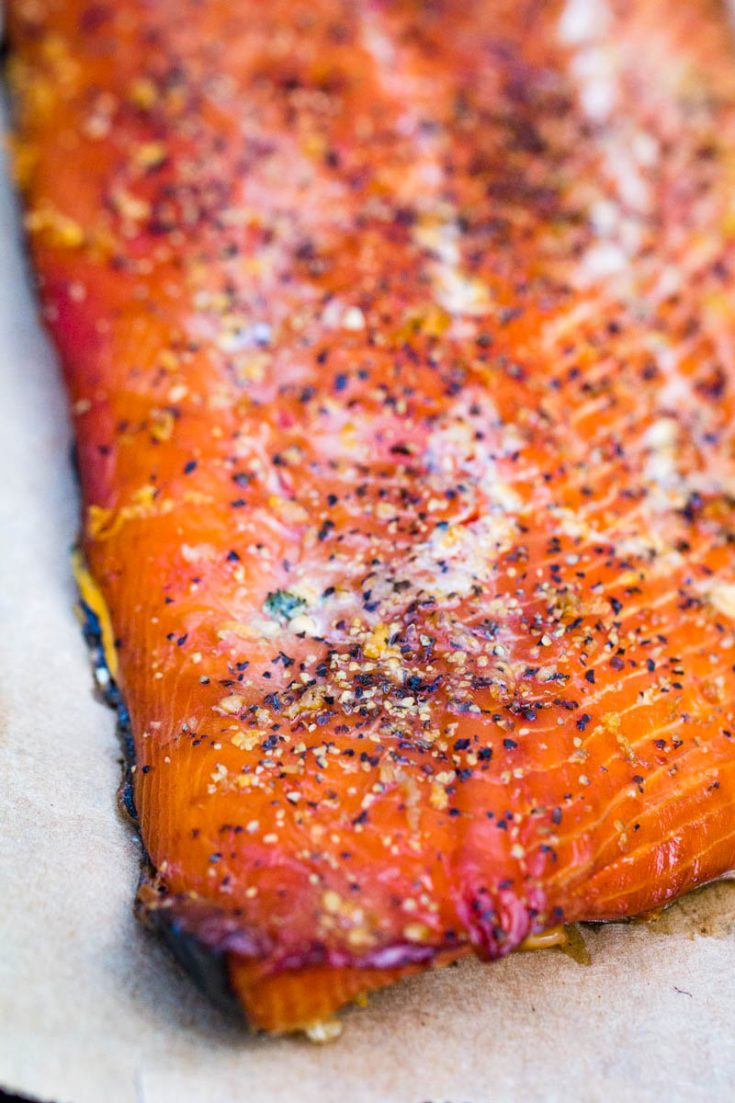 Best Way to Smoke Lemon Pepper Smoked Salmon
Around here, we use a Traeger grill. Traegers are electric powered grills that use wood pellets to feed a firebox that burns real wood.
That's how you get that real wood smoke taste without the actual work that goes into using actual logs.
It starts up with the turn of a dial, is very easy to use, and you can adjust the temperature by turning that same dial, so it can maintain that low and slow heat that is needed for an excellent smoked salmon.
Being able to monitor your temperature is key to smoking salmon. This is a hot smoked salmon recipe, so there is some actual cooking involved and not just smoke and cure. You don't want it too high though or the end results will be more like grilled salmon than smoked salmon.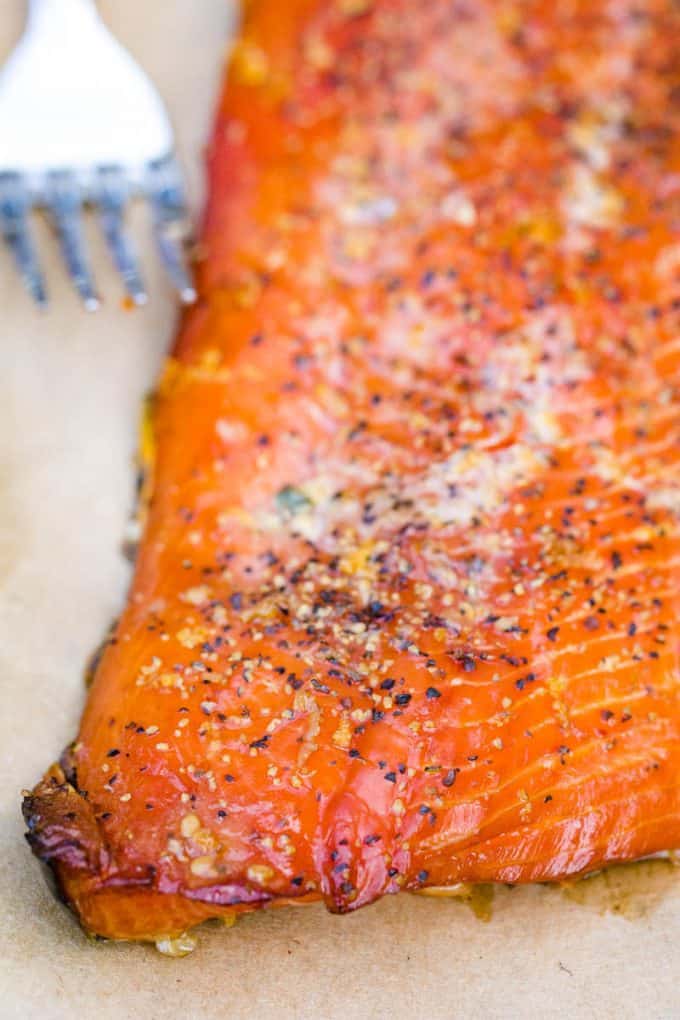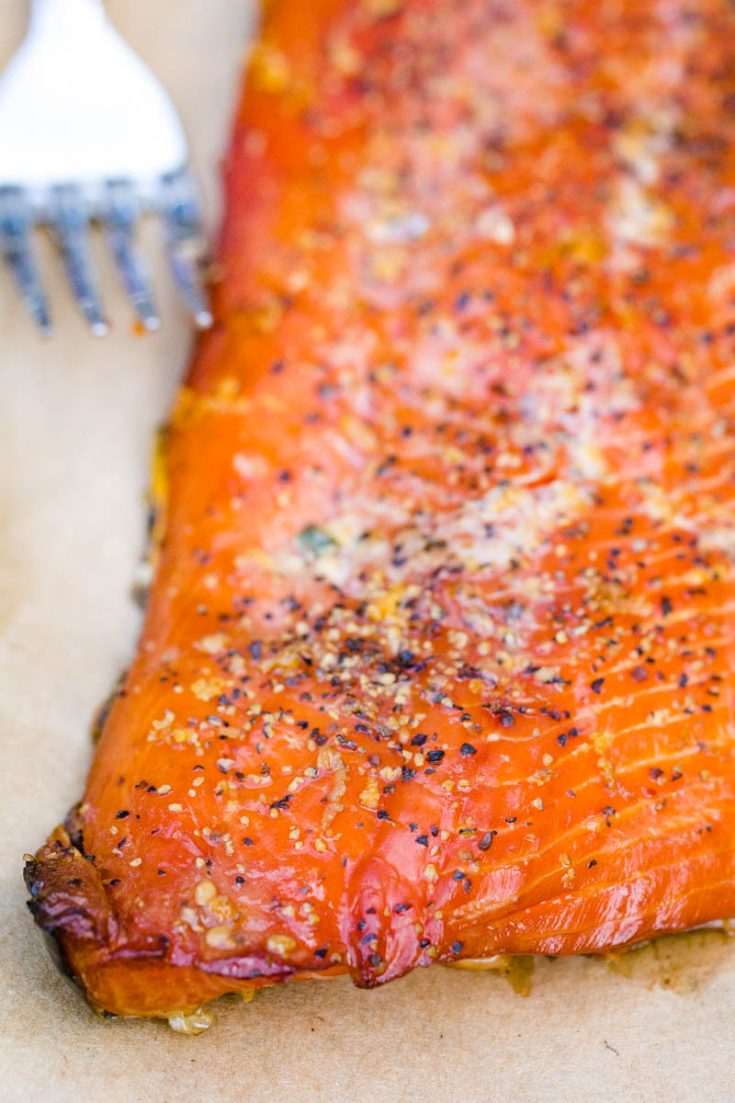 Should I Leave the Skin On For Smoked Salmon?
We ALWAYS leave the skin on the fish when we smoke salmon and trout. It helps keeps the fish together, and once the salmon is smoked it flakes right off of the skin.
Removing it is WAY harder than just leaving it, and leaving it on actually makes a better final result, so my advice is to leave well enough alone, and leave that skin on the fish.
How Do You Store Smoked Salmon?
Allow your smoked salmon to cool completely, once it is done cooking. Once your lemon pepper salmon has cooled, you can wrap in plastic wrap and store it in the fridge. It will last around a week in the fridge, wrapped up.
Or, if you have a vacuum sealer, you can store your salmon in the fridge vacuum packed for up to 2 weeks.
Can You Freeze Smoked Salmon?
Yes!
Freezing is the ideal way to store smoked salmon if you are not going to eat it in the first couple of days.
Tightly wrap your salmon and place it in a freezer bag, or vacuum seal for the best results.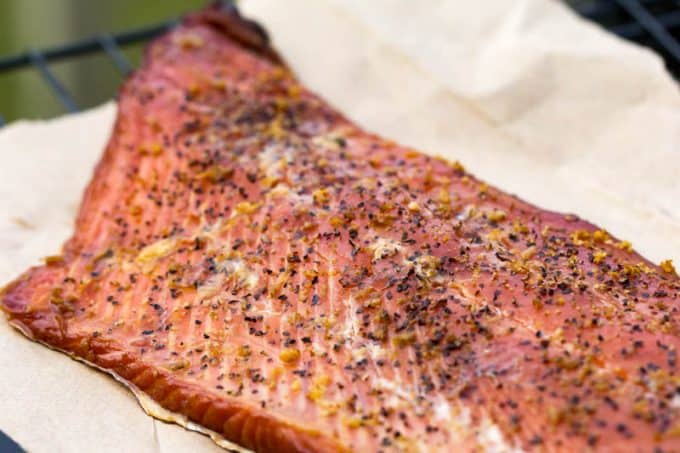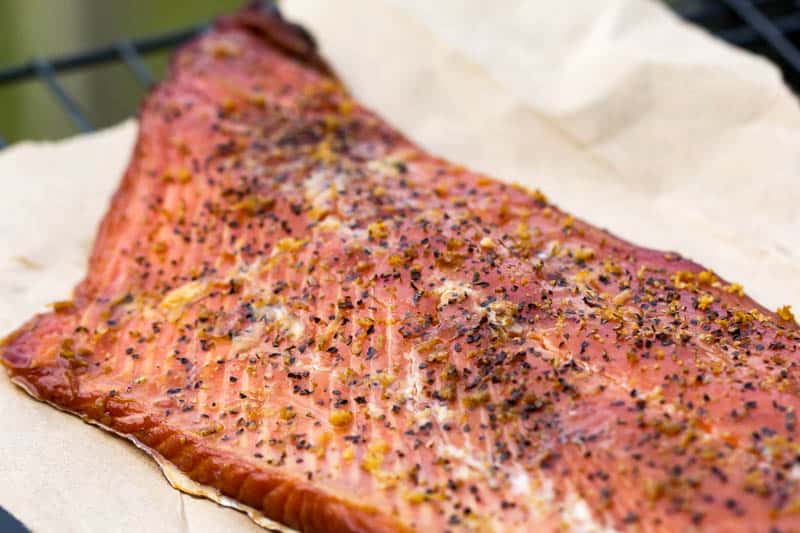 More great fish recipes to try
Looking for other ways to serve up salmon or fish to your family and friends? Here are some great recipes to whip up and give a try!
Fish is such an incredible protein to serve up regularly. It is loaded with vitamins like vitamin D, B2, rich in calcium, omega-3-fatty acids, iron, zinc, potassium and more.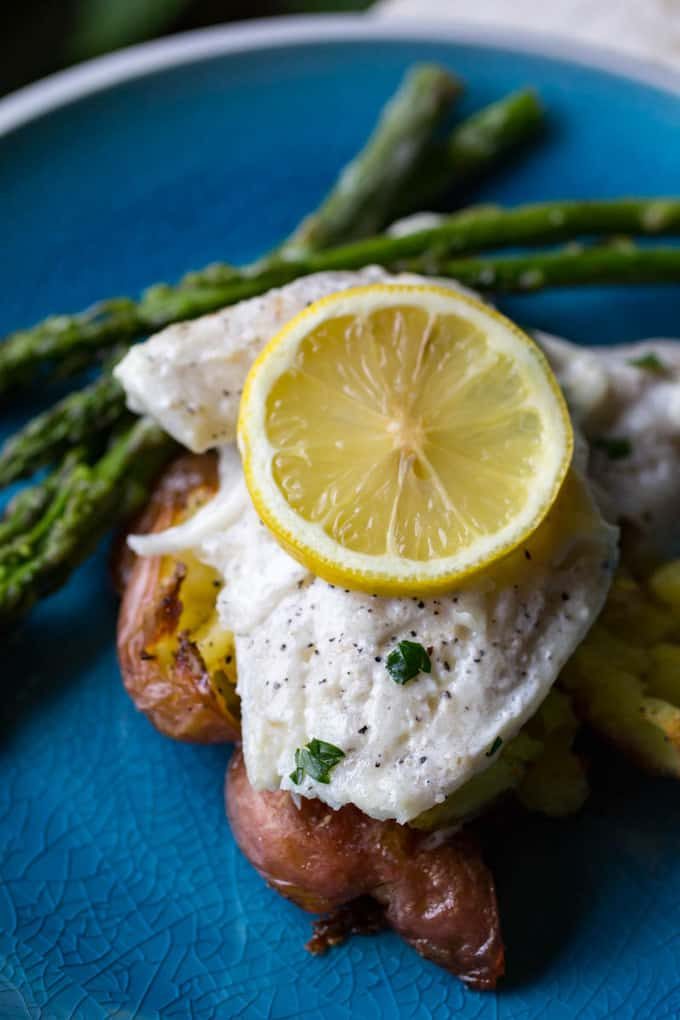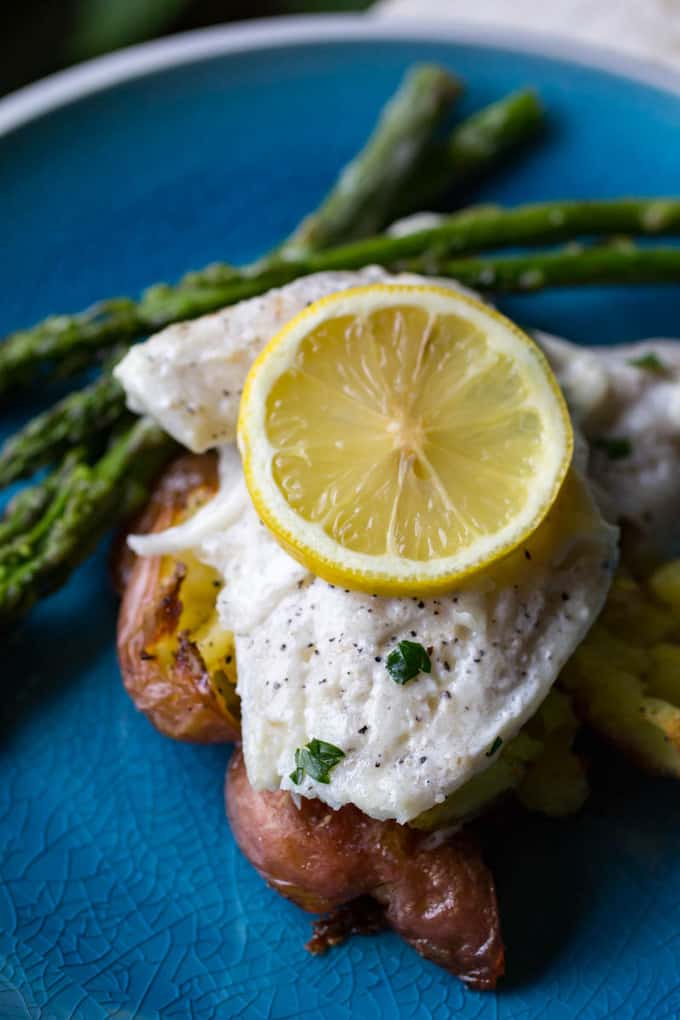 How Do You Eat Lemon Pepper Smoked Salmon?
The possibilities are endless when it comes to how to eat your salmon. From flaking it and putting on top of a cracker, on top of a salad, topping a bagel with cream cheese and some of this delicious hot smoked salmon, or slice and serve with a side of vegetables and dinner rolls.
You could easily use this in my Greek Salmon Orzo Salad as well. Typically this recipe uses grilled salmon, but flaked smoked salmon would be a perfect substitution.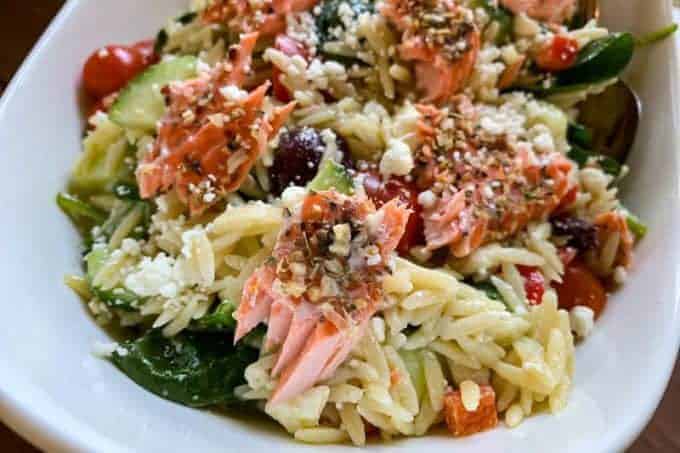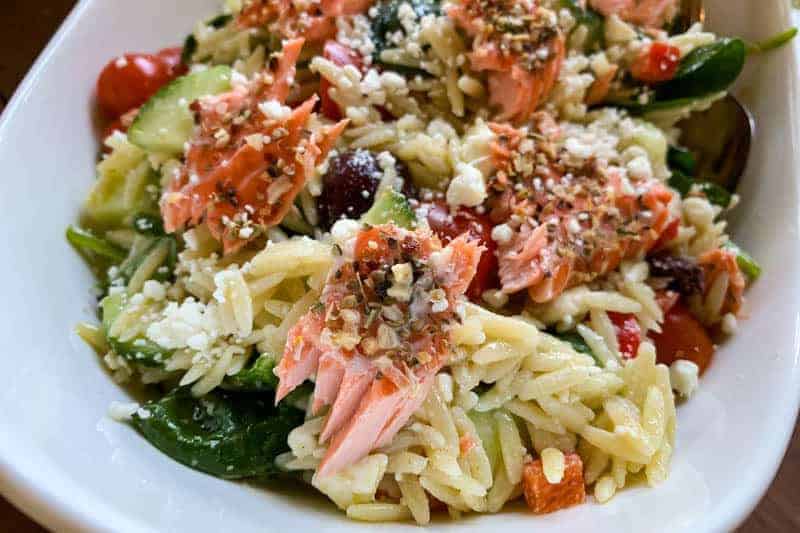 Is Smoked Salmon Healthy?
Smoked salmon is an excellent source of vitamin D, B, and protein along with magnesium. Now with smoking salmon, you add in a lot more sodium to your diet, so you need to remember that as you dive in.
But the smoking process still gives you those healthy omega-3-fatty acids that are great at lowering your risk for heart disease, Alzheimers and more.
Give this lemon pepper smoked salmon a try if you enjoy smoked salmon this will be a sweet treat.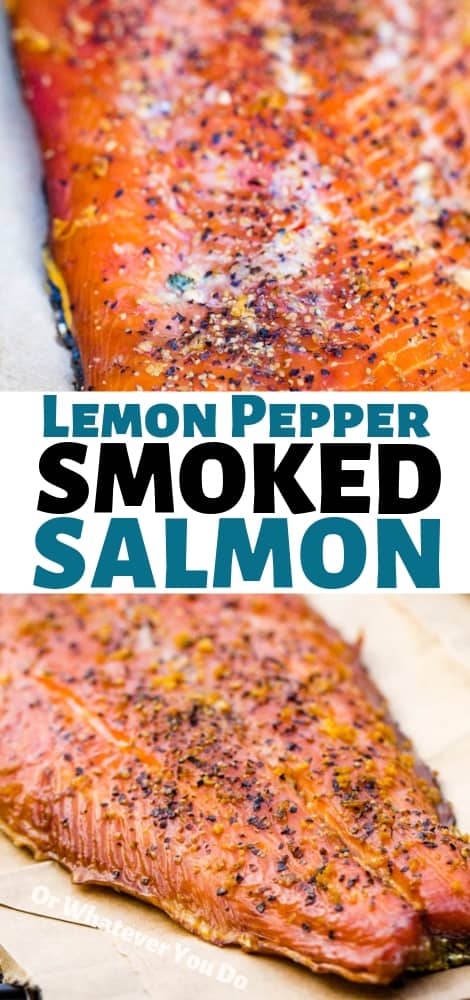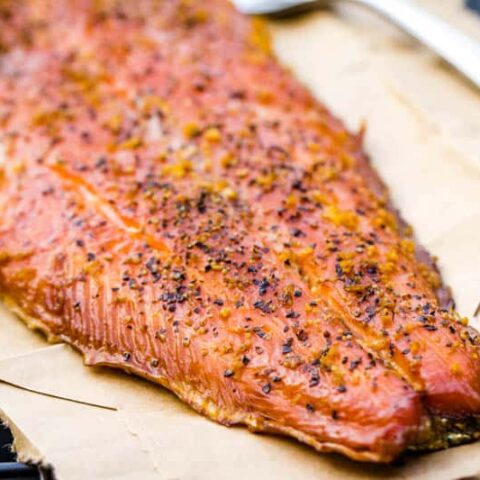 Lemon Pepper Smoked Salmon
Total Time:
20 hours
15 minutes
Fresh salmon is brined and then smoked on a wood-pellet grill with fresh lemon pepper seasoning!
Ingredients
Brine
4 cups water
1 cup brown sugar
1/3 cup kosher salt
Seasoning
Zest from 1 large lemon
Freshly ground pepper
Instructions
Make sure if you are using frozen fish that it is completely thawed before brining. Remove pin bones with tweezers.
Combine brine ingredients until the sugar is dissolved, and place into a large ziplock baggie or large covered container. Place your cleaned, thawed salmon into the brine, and refrigerate for 16 hours.
Remove the salmon from the liquid, rinse, and pat dry with paper towels. Let sit out in a rack in the fridge, uncovered, for 2-4 hours for the pellicle to form. DO NOT SKIP THAT STEP.
Season the salmon with the lemon zest and pepper.
Turn your smoker to smoke to get the fire started, and place the salmon on a cooking rack that's been sprayed liberally with cooking spray.
Place the rack on the smoker, and close the lid.
Smoke for 4 hours, and don't let them smoker get above 180° or fall under 130°.
Remove from the grill and serve warm with crackers, or let it cool to room temp and then wrap tightly and keep in the fridge for up to a week. You can also vacuum seal and freeze.
Recommended Products
As an Amazon Associate and member of other affiliate programs, I earn from qualifying purchases.
Nutrition Information:
Yield:

10
Serving Size:

1
Amount Per Serving:
Calories:

166
Total Fat:

6g
Saturated Fat:

1g
Trans Fat:

0g
Unsaturated Fat:

4g
Cholesterol:

29mg
Sodium:

3772mg
Carbohydrates:

19g
Fiber:

0g
Sugar:

18g
Protein:

10g
Nutrition data provided here is only an estimate. If you are tracking these things for medical purposes please consult an outside, trusted source. Thanks!