Garlic Dill Smoked Salmon is made with fresh-caught Silver (Coho) Salmon, and is smoked over a live wood fire on my Traeger grill. Fresh garlic and dill make this a delicious option for your next charcuterie tray or appetizer table.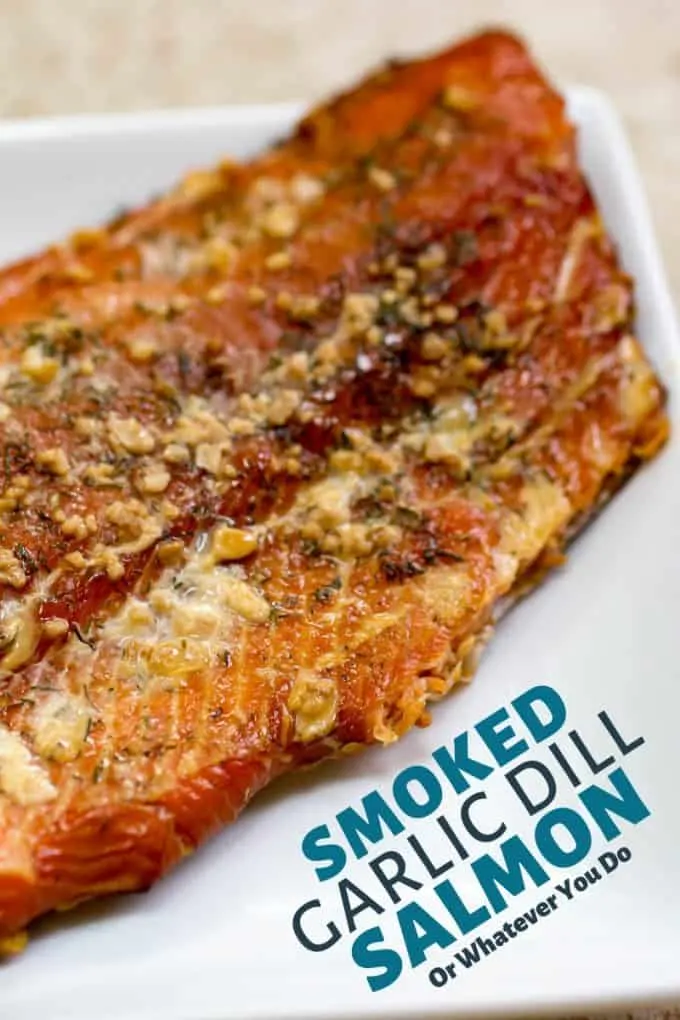 Garlic Dill Smoked Salmon
This recipe is very similar to our standard smoked salmon recipe, but we wanted to change up the seasonings a bit. Garlic and dill are both fabulous matches for fresh salmon.
You don't have to be a fisherman to enjoy fresh salmon, though it does help. You can buy salmon at your local grocer to use in this recipe, and you can even buy frozen filets and just thaw before the brine phase to simplify things even more.
Smoking salmon is a great way to preserve your catch and enjoy it any time of the year. We even freeze some of our smoked salmon in case we have unplanned guests that we'd like to bring out some snacks for!
Get all of my Easy Traeger Recipes here!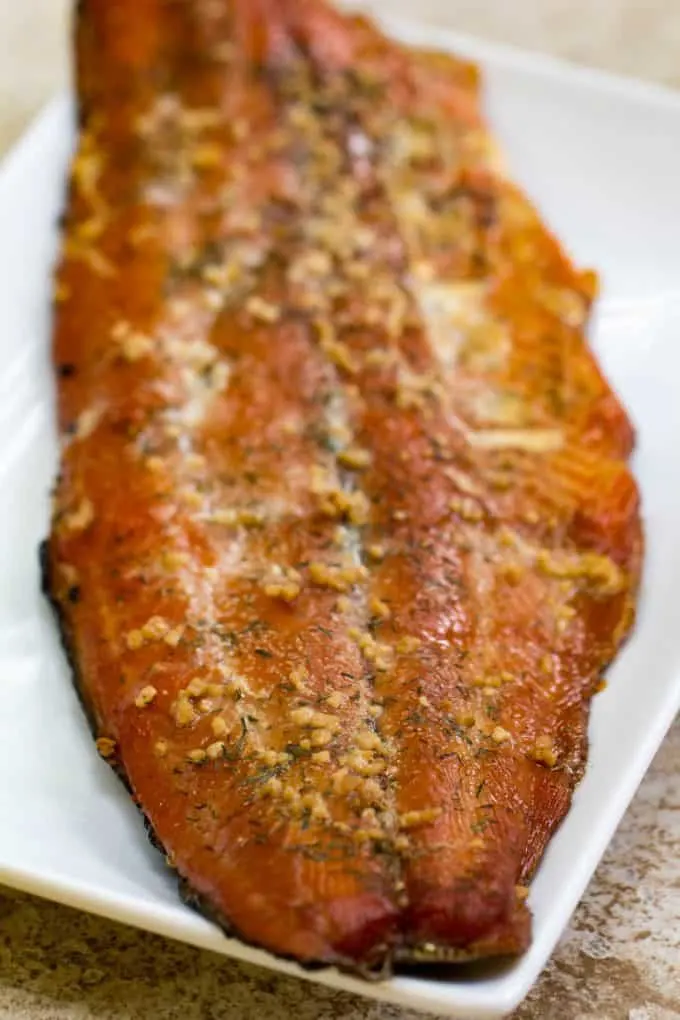 How do I smoke salmon at home?
It is easier than you may think!
I use my Traeger wood-pellet grill to smoke my salmon, as I can maintain a relatively steady 180 degrees pretty easily. Don't be too alarmed if the temperature swings a bit. That's normal when you are cooking with real fire, but try not to let it get above that 180° mark or the texture will be affected.
The key is slow and low for smoking. It maintains moisture and doesn't turn your fish into jerky. I leave the skin on one side of the fillet so the fish doesn't fall apart on the grill.
Smoking time is right around 4 hours for best results. Use a digital thermometer to check the internal temperature, it should reach 150-160 degrees.
Make sure to keep your smoked salmon refrigerated! This is smoked and definitely NOT self-stable.
Follow me on Instagram!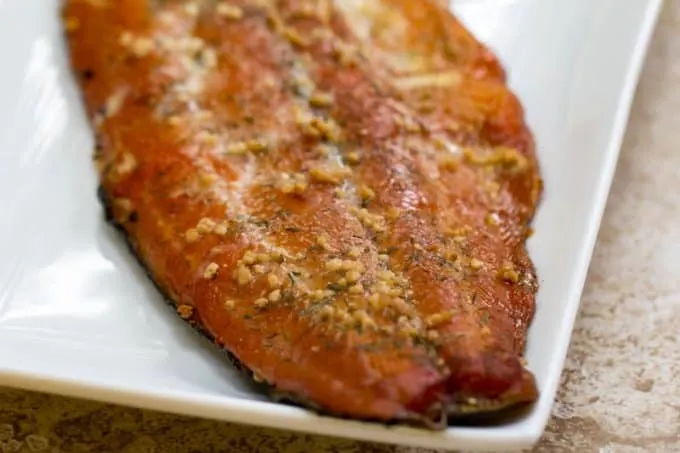 How long can you keep smoked salmon in the refrigerator?
Smoked salmon can be kept in the refrigerator in a vacuum-sealed, in an unopened package for up to 2 weeks, and after opening for 1 week. You can also freeze smoked salmon for 3 months and up to 12 months if using vacuum-sealed packaging.
Join our Easy Traeger Recipes Facebook Group!
How do I serve smoked salmon?
Smoked salmon is delicious all on its own, but it is a wonderful accompaniment to your appetizer tray or charcuterie platter if you are looking to add some variety.
Display your smoked salmon on an oval plate with tiny forks for serving, or a wooden board with various cheeses and crackers.
Consider serving one or two different varieties of smoked salmon, or smoked salmon and one other kind of smoked fish.
Add a plate with a variety of crackers and cheeses. Dishes or small bowls with plain or flavored spreadable cream cheese.
Another serving dish with a variety of olives, pickles, hard-boiled eggs, capers, pickled asparagus, or beets to add color, and you have a beautiful and delicious appetizer!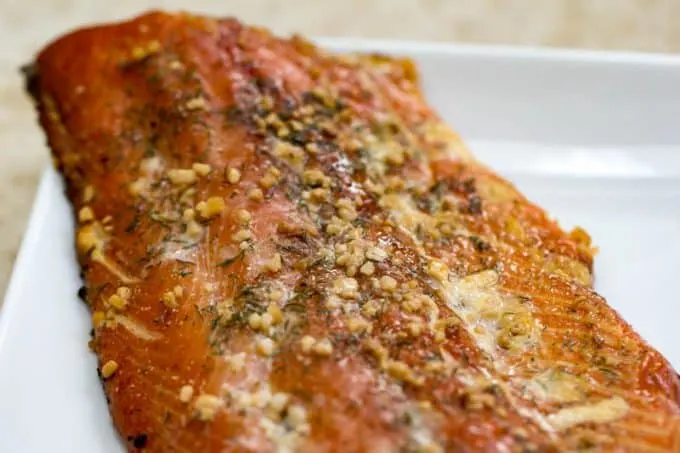 Can I use smoked salmon in other ways?
Yes! I have several ideas right here!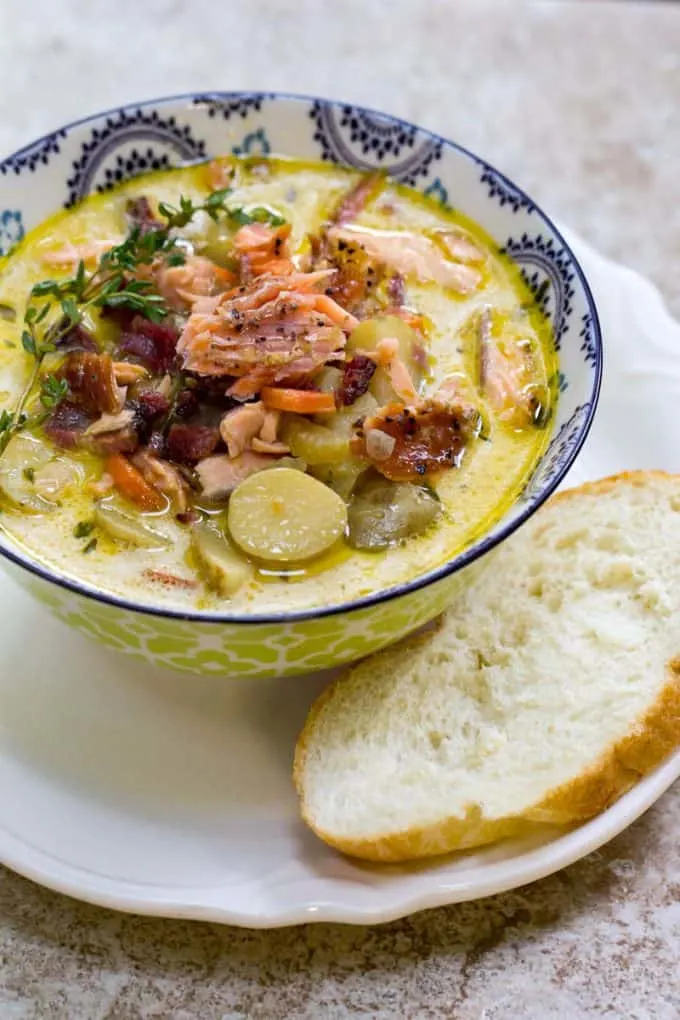 Check out my other recipes for smoking salmon if you want to try different flavors!
Plan a Springtime Sunday Brunch with your family and friends. Decorate with breezy pastel colors and plunk a vase of daffodils on your table. You'll be amazed at how simple things can elevate everyone around you!
Adding salmon to your diet is a great way to implement a healthier lifestyle, so give it a try if you haven't already!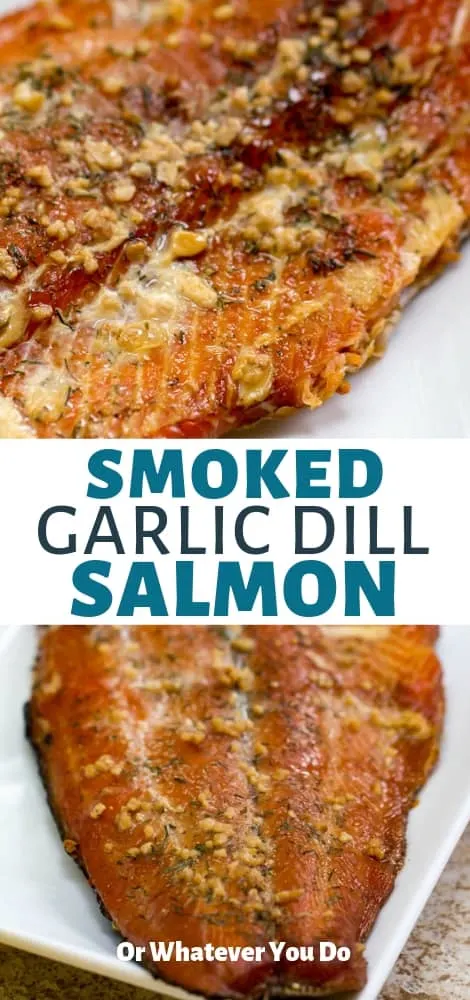 Yield: 12 servings
Garlic Dill Smoked Salmon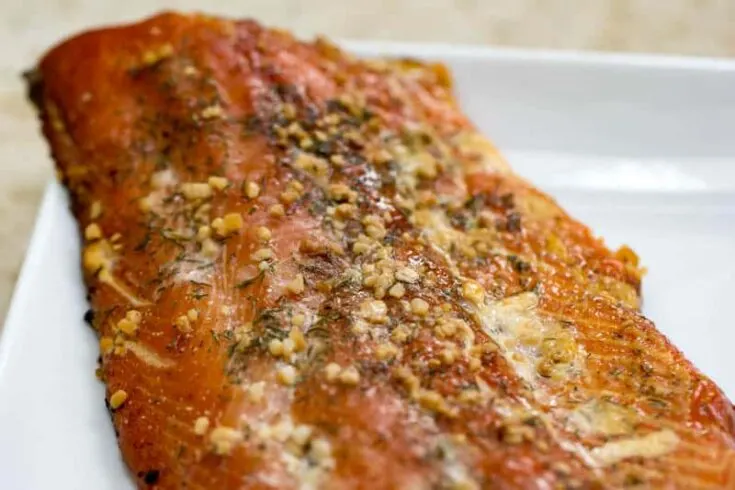 Fresh salmon is brined and then smoked on a wood-pellet grill with garlic dill seasoning!
Total Time
20 hours
15 minutes
Ingredients
Brine
4 cups water
1 cup brown sugar
1/3 cup kosher salt
Seasoning
3 tablespoons minced garlic
1 tablespoon chopped fresh dill
Instructions
Make sure if you are using frozen fish that it is completely thawed before brining. Remove pin bones with tweezers.
Combine brine ingredients until the sugar is dissolved, and place into a large ziplock baggie or large covered container. Place your cleaned, thawed salmon into the brine, and refrigerate for 16 hours.
Remove the salmon from the liquid, rinse, and pat dry with paper towels. Let sit out in a rack in the fridge, uncovered, for 2-4 hours for the pellicle to form. DO NOT SKIP THAT STEP.
Season the salmon with the garlic and dill.
Turn your smoker to smoke to get the fire started, and place the salmon on a cooking rack that's been sprayed liberally with cooking spray.
Place the rack on the smoker, and close the lid.
Smoke for 4 hours, and don't let them smoker get above 180° or fall under 130°.
Remove from the grill and serve warm with crackers, or let it cool to room temp and then wrap tightly and keep in the fridge for up to a week. You can also vacuum seal and freeze.
Recommended Products
As an Amazon Associate and member of other affiliate programs, I earn from qualifying purchases.
Nutrition Information:
Yield:
12
Serving Size:
1
Amount Per Serving:
Calories:

139
Total Fat:

5g
Saturated Fat:

1g
Trans Fat:

0g
Unsaturated Fat:

3g
Cholesterol:

24mg
Sodium:

3143mg
Carbohydrates:

16g
Fiber:

0g
Sugar:

15g
Protein:

9g
Nutrition data provided here is only an estimate. If you are tracking these things for medical purposes please consult an outside, trusted source. Thanks!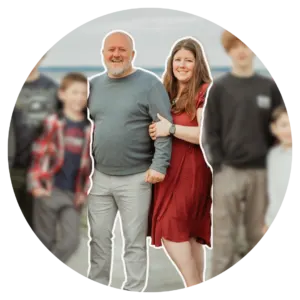 Nicole Johnson, a self-taught expert in grilling and outdoor cooking, launched Or Whatever You Do in 2010. Her blog, renowned for its comprehensive and creative outdoor cooking recipes, has garnered a vast audience of millions. Nicole's hands-on experience and passion for grilling shine through her work. Her husband, Jeremiah Johnson, also plays a pivotal role in recipe development, adding his culinary flair to the mix. Together, they form a dynamic duo, offering a rich and varied outdoor cooking experience to their followers.