Fire up that pellet grill and get scooping out those pumpkins, we're going to make the easiest Traeger Roasted Pumpkin Seeds you've ever tasted! Packed with protein, fiber, healthy fats, vitamins (like vitamin K and vitamin E), and minerals (such as magnesium, zinc, and iron), these are the perfect snack to reach for when you're looking for some crunch without turning to chips or other less-than-ideal options.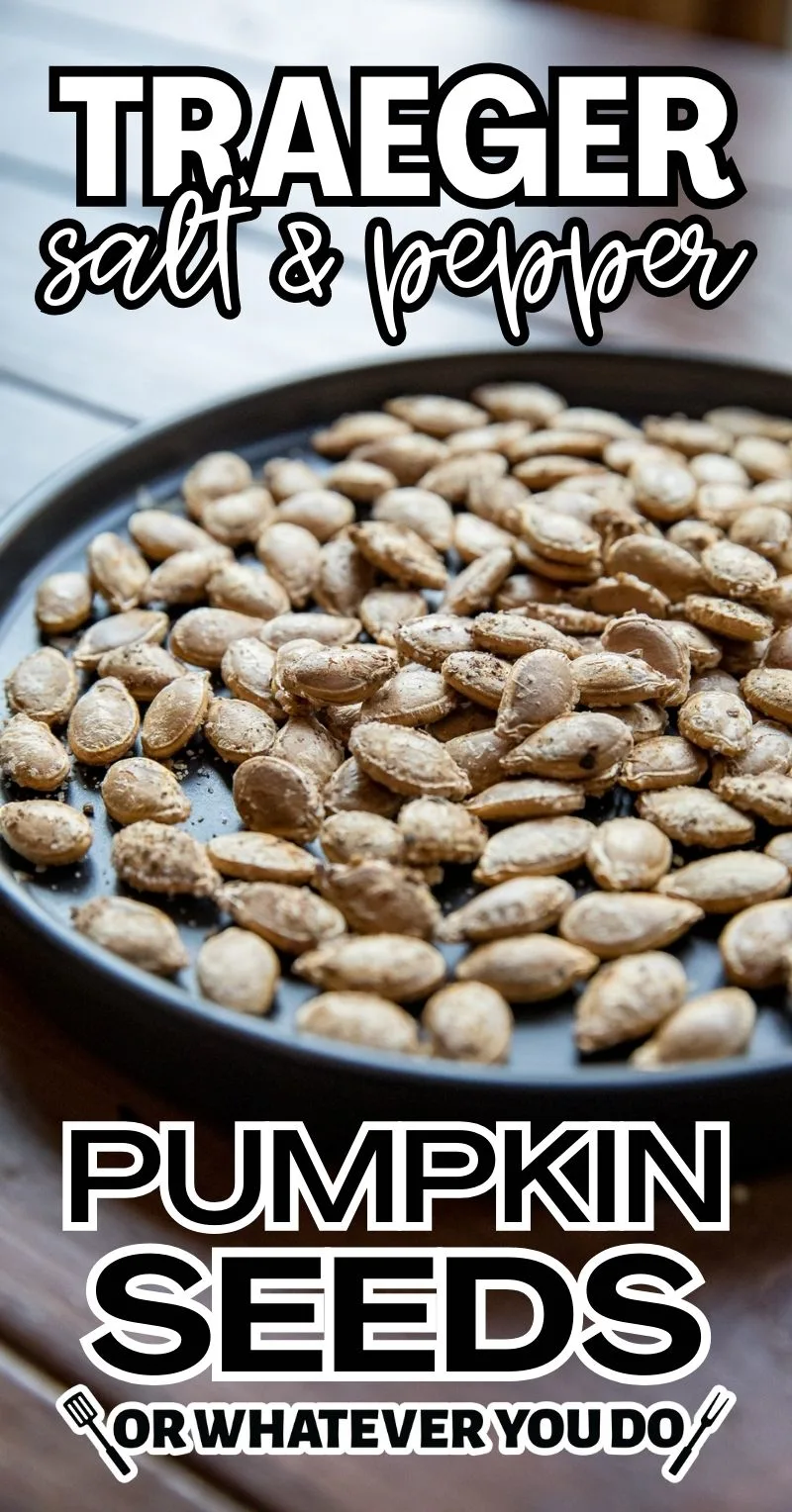 Traeger Roasted Pumpkin Seeds
Pumpkin seeds have always been a favorite snack of mine, but back in the day I only ever had them around Halloween. Not anymore! Whether you harvest your own seeds or pick some up from Amazon or another online retailer, get yourself some seeds and quick.
Whole pumpkin seeds are my favorite way to make this recipe. That includes the shell and the seed inside, and the shell is what contains most of the fiber. As long as the seeds you get are relatively small and you roast them for long enough, they'll be nice and crunchy and delicious.
If you are harvesting your own seeds, make sure you're getting pumpkins on the small side. You want the whole seeds to be small in order for them to stay nice and crunchy and delicious. The giant seeds from the big pumpkins tend to be tough and not ideal for making whole.
Speaking of whole versus shelled seeds, pumpkin seeds are basically impossible to shell on your own, so if you are dead set against eating the shells you can buy them pre-shelled. That's why some of the pumpkin seeds that you see appear to be green instead of off-white, like those pictured here.
Get all of my Traeger Recipes here!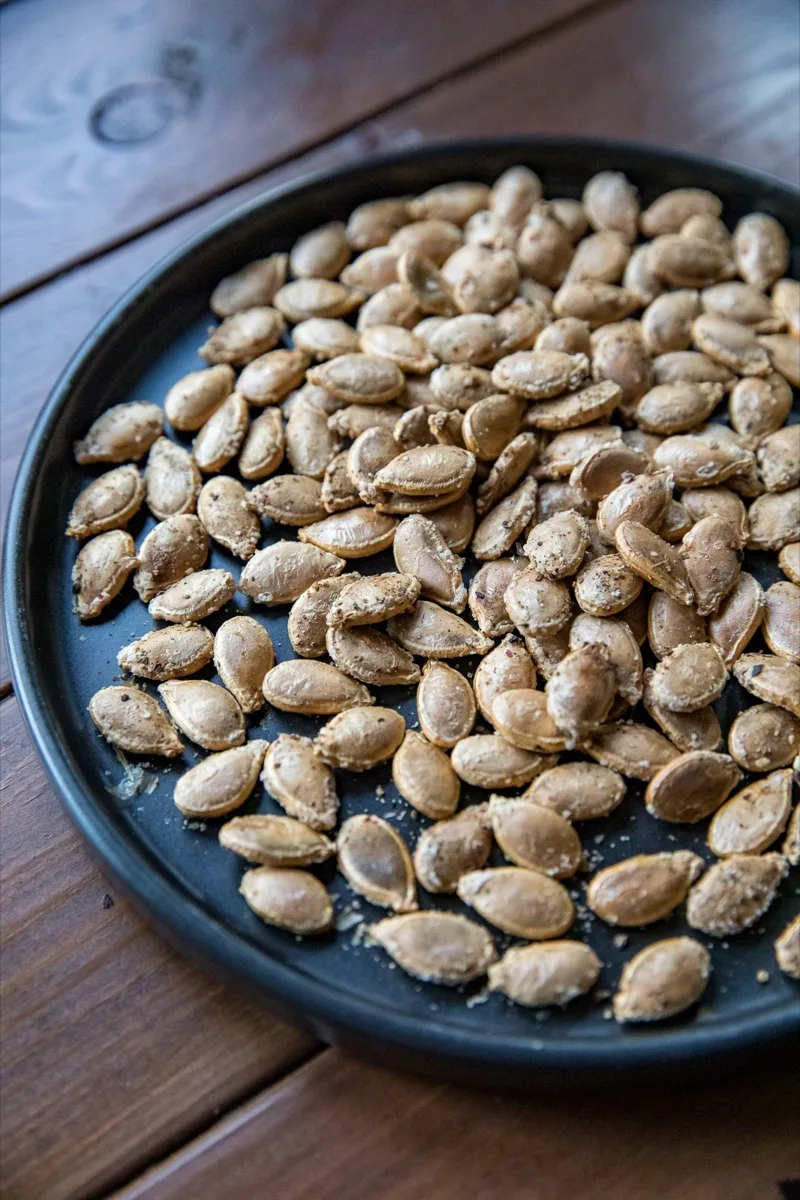 Roasted Pumpkin Seeds shopping list
Wondering if you have to hit the store? Here's the list of items you'll need to make this recipe. For specific amounts, please refer to the printable recipe card at the bottom of the post.
Raw whole pumpkin seeds
Avocado oil
Salt
Pepper
Get 75+ of my favorite Traeger Recipes here!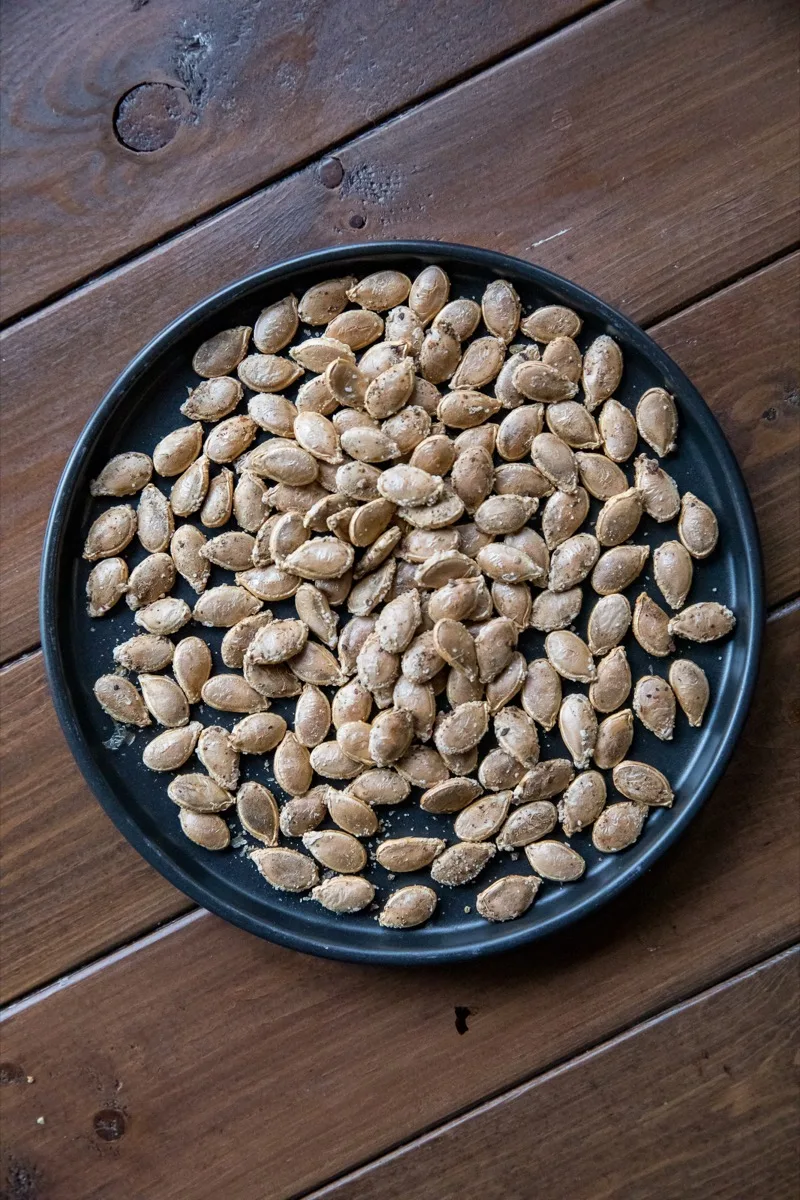 How to make Roasted Pumpkin Seeds
This is just the overview so you can see what you're actually getting into here. When you are cooking, you'll want to use the full recipe at the bottom of the page.
Preheat
Fire up the grill and let it preheat to 375°F.
Prep
Prep your seeds by tossing them in oil and placing on a parchment-lined baking sheet. Sprinkle with salt and pepper.
Roast
Put the tray into the grill and roast! Toss the tray after about 3-5 minutes, and start checking for the crispiness level at around minute 7-8.
It could take (a lot) longer to get them where you need them to be, but really depends on how much moisture your pumpkin seeds retain. If they are harvested fresh, it'll definitely take longer than if you buy them from somewhere like Amazon, where they are already mostly dried.
Enjoy
Once the seeds are a toasty as you like them, remove from the grill and let them cool before enjoying.
Store
Store the roasted pumpkin seeds in an airtight container for a week or two, if they last that long!
Try our Smoked Tingly Salt Pumpkin Seeds too!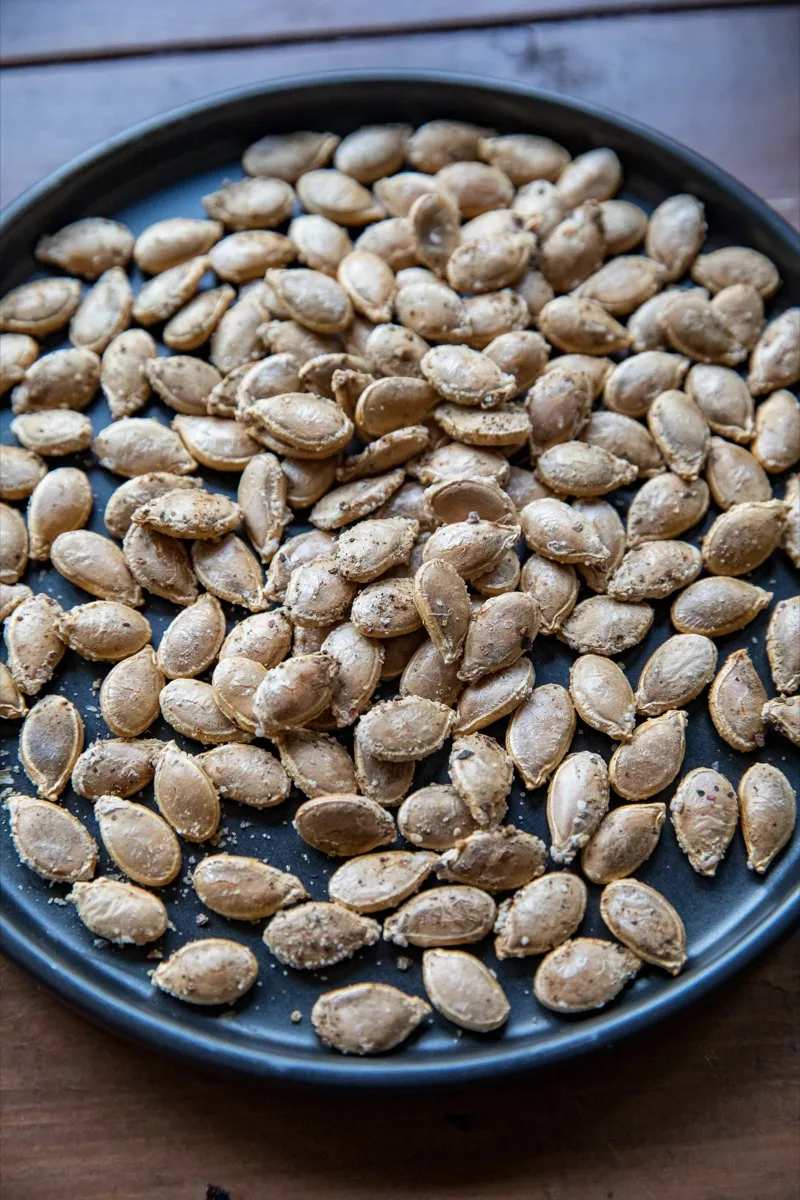 Roasted Pumpkin Seeds FAQ
What's the best way to store leftovers?
Simple is best. We toss these in a freezer baggie and keep them in the cupboard. Any airtight container will work though, if you prefer to avoid plastic.
Are there any recommended substitutions or additions?
Sure! The sky is the limit here. Do you have a favorite rub or seasoning blend? Give it a try on some of these easy roasted pumpkin seeds! Nashville Hot Chicken could be interesting, so would Cajun, or this Pizza Cheese blend.
Turn that pumpkin into a Traeger Pumpkin Pie!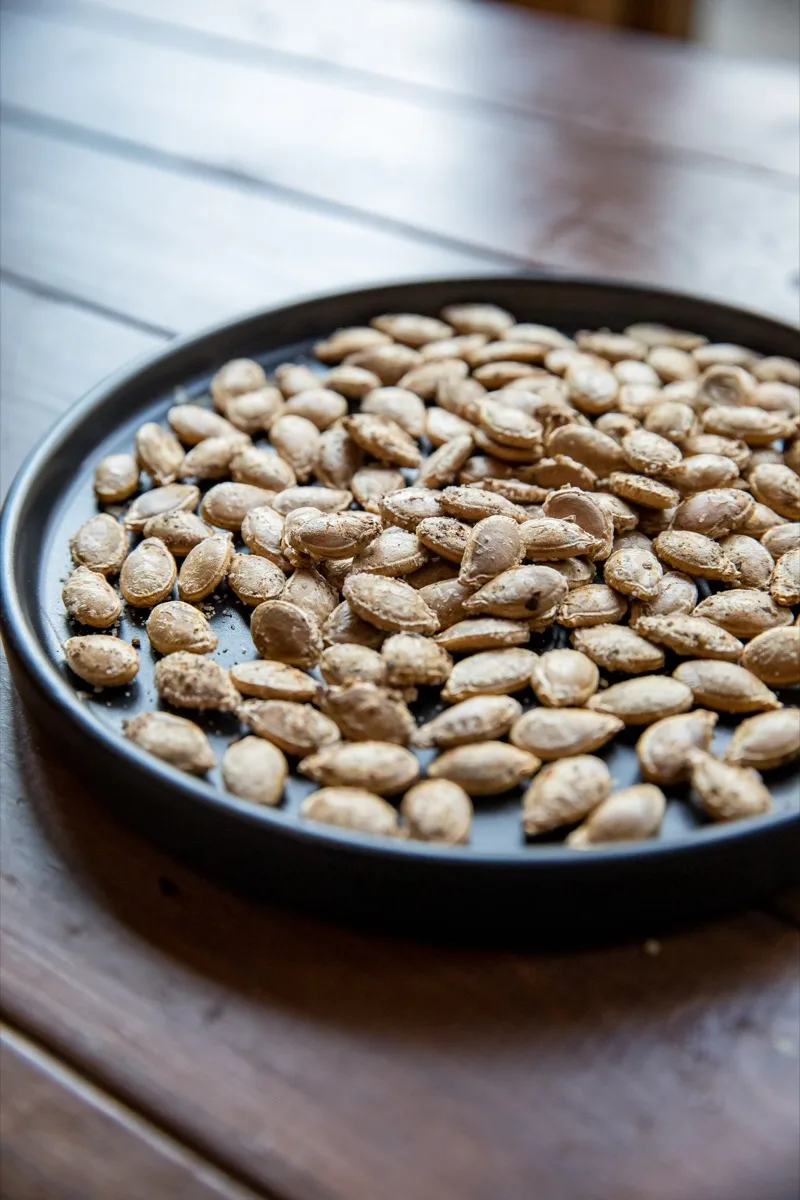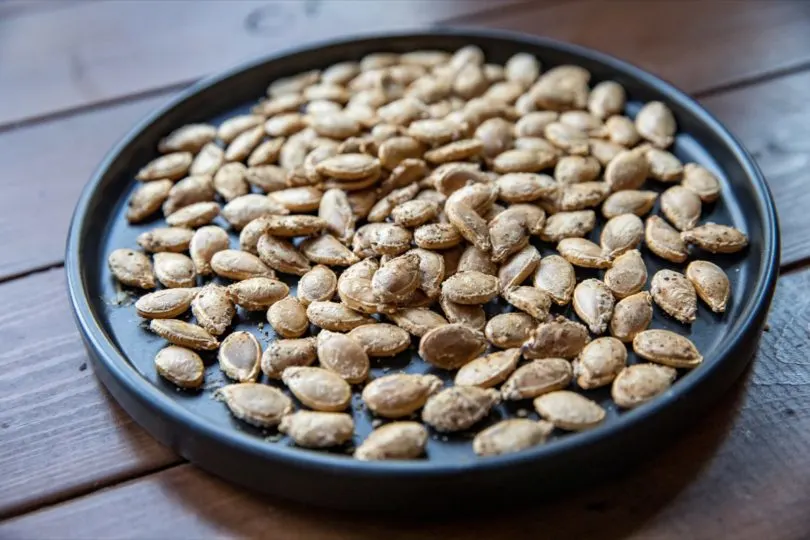 More great recipes to love!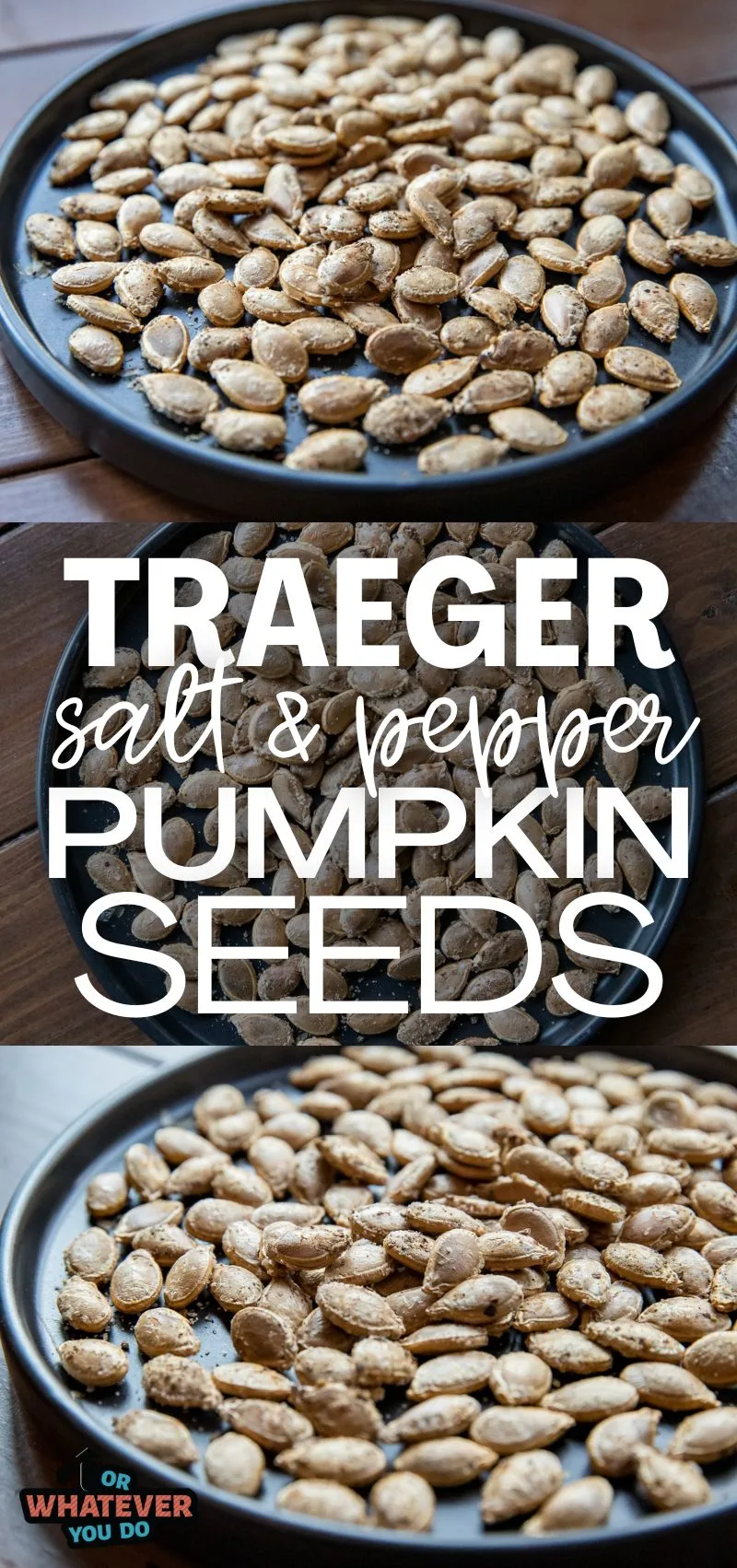 Yield: 6 servings
Traeger Salt and Pepper Pumpkin Seeds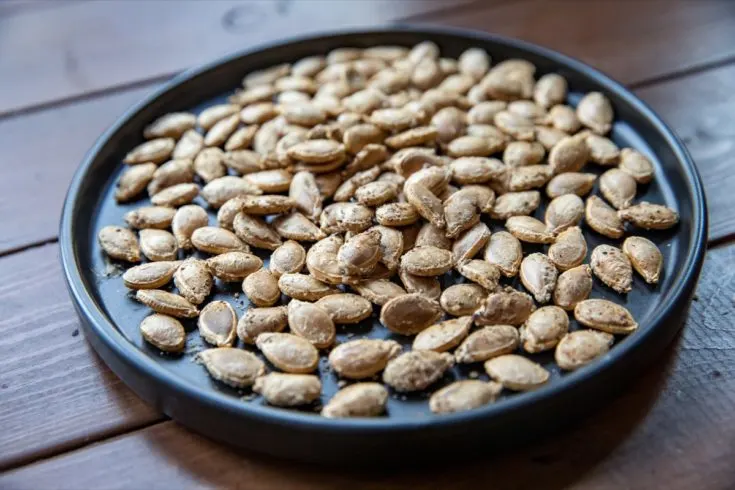 Make these simple salt and pepper pumpkin seeds on the Traeger for a crunchy, salty snack anytime you want!
Ingredients
3 cups raw whole pumpkin seeds
2 tablespoons avocado oil
1 teaspoon salt
1/2 teaspoon pepper
Instructions
Preheat your Traeger to 375°F.
Toss the pumpkin seeds in the olive oil and lay them out on a large parchment-lined baking sheet in a single layer.
Sprinkle with the salt and pepper.
Roast the seeds in the Traeger for 7-10 minutes, shaking halfway through. Give one a taste and continue cooking until they are as crispy as you prefer.
Recommended Products
As an Amazon Associate and member of other affiliate programs, I earn from qualifying purchases.
Nutrition Information:
Yield:
6
Serving Size:
1
Amount Per Serving:
Calories:

184
Total Fat:

11g
Saturated Fat:

2g
Trans Fat:

0g
Unsaturated Fat:

9g
Cholesterol:

0mg
Sodium:

358mg
Carbohydrates:

17g
Fiber:

6g
Sugar:

0g
Protein:

6g
Nutrition data provided here is only an estimate.