This Frozen Mojito is going to be your go-to summer adult beverage. Frosty, frozen mojitos that offer lime citrus and minty twist that is so refreshing. A handful of ingredients is all you need along with a blender to make this summer frozen cocktail.

Frozen Mojito
Mojitos are such a refreshing cocktail. There is something about the rum, mint, and lime that works. Add in the element of being frozen and let's say this frojito (see what I did there) becomes unbeatable in the drink department.
I love to order these on hot summer days when I want something cool and crisp, without being overpoweringly sweet.
Whether you are floating in a lazy river, poolside, lakeside, or on the boat, you can enjoy some of these delicious cocktails all summer long.
Mojito Slushy Recipe
Mojitos are traditionally a Cuban cocktail. I wanted to honor the traditional flavors and switch it up a bit. I grabbed my blender and make a slushy mojito or frozen mojito; however, you choose to call it. This cocktail is so quick to make that within minutes you can be enjoying your happy hour.
What is in a Frozen Mojito?
Ice

| Gives your mojitos that frosted and slushy texture. Perfect for a hot summer day!

Rum

| I reach for a white rum over dark. I find it blends well and helps bring out the fresh flavors in mint and lime.

Simple Syrup

| You can easily make your own simple syrup or buy it.

Lime Juice

| I highly recommend fresh lime juice for that extra crisp and refreshing flavor that you can't get from a bottle.

Club Soda

| Offers a subtle bubbly effect to your mojito slush.

Mint

| You can't have a mojito without a few fresh mint leaves. This last ingredient completes the drink. It also gives it that bright green color during the blend. Since the mint is pulverized in this preparation, a frozen blended mojito takes on a bigger, bolder mint flavor that traditional mojitos.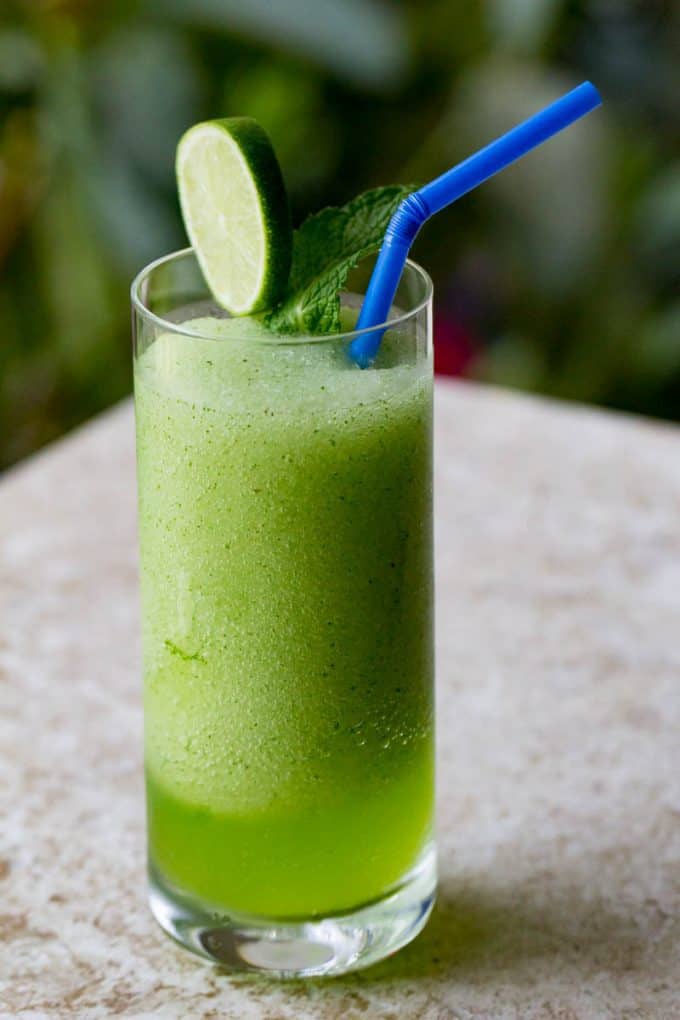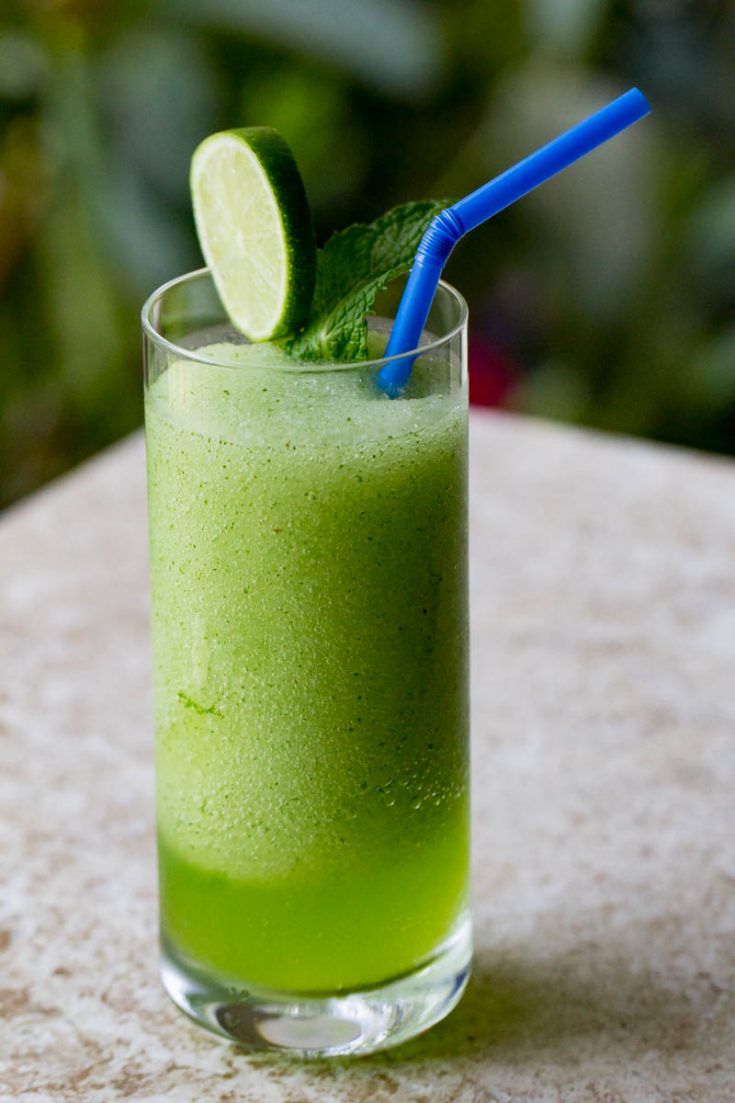 How To Make Simple Syrup
Simple syrup has become more and more common to find in most liquor stores and major grocery stores in recent years, but that stuff is NOT cheap for what amounts to some sugar water.
You can buy simple syrup if you want, but I highly recommend making it at home if you are a cocktail-lover.
It is called "simple" syrup for a reason. It is just 1 part water to 1 part sugar.
Easy.
Add your sugar and water into a small saucepan, and turn the heat to medium and stir.
The sugar will dissolve once it is warmed up. Once the sugar is all dissolved, remove from heat and allow to cool before pouring into a bottle and storing in the fridge.
What To Serve With Frozen Mojitos
This recipe is versatile, and you can serve it with your favorite recipes. Here are some of my personal favorites when it comes to serving up mojitos. I think you will love the pairing.
Traeger Shrimp Kabobs | Simple and easy shrimp kabobs that are lightly seasoned and cooked on the grill. Add in your favorite sides with your mojito ready to be sipped on.
Reversed Seared Hanger Steak | This steak is incredible in flavor, buttery soft and served with a bourbon pan sauce that will leave you amazed. It tastes better than most restaurant steaks you can buy. Trust me this recipe is a winning steak recipe.
Korean Grilled Chicken Legs | Mojitos and chicken go together in my books. Tender, juicy chicken legs that have been grilled till they offer a slightly crispy crust.
Which Rum Is Best For A Mojito?
Reach for a white rum when making mojitos. It has an exceptional smoothness that pairs well with the other ingredients in the recipe. I always reach for a light white rum whether I am making a classic mojito or even this frozen mojito recipe. Bacardi Silver Rum is a trendy one that many use, and is my go-to as well.
What Does A Mojito Taste Like?
A mojito is a cocktail that is very popular all over the states. You will find a mojito offers a tart, crisp, and minty flavor. This cocktail is not sour, but will give you that tart pucker. The muddled fresh mint leaves next to the lime work well together. Then add in your other ingredients for one delicious and refreshing cocktail.
My frozen version uses all the same components of a classic mojito but with more ice that's blended.
Can I Make Frozen Mojitos Ahead of Time
Because of the frozen slushy aspect, you don't want to make your drinks too far in advance. You run the risk of them melting if sat out on a counter or if in the freezer it will harden up more than you would like.
You can mix the base of the recipe ahead of time and hold back pouring the ice in and mixing, to prep ahead.
If you are a fan of mojitos, give my frozen mojito recipe a chance. I think it will win you over with the first refreshing sip you take.
If you DO want to prep these ahead, store them in the freezer for about an hour to two hours before you are ready to go. It'll freeze them enough to keep them slushy for a while if transported in a cooler. Just bring a spoon with to give them a stir once they start melting. If you've done your job properly and added enough booze, it shouldn't freeze completely solid.
Fun Summer Cocktails
If you need more ideas for fun summer cocktails, I have some great ones here!
Pin for later!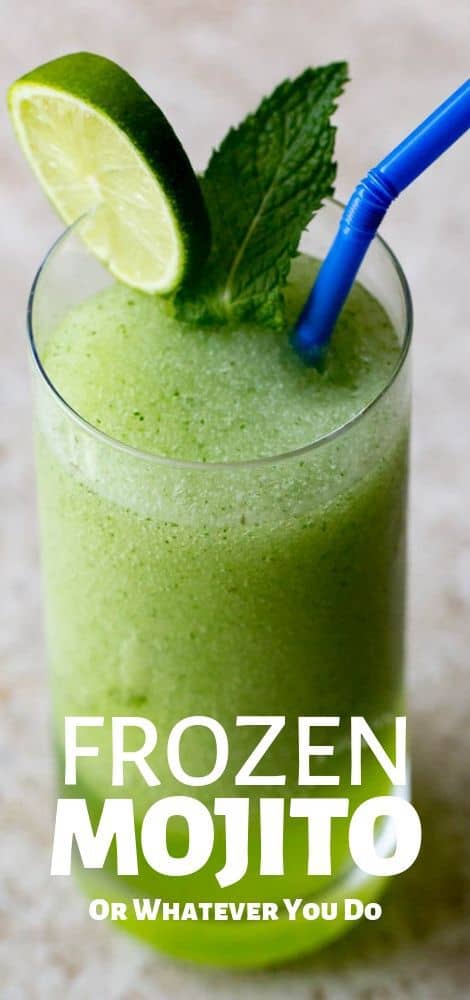 Yield: 1 pitcher
Frozen Mojito Recipe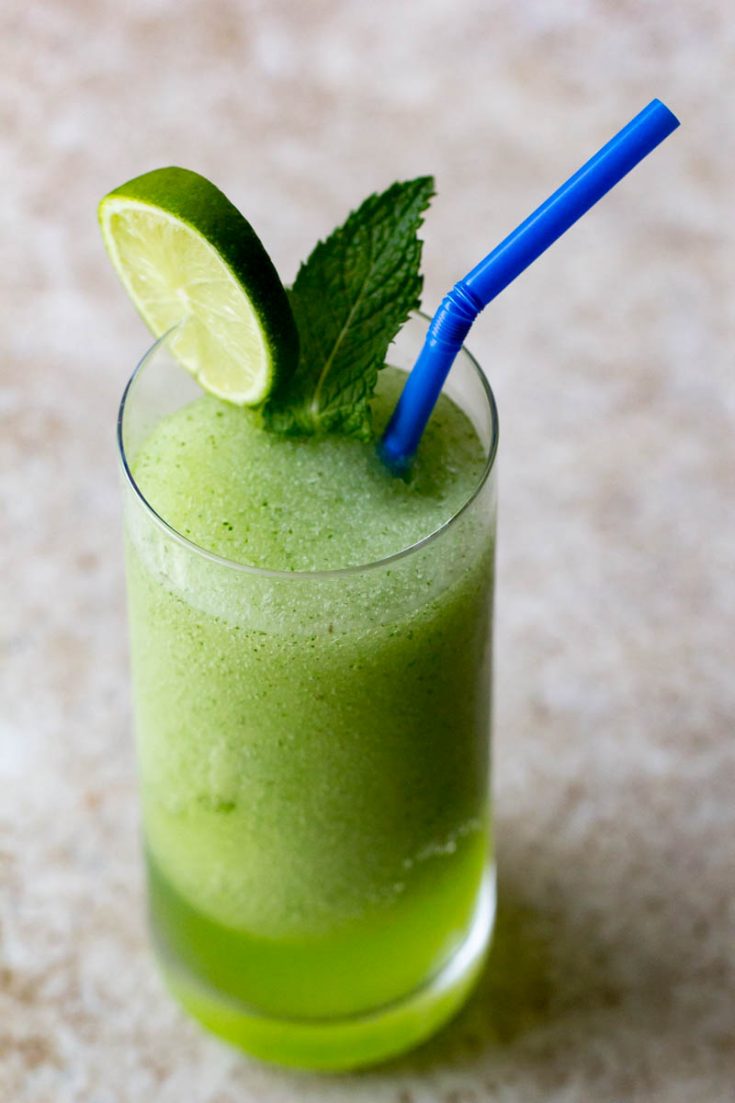 This easy frozen mojito packs a punch and will cook you down. It gets the beautiful green color from the mint!
Ingredients
6 cups ice
1 cup white rum
2 cups club soda
1/2 cup freshly squeezed lime juice*
1/4 cup simple syrup
10 large mint leaves
Instructions
Combine all ingredients in a blender. Pulverize. Pour. Enjoy.
Notes
* If you really want to, you can substitute Rose's Lime or other sweetened lime juice for the simple syrup and fresh lime juice, but it won't be as good!
Recommended Products
As an Amazon Associate and member of other affiliate programs, I earn from qualifying purchases.
Nutrition Information:
Yield:
8
Serving Size:
1
Amount Per Serving:
Calories:

105
Total Fat:

0g
Saturated Fat:

0g
Trans Fat:

0g
Unsaturated Fat:

0g
Cholesterol:

0mg
Sodium:

10mg
Carbohydrates:

10g
Fiber:

1g
Sugar:

7g
Protein:

1g