Serve up a bowl of Grilled Vegetable Bisque to warm up you from the inside out. Grilling really helps bring out more natural flavors in the vegetables paired with a mild smokey flavor as well. This is a great way to use up any vegetables sitting in your fridge.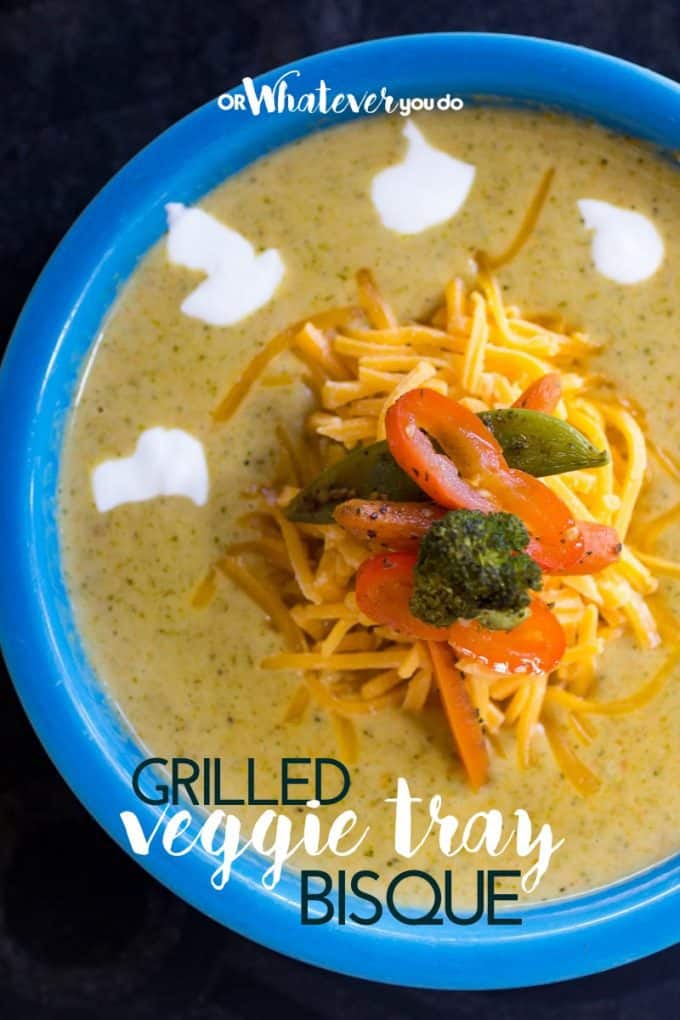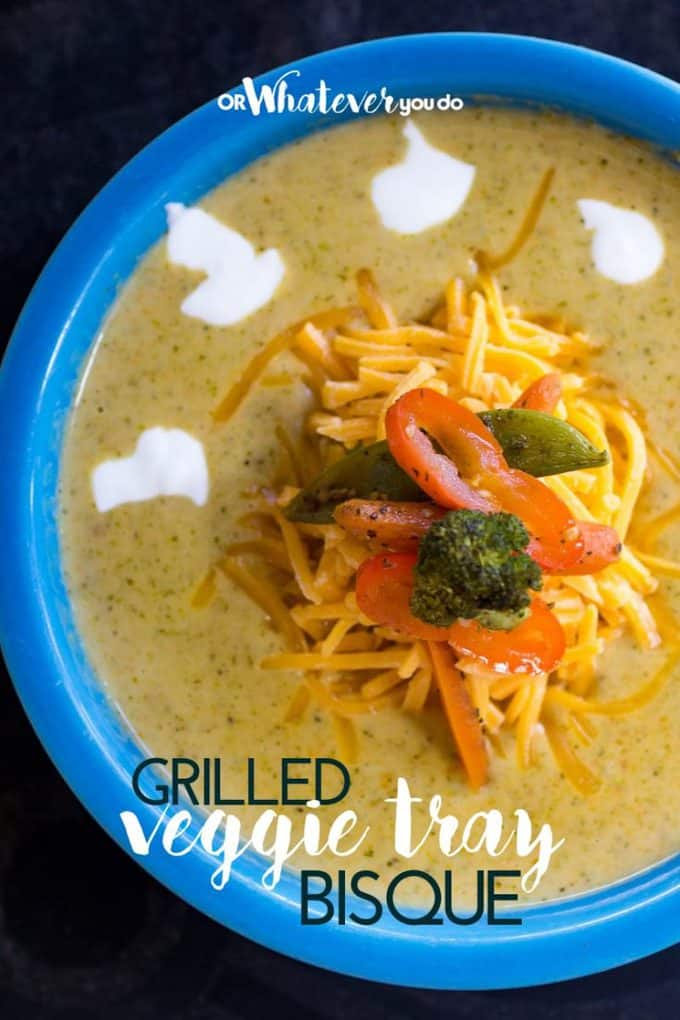 Traeger Grilled Vegetable Bisque | Veggie Tray Soup
As you might have read in my last post, Traeger Grilled Vegetables, I recently had a party where no one ate the veggie tray, and needed something to do with a million pounds of raw veggie tray.
Even having those as a side with a dinner wasn't enough to use it up though, so I still had massive quantities of grilled vegetables to use up. There was a little chill in the air that day, and I thought a good bisque would be in order to use up all of those vegetables!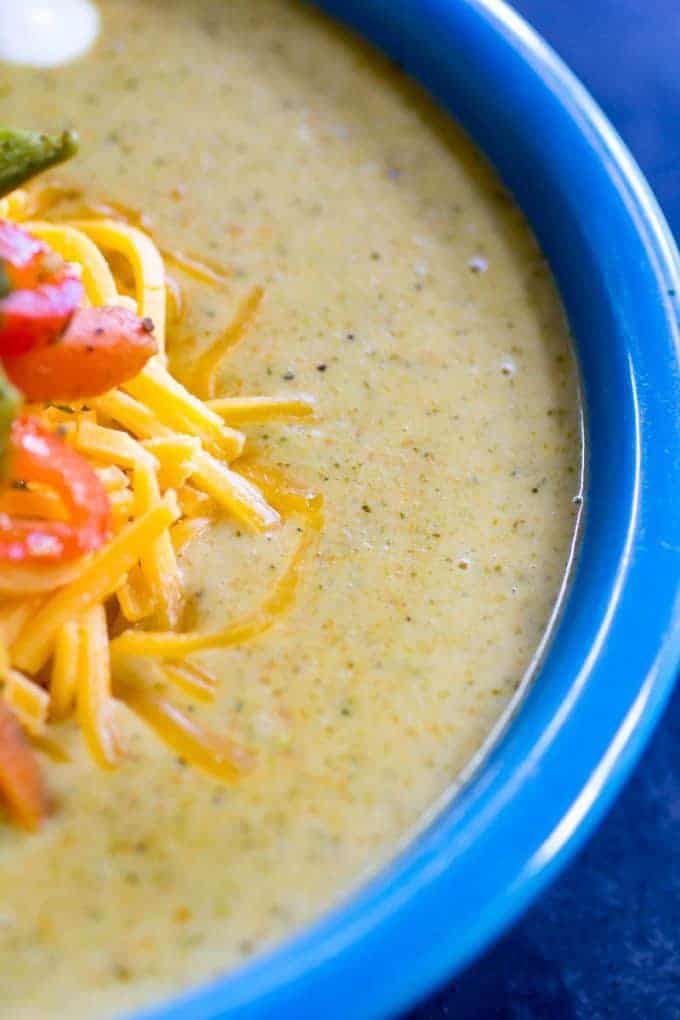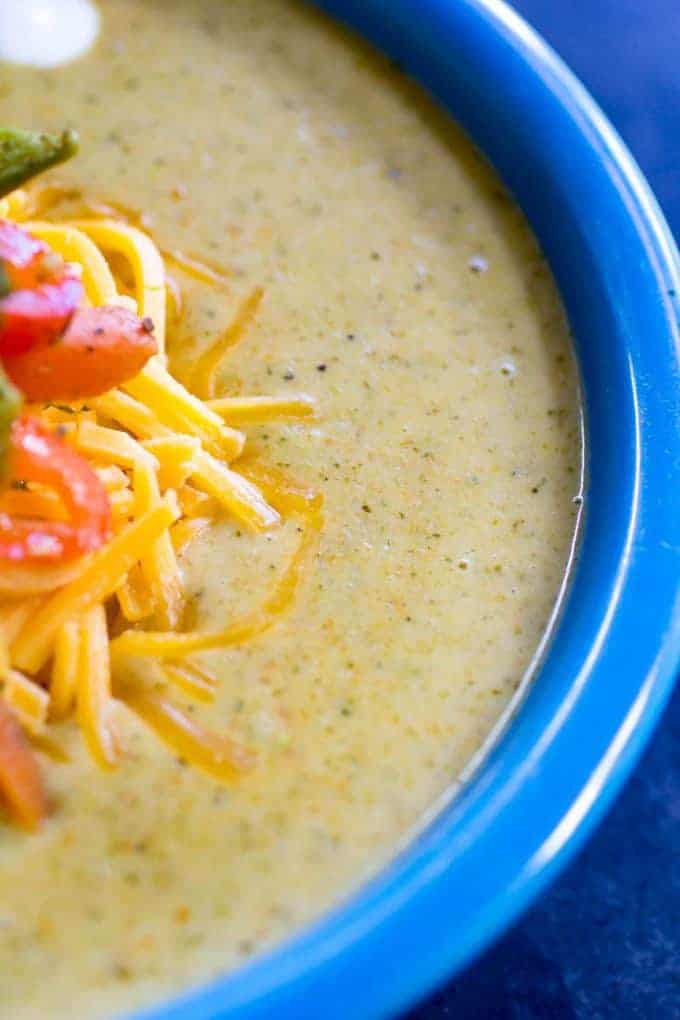 Serve with some crusty bread for dipping or even oyster crackers for a simple and easy weeknight dinner. Truly this is a perfect rainy day soup to serve. Plus since it is a creamy and smooth vegetable bisque, it is a perfect opportunity to sneak more vegetables into your child's diet. You could even use this soup as a base for my Chicken and Broccoli Noodles if you wanted!
Creamy Grilled Vegetable Bisque
My goal is to always try to eliminate the waste of food. I have learned over the years to really get creative with the dishes I make, and raid my pantry and fridge to use up items that will be expiring and to clear out the excess.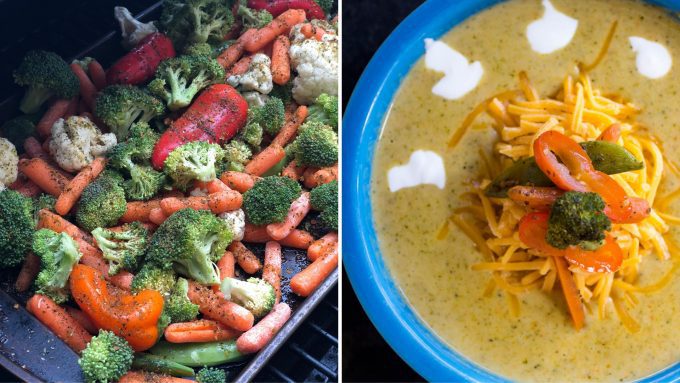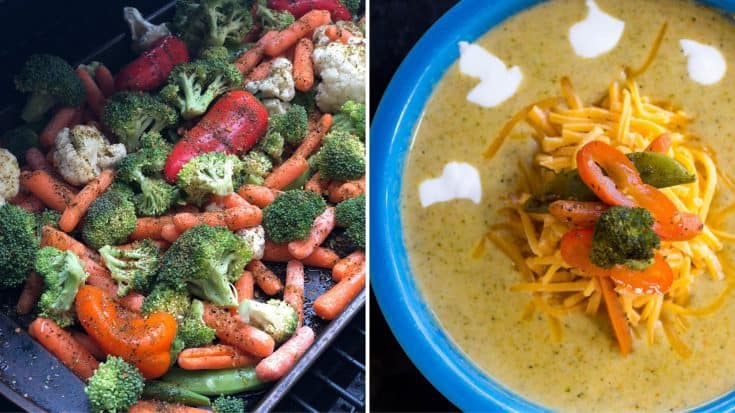 This grilled vegetable bisque was a huge success, and I am so thankful we had the extra vegetables to make it on hand. Now I've got another awesome and simple soup I can make this fall and winter.
---
Get more Traeger Recipes here!
---
This time I just used the what veggies I had on hand from my tray. But many play around with vegetables or raid their veggie drawer or garden. I found this very simple bisque to really have a nice smooth flavor to it, and I loved the cheese on top because it helped add some sharpness to the soup.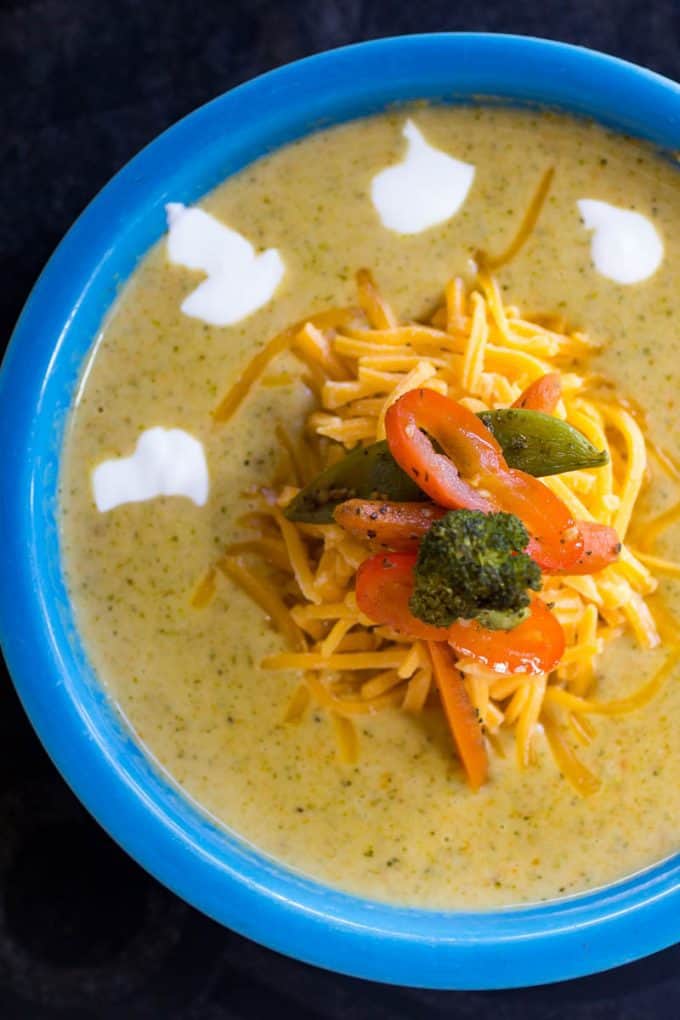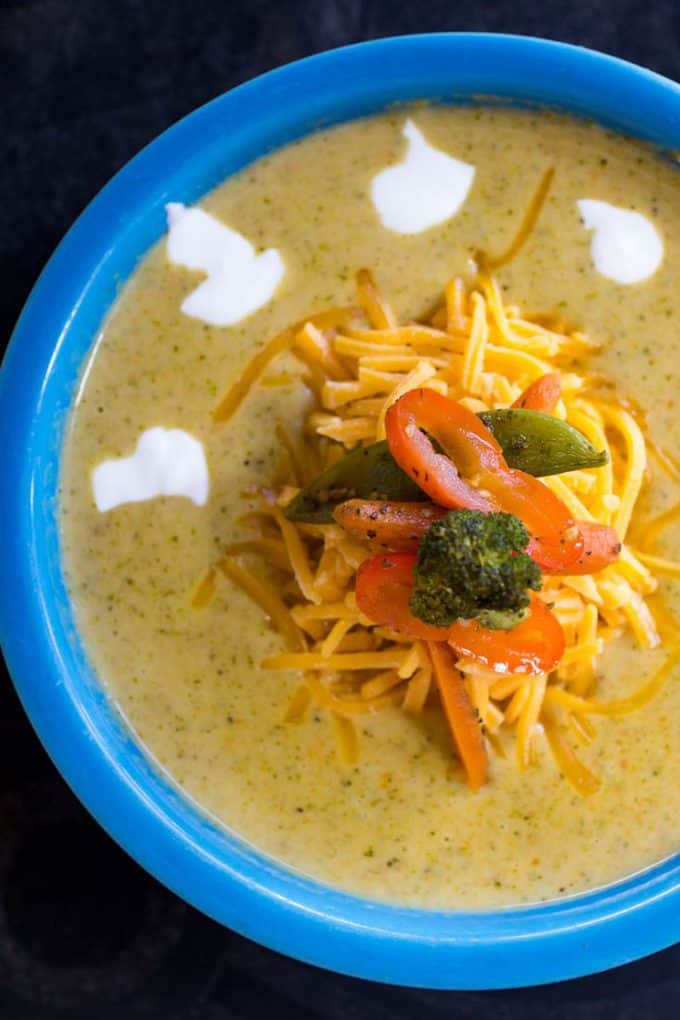 What is Grilled Vegetable Bisque?
This hearty bowl of grilled vegetable bisque is made with grilled vegetables that get pureed into a smooth and creamy texture. You can top with a handful of shredded cheese and sliced veggies and you have a hearty and creamy bowl of soup ready to go.
I know the name sounds intimidating but trust me, it is pretty easy to make. Blending up the vegetables will really create a rich taste to this soup that you won't find in other vegetable based soups.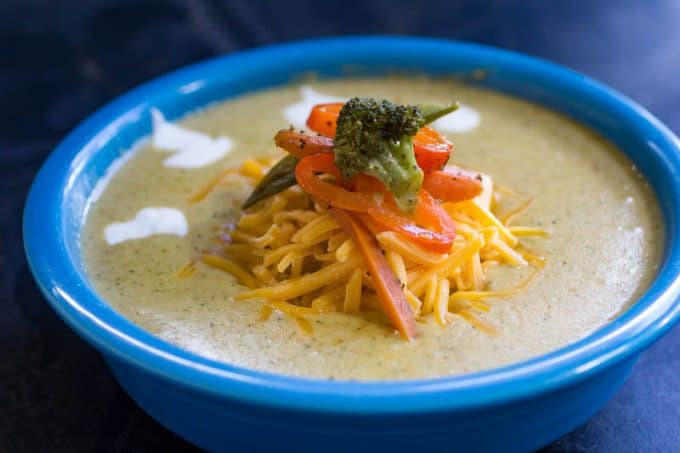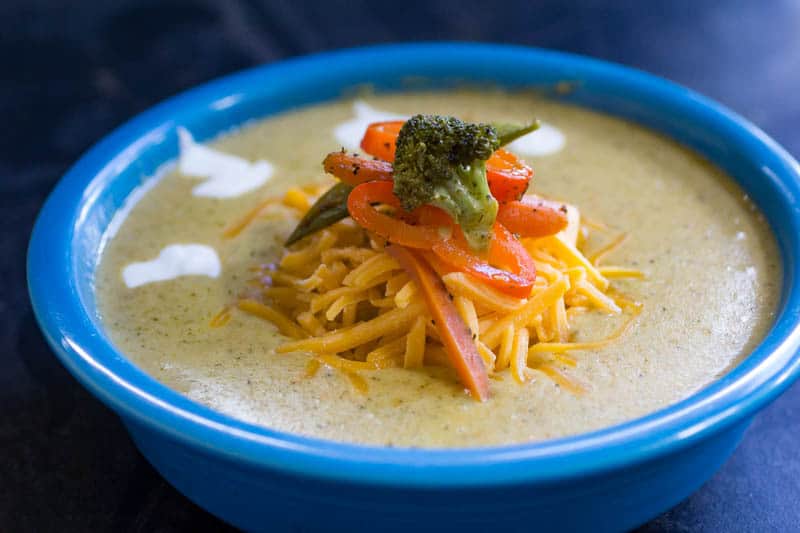 Traeger Smoked Vegetable Bisque vs Roasted Vegetable Bisque
The difference you will find in my Traeger vegetable bisque is I use my pellet grill to smoke and roast my vegetables. You get those fork-tender vegetables you are wanting with a mild hint of smoke from the grill.
A roasted vegetable bisque will generally be where you lay out your veggies on a tray and roast them in the oven for a time frame. I really like the element of grilling, as it steps the flavor up a notch or two.
The Traeger is great because it has specific temperature controls so I can set the heat I want to grill at, and it will maintain that temperature within 5-10 degrees in most cases. It is easier to grill on than a propane or charcoal grill. I always struggled with trying to keep the heat even on our charcoal grill, and we eventually moved to the Traeger and now my grilling game is WAY improved.
---
More fabulous fall soups below!
---
Tips for A Delicious Vegetable Bisque
BLEND IN BATCHES
If you want that absolutely smooth and velvety texture in your bisque, make sure to put a little of your soup mixture into the food processor at a time. By doing this you are slowly working in and blending your bisque to that velvet texture you want. If you put it all in at once, you won't come out with that extra creamy texture. Just ladle in a little at a time, turn the food processor on for a bit, and then repeat, until you have blended all your veggies.
You can also use a high-quality blender which should also do the trick!
TAKE YOUR TIME WITH YOUR ROUX
Bisque can be fabulous or disgusting all based on the quality of the soup. For chowders and bisques and gumbos especially you had better have your roux game established or just skip it.
Thankfully, roux is time-consuming but SUPER easy. It just takes patience. You want your roux to be golden brown and it should smell like toasted heaven.
Pin for later!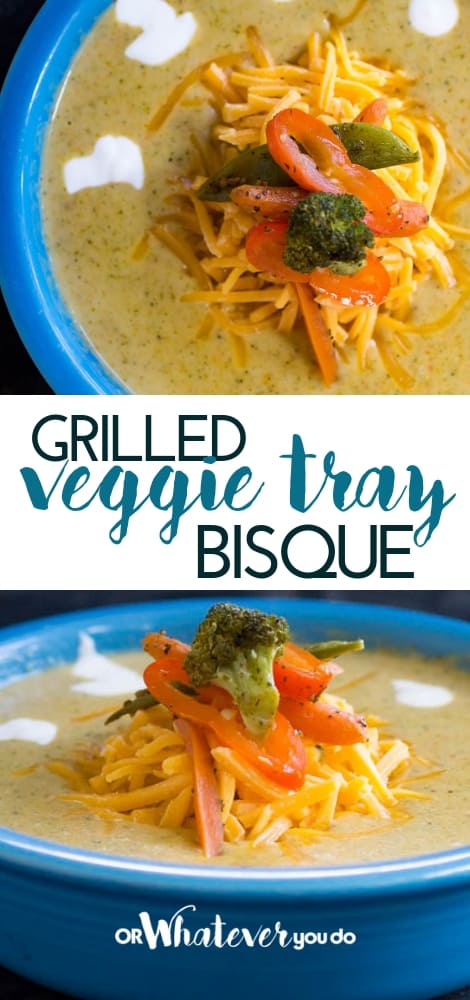 What toppings should you use on Grilled Vegetable Bisque?
I like to reserve a few of the grilled vegetables and slice and serve on top. The bell peppers, especially, can kind of take over the whole dish if you blend it into the bisque itself. If you realllllly love bell peppers, that's excellent, but if you aren't totally in love with them I'd pull them out before the blender stage.
Other than that, I'd include the following to be made available for your eaters:
Sour Cream
Shredded Cheese
Croutons
Fresh Herbs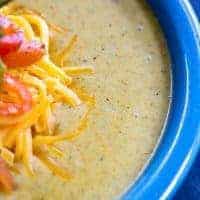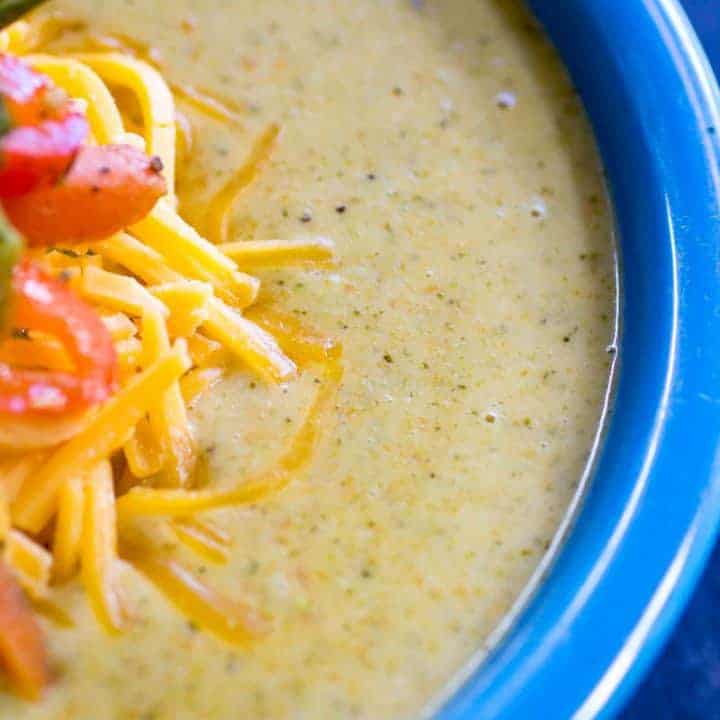 Traeger Grilled Vegetable Bisque | Veggie Tray Soup
Stovetop Cook Time:
45 minutes
Total Time:
1 hour
10 minutes
Delicious creamy grilled vegetable bisque is an easy fall dinner featuring all the flavors of your favorite veggie tray!
Ingredients
Grilled Vegetables
6 cups mixed "veggie tray" vegetables
1/4 cup vegetable oil
1 tablespoon Traeger Vegetable Rub
Roux
1/2 cup butter
1/3 cup flour
Soup
8 cups chicken or vegetable broth
1/2 cup cream
1/2 teaspoon onion powder
1/2 teaspoon white pepper
Garnish
Sour Cream
Sliced Grilled Vegetables
Croutons
Instructions
Preheat your grill to 375. Toss your vegetables in the oil, and place on a sheet pan. Sprinkle with Traeger seasoning. Grill vegetables for 15-20 minutes, or until fork tender. Remove from the grill and reserve a few veggies on the side for garnish.
Melt your butter in a small non-stick skillet medium-low heat. Once the butter melts, whisk in the flour and turn the heat down a little. Let the mixture cook, whisking frequently to prevent any grainy lumps from forming, until it is golden brown.
Whisk in the broth and stir to combine. Add the grilled vegetables to the broth mixture and simmer over medium heat until the vegetables are soft enough to blend.
Once the veggies are soft, carefully pull them out using a slotted spoon and blend until smooth. Return to the broth and stir until combined. Stir in the cream, onion powder, and white pepper.
Serve hot with the garnishes on the side for your guests!
Recommended Products
As an Amazon Associate and member of other affiliate programs, I earn from qualifying purchases.
Nutrition Information:
Yield:

10
Serving Size:

1
Amount Per Serving:
Calories:

475
Total Fat:

34g
Saturated Fat:

13g
Trans Fat:

1g
Unsaturated Fat:

18g
Cholesterol:

140mg
Sodium:

272mg
Carbohydrates:

13g
Fiber:

3g
Sugar:

4g
Protein:

29g
Nutrition data provided here is only an estimate. If you are tracking these things for medical purposes please consult an outside, trusted source. Thanks!