Roasted Pork Tenderloin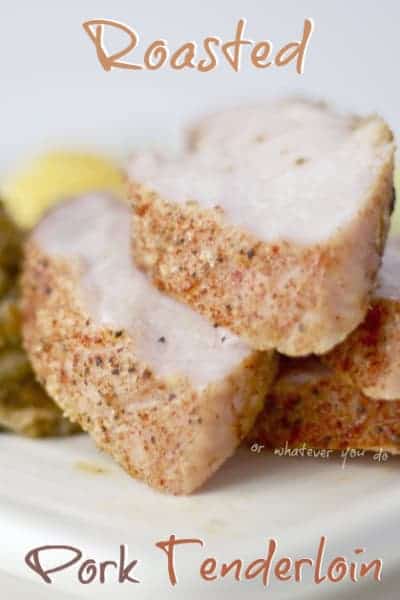 This is one of the most delicious, yet easiest recipes that you can make. It takes about 5 minutes to prep, about 25-30 minutes to cook, and it tastes amazing. Be on the lookout for this to go on sale. It can be quite pricey, but if you find it less than $3 a pound I often buy several and freeze them for later.
Start out by preheating your oven to 325. Get your tenderloin out of the package and rinse it off. Be careful handling pork. You can get all kinds of unspeakable things by cross-contamination with raw pork. After you rinse it make sure you wash your sink, any utensils, and hands very well. It's also a good idea to have one cutting board reserved for meat, and another for vegetables and anything non-meat. I use a plastic-based board for use with raw meat, and a bamboo cutting board for everything else. The hard plastic is easy to scrub with a scratch pad, and also goes into the dishwasher after for sanitation. You can't put bamboo into the dishwasher.
Place your tenderloin on your cutting board and remove the silverskin. This is tough, and practically inedible.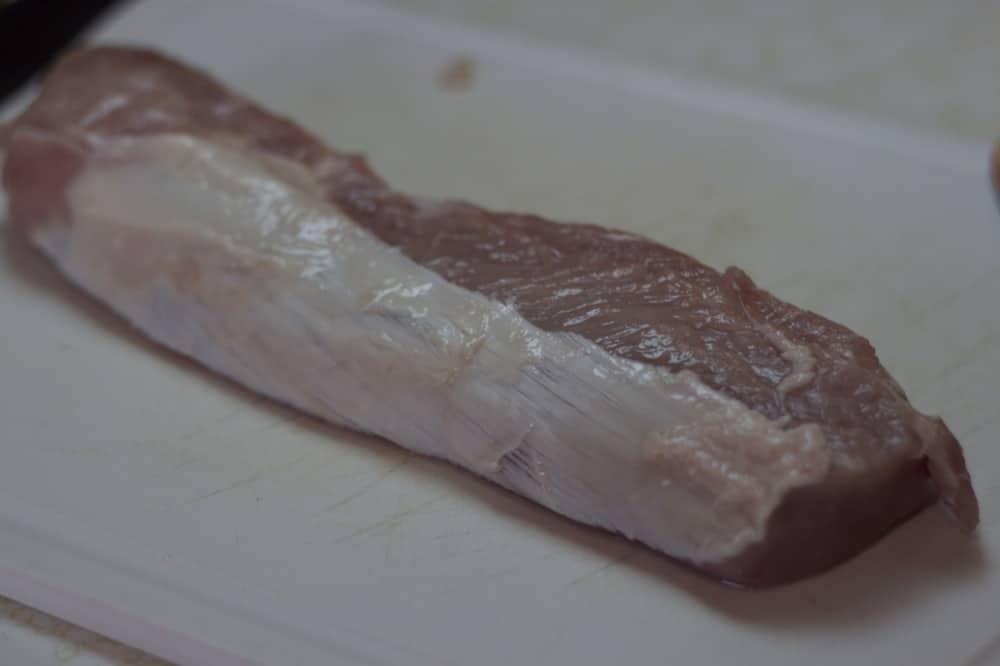 After removing the silverskin, coat your pork in the seasoning rub.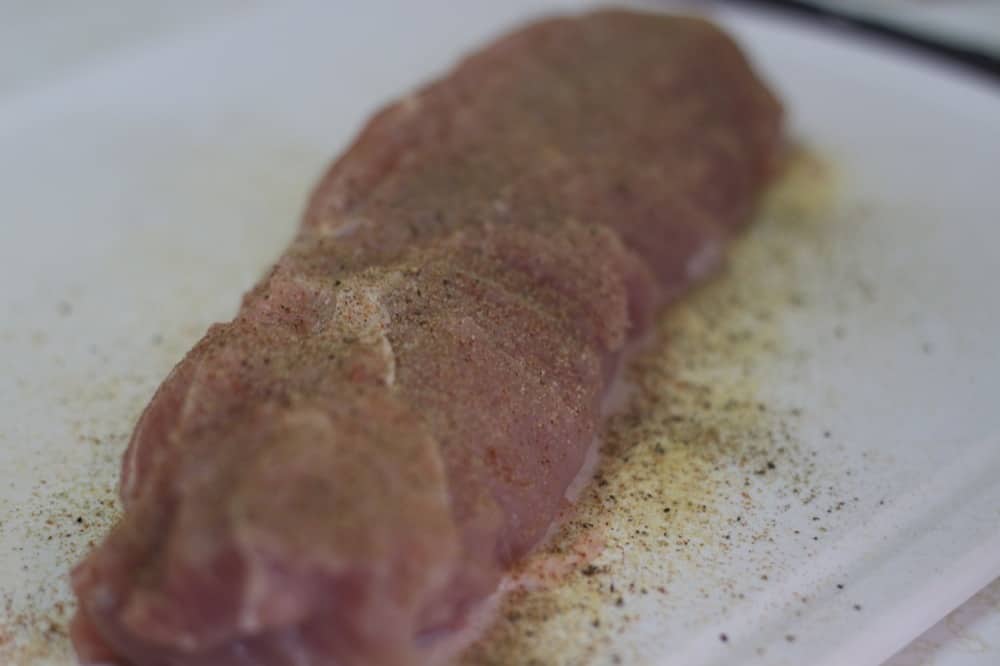 Place your pork on a rack and the rack on a baking sheet. Put into your preheated oven, and cook for 20-30 minutes, or until the internal temperature is at least 145 °F. If you cook it to a higher internal temp you will lose some of the juiciness and it may become dry and tough. 145 °F is the USDA recommended temp, and it's what I stick to.
USDA Recommended Safe Minimum Internal Temperatures
Cook all raw beef, pork, lamb and veal steaks, chops, and roasts to a minimum internal temperature of 145 °F as measured with a food thermometer before removing meat from the heat source. For safety and quality, allow meat to rest for at least three minutes before carving or consuming. For reasons of personal preference, consumers may choose to cook meat to higher temperatures.
Cook all raw ground beef, pork, lamb, and veal to an internal temperature of 160 °F as measured with a food thermometer.
Cook all poultry to a safe minimum internal temperature of 165 °F as measured with a food thermometer.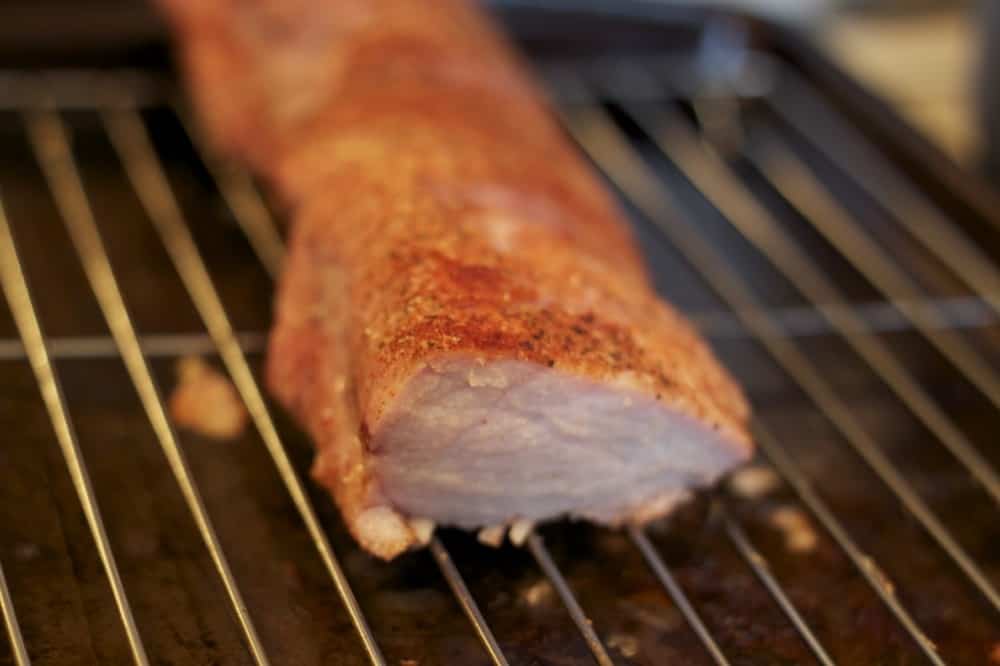 After you've let the tenderloin rest for 3-5 minutes, slice it on a bias and serve with your favorite sides.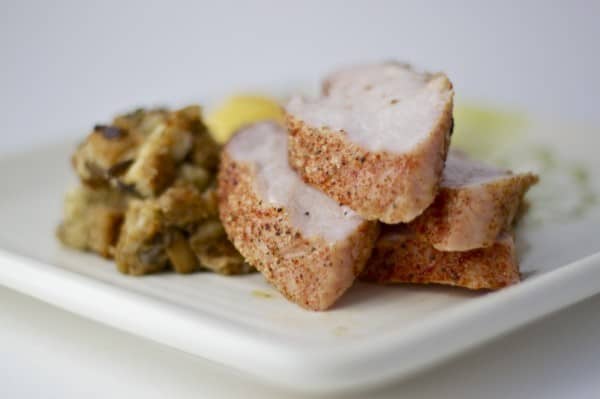 Yield: 4 servings
Roasted Pork Tenderloin Recipe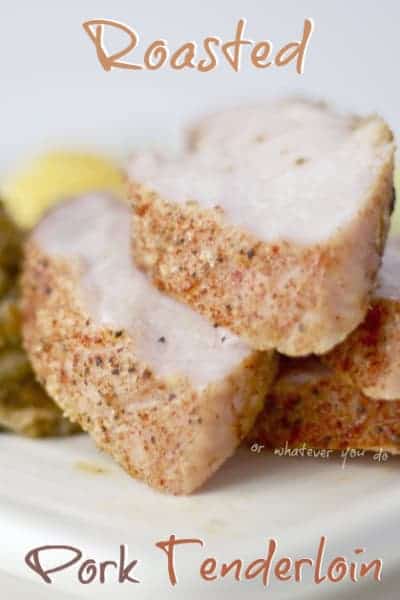 Pork tenderloin is a lean cut of meat that is simple to prepare! This easy recipe has a zesty seasoning mix and is cooked in the oven.
Ingredients
1 2 pound pork tenderloin
1/2 teaspoon cayenne pepper
1/2 teaspoon garlic powder
3/4 teaspoon salt
1/2 teaspoon ground black pepper
1/2 teaspoon paprika
1 teaspoon onion powder
1/4 teaspoon thyme
Instructions
Mix together all seasoning and spices for the spice rub mixture and set aside.
Preheat oven to 325.
Rinse pork tenderloin, pat dry, and remove silverskin.
Coat with the spice rub well, and place on a baking rack over a baking pan.
Bake at 325 for 25-30 minutes, or until the internal temperature is at 145 with a thermometer.
Remove from oven and let rest for 3-5 minutes.
Slice on a bias and serve immediately.
Nutrition Information:
Yield:
4
Serving Size:
1
Amount Per Serving:
Calories:

339
Total Fat:

9g
Saturated Fat:

3g
Trans Fat:

0g
Unsaturated Fat:

5g
Cholesterol:

166mg
Sodium:

527mg
Carbohydrates:

1g
Fiber:

0g
Sugar:

0g
Protein:

59g
Nutrition data provided here is only an estimate. If you are tracking these things for medical purposes please consult an outside, trusted source. Thanks!
As always…
Thank You for looking! I LOVE comments. Use the comment form below to interact, or if you like what you see, and want to see more, please feel free to jump on over to my Facebook page and like me there. I post teasers for upcoming recipes, answer any and all of your questions, and every recipe from here gets linked to there as well.

If you are a Pinterest fanatic like I am, you could also drop by and follow me there, and pinning my images is always appreciated!
Find me on Instagram!
Thanks for dropping by! Hope to see you again soon!
~Nicole~