Traeger Bacon is bacon that's been cooked on the pellet grill. Grilling your bacon makes for easier clean-up, and your house won't smell like bacon all day. It also produces more consistent hands-off results. Forget standing over a hot stove for an hour! Get on the double-smoked bacon bandwagon, and quick!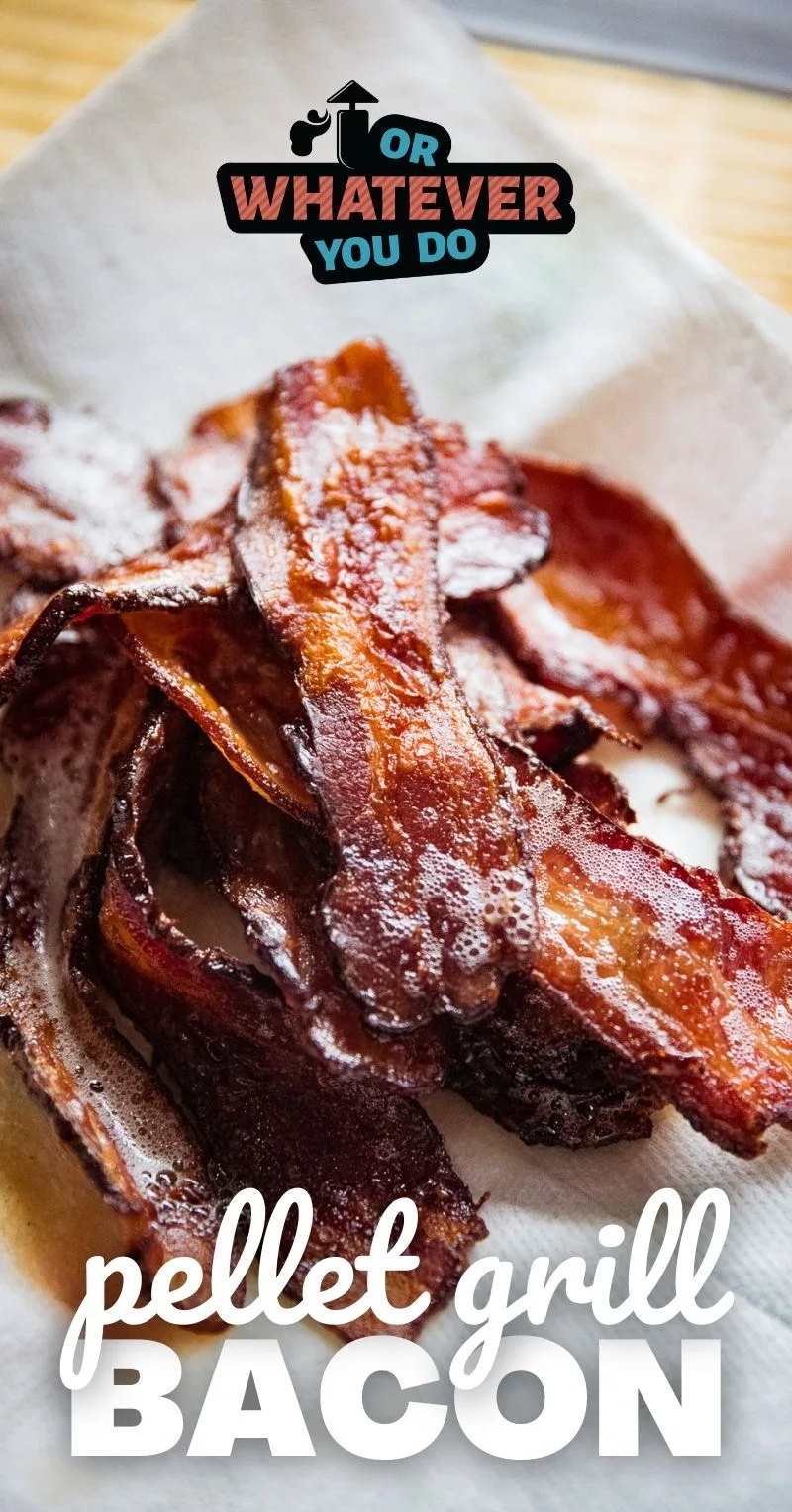 Traeger Bacon Recipe
Bacon, bacon, and more bacon. It never gets old, but can it get better? Umm, yes, yes it can. Now, introducing, in the red corner, Traeger bacon.
So, around these parts sometimes we say things like, "What else should we have with our bacon?".
I'm guessing this sounds familiar to you because you've asked (or have been asked) the same question. It's hard to overstate the goodness of bacon, so I won't try. What I'm after is what you're after, something new I can try with bacon.
I'm here to testify to the greatness of cooking bacon on my Traeger grill.
Speaking of greatness – if you already know how awesome the wood-fired grilling revolution is, you're going to want to check out our Pellet Grill Recipe collection!
Get our 75 ESSENTIAL Traeger Recipes here!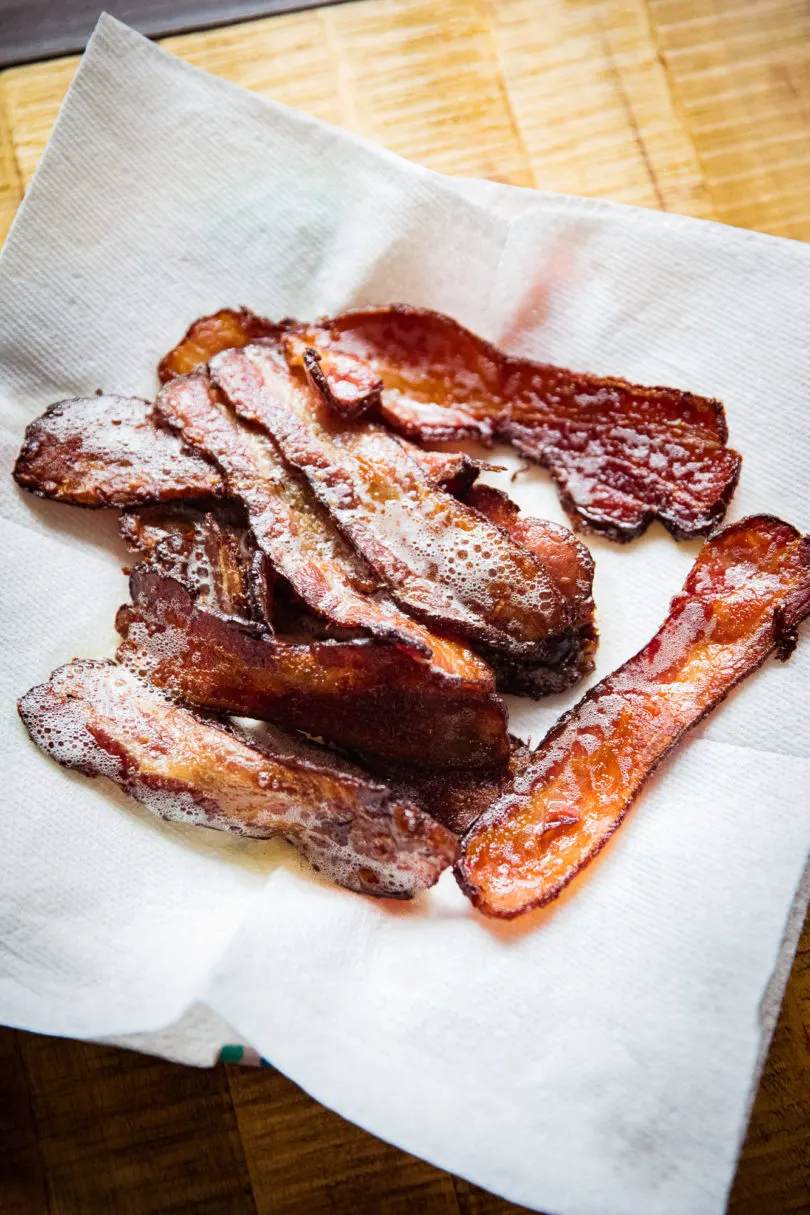 How to properly cook bacon on the Traeger
In a dizzying, never-ending litany of bacon possibilities that you the reader can choose from; I mean from bacon-infused coffee to even more bizarre offerings like bacon air fresheners (affiliate link in case you are into that sort of thing) and bacon-flavored lip balm (another affiliate! You crazy person you!), we can lose sight of the most important aspect of a bacon-centric outlook in life, and that's properly cooking bacon.
Uhhh….hard no on the bacon-flavored lip balm, by the way.
Bacon really does make most things better, but if you're looking to improve your bacon itself, you need to try cooking it on a pellet grill. The flavor is unbelievable and the texture and mouthfeel are perfect. You can use a variety of wood types, but my favorite is hickory.
If you guys haven't seen our Spicy Candied Bacon yet, you are going to want to get over here and do that post-haste.
The best part of this recipe is the list of ingredients.
Bacon.
That's it, just bacon.
Cooking it on a Traeger is easy as well.
With a temperature setting of 350 degrees, you are actually cooking the bacon like a convection oven would, if your convection oven was wood-fired and produced natural smoke flavor.
Folks, if you haven't been able to up your bacon game in any meaningful way lately, please put down the bacon-flavored dental floss and try this amazing, 1-ingredient, simple-to-make Traeger bacon, today.
Try our No-Flip Traeger Bacon too where we cook the bacon up on a rack over a sheet pan.
More great BREAKFAST RECIPES here!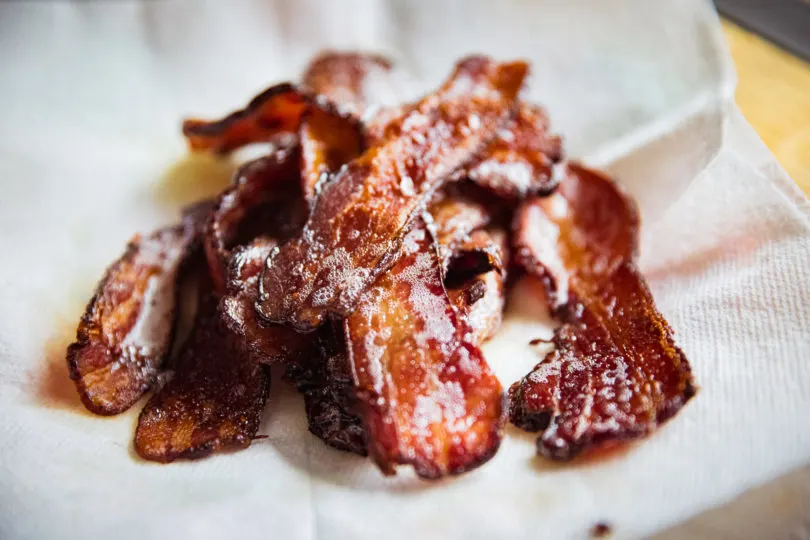 Traeger Bacon Shopping List
Bacon
Traeger
Non-stick foil
Don't forget to check out our Pellet Grill Hub!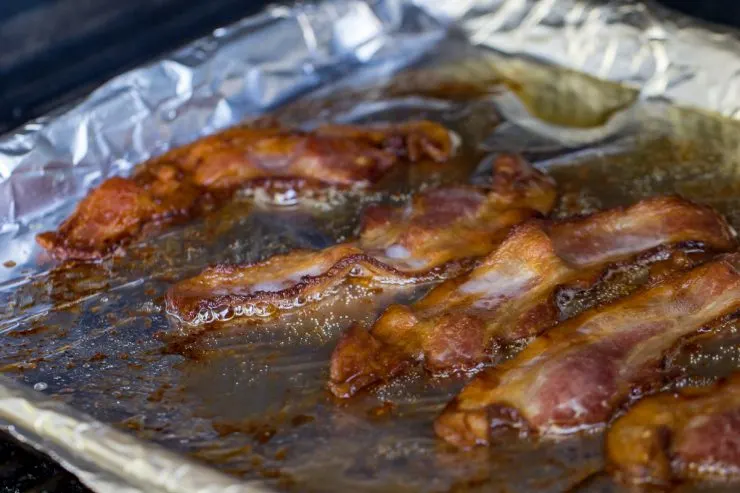 How to cook bacon on your pellet grill
Cook bacon on your grill by lining a baking sheet with parchment paper or non-stick foil.
Preheat your grill to 375 degrees, and place the bacon onto the lined sheet in a single layer.
Place the sheet into the grill, shut the lid, and let cook for 20 minutes.
Open the grill and flip the bacon, and close and cook an additional 5 minutes, or until the bacon reaches your desired level of "done". It'll crisp up as it cools, so make sure and account for that!
This post is NOT sponsored, we just big puffy heart our Traegers and use them ALL THE DANG TIME. Since we post what we cook, you're seeing all the Traeger recipes these days! Yay, you!
More recipes to enjoy!
Follow me on Instagram!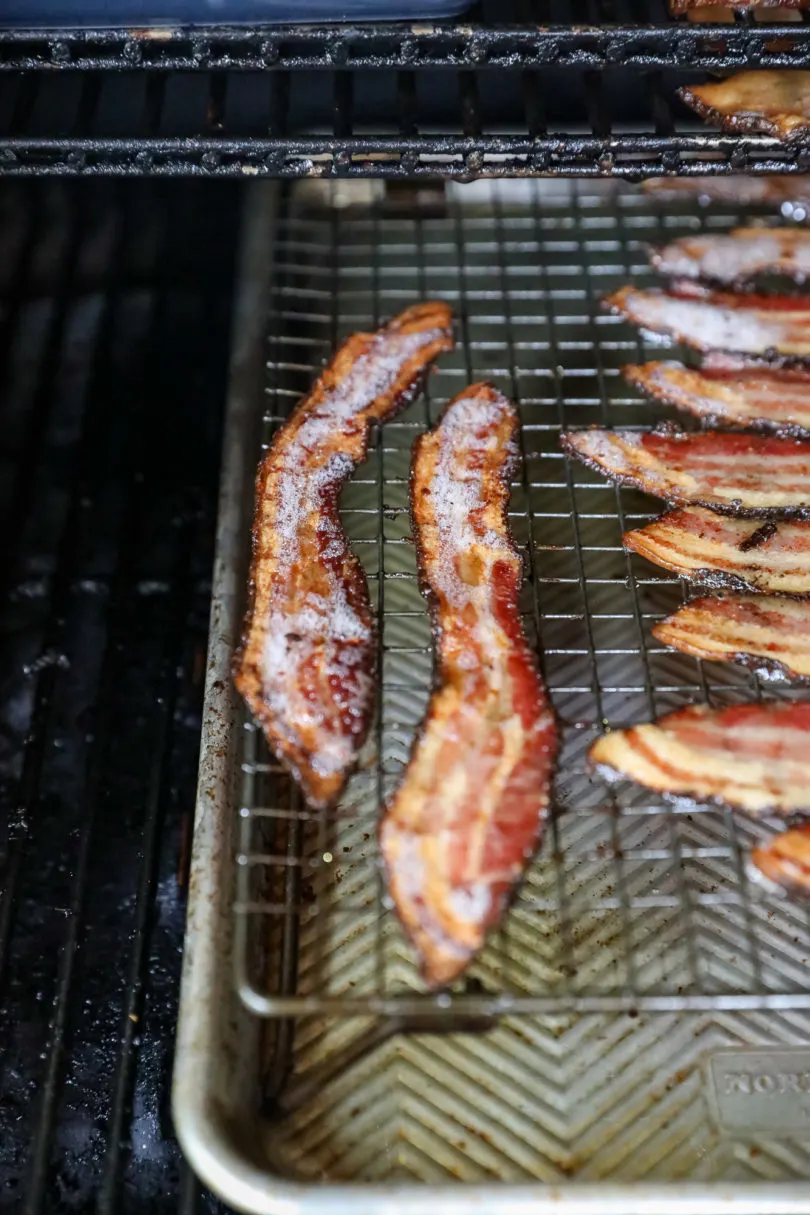 Serve this with…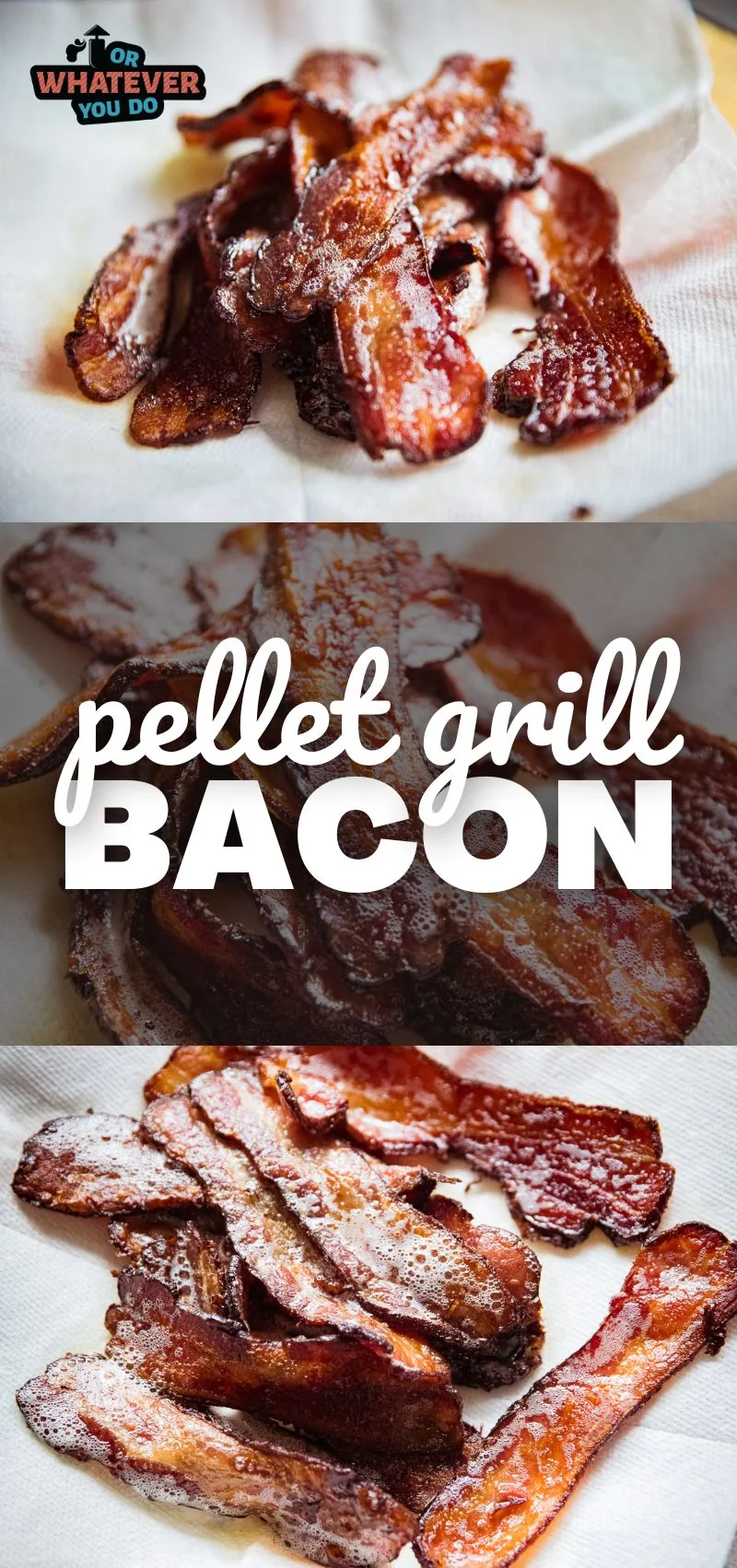 Yield: 6 servings
Traeger Grilled Bacon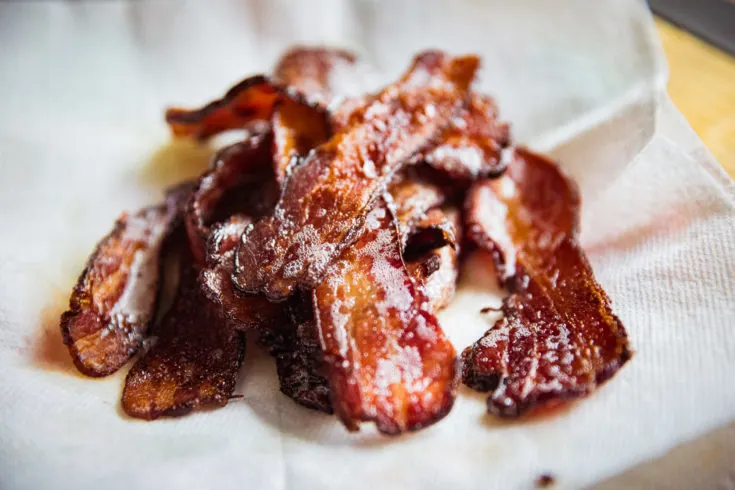 Traeger Grilled Bacon is easy, and makes the BEST bacon ever!
Instructions
Preheat your Traeger Grill according to manufacturer directions to 350°F.
Line a large baking sheet with parchment paper, and place thick cut bacon on the sheet in a single layer.
Bake in the Traeger at 350 for 20 minutes. Flip over the bacon, and reclose the lid. Cook for an additional 5-10 minutes, or until the bacon is no longer floppy.
Notes
If you don't use thick cut bacon, make sure to adjust your cook time accordingly!
Baked bacon firms up a bit after it comes off the grill and cools a bit. It is easy(ish) to overcook if you are trying to get it to the exact perfect doneness ON the grill itself. Pull it a minute or two earlier than you think you should. You can always cook it a little more, but all you've got is bacon bits if it goes a couple minutes too long. (not that there's anything wrong with bacon bits.)
Recommended Products
As an Amazon Associate and member of other affiliate programs, I earn from qualifying purchases.
Nutrition Information:
Yield:
4
Serving Size:
1
Amount Per Serving:
Calories:

531
Total Fat:

40g
Saturated Fat:

14g
Trans Fat:

0g
Unsaturated Fat:

25g
Cholesterol:

112mg
Sodium:

1910mg
Carbohydrates:

2g
Fiber:

0g
Sugar:

0g
Protein:

38g
Nutrition data provided here is only an estimate.