Meyer Lemon Blueberry Bread has always been one of my favorites, and this recipe remains on my "Must Make" list still!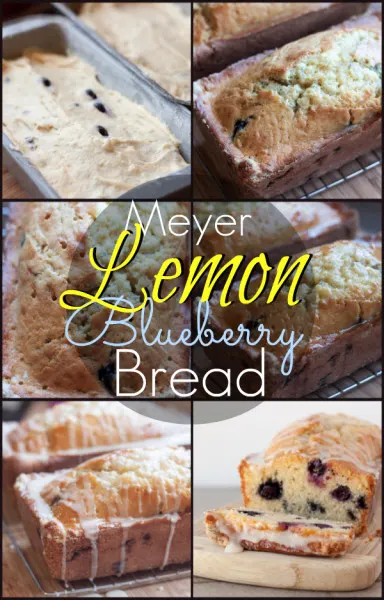 I finally found an answer to the big, "What am I going to do with the rest of these Meyer Lemons!?!" question the other day. This Meyer Lemon Blueberry Bread. I saw a similar recipe over at Sweet Pea's Kitchen quite a while ago, and it has been on my "NEED TO MAKE!!" list since I first saw it. I LOVE Sweet Pea's Kitchen, and she and I have very similar tastes. Check her out.
I really like lemonade. Love lemon iced tea. For some reason though, I have never been very big on lemony desserts. This bread was awesome. Moist. Just sweet enough. Big blueberries suspended inside.
For a true lemon fan, it doesn't get much better than something like this. It still isn't in my "top 5" for dessert flavors (1. Vanilla 2. Raspberry 3. Blueberry 4. Chocolate 5. Strawberry), but I will definitely keep this recipe around for a pot-luck, brunch, or gift idea.
It was really easy to throw together too. There are quite a few steps involved, but they are all fairly simple, and don't take too long to accomplish.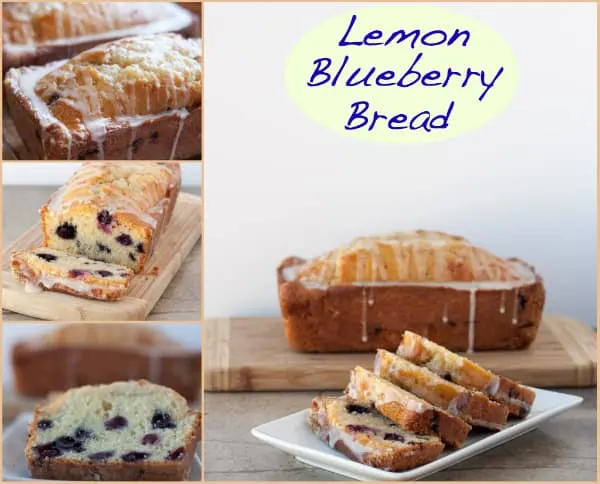 I started off by zesting my lemons. It took the zest of about 2.5 meyer lemons to get the full 2 tablespoons that the recipe called for. Also, I think I am zesting deficient.
My "zester" blade on my shredder seemed to have most of the actual zest stuck to the top and NOT coming out the bottom. I actually took a new toothbrush (never been used!!!!) and used that to coax all the zest from the shredder.
If you have run into this issue, what did you do to fix it? Is the zester blade just a great big joke? Anyway, after you zest, juice your lemons. Strain out the pulp and seeds, and set the juice aside.
Now cream the butter and sugar and zest together until they are light and fluffy. Sift together the flour and baking powder, and set aside.
Add the eggs, one at a time, to the creamed sugar and mix well after each addition. Now add the vanilla and milk and mix until combined, about 2-3 minutes.
Slowly add in the flour and mix until it is well combined. Toss the blueberries in 2 tablespoons of flour, and then gently fold into the lemon batter.
Split the batter between two prepped 10 inch loaf pans that have been well buttered and floured.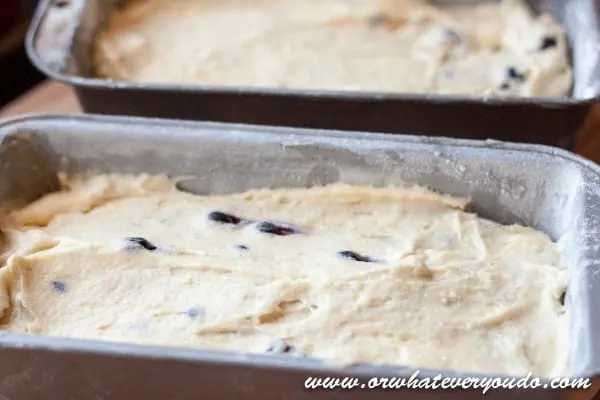 Bake at 350 for 55-60 minutes, or until the tops are golden brown and a toothpick comes out clean.
While the loaves are cooking, place your lemon juice for the syrup and sugar into a small sauce pan. Heat over medium heat until simmering and cook, stirring frequently, for about 5 minutes. Set aside to cool.
Cool for 10 minutes in the pans, and then turn the loaves out onto wire racks.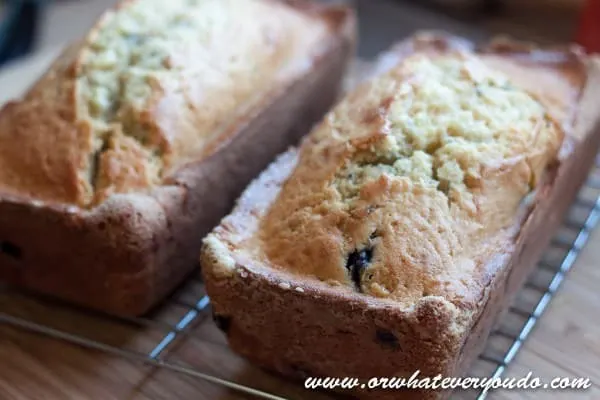 After the loaves have cooled for about 10 minutes on the wire racks, take a skewer and go a little nuts poking a ton of holes all over the tops of the loaves.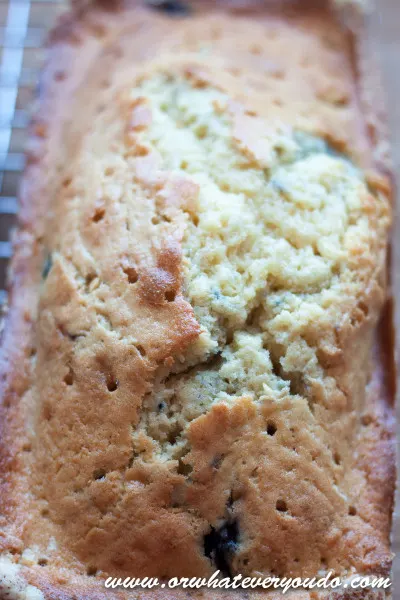 Brush the cooled syrup over the tops of the loaves. I put two coats on the loaves, and had a little extra left over when I was done. That would make a killer fresh lemonade to drink while you wait for the loaves to cool the rest of the way!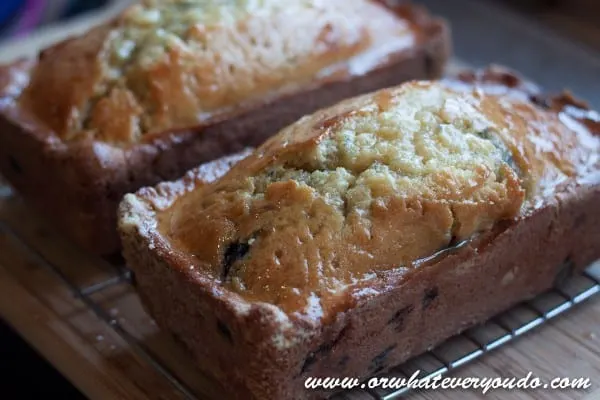 Once the loaves are cooled, mix up your lemon glaze by whisking together the sifted powder sugar and extra lemon juice. It should be pourable, but not TOO thin. Pour over the loaves and enjoy!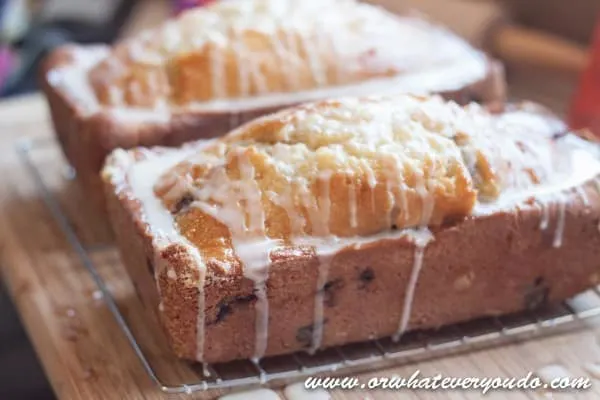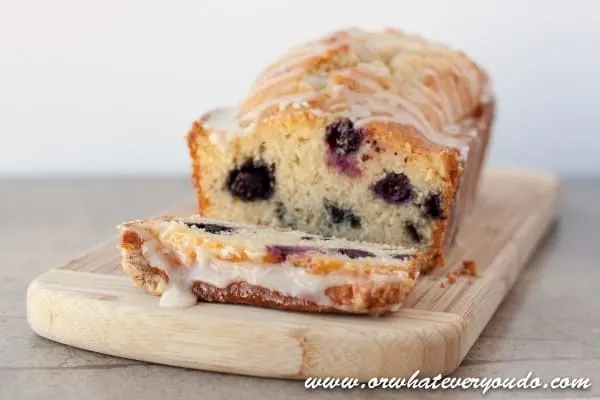 Yield: 12 servings
Meyer Lemon Blueberry Bread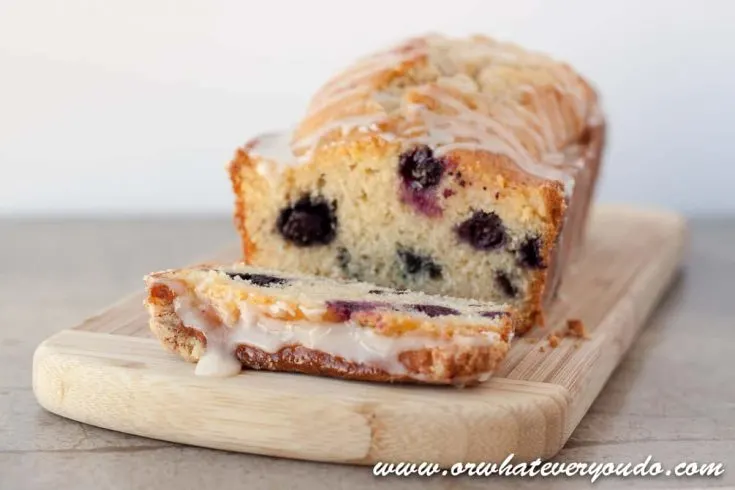 Moist and delicious blueberry lemon bread is topped with a lemony glaze and is one of my favorite ways to use up those spring and summer berries!
Total Time
1 hour
20 minutes
Ingredients
Bread:
1 cup butter, salted
1.5 cups sugar
2 tablespoons lemon zest
3 cups all purpose flour
2 teaspoons baking powder
6 large eggs
1 cup 2% milk
1 Tablespoon vanilla
2 cups blueberries - tossed in 2 teaspoons flour
Syrup:
1/3 cup lemon juice
1/3 cup sugar
Glaze:
1 cup sifted powdered sugar
2 Tablespoons fresh lemon juice
Instructions
Preheat oven to 350 and prep two 10 inch loaf pans by buttering and flouring them well.
Cream sugar, butter, and lemon zest until light and fluffy, or about 4-5 minutes. Add in eggs, one at a time, mixing after each additional until combined. Add in vanilla and milk and mix until it is combined.
Sift flour and baking powder together and slowly add to wet ingredients. Beat just until the flour is incorporated into the batter. Gently fold in blueberries by hand.
Divide batter between the two loaf pans and bake for 55-60 minutes, or until the top is golden brown and a toothpick comes out clean.
While the loaves are baking, make the lemon syrup by combining the lemon juice and sugar in a small sauce pan and simmering over medium heat until slightly reduced and thickened, or about 5 minutes. Set aside to cool.
Let loaves cool in the pans for 10 minutes, and then remove to a wire rack. Cool another 10 minutes and then poke holes all over the loaf, being careful not to go all the way through, using a long skewer.
Brush the cooled syrup over the loaves. Let the loaves cool the rest of the way, at least an hour.
Whisk together sifted powdered sugar and remaining lemon juice to form a glaze. Pour over cooled loaves and serve immediately.
Nutrition Information:
Yield:
12
Serving Size:
1
Amount Per Serving:
Calories:

470
Total Fat:

19g
Saturated Fat:

11g
Trans Fat:

1g
Unsaturated Fat:

6g
Cholesterol:

135mg
Sodium:

251mg
Carbohydrates:

70g
Fiber:

2g
Sugar:

43g
Protein:

7g
Nutrition data provided here is only an estimate. If you are tracking these things for medical purposes please consult an outside, trusted source. Thanks!
Notes:
I used frozen blueberries for this very successfully. I wouldn't hesitate to do so again.
Lightly tossing the blueberries in a little flour can help prevent them from sinking in the batter.
These can be frozen for future use by wrapping tightly in plastic wrap after they are fully cooled, and then placing in a freezer bag.
---
---