Hey everyone! Did you have a wonderful Labor Day weekend? As you can see, I made some changes to the look of the blog. I like to do that now and then, and as I get more comfortable with WordPress, you will see some more changes. What do you think? Do you like the new front page?
School is back in session (finally!), and this week has been busy and relaxing all at once around here. I now have THREE out of FOUR of my kids in school! I cannot believe it!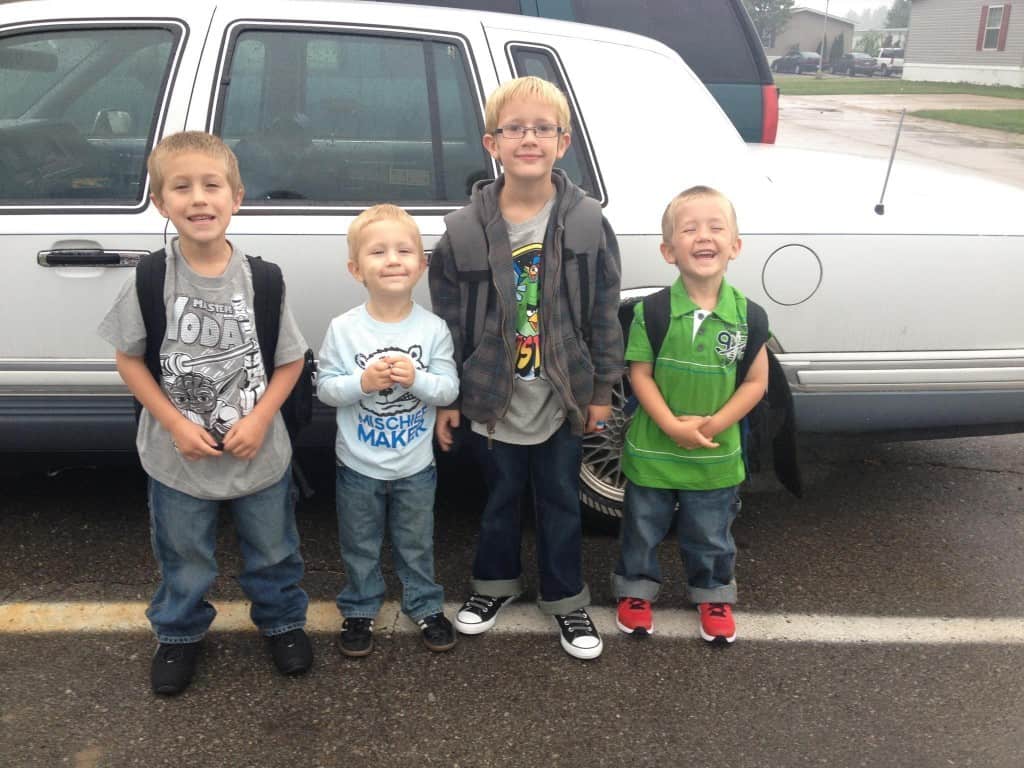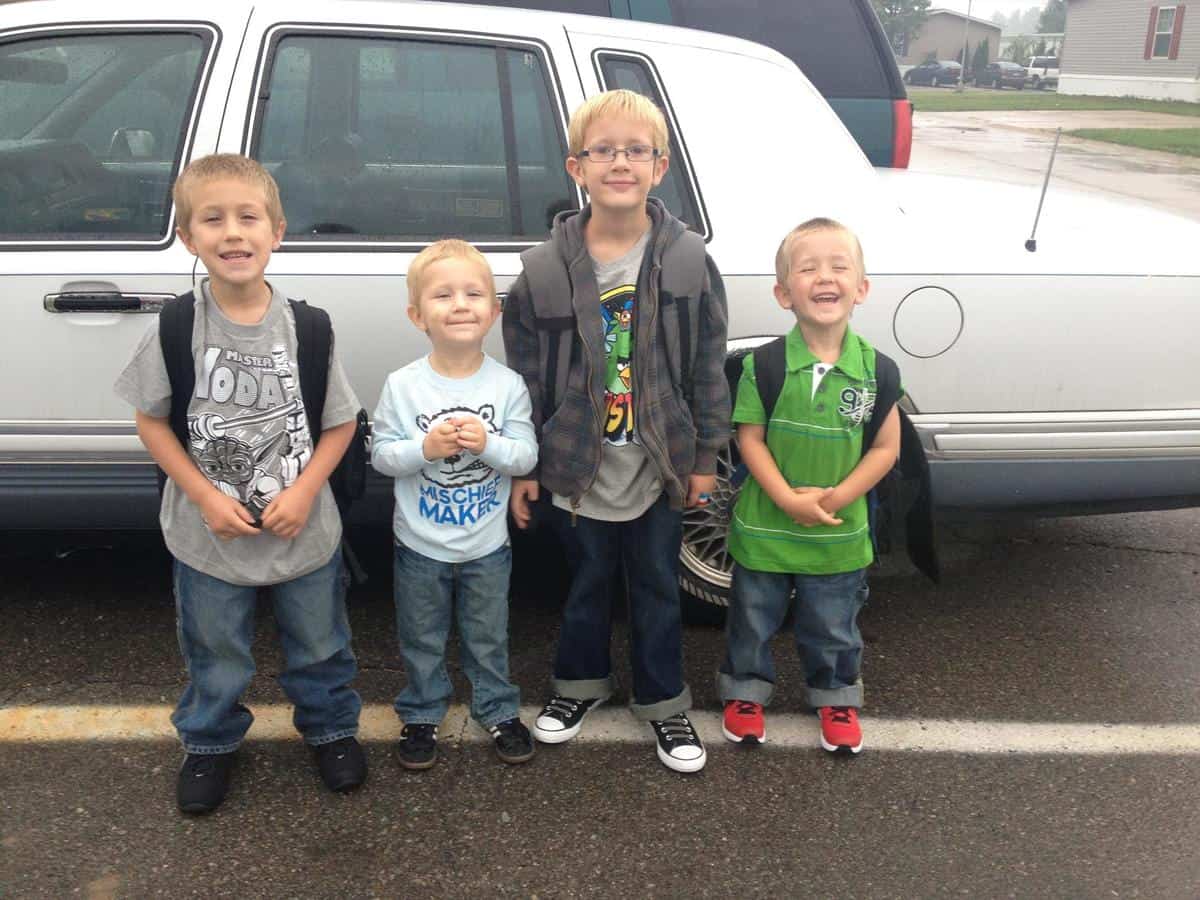 Caleb and I have been having a blast this week while his big brothers are away at school. So much time on our hands! I haven't had only one child at home with me since 2005!
The week went by fairly uneventfully. On the 3rd day of school my Kindergartener gave his teacher a mini heart attack by spotting his brother going into the lunch room, and following him in. Evidently it took some time to track him down, and ended with the Principal escorting him back to class. Whoops!
I made this easy Puff Pastry last weekend for a Labor Day BBQ at our friend's house. They were a hit! I loved the mini apple tarts I made out of the dough. Like little bite-sized apple pies. I can't wait to try out this recipe again for my mini pie maker!
Easy Puff Pastry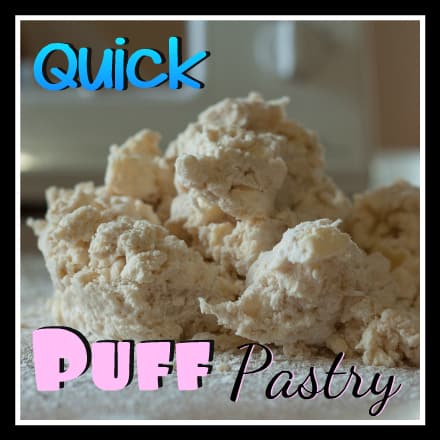 I have always wanted to try and make my own puff pastry, but the traditional method kind of made me nervous. Making a big slab of butter? I wasn't sure if I could do it properly, and that is a LOT of butter to waste if it didn't work out right. When I came across another method to make easy puff pastry, I was hooked!
This was my first try at making this quick puff pastry, and it turned out perfect. I will definitely be making this in the future for all of my recipes that call for puff pastry. It is much cheaper than the frozen variety, and this can be made in an hour!
Assemble your ingredients.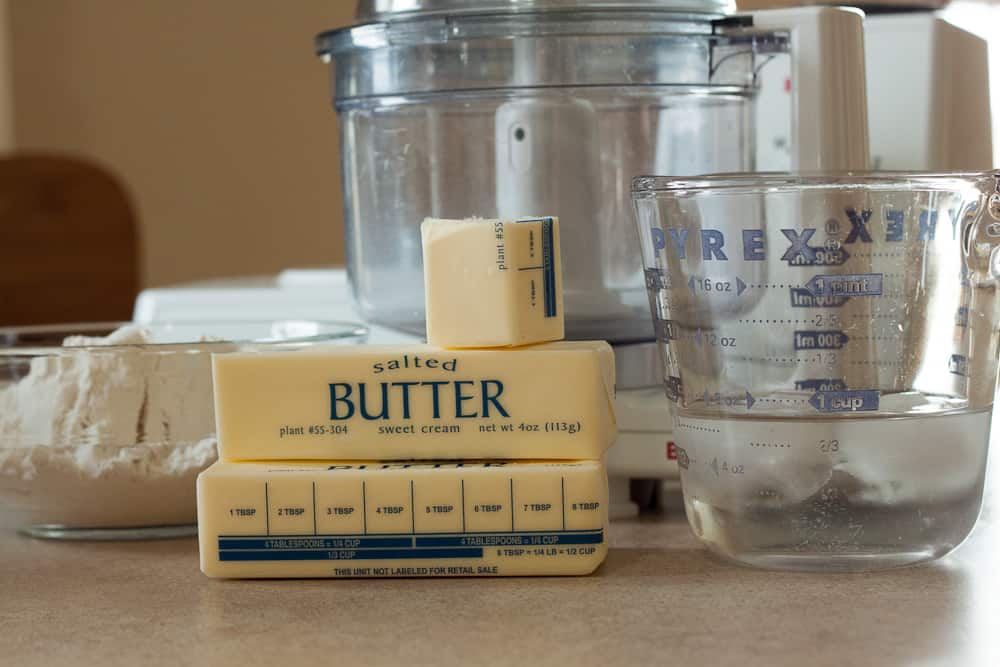 Start by cutting up the cold butter into small cubes.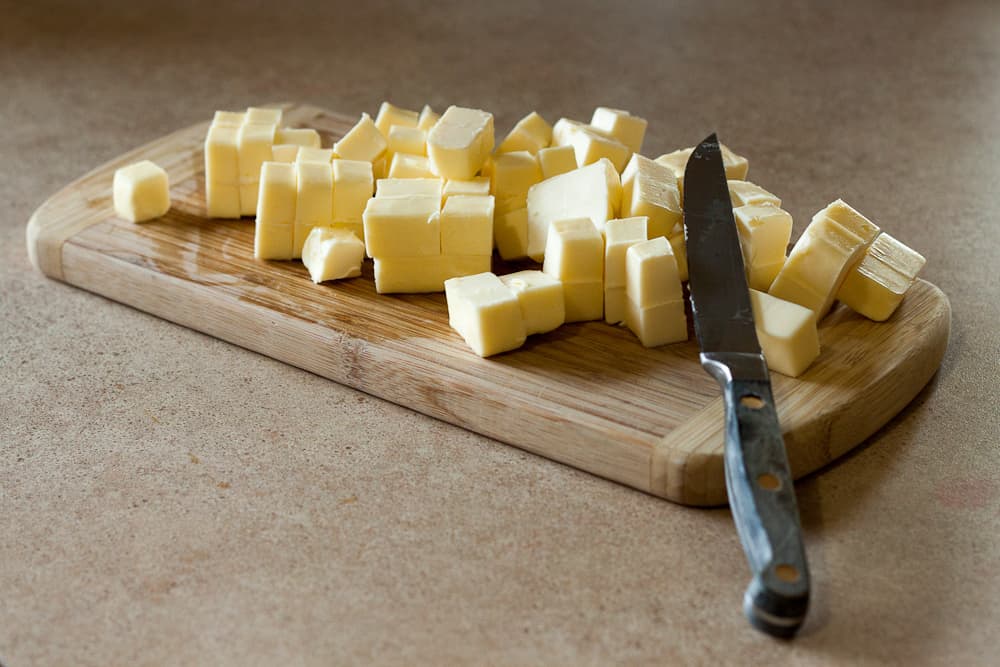 Coat the butter in flour, and then put the flour and butter into the food processor. Pulse 3-5 times, or until the butter is about half the size of the cubes you cut up. Dump in the water, and pulse 4 more times.
Dump the whole thing out onto a lightly floured surface.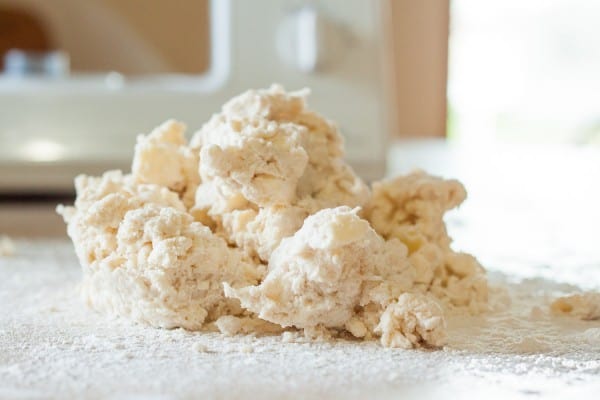 Use your hands and form the big mess into a long rectangle. Fold one third of it over towards the center (use a bench scraper or a big spatula), then fold the other half over the top of that. Turn the whole mess 90 degrees and do it all over again. Do this for a total of 4 turns. Wrap it in plastic wrap and put it in the fridge for 45 minutes to an hour.
After it is chilled, using a rolling pin shape the dough into a rectangle, roll out into a rectangle and repeat the folding process 3 more times.
When you want to use the dough, roll out to about ¼ – ⅓ inch thick, cut out to your desired shape, and bake at 400 degrees until golden brown. The secret to really puffy puff pastry is a HOT oven, and cold dough.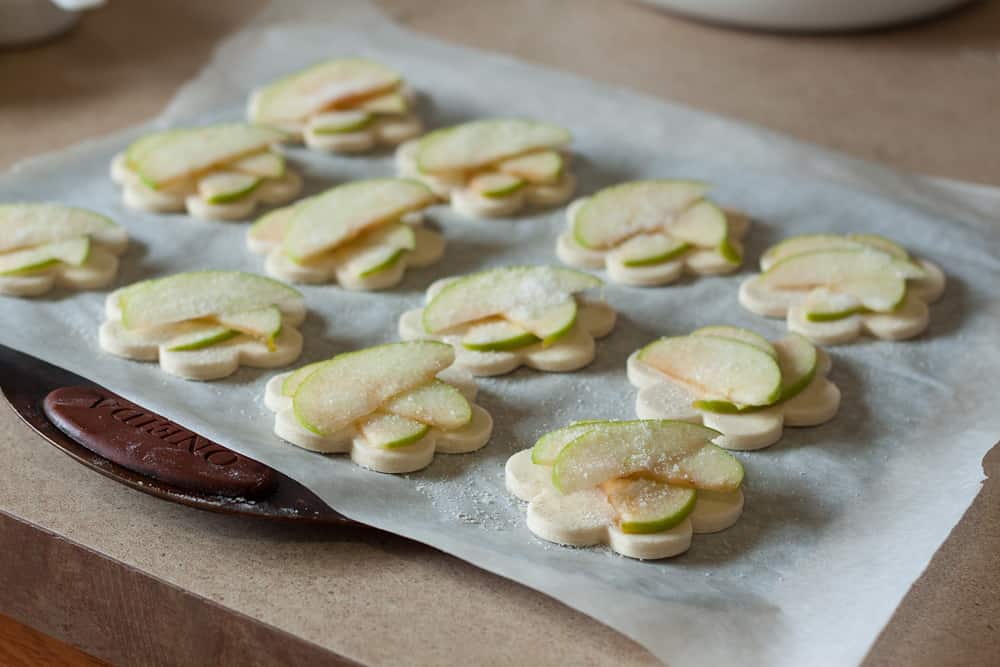 Yield: 16
Easy Puff Pastry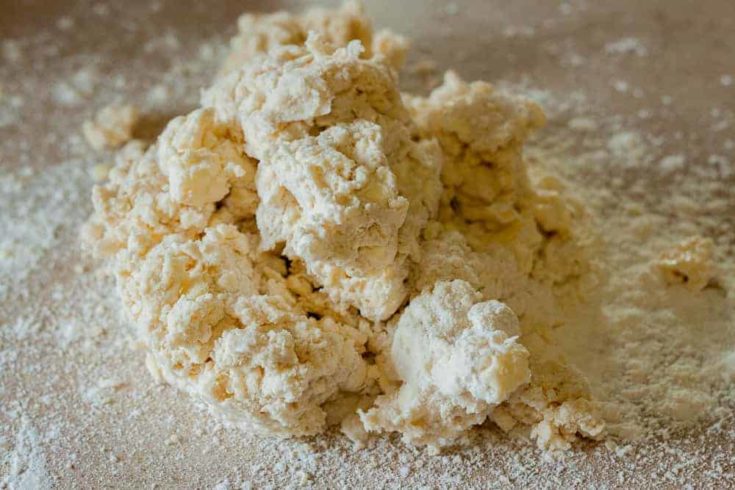 Easy, quick puff pastry that performs and tastes like the traditional method!
Total Time
1 hour
40 minutes
Ingredients
2 cups flour
3 1/4 sticks butter
1/2 cup cold water
Instructions
Cut up butter into small cubes. Coat in flour and put it and the rest of the flour into the food processor. Pulse 3-5 times.
Add the water and pulse 3 more times.
Dump out onto a lightly floured surface. Shape with your hands into a rectangle. Fold over in thirds, like a business letter. Turn 90 degrees and do another fold. Repeat two more times for a total of 4 turns. Chill for 45 minutes to an hour.
Remove from fridge and place on lightly floured surface. Using a rolling pin this time, roll out into a rectangle and do three more turns folding over in thirds, turning 90 degrees,and repeating the process.
After the 7th turn, roll out to about 1/2 inch in thick ness, cut out to desired shapes, and use according to your favorite recipe directions!
Nutrition Information:
Yield:
16
Serving Size:
1
Amount Per Serving:
Calories:

221
Total Fat:

19g
Saturated Fat:

12g
Trans Fat:

1g
Unsaturated Fat:

6g
Cholesterol:

49mg
Sodium:

148mg
Carbohydrates:

12g
Fiber:

0g
Sugar:

0g
Protein:

2g
Nutrition data provided here is only an estimate. If you are tracking these things for medical purposes please consult an outside, trusted source. Thanks!
As always…
Thank You for looking! I LOVE comments. Use the comment form below to interact, or if you like what you see, and want to see more, please feel free to jump on over to my Facebook page and like me there. I post teasers for upcoming recipes, answer any and all of your questions, and every recipe from here gets linked to there as well.
Click through my amazon banner below to help support my site! I receive a small portion of the sales price, and you receive awesome product backed by Amazon!

If you are a Pinterest fanatic like I am, you could also drop by and follow me there, and pinning my images is always appreciated!
Find me on Instagram!
Thanks for dropping by! Hope to see you again soon!
~Nicole~