The pellet grill isn't just for big slabs of pork ribs and beef tenderloins! You can make all kinds of foods in your Traeger, and our new Traeger Chicken and Gravy recipe is homemade and wonderful served over a big pile of Fingerling Potatoes or Mashed Potatoes.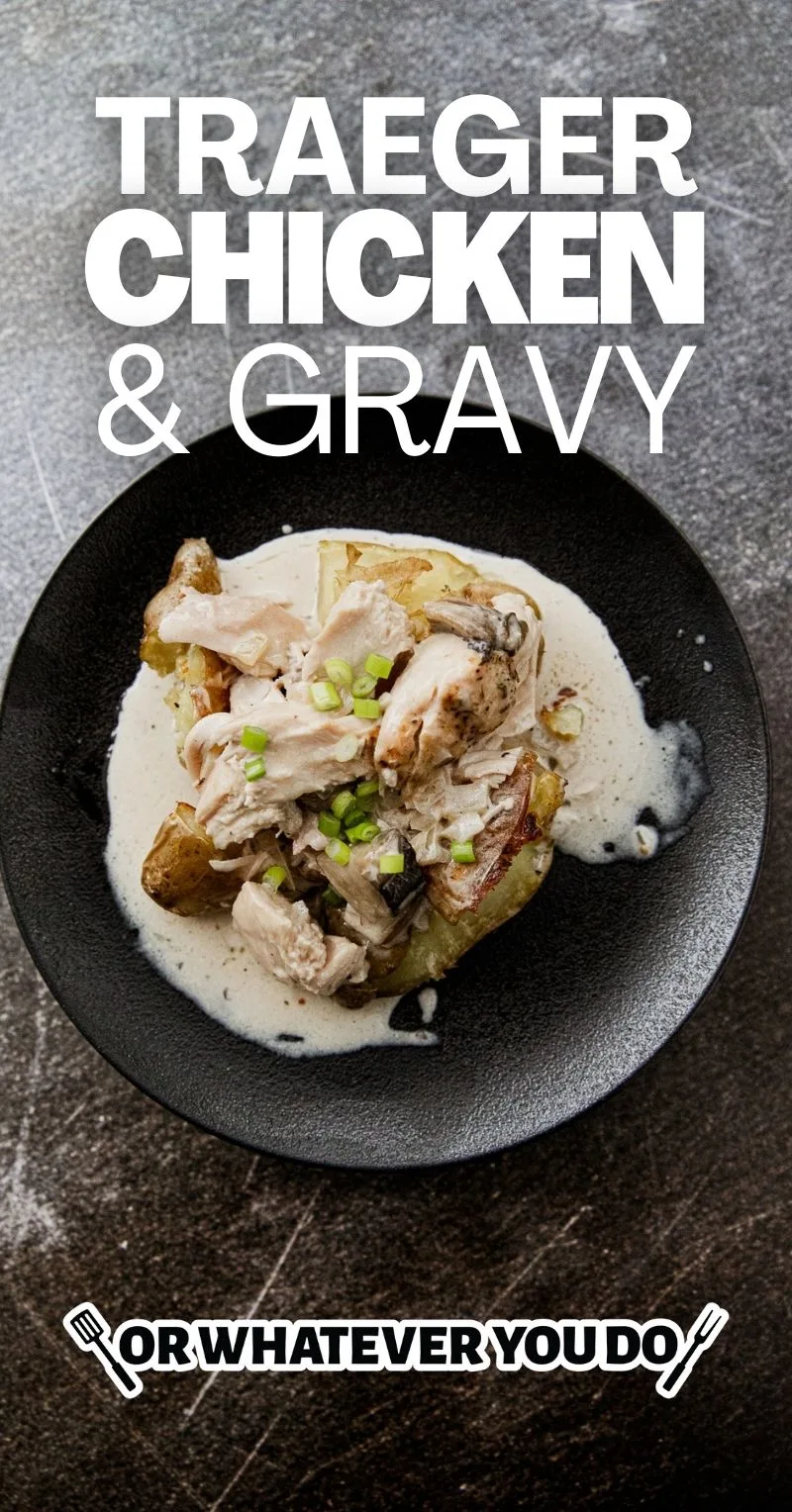 Traeger Homemade Chicken and Gravy
Chicken and gravy is a classic dinner option that is hearty, filling, and tastes delicious. Most recipes online call for copious amounts of "cream of" soup, which is great for a quick and easy dinner, but not an ingredient we use often for a variety of reasons.
This Chicken and Gravy recipe is homemade, with a rich and creamy gravy that we whip up from scratch, and we use the powers of our pellet grill to add some wood-fired flavor to the mix.
While the recipe itself calls for a whole quartered chicken, you can use whatever cut of chicken is convenient whether they are thighs, leg quarters, or chicken breasts.
Get all of my Traeger Recipes here!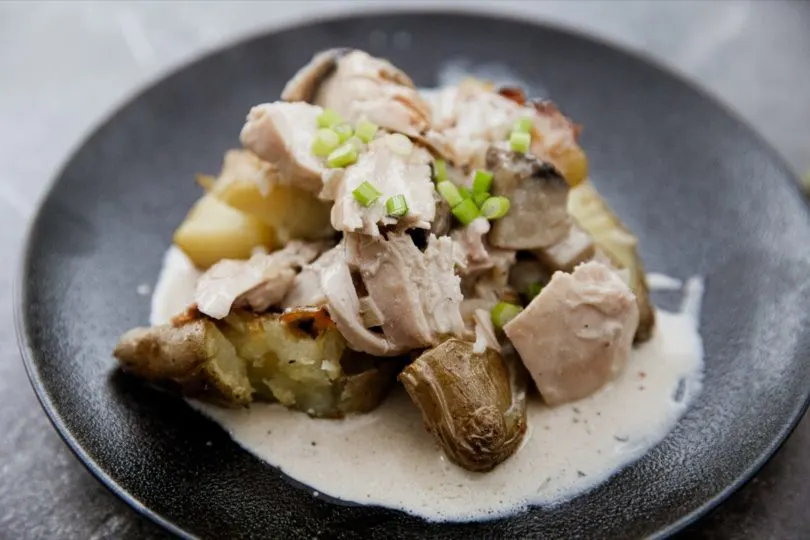 Chicken and Gravy shopping list
Wondering if you have to hit the store? Here's the list of items you'll need to make this recipe. For specific amounts, please refer to the printable recipe card at the bottom of the post.
Chicken, quartered
Salt & pepper
Garlic powder
Poultry seasoning
Portabella mushrooms
Olive oil
Salted butter
Onions
Garlic
Flour
Chicken stock
Cream
Thyme
Get 75+ of my favorite Traeger Recipes here!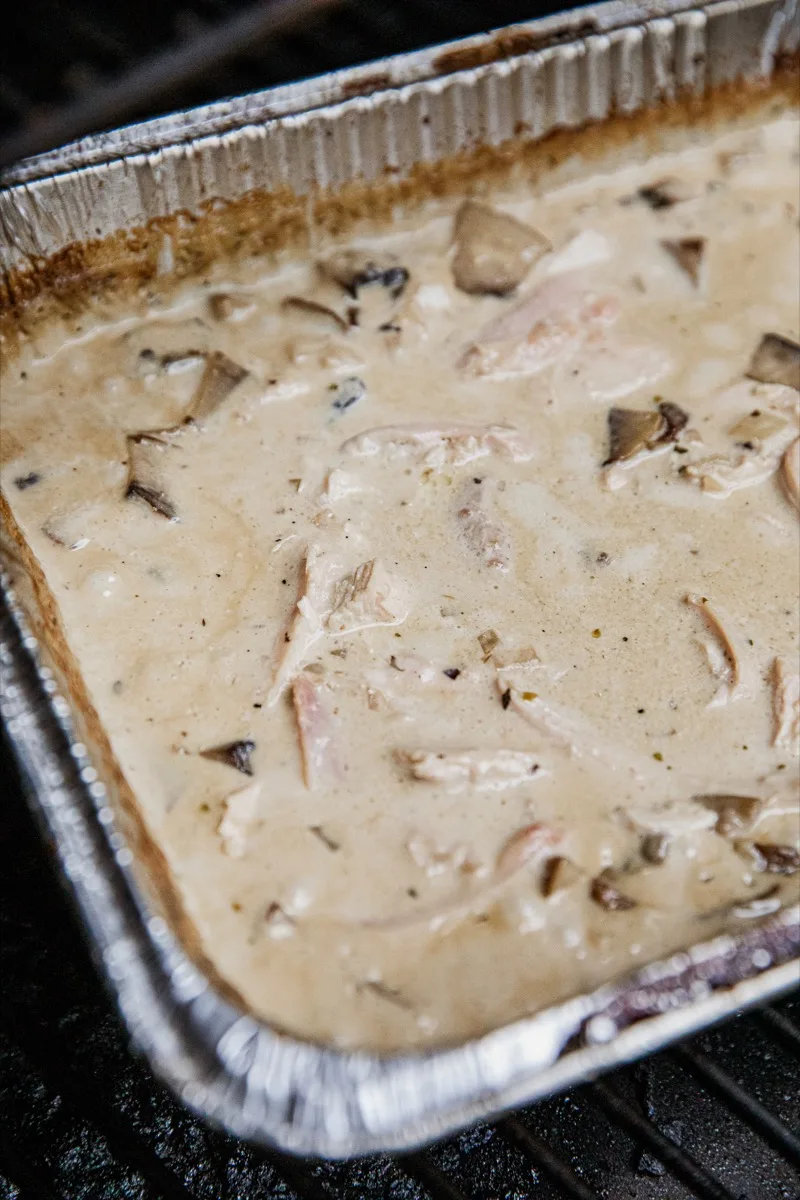 How to make Chicken and Gravy on the Traeger
This is just the overview so you can see what you're actually getting into here. When you are cooking, you'll want to use the full recipe at the bottom of the page.
Preheat
Fire up the grill and get it heated up to 375°F.
Season
Season the chicken and place it on the grill.
Gravy
Whip up the gravy on the stovetop while the chicken is getting some grill time.
Mix
Put the chicken and the gravy in a grill-safe baking dish and turn the grill down to 325°F. Cook for another 30-45 minutes until the chicken is tender and shreddable.
Enjoy
Serve over your favorite carb and dig in!
Serve with a delicious Greek Salad!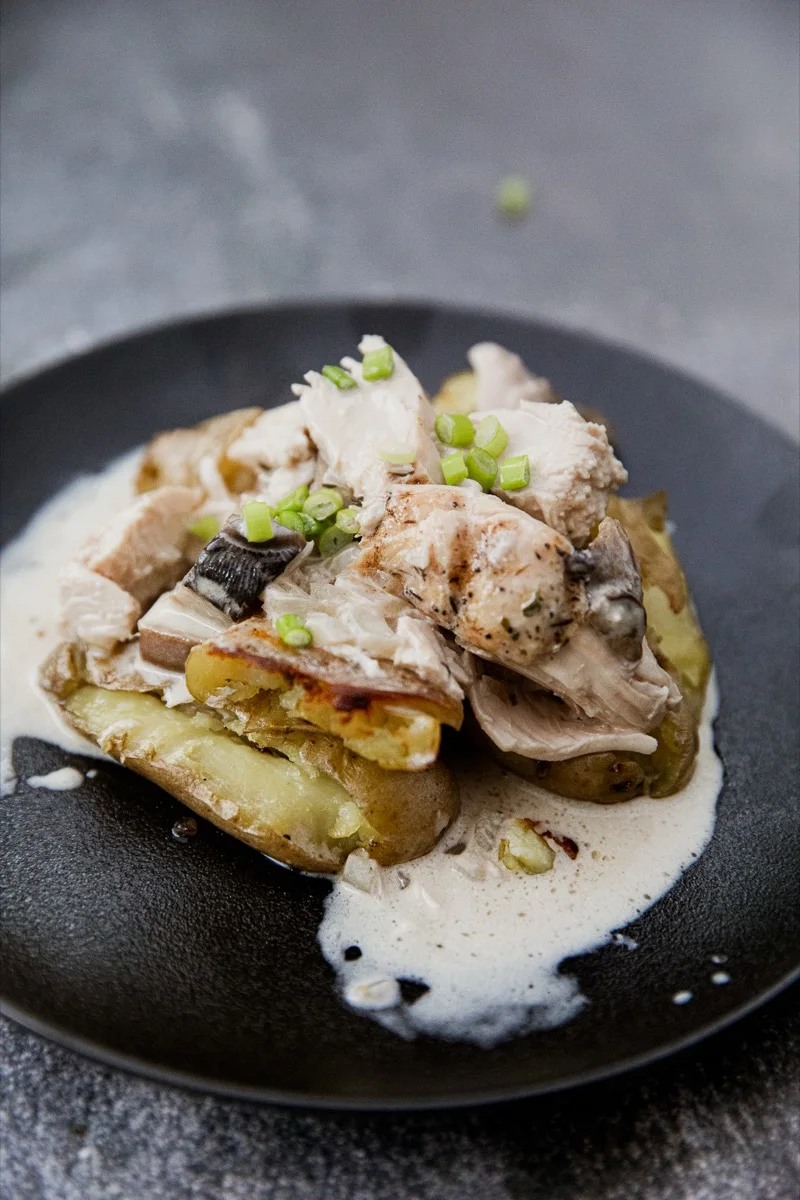 Chicken and Gravy FAQ
Can this be made in advance?
Yes! This recipe is perfect to make ahead of time to bring along somewhere. It keeps well in a slow cooker too.
What's the best way to store and reheat leftovers?
Store these in any airtight container for 2-3 days. Reheat in the microwave. Easy stuff!
Some Grilled Asparagus is perfect with this!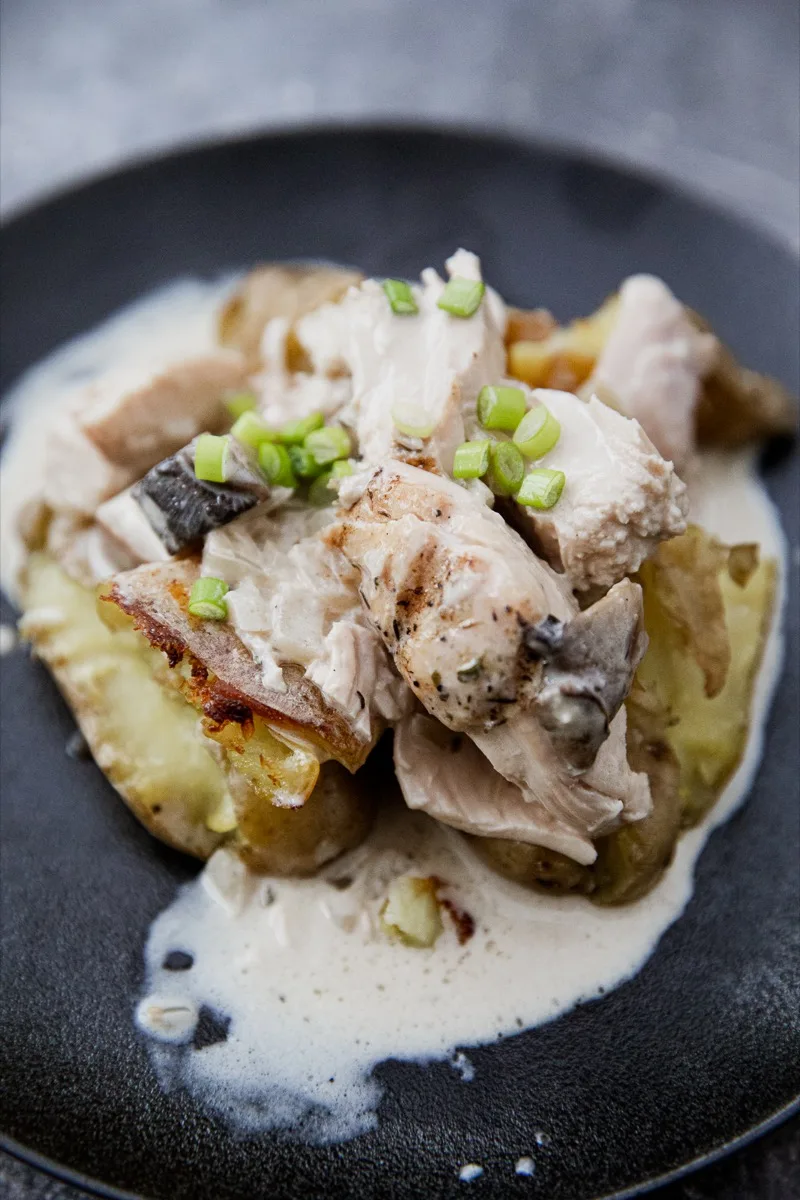 More great recipes to love!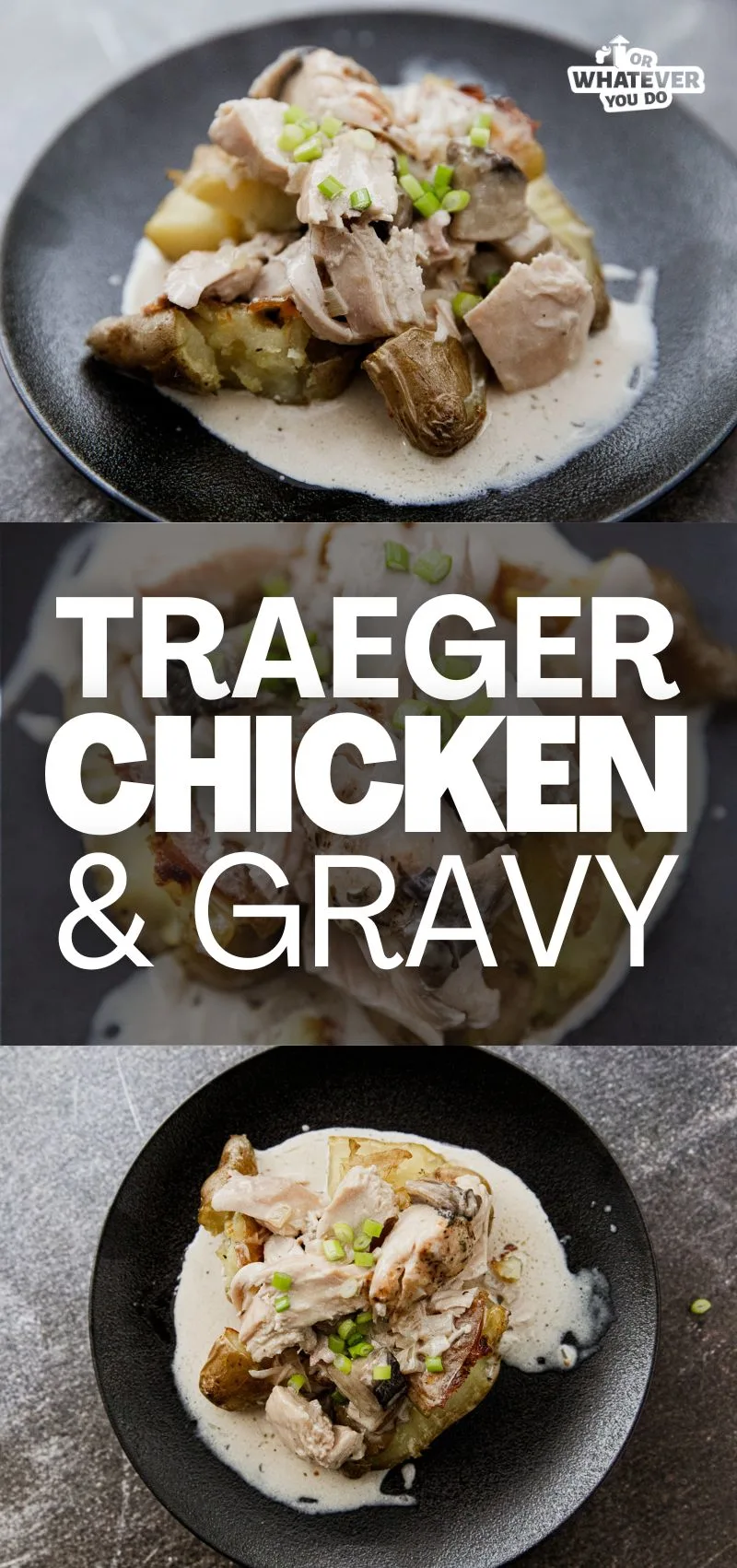 Yield: 6 servings
Traeger Chicken and Gravy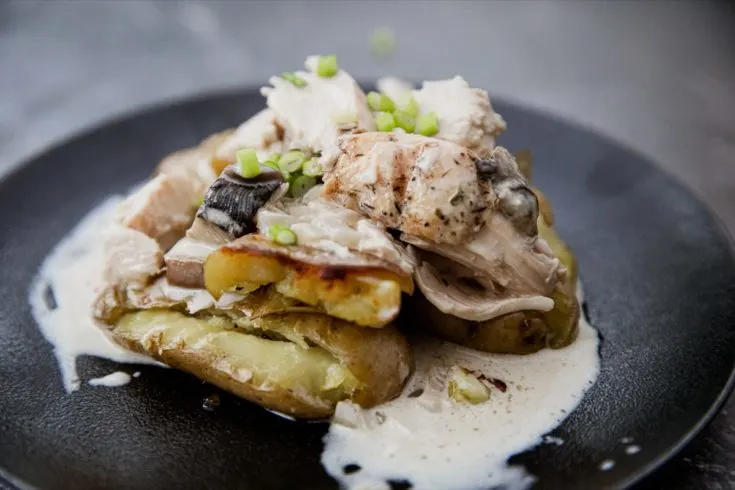 Hearty, delicious, homemade Traeger Chicken and Gravy is perfect heaped over some roasted potatoes!
Total Time
1 hour
20 minutes
Ingredients
Chicken
1 whole chicken, quartered (bone in, and skin on)
1 teaspoon salt
1/2 teaspoon pepper
1/2 teaspoon garlic powder
1 teaspoon poultry seasoning
Gravy
2 whole Portabella mushrooms
1 tablespoon olive oil
6 tablespoons salted butter
2 tablespoons finely diced onions
1 clove fresh garlic, sliced
5 tablespoons all-purpose flour
3 cups chicken stock
2 cups cream
1/2 teaspoon fresh thyme
Instructions
Preheat your grill to 375°F.
Season the chicken on all sides with the salt, pepper, garlic powder, and poultry seasoning.
Place the chicken directly on the grill grates, skin-side up, and cook for 15-20 minutes.
While the chicken is cooking, prep your gravy.
First, slice the mushrooms into bite-sized pieces. Put the olive oil into a large skillet and let it get hot over medium-high heat. Put the mushrooms inside and let them brown. Cook until they have some nice color and have released their liquid and it has cooked off. Remove to a bowl and set aside.
In the same skillet, melt the butter over medium heat. Saute the onions in the melted butter for 2-3 minutes. Add the garlic and saute for 1 minute.
Turn the heat down to medium-low and whisk in the flour. Cook for 2-3 minutes, whisking constantly.
Pour in the chicken stock and cream and whisk until the mixture simmers and thickens slightly. Add the thyme and stir it into the gravy.
Turn the grill down to 325°F. Take the chicken off the grill and place it into a grill-safe high-sided baking dish. Pour the gravy over the chicken and place the dish in the pellet grill.
Let the chicken and gravy cook on the grill for 30-45 minutes, or until the chicken is fully cooked, tender, and shredable.
Serve hot over potatoes or rice with lots of gravy spooned over the top.
Recommended Products
As an Amazon Associate and member of other affiliate programs, I earn from qualifying purchases.
Nutrition Information:
Yield:
6
Serving Size:
1
Amount Per Serving:
Calories:

682
Total Fat:

55g
Saturated Fat:

30g
Trans Fat:

1g
Unsaturated Fat:

21g
Cholesterol:

211mg
Sodium:

719mg
Carbohydrates:

13g
Fiber:

0g
Sugar:

5g
Protein:

33g
Nutrition data provided here is only an estimate.