My Traeger Tuna Melt Flatbread takes your "been there done that" tuna melt and brings it back to the place of sandwich respect it deserves. It doesn't take much to make it interesting again in terms of time and energy. Just the right bread and garnishes and you love a tuna fish sandwich all over again.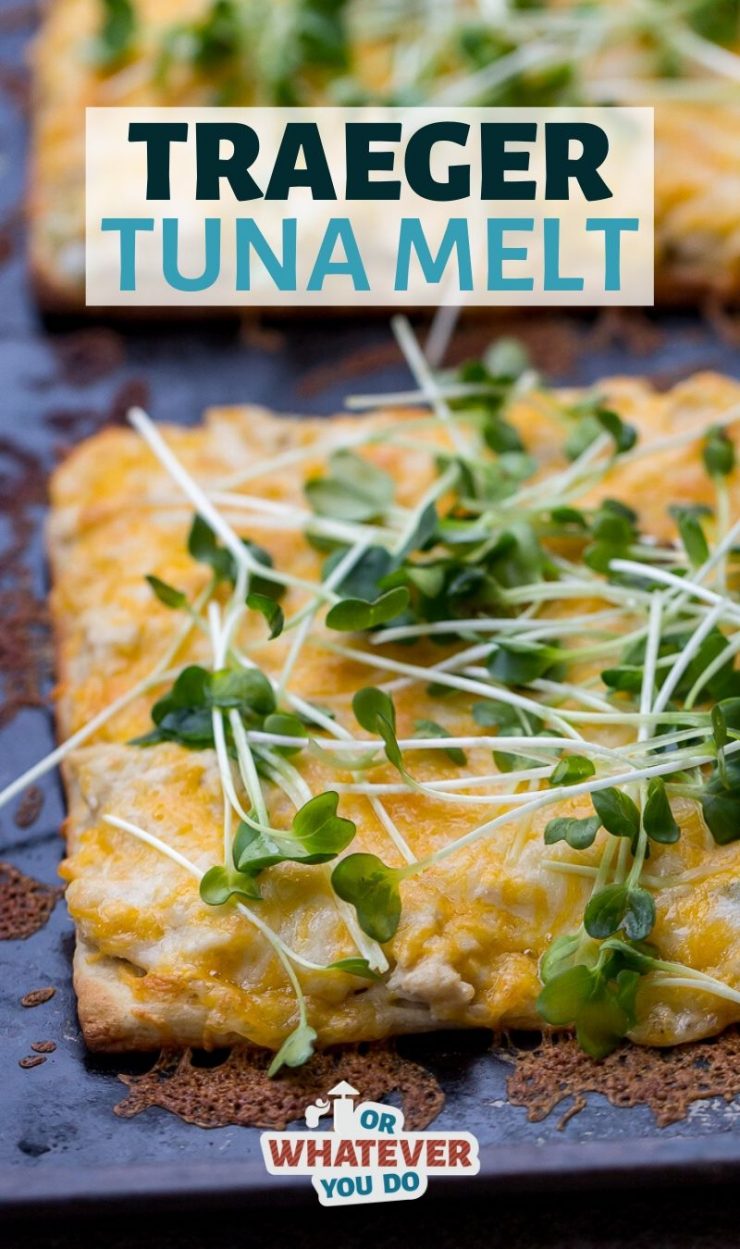 Tuna Melt Flatbread, sandwiches with a twist
Have you ever noticed how flatbread sandwiches in sandwich shops and coffee shops just seem to cost way more than a typical sandwich on plain white or wheat bread?
The only difference really is the bread and the types of garnish and greens, but not much more than that. What a difference the bread makes!
When you do a tuna flatbread sandwich, it just begs for the cheese to broil and bake on top. The cheese brings it all home.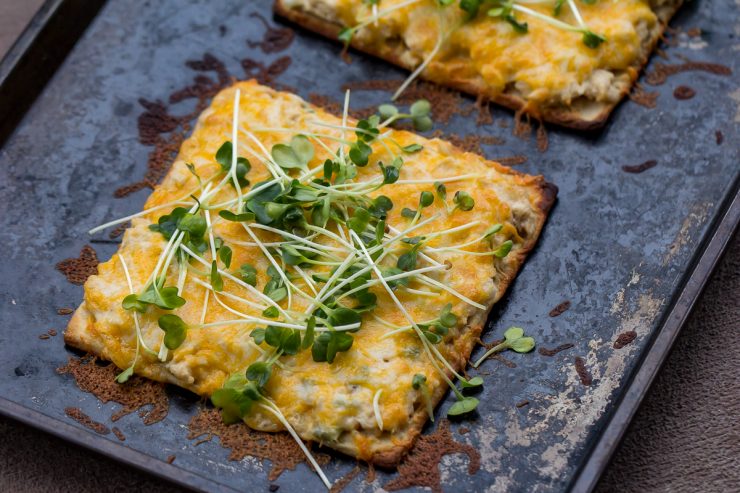 What do you put in the tuna salad?
All you need for the tuna fish is some mustard, mayo, chopped pickles, garlic, onion powder, and salt and pepper. Any more seems like overkill. Any less and it just doesn't taste right.
Any type of mayo works but some, like olive oil mayonnaise, have a strong flavor that might be distracting. If you are a Miracle Whip fan then keep in mind that Miracle Whip's main seasoning is garlic.
If you don't want too strong a garlic flavor, then you can cut back on the garlic powder when Miracle Whip is involved.
More Easy Traeger Recipes here!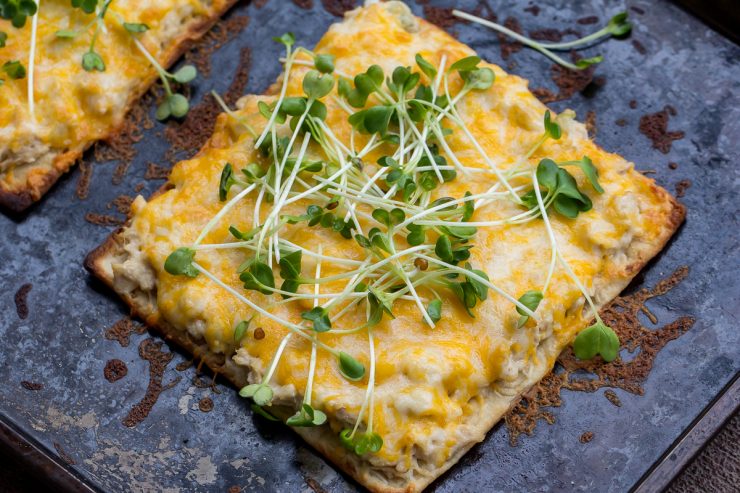 Is Tuna a sustainable fish?
Although not all tuna fish is sustainably harvested, not even those marked as sustainably harvested, it is one of the more naturally prolific fishes. It is good to seek out brands that follow best practices for ethical catches.
Greenpeace ranks the top company brands for accountability. The top three are Wild Planet, American Foods, and Whole Foods brand. If you get those brands then you know they are making best efforts to be accountable and not overfish the tuna population.
Luckily, tuna is still one of the most populous fish populations. But it's always good to keep the health of the oceans in our minds though!
Get my easy Side Dish recipes!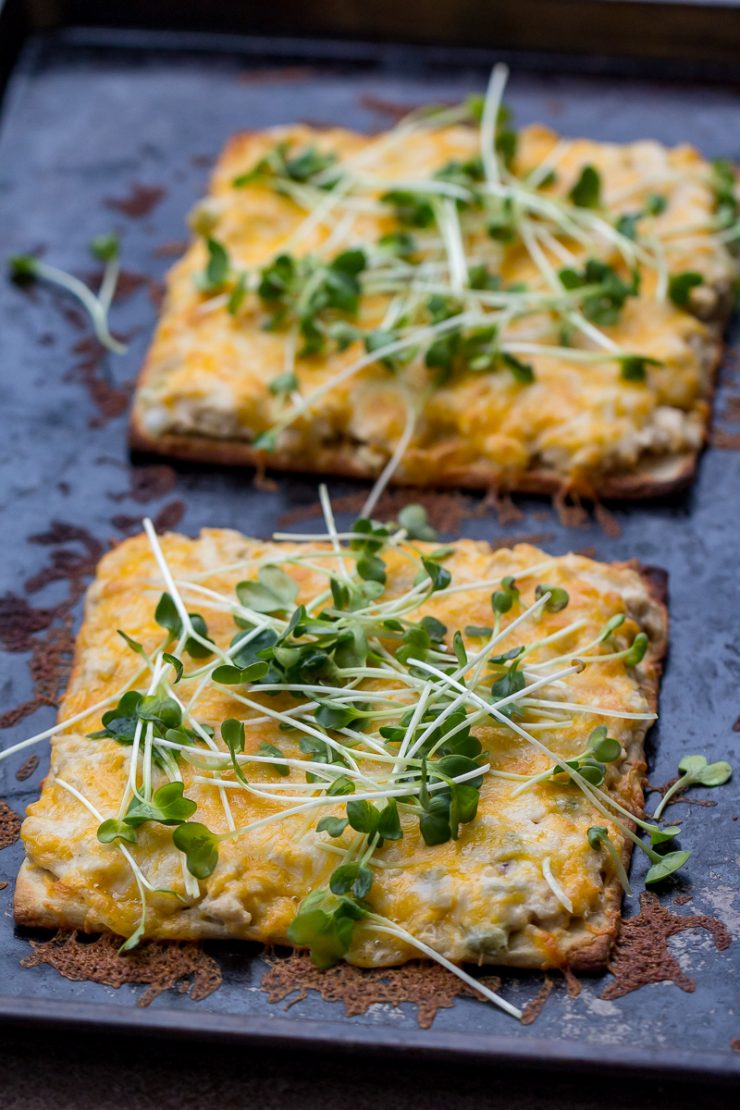 How to pick the right flatbread
Flatbread is a broad term to describe a style of bread that is pressed down and baked "flat". The style of flatbread most people know and love is pita bread, but there are actually a variety of flatbreads, some leavened and others not.
Basically, every culture has a version of flatbread. Typically a flatbread doesn't contain yeast, so it doesn't rise like regular bread. Pita, Naan, and even flour tortillas are all types of flatbreads.
Join our Easy Traeger Recipes Facebook Group!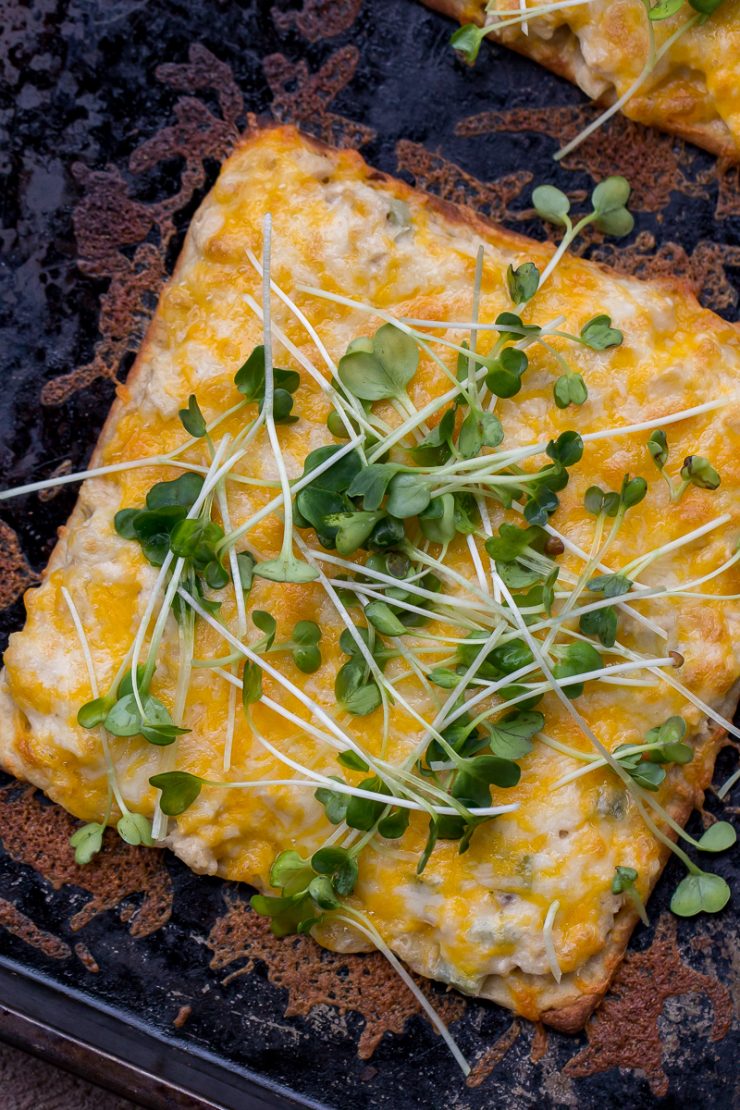 The flatbread most of us in the USA think of as flatbread exists somewhere between a pita and naan. You can find it with the rest of the bread products in the market. It is more like regular bread because usually, it has a bit of yeast in it, but it really comes down to whatever you like best.
Naan and Pita are super easy to find, so you have options.
Piadina is an Italian flatbread seasoned with herbs and it works wonderfully. You probably will find piadina style flatbreads by the deli section of the market.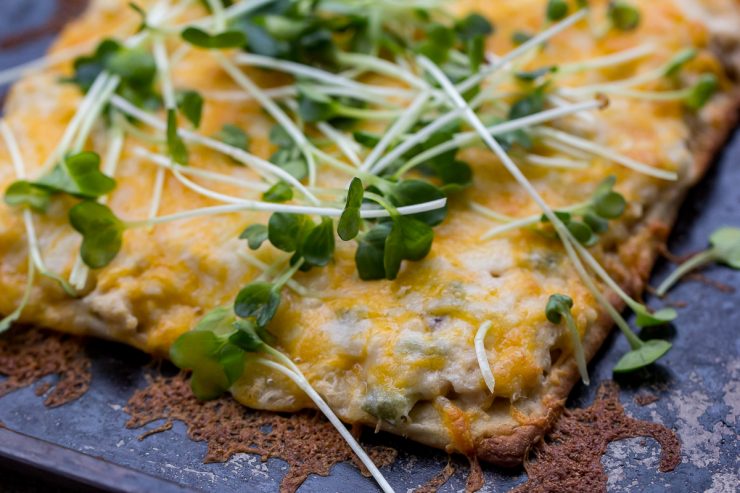 What kind of cheese is best for Tuna Melts?
I think the most popular cheese for tuna melts is most likely cheddar or plain old American cheese. After that, perhaps a variety of swiss comes in a close second. The tangier cheeses like cheddar and swiss add a nice touch flavor-wise, but they also are great cheeses for melting.
Another cheese with a bit the right sort of tangy funk is provolone. Provolone melts well too so it is a great cheese for a flatbread tuna melt too.
Follow me on Instagram!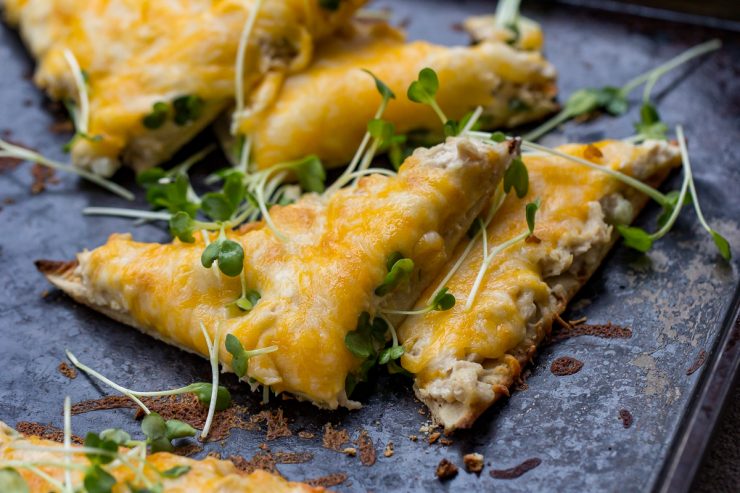 What side dishes are good with Tuna Melts?
A tuna melt is a wonderful sandwich for lunch with a soup or a salad on the side. Filling but not too filling, it hits the spot.
So it is the perfect choice to serve with a good hearty soup or a nice salad. Here are a few that work wonderfully…
Or try one of these awesome homemade potato chip recipes: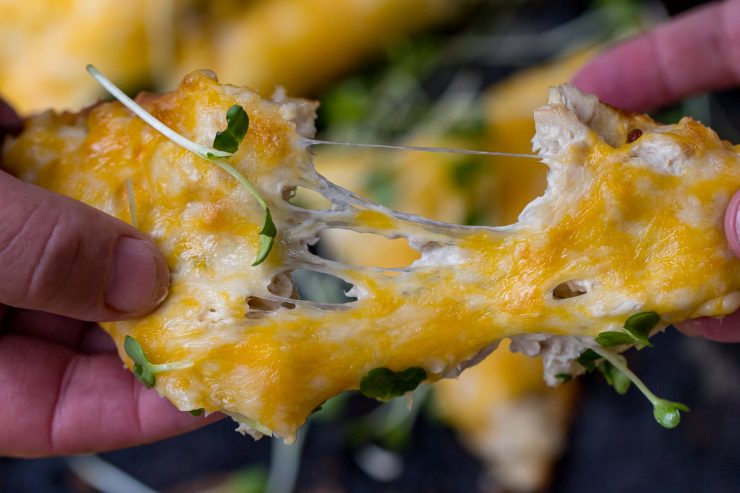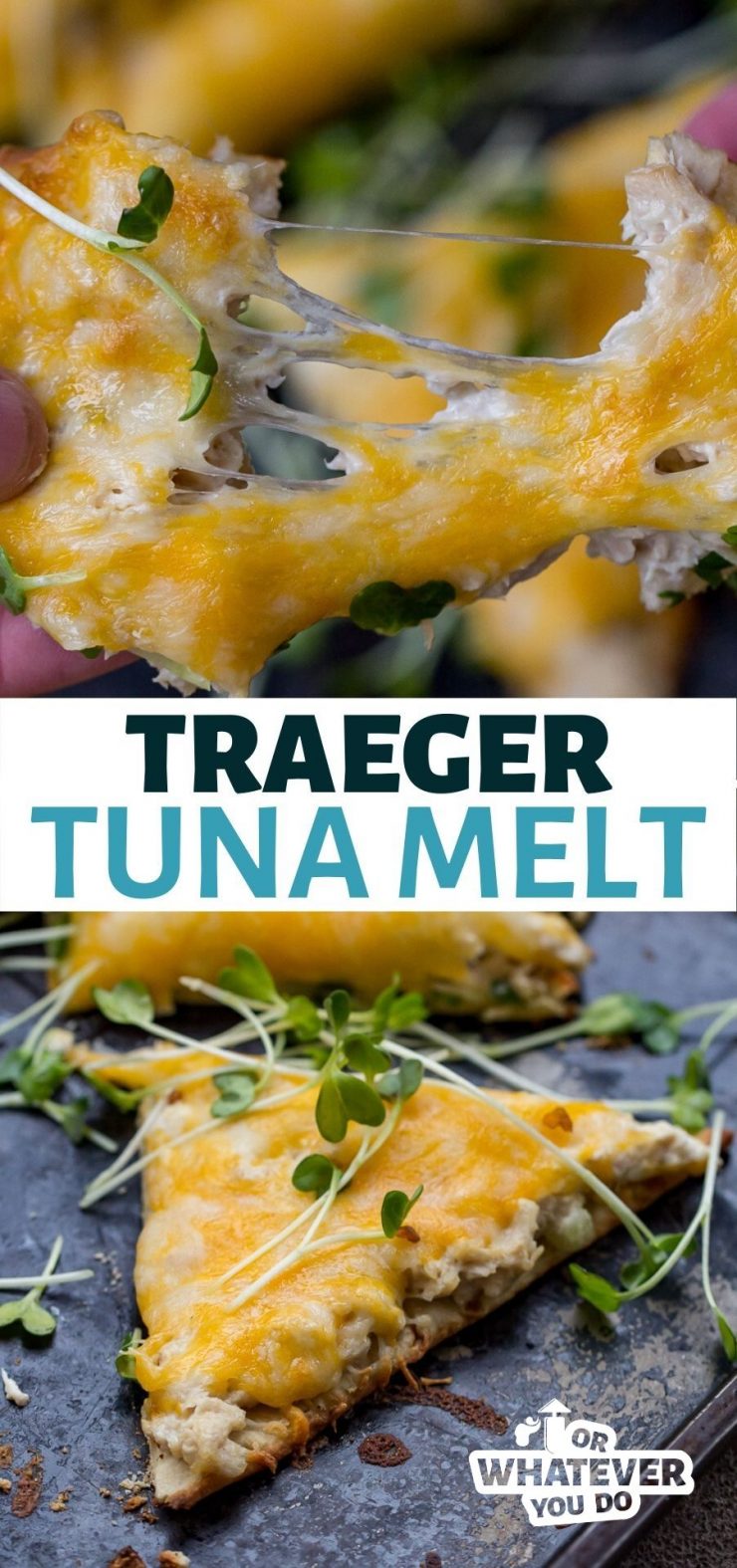 Yield: 6 servings
Tuna Melt Flatbread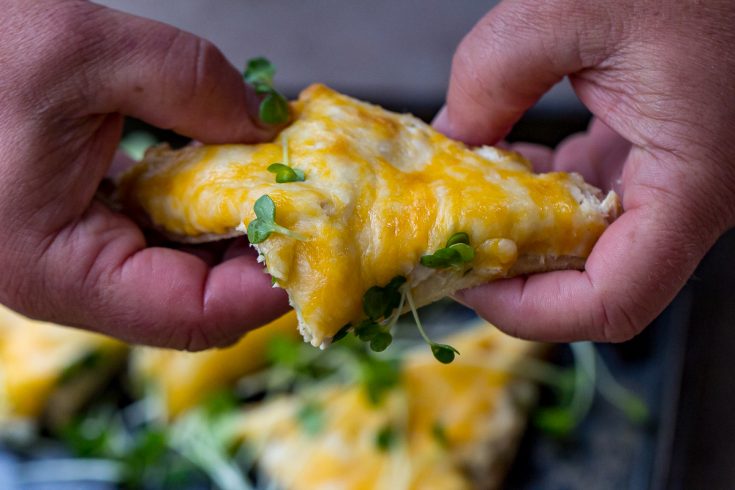 This simple Traeger Tuna Melt Flatbread is your favorite Tuna Salad on a fresh flatbread and topped with melted cheese and fresh microgreens. Perfect for lunch, dinner, or a mid-day snack!
Ingredients
2 cans solid Albacore Tuna, packed in water
1/2 cup mayo
3 tablespoons diced dill pickles
1/4 teaspoon garlic powder
1/4 teaspoon onion powder
1/2 teaspoon salt
1/4 teaspoon pepper
6 flatbreads
2 cups shredded cheese, or enough slices to cover the flatbread
microgreens
Instructions
Mix together the tuna, mayo, dill pickles, garlic powder, onion powder, salt, and pepper.
Nutrition Information:
Yield:
6
Serving Size:
1
Amount Per Serving:
Calories:

625
Total Fat:

29g
Saturated Fat:

10g
Trans Fat:

0g
Unsaturated Fat:

17g
Cholesterol:

69mg
Sodium:

1326mg
Carbohydrates:

57g
Fiber:

2g
Sugar:

2g
Protein:

31g
Nutrition data provided here is only an estimate.