Indulge in a sophisticated blend of heat and sweetness with this Smoked Cowboy Candy Recipe, expertly crafted using jalapeños, sugar, and a hint of smoke.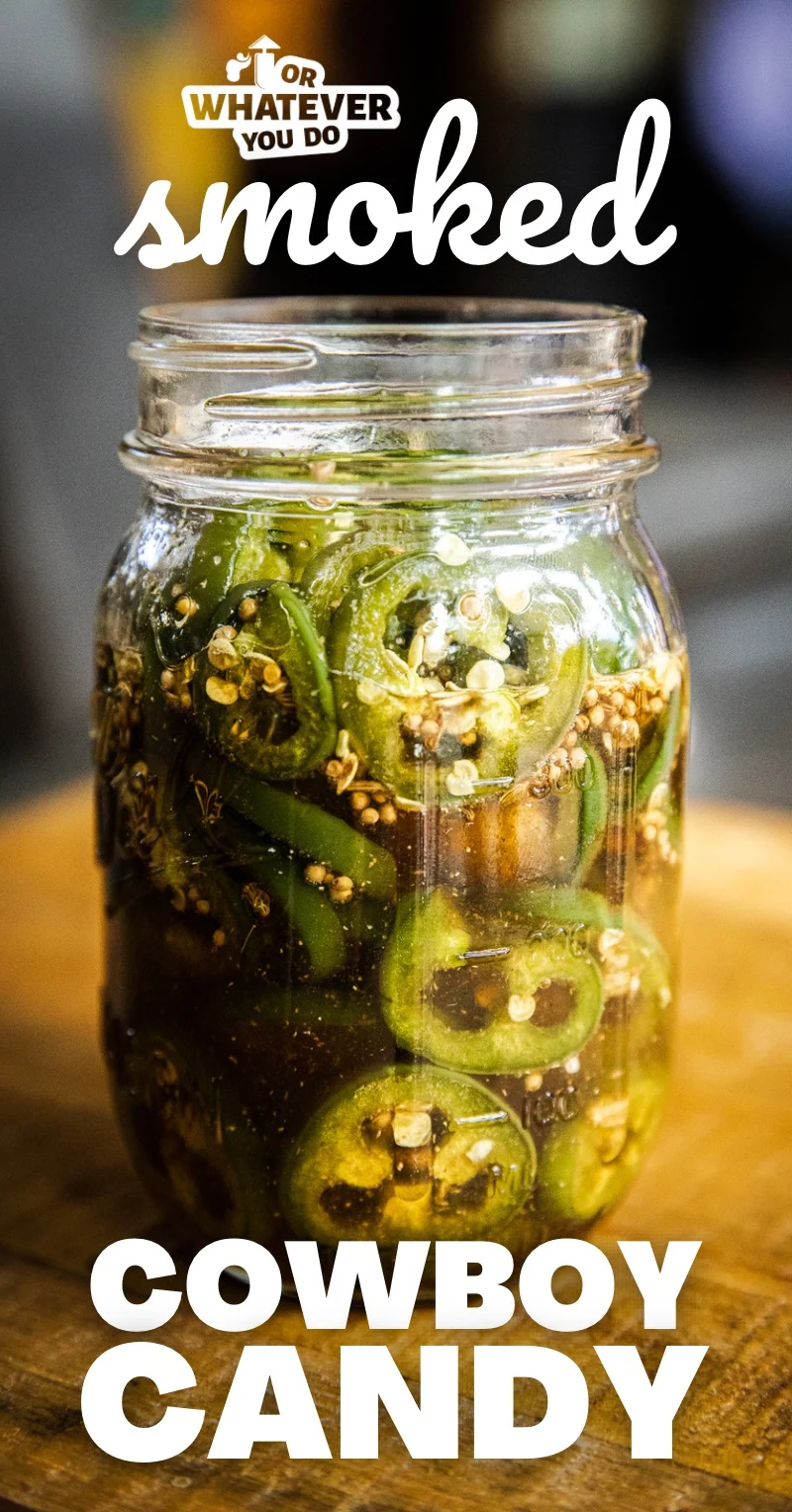 Traeger Smoked Cowboy Candy
Cowboy candy, also known as candied jalapeños, have a rich history that traces back to the American West. These zesty treats have been enjoyed for generations by cowboys and settlers alike, who relied on preserved foods to sustain them during long journeys. The perfect blend of spicy jalapeños, sugar, and a smoky twist by making them on the Traeger makes this smoked cowboy candy recipe a modern-day favorite that pays homage to its storied past.
Originating in the United States, cowboy candy has since captured the hearts and taste buds of many around the world. The process of candying jalapeños in a sweet and spicy syrup not only enhances their flavor, but also extends their shelf life, making them an ideal snack for those on the go. Our smoked version elevates the traditional recipe with an enticing smokiness that further complements the natural heat and sweetness of the jalapeños.
Whether you're a history buff, a culinary adventurer, or simply seeking a delicious and unique treat, this smoked cowboy candy recipe is a must-try. The alluring combination of flavors is sure to please any palate, while its roots in American history make it a conversation starter at any gathering. So, grab your rubber gloves and your favorite knife and prepare to embark on a flavorful journey through time with this delightful and easy creation.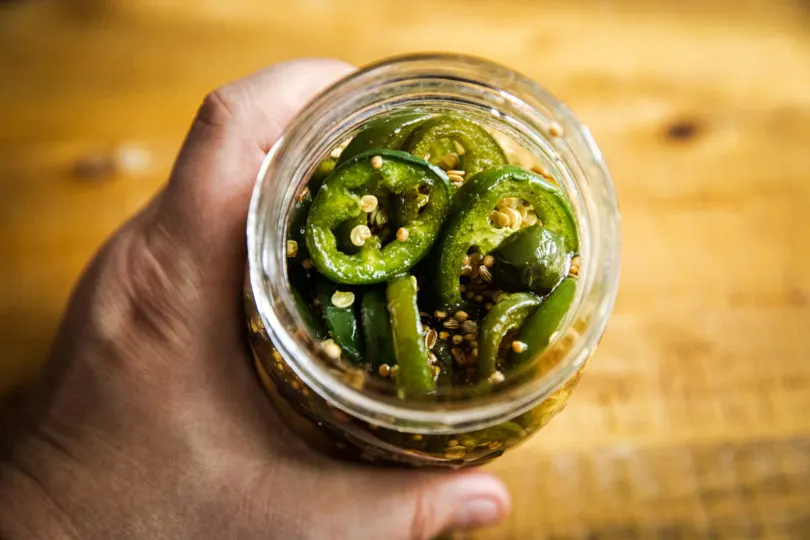 Cowboy Candy shopping list
Wondering if you have to hit the store? Here's the list of items you'll need to make this recipe. For specific amounts, please refer to the printable recipe card at the bottom of the post.
jalapeño peppers
brown sugar
apple cider vinegar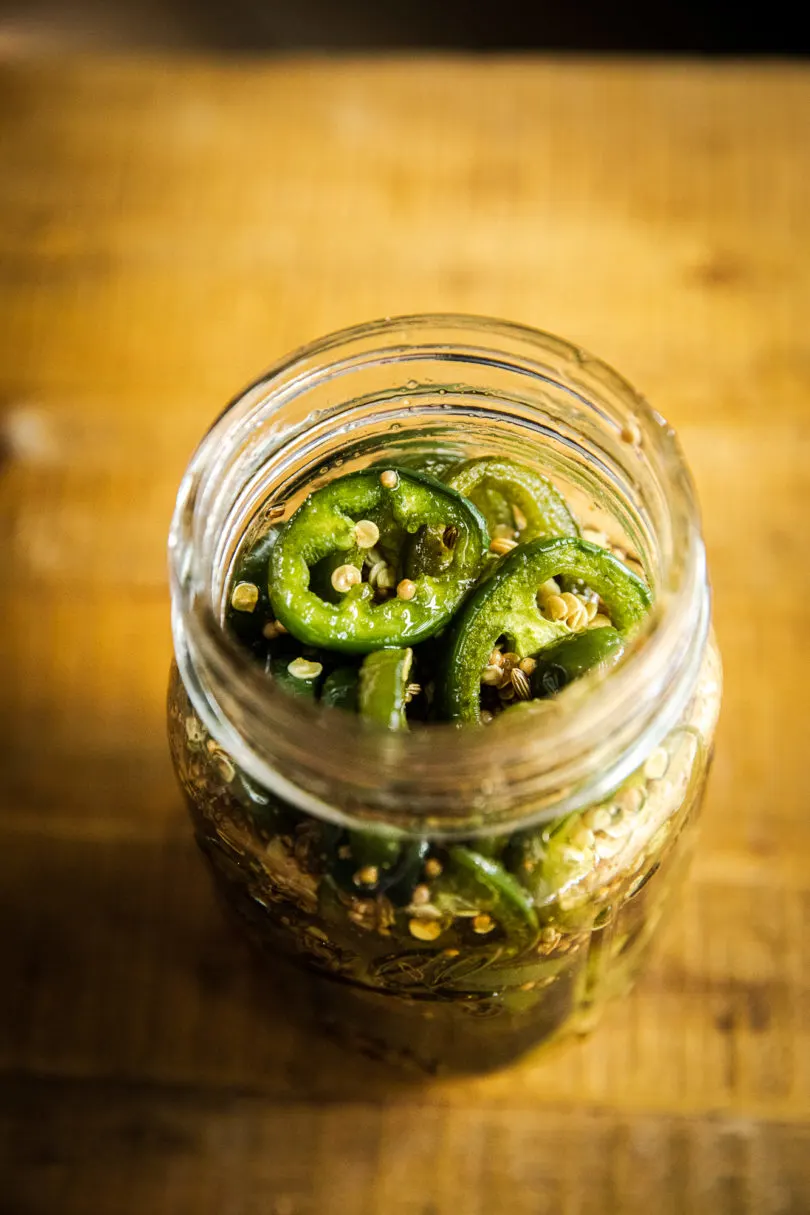 How to make Traeger Cowboy Candy
This is just the overview so you can see what you're actually getting into here. When you are cooking, you'll want to use the full recipe at the bottom of the page.
Preheat
We're low-temp smoking these because we don't actually want them to be fully cooked, so fire up your pellet grill or smoker and preheat to 220°F.
Prep
Prep your baking sheet, slice your jalapeños, and decide whether you want to brave all those seeds or not. You probably do. You're brave. Put the peppers onto the baking sheet and put it in the grill.
Smoke
Smoke the peppers for about 30-45 minutes.
Candy
While the peppers smoke, whip up the candying liquid. Simmer it on the stove over low heat until the sugar is fully dissolved.
Combine
Put the peppers into a pint-sized mason jar. Pour the hot vinegar syrup over the top. Let sit for a few hours and then enjoy! Cover and store in the fridge.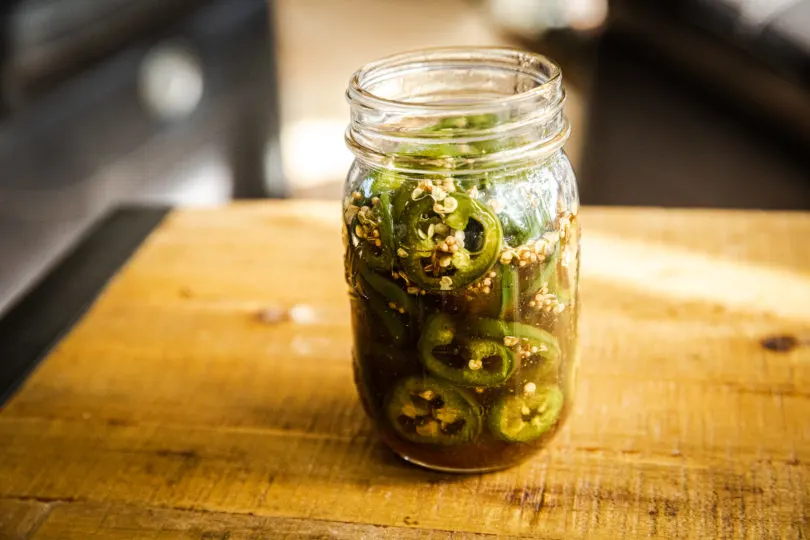 Smoked Cowboy CandyFAQ
Can you can this recipe?
This recipe has not been tested for canning. These are not shelf stable. Keep the candied jalapeños in the fridge, and eat within a week or so. Discard if anything grows in it. 😉 Like everything in your fridge.
What's the best way to store cowboy candy?
Store these in the mason jar, covered, in the fridge. In case you scanned the last FAQ because you didn't want to can them. You skimmer, you.
Can you use a sugar-free substitute to make this low carb?
I've never tried using a sugar substitute, but Steve over at Serious Keto did, and he made a video all about it! Go check it out!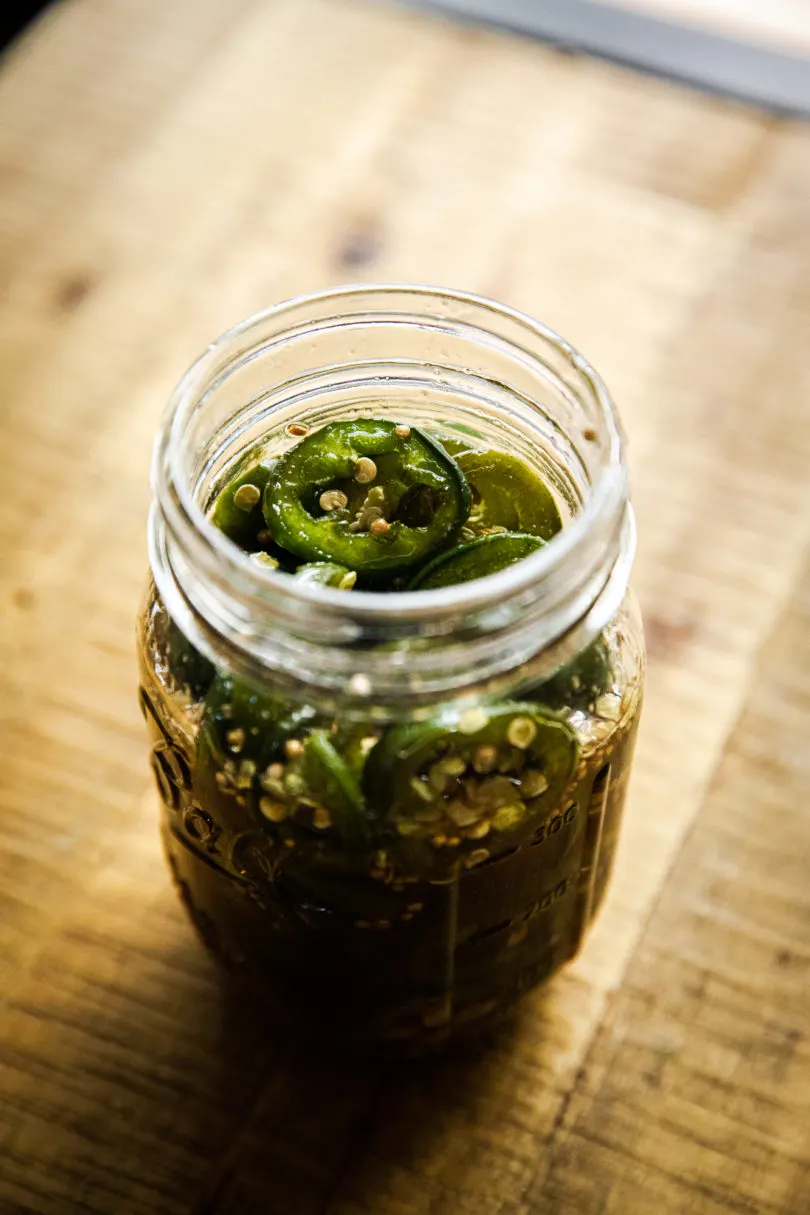 More great recipes using jalapeños to love!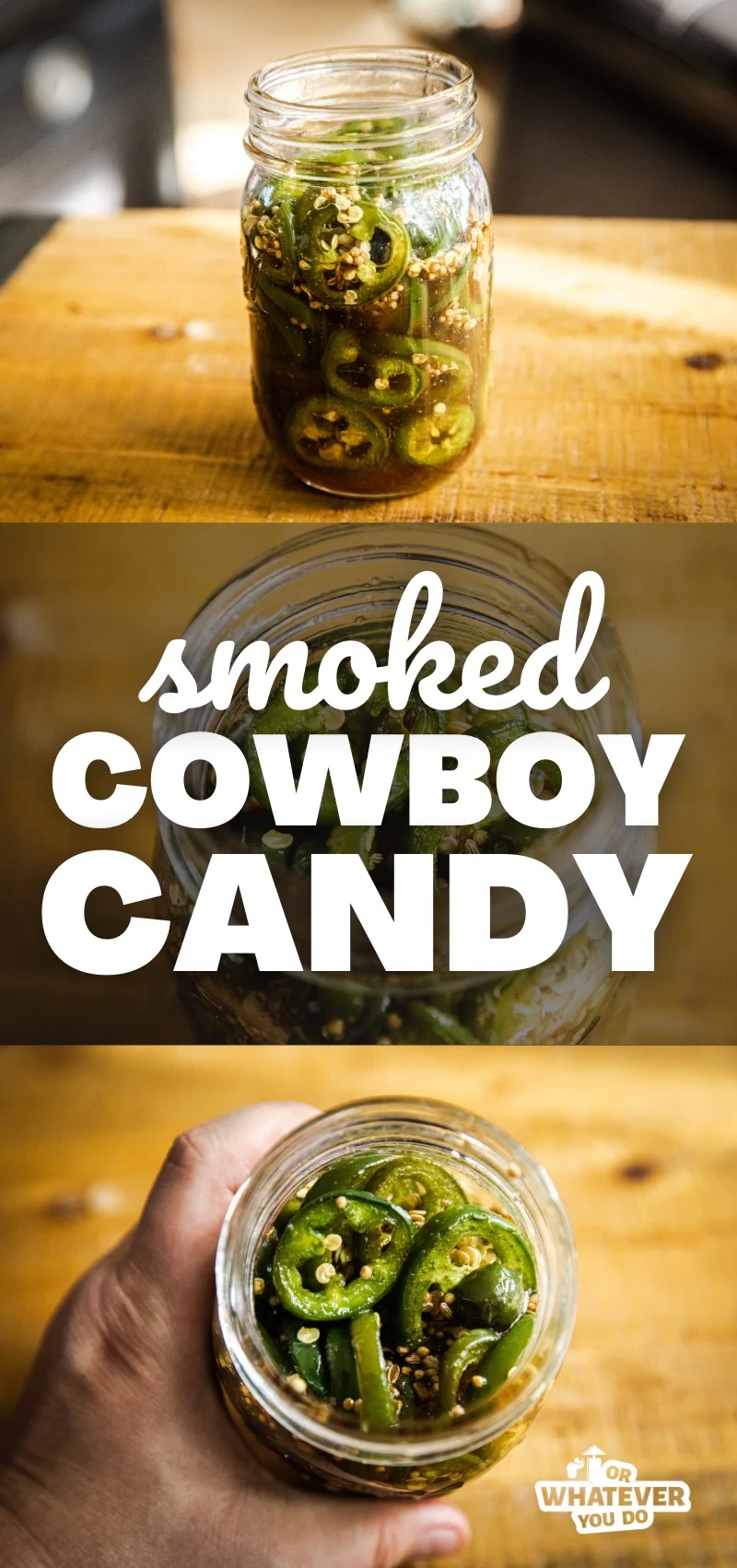 Yield: 1 pint
Smoked Cowboy Candy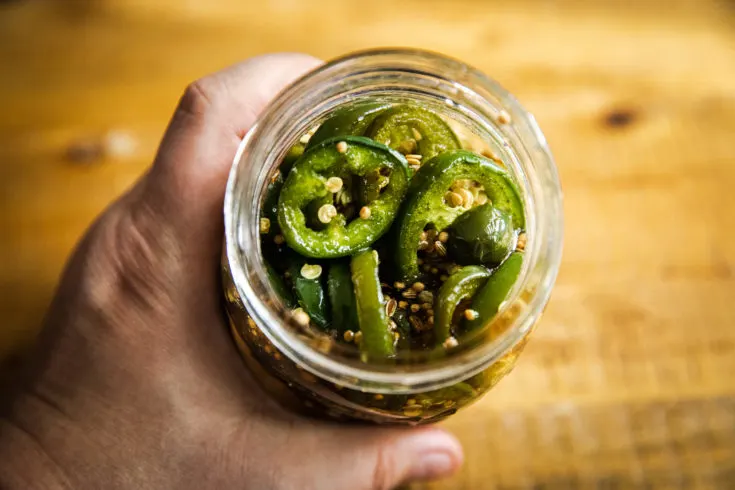 These spicy sweet smoked and candied jalapeños are the perfect topping for your next burger, hot dog, or taco!
Ingredients
8 jalapeño peppers
1 2/3 cups brown sugar
1 cup apple cider vinegar
1 tablespoon Spiceology Pickling Spice*
Instructions
Preheat the smoker to 220°F.
Slice the jalapeños into 1/4 inch slices. Keep the membrane and seeds in if you like them spicy!
Place the rings onto a grill-safe baking dish that's been prepped with a thin wipe of oil or lightly sprayed with cooking spray.
Smoke for 30-45 minutes.
While the peppers are smoking, make your sauce by heating the brown sugar, apple cider vinegar, and pickling spice. Simmer until the brown sugar is dissolved.
Place the smoked jalapeños into a one-pint mason jar. Pour the hot sugar and vinegar mixture over the top, and seal with a lid.
Let sit overnight in the fridge, or eat right away. You do you.
Notes
If you don't have the pickling spice you can make your own. The ingredients are below. It is not a dupe, but delicious!
½ teaspoon garlic powder
½ teaspoon celery salt
¼ teaspoon ground cumin
¼ teaspoon red pepper flakes
Recommended Products
As an Amazon Associate and member of other affiliate programs, I earn from qualifying purchases.
Nutrition Information:
Yield:
8
Serving Size:
1
Amount Per Serving:
Calories:

4
Total Fat:

0g
Saturated Fat:

0g
Trans Fat:

0g
Unsaturated Fat:

0g
Cholesterol:

0mg
Sodium:

0mg
Carbohydrates:

1g
Fiber:

0g
Sugar:

1g
Protein:

0g
Nutrition data provided here is only an estimate.