This fresh Strawberry Jalapeno Salsa is easy to make, requires no cooking, and is perfect on my Blackened Shrimp Tacos!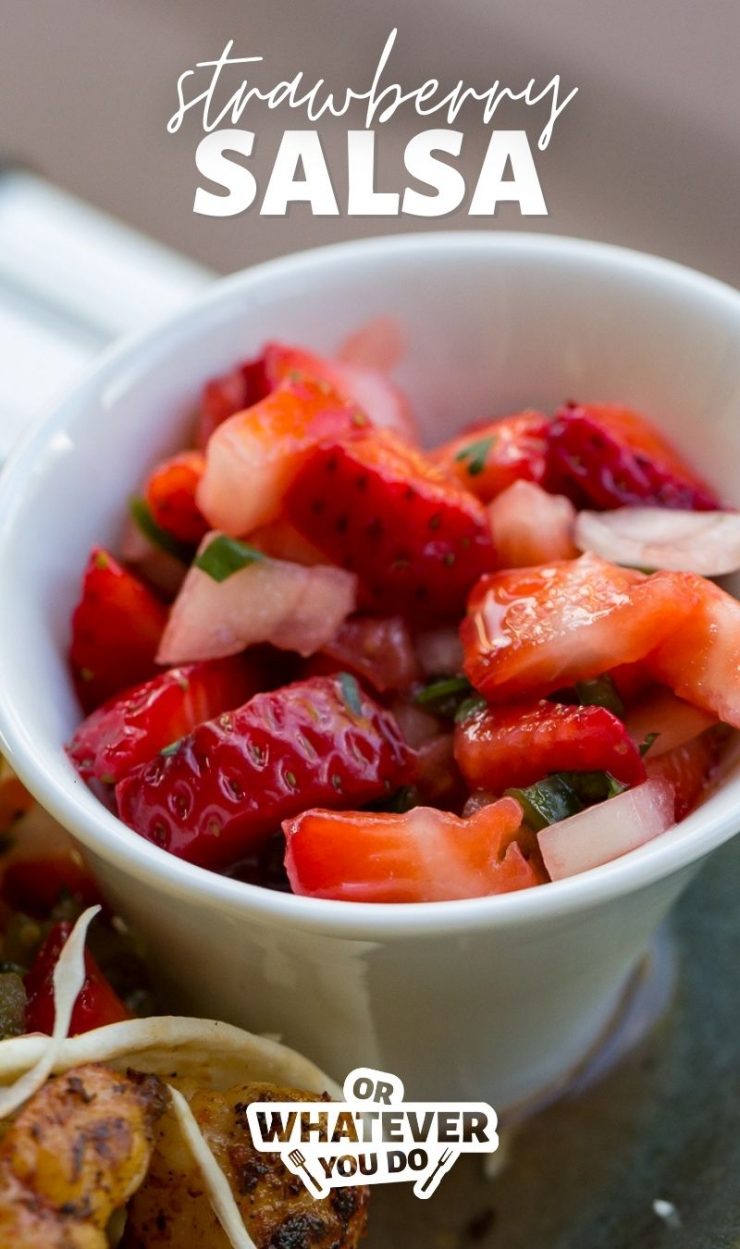 Fresh Strawberry Jalapeno Salsa
Fresh salsa is always a treat, but fresh fruit salsas are a new favorite of mine this year. We've done a few different varieties, including mango salsa and fresh peach salsa that we served with our Blackstone Fish Tacos.
These types of salsas are best when the fruit is fresh and in season, so get after whatever is left of the growing season and find those fresh summer berries before it's too late!
Strawberry jalapeno salsa sounds a bit odd at first, but it isn't so strange when you think about it. Strawberries and tomatoes have a few key things in common. First, both are pretty acidic and tart. Second, they are both reasonably juicy, but still with a good chunkiness to the flesh.
You will be surprised what tasty salsa strawberries make. You can use it on chips or serve it with fish or poultry too. It is bright and fruity and the bit of heat from the jalapeno is perfect!
More South-of-the-Border Inspired Recipes here!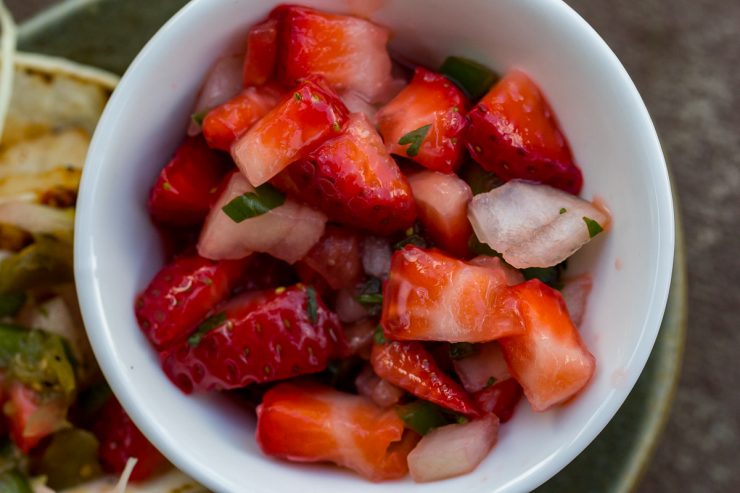 Strawberry Salsa Shopping List
Strawberries
Jalapeno pepper
Onion
Salt
Cilantro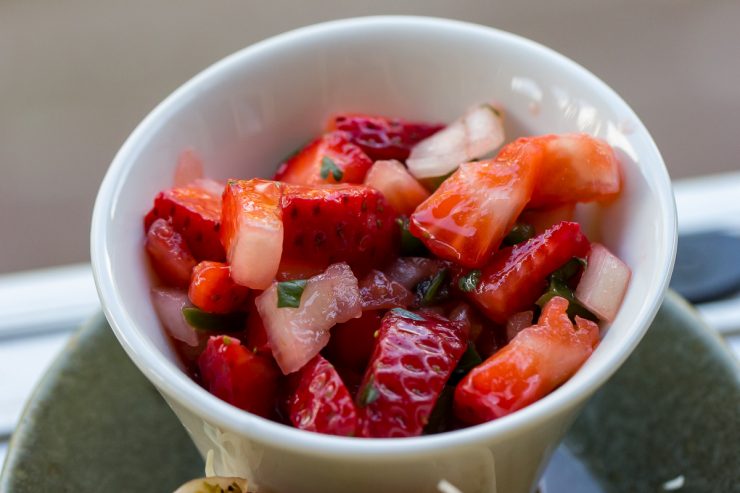 How to make strawberry salsa
This salsa is so simple to make. All you really need to do is chop and wait. The ingredients all get placed together in a bowl, given a light stir, and then get left in the fridge to meld.
Make sure to strip out the seeds and membrane from the jalapeno if you don't want to make it too spicy. That's where most of the heat lives!
If you don't have lime juice, then lemon juice will work in a pinch. The citrus juice is not just handy for flavor. It acts as a preservative to help keep your salsa fresh longer.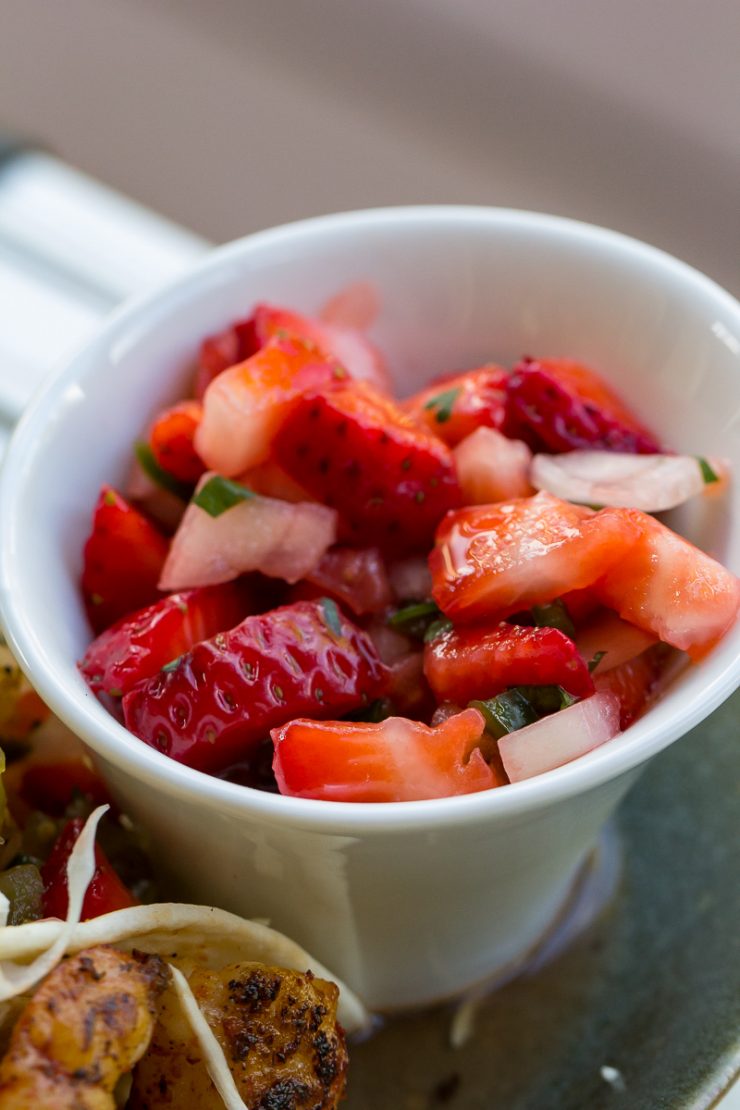 Can you use other peppers besides jalapeno peppers?
Sure! You can use whatever peppers you have handy and enjoy. If you like more heat, get crazy with some habaneros or serranos. You can adjust pretty much any of the ingredients in this to suit your tastes. More onions, fewer onions, no cilantro, ALL the cilantro, squeeze of lime, or no lime.
It is very forgiving.
How hot do you like your salsa?
At this point, there are so many hot peppers with extremely high scoville numbers (the heat measure unit for characterizing the "hot" capsaicin in peppers) jalapenos almost seem mild in comparison.
For example, now ghost peppers and habanero and even scotch bonnet or thai chilies are common in grocery stores. Those are all much hotter than jalapenos. I am not saying jalapenos don't have some burn, but they just don't seem as challenging.
In any case, regulating how hot you like to handle is easy.
You can control the heat in a couple ways.
Adding more or less jalapeno controls the heat, as well as how big or small you dice your jalapeno.
How much of the seeds and pith you use. These are the hottest part of the fruit. If you leave those out then you can cut back the heat considerably.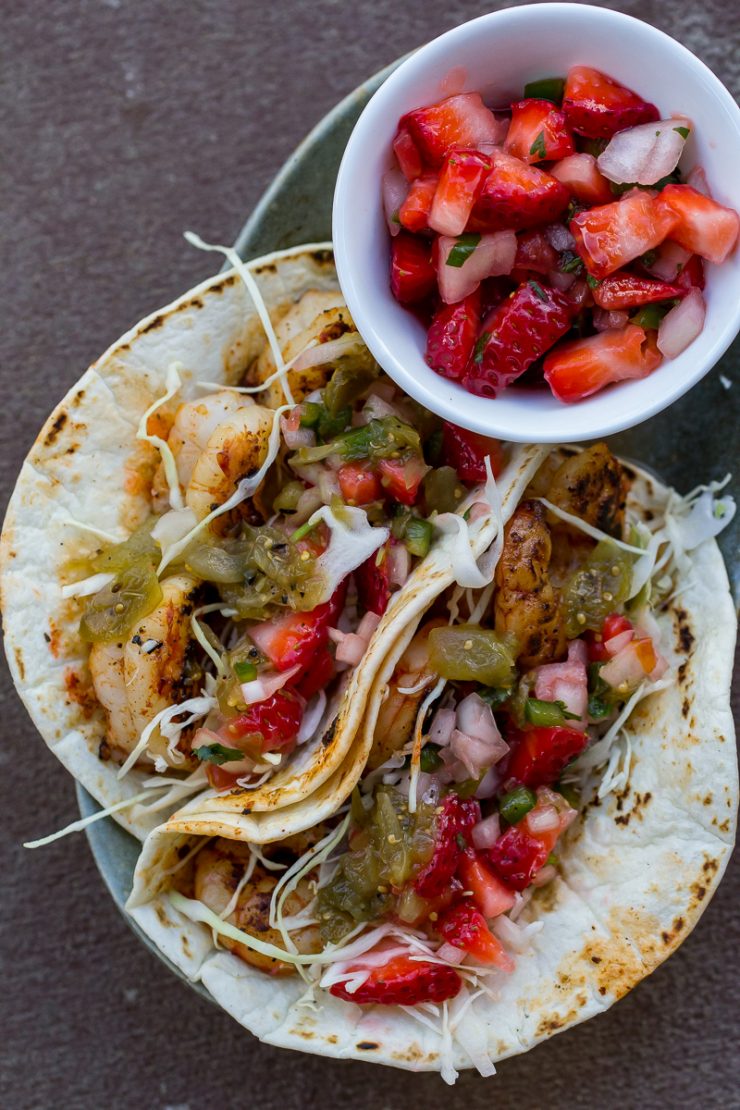 Storing strawberry jalapeno salsa
This salsa tastes great freshly cut and mixed to serve immediately. But, much like a great soup or stew, letting it sit a spell makes it even better. Of course, you need to store it properly. It actually can stay out unrefrigerated for a few hours no problem.
The acidity of the lime juice keeps it from spoiling, but stored properly in the fridge it will easily last a week. Ideally, keep it in a glassware container with a lid. As it sits, it will get hotter, so keep that in mind when you bust it back out!
More salsa!
From OWYD:
From some of my faves: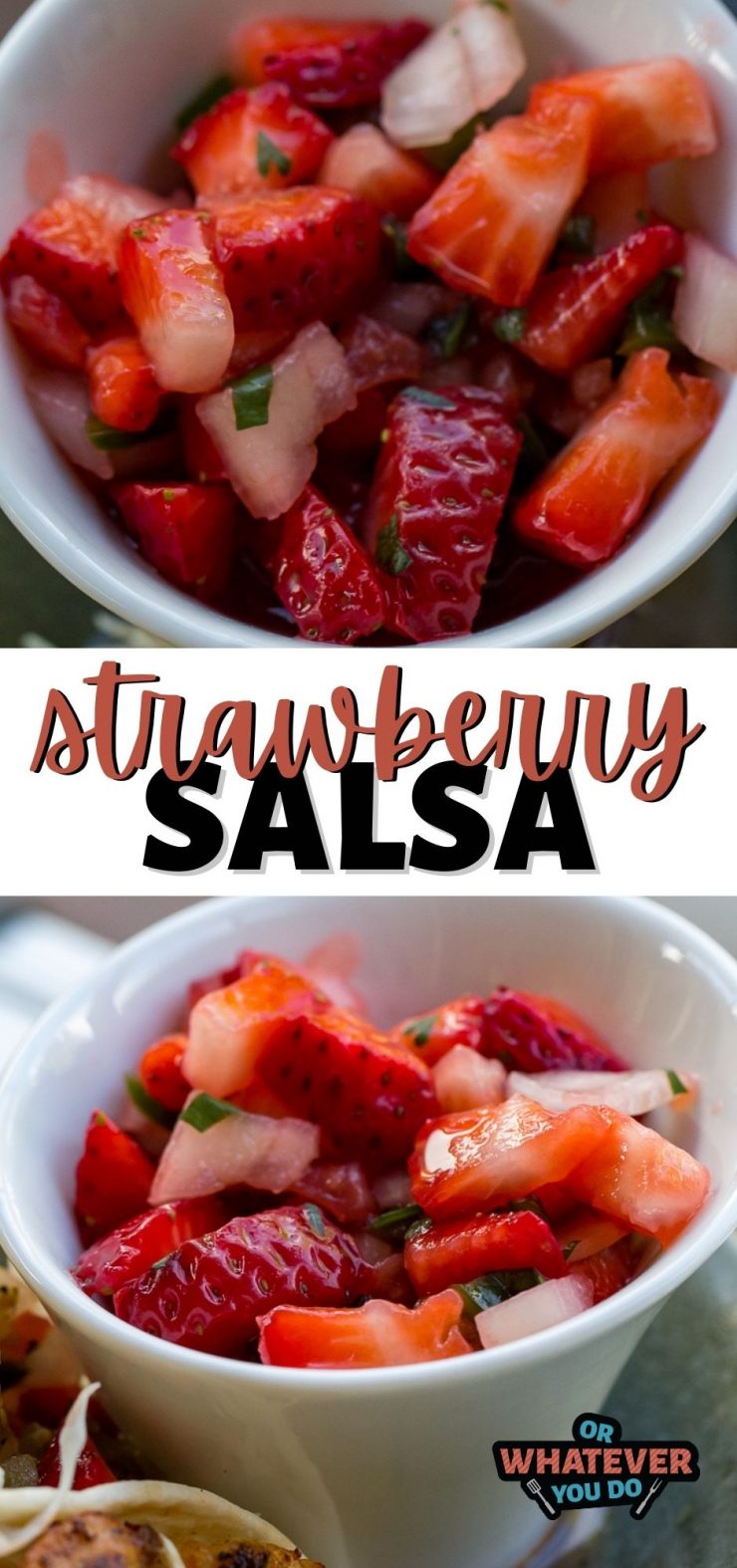 Yield: 6 servings
Strawberry Jalapeno Salsa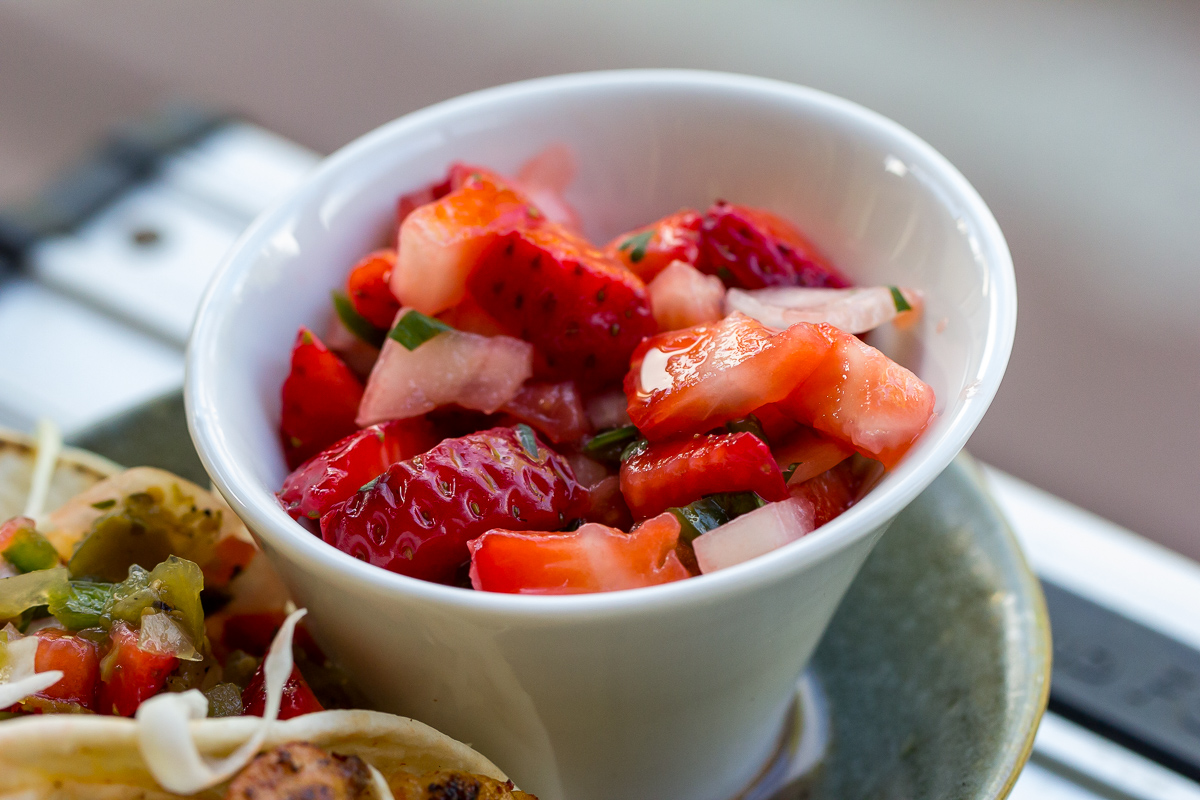 Fresh, ripe strawberries and mixed with simple ingredients to make a bright and flavorful salsa!
Ingredients
1 cup diced strawberries
1 finely chopped jalapeño pepper (seeds and membranes removed)
1/4 diced onion
1/2 teaspoon salt
1 tablespoon chopped cilantro
Instructions
Combine all of the ingredients and let chill for a couple of hours for the flavors to meld.
Serve on tacos or with chips!