When you need to make mashed potatoes, don't neglect your pellet grill! These Traeger Roasted Garlic Mashed Potatoes feature wood-fired garlic cloves, lots of mix-ins to make them the creamiest, and they get finished off on the Traeger!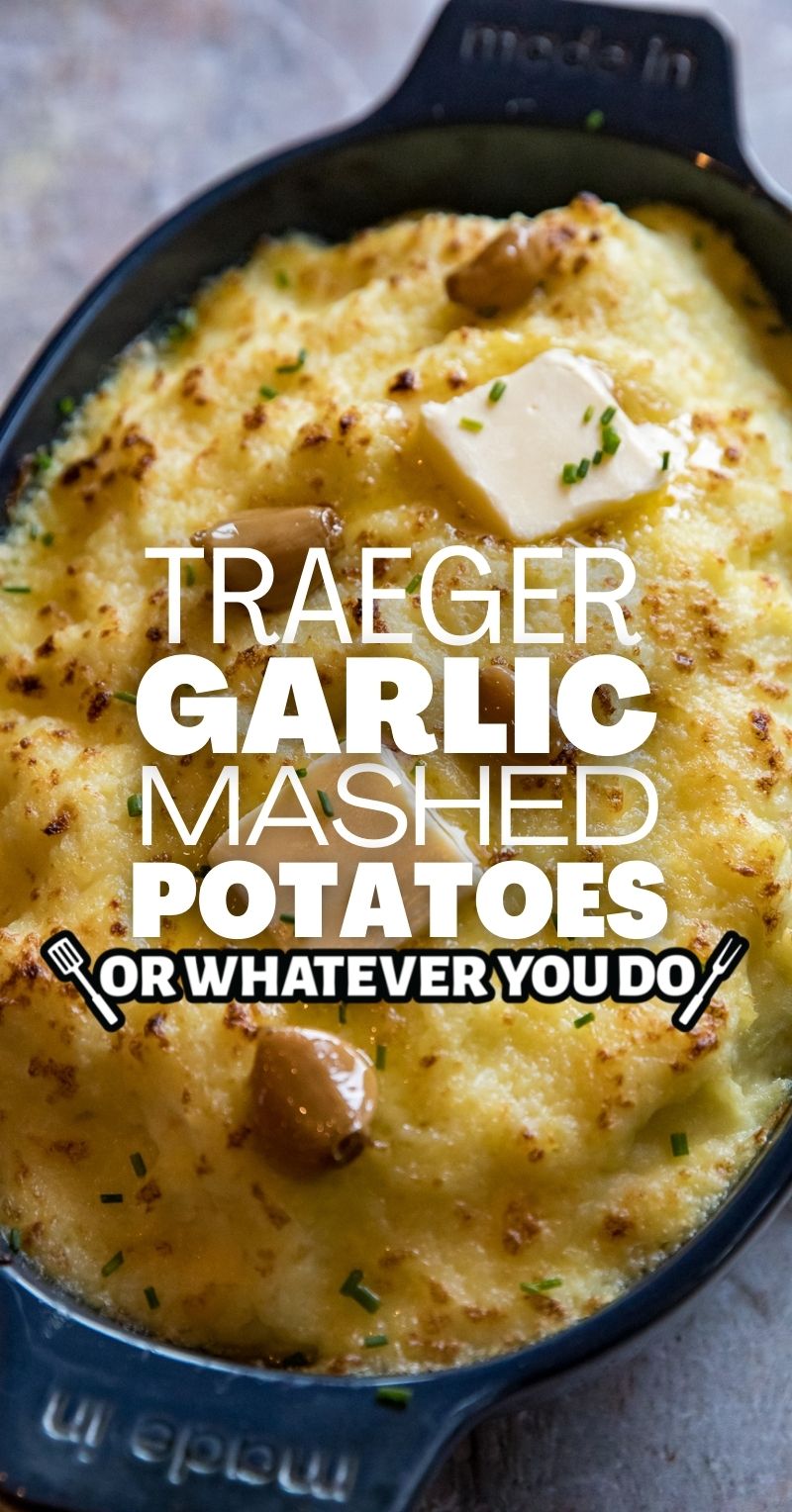 Traeger Roasted Garlic Mashed Potatoes Recipe
Mashed potatoes are the highlight of my meal, anytime they are served. If they aren't on point, I don't care if I have a $100 steak sitting next to them, I'm still going to be wishing for really GREAT mashed potatoes. Potatoes are one of those things that are so versatile and so amazing when done right, but they can also go pretty wrong in some surprising ways too.
Mashed potatoes, in particular, are prone to mess ups. Too gummy, too runny, under seasoned, over seasoned, the list is pretty long.
These potatoes were as close to perfect as you can get. We like our potatoes to have a little texture left in them. I was done eating baby food a lot of years ago, and I don't want to go back. They are also super creamy, and feature smoked cream cheese as well as smoked confit garlic, and a big dollop of sour cream.
Check out all of my Traeger Recipes!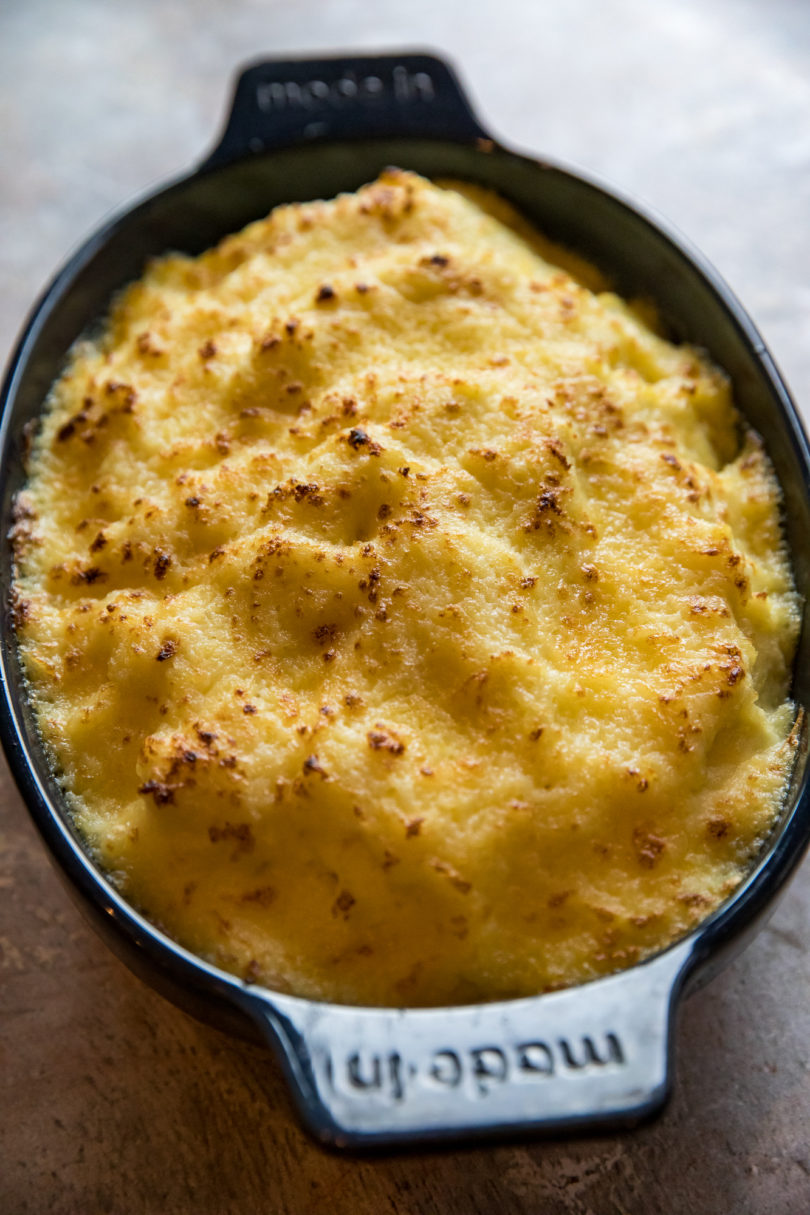 Traeger Roasted Garlic Mashed Potatoes shopping list
Wondering if you have to hit the store? Here's the list of items you'll need to make this recipe. For specific amounts, please refer to the printable recipe card at the bottom of the post.
More Potato Recipes here!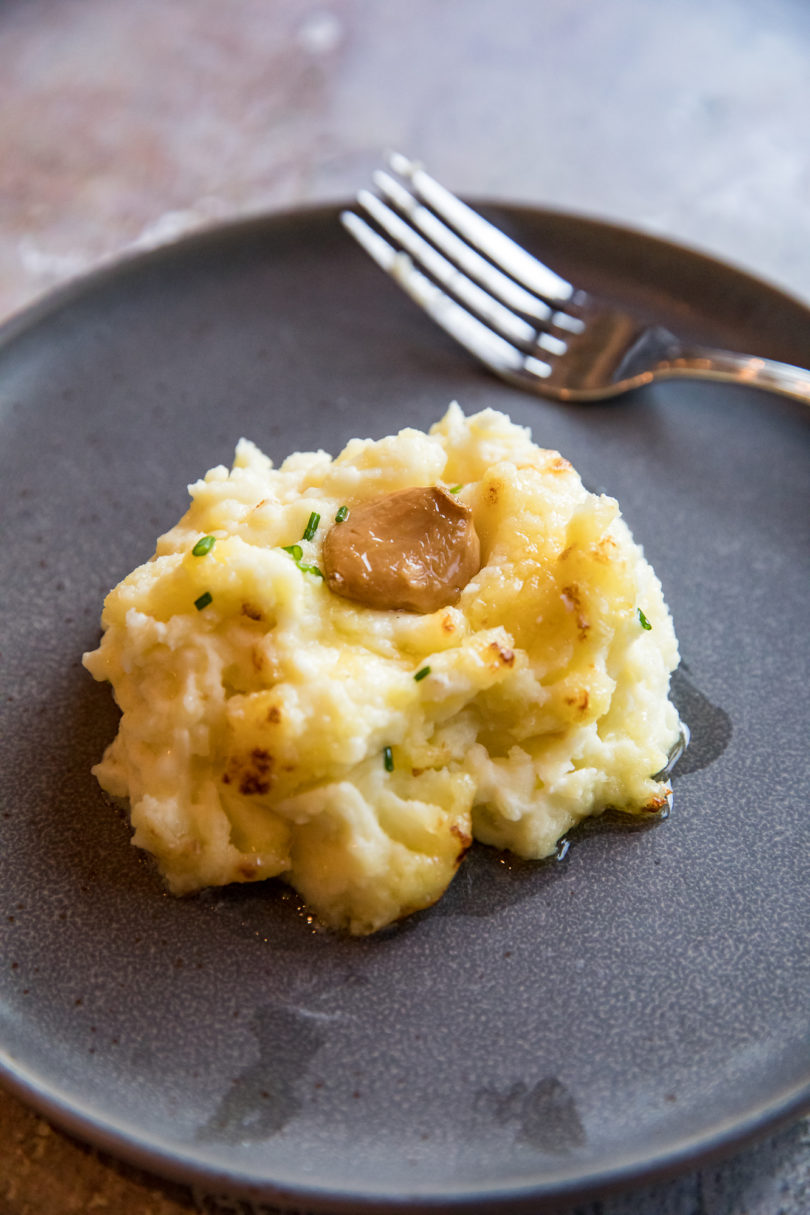 How to make Garlic Mashed Potatoes
This is just the overview so you can see what you're actually getting into here. When you are cooking, you'll want to use the full recipe at the bottom of the page.
Ideally, you'll want to use some of our Smoked Roasted Garlic Cream Cheese and Smoked Confit Garlic already made. If you don't have those whipped up but want some potatoes ASAP, you can substitute regular cream cheese and either saute a few tablespoons of minced garlic in some butter or add in a couple of teaspoons of garlic powder to the mix.
Boil the potatoes
Well-salted water is your friend. Boil the potatoes, drain, and mash with all the ingredients. Spread into a grill-safe baking dish. We love the Made In bakeware, if you are looking for something new!
Preheat your grill
You've got some smoking to do. Preheat to 200°.
Smoke
Put the potatoes on the grill and let smoke for 30 minutes. Turn up the heat to 325°F. Grill until the potatoes are piping hot and slightly browned on top.
Serve
Big piles of these next to your favorite main course.
Get my easy Side Dish recipes!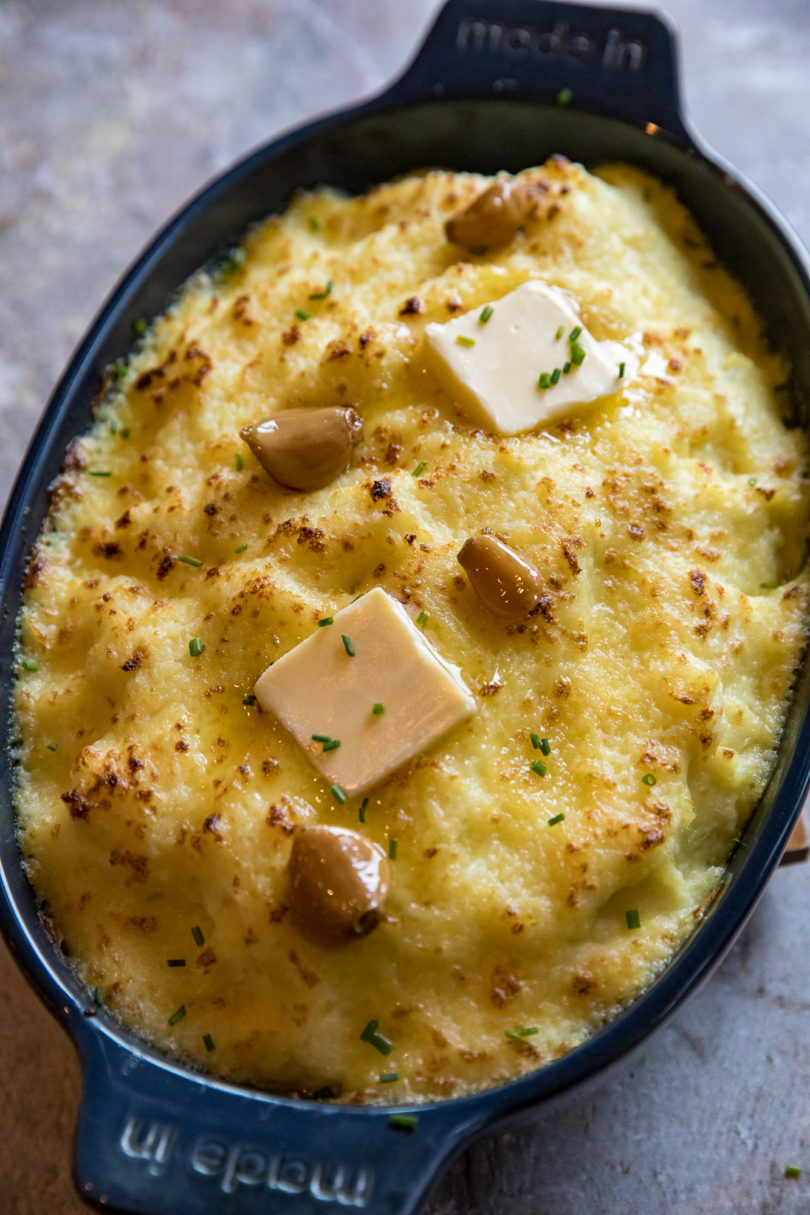 What can you serve with these garlic mashed potatoes?
We love these potatoes as a side to so many different meals. Here are a few of my all-time favorites below!
More recipes to love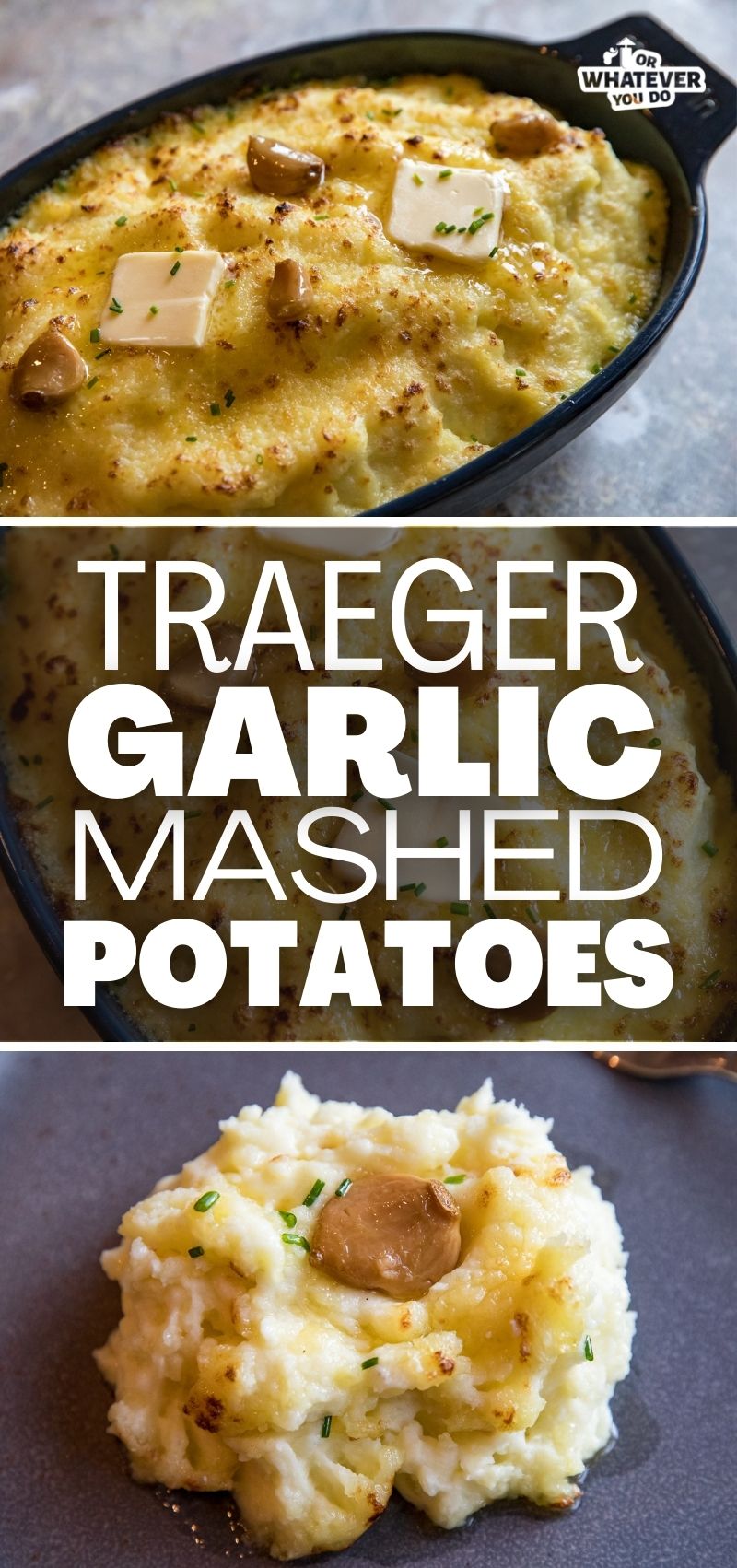 Yield: 12 servings
Traeger Roasted Garlic Mashed Potatoes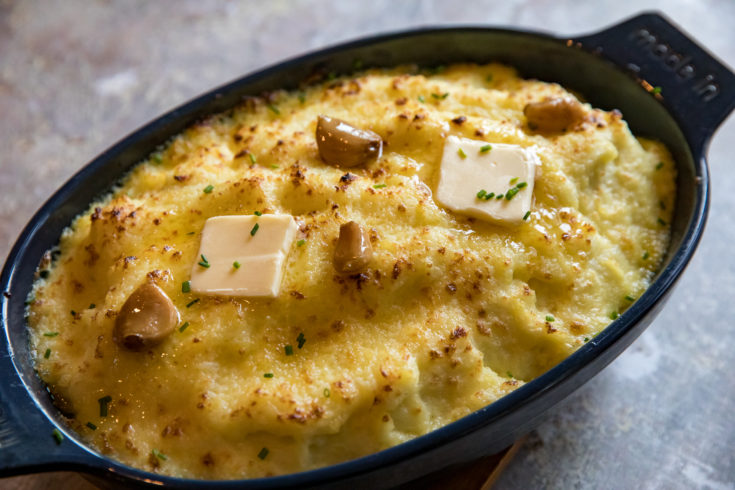 These rich and creamy mashed potatoes are given some smoke on the grill and have copious amounts of smoked garlic in the mix! One of the most decadent mashed potatoes you'll ever have.
Total Time
1 hour
10 minutes
Ingredients
6 pounds russet potatoes, peeled and cut into pieces
water + 3 tablespoons salt (to boil potatoes)
2 cups butter, softened
1 cup smoked cream cheese, softened
1 cup heavy cream
6 cloves roasted confit garlic
1 cup sour cream
2 teaspoons salt
1 teaspoon pepper
Instructions
Peel and cut potatoes into cubes. Add to a large saucepan, and cover with water. Boil potatoes until fork-tender, about 15-20 minutes
Drain water from potatoes, place the pot back on the stove over low heat and cook for 2-3 minutes continually stirring to cook the remaining excess water out.
Using a potato masher, mash the potatoes and add butter, cream cheese, heavy cream, and garlic. Mash until your desired consistency is reached.
Add salt and pepper to taste, and fold in sour cream.
Spray a grill-safe dish with cooking spray, and spoon the potatoes into the pan and spread evenly. A 10x13 inch baking dish is a good size.
Preheat pellet grill to 200°F following to factory directions. Place the potatoes onto the grill, and smoke for 30 minutes. Turn the heat up to 325 and grill for another 20-30 minutes, or until the top is golden brown and everything is piping hot.
Recommended Products
As an Amazon Associate and member of other affiliate programs, I earn from qualifying purchases.
Nutrition Information:
Yield:
12
Serving Size:
1
Amount Per Serving:
Calories:

668
Total Fat:

49g
Saturated Fat:

30g
Trans Fat:

2g
Unsaturated Fat:

14g
Cholesterol:

135mg
Sodium:

2289mg
Carbohydrates:

52g
Fiber:

6g
Sugar:

4g
Protein:

9g
Nutrition data provided here is only an estimate.