My quick Blackstone Runza Recipe is going to satisfy all of your Runza cravings, and then some. Cabbage, onions, beef, cheese, and an easy shortcut dough will have you serving these in about 30 minutes from start to finish.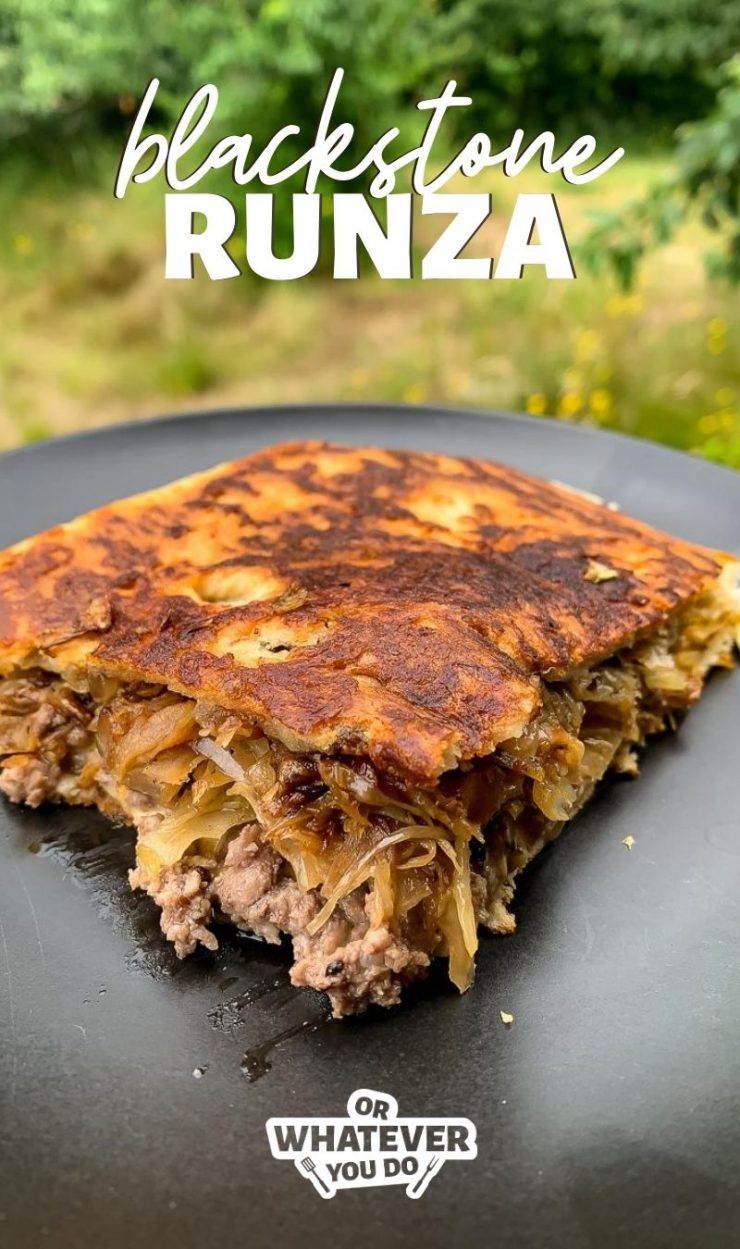 Blackstone Runza Recipe
I fell in love with the Runza once upon a time when we were actually allowed to leave the house, on a work trip to Nebraska.
Omaha, to be exact. No offense, Nebraska. I love you now, but Omaha isn't exactly a place you'd think of if you want to go adventuring or vacationing. Not only that, but I had also been battling a bout of food poisoning. It was one of those trips where I wasn't really sure if I was going to make it on the plane.
Make it on the plane I did, and then I slept for like 20 hours in my hotel room before I felt human again and got to meet up with the crew.
Little did I know at the time that Omaha would be one of the highlights of my 2019 travel.
On that trip, I met a group of the nicest, most fun ladies that I ever have had the pleasure of spending a weekend with, and in the midst of it all, I also got to try these amazing little filled dough pockets that are lovingly known in Nebraska as the Runza.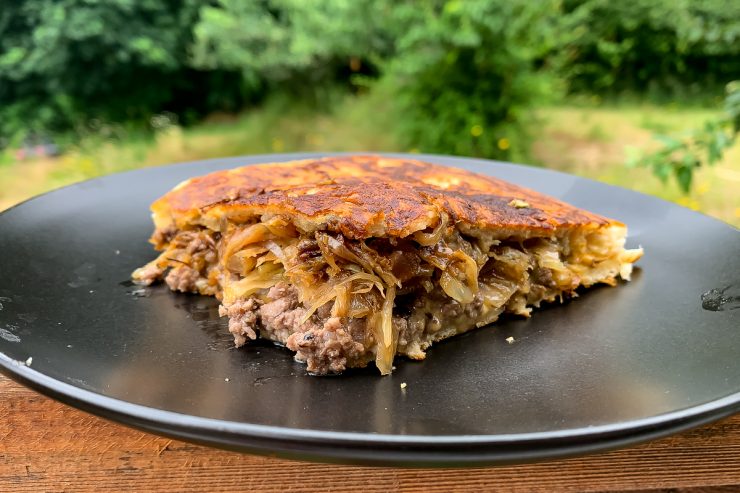 What is a Runza?
Well, Runza is a chain restaurant that is all over Nebraska who created these adaptations of the German Bierock and Eastern European Piroshky.
A Runza is a yeasted dough wrapped around a heap of cabbage, onions, and seasoned ground beef. Then there's the cheese.
You can change it up according to your tastes. The Runza stores sell Mushroom & Swiss versions, vegetarian versions, and barbecue bacon (watch for that one coming soon to OWYD!), and even a cheeseburger variety with pickles inside.
More Blackstone Recipes here!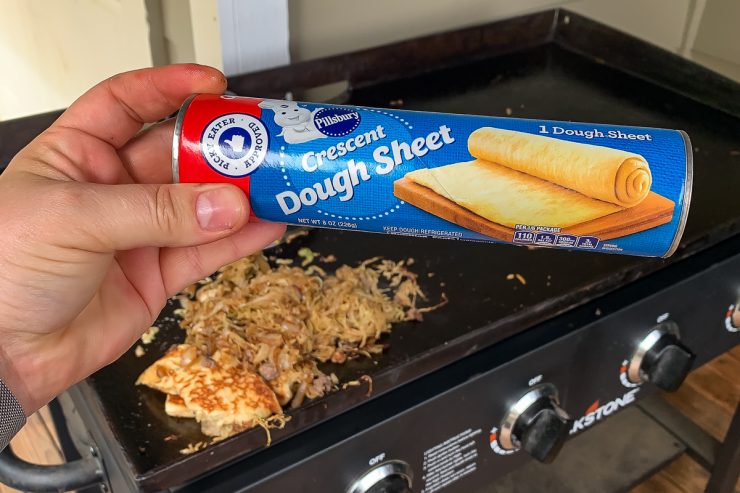 How to make a Runza
If you really want to go all out, you could definitely make these with a batch of my homemade bread dough. I was not feeling quite so ambitious, and really just wanted something quick and easy to throw in front of the kids.
For that reason, I pulled out my ever-present tube of crescent roll dough that is always in my fridge.
With that in mind, these can be really quick to make – especially on a gas griddle like a Blackstone!
Cook the cabbage and onions.
Season and cook the ground beef.
Fill crescent roll dough with toppings and cheese.
Flip, if you are brave.
Serve hot.
Check out our OWYD shop!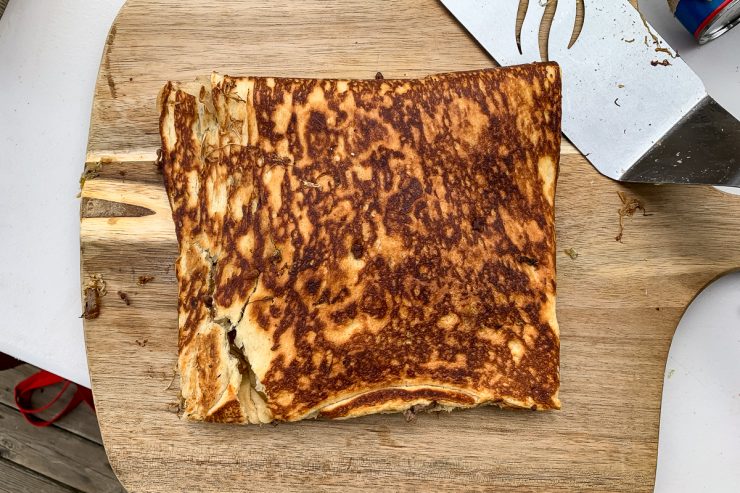 What's different about these?
You'll notice from the pictures that using crescent roll sheets produces a crust that is thinner than your typically Runza. I, personally, like that.
If you want a more bready dough, you can use regular bread dough or pre-made pizza dough for the crust. You could also try doubling up the thickness of the crescent sheet. I haven't tested that, but if I did I'd make sure and cover the Runza while it cooked to ensure all of the bread gets fully cooked.
Get more Ground Beef recipes here!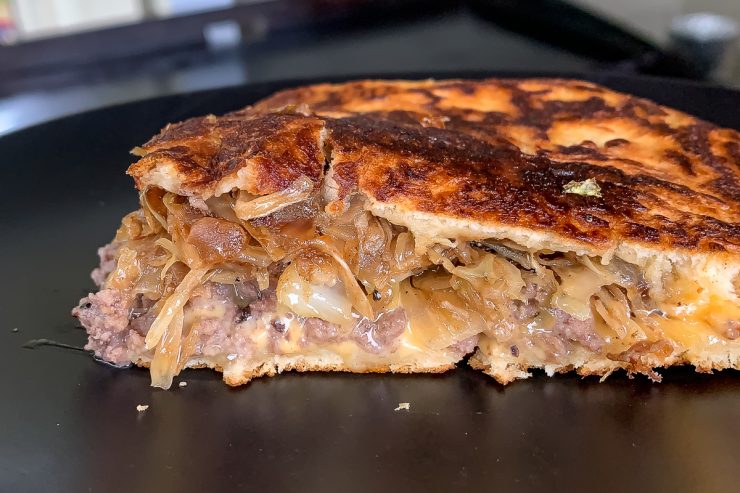 How to store leftovers
Keep the leftovers in a baggie or covered storage container, and away from moisture. They'll keep in the fridge for several days.
How to reheat your leftovers
If you have your grill fired up already, you can stick them on that. Good options for reheating anything bready would be the oven, air fryer, or pellet grill.
How to RE-SEASON your Blackstone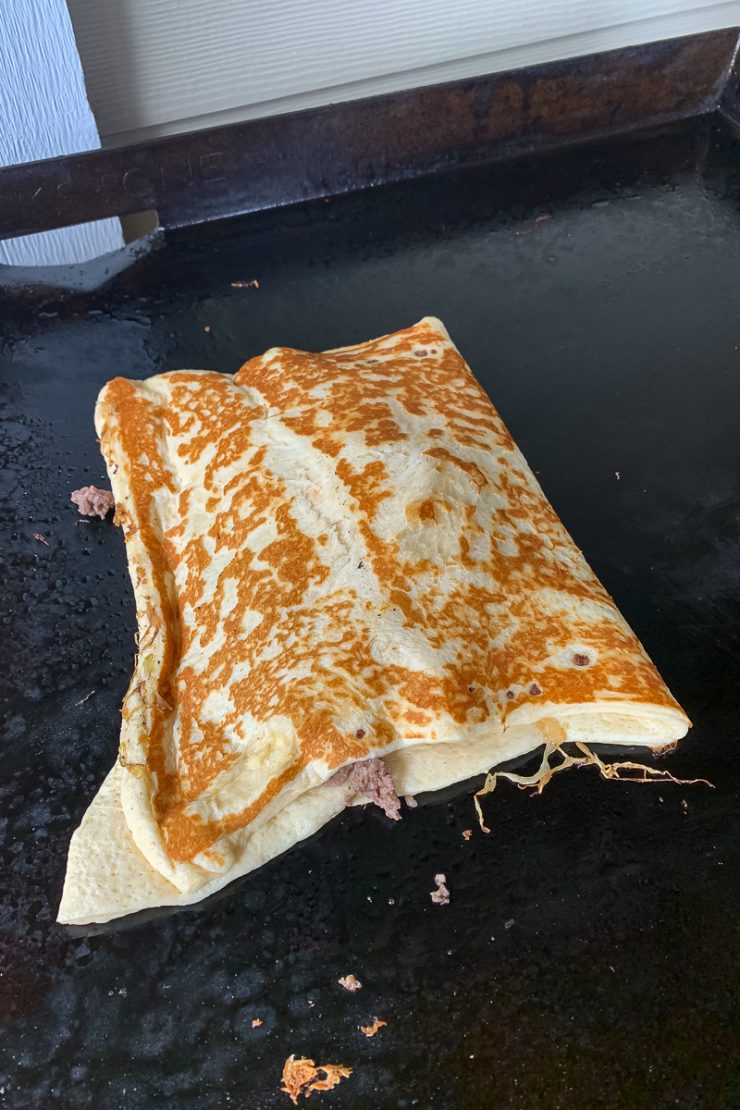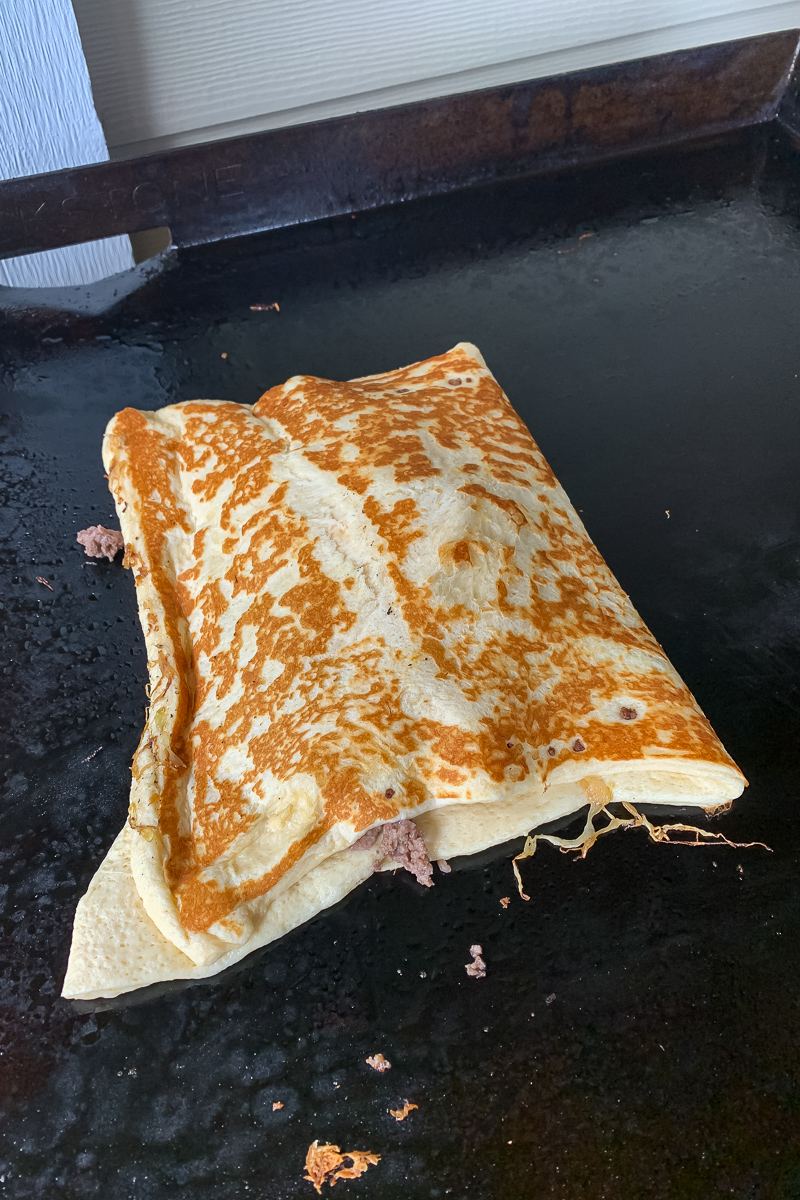 What should you serve with a Runza?
Well, at a Runza restaurant the correct answer would be fries, onion rings, or the BEST INVENTION EVER, the "Frings", which are half onion rings and half french fries. I think you know which one I opted for when I visited.
If you want to go a more green route, I'd highly recommend this fresh Greek Salad, or my Grilled Caesar Pasta Salad.
Since we are reminiscing about Omaha, I also want to highlight some great recipes from those ladies I mentioned up-thread. Visit them, follow them, and tell them I said hello!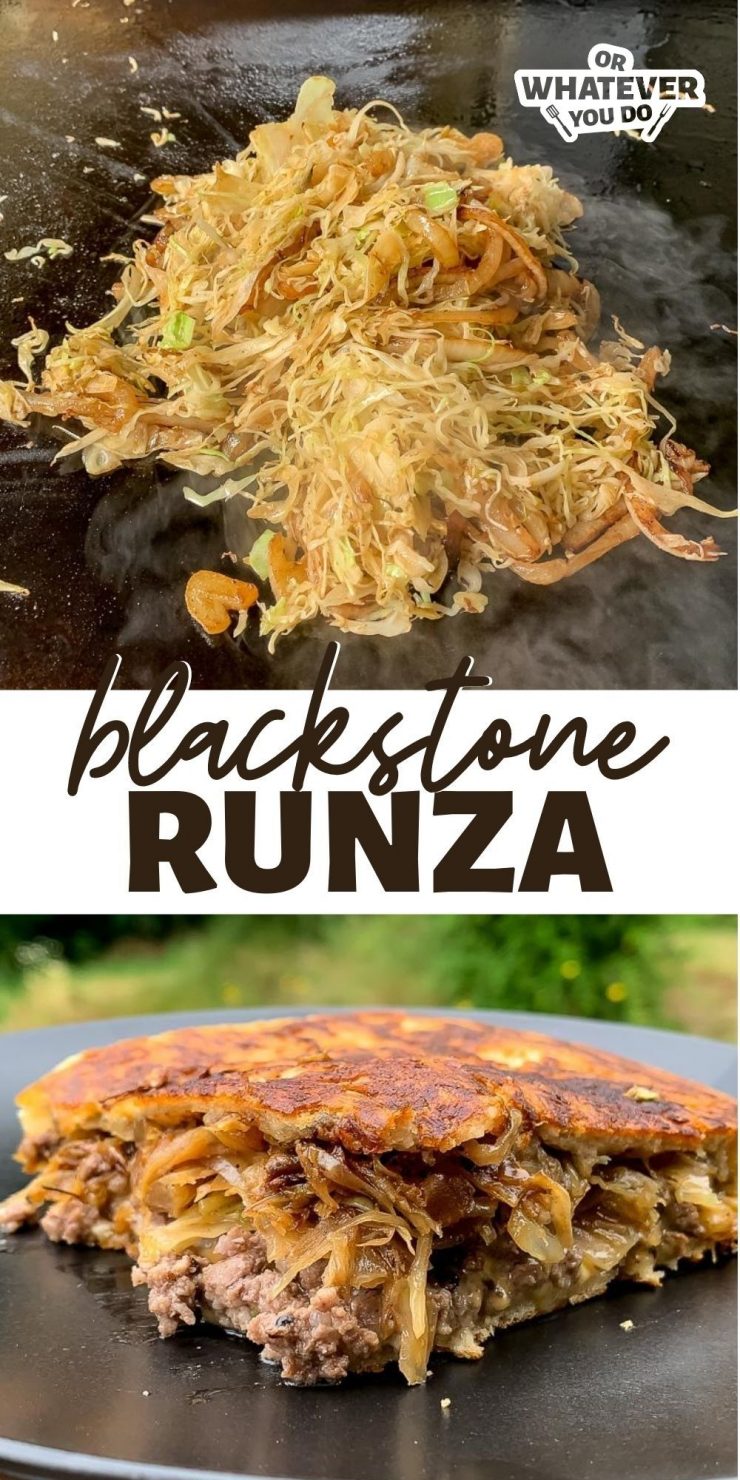 Yield: 6 servings
Blackstone Runza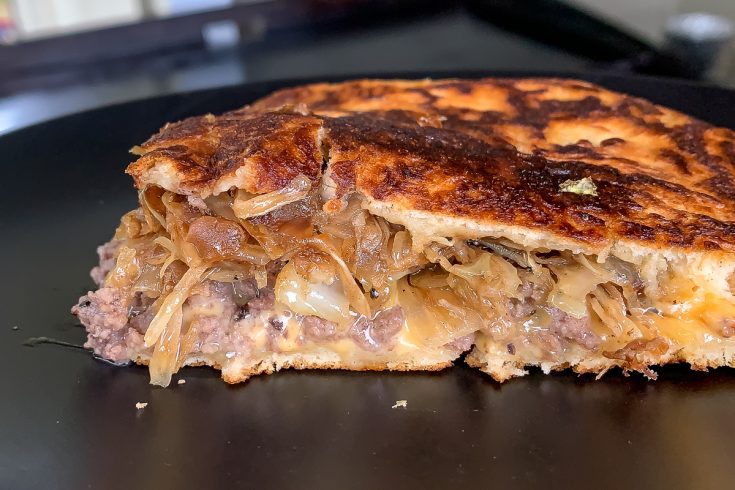 Delicious Runza are filled with seasoned ground beef, cabbage, onions, and cheese before being wrapped in crescent roll dough and cooked on your gas griddle.
Ingredients
2 tablespoons butter
6 cups shredded cabbage
1 large onion, sliced
1/2 teaspoon seasoning salt (like Lawry's or Johnny's)
1 pound ground beef (80/20 blend)
1/2 teaspoon salt
1/2 teaspoon pepper
1/2 teaspoon garlic powder
1/2 teaspoon onion powder
6 slices American cheese (or cheddar if you aren't into American)
1 tube crescent roll dough sheet
Instructions
Preheat your Blackstone over medium heat.
On half of the griddle, put down some butter and cook the onions. Remove from the griddle ones they are soft and lightly browned.
On the other half, put down some more butter and cook the cabbage. Remove to the onion plate when it is softened and cooked.
Season the ground beef and cook on the Blackstone until it is browned.
Take the crescent roll sheet out of the fridge, and place it onto the griddle.
Spread the filling over half of it, leaving room on the sides open.
Cover with cheese and fold over the other half of the dough sheet.
Flip once if you have the skills. Cover the Runza and turn the heat off if you don't.
Cut into pieces and serve. (With a fork. This isn't a hand-held sandwich in this form.)
Notes
You can use ready-made bread dough in place of the crescents if you'd like. You can also make individual portions using regular crescent dough, biscuit dough, or pizza dough. They become more portable and less in need of a fork in that form, but it also takes longer to do it individually sooooo keep that in mind.
Nutrition Information:
Yield:
6
Serving Size:
1
Amount Per Serving:
Calories:

535
Total Fat:

32g
Saturated Fat:

14g
Trans Fat:

1g
Unsaturated Fat:

14g
Cholesterol:

96mg
Sodium:

852mg
Carbohydrates:

34g
Fiber:

4g
Sugar:

7g
Protein:

28g
Nutrition data provided here is only an estimate.