Korean Spicy Stir-Fried Chicken and Vegetables is a mildly spicy dish that is full of vegetables, chicken, and flavor.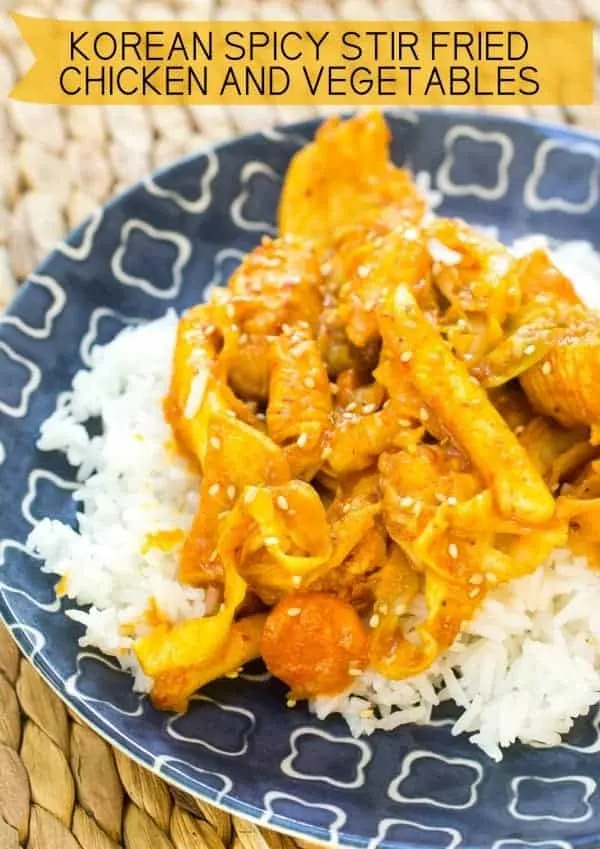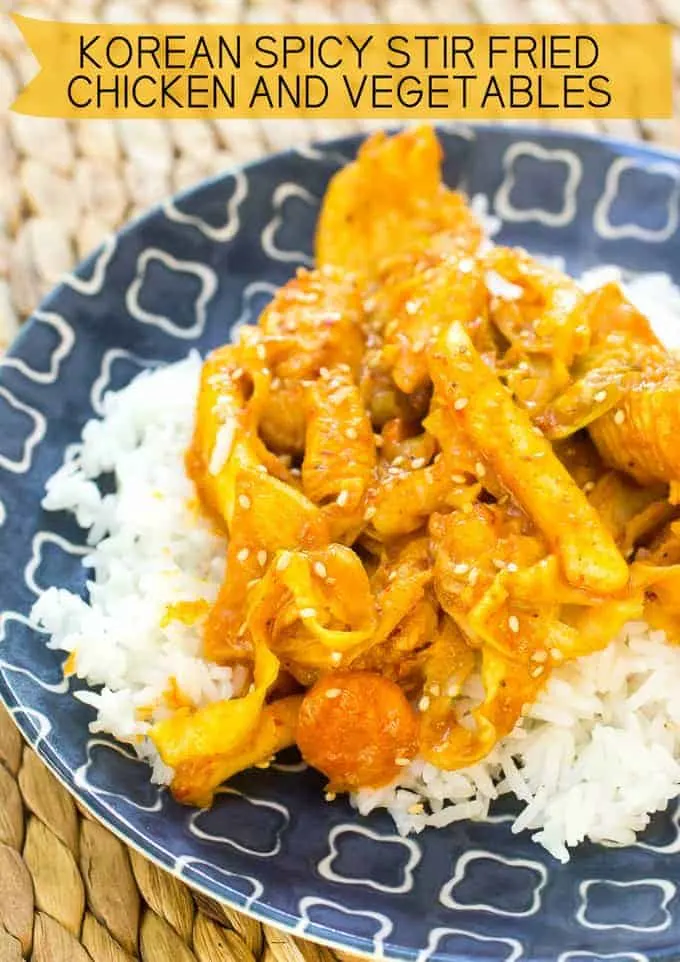 Korean Spicy Stir-Fried Chicken and Vegetables
Oh.My.Gosh. This recipe, you guys. When we lived in Saint Paul, my husband and I had a FAVORITE restaurant.
It's still there, so if you are in the Cities, make sure to stop by Mirror Of Korea and tell them Jeremiah says hi! They won't remember probably, but that's okay. It has been NINE years since we moved away.
Time flies, huh?
Anyway, they make this chicken dish that they call Dahk Bok Uhn. It was amazing, and we ordered it every single time we went along with a big plate of Jahp Chae and some Man Du. Its still one of my favorite meals, ever.
The problem with this is now we live in Washington, and we haven't been able to find any local Korean restaurants yet that make it like Mirror does. I've been searching and searching for a recipe that would come close, and I FINALLY found one from Sue at My Korean Kitchen. She totally rocks. She even answered my questions via twitter mid-cooking because I've never worked with some of these ingredients before. Like rice cakes.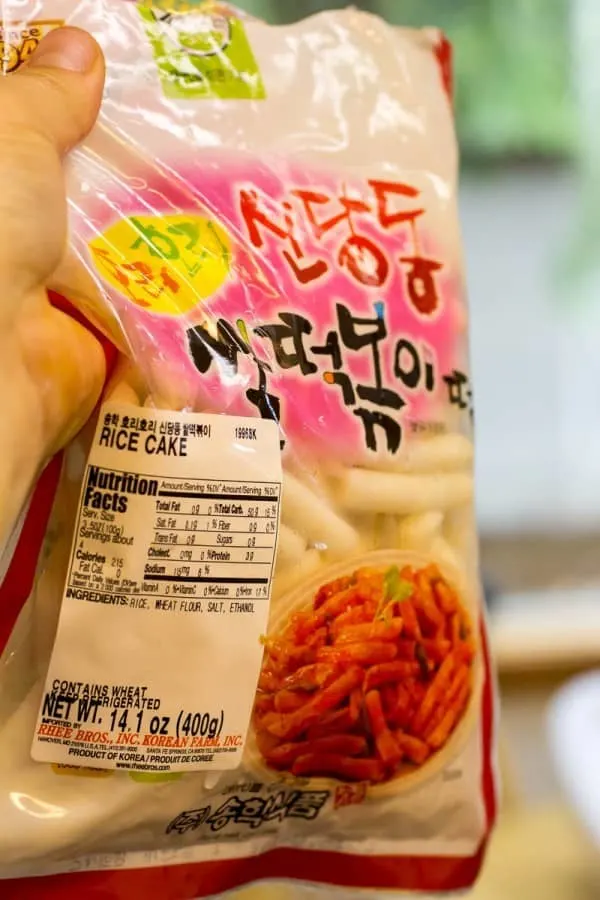 I've eaten them a bunch of times, but have never actually cooked them before. The recipes calls for a quick 20-minute soak in cold water, and afterwards, they were still – hard.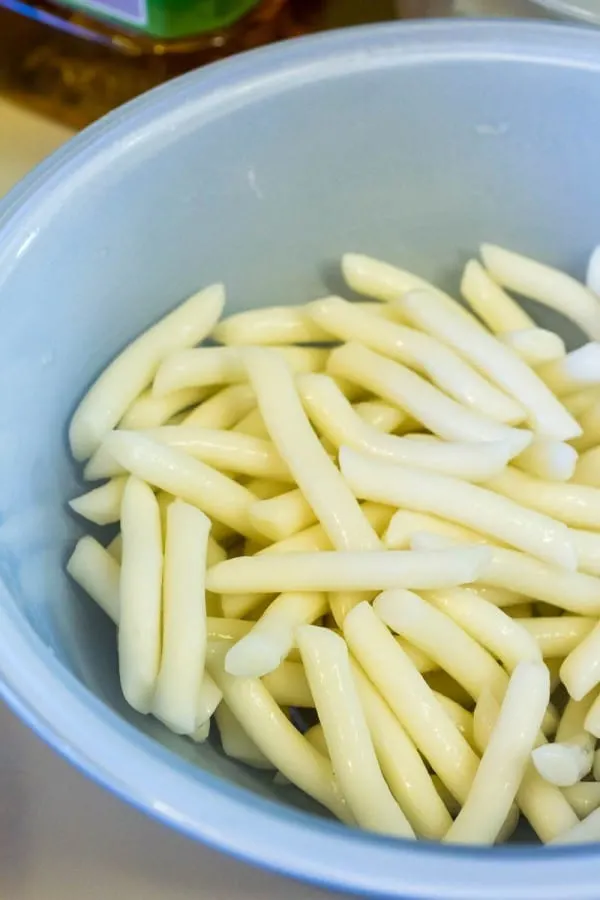 I was nervous that they wouldn't soften up in the stir fry, but very unnecessarily so. They were perfect.
---
Need more dinner ideas? I've got them right here!
Baked Tortellini
Chicken Alfredo Lasagna with Spinach
Pressure Cooker Mexican Rice
Easy Garlic Beef and Broccoli
---
This recipe also calls for a few ingredients that aren't super common. You'll have to go to an international grocery store to get them, and if you don't have one of those near you, I'll make sure to link you to the Amazon equivalent. You're going to want to buy/order the BIG ones though because once you taste this you're going to want it on the reg.
The chicken is diced into bite-sized pieces and then is seasoned really simply with Mirin, ginger, and pepper.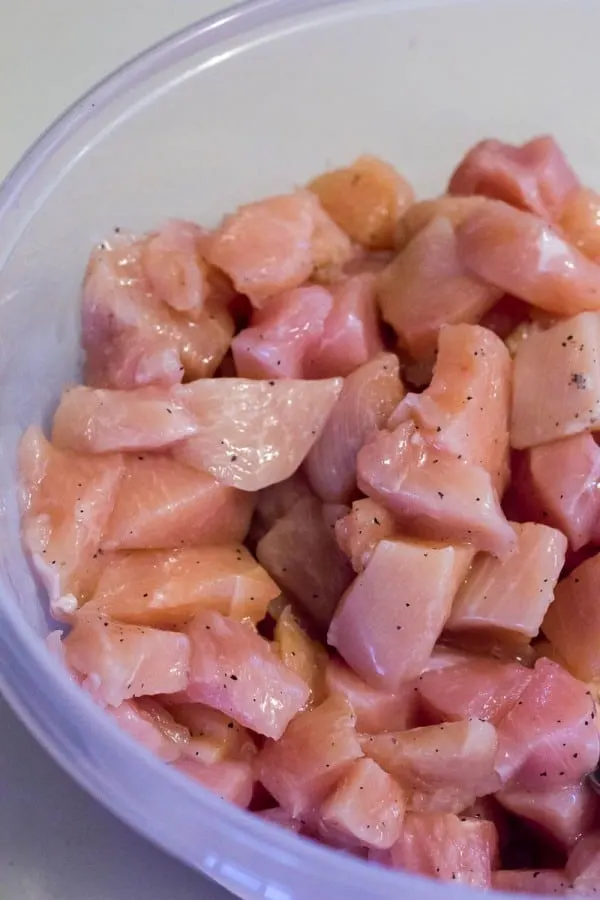 Then you mix together the best part. It's a marinade and a cooking sauce and it's SO full of flavor.
The main component is Gochujang. This stuff you are going to want to buy in BIG quantities. It's made from red chili, glutinous rice, fermented soybeans and salt. You can order it from Amazon here. It's basically magic.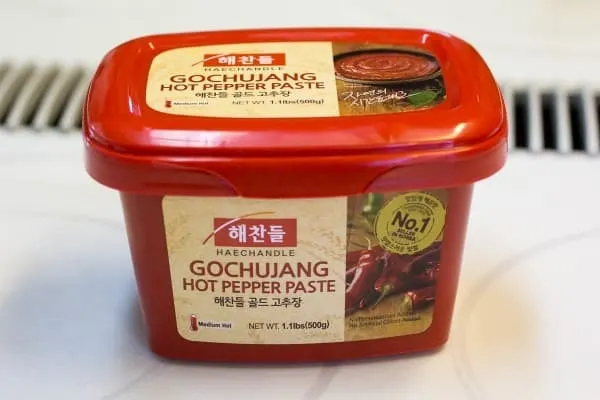 Mix together the gochujang, garlic, brown sugar, onion, grated onion, and Korean yellow curry powder.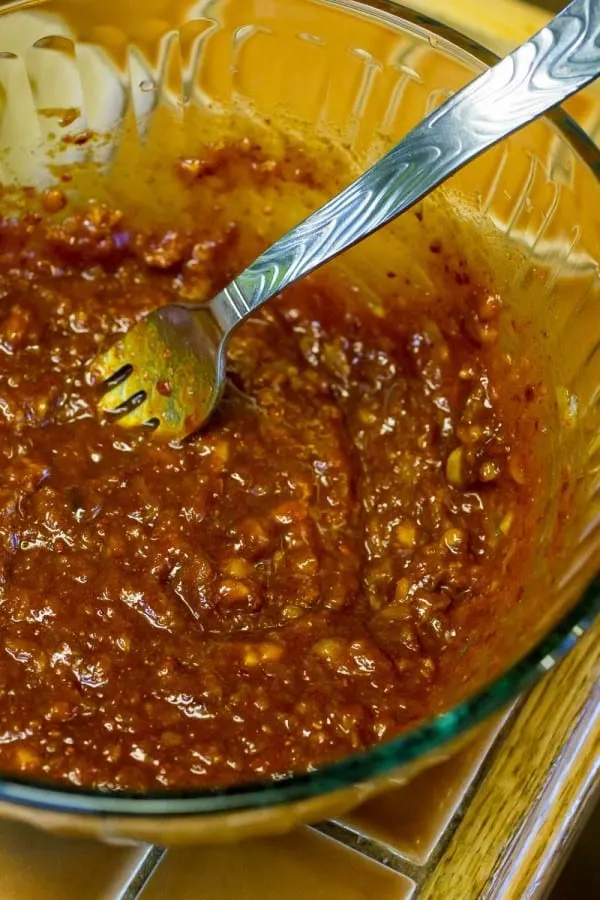 The next kind of unfamiliar ingredient you will want to track down is the gochugaru. It is really great red pepper flakes that have been sun-dried and add a little kick to the mix.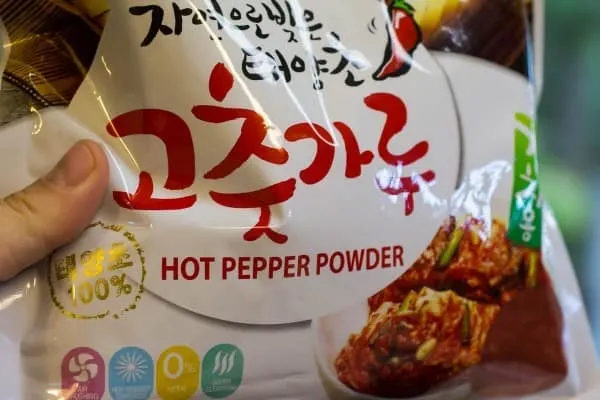 Slice up the veggies and set those aside.
Mix together the sauce in with the chicken and let it sit, covered, for an hour.
Once its had an hour to sit, preheat your skillet or wok. I would highly highly recommend a real wok. I used an electric skillet, and while it worked okay, it didn't stay nearly hot enough to do this properly.
The end results were still great, but could've been way way better if I had proper heat under this.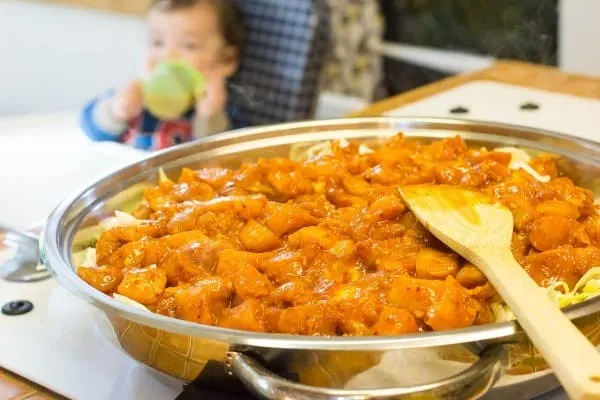 Let the veggies cook for a few minutes, and then mix it around to stir fry. Keep stirring until the chicken is fully cooked, and then serve with rice and enjoy!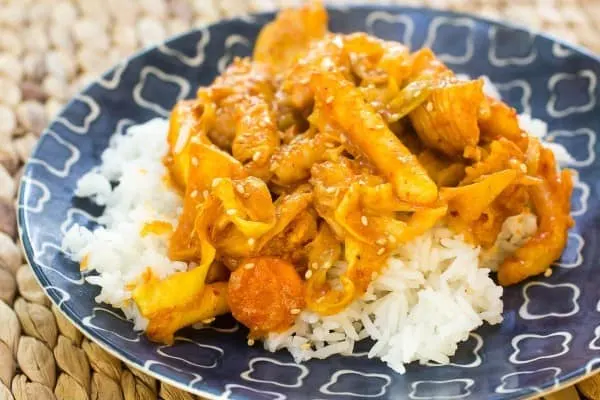 It is delightfully different, and spicy without being too hot. It's like a mellow warmth that comes on slowly but isn't too intense.
This recipe is not changed really at all from Sue's version. I had to omit the perilla leaves because I couldn't find them anywhere, but I didn't notice any substantial flavors missing.
Yield: 6 servings
Korean Spicy Stir Fried Chicken and Vegetables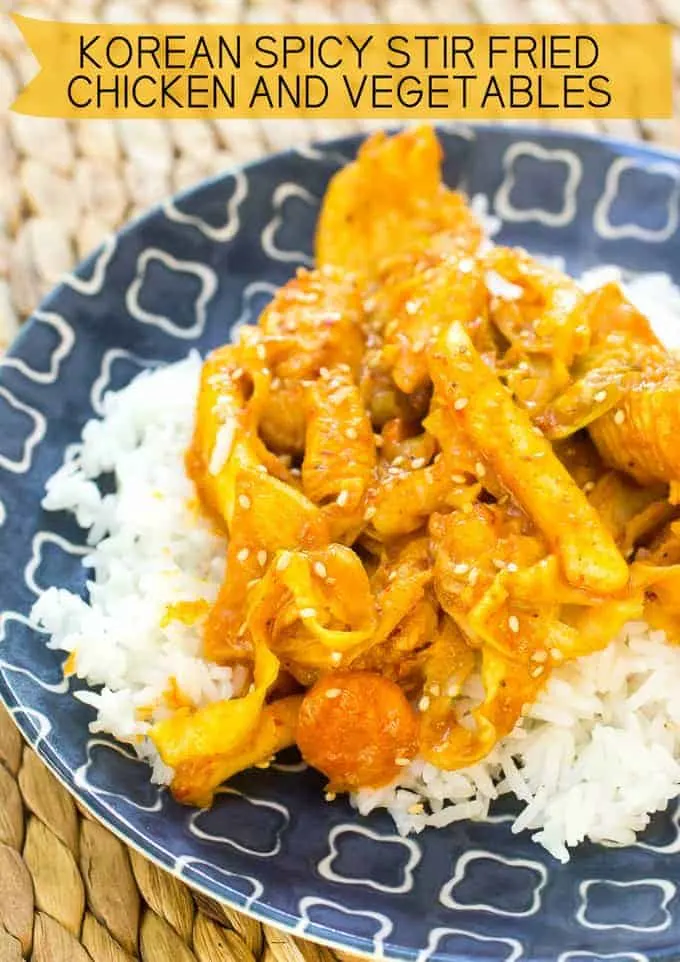 Big bold Korean flavors take center stage in this stir-fry recipe that is a great copycat of the dak bok uhn you'll find at many Korean restaurants.
Prep Time
1 hour
15 minutes
Total Time
1 hour
35 minutes
Ingredients
Chicken and seasoning
1 pound boneless skinless chicken breast, cut into bite-sized pieces
2 tablespoons mirin
1/4 teaspoon ground ginger
1/8 teaspoon ground pepper
Sauce
3 tablespoons gochujang
1 tablespoon minced garlic
1 tablespoon Korean chili powder
1 tablespoon Korean soy sauce, the for soup kind. Yum. Regular soy sauce will do though.
1 tablespoon dark brown sugar
1 teaspoon Korean yellow curry powder
1/2 onion, grated or finely minced
Vegetables
1 medium white-fleshed sweet potato, thinly sliced
1/2 cup sliced carrot
2 cups sliced cabbage
1 pound rice cakes, soaked for 20 minutes in cold water
Oil for stir frying
Instructions
Combine the chicken, mirin, ground ginger, and pepper. Let sit for 15 minutes. While it is sitting, mix together all of the sauce ingredients, and slice the vegetables and soak the rice cakes.
Mix together the sauce with the chicken and let sit, covered, for one hour in the fridge.
Preheat a large well-seasoned or non-stick skillet or wok over high heat with a small amount of oil in it. Place the vegetables and rice cakes on first, and then pile on the chicken/sauce mixture. Let the veggies cook for a minute, and then stir all of the mixture together and cook until the chicken is fully cooked.
Serve with rice.
Nutrition Information:
Yield:
8
Serving Size:
1
Amount Per Serving:
Calories:

407
Total Fat:

6g
Saturated Fat:

1g
Trans Fat:

0g
Unsaturated Fat:

4g
Cholesterol:

50mg
Sodium:

957mg
Carbohydrates:

63g
Fiber:

5g
Sugar:

10g
Protein:

24g
Nutrition data provided here is only an estimate. If you are tracking these things for medical purposes please consult an outside, trusted source. Thanks!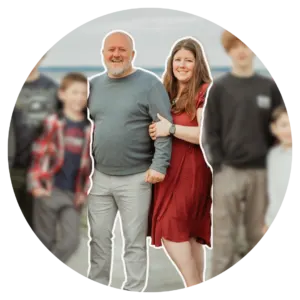 Nicole Johnson, a self-taught expert in grilling and outdoor cooking, launched Or Whatever You Do in 2010. Her blog, renowned for its comprehensive and creative outdoor cooking recipes, has garnered a vast audience of millions. Nicole's hands-on experience and passion for grilling shine through her work. Her husband, Jeremiah Johnson, also plays a pivotal role in recipe development, adding his culinary flair to the mix. Together, they form a dynamic duo, offering a rich and varied outdoor cooking experience to their followers.