Our Sous Vide Duck Breast is made by vacuum sealing a duck breast, cooking it in the water circulation bath at 120° for 2 hours. Then, the breast gets sauteed skin-side-down to crisp up before being served with mashed potatoes and a rich pan sauce.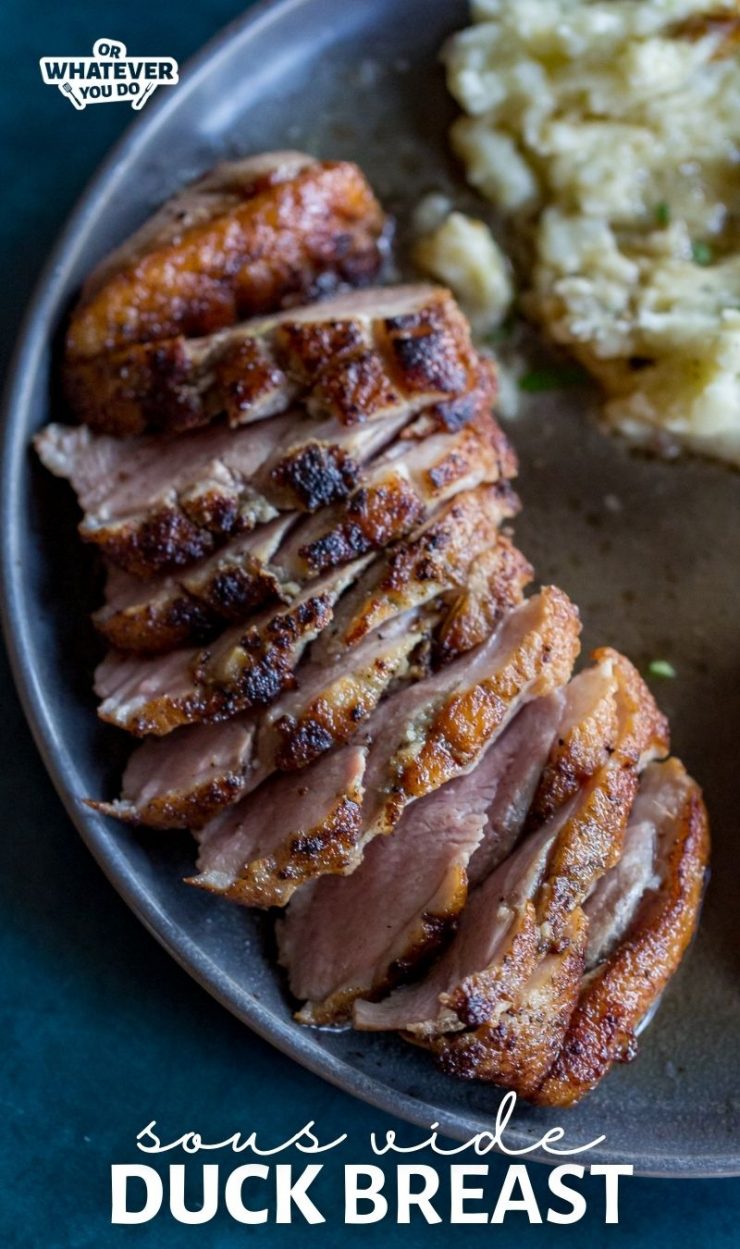 This post was sponsored by Anova as part of an Influencer Activation for Influence Central and all opinions expressed in my post are my own.
Sous Vide Duck Breast
I have done some sous vide cooking in my time, but never as much as I would've liked because my previous sous vide systems were SO big and bulky that I just had a hard time motivating myself to get it down from the shelf in the garage for an egg or a chicken breast.
When I got the opportunity to work with Anova on this Precision Cooker Nano project, I knew that it was going to be right up our alley. It is such a compact, efficient machine. Instead of taking up a whole cupboard or shelf, it is just a bit bigger than your average stick blender and can easily be tucked somewhere handy to pull out for even the smallest dish.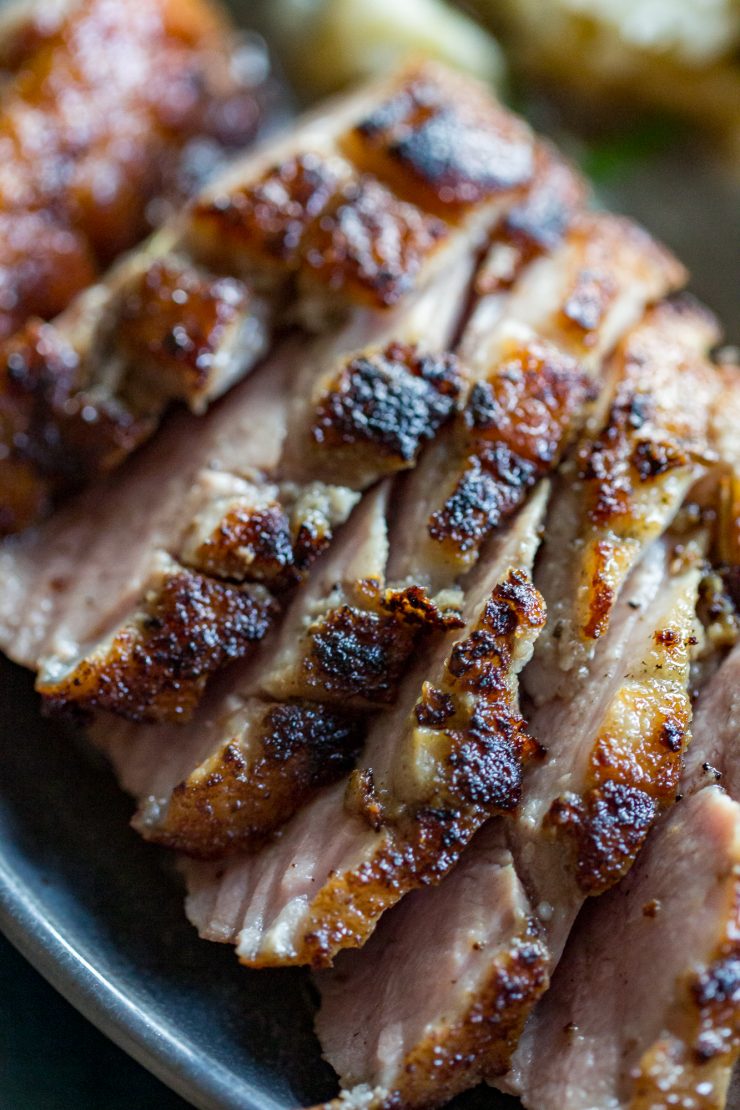 Anova wants to make sous vide cooking approachable, accessible, and fun for everyone. Sous vide cooking is one of my favorite cooking methods because it is SO forgiving. Your food is held at the perfect temperature without needing a ton of attention, and without fear of anything overcooking if you aren't ready right when dinner is.
Restaurant-quality results are not only possible at home, but convenient too.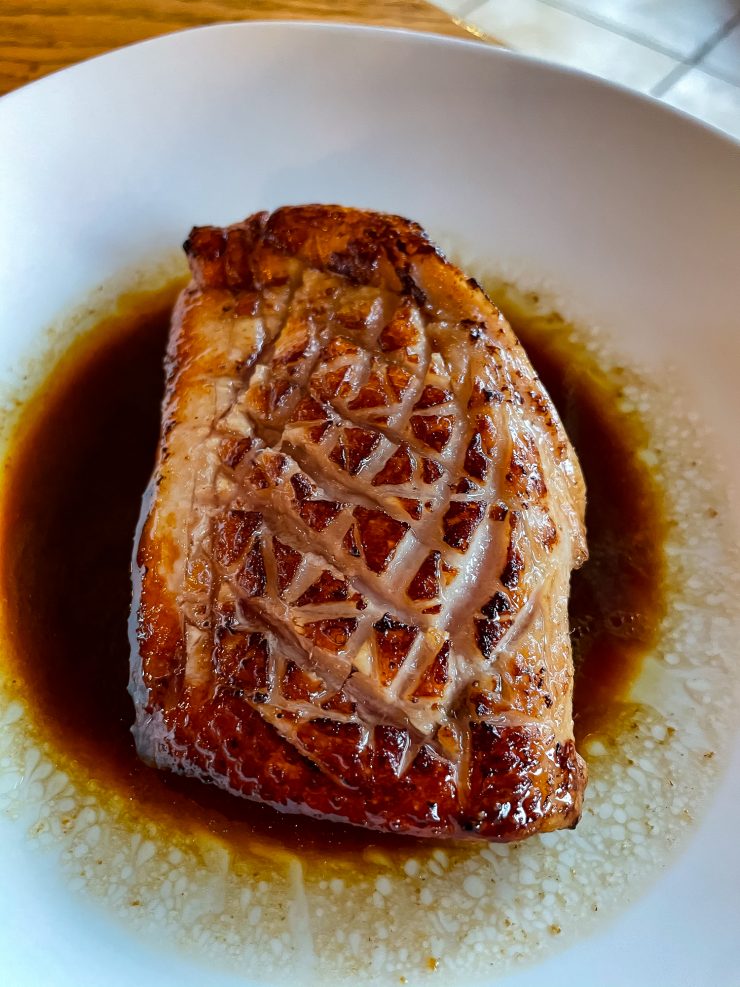 What is sous vide?
Sous vide means "under vacuum", and typically involves sealing foods in a food-grade plastic bag and then submerging it in a water bath that's circulating and maintaining a constant temperature.
It is a gentle way of cooking foods that is precise and is especially perfect for foods that tend to dry out using other methods.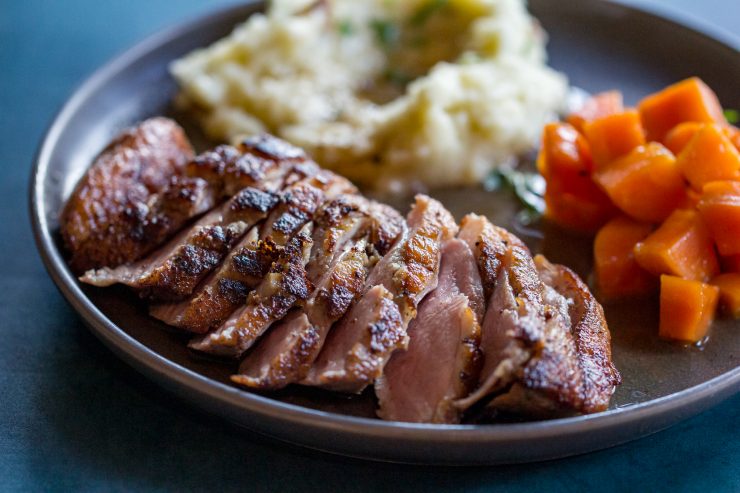 What kinds of foods can you make in the Anova Precision Cooker?
You can cook just about anything using the sous vide cooking technique, but some definitely lend themselves to this method more than others.
Some of my favorite things to use the Anova Precision Cooker Nano are:
Poultry – chicken, turkey, duck, pheasant, quail, and Cornish game hens are all great options for sous vide.
Eggs – If you've never had sous vide eggs, you are missing out. You can't mimic sous vide eggs with other methods. I also LOVE using my Anova for keeping eggs for my Spicy Miso Ramen recipe at temperature and perfectly jammy.
Cheesecake – Cook these in glass canning jars for the cutest, smoothest, single-serve cheesecakes you've ever seen.
Fish – From fresh salmon filets to cod, halibut, walleye, or whatever other fish you are cooking up, the gentle sous vide method will make sure your fish is never overcooked or dry.
Seafood – Just as with fish, seafood like lobster, scallops, and shrimp are great candidates for sous vide cooking.
Pork chops – Pork is such a lean meat, it is hard to make a pork chop that is tender and also retains all of the moisture.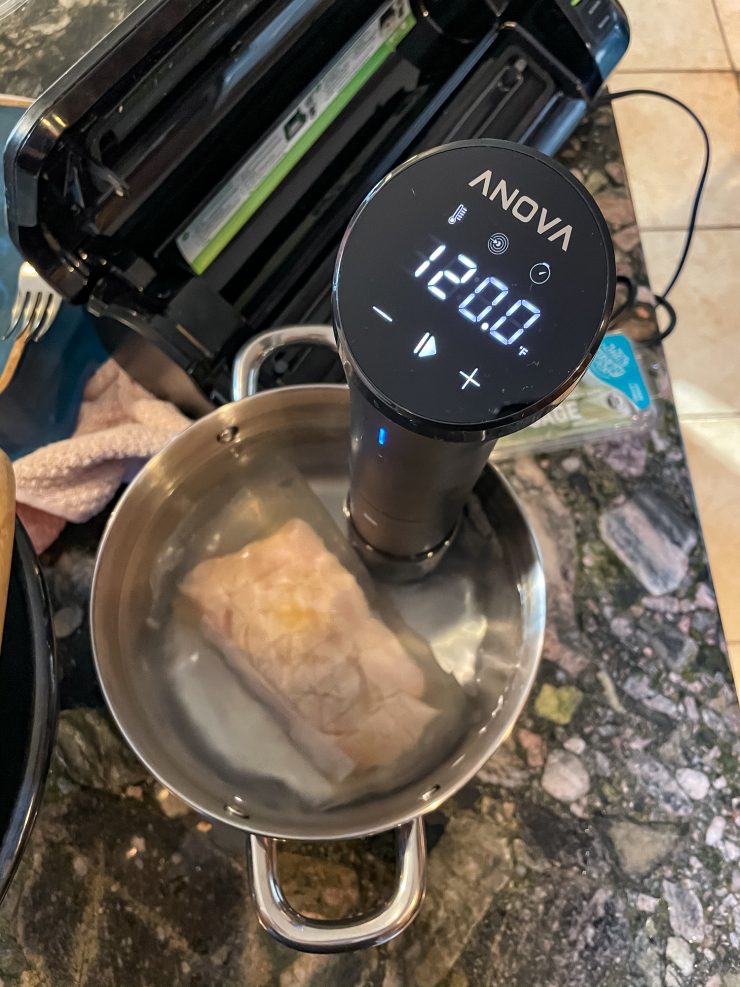 Do you have to sear food after cooking sous vide?
With meat, it is really the right decision. It adds another step to the process, but it is an easy step and one that adds so many benefits. The Maillard reaction is real and adds a ton of flavor to the final dish.
Things like vegetables don't require that final sear, but a lot of them would benefit from it!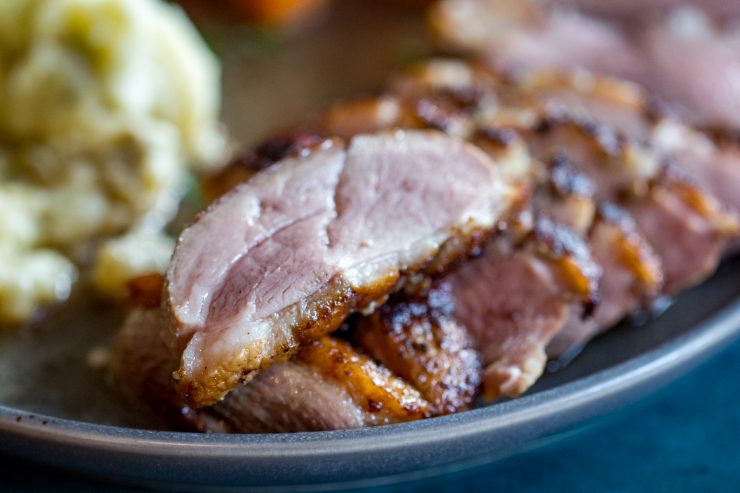 Sous Vide Duck Breast tools and grocery list
2 boneless duck breasts
duck fat
garlic
salt
onion powder
rosemary
thyme
black pepper
sage
olive oil
chicken stock
white wine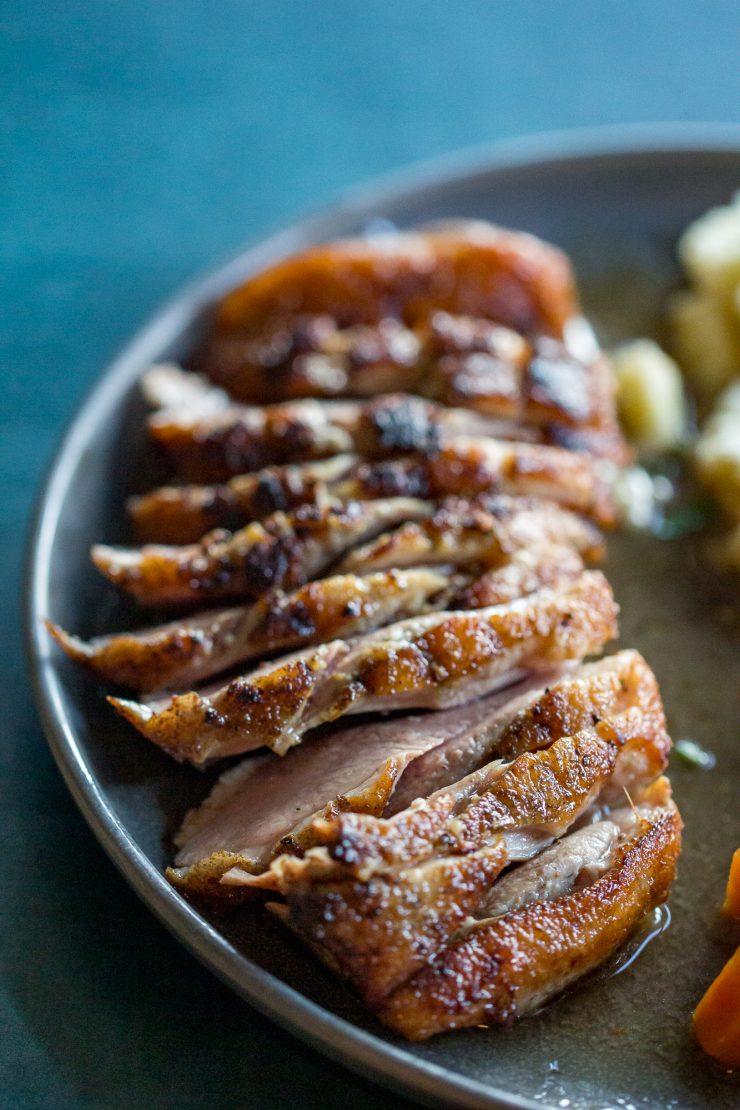 Tips for making duck with the Anova Precision Cooker
Get all the air out.
Whether you are using a true vacuum pack machine or a plastic freezer bag, make sure you get all of the air out before sealing. This will not only help keep the bag from floating in the water bath, but it also helps to ensure even cooking as well.
Consider the final temp
According to the USDA, duck should be cooked to a minimum temperature of 165°. According to nearly every chef and restaurant that serves duck, that's a travesty and a waste of good duck.
We cooked our duck breast to 120° before the sear, and the final temp wound up around 130° for a perfect medium-rare.
Consider this your warning, similar to what you see at the bottom of the menu on any steak or sushi house in the country. "Eating undercooked meat and fish increases your risk for foodborne illness." If you are at high risk for severe complications, I'd probably encourage you to find meat that's better suited to being cooked well done than duck breast.
What to serve with Sous Vide Duck Breast
With this sous vide duck breast recipe, we served with sauteed carrots and garlic mashed potatoes. It was perfect!
You could also serve this with something like our mushroom risotto, wild rice pilaf, and grilled asparagus.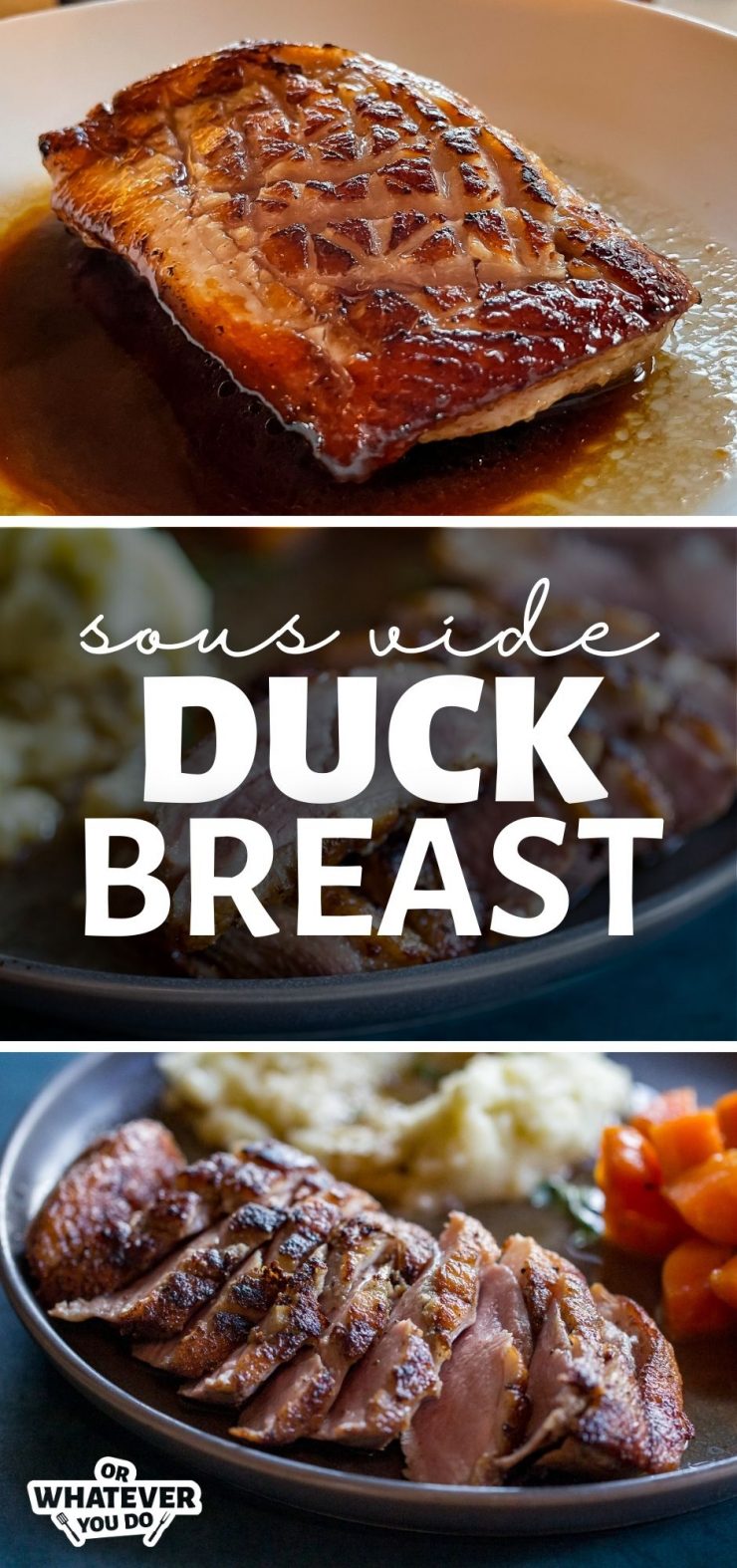 Yield: 4 servings
Sous Vide Duck Breast Recipe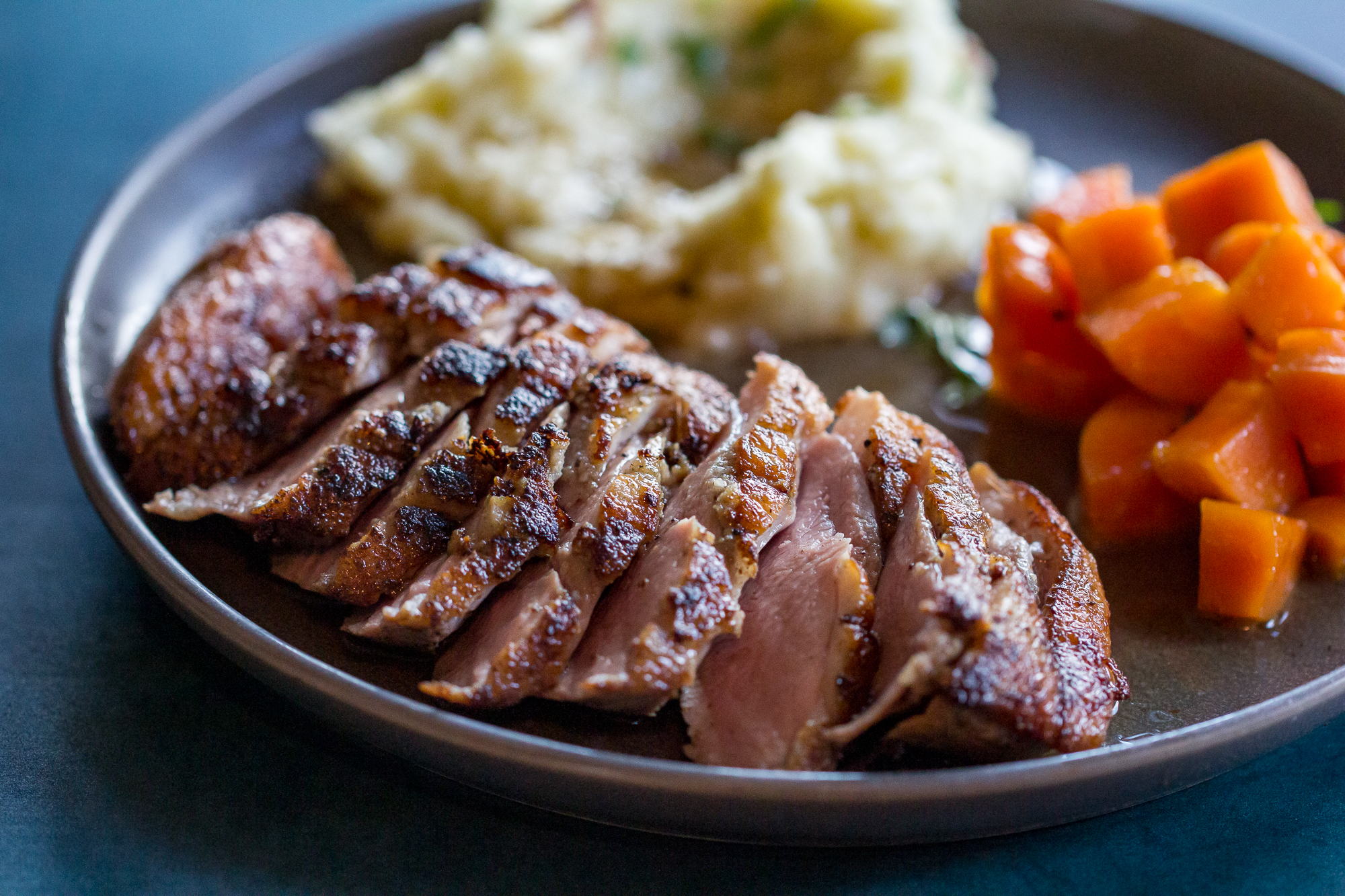 Our Sous Vide Duck Breast is made by vacuum sealing a duck breast, cooking it in the water circulation bath at 120° for 2 hours. Then, the breast gets sauteed skin-side-down to crisp up before being served with mashed potatoes and a rich pan sauce.
Cook Time
2 hours
15 minutes
Total Time
2 hours
25 minutes
Ingredients
2 boneless duck breasts
2 tablespoon duck fat
1/2 teaspoon pressed garlic
1/2 teaspoon salt
1/2 teaspoon onion powder
1/2 teaspoon rosemary
1/4 teaspoon thyme
1/4 teaspoon black pepper
1/2 teaspoon sage
1 tablespoon olive oil
4 tablespoons chicken stock
2 tablespoons white wine
Instructions
Start by placing your duck breasts on a cutting board skin side up.
Score the skin on the breasts about 1/4" apart from the whole length of the breast and then repeat the process going from side to side to make a criss-cross pattern. Make sure to only go through the skin and the fat layer, but not into the meat.
Sprinkle half the salt and the rest of the dry herbs and spices onto the breast. Rub the crushed garlic into the top of the breasts where they are scored.
Put a tablespoon of the rendered duck fat onto the top of each breast.
Vacuum seal the duck breasts in plastic bags and place them into the water bath. We use a pot of water with the Anova Precision Cooker Nano.
Set the temperature to 120° F and let it cook for two hours.When the duck is ready to come out of the water, put the olive oil into a medium-size sauté pan and put it on the stove on medium-high heat.
When the oil is good and hot, take the duck out of the water bath, cut open the plastic bag, and take out the duck breasts. Make sure to save the juices in the bag! Place the breasts into the sauté pan, skin side down.
Let the duck cook for one and a half minutes, flip and let cook for another one and a half minutes.
Remove the duck from the pan and let it rest for ten minutes.
While the duck is resting, deglaze the pan with the wine, chicken stock, and juices from the bag.
Let reduce into a nice jus and pull it from the heat when the jus starts to thicken slightly.
Remove from the stove and pour into a small dish through a small mesh strainer.
When the duck has finished resting, slice it against the grain into 1/4-1/2 inch wide pieces.
Place into the dish you're going to serve it in and pour the jus on top.
Recommended Products
As an Amazon Associate and member of other affiliate programs, I earn from qualifying purchases.
Nutrition Information:
Yield:
4
Serving Size:
1
Amount Per Serving:
Calories:

343
Total Fat:

23g
Saturated Fat:

6g
Trans Fat:

0g
Unsaturated Fat:

15g
Cholesterol:

170mg
Sodium:

387mg
Carbohydrates:

1g
Fiber:

0g
Sugar:

0g
Protein:

30g
Nutrition data provided here is only an estimate.
More recipes to love