My easy Blackstone Stromboli and Calzone recipe will have dinner on the table in no time, with something for everyone in the mix. Make it from scratch or hit the easy button and buy pre-made dough for a fully customizable recipe cooked right on the gas griddle.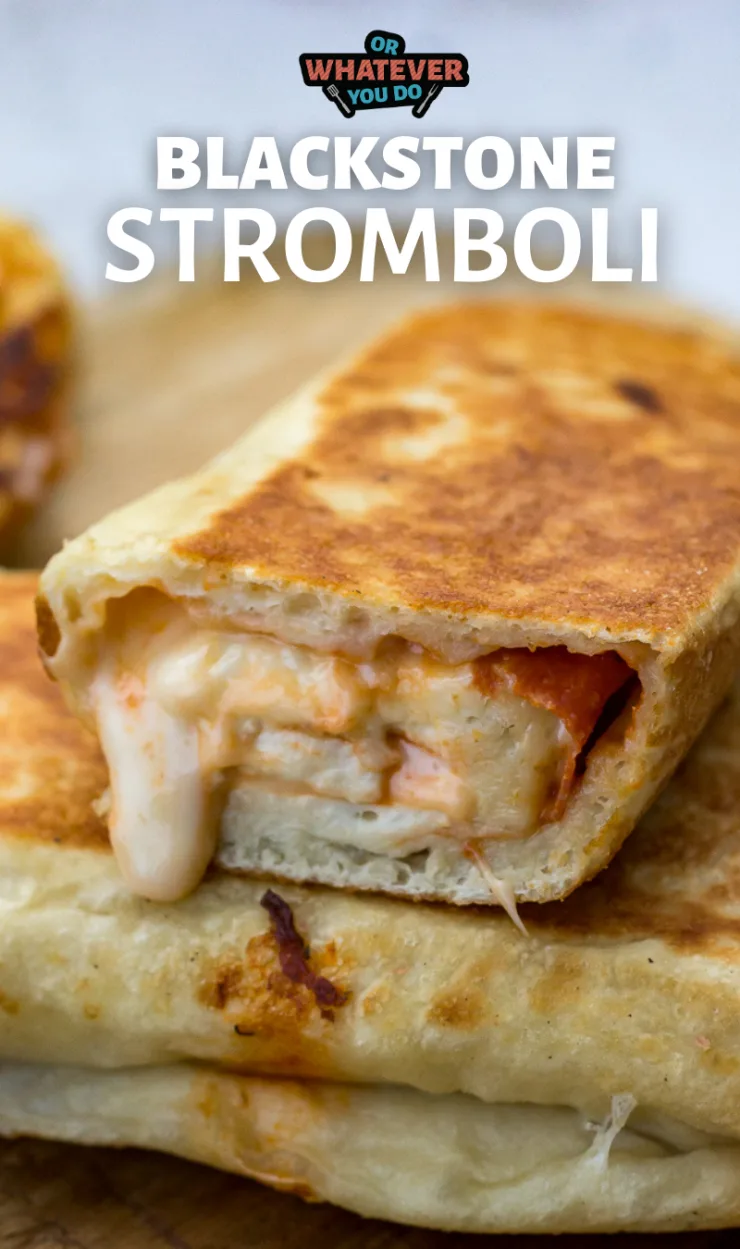 Blackstone Stromboli & Calzone recipe
These days, as much as I'd like to be, I'm just not that much of a planner. We usually decide what's for dinner when people start telling us they are hungry, and sometimes usually it isn't a whole 3-course production.
Most of the time.
There are a lot of frozen pizzas and various convenience foods that kids love and are easy to make happening around here, and that's okay.
But I find if I keep some ingredients around fairly consistently, I have a bunch of possibilities that are both easy to make and will go over well with our crowd – I lean on those less-than-ideal options a little less.
Not that these are health food, by any stretch. I suppose you could add a bunch of vegetables to them and it would be better, but sometimes people just want pepperoni pizza and I'm okay with that. Give them some salad and fruit along with it and call.it.a.day! This year is hard enough without throwing food battles into the mix, in my opinion.
I just feel better when it is something I've made, and it tastes better too when it is cooked fresh at home.
Get all of my BLACKSTONE RECIPES here!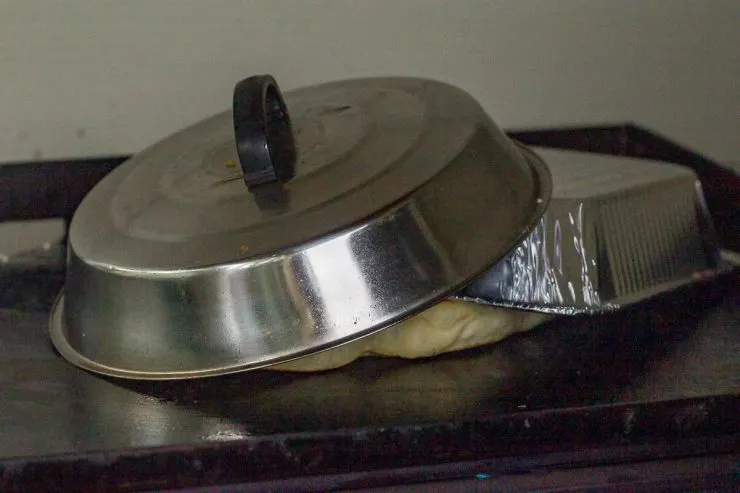 Calzone and Stromboli shopping list
Pre-made Pizza Dough OR the following ingredients:

Flour
Olive oil
Yeast
Salt
Water

Cheese
Pre-made Pizza Sauce OR the following ingredients:

Olive oil
Garlic
Crushed tomatoes
Garlic powder
Onion powder
Salt & Pepper
Crushed red pepper flakes
Basil
Oregano
Parsley
Sugar

Pizza Toppings, such as:

Pepperoni
Ham
Ground beef
Onion
Bell Peppers
Follow me on Instagram!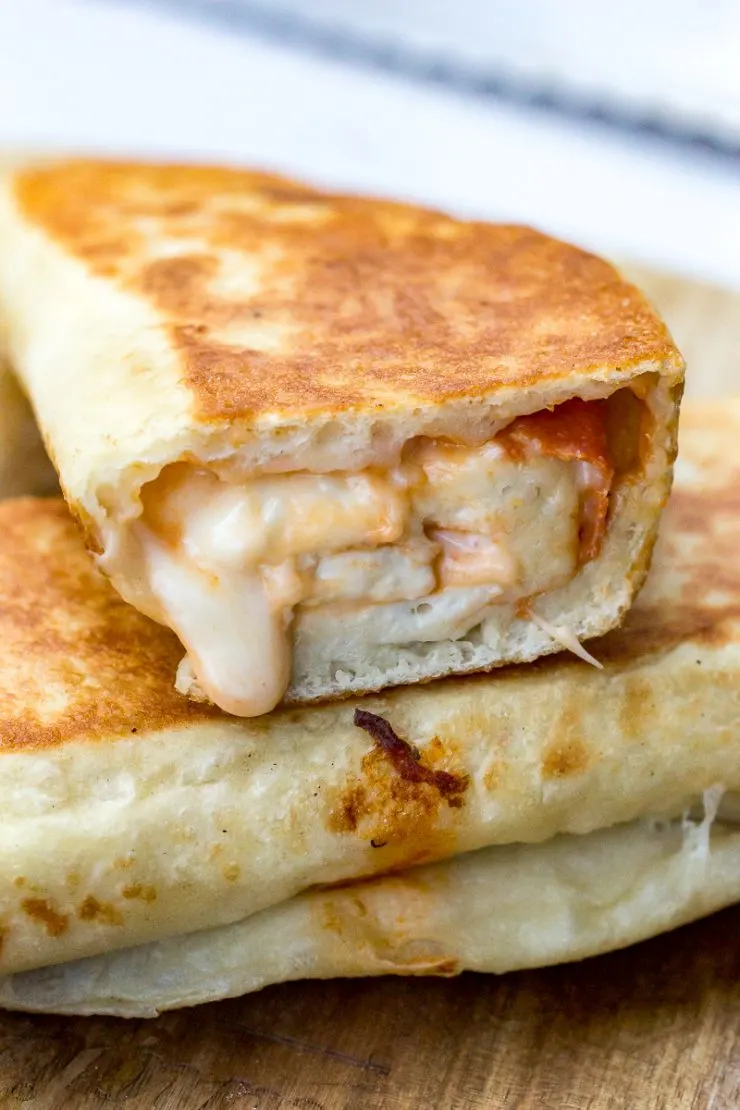 How to make Stromboli on the Blackstone Griddle
Making stromboli is similar to making any kind of flatbread on the Blackstone. First you need to brown it, then you need to create some separation, and then you need to cover it to get a "baked" effect.
Roll out the dough.
Put on the toppings.
Roll up the toppings into the dough.
Seal the edges.
Place on a well-oiled Blackstone, seam side down.
Cover and cook for several minutes.
Flip and brown the other sides of the dough, covering after each flip.
Once all sides are browned, place on a wire rack and recover to finish cooking. The internal temp should be 200° when the bread inside is "done".
Have a Cocktail with dinner!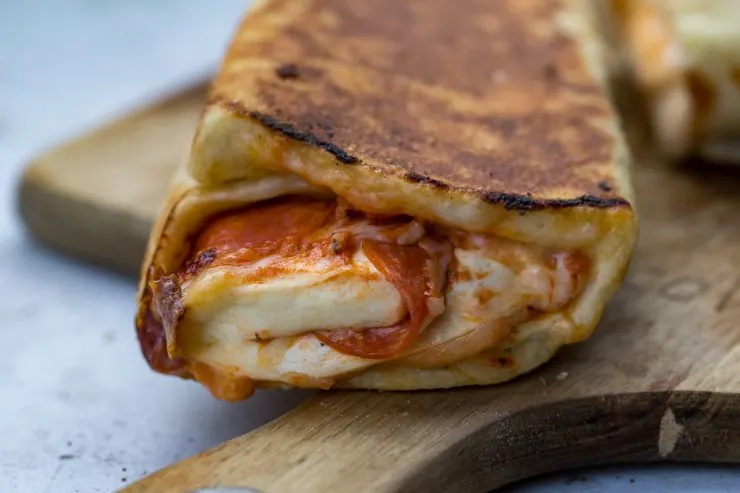 Tips for amazing Stromboli & Calzones
This was such a simple method, but there are definitely a few things that can get in the way and make it less-than-enjoyable.
Prep is your friend
Have everything fully prepped and ready to go. You don't want to be walking around looking for ingredients mid-roll or mid-cook.
Flour is your friend too
You don't want your dough to be too sticky. Flour your counter when you are rolling your dough
Bench scrapers – also your friend
Noticing a trend here?
Too much sauce can = soggy dough
Use a light hand if you sauce inside of things and save the sauce lovers some on the side for dipping.
Seal those edges
Dampen your fingers, dot over the edges, and seal them together as much as you can before cooking the stromboli on the griddle. Ideally you want it to be a fully contained roll.
Get thee a wire rack and good cover
Once you have browned the outside of the stromboli you can either flip it often, covering in-between, as you see me do in the video, OR you can brown all the sides throw it up on a rack, cover it, and let it ride for some hand's off cooking that is a mom's best friend.
Get all of my easy dessert recipes here!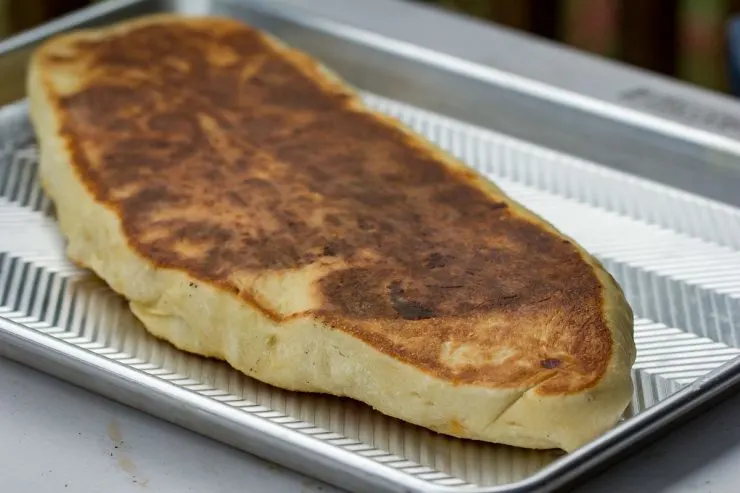 How to make a Calzone on the Blackstone
Making a calzone is very similar to making stromboli, but in a calzone you don't roll up the dough, cinnamon-roll-syle, you just make a big pocket with the toppings inside, more like a Cornish Pasty.
The same general method applies.
Roll out the dough into a circle.
Place toppings inside.
Fold over dough.
Seal the edges.
Place on a well-oiled pre-heated Blackstone.
Cook until browned, and flip.
Brown the other side, remove to a wire rack, cover, and let finish cooking to 200° internal temperature (or the dough is fully cooked.)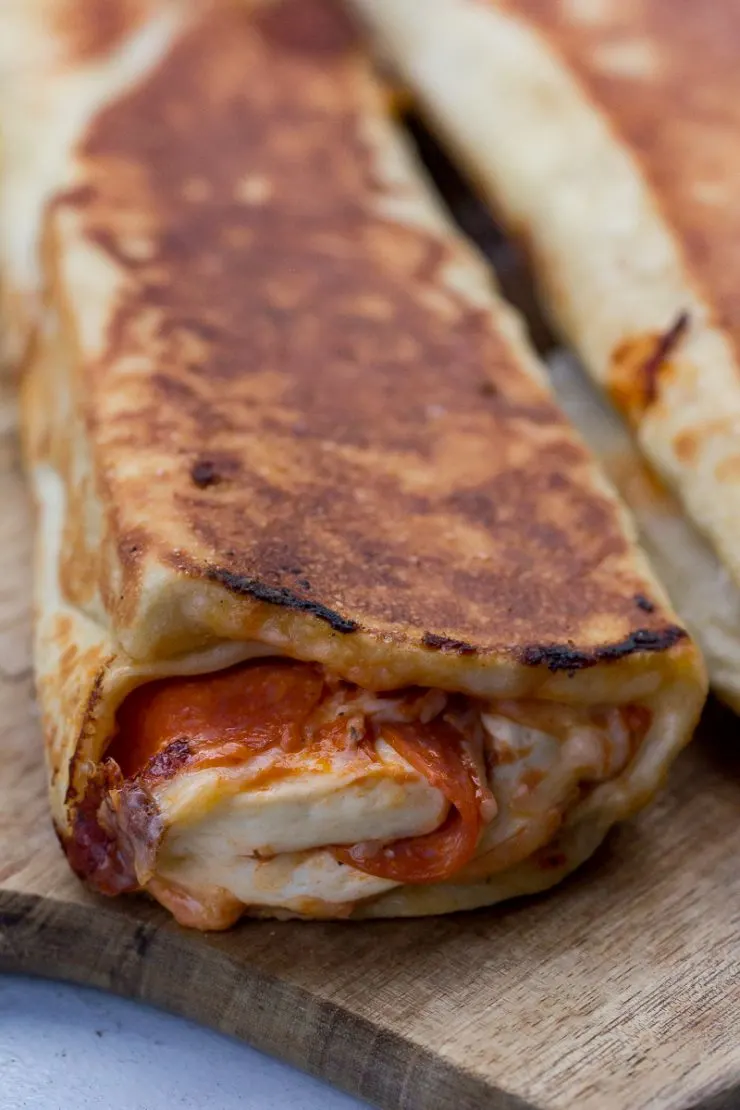 Pre-made dough vs homemade dough
If your grocery store has pre-made pizza dough for sale, scoop.it.up. Mine does, and we get it fairly often for these calzones or things like garlic bread sticks, or even meatball subs.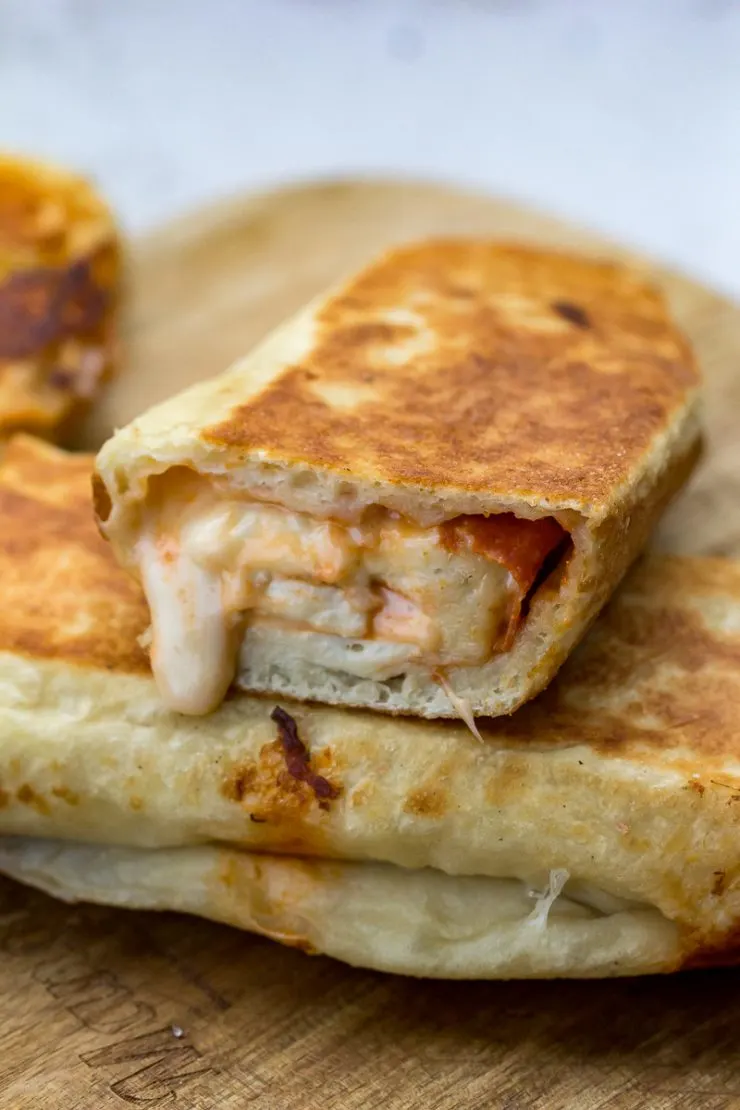 What can you serve with a Blackstone Calzone or Blackstone Stromboli?
These are kind of meals in and of themselves, or at least we usually make them out to be. But if you want to put something green in everyone's faces, my go-to is this Greek Salad. It is full of vegetables and I am obsessed with the Greek Vinaigrette that goes on it.
Looking to have a full pizza party? Check out my Three Meat Pizza too.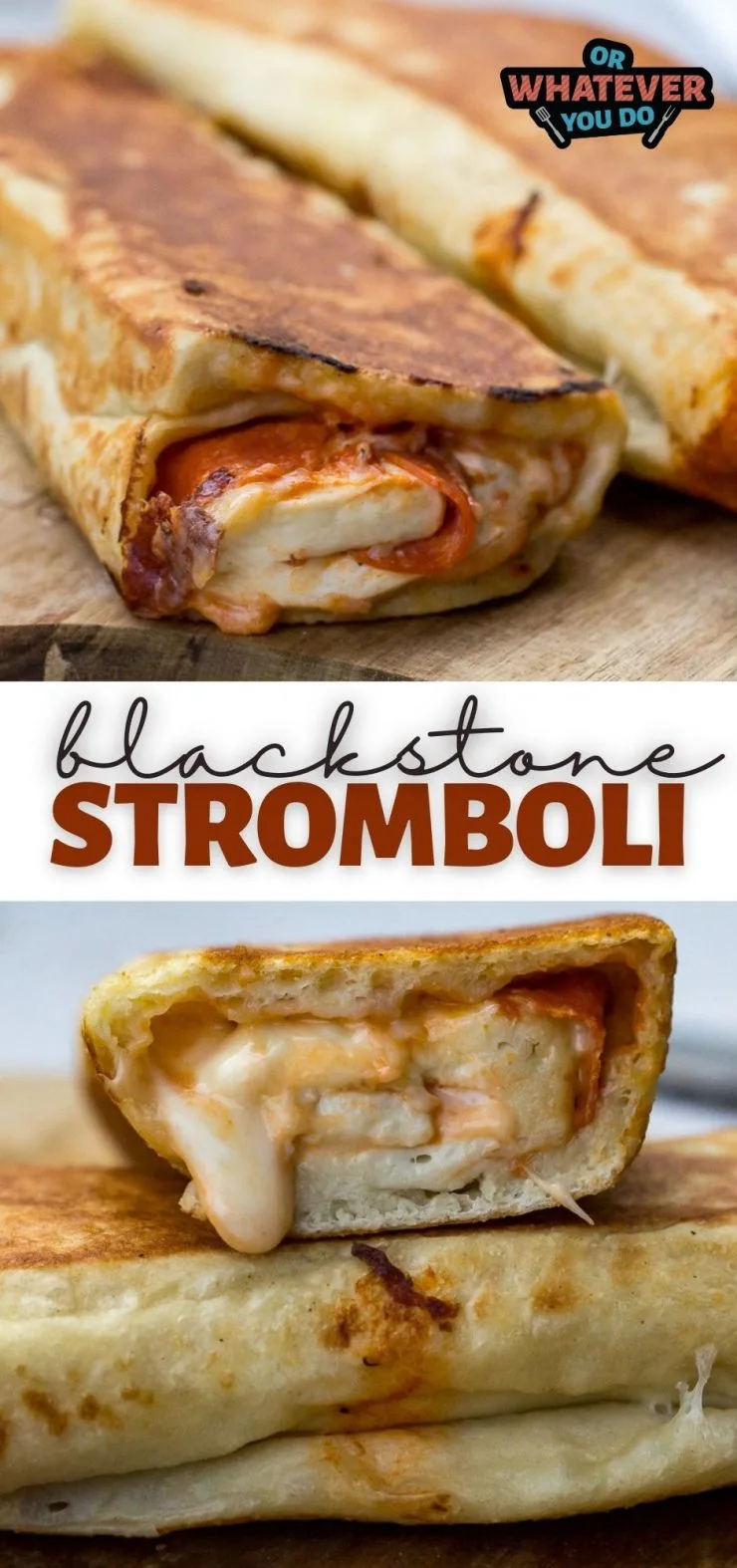 Yield: 4 servings
Blackstone Stromboli or Calzone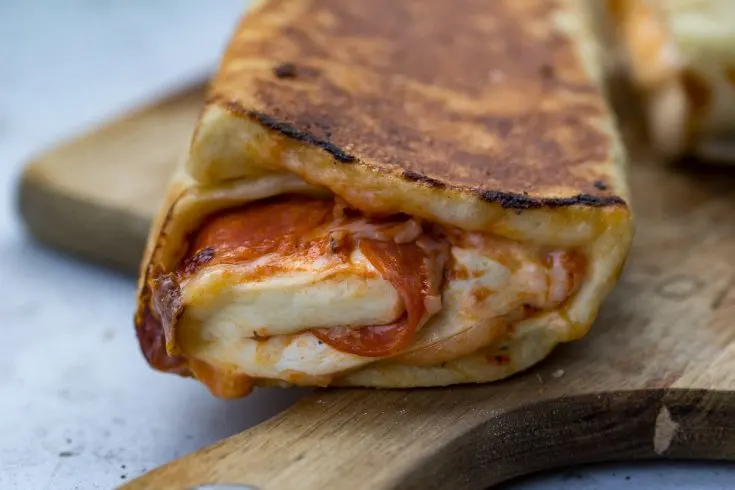 Easy Blackstone Calzone or Stromboli recipe will have dinner on the table in 30 minutes if you opt for pre-made pizza dough, and you can fill these with an endless variety of kid-pleasing filligs too.
Ingredients
Pizza toppings such as:
Pepperoni
Ham
Pineapple
Ground beef
Onion
Mushroom
Green peppers
Black olives
Instructions
Preheat your Blackstone to medium-low heat.
Roll out the pizza dough into a large rectangle for stromboli, or two large circles if you are making calzones.
Place a thin layer of sauce over the dough, leaving the edges free of sauce so they'll seal right.
Put toppings of choice and cheese inside. Roll up for a stromboli, or fold over for a calzone. Moisten the edges and seal completely. Set gently on cutting board that's been lined with parchment paper.
Lay the oil down on the griddle and spread it out so your entire stromboli or calzone fits on the oiled portion of the griddle.
Use the parchment paper as a sling and roll the stromboli or place the dough (seam-side-down for stromboli) and cover. Let cook for a few minutes, until it is lightly browned, and then flip.
Re-cover the stromboli and continue to flip until all sides are browned.
Once all the sides are browned, place the calzone or stromboli up on a wire rack and then cover the whole thing with a lid and let it continue to cook until the internal temperature is ~200°, and the dough is cooked inside.
Remove and serve with the extra sauce for dipping!
Nutrition Information:
Yield:
6
Serving Size:
1
Amount Per Serving:
Calories:

146
Total Fat:

9g
Saturated Fat:

2g
Trans Fat:

0g
Unsaturated Fat:

6g
Cholesterol:

31mg
Sodium:

246mg
Carbohydrates:

5g
Fiber:

1g
Sugar:

3g
Protein:

11g
Nutrition data provided here is only an estimate.
Yield: 3-4 pizzas
Pizza Dough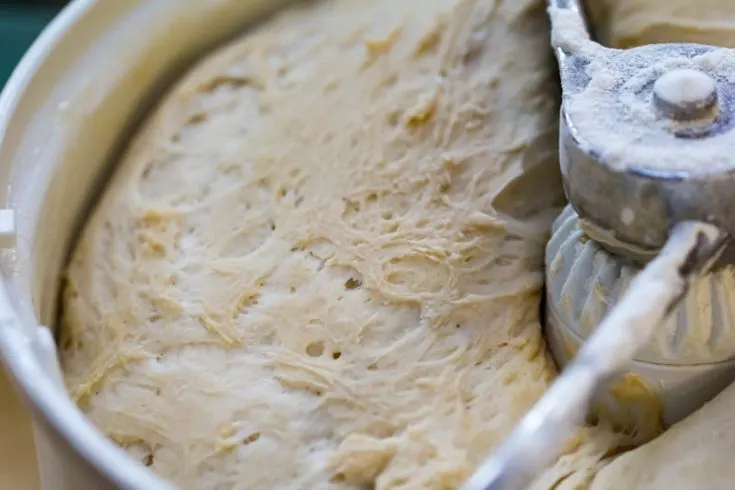 This simple homemade pizza dough recipe makes 3-4 large pizza crusts, depending on how thick you like them!
Additional Time
2 hours
1 second
Total Time
2 hours
25 minutes
1 second
Ingredients
4 cups warm water
4 teaspoons yeast
4 teaspoons red, pink, or kosher salt
1/8 cup honey
1/4 cup olive oil
9-11 cups bread flour
Instructions
Place the water, salt, yeast, and honey into your mixer with the dough hook attached. Mix about 30 seconds.
Turn the mixer on medium speed and begin adding flour until a soft dough is formed that cleans the side of the mixer. Mix for 4 minutes after the sides are cleaned.
Turn mixer to low and drizzle in the olive oil and mix until it is kneaded into the dough.
Cover and let rise in a warm place until doubled.
Take a large handful of dough and press and gently onto a large pizza pan. Par bake for 5 minutes at 450°. Remove from the oven and top with sauce and desired toppings.
Bake an additional 10-12 minutes, or until crust is golden brown and the cheese is melted.
Recommended Products
As an Amazon Associate and member of other affiliate programs, I earn from qualifying purchases.
Nutrition Information:
Yield:
32
Serving Size:
1
Amount Per Serving:
Calories:

875
Total Fat:

9g
Saturated Fat:

1g
Trans Fat:

0g
Unsaturated Fat:

5g
Cholesterol:

0mg
Sodium:

76mg
Carbohydrates:

309g
Fiber:

10g
Sugar:

2g
Protein:

51g
Yield: 4 pizzas
Easy Pizza Sauce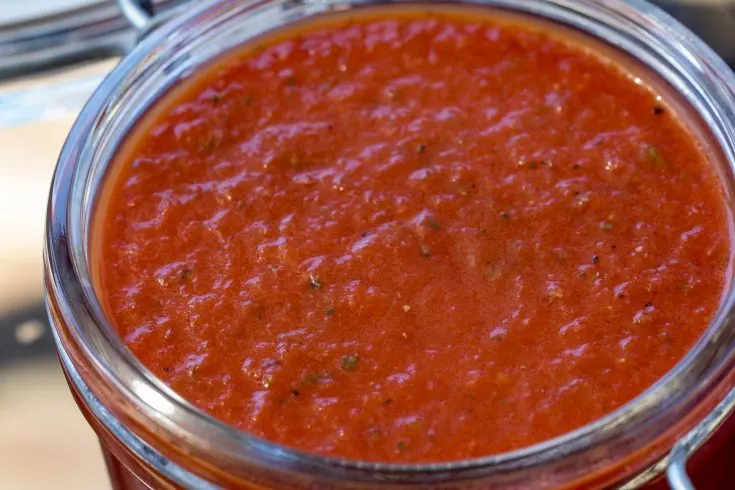 This quick and easy pizza sauce gets thrown together in about 15 minutes, uses common ingredients, and is better than anything that comes pre-made. Make it while your dough rises!
Ingredients
1/4 cup olive oil
1 tablespoon garlic, minced
2 28-ounce cans crushed tomatoes
1 teaspoon garlic powder
1 teaspoon onion powder
2 teaspoons salt
1 teaspoon pepper
2 teaspoons crushed red pepper flakes
2 teaspoons dried basil
2 teaspoons dried oregano
2 teaspoons dried parsley
1 1/2 tablespoons sugar
Instructions
Place everything in a food processor or blender and pulse until combined.
Spread on pizza crust and cook the pizza as you normally would.
If the sauce will be used for dipping and won't be cooked with the pizza, I recommend simmering it in a saucepan for 5-10 minutes before serving.
Recommended Products
As an Amazon Associate and member of other affiliate programs, I earn from qualifying purchases.
Nutrition Information:
Amount Per Serving:
Calories:

339
Saturated Fat:

3g
Sodium:

1689mg
Carbohydrates:

35g
Fiber:

7g
Sugar:

21g
Protein:

7g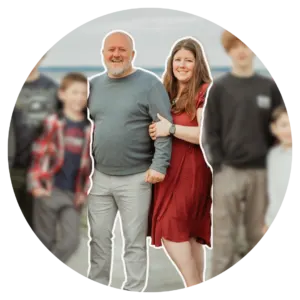 Nicole Johnson, a self-taught expert in grilling and outdoor cooking, launched Or Whatever You Do in 2010. Her blog, renowned for its comprehensive and creative outdoor cooking recipes, has garnered a vast audience of millions. Nicole's hands-on experience and passion for grilling shine through her work. Her husband, Jeremiah Johnson, also plays a pivotal role in recipe development, adding his culinary flair to the mix. Together, they form a dynamic duo, offering a rich and varied outdoor cooking experience to their followers.