These Blackstone Stuffed Hash Browns are cooked until crisp on a gas griddle, stuffed with sausage and cheese, and then topped with bacon, cheese, and a fried egg (if that's your thing), and are going to make all of your breakfast dreams come true.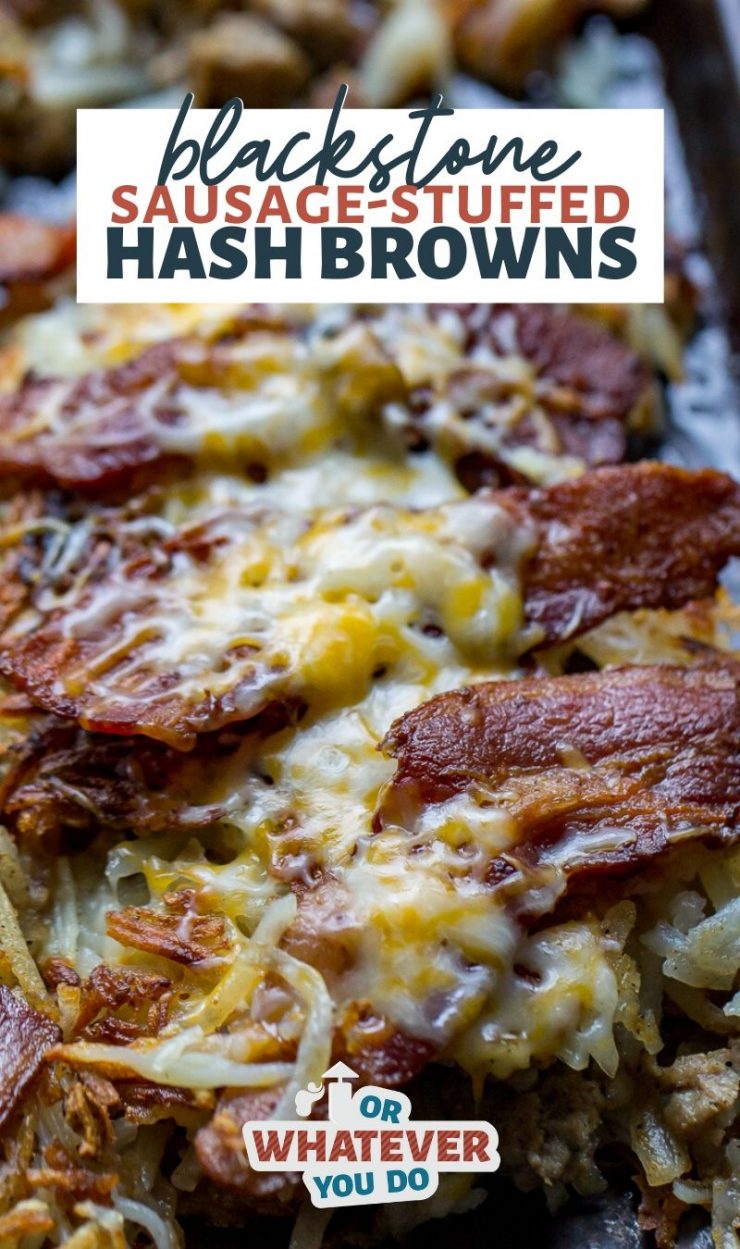 Blackstone Sausage-Stuffed Hash Browns Recipe
These hash browns made my whole week. I knew I loved my Blackstone Griddle, but I didn't know I loved it this much.
I spent a lot of time in diners as a teenager. My favorite part of those years was sitting for hours and hours on end over coffee with a rotating crowd of my friends, ordering breakfast and appetizers, figuring out who was having the bonfire, and who had room in their car for me to ride along.
One of the best parts of that breakfast bonanza is a big pile of perfectly crisp hash browns.
What tools do you need to make crispy hash browns
In theory, you could make these about a million different ways, but I'm here to tell you about 1 1/2 ways to make stuffed hashbrowns, so the other 999,999 1/2 you'll have to test out yourselves.
All of the things I recommend here are linked down in the recipe card if you'd like to purchase them!
Cooking surface
If you have a gas stove, you can get properly crisp hash browns if you have a decent cast iron skillet. All of you electric stove people, I'm not sure about you. You might be out of luck. I know I was, for so many years running electric stoves and just not really ever making hash browns here.
The best homemade hash browns I've ever had were made on a gas griddle.
These chunky hunks of metal get so searing hot that it would be impossible to NOT wind up with the perfect crisp hash brown crust.
Extras
You'll need some LONG griddle spatulas. They come in handy with getting your turns right. I have a link to some good ones down in the recipe card below.
Squeezy Bottles
A griddler's best friend is a well-stocked squeezy bottle stash. You want one for oil, in this case, but for other Blackstone recipes you'll want to have a squeezy for water, and one for any sauces that you whip up to cook with your creations.
Melting Dome
These are crucial if you are doing anything that includes melted ingredients. They'll change your grilled cheese life
Get all of my BLACKSTONE RECIPES here!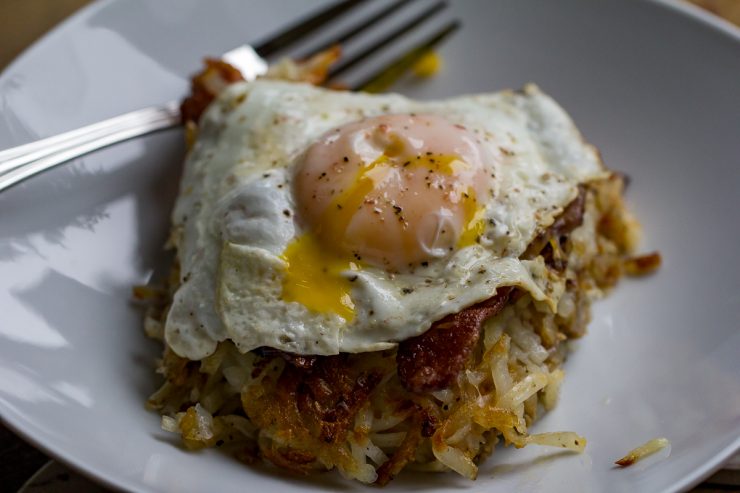 Stuffed Hash Browns Shopping List
dehydrated hash browns (I knowwwww, but go with me!)
onion
breakfast sausage
bacon
cheese
oil (like avocado or canola)
butter
eggs
How to RE-SEASON your Blackstone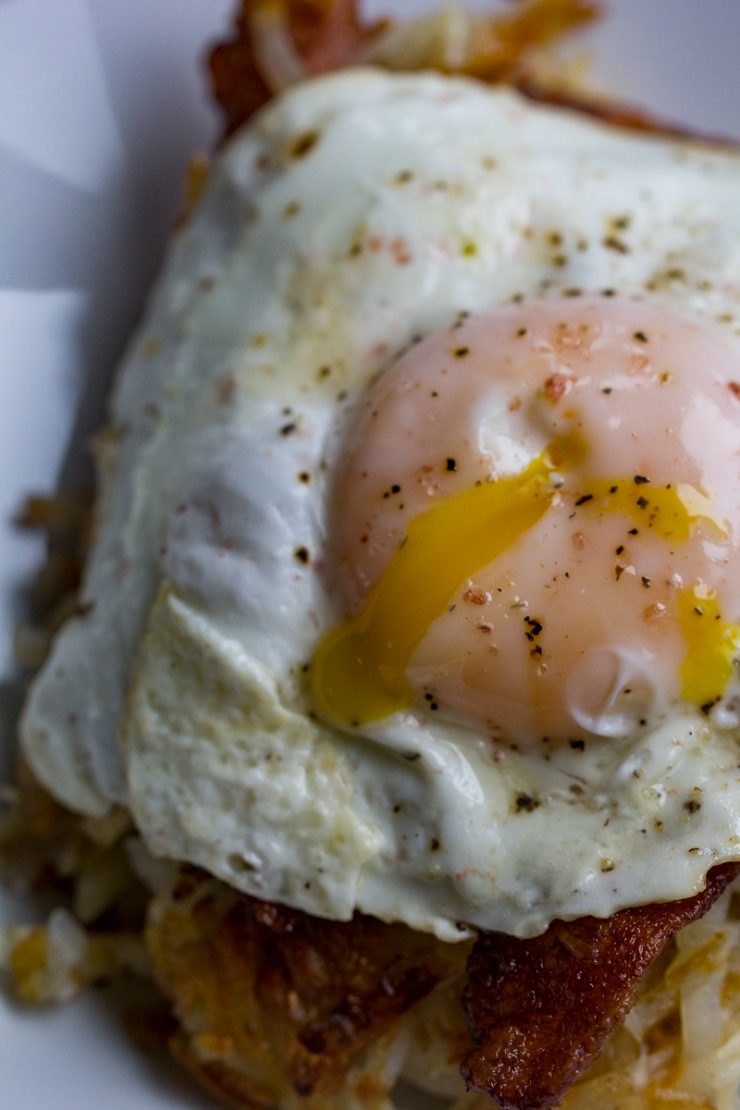 Tips for crispy hash browns on the gas griddle
Use dehydrated hash browns
I know. I resisted for a long time, but dehydrated potatoes are going to give you MUCH better results than the frozen kind in almost all circumstances.
I got a giant box of these at Sam's Club or Costco or online when I was stockpiling for a certain situation that shall not be named that started in March 2020 and I'm SO READY TO BE OVER ALREADY, and all of the sudden I like hash browns again.
Soak these bad boys according to package directions, and then drain them REALLY well. You won't be sorry.
Keep it HOT
The first key is to have a well-seasoned griddle. You don't want anything sticking here, so if your griddle is sketchy or sticky, I'd wait until you get your life sorted out on that front because the only thing worse than no hash browns is stuck-on ruined hash browns.
For my griddle, that means medium-high heat. A little on the high side. I don't have a surface-thermometer (yet), so I can't tell you exactly how hot you should have it, but it is pretty dang hot.
Don't skimp on the butter and oil
While you don't want greasy hash browns, you also can't be too stingy if you want that signature crust.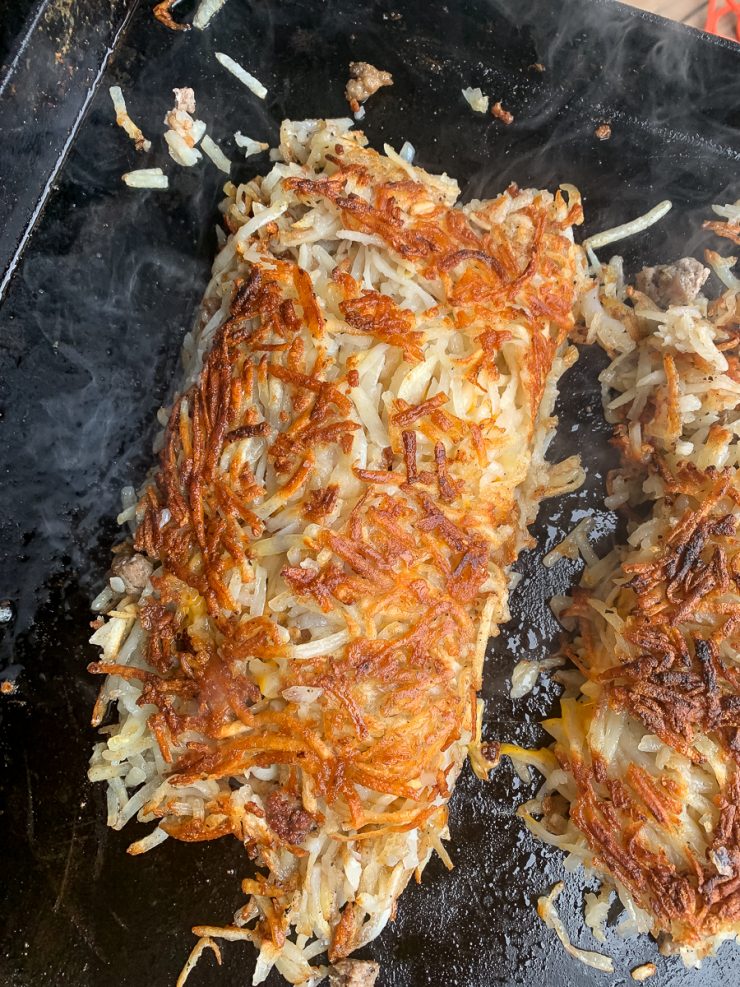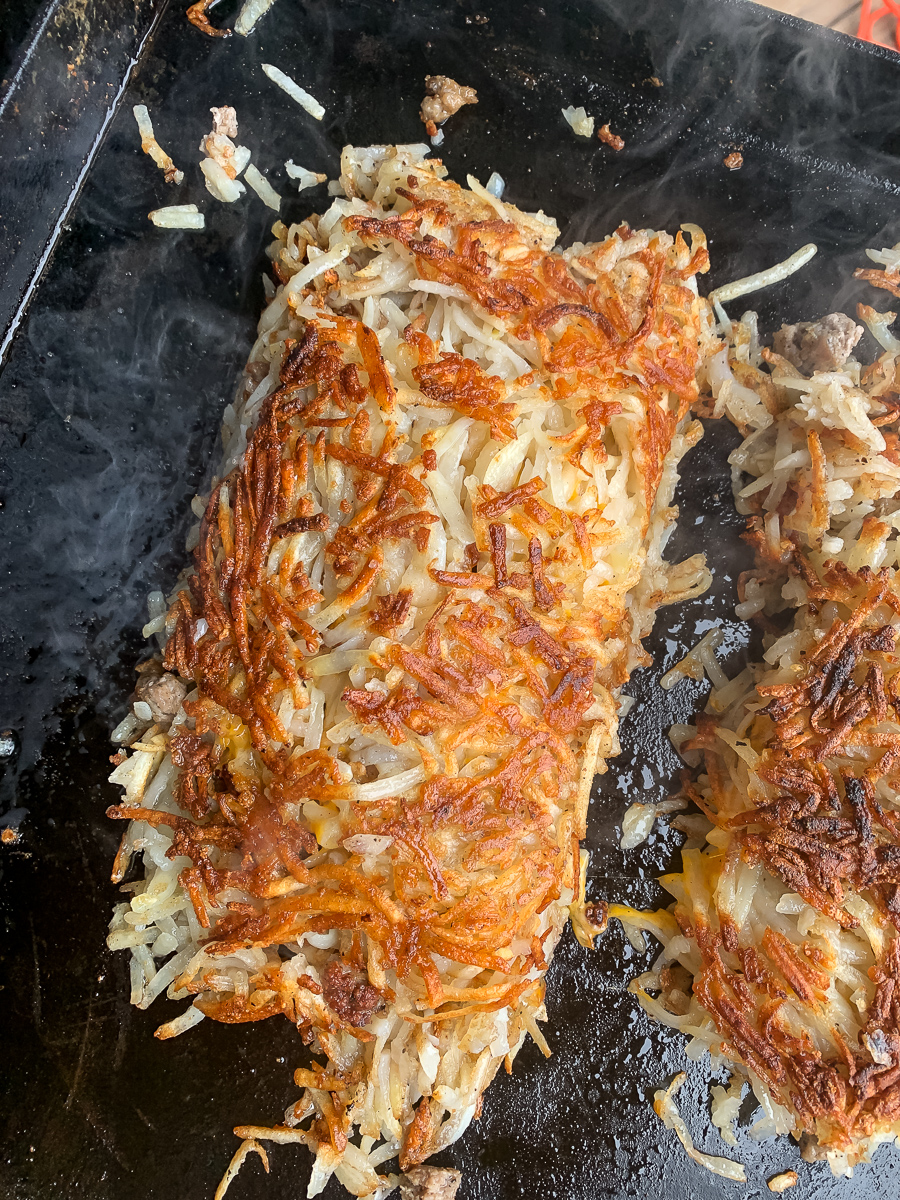 Steps to making Blackstone Sausage-Stuffed Hash Browns
This is an easy dish, but you have to do things in the right order, so buckle up, prep your ingredients, and light the griddle.
Rehydrate the potatoes.
Cook the bacon & sausage. Remove from the griddle and set aside.
Put down some butter and oil. Cook some onions, and then top with the rehydrated potatoes.
Now, don't touch them! Unless you are cleaning up the edges a bit. 😉
Let them brown until a crust forms on the bottom, and then flip them over in spatula-sized sections.
More oil, right over the top. (It'll leak through)
Place the sausage and cheese on top of half of the hash browns, and once the bottom has a crust flip over the un-stuffed half onto the sausage and cheese.
Top with bacon and cheese and cover w/ the melting lid until the cheese is melted.
Enjoy!
Follow me on Instagram!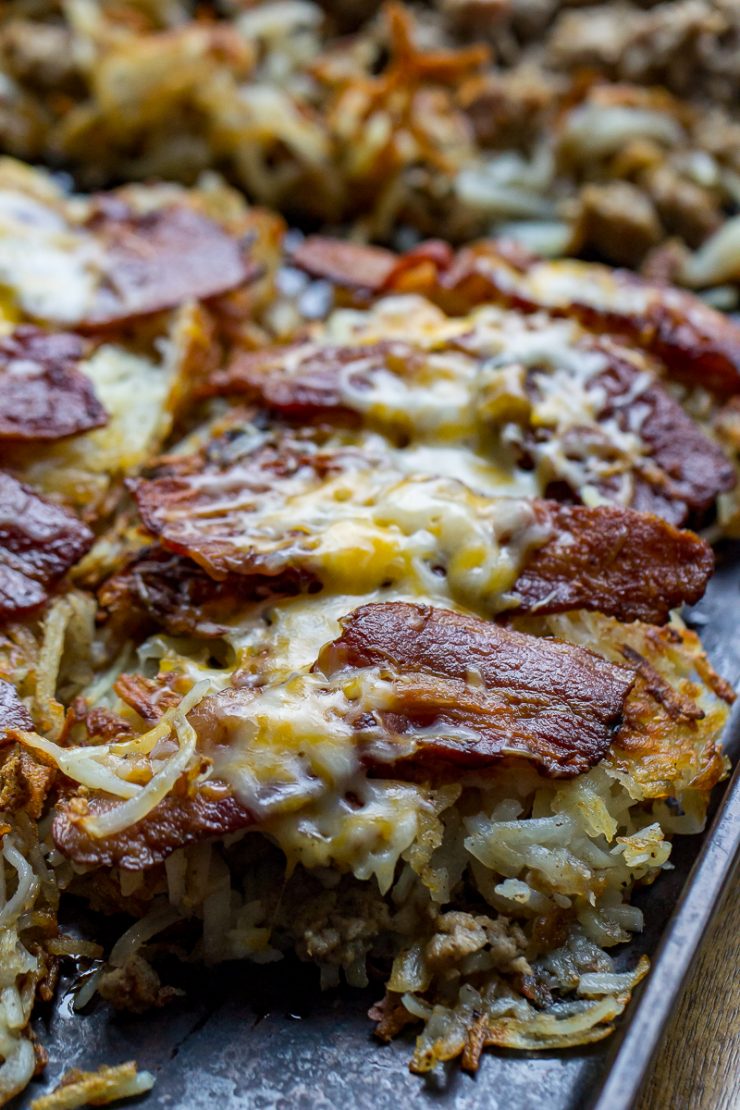 What should you serve with stuffed hash browns?
If you are making this, it could really encompass your entire breakfast. It includes all of MY favorite breakfast food groups.
If you are looking for something else to put out, I recommend a platter of fresh fruit or a fruit salad.
Want something sweet and full of carbs? Pancakes made with my homemade pancake mix will fit the bill.
I also have a killer blueberry muffin recipe that may need new pictures but don't let that stop you. They are amazing!
Want some French Toast? Keep the griddle hot, or fire up your pellet grill and cook my Traeger French Toast.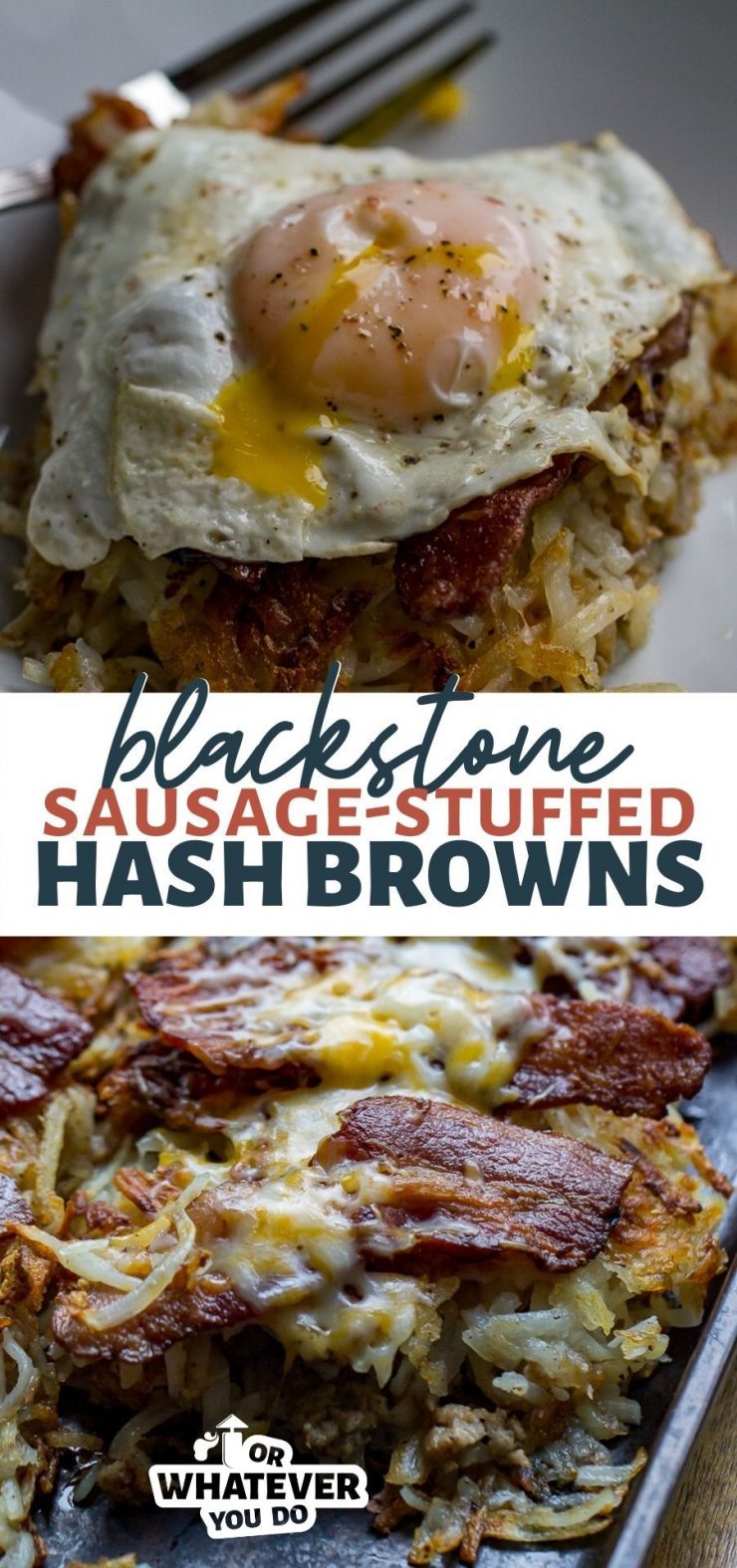 Yield: 6 servings
Blackstone Sausage-Stuffed Hash Browns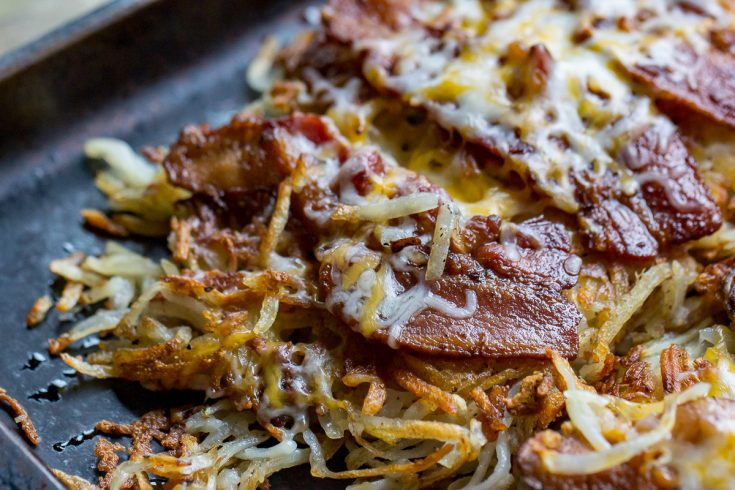 Blackstone Stuffed Hash Browns are cooked until crisp on a gas griddle, stuffed with sausage and cheese, and topped with bacon, cheese, and a fried egg.
Ingredients
3 cups dehydrated hash browns
3 cups hot water
1/4 cup finely diced onions
1/4 cup butter
10 pieces thick-sliced bacon
1/2 pound breakfast sausage
1/4 - 1/3 cup oil
Salt, pepper, and garlic
2 cups shredded cheddar cheese
Instructions
Place your hash browns and the hot water in a bowl, and let soak for about 15 minutes. Drain the excess water.
While the hash browns are soaking, preheat your gas griddle over medium-high heat. Cook the bacon and the breakfast sausage, and set aside when finished.
Place about a tablespoon of butter down, and cook the onions for 3-4 minutes.
Place the hash browns on the griddle, and put a tablespoon or two of oil down by drizzling it over the hash browns.
Cook for several minutes, or until the bottom has developed a golden-brown crust. Flip with a large spatula, and drizzle with some more oil. Place cheese and sausage over half of the hash browns.
Once the bottom side is browned, flip the half that is not topped with sausage and cheese over the top, sandwiching in the sausage and egg.
Top with bacon slices and additional cheese, turn the griddle down to low heat, and cover. Cook until the cheese is melted.
Recommended Products
As an Amazon Associate and member of other affiliate programs, I earn from qualifying purchases.
Nutrition Information:
Yield:
6
Serving Size:
1
Amount Per Serving:
Calories:

774
Total Fat:

60g
Saturated Fat:

21g
Trans Fat:

1g
Unsaturated Fat:

35g
Cholesterol:

109mg
Sodium:

1681mg
Carbohydrates:

36g
Fiber:

3g
Sugar:

2g
Protein:

25g
Nutrition data provided here is only an estimate.