My Stovetop Sloppy Joes recipe is one of my favorite childhood meals, and now my kids are (mostly) huge fans too! Ground beef in a seasoned sauce, piled on a bun, with all of the barbecue sides? SOLD!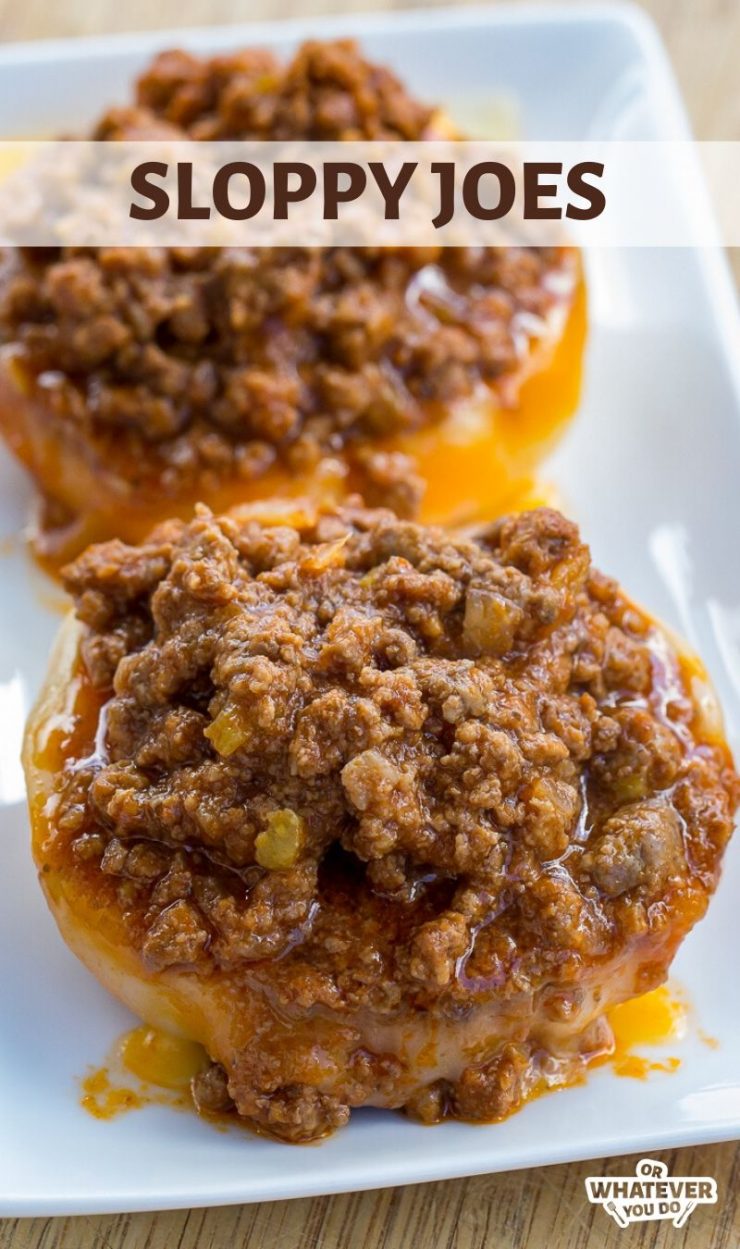 Stovetop Sloppy Joes Recipe
This is a quick and easy dinner recipe that is not only great to make for a big gathering, but also is a definite crowd-pleaser!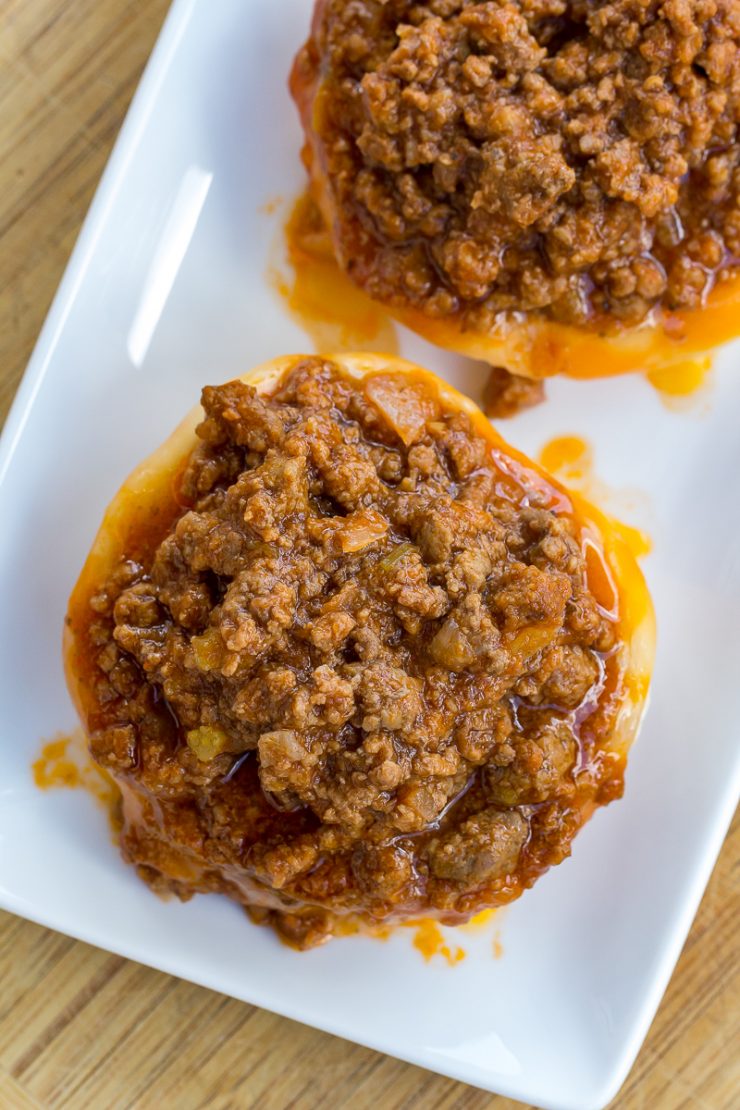 What is a sloppy joe?
For many of us as kids, we had a sloppy joe day for hot lunch. Personally, that version wasn't a thing I ever wanted to repeat, but my Mom's sloppy joes? Or my aunt Terri's sloppy joes? 100%.
I'm not sure what all went into those things, but I know when I first moved out on my own I was pretty positive it was just ground beef, ketchup, mustard, and some minute rice.
Turns out it is a lot more than that, and the rice was a clever way to extend the meat for a BIG group of people, and I've thoroughly tweaked and messed with this until landing here. Enjoy!
Buy your Butcher Box here!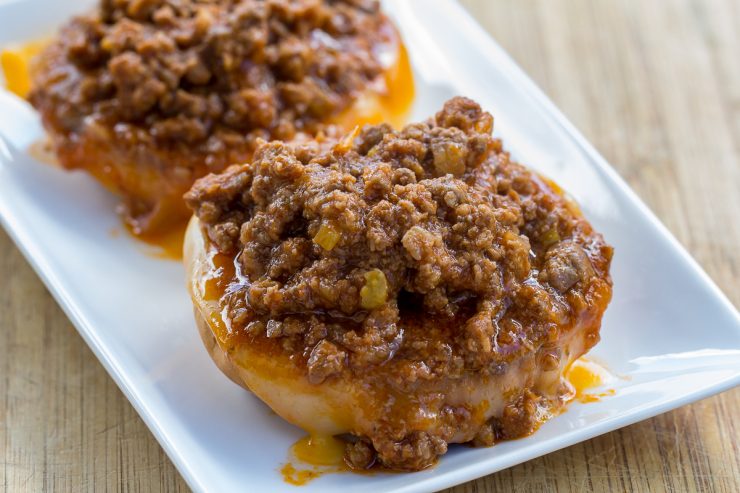 What's in a sloppy joe?
Some people do sloppy joes with ground pork, others with ground beef, or even ground chicken or lamb. Some people throw caution to the wind and do combinations of ground meat. Even ground turkey works if you want to go there.
But the thing that really makes a joe sloppy is that sweet and tangy tomato sauce. That flavor comes down to the combination of Worcestershire sauce and tomato sauce. Some grilled onions in there is a plus too.
I don't want to scare anyone off, but I know the truth behind the sloppy joe conspiracy. Yes, it can finally be revealed…
Worcestershire sauce contains anchovies. Yes, those little oily fish that you either love or hate are one of the main ingredients in Worcestershire. "How could they?" you ask? Well, don't let it bum you out unless of course, you are vegetarian or vegan. Then you just have to find the anchovy-free version of it. That is what we have to do, as one of our kids is allergic to fish. More often that not I just wait to add the Worcestershire until last and take out some for him before I add it.
The fact is anchovies are amazing at helping other seasonings and flavors be their best.
Get my easy Side Dish recipes!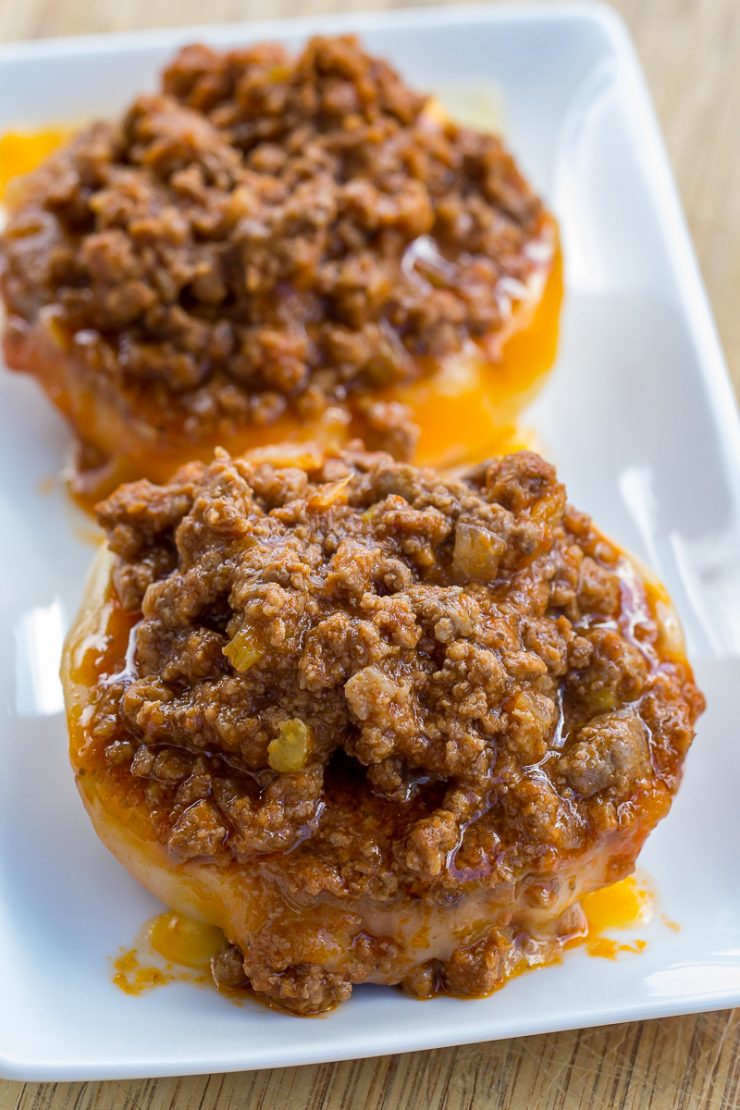 Sloppy Joe Shopping List
ground beef
celery
onion
ketchup
mustard
bbq sauce
brown sugar
dry mustard
Worcestershire
apple cider vinegar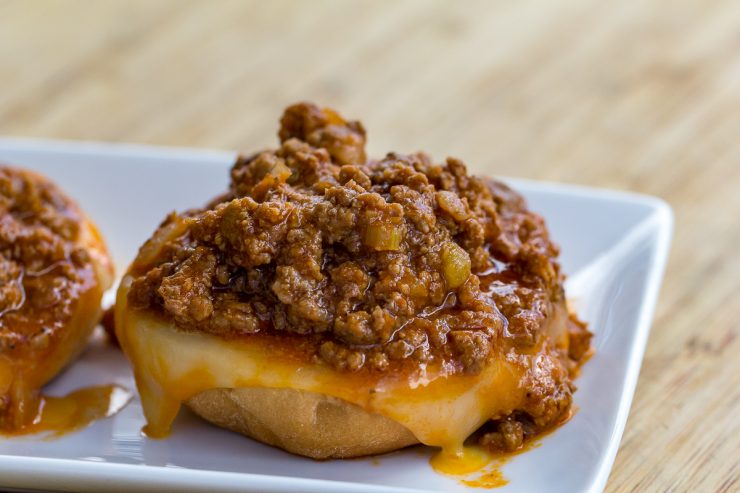 Can you cook these in a crockpot or slow cooker?
Yup! I actually have recipe especially for that method, here on my Slow Cooker Sloppy Joes page.
The crockpot method works best if you have to leave the house during the cooking time, and if you have a lot of time on your hands.
It isn't a dump-and-go type of crockpot recipe, mind you. You still have to cook the meat. But it is great for a giant batch that you want to have ready to go after a long day at the lake, or right when you get home from work.
Advantages of stovetop cooking for sloppy joes
Less mess
On the stovetop, you can use the pot that you brown up the meat and saute the onions and peppers in for the entire dish. You will want to strain off the excess beef fat before adding in the tomato sauce and other ingredients.
Cooking everything in one pot means not having to clean extra pots and pans. There is always a benefit to that.
It's faster
The crockpot method takes ALL day, basically. If you don't have all day, you can still have amazing sloppy goes.
Disadvantages of the stovetop method
With the stovetop, you have to be a bit more cautious about burning. Make sure to stir the pot frequently, and turn the temp down and keep the lid on tightly to avoid any issues.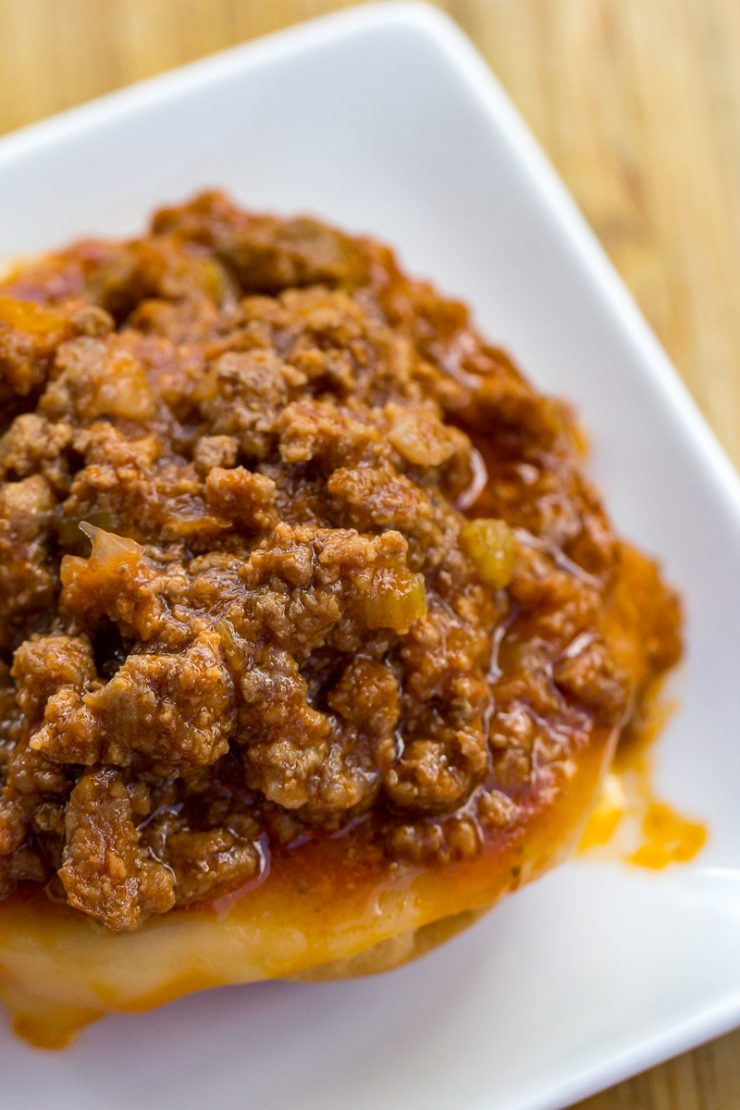 Tips for Sloppy Joes success!
Sloppy joes are simple to make, but with a few things in mind you can make sure they aren't only edible, but incredible!
Use high heat to brown the meat
Make sure to use high heat to brown the meat. You really want to get that nice sizzle on there for the Maillard reaction to occur. That's the french terminology for caramelizing the meat. It adds tons of flavor.
The ground beef matters
The best ground beef for sloppy joes is not to lean and not too fatty. An 80/20 blend is about perfect to make sure the flavor is there without having too much fat to drain off either.
Feel free to tinker!
I can't follow a recipe to the "t" to save my life, and I don't expect you guys to either. That's where the magic happens and where you can really make things your own.
So with this recipe, and any others – FEEL FREE TO EXPERIMENT.
Just don't email me a nasty-gram if it doesn't work. 😉 Experiments aren't always a success!
Some potential tweaks you could make are…
Like yours a little sweeter? Increase the brown sugar or use a sweet barbecue sauce!
Want some more bite? Just increase the vinegar.
Like to keep it spicy? Throw in some hot sauce.
Looking to add more vegetables to your life? Throw in some more celery, and also some bell peppers for good measure.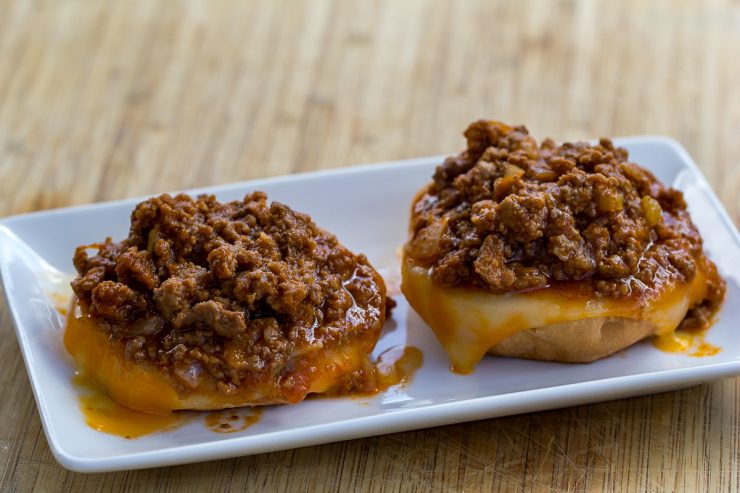 The Best Sides For Sloppy Joes
I think coleslaw and french fries make great companions for a nice hearty sloppy joe. But oven-fried onion rings definitely would be on the list of top choices too.
If you want something less obvious, then what would you think about cream of broccoli soup? Grilled carrots even would be a nice way to go!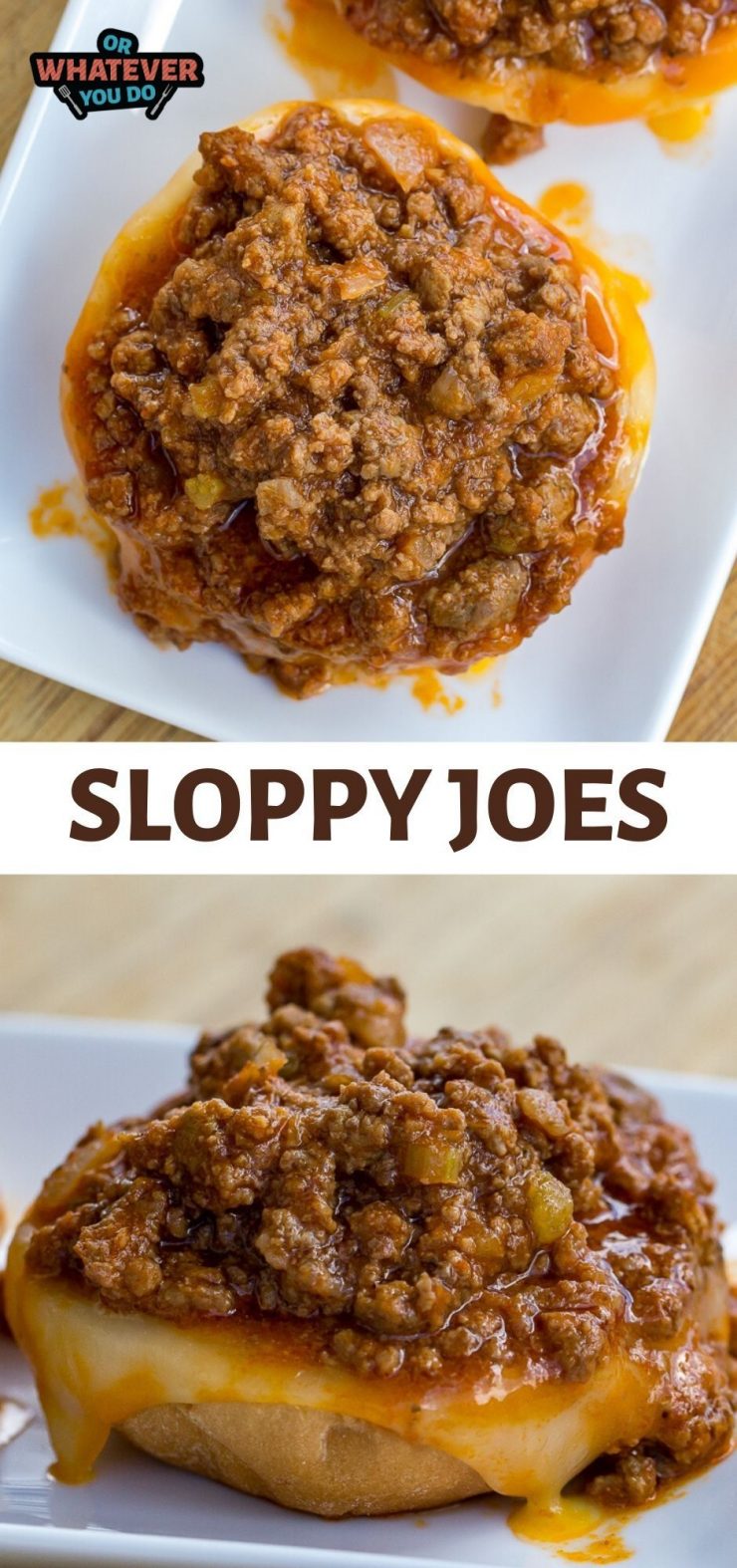 Yield: 12 servings
Smoked Over the Top Sloppy Joes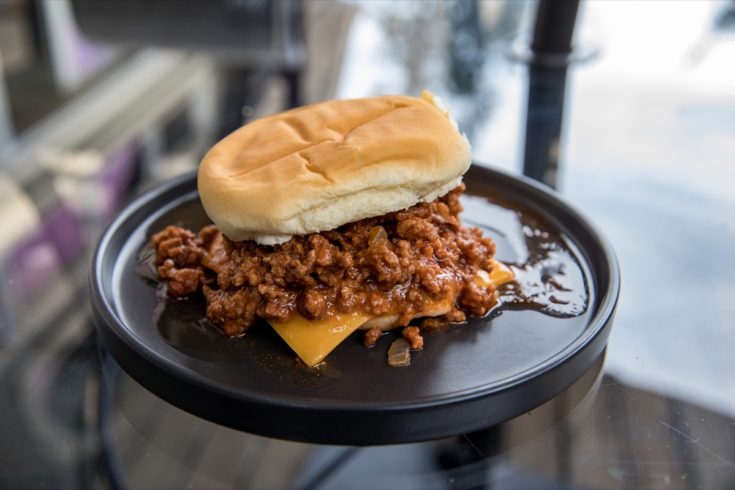 We took my popular sloppy joe mix and made an "over the top" version for the smoker! Live wood fire adds a whole new dimension to those classic comfort food.
Total Time
3 hours
10 minutes
Ingredients
3 pounds ground beef
1/2 teaspoon salt
1/2 teaspoon celery salt
1/2 teaspoon pepper
2 tablespoons bloody mary seasoning (optional)
Sauce
2 stalks celery, chopped
1 medium onion, chopped
15 ounce can tomato sauce
1 cup ketchup
1/3 cup bbq sauce
2 tablespoons brown sugar
2 teaspoons dry mustard
2 tablespoons Worcestershire
1/2 cup apple cider vinegar
1 cup water
Instructions
Preheat your smoker to 220°.
Take all of the ground beef and form it into a large, loose patty. Season both sides with salt, pepper, and bloody mary seasoning. (You can sub in some garlic and onion powder along with some celery salt if you don't have bloody mary seasoning handy.)
Place the patty onto a write rack that's been prepped with cooking spray.
In a large, high-sided Dutch oven, toss in the onions, celery, tomato sauce, and the rest of the sauce ingredients into the pot. Put the wire rack on top of the top. Put the whole thing in your smoker.
Let the whole thing smoke for around 2 hours. Check it once or twice during that time and give the sauce a stir, if necessary. Once the meat is browned and smokey put it into the pot of sauce and break it up into small pieces.
Turn the heat on the grill up to 325°, and let the pot simmer until the meat is further broken up and the sauce is the thickness you prefer. This should take anywhere from 30-60 minutes. Stir it periodically to ensure the meat doesn't settle and stick to the bottom and burn. Ensure the pot isn't over any particularly hot spots.
Remove from the grill and remove any excess fat.
Serve with rolls, cheese, and chips!
Recommended Products
As an Amazon Associate and member of other affiliate programs, I earn from qualifying purchases.
Nutrition Information:
Yield:
12
Serving Size:
1
Amount Per Serving:
Calories:

371
Total Fat:

20g
Saturated Fat:

7g
Trans Fat:

1g
Unsaturated Fat:

9g
Cholesterol:

101mg
Sodium:

755mg
Carbohydrates:

14g
Fiber:

1g
Sugar:

11g
Protein:

32g
Nutrition data provided here is only an estimate.