Simple, quick, and easy breakfast anyone? If you love pancakes as much as the littles and me, you're going to love Fisher Fair Scone Pancakes! Using their amazing scone mix, it's super easy to make a nutritious, delicious meal for everyone without having to wake up at 5 in the morning!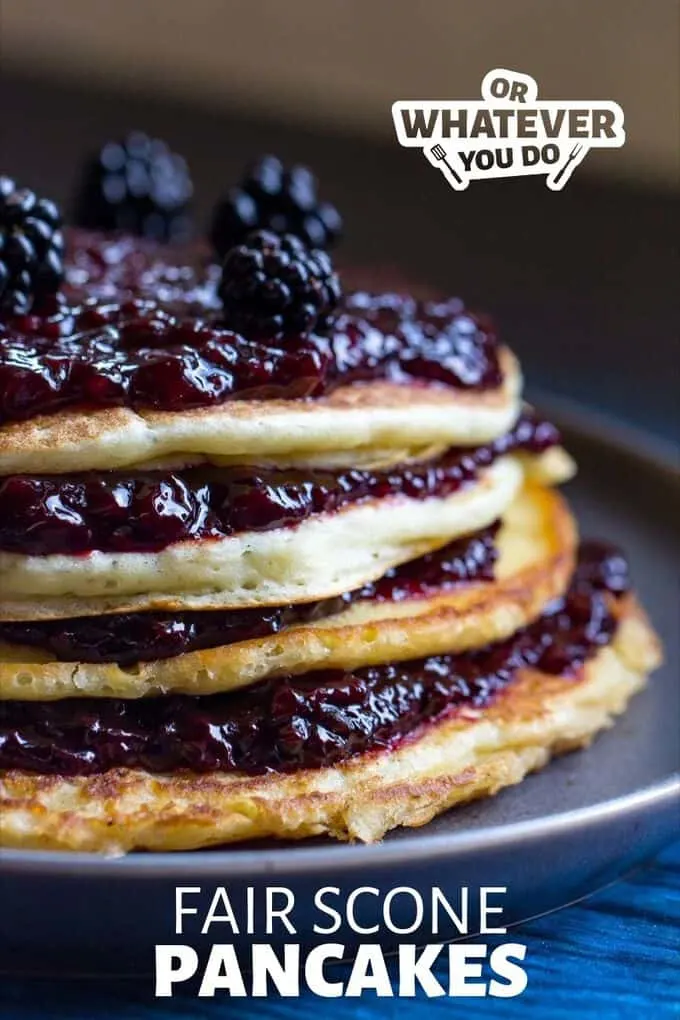 Fisher Fair Scone Pancakes
One of my favorite things to do in the kitchen is finding other uses for ingredients, like using cake mix to make dessert waffles.
Fisher Fair scone mix makes some down-right amazing scones, but using their scone mix for pancakes is out-of-this-world.
Plus, if you serve it with my recipe for Raspberry Jam, Strawberry Rhubarb Jam, Fresh Cherry Syrup or Blueberry Syrup it somehow makes it EVEN better.
Besides, who doesn't love a shortcut to making something? Forget weighing out the flour and baking soda, worrying if you got the right ratio – this completely solves that dilemma.
Goodbye to stressful breakfast-making, hello to 1, 2, 3, eat!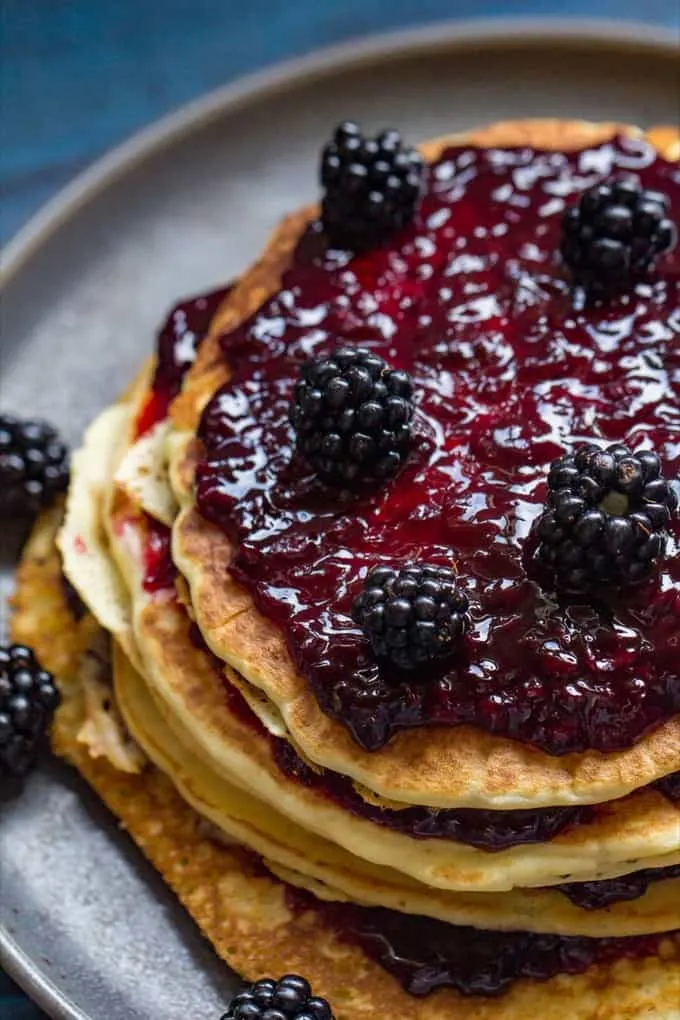 What are Fisher Fair Scones?
Fisher Fair Scones are tender, crumbly scones made famous by the Fisher brand at the Washington State Fair in Puyallup, Washington. The scones are served with a healthy spoonful of raspberry jam to offset the not-sweet scones, and they are basically legendary in this area of the country.
Everyone's favorite fair treat is now available in boxed mixes locally, and if you aren't local you can order the mixes from Amazon. What started out as a family company was eventually bought by Conifer foods, who made it possible for you to enjoy their amazing scones at home.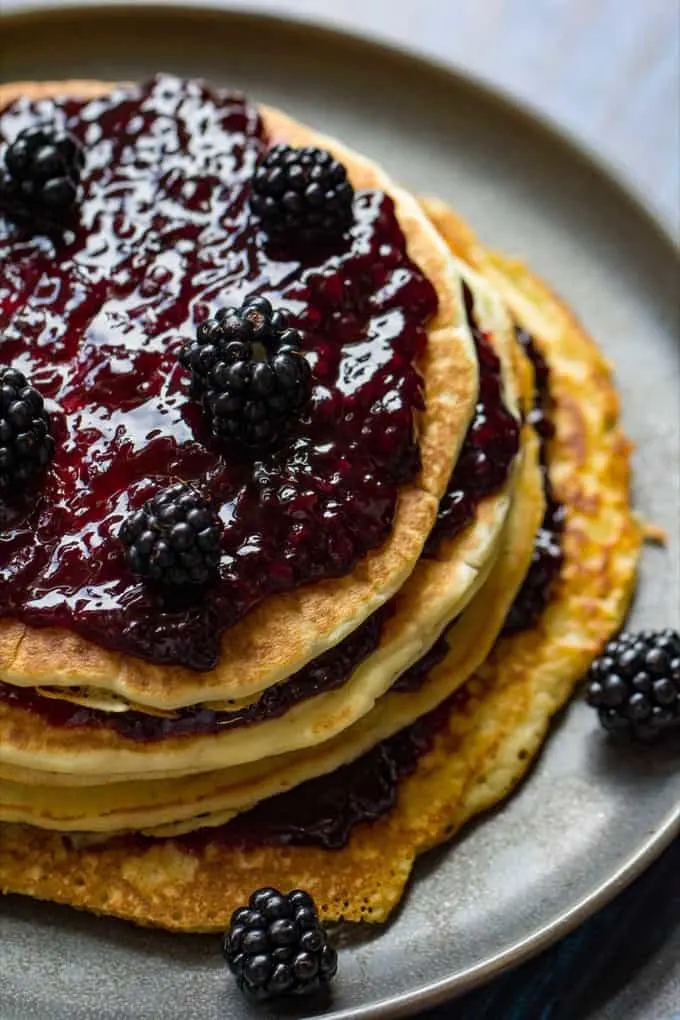 Tips For Perfect Fair Scone Pancakes
It can be hard to perfect the art that is pancake making, but I've got some tips that'll help you succeed no matter how many (or few) times you've made pancakes.
Get a griddle
A griddle is the BEST possible cooking surface for making pancakes. If you don't have one, a well seasoned cast-iron skillet also works really well. These distribute the heat evenly across the entire surface so every millimeter of your pancake is golden brown. If all you have is a non-stick pan, this will work well also. Just make sure that it is evenly heated before you begin cooking.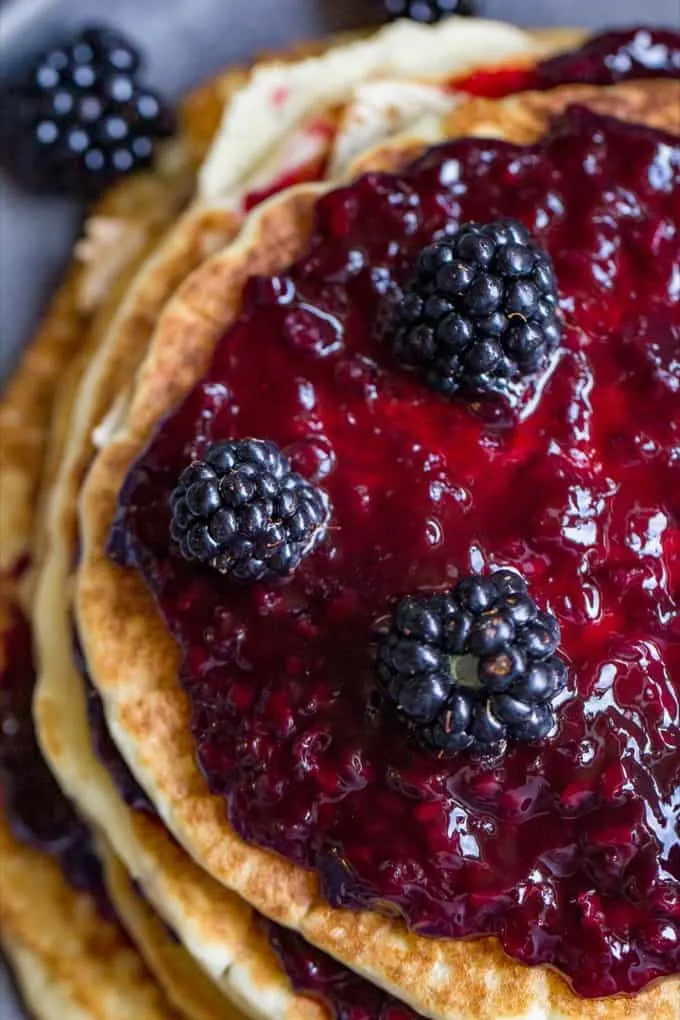 A big spatula is your best friend
Have you ever tried to flip a pancake with a tiny spatula? It's no fun, and it usually ends up ruining the pancake in some way, so it's best to just get a giant spatula now, and your pancakes will thank you.
Pay attention
This should really go without saying, but you never know. Don't walk away from your pancakes while they are looking. Pancakes go from done to burnt pretty quickly, so make sure you are keeping an eye on things to prevent any of the pancakes from being ruined.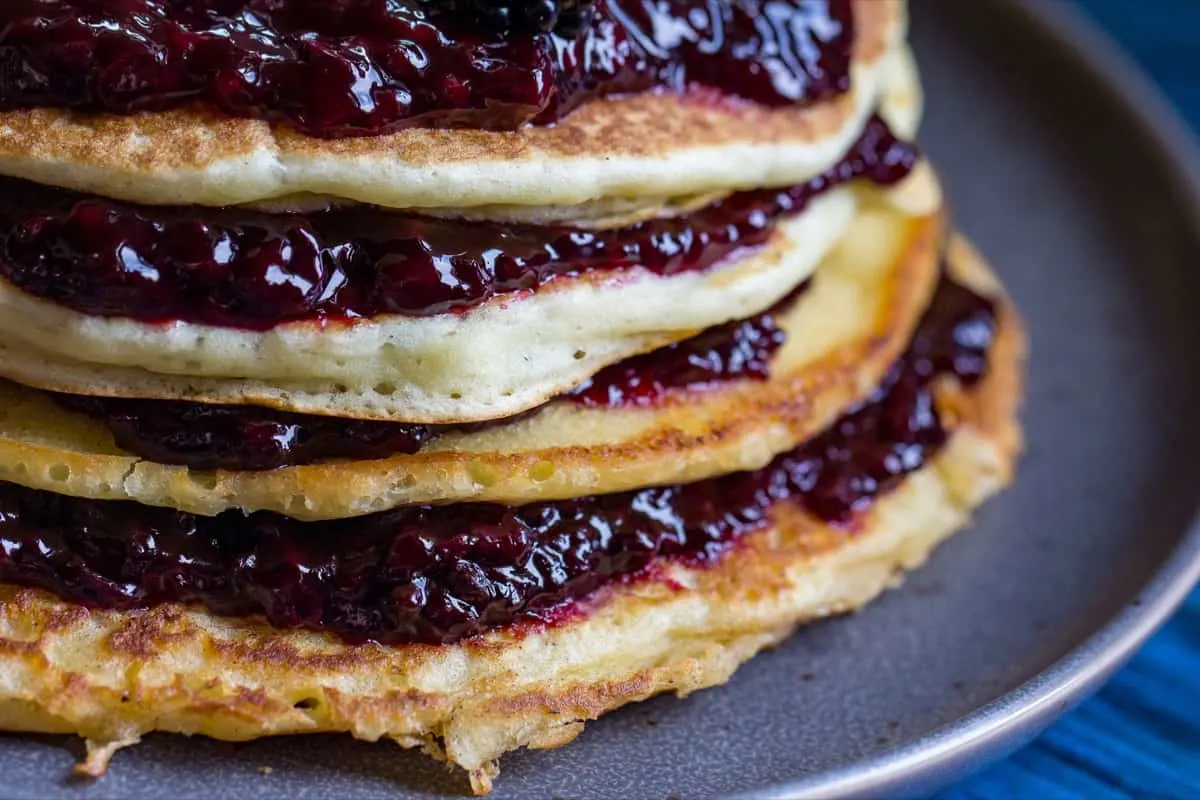 Temperature
The pancake's number one enemy is improper heating. Medium-low heat is best for cooking, it's not so low that your pancakes will never cook, but it's not too hot that they'll burn if you look away for 5 seconds.
Not too big, not too small
Obviously you can make whatever size pancake you want, but if you're going for the ideal stack of pancakes you see in commercials, try to keep them around 4 inches in diameter.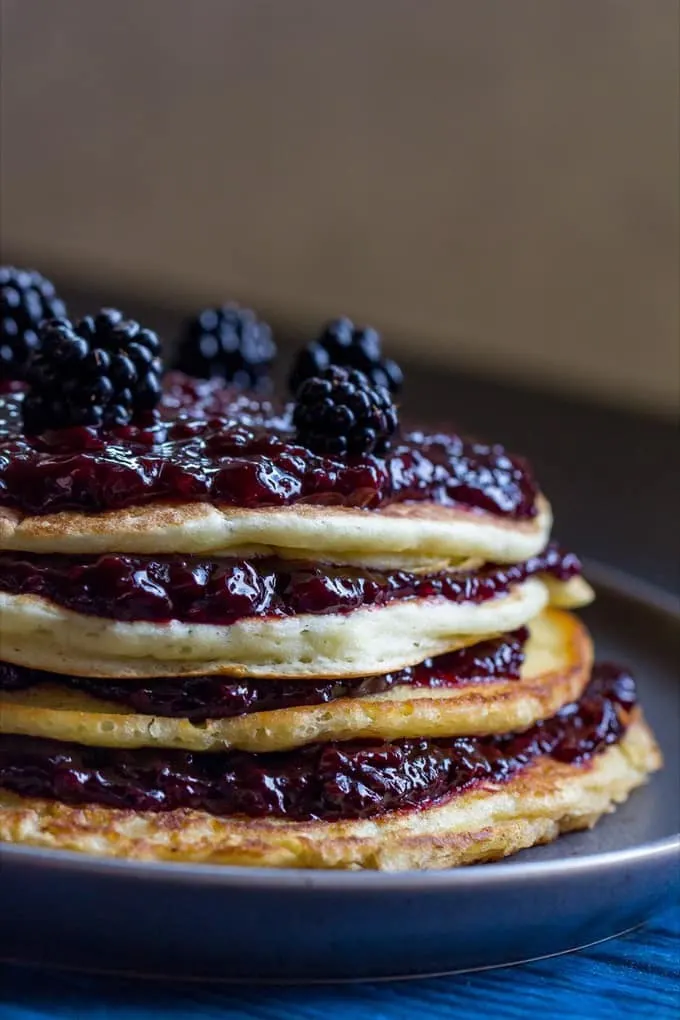 Perfect your flipping
Practice makes perfect when it comes to this. Well, a good spatula, like we talked about earlier, certainly helps with this too. Just try not to crease or fold over the pancake when flipping it. Also, only flip them once!
Use a tester pancake
Every time you make pancakes, the first one is always a tester pancake to make sure that your heat, oil, and batter are right. It won't be pretty, but it'll still be just as delicious!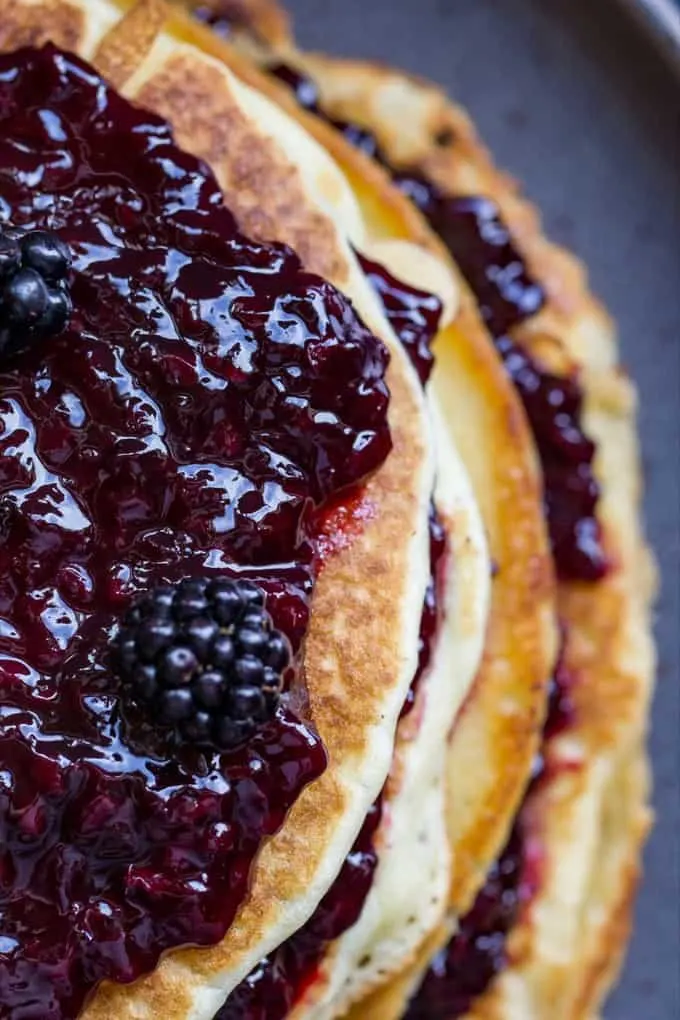 Keep them nice and warm
When you're finishing up the rest of the pancakes, you don't want the ones you've already made to become sad, cold flapjacks. To prevent this, heat your oven to 225 degrees, and place the pancakes on an oven-safe pan until everything is done.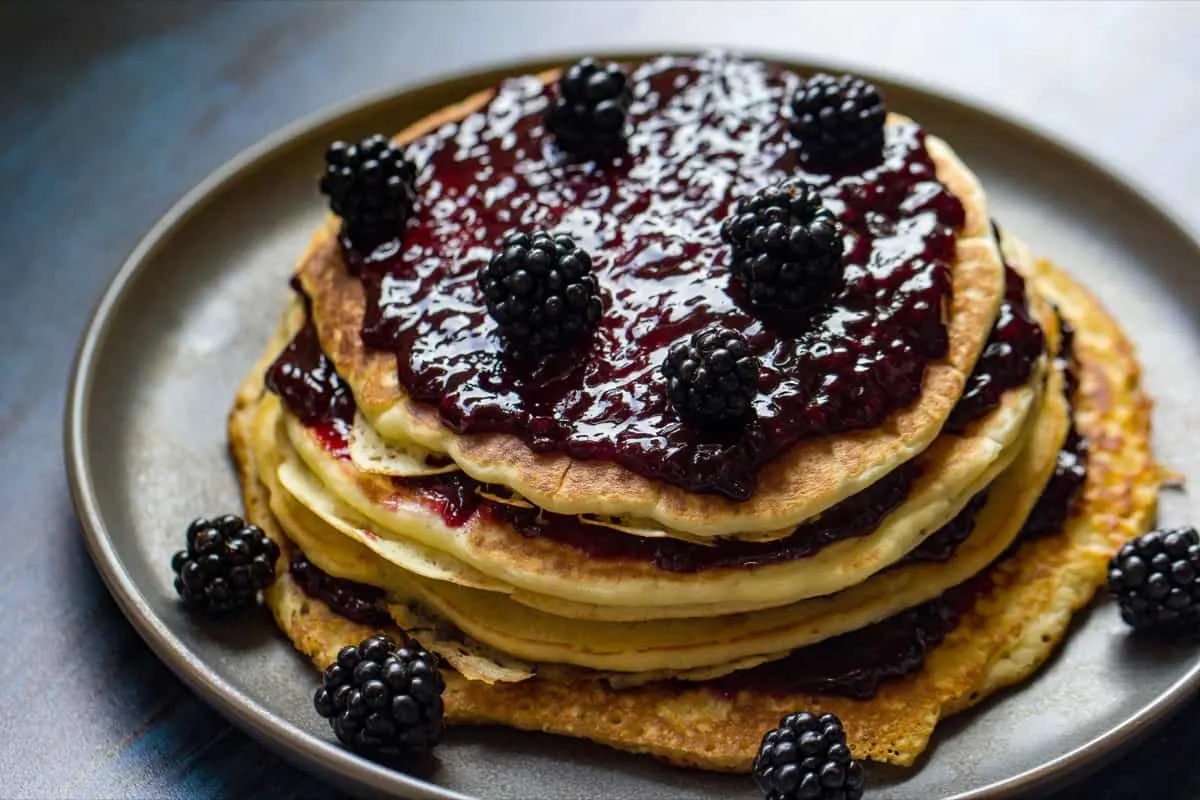 What Should I Serve With These Pancakes?
You can serve these with all of your usual Sunday breakfast favorites like bacon, sausage, eggs, hashbrowns, or whatever floats your breakfast boat.
If you're looking for something a little different to go with these awesome scone pancakes, I would suggest my Chorizo Breakfast Tacos, our grilled bacon and asparagus frittata, or my smoked salmon eggs benedict.
All of these recipes would be delicious with these pancakes and I hope you get the chance to try all of them!
No matter what you serve these with, just don't forget the syrup!
Pin for later!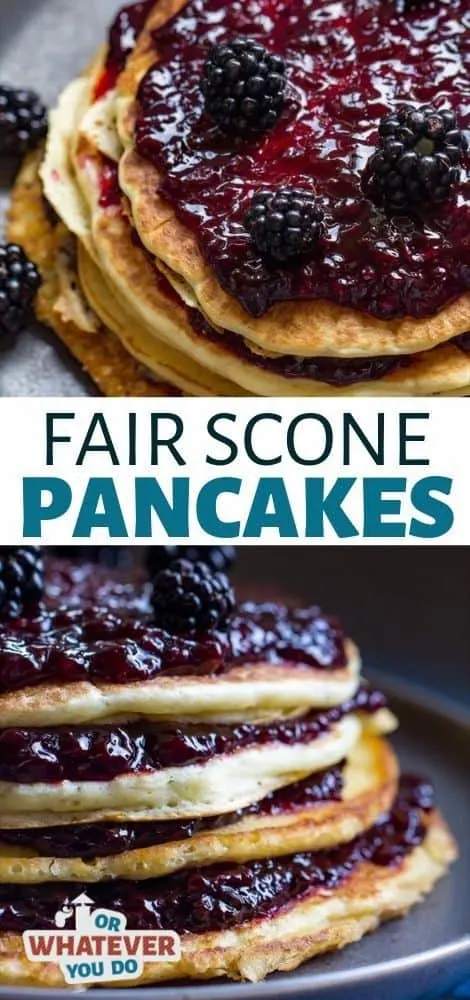 Yield: 6 servings
Fisher Fair Scone Pancakes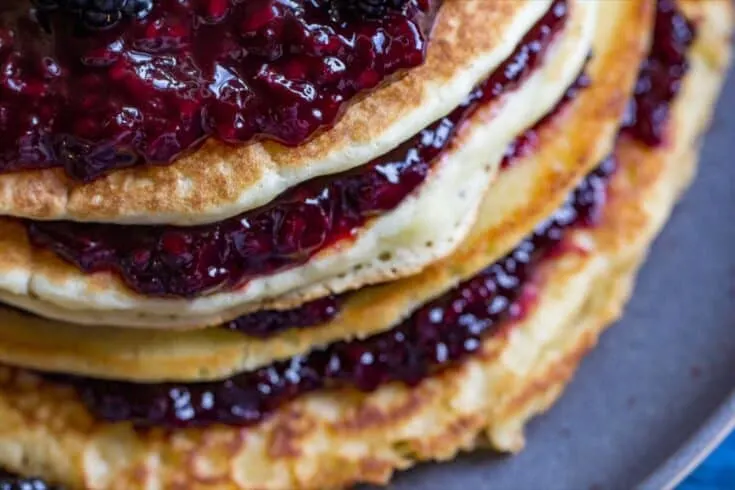 These delicious pancakes are made with Fair Scone mix and topped with homemade raspberry jam! Bring the flavor of the Puyallup Fair home with you and eat it at every meal.
Ingredients
1 package Fisher Scone Mix
1 cup water
1 cup milk
4 large eggs
1/2 teaspoon vanilla
2 tablespoons butter
Instructions
Mix together the scone mix, water, milk, eggs, and vanilla with a whisk until the ingredients are combined. Batter can be slightly lumpy. Don't overmix.
Preheat your griddle or skillet over medium heat, and let a small pat of butter melt in the pan or on the griddle.
Spoon about 1/3 cup of batter onto the hot surface, and let cook until bubbles rise to the surface and the pancake is golden brown on the bottom.
Flip once and cook until the underside is browned and the pancake is cooked through and no longer doughy.
Recommended Products
As an Amazon Associate and member of other affiliate programs, I earn from qualifying purchases.
Nutrition Information:
Yield:
6
Serving Size:
1
Amount Per Serving:
Calories:

170
Total Fat:

11g
Saturated Fat:

5g
Trans Fat:

0g
Unsaturated Fat:

5g
Cholesterol:

138mg
Sodium:

198mg
Carbohydrates:

12g
Fiber:

0g
Sugar:

0g
Protein:

7g
Nutrition data provided here is only an estimate. If you are tracking these things for medical purposes please consult an outside, trusted source. Thanks!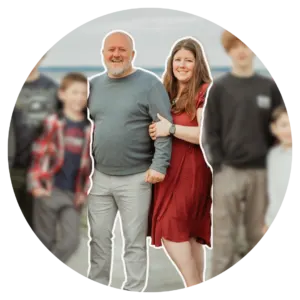 Nicole Johnson, a self-taught expert in grilling and outdoor cooking, launched Or Whatever You Do in 2010. Her blog, renowned for its comprehensive and creative outdoor cooking recipes, has garnered a vast audience of millions. Nicole's hands-on experience and passion for grilling shine through her work. Her husband, Jeremiah Johnson, also plays a pivotal role in recipe development, adding his culinary flair to the mix. Together, they form a dynamic duo, offering a rich and varied outdoor cooking experience to their followers.