Traeger Smoked Beef Tenderloin goes on the grill as a long, sort of terrifying raw hunk of meat, and in less than an hour turns into something really incredible. This cut of steak is so tender and so full of rich beefy flavor, you're going to keep this one on deck anytime you want to feel a little fancy, but also have a simple dinner on the table.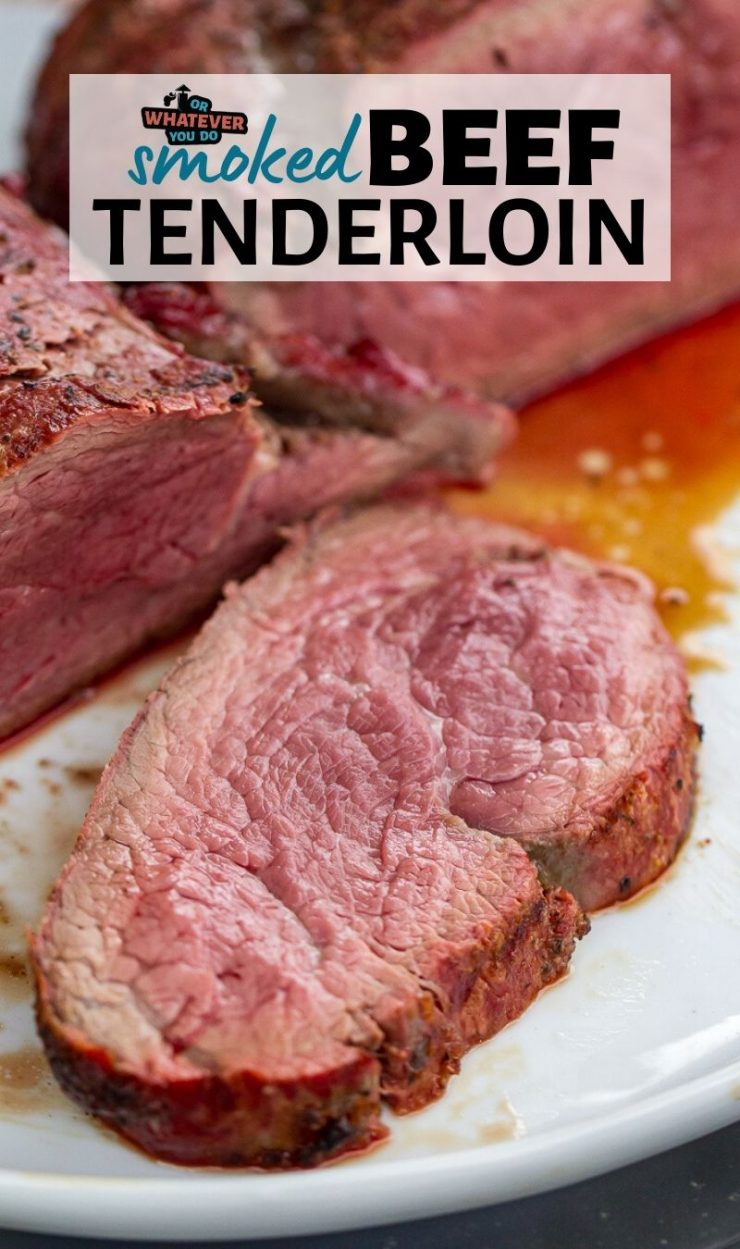 Traeger Smoked Beef Tenderloin
I know. You guys, I totally get it. I freaked out for like a solid hour the first time I cooked a prime rib. I don't like experimenting with expensive cuts of meat. But don't be nervous! Use some cool tools and tricks and you'll have a perfectly cooked piece of steak that might just be the best thing you eat this fall and this whole holiday season.
More Easy Traeger Recipes here!
What is Beef Tenderloin?
The beef tenderloin comes from the same muscle that the filet mignon comes from, it just isn't cut into individual steaks. This particular cut of beef gets very little movement, so it stays super tender on the animal. It is one of my favorite cuts of beef, and if you can find a sale on it BUY BUY BUY.
I picked up this big beauty at my local tiny grocery store, and got it for a song at $7.99 a pound. If you find it that low, buy all they have because that's a great deal!
More Traeger Beef Recipes here!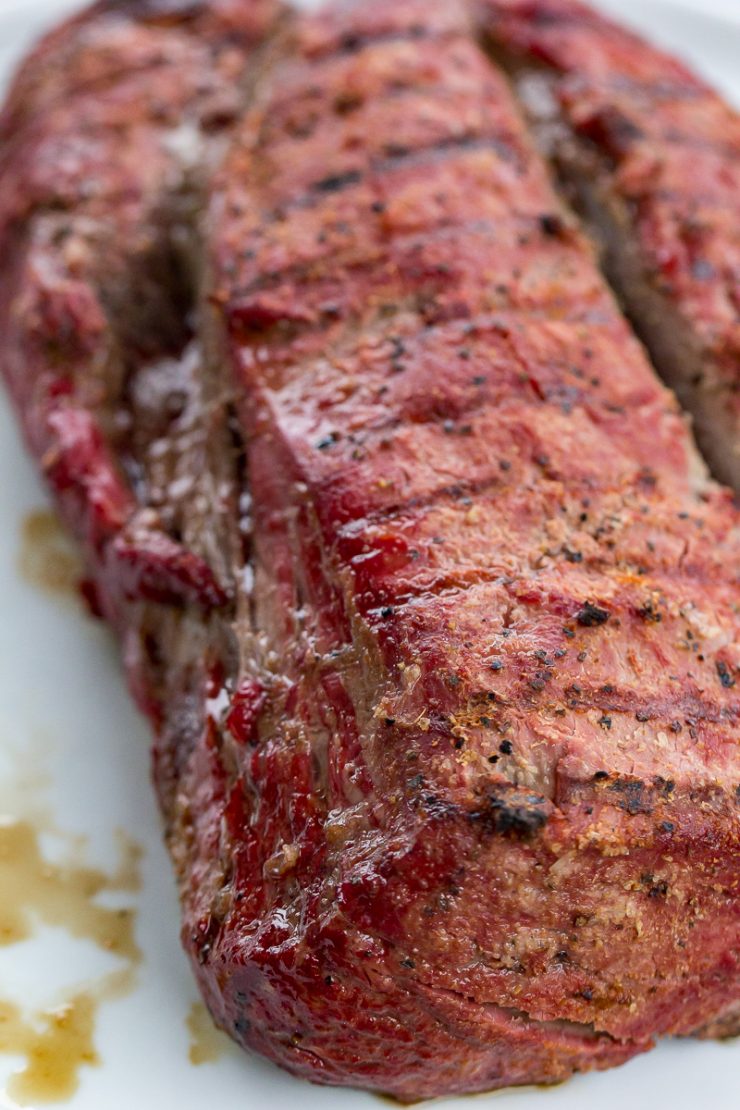 How To Cook Beef Tenderloin
There are a lot of great ways to cook beef tenderloin. You can roast it in the over, you can cook it in a pan on the stovetop, you can grill it, or you can cook it my favorite way, and that is to smoke it!
Smoking beef gives it such a deep flavor, that beautiful smoke ring, and leaves it tender and at the perfect temp.
One thing I would suggest is to cut the beef tenderloin into large segments, according to how thick it is. You'll want to pull those off of your grill at different times, and if you have separate temperature probes that'll monitor the doneness, you'll want to make sure that they have their own.
Speaking of temperature probes, we ran our grill for well over a year without any kind of fancy thermometers, and then I finally broke out the ThermoPro that wirelessly tells me what temp my meat is at, and I'm now firmly on the GET ONE train. My next upgrade will be one that hooks up to my iPhone, somehow, and will yell at me when I forget I have something on the grill.
You can find the link for one of the thermometers down in my recipe below!
Current BBQ Deals
The latest deals and favorites from Or Whatever You Do!
Photo Credit: The Spice guy
Some of our most heavily utilized rubs and spices in the kitchen. Get some! Highly recommend the Midnight Toker and Roasted Garlic Blend!
Photo Credit: ThermoWorks
I use my Thermoworks favorites EVERY time I grill or griddle. Get one, and up your bbq game! This page links you to all of my "must haves". Use the code OWYD at checkout for 10% off!
Photo Credit: Grill Masters Club
The Grill Masters' Club is a monthly subscription box FULL of grilling favorites. Last month I got a killer hot sauce, bbq sauce, and rub. I have been a member of this club for several months now and have found some real winners! I can't wait for you guys to check it out.
Photo Credit: ButcherBox
We have been monthly ButcherBox subscribers for a couple of years now, and LOVE it! Hit the easy button for your beef, pork, chicken, fish, and seafood!
Photo Credit: spiceology.com
We LOVE Spiceology and use a ton of their products! This gift pack is a great way to sample some of their most popular blends.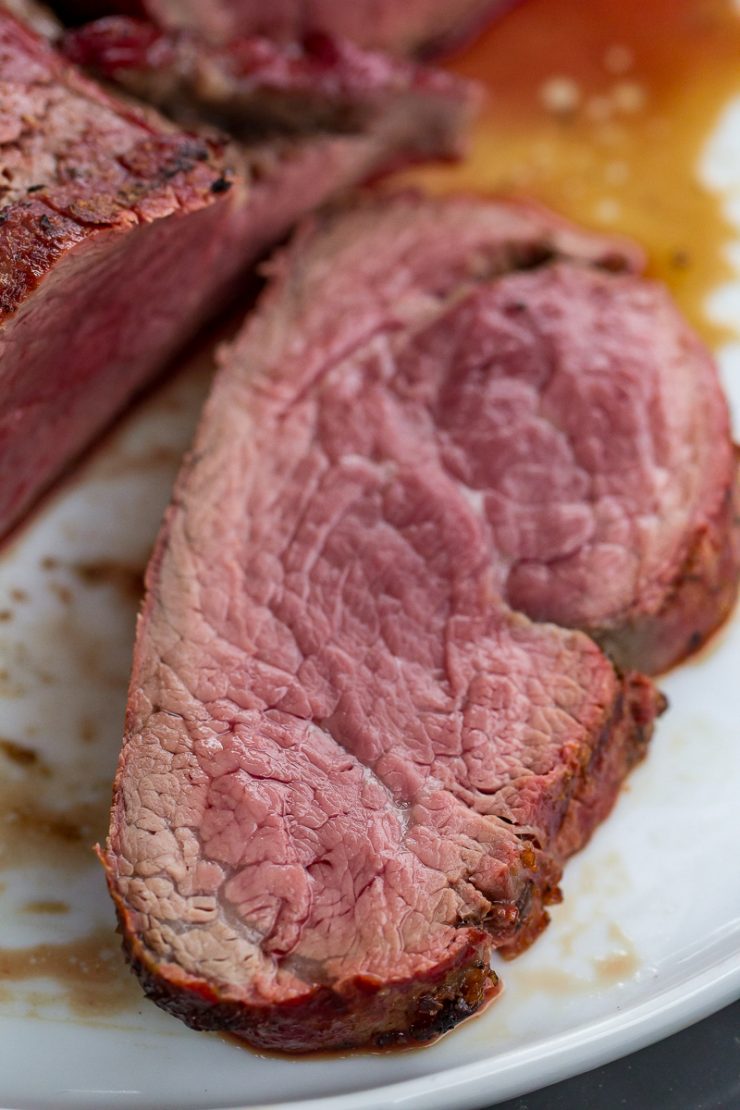 What To Serve With Smoked Beef Tenderloin
This is such an easy meal to match sides with! My first suggestion for steak is always my Perfect Grilled Asparagus. It is fast and easy, and everyone raves about it. A freshly tossed Greek Salad would also we great!
You'll already have the grill fired up, so once you pull your beef, just crank up the heat again for a few minutes and throw these on the grill while your tenderloin rests.
Next, you'll want to do some Creamy Noodles or Scalloped Potatoes.
Want to go a little fancier? Try our Smoked Parmesan Potato Stacks.
Homemade Rolls would also take this all kinds of cool places!
Personally, I prefer this smoked tenderloin to even the best prime rib, but both of them are a great option for a family gathering or a special holiday meal.
Follow me on Instagram!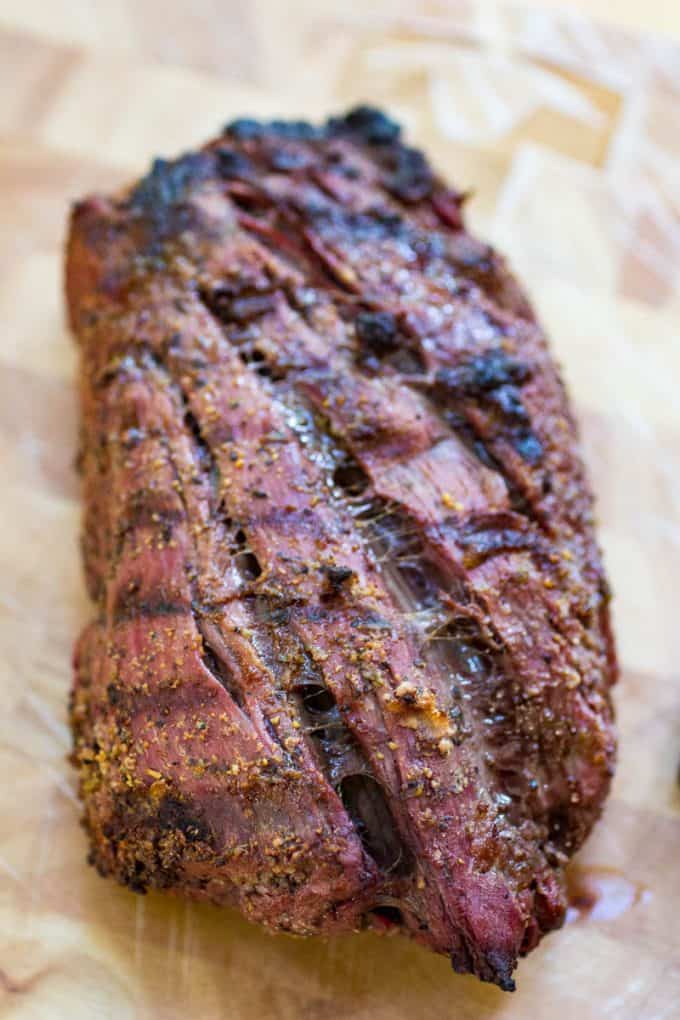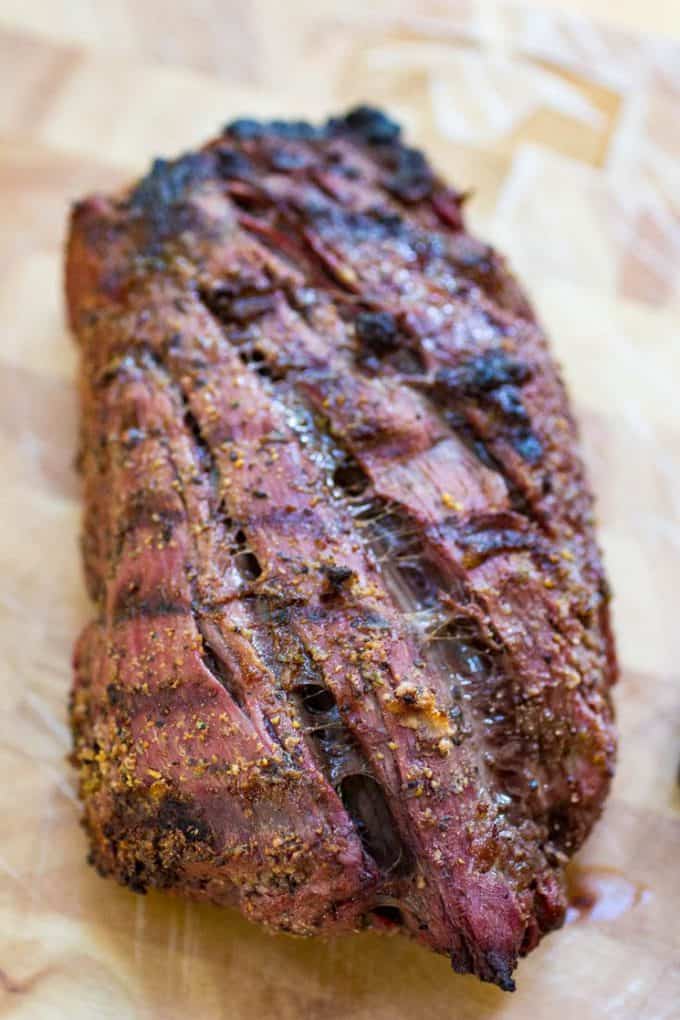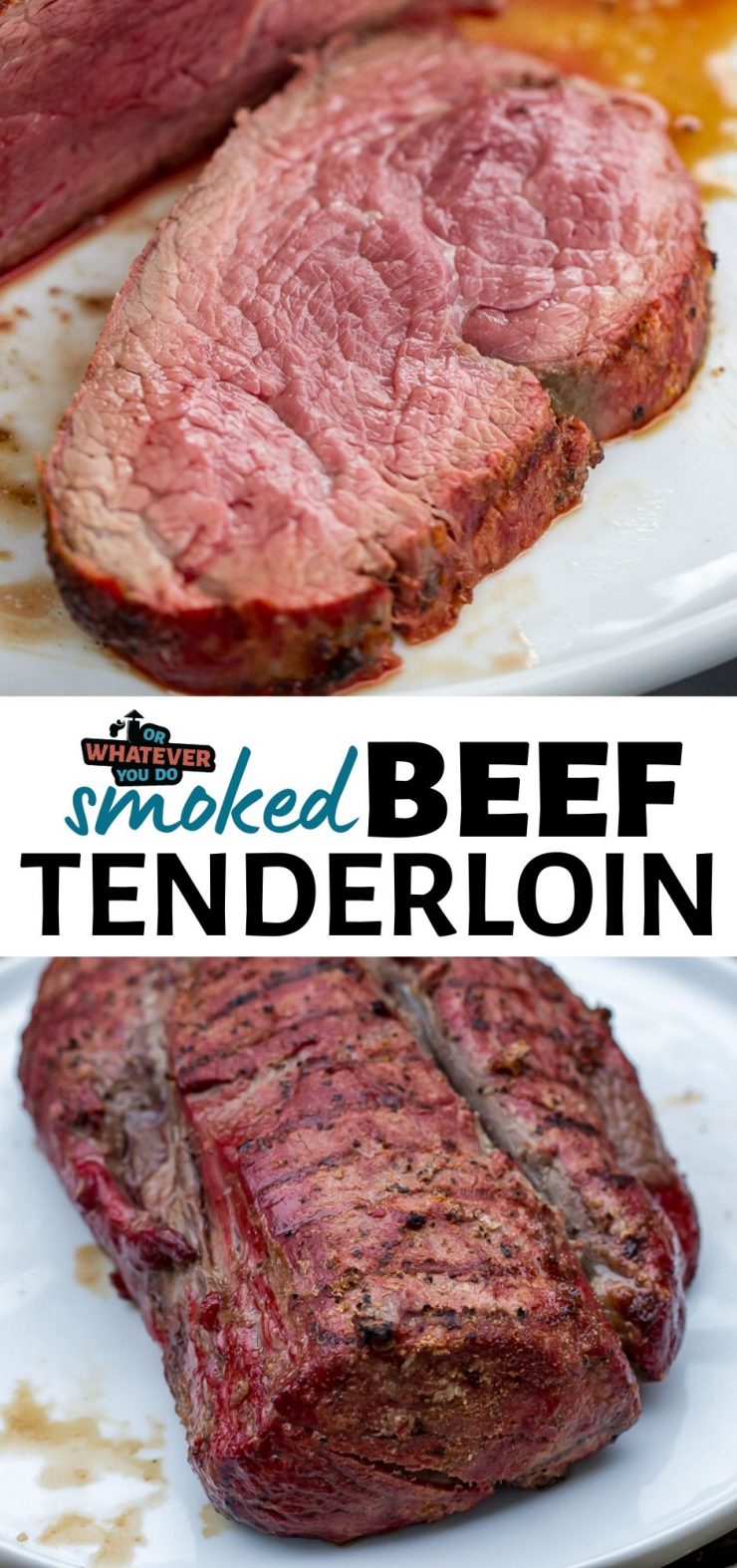 Yield: 6 people
Traeger Smoked Beef Tenderloin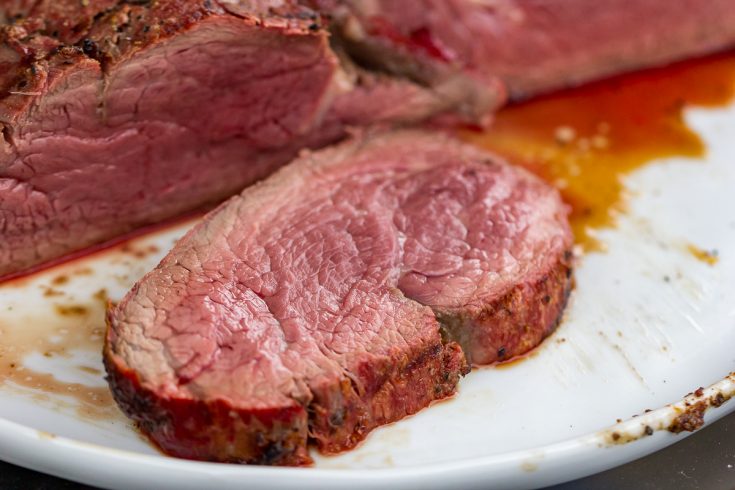 Traeger Smoked Beef Tenderloin is easy to make but ultra impressive to serve.
Instructions
Preheat your pellet grill to HIGH, following factory instructions.
Trim excess fat from the tenderloin, and cut into evenly sized pieces if your tenderloin tapers significantly. Two or three are usually enough to ensure even cooking. If your tenderloin is equal thickness throughout you can skip this part.
Coat the tenderloin in steak rub and salt and place into the preheated grill.
Close the lid and cook for 10 minutes. Flip the tenderloin, and close the lid for another 10 minutes.
Turn the temperature down to smoke, and leave the grill lid open for 2-3 minutes to drop the temperature of the grill down to about 200-225 degrees. Close the lid, and smoke until the internal temperature is at 130°.
Pull from the grill and let sit for 15 minutes before slicing.
Recommended Products
As an Amazon Associate and member of other affiliate programs, I earn from qualifying purchases.
Nutrition Information:
Yield:
8
Serving Size:
1
Amount Per Serving:
Calories:

750
Total Fat:

57g
Saturated Fat:

22g
Trans Fat:

0g
Unsaturated Fat:

26g
Cholesterol:

198mg
Sodium:

925mg
Carbohydrates:

0g
Fiber:

0g
Sugar:

0g
Protein:

56g
Nutrition data provided here is only an estimate.