These Instant Pot French Onion Burgers and Gravy are not only incredibly tasty and filling, but they are also extremely easy to make. Just cut up some onions, place the burgers on top, and pour in your cooking liquid. In about 30 minutes you will have a rich and hearty meal that can be served over rice, buttered noodles, or mashed potatoes.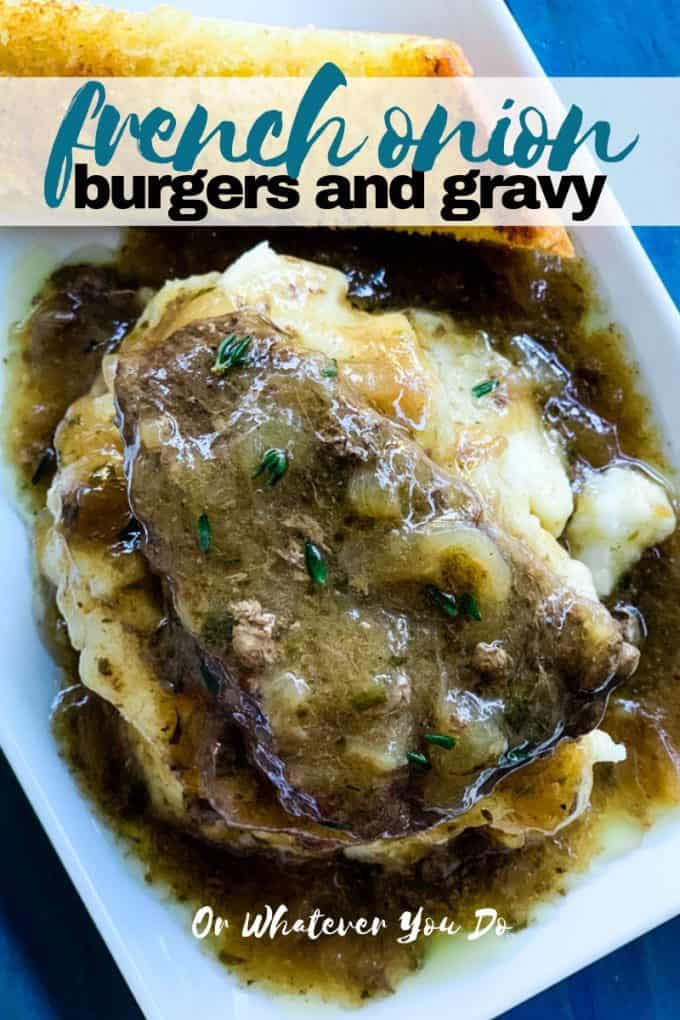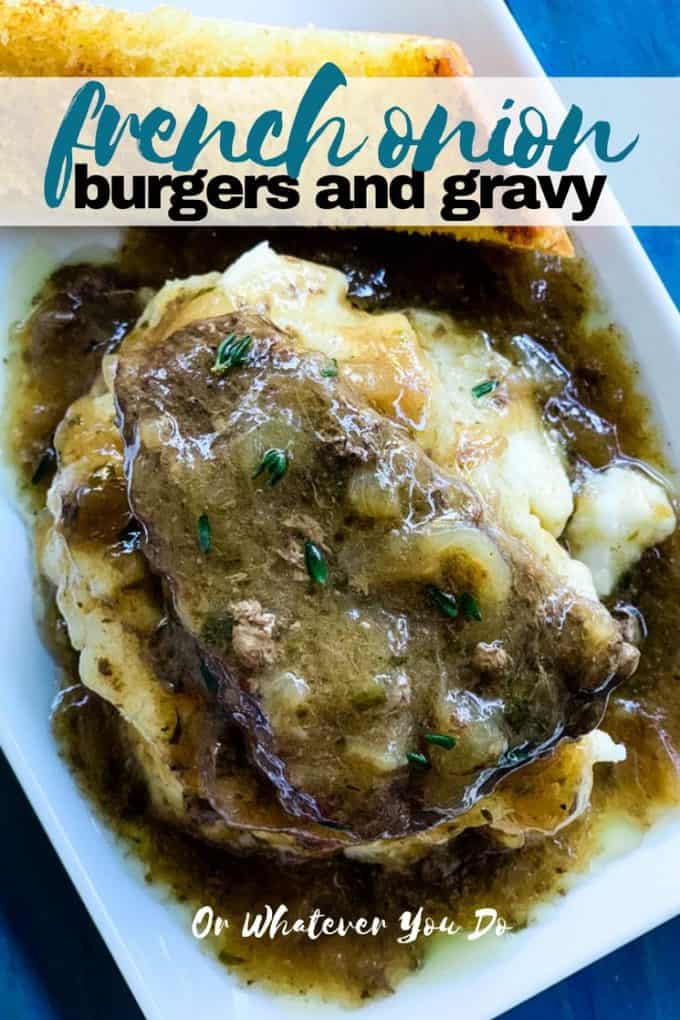 Instant Pot French Onion Burgers and Gravy
It is Fall again, you guys, and that means that my Instant Pot makes a BIG comeback. For those of you who don't know, I live in Washington state, also known as "the land of rain" from about October to May. That means many evenings I can't fire up my grill because I don't have a covered area yet to grill under.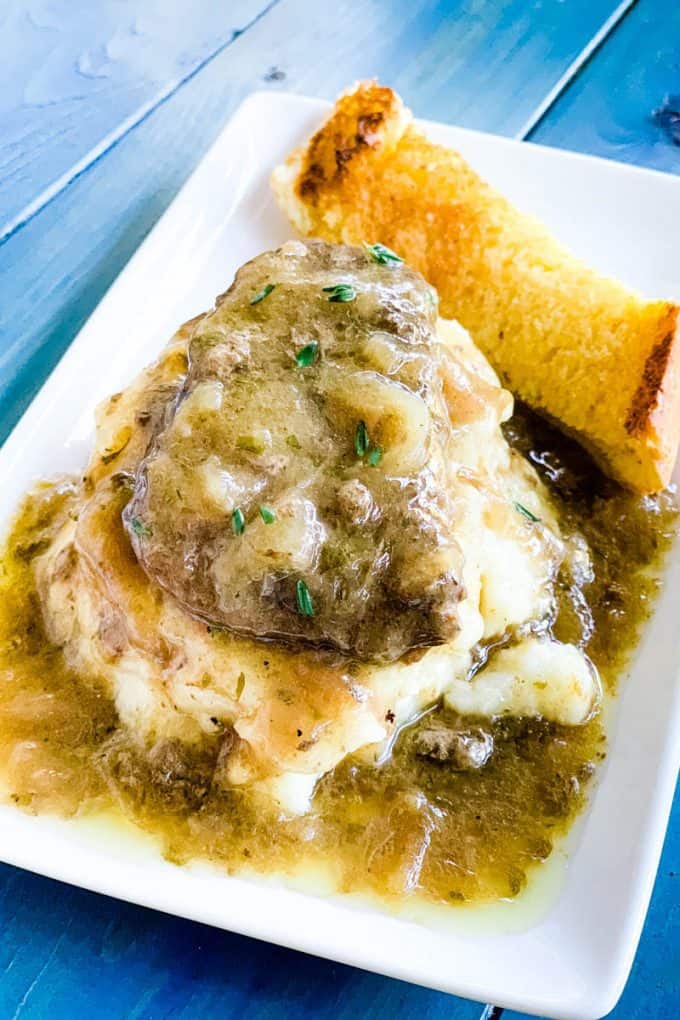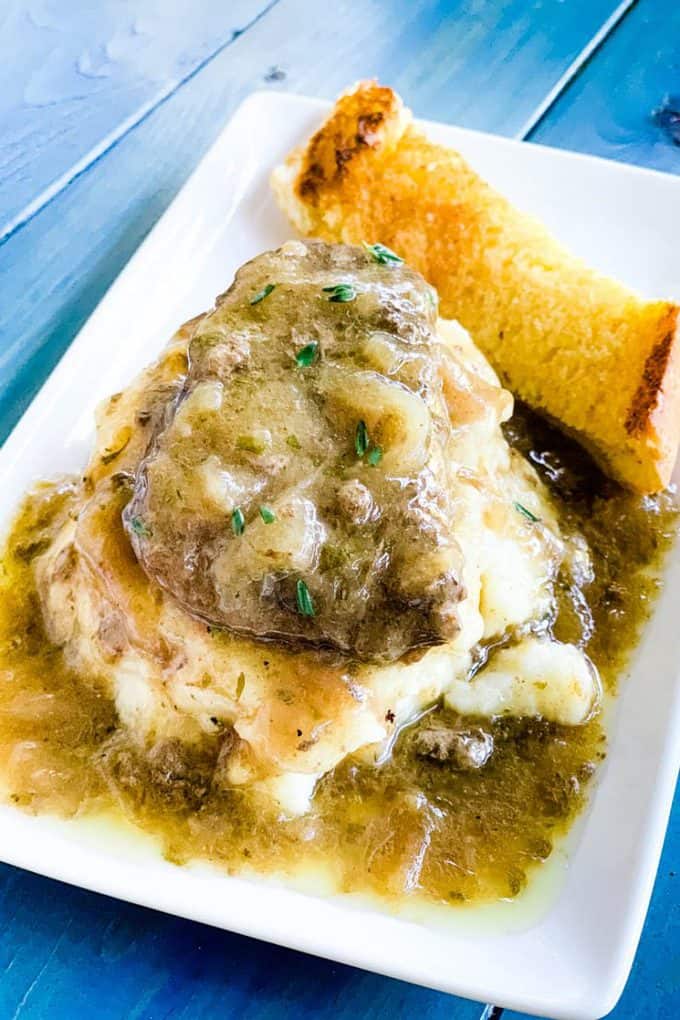 What if I don't have an Instant Pot?
You can easily convert this recipe to a Dutch Oven meal, or even roast it in the oven. It'll take significantly longer (so watch the cook times!) but it'll still taste amazing. Work with what you have!
Is an Instant Pot Worth it?
Part of the draw of the Instant Pot for me is the SPEED. Especially for meals that you'd normally cook for a really long period of time (I'm looking at you, Roast Beef Dinner, Pulled Pork, and Ribs). I can't even remember to thaw things most of the time, much less start the process early enough to account for a > 1 hour cook on most days.
See my whole Instant Pot Recipe Collection here!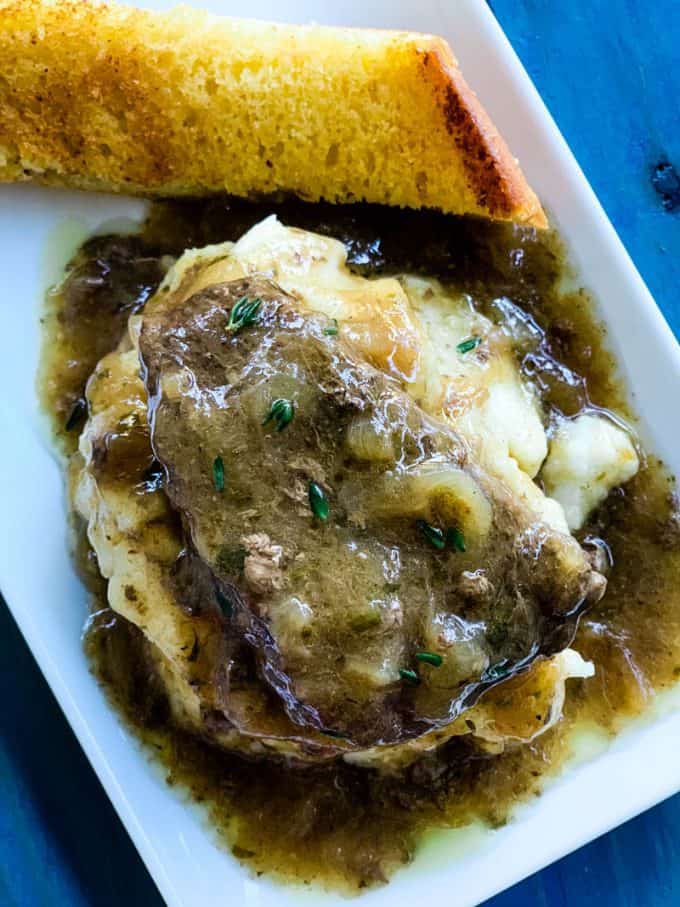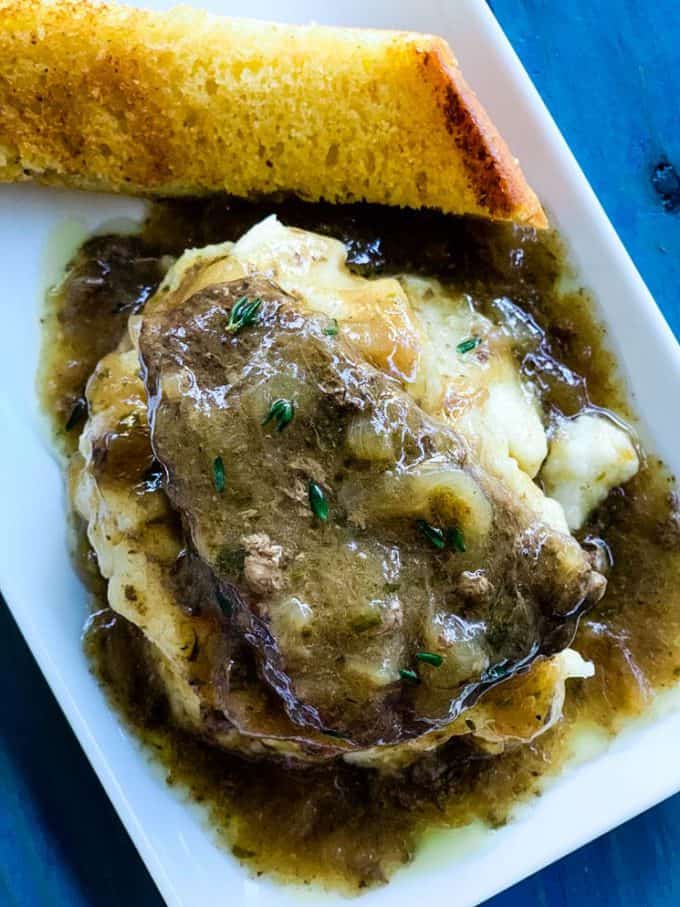 If you haven't ever tried out this electric pressure cooker thing that's been happening, I'd encourage you to do it! I'd keep it around just for the rice and broth it makes alone, but it does so much more than that.
How To Make French Onion Burgers and Gravy
This was SO easy to make, while it was cooking and the kids were coming upstairs approximately every other minute to inquire about the awesome smell – I was skeptical.
Sometimes recipe development is so smooth, and you can just have inspiration strike and throw a bunch of stuff together and magic happens.
Other times, it takes a LOT of trial and error to get to the actual recipe you are seeing published here on my site.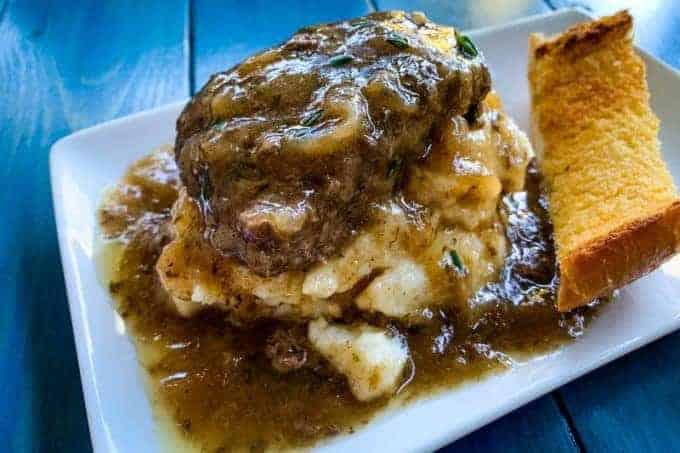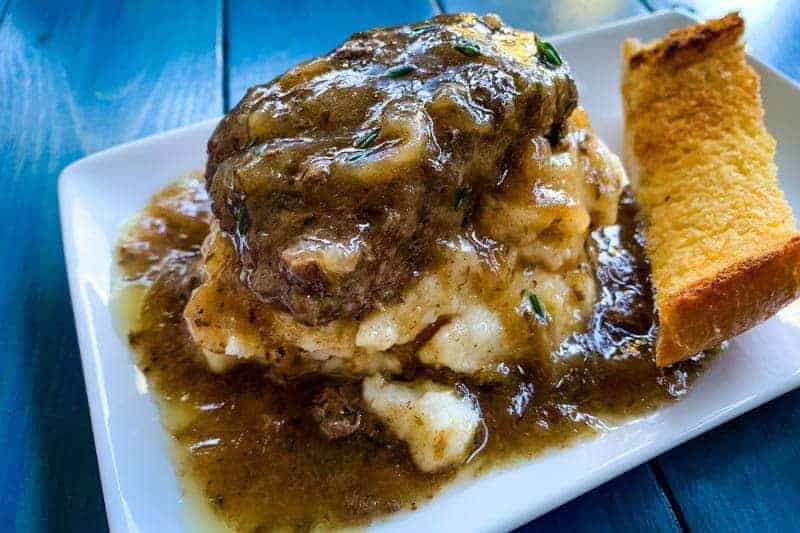 This easy dinner recipe was SO easy I kind of warned the kids. "Dinner is either going to be REALLY awesome, or you're going to be eating cereal."
Such is life as the children of a food blogger + Work-at-home-mom. That ish is bananas.
Check out all of my Traeger Recipes!
Frozen pizza and about 4 different things that I make over and over again (spaghetti, tacos, chicken (or turkey) soup, pizza; in case you are wondering), and anything new has to be photographed before eating. They sure have it rough, poor things.
All of that to say that YOU HAVE TO MAKE THIS. If you can cut onions, or bribe someone else to cut your onions, you can make this recipe.
Just like in the beef, there's no extra junk in the sauce mix either. There are a lot of ingredients, but they are all common staples that most houses have around all the time. I much prefer a longer ingredient list of common items than a short one with specialty stuff you probably have to buy especially for this.
Pin for later!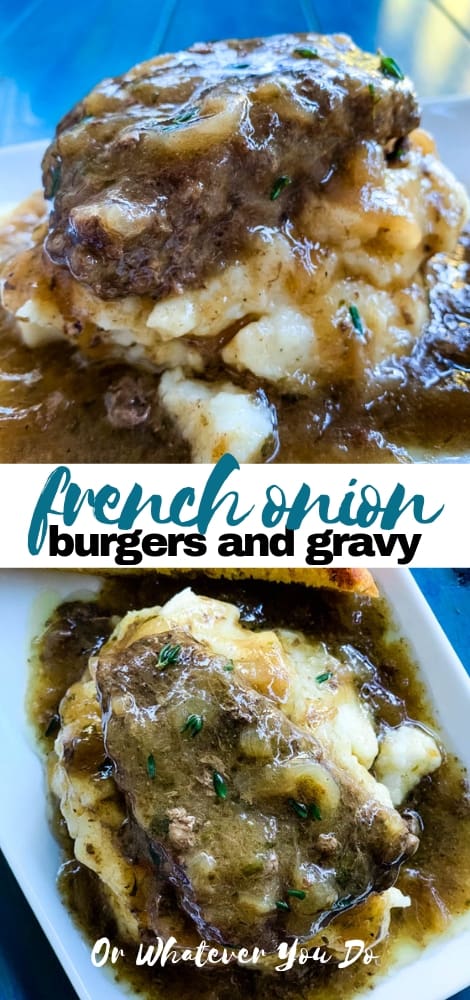 Yield: 8 servings
Instant Pot French Onion Burgers and Gravy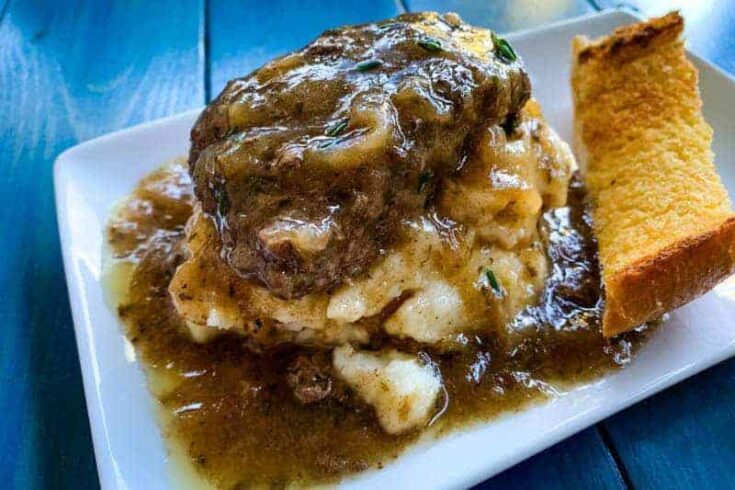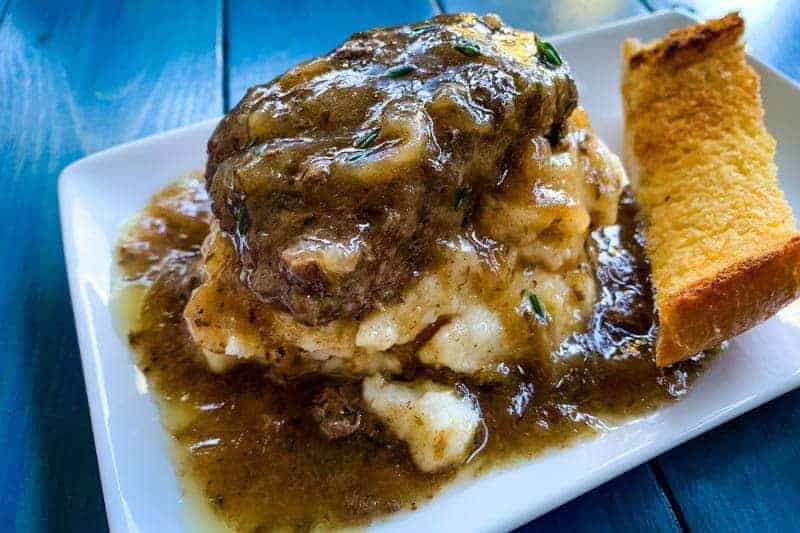 This hearty and filling dish is cooked in the Instant Pot in just 30 minutes! Burgers with fresh onions, and simple ingredients that make a burger into a favorite fall meal.
Ingredients
2 large onions, sliced
4 tablespoons butter
2 tablespoons oil
6 BUBBA burgers, uncooked (or 3 pounds ground beef formed into 6 discs)
1 1/2 teaspoons Goya Adobo(optional)
1/2 teaspoon garlic powder
1/2 teaspoon onion powder
3 cups beef broth
2 teaspoons chicken bouillon
1/2 cup red wine
1/2 cup white wine
3 tablespoons cornstarch
3 tablespoons water
Instructions
Turn your instant pot to saute mode, and let it preheat.
Place the onions, oil, and butter into the pot and saute for 5 minutes, or until soft and translucent.
Remove the onions from the pot and set aside.
Place the oil into the pot and let it reheat. Season the burgers with the Goya (optional), onion powder, and garlic powder.
Place 2-3 burgers into the bottom of the pot and let cook for 4 minutes to brown. Remove carefully and brown the other burgers.
Turn off saute, and layer in the burgers and onions back into the pot. Pour in the beef broth, chicken bouillon, and wine.
Shut the lid and seal the pot, and turn to manual mode for 20 minutes.
Let the pot release pressure naturally for 10-15 minutes, then carefully vent the excess steam and open after pin fully drops and it is safe to do so.
In a small bowl, combine the cornstarch and water and mix until the lumps are gone.
Turn the pot back onto Saute, and let it come up to a simmer. Whisk in the cornstarch mixture, and let thicken.
Serve over buttered noodles or mashed potatoes.
Recommended Products
As an Amazon Associate and member of other affiliate programs, I earn from qualifying purchases.
Nutrition Information:
Yield:
8
Serving Size:
1
Amount Per Serving:
Calories:

546
Total Fat:

30g
Saturated Fat:

12g
Trans Fat:

0g
Unsaturated Fat:

15g
Cholesterol:

107mg
Sodium:

1096mg
Carbohydrates:

37g
Fiber:

1g
Sugar:

2g
Protein:

27g
Nutrition data provided here is only an estimate. If you are tracking these things for medical purposes please consult an outside, trusted source. Thanks!