Grab that cast-iron skillet and let's make a Traeger Beef Pot Pie that is full of hearty vegetables, roast beef, and topped with a light and flaky crust on the grill. This traditional dish just got a wood-pellet grill makeover, baked over hickory pellets until lightly golden brown. This beef pot pie recipe is the perfect comfort dish the whole family will love.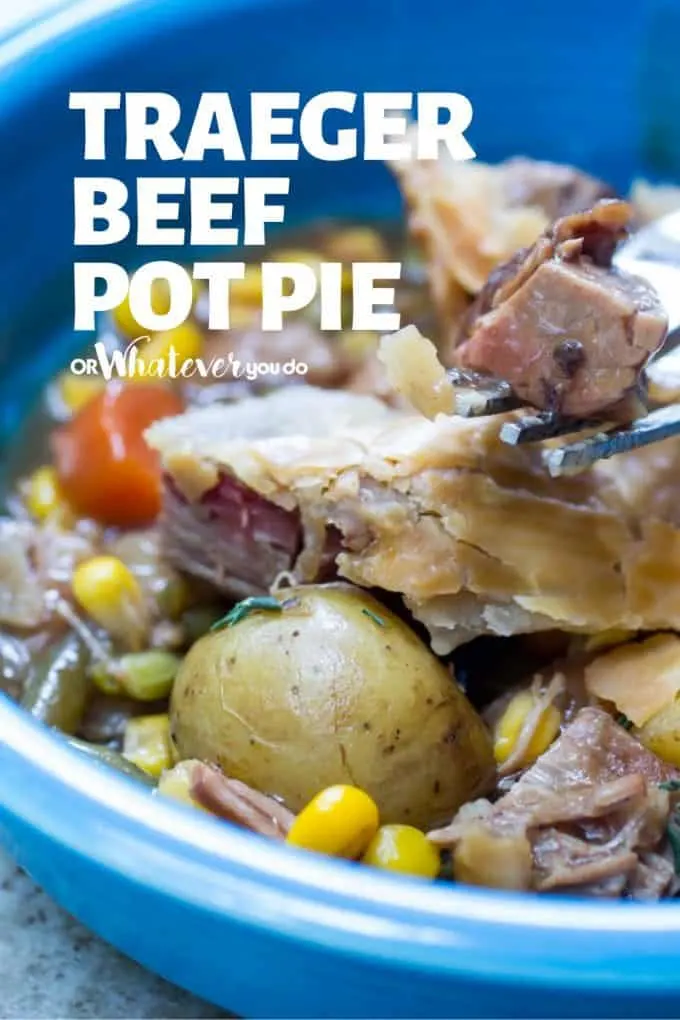 Traeger Beef Pot Pie
Homemade beef pot pie is easy to make and can be a wonderful dish to feed a crowd. For this recipe, I used leftover pot roast. If you don't have a bunch of leftover roast available, this recipe for Beer Braised Instant Pot Steak and Onions would be perfect as well, and would only add a bit to the cook time. Or you can make Steak and Onions for dinner tonight and make beef pot pie later on in the week!
It was a great way to use up the leftovers in a whole new way to give our family variety. I throw in some of our favorite vegetables, shredded beef, and made a roux with beef broth, and then topped it with a pie crust.
---
More Delicious Traeger Recipes Here!
---
Toss on our Traeger wood-pellet grill and baked! The grill adds a little bit of smokey flavor to the dish, so it makes it feel like you pulled it right off a campfire.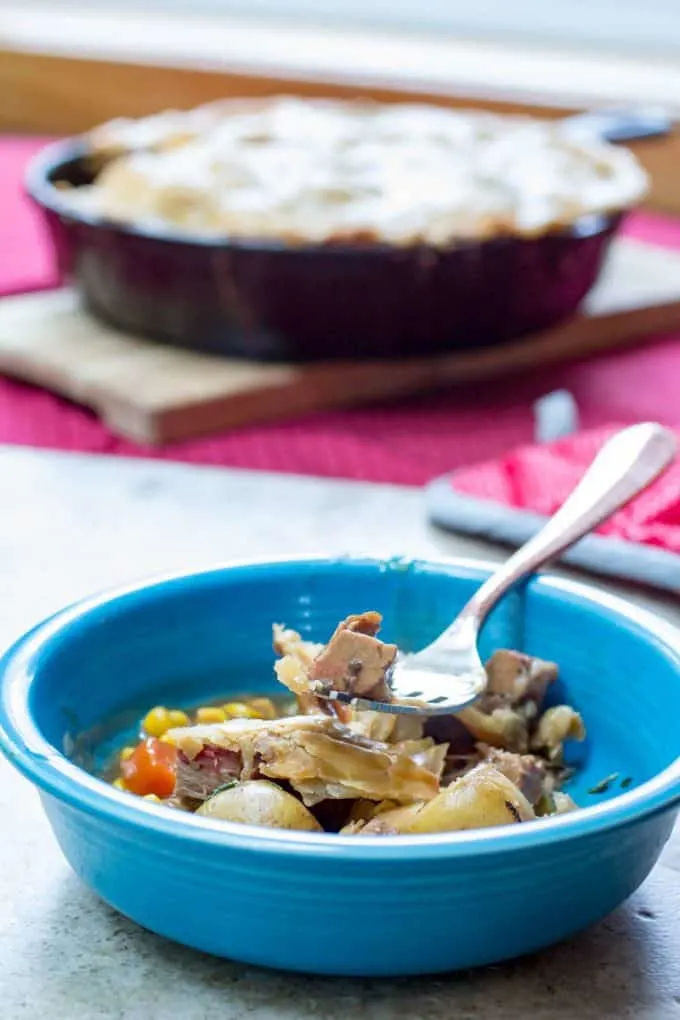 What kind of crust works best for pot pie?
This is a controversial topic, I know, but I just use store-bought pie crust for this. If I want to get really crazy, I'll use puff pastry. If you reallly make a killer pie crust you can definitely do this the homemade way though. I'd suggest an all-butter crust if I was picking!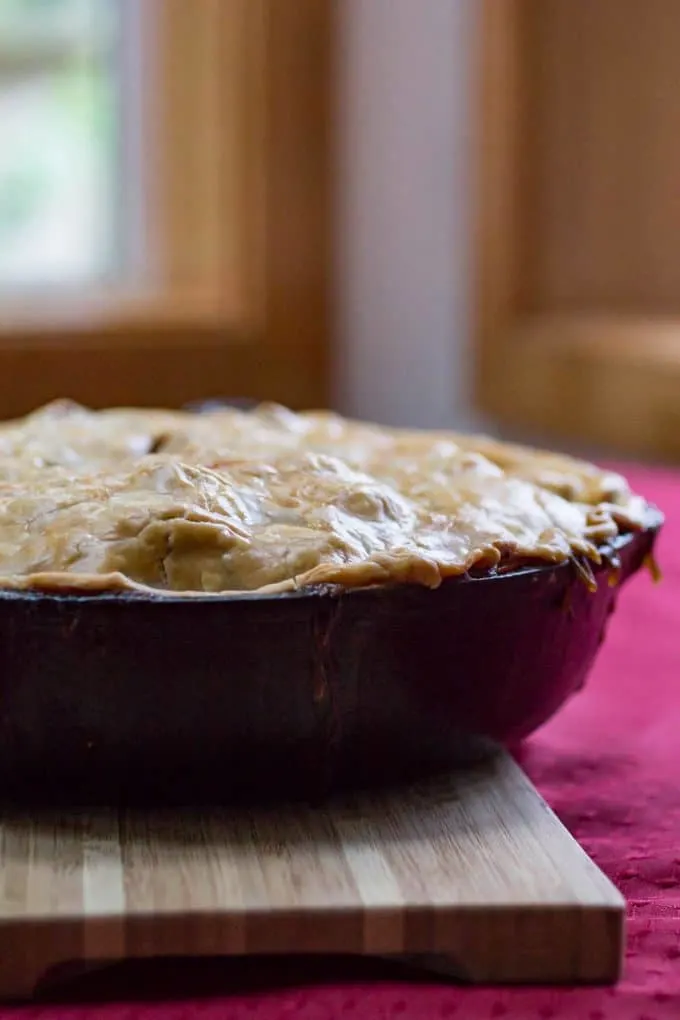 Traeger Beef Pot Pie Will Be Your Family's Go-To Weeknight Meal
If you are on the hunt for a new family go-to weeknight meal this fall and winter, this beef pot roast is a perfect candidate.
When the leaves begin to fall, I reach for heartier dishes like this homemade beef pot roast to keep me warm and cozy. Comfort dishes always help take all the stress away after a long hard day, and this recipe cooks up quickly with very little prep work required.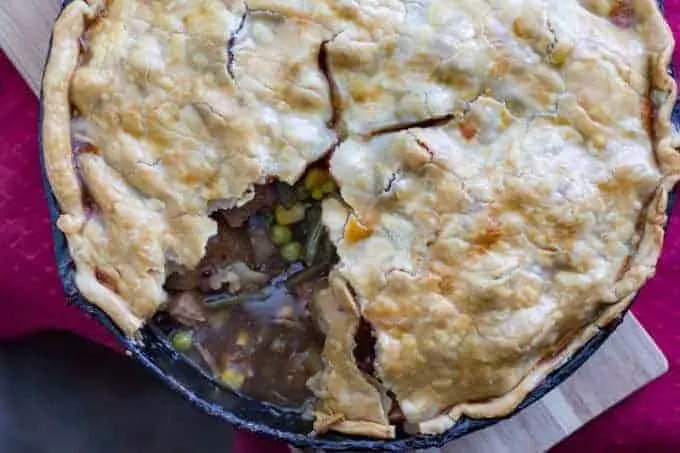 Homemade Beef Pot Pie Is As Easy As Pie
Whether you use fresh ingredients or frozen, you can make this recipe work to fit your needs. Sometimes a bag of frozen vegetables tossed in with some diced potatoes is what I go for, and other times I use up some fresh produce we have on hand. Either way works great and gives you that hearty and rich pot pie taste. Top with homemade or store-bought pie crust and bake until you get that golden brown look.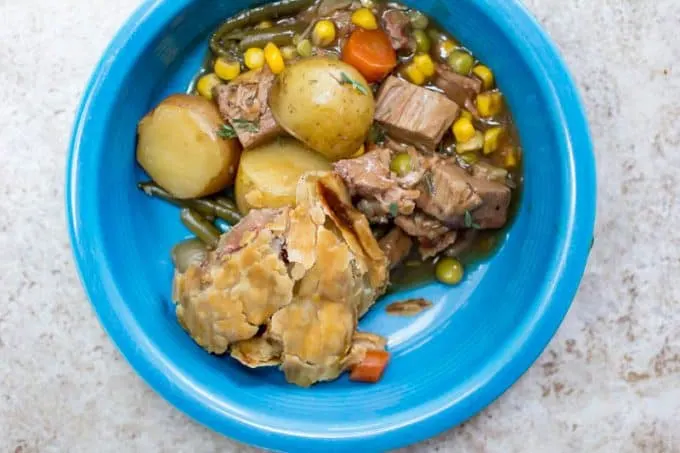 What to Pair With Your Homemade Beef Pot Pie
Buttermilk Oatmeal Bread – Slide on some butter and serve a piece of homemade bread with your pot pie. Soak up all the juices with your bread once you finish up your pot pie.
Crisp Green Salad – Sometimes a basic green salad with a light vinaigrette or your favorite dressing works well. A simple light side to a hearty dish.
Coleslaw – A simple coleslaw adds a crisp element to your menu. I love this coleslaw with vinegar recipe; we use this to pair with so many of our recipes. Tried and true.
Milk Rolls – Take homemade rolls to a WHOLE new level.
You can pair anything you want, or eat this as a meal in one. You can never go wrong with a delicious dessert to follow. These chewy chocolate oatmeal bars are quick to make and super delicious.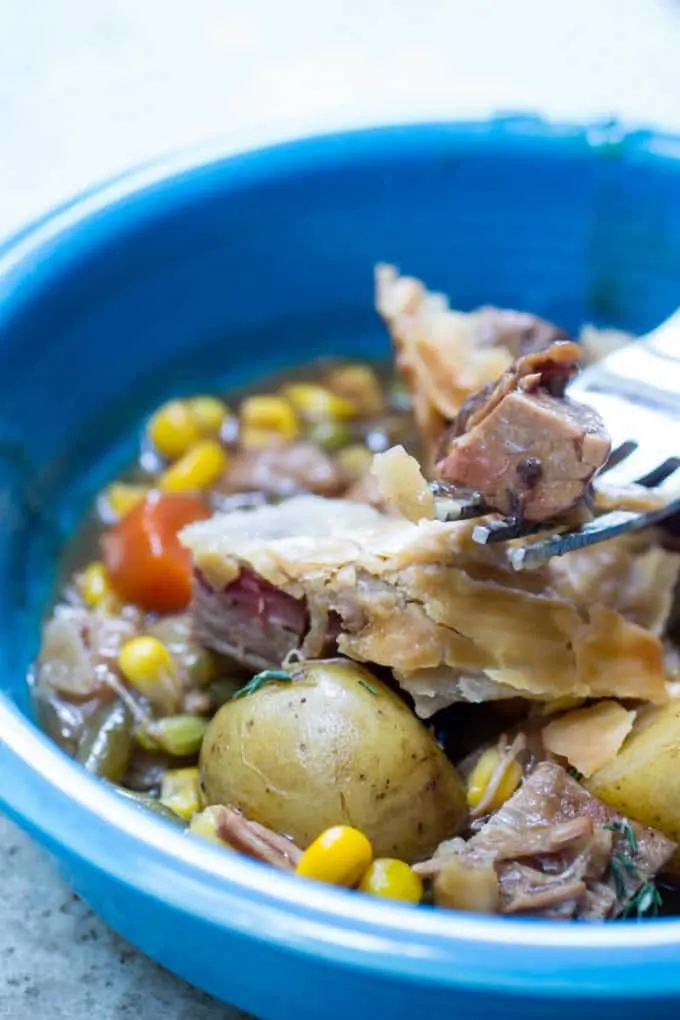 Can You Freeze Beef Pot Pie?
Absolutely! I have made this recipe many times and made a second pot pie to go along with it that I saved back and froze for a meal later on. Making freezer meals is a great way to start building a stockpile in your freezer for those nights you don't want to cook. Search for a dish you have in your freezer and bake accordingly!
To freeze your already baked beef pot pie, allow it to cool completely after it bakes. Then wrap it up tight and freeze. To reheat just put in your oven and or Traeger grill and cook covered until it is hot throughout.
If you want to pre-make your pot pie and not bake it first, leaving the pie crust raw on top, assemble the pot pie like the steps below suggest, and then wrap it up tightly and freeze. Once you are ready to eat, just put in the oven or Traeger frozen and allow it to cook thoroughly until the dough is cooked. You can always start with it covered in aluminum foil, and then after 20 minutes, remove foil and continue baking. This is good, so the dough doesn't overcook.
What is your favorite comfort food recipe?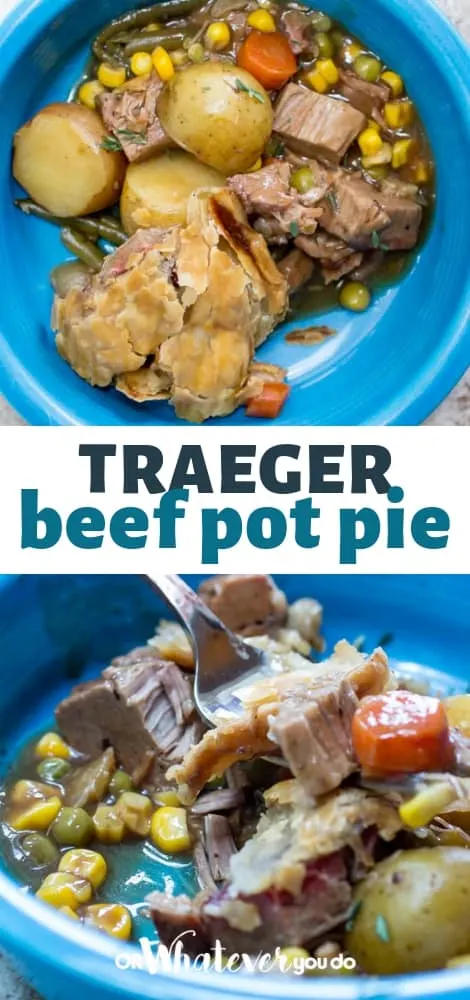 Yield: 8 servings
Traeger Beef Pot Pie
Warm, hearty, filling, and delicious Traeger Beef Pot Pie utilizes leftover pot roast, fresh veggies, and rich gravy.
Additional Time
20 minutes
Total Time
1 hour
45 minutes
Ingredients
Pot Pie
3 cups leftover pot roast
1 cup corn
1 cup carrots
2 cups diced potatoes
1/2 cup peas
1/2 cup green beans
Gravy
1/4 cup butter + 2 tablespoons
1/4 cup flour
3 cups beef broth
2 tablespoons sherry
1/4 teaspoon thyme
1/2 teaspoon onion powder
1/8 teaspoon garlic powder
Egg Wash
1 egg yolk
1 tablespoon water
Instructions
Preheat your Traeger to 350°.
Take your potatoes, drizzle with a little oil, sprinkle with salt, and microwave for 3-4 minutes to soften them up a bit and reduce the cook time in the pie.
Place the Pot Pie ingredients into a 10-12 inch cast-iron skillet.
In a medium non-stick skillet, melt the butter and then whisk in the flour until there are no lumps.
Cook over medium-low heat, stirring frequently, for 5-7 minutes.
Whisk in the beef broth, sherry, thyme, onion powder, and garlic powder. Cook over low heat until thickened.
Pour the gravy over the meat and vegetables in the cast-iron skillet.
Top with a pie crust and cut a few slits for vents.
Whisk together the egg wash ingredients in a small bowl. Brush the top crust with the egg wash using a pastry brush.
Place the pot pie on your preheated Traeger, close the lid, and bake for an hour. Keep an eye on it, and make sure to cover the top crust with foil if it starts to get too dark. Make sure the internal temperature gets over 165°.
Recommended Products
As an Amazon Associate and member of other affiliate programs, I earn from qualifying purchases.
Nutrition Information:
Yield:
8
Serving Size:
1
Amount Per Serving:
Calories:

371
Total Fat:

20g
Saturated Fat:

8g
Trans Fat:

1g
Unsaturated Fat:

10g
Cholesterol:

71mg
Sodium:

671mg
Carbohydrates:

33g
Fiber:

4g
Sugar:

5g
Protein:

16g
Nutrition data provided here is only an estimate. If you are tracking these things for medical purposes please consult an outside, trusted source. Thanks!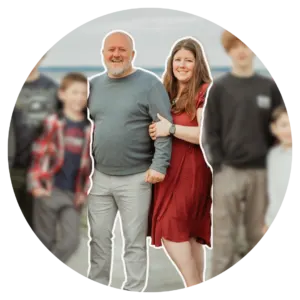 Nicole Johnson, a self-taught expert in grilling and outdoor cooking, launched Or Whatever You Do in 2010. Her blog, renowned for its comprehensive and creative outdoor cooking recipes, has garnered a vast audience of millions. Nicole's hands-on experience and passion for grilling shine through her work. Her husband, Jeremiah Johnson, also plays a pivotal role in recipe development, adding his culinary flair to the mix. Together, they form a dynamic duo, offering a rich and varied outdoor cooking experience to their followers.