Homemade salsa is easier than you think! Grab some of those fresh tomatoes and tomatillos and whip this up!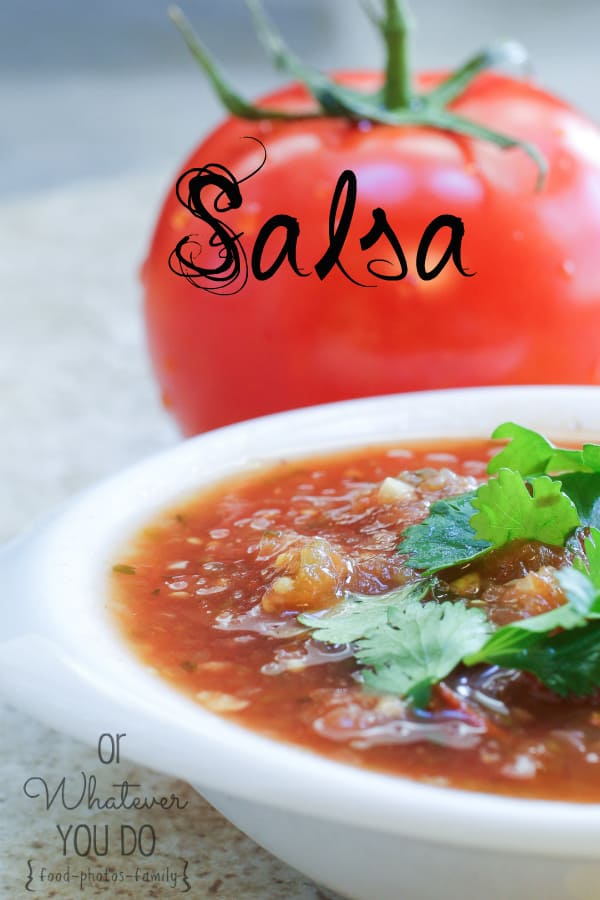 Homemade Salsa Recipe
Happy Spring everyone! I just got back from the frozen tundra, also known as Minnesota. I flew into MSP last Thursday, and made it out of dodge JUST ahead of the April Blizzard they got. Little did I know that waiting for me way up north was snowbanks taller than I am, and people still commuting on snowmobiles! You really do forget what a real winter is like after being away for so long. Even the two Michigan winters I suffered through were NOTHING compared to a real Northern Minnesota winter. YUCK.
It was awesome to go back and visit, and visit I did! I have a love/hate relationship with such short trips. On one hand, I'm always happy to be home again and not be away for too long, but on the other? UGH. There is never enough time to see everyone I want to see, for as long as I want to see them, or do the things that would normally be NECESSITIES during a Minnesota trip.
I didn't even get to go to my ALL-TIME favorite Minnesota restaurant, Mirror of Korea. I was planning on having lunch there on Thursday, but being as my snow/ice driving skills are not exactly polished these days, I decided getting out of town ahead of the major storm was the best decision. I'm left craving their Dahk Bok Uhm, Jahp Chae, and Man Du. That's the meal my dreams are made of.
This one is ALL my amazing husband. He came home one day with a bunch of tomatillos, tomatoes, and peppers, and WENT.TO.TOWN.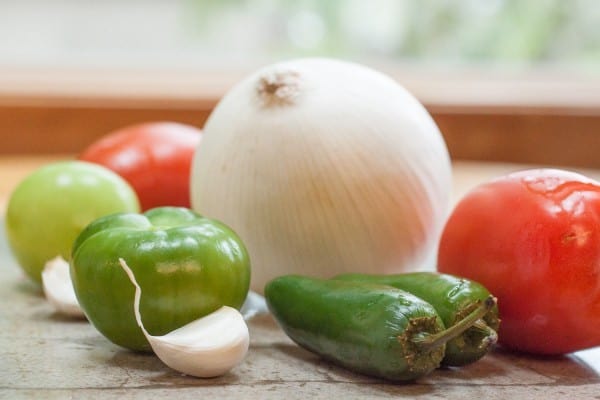 Knowing that when he goes on a mission, the end result is usually amazing, I broke out the camera and started snapping. Have I told you lately how lucky and fortunate I am to have married such a guy?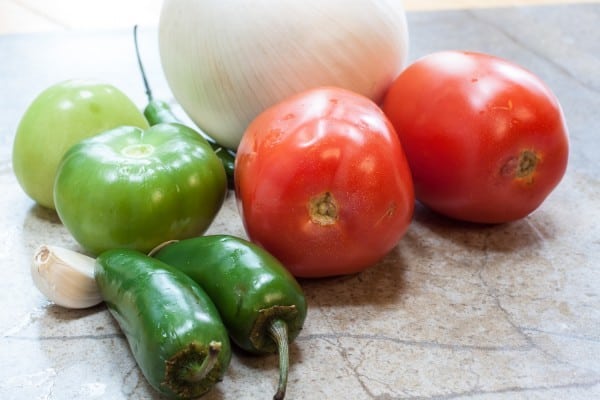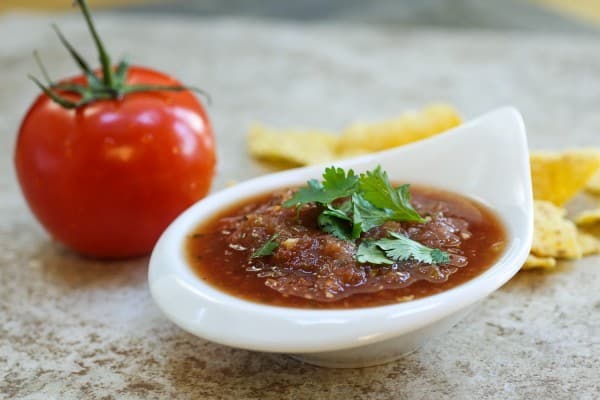 ---
More awesome appetizers here!
Honey Blueberry Whipped Goat Cheese
Dungeness Crab Cakes
French Onion Dip
Steak Bites
Homemade Crab Cakes with Red Pepper Aioli
---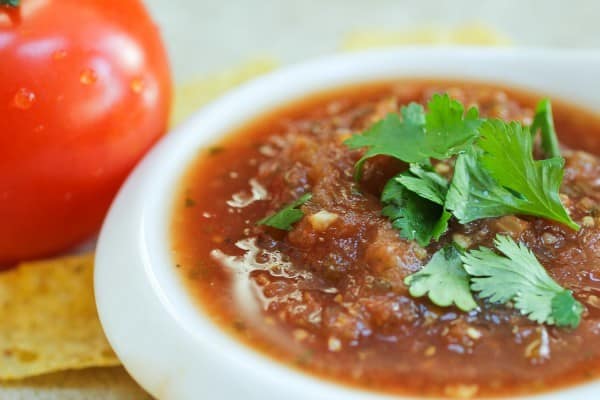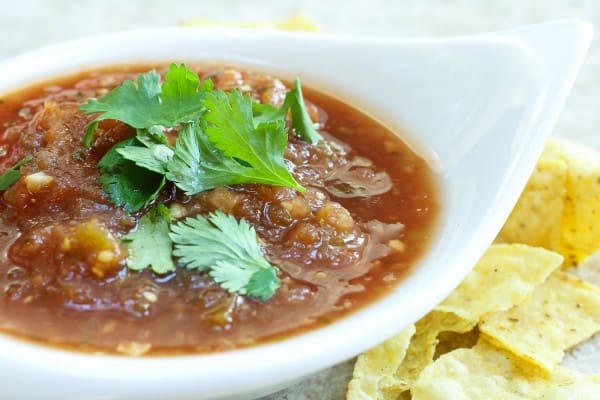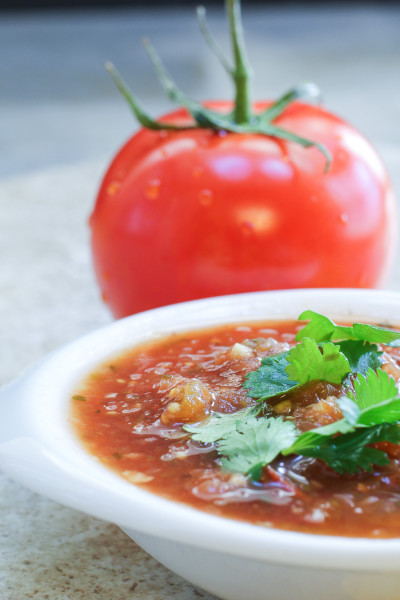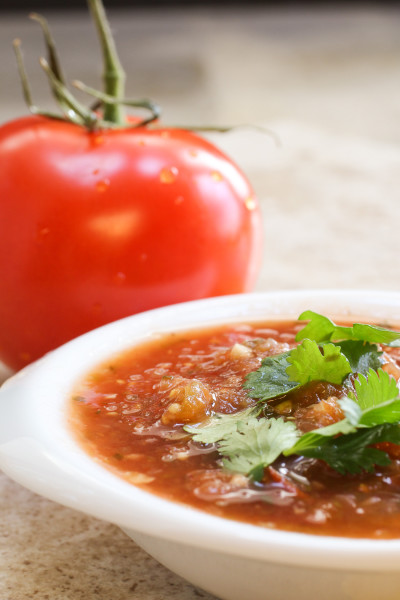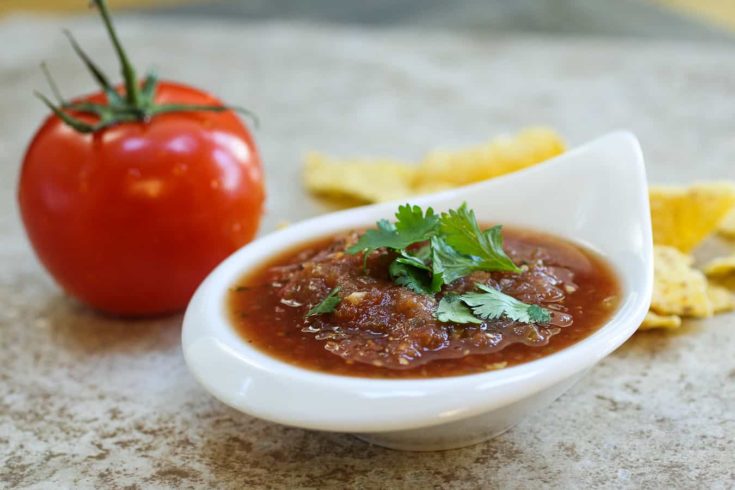 Homemade salsa is easier than you think! Whip up a batch the next time you find good fresh produce in season and enjoy!
Ingredients
15 large tomatillos, roasted
4 large roma tomatoes, roasted
1 large white onion, roasted
6-8 garlic cloves, roasted
4 serrano chilies, roasted
4 jalapeno peppers, roasted
1 - 8 oz can tomato sauce
4 oz tomato paste
1 tablespoon salt
1/4 cup chopped cilantro
Instructions
Peel the husk off the tomatillos, and roast for about 3-5 minutes turning frequently. Repeat with the chilies, peppers, garlic, onion, and tomatoes.
After all the vegetables are roasted, rough chop them and food process in batches until the salsa if your desired consistency.
Add into a large stock pot along with the tomato sauce, tomato, paste, and salt. Stir frequently, and heat to a simmer over medium heat. Simmer for 15-20 minutes.
Stir in cilantro, and chill before serving.
Nutrition Information:
Yield:
6
Serving Size:
1
Amount Per Serving:
Calories:

78
Total Fat:

1g
Saturated Fat:

0g
Trans Fat:

0g
Unsaturated Fat:

1g
Cholesterol:

0mg
Sodium:

1171mg
Carbohydrates:

16g
Fiber:

4g
Sugar:

9g
Protein:

3g
Nutrition data provided here is only an estimate. If you are tracking these things for medical purposes please consult an outside, trusted source. Thanks!