Homemade ravioli with a hearty beef & mushroom filling, topped with a homemade marinara.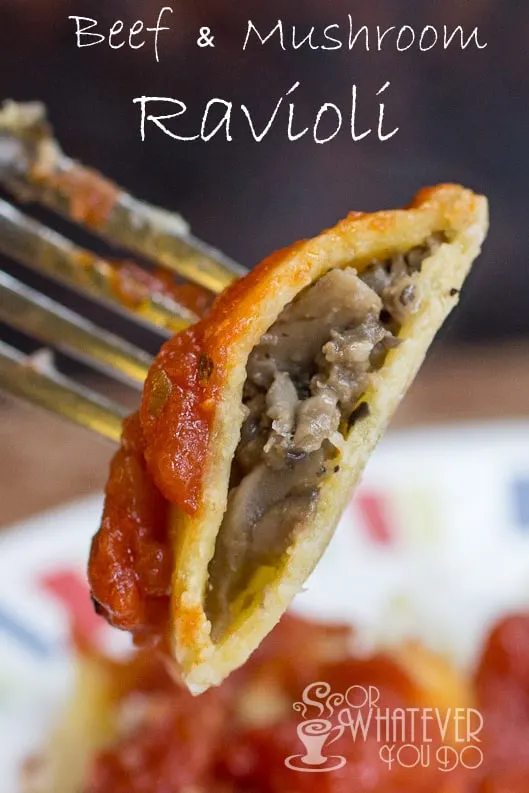 Beef and Mushroom Ravioli
Holy yum. That's all I have to say about these. Well, not quite all. You are going to want help when you make these. Beef and Mushroom Ravioli from scratch are not a one-person job. Not unless you have unlimited time on your hands, and really really enjoy repetitive actions. These ravioli are pretty easy to make, but very time consuming. The end result though? Totally worth it.
I had never worked with semolina flour before, and I'm so impressed. It is light and fluffy and makes your pasta so much better than using straight all-purpose. I love my soup noodles, for example, but not for a pasta meal. In soup they are amazing. With sauce? Not my style.
One thing I REALLY loved about these were how well the mushrooms blended into the beef.
---
All the PASTA RECIPES COMING YOUR WAY!
Easy Shrimp Scampi Pasta
Chicken and Zucchini Pasta Bake
Blackened Shrimp Pasta
Cheesy Broccoli Chicken Pasta
Baked Tortellini Recipe
---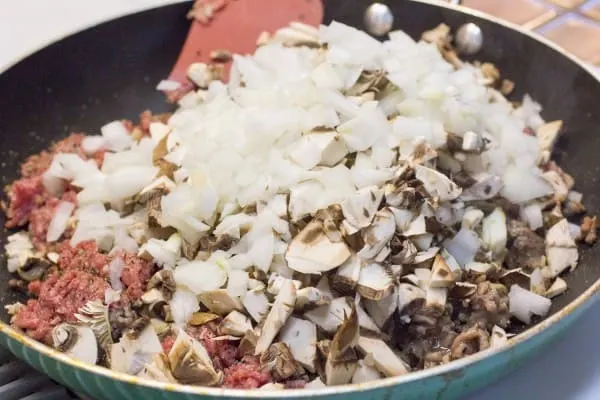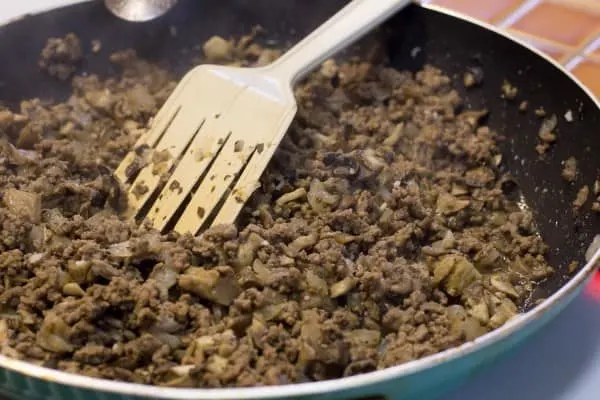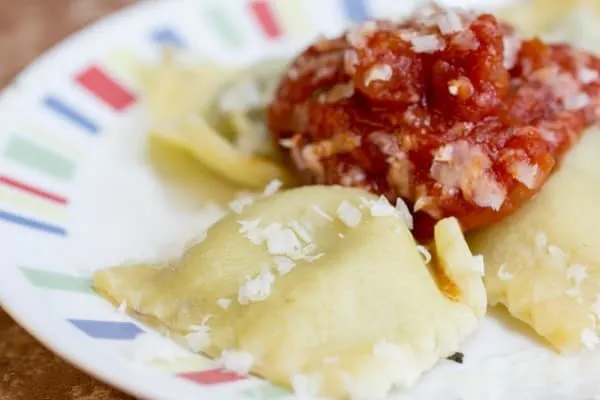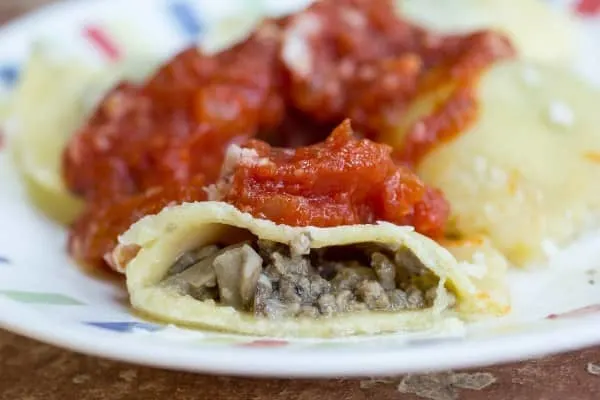 Yield: 10 servings
Beef and Mushroom Ravioli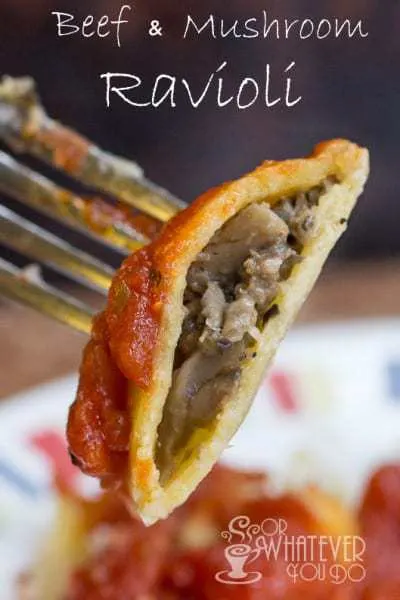 Hearty homemade beef & mushroom ravioli. Made-from-scratch dough is rolled out and filled with a hearty beef and mushroom filling. Top with a hearty marinara!
Prep Time
1 hour
30 minutes
Total Time
1 hour
33 minutes
Ingredients
Ravioli Dough
4 tablespoons water
4 tablespoons olive oil
4 eggs, beaten
1 teaspoon salt
2 1/2 cups semolina
~ 1/2 cup all purpose flour + more for dusting
Beef & Mushroom Filling
1/2 pound lean ground beef
3-4 cups chopped mushrooms
1/2 cup chopped onion
1/2 teaspoon chopped garlic
1/2 teaspoon salt
1/8 teaspoon pepper
1/8 teaspoon garlic powder
1/8 teaspoon onion powder
1/2 teaspoon basil
1/2 teaspoon oregano
1/2 teaspoon beef Better Than Bouillon
1/2 cup hot water
Instructions
Prepare Dough:
Whisk together water, olive oil, and eggs. Add semolina and salt to your mixer, and run briefly to combine. Add flours, and mix with your dough hook attached for 5 minutes, or until the dough is smooth and elastic. If the dough is still sticky, continue adding small amounts of all-purpose flour until a stiff dough is formed.
Wrap the dough in plastic wrap and let it rest for 30 minutes to an hour.
Prepare Filling:
In a medium pan over medium high heat, add beef, mushrooms, and onion to pan. Add seasonings. Brown well, stirring frequently. Drain off any excess fat. Dissolve Better Than Bouillon in hot water. Add to pan, and stir well. Cook beef until excess water cooks off. Remove from heat and let cool. Pulse briefly in a food processor to make into tiny chunks so the ravioli stuffs well.
Roll Out Ravioli:
Put on a large pan of water to boil.
Turn dough out onto a lightly floured surface, knead several times, and then roll out. Make sure to keep your dough and the surface well floured to prevent sticking.
Using a ravioli press as a guide, cut dough into sheets, and stuff ravioli according to your press instructions. Set out onto a parchment lined cookie sheet in a single layer until read to cook.
Once your water boils, turn down the heat to a slow simmer. These need to cook gently. Add to water and cook for 2-4 minutes. Remove with a slotted spoon, and serve immediately with your favorite sauce.
Nutrition Information:
Yield:
10
Serving Size:
1
Amount Per Serving:
Calories:

492
Total Fat:

19g
Saturated Fat:

6g
Trans Fat:

0g
Unsaturated Fat:

11g
Cholesterol:

103mg
Sodium:

524mg
Carbohydrates:

59g
Fiber:

7g
Sugar:

5g
Protein:

22g