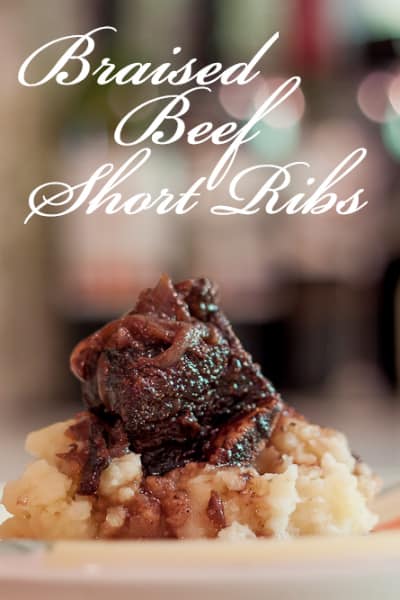 Good morning there Or Whatever You Do'ers! It is only 6:12 AM, but wouldn't you know it, I've been up for two hours already. 37 weeks 2 days pregnant. Guess my brain is getting me ready for the ultra early morning wake-ups I'm soon to be in for, huh?
These braised beef short ribs were hidden deep in my old unorganized filing system in my computer. I am so glad I found them for you today! This was one of the best meals I have ever had. Beef short ribs are the perfect meat to cook low and slow, but they turn out spoon tender, and the flavor is so amazing. I have a few packs in my freezer that I am going to have to pull out soon, even if it IS going to be 80 degrees today! Well, that is if I ever get the energy to have a clean kitchen and an actual hot MEAL on the table, ever again. It is looking doubtful at this point.
I've had browned butter sitting in my fridge begging me to bake a cake with it for going on a WEEK now. Still no motivation. No energy. By the time I get up, get ready, get the kids ready and off to school, get home, clean up, and have the actual TIME to bake or cook anything, I am ready to fall over. The end of pregnancy is so all-encompassing. WHEN will it happen. WHAT gender will this baby be? It is so exciting, and so amazing, and SO stressful! I'm trying to relax and enjoy it because more than likely at #5 this will be my last baby, last end of pregnancy EVER (*Cry*) , but that is much much easier said than done. The part of my brain that is ready to be done walking like an arthritic 87 year old, peeing every 15 minutes, and popping antacids like they are candy wants to actually SLAP the crap out of the other half of my brain telling me to be patient, and enjoy being a ginormous, impatient, cranky beast who is so miserable that I am actually looking forward to having a 7-9 pound baby come out of me. Most likely too fast for any real pain relief.
Have you had enough of the pregnancy updates and rants now? I have. On to the beef.
Start these by lightly seasoning your short ribs with your favorite seasonings, and then searing in a few tablespoons of vegetable oil over medium high heat. My "go-to" meat seasoning is pretty universal. Garlic powder. Onion powder. Salt. Pepper. Lawry's Seasoning Salt. Done.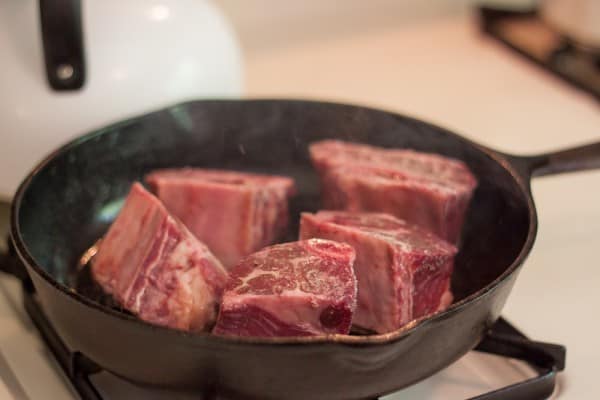 When the meat is browned on most sides, remove from the pan. Make sure you get good color on these. It really helps with the flavor of the end product. The key to a good sear is moving the meat as LITTLE as possible. A well-seasoned cast iron pan never hurt anything either.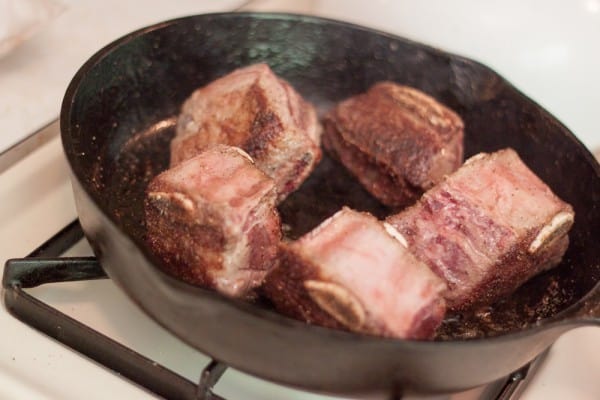 After you remove the meat, place it in an oven safe baking dish, and add 1 sliced onion to the pan. Cook over medium heat for 3-4 minutes, or until it is starting to get soft and translucent. Feel free to get crazy here and add in some mushrooms and carrots if you want to. Saute them with the onion. I didn't have any when I made this, so onion alone it was! Add your garlic and herbs. Stir constantly and cook for 1 minute. Add the beef broth and wine to the pan and simmer for 10 minutes, then pour over the meat in the baking dish.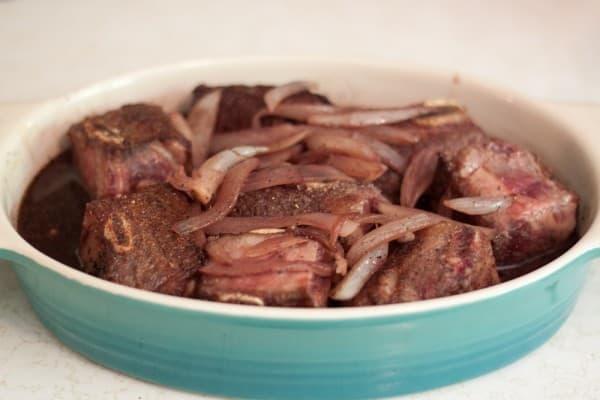 Bake tightly covered at 300 degrees for 2-3 hours, or until the meat is tender and falls off the bone when poked. The length of cooking time will vary depending on the thickness of your meat and your specific oven temperature. (Have you tested your oven temperature lately? You should!)
This photo below is before it was cooked in the oven.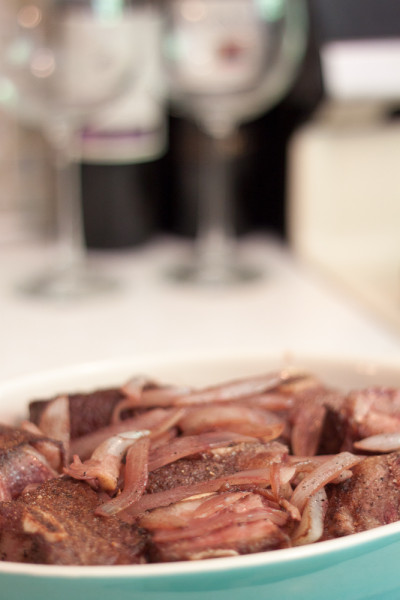 Serve your short ribs with mashed potatoes, and the pan drippings (spoon off the fat and simmer over medium heat to reduce if necessary).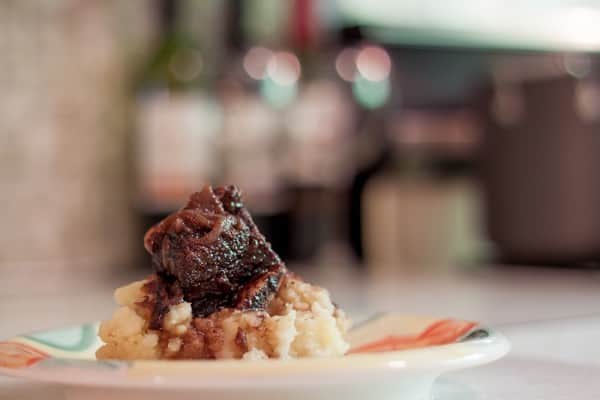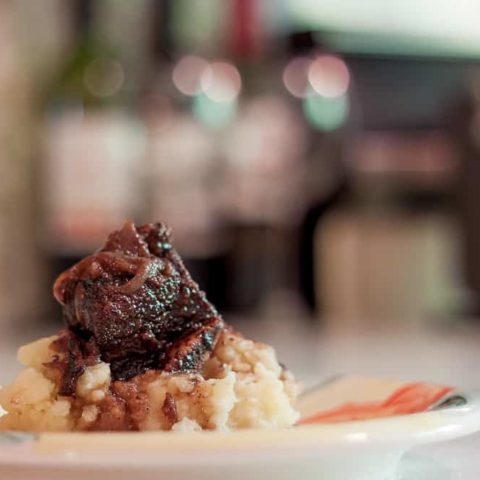 Braised Beef Short Ribs
Total Time:
3 hours
20 minutes
Decadent, tender, and juicy braised beef short ribs are going to be one of your new favorite dinner options. This recipe is not fast, but it IS easy and is something anyone can master.
Ingredients
6-8 short ribs
seasonings, to taste
3-4 tablespoons oil
1 medium onion, sliced
2 cloves garlic, crushed
2 cups red wine
2 cups beef broth
1/4 tsp thyme
3 tablespoons red wine vinegar
Instructions
Heat oil in a large cast iron pan, dutch oven, or non-stick skillet over medium high heat. Season meat well with salt, pepper, garlic powder, and onion powder. Sear each side until well-browned.
Remove from pan and place into baking dish (or place on a plate if using a dutch oven). Reduce heat to medium and saute onions until soft and translucent, 3-4 minutes. Add crushed garlic, saute for 1 minute. Add red wine, beef, broth, red wine vinegar, and thyme. Simmer over medium heat for 10 minutes.
Pour sauce over ribs, cover, and bake at 300 degrees for 2-3 hours, or until the meat is 'fall off the bone' tender. Skim fat off of the sauce, and serve ribs with mashed potatoes and sauce reduction.
Nutrition Information:
Yield:

6
Serving Size:

1
Amount Per Serving:
Calories:

510
Total Fat:

35g
Saturated Fat:

12g
Trans Fat:

2g
Unsaturated Fat:

22g
Cholesterol:

113mg
Sodium:

381mg
Carbohydrates:

4g
Fiber:

0g
Sugar:

1g
Protein:

30g
Nutrition data provided here is only an estimate. If you are tracking these things for medical purposes please consult an outside, trusted source. Thanks!
---
As always…
Thank You for looking! I LOVE comments. Use the comment form below to interact, or if you like what you see, and want to see more, please feel free to jump on over to my Facebook page and like me there. I post teasers for upcoming recipes, answer any and all of your questions, and every recipe from here gets linked to there as well.

If you are a pinterest fanatic like I am, you could also drop by and follow me there, and pinning my images is always appreciated!
Thanks for dropping by! Hope to see you again soon!
~Nicole~