This Banana Pudding Poke Cake is super easy, and such a crowd pleaser! One of our family favorites, for sure. Try it out and let me know what you think!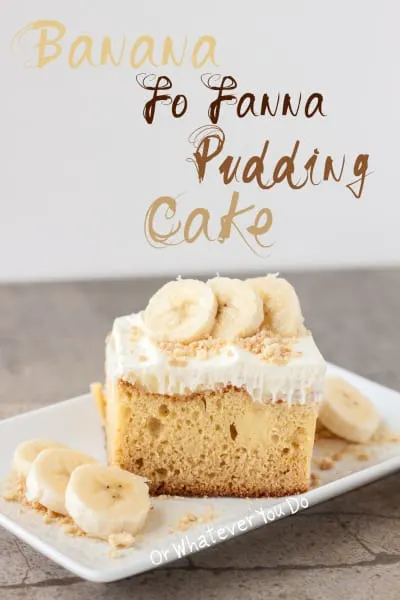 Banana Fo Fanna Pudding Poke Cake
For some odd reason, my two youngest boys have decided that one of their FAVORITE snacks is a sliced up banana, covered in milk, and then eaten with a spoon. They have deemed this a banana fo fanna. I mean, as far as snacks go it could definitely be worse, but it's weird, right? They are an odd bunch I'm raising here. They tell me they got the idea from Bubble Guppies, but who knows really where and how they come up with this stuff.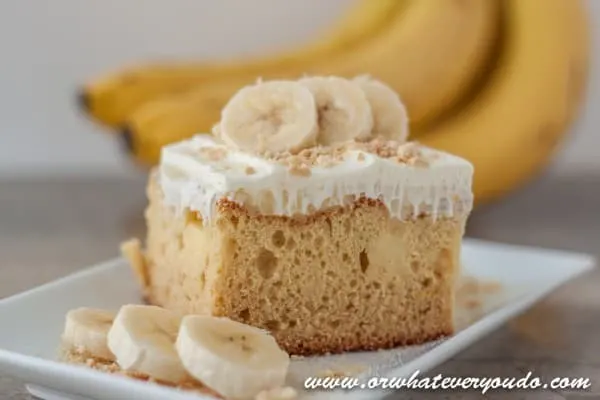 This banana fo fanna pudding cake is a little tribute to them. I haven't done all that many poke cakes beyond the better than anything cake. I went looking for ideas and specifics, and pretty quickly came across this one over at The Country Cook. Mine, beyond the pudding mix which probably makes the rest of this a moot point, forgoes the boxed cake mix and the Cool Whip, but if you want something incredibly simple I'm sure that version is awesome. She has a ton of great poke cake ideas over there if that's your thing! Check it out!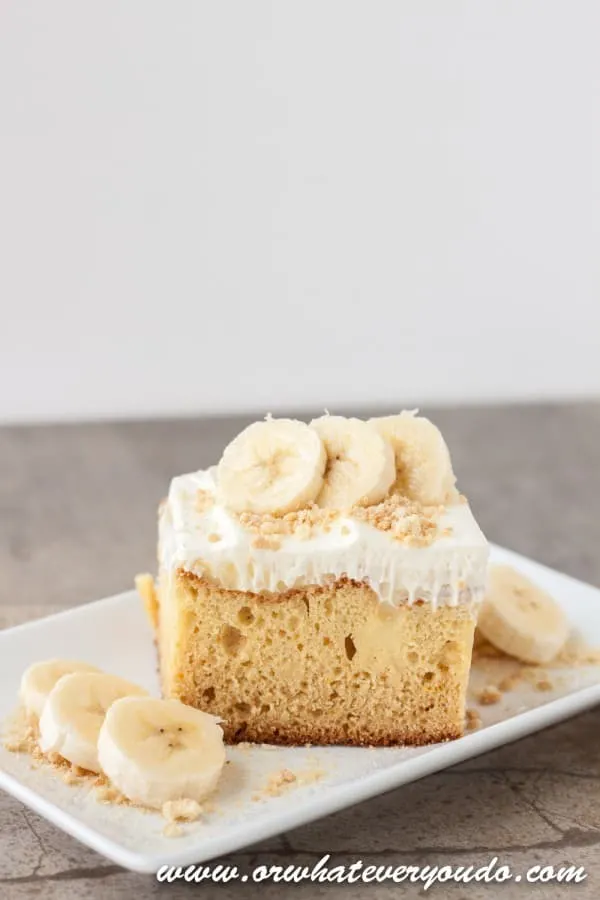 How to make banana poke cake
Start this version by mixing all your cake ingredients together for 3-5 minutes, until they are well combined. Pour into a greased and floured 10×13 inch pan, and bake at 350 until the top is golden brown and a tester comes out clean. As you can see from my photos, my cake went a few minutes too many and is overdone. Don't make the same mistake I did! I was playing Plants Vs. Zombies and got a little, ahhhh….distracted. 😉 The cake itself has a really really good flavor, and the texture was great too in the middle where I didn't cook the ever-loving-snot out of it.
Let it cool for 5-10 minutes and then poke a bunch of holes all over it.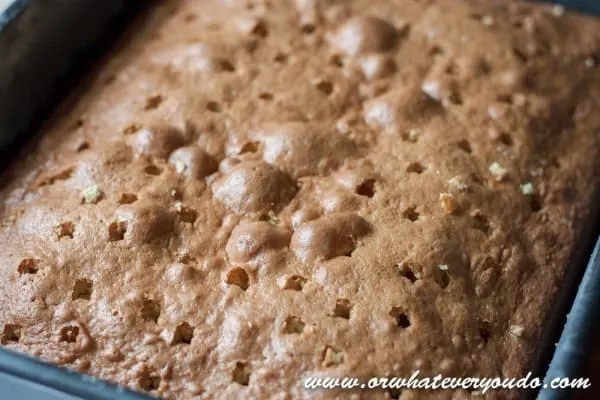 Prepare a large box of instant banana pudding according to the regular package directions (3 cups of cold milk to one large box of pudding), but instead of mixing the entire 5 minutes until it is thickened, mix for about 2-3 minutes so it's dissolved, but still very pourable. Pour it all over the cake and spread it around, making sure it gets into all those holes.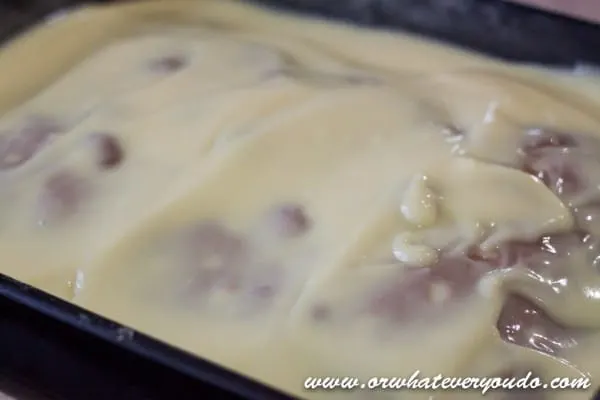 Chill the cake until it is cooled completely and the pudding is set. Next, whip up your cream and spread it all over the top. Crush your cookies, and garnish with the crushed cookies and sliced banana.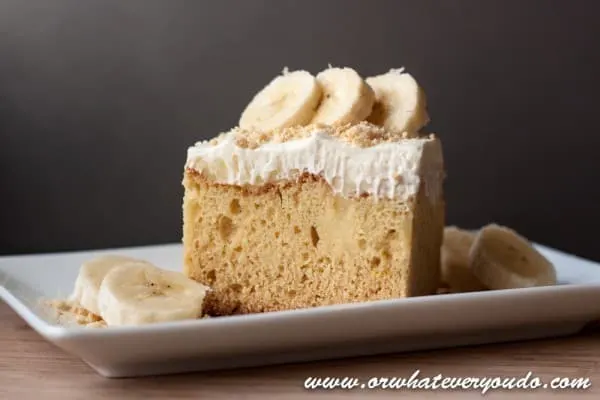 Hungry for more? Check out these other awesome cakes here on Or Whatever You Do!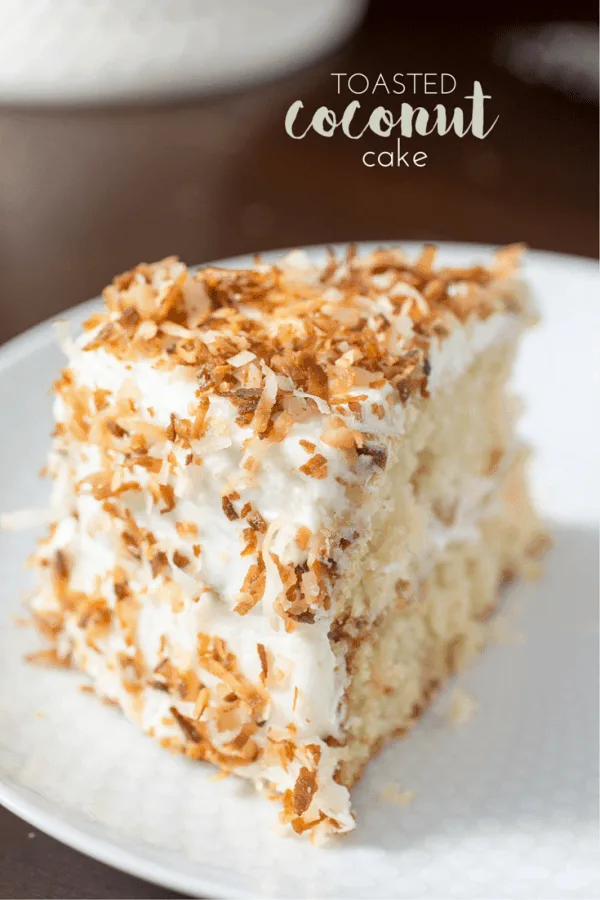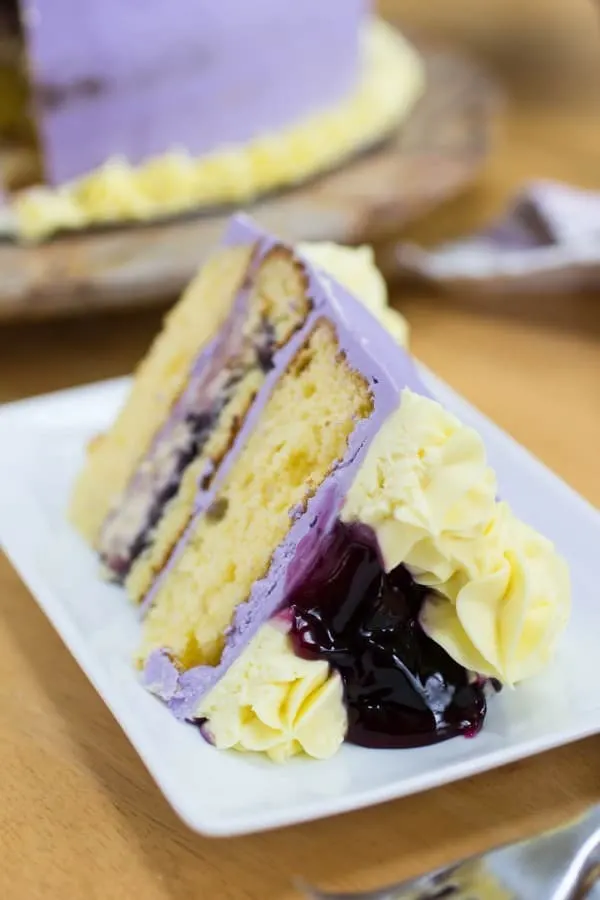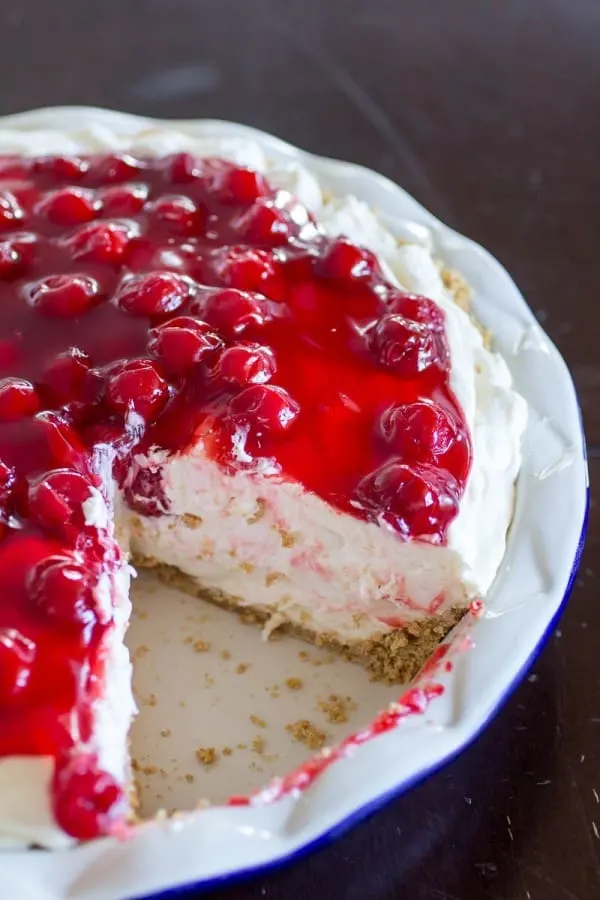 No-Bake Cherry Cheesecake Fluff Pie
Yield: 12 servings
Banana Fo Fanna Pudding Cake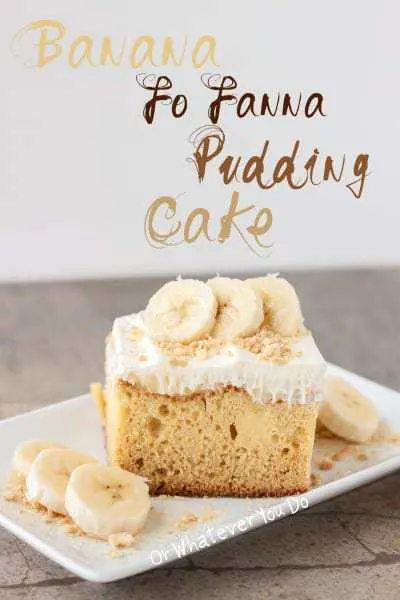 Easy and yummy pudding poke cake featuring bananas, pudding mix, whipped cream, and toasted coconut. A family favorite!
Ingredients
Cake:
2 c all-purpose flour
1 tsp baking powder
1 tsp baking soda
1 cup sugar
1 small package instant vanilla pudding, 3 1/8 oz.
1 cup sour cream
4 lg eggs, beaten
1/2 cups canola oil
2 tsp vanilla
Toppings:
1 large box instant banana cream pudding
3 cups cold milk
Whipped Cream:
1.5 cups heavy whipping cream
1/2 cup powdered sugar, or to taste
1/2 tsp vanilla
Garnish:
crushed Girl Scout Shortbreads or Nilla Wafers
fresh sliced bananas
Instructions
Preheat oven to 350 degrees. Prep a 10x13 pan by buttering and flouring, or using baking spray.
Put the flour, baking powder, baking soda, sugar, vanilla pudding, sour cream, eggs, oil, and vanilla in a large bowl. Mix for 3-5 minutes. Pour into prepared pan and bake for 35-40 minutes, or until the top is golden brown and a tester comes out clean.
Let cool for 5-10 minutes, and then poke holes all over the cake with the bottom of a wooden spoon. Mix large box of instant banana cream pudding with milk with a whisk for 2-3 minutes, or until the pudding mix is fully dissolved, but the pudding is still very pourable. Pour all over the cake, making sure it gets into all the holes.
Chill cake until fully cooled and pudding has set, about 15-20 minutes.
Whip cream, powdered sugar, and vanilla until stiff peaks form. Spread on the top of the cake. Garnish with crushed cookies and fresh sliced banana. Serve immediately.
Nutrition Information:
Yield:
12
Serving Size:
1
Amount Per Serving:
Calories:

494
Total Fat:

28g
Saturated Fat:

12g
Trans Fat:

1g
Unsaturated Fat:

15g
Cholesterol:

112mg
Sodium:

273mg
Carbohydrates:

52g
Fiber:

1g
Sugar:

29g
Protein:

8g