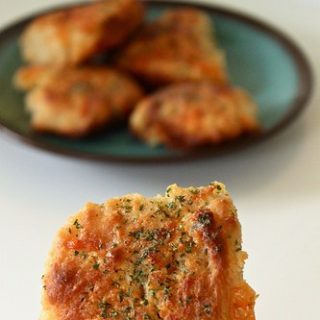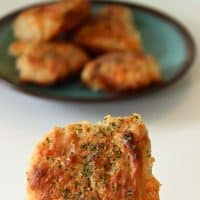 Cheesy Garlic Drop Biscuits
Cheesy cheddar garlic drop biscuits that rival any major seafood chain's biscuits! Made from scratch. Control the ingredients, control the flavor.
Ingredients
2.5 cups bread flour
1 TBSP baking powder
1.5 tsp sugar
1/2 tsp cream of tartar
1/2 tsp salt
1/8 tsp cayenne pepper
1/2 tsp garlic powder
1 stick butter, softened
1 1/2 cups sharp cheddar cheese, shredded
1/2 cup sour cream
1 1/4 cup milk
1 stick butter
1 tsp garlic powder
1 tsp parsley
1/4 tsp salt
Instructions
Put flour, baking powder, sugar, cream of tartar, salt, cayenne pepper, and garlic powder into a mixing bowl and stir until combined.
Add the softened butter and cut into flour mixture with a pastry blender, two forks, or your hands. Leave some lumps!
Add in sour cream, cheddar cheese, and milk. Stir until the dry ingredients are moistened. Don't overmix!
Melt 1 stick of butter and add 1 tsp garlic powder, parsley, and salt. Place spoonfuls of dough mixture onto a prepped baking sheet with sides. Spoon 1/2 of melted butter mixture over biscuits.
Bake at 450 degrees for 18-20 minutes. Pull them out when the biscuits are golden brown. Spoon the rest of the butter mixture over the baked biscuits.