You've gotta try our Smoked Corned Beef Hash recipe – it's a game changer, with crispy potatoes, caramelized onions, and that irresistible smoky flavor all cooked up on a griddle!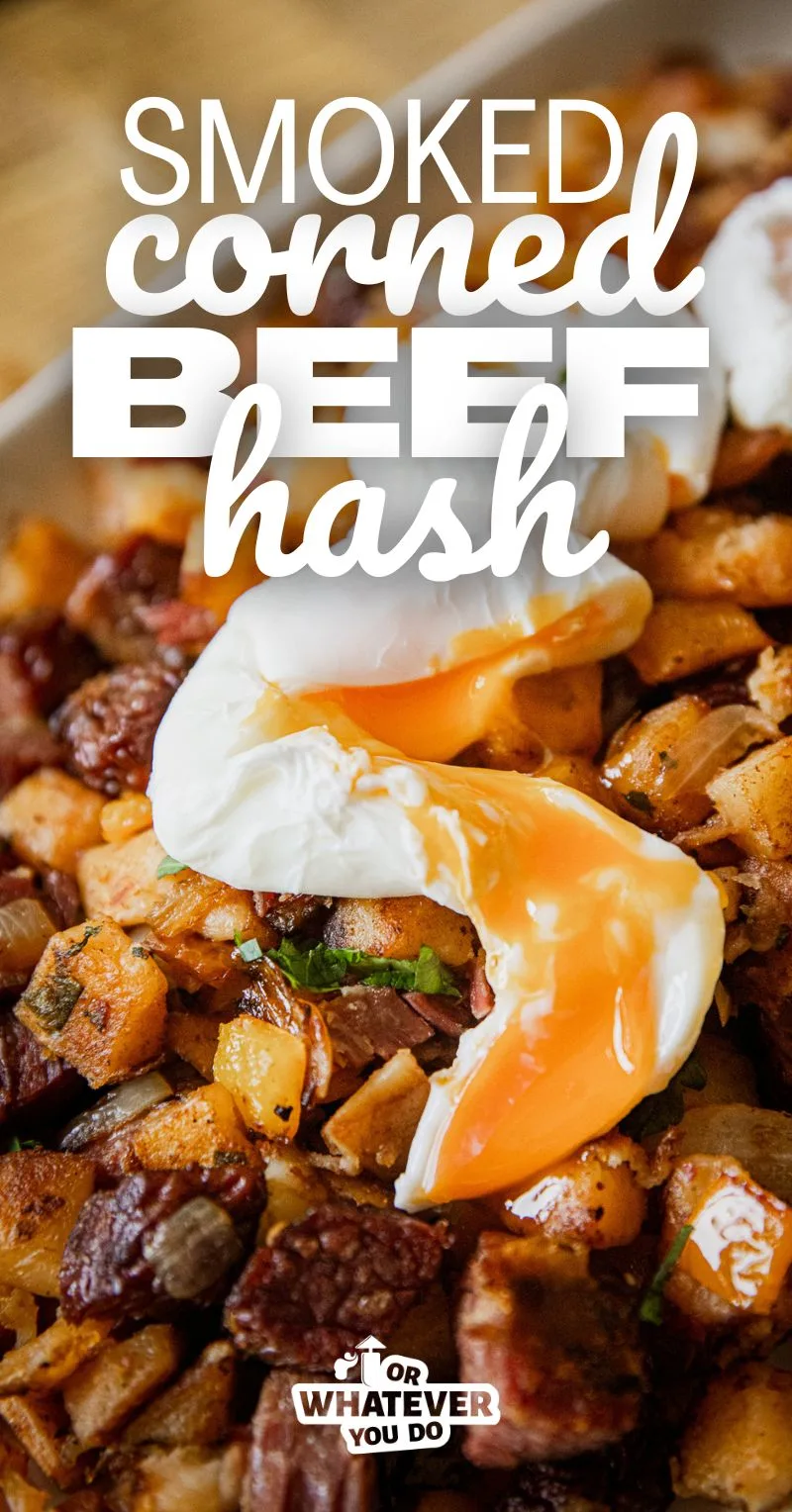 Smoked Corned Beef Hash on the Blackstone
There's nothing quite like the comforting aroma of smoked corned beef hash sizzling on a hot griddle, filling your kitchen with the promise of a mouthwatering meal. This delectable recipe takes a beloved classic to new heights by infusing it with the smoky flavors of corned beef and caramelized onions, complemented perfectly by tender potatoes and a touch of fresh herbs.
Whether you're craving a hearty breakfast or seeking a satisfying dish to share with friends and family, this smoked corned beef hash cooked on the griddle is sure to become an instant favorite in your home, and the perfect way to use up that leftover Smoked Beer-Braised Corned Beef too!
Where does corned beef come from?
Corned beef hash has a fascinating history that can be traced back to the 18th century in England and Ireland, where corned beef was a popular dish due to the availability of salted beef.
The word "corned" comes from the large grains of salt, known as "corns," used to preserve the meat.
Over the years, the dish has evolved and spread across the globe, taking on new forms and flavors as it's adapted to local tastes. In the United States, for example, corned beef hash gained popularity during World War II as a way to make the most of limited rations.
Today, this hearty dish can be found in various forms, from the traditional Irish-American version served with cabbage to the modern twist of smoked corned beef hash cooked on a griddle.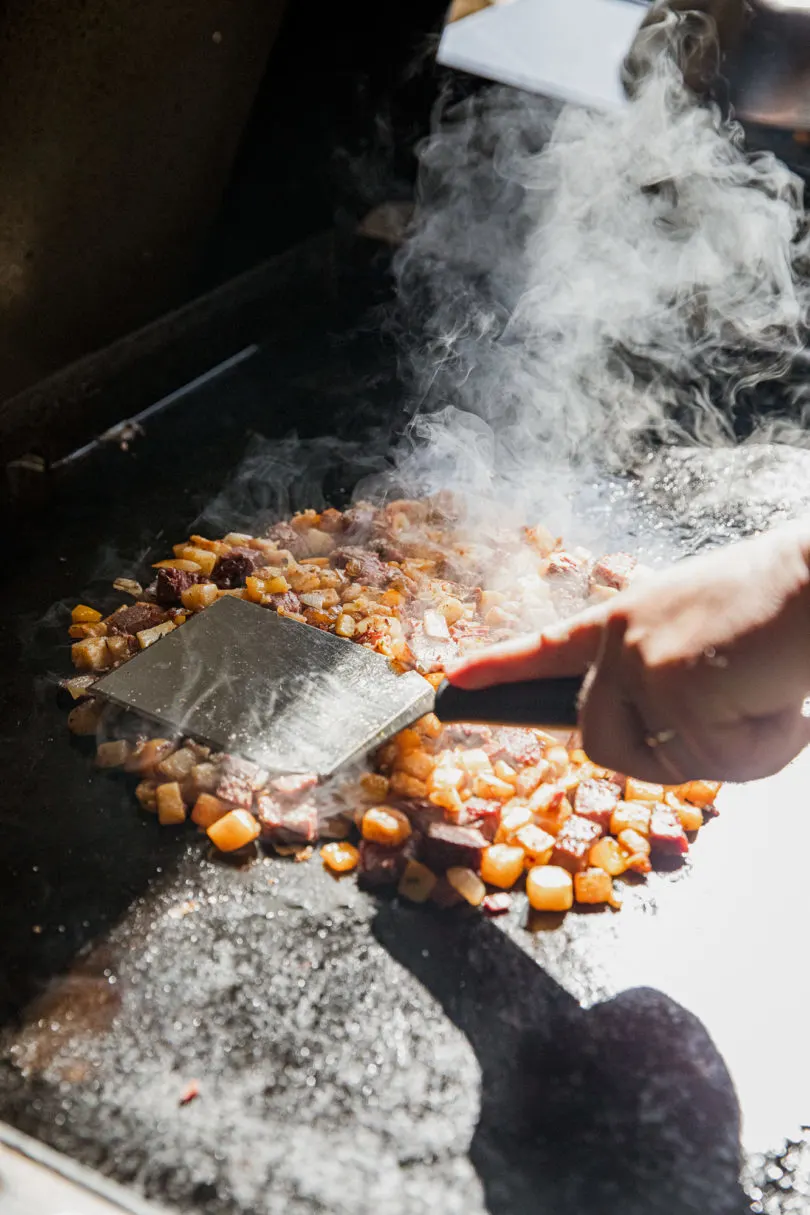 Smoked Corned Beef Hash shopping list
Wondering if you have to hit the store? Here's the list of items you'll need to make this recipe. For specific amounts, please refer to the printable recipe card at the bottom of the post.
potatoes (frozen is fine)
oil
salt
onion powder
paprika
granulated garlic
cracked black pepper
butter
onion
bell pepper
cooked corned beef
eggs
fresh parsley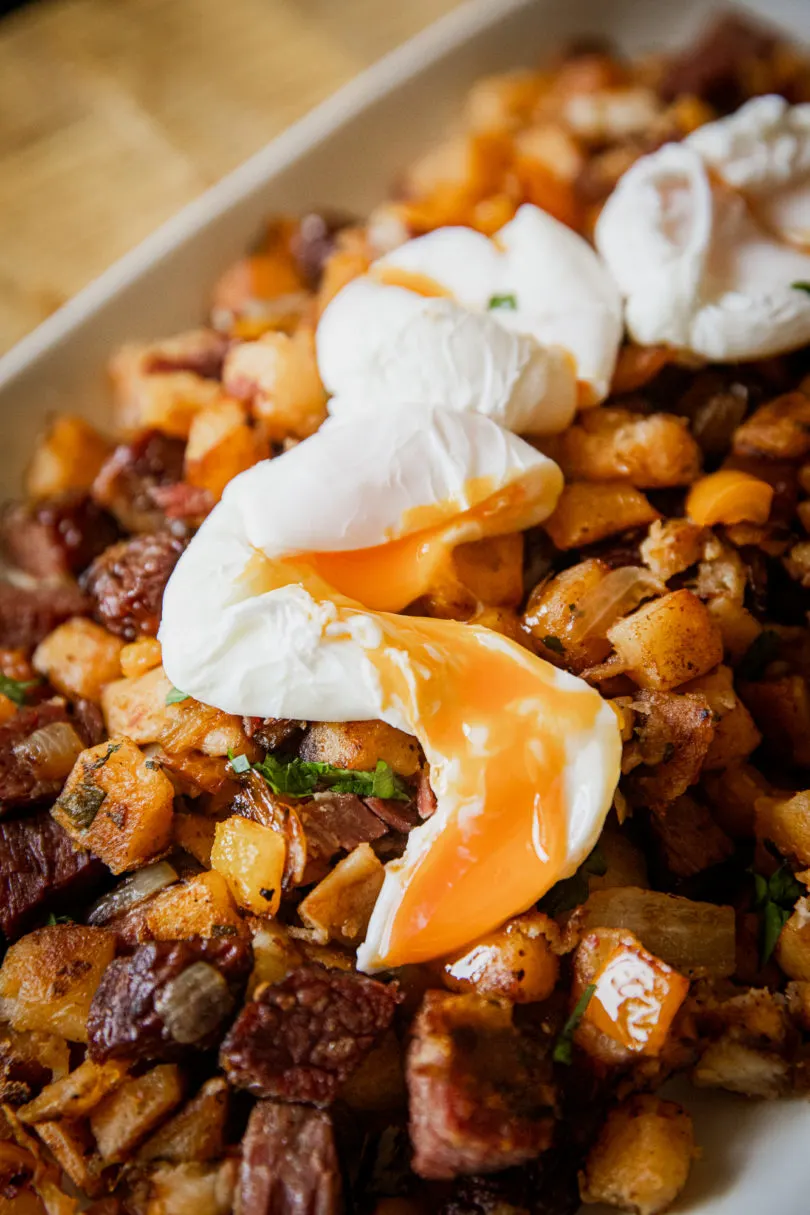 How to make Corned Beef Hash on the griddle
This is just the overview so you can see what you're actually getting into here. When you are cooking, you'll want to use the full recipe at the bottom of the page.
Preheat & Prep
Fire up your gas griddle or get that cast iron pan preheating on the stovetop over medium to medium-high heat. Let it heat up all the way, and lay down a thin layer of oil once it is preheated.
Mix the potatoes with the oil and seasonings.
Cook potatoes
Put the potatoes down on the griddle surface. Put some butter on top and cover. Brown at least two sides of the potatoes.
Cook the rest
Put the onions and bell pepper down and cook until soft and starting to brown.
Put the cubed corned beef on the griddle and let it get browned and warm through.
Mix it up
Mix it all together on the griddle and let it meld.
Poach & Enjoy
Poach some eggs and blop them on top. Enjoy hot!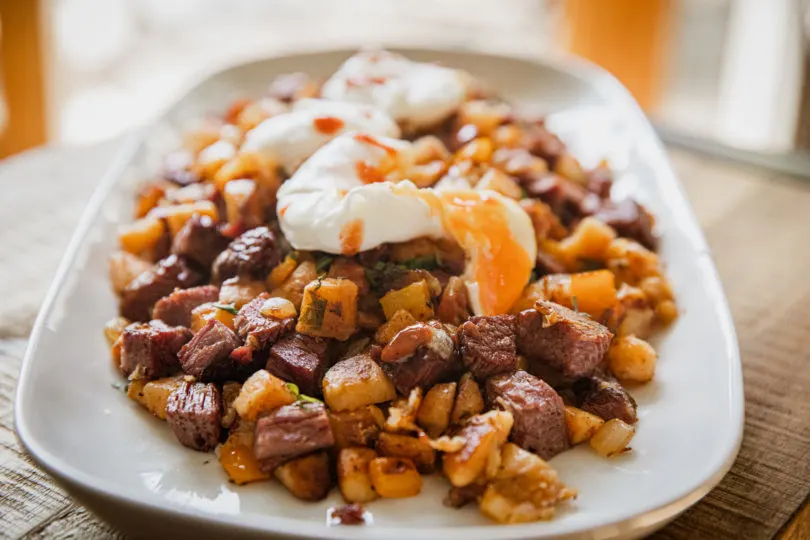 Corned Beef Hash FAQ
Can I make this recipe without a griddle?
Yes, you can use a large non-stick skillet or a cast-iron pan instead of a griddle. Just make sure to heat it evenly and adjust the cooking time as needed.
Can I make this smoked corned beef hash recipe ahead of time and reheat it later?
Yes, you can prepare the hash and store it in an airtight container in the refrigerator for up to 3 days. To reheat, simply warm it up in a skillet over medium heat, stirring occasionally until heated through
What are some additional mix-ins you can add?
There are plenty of delicious add-ins that you can incorporate into your smoked corned beef hash to give it a unique twist or boost the flavor:
Vegetables: Add diced jalapeño, zucchini, cherry tomatoes, or kale for extra color and nutrition.
Cheese: Sprinkle in some grated cheddar, Swiss, or pepper jack cheese during the last few minutes of cooking for a gooey, cheesy finish.
Spices: Add a kick with a dash of cayenne pepper or hot sauce, or experiment with different spices or your favorite bbq rub.
Fresh herbs: Mix in chopped parsley, cilantro, chives, or dill for a burst of freshness.
Protein: Stir in some cooked and crumbled bacon, sausage, or even diced ham for additional protein and flavor.
Eggs: We used poached eggs on top, but you can also create wells in the hash and crack eggs into them, then cover and cook until the eggs are perfect.
Avocado: Top your hash with sliced avocado or a dollop of guacamole for a creamy, healthy fat boost.
Salsa or hot sauce: Serve your smoked corned beef hash with a side of your favorite salsa or hot sauce for added heat and flavor.
Pickled vegetables: Add some tanginess by topping your hash with pickled jalapeños, banana peppers, or even sauerkraut.
Feel free to mix and match these add-ins to create your own personalized version of smoked corned beef hash!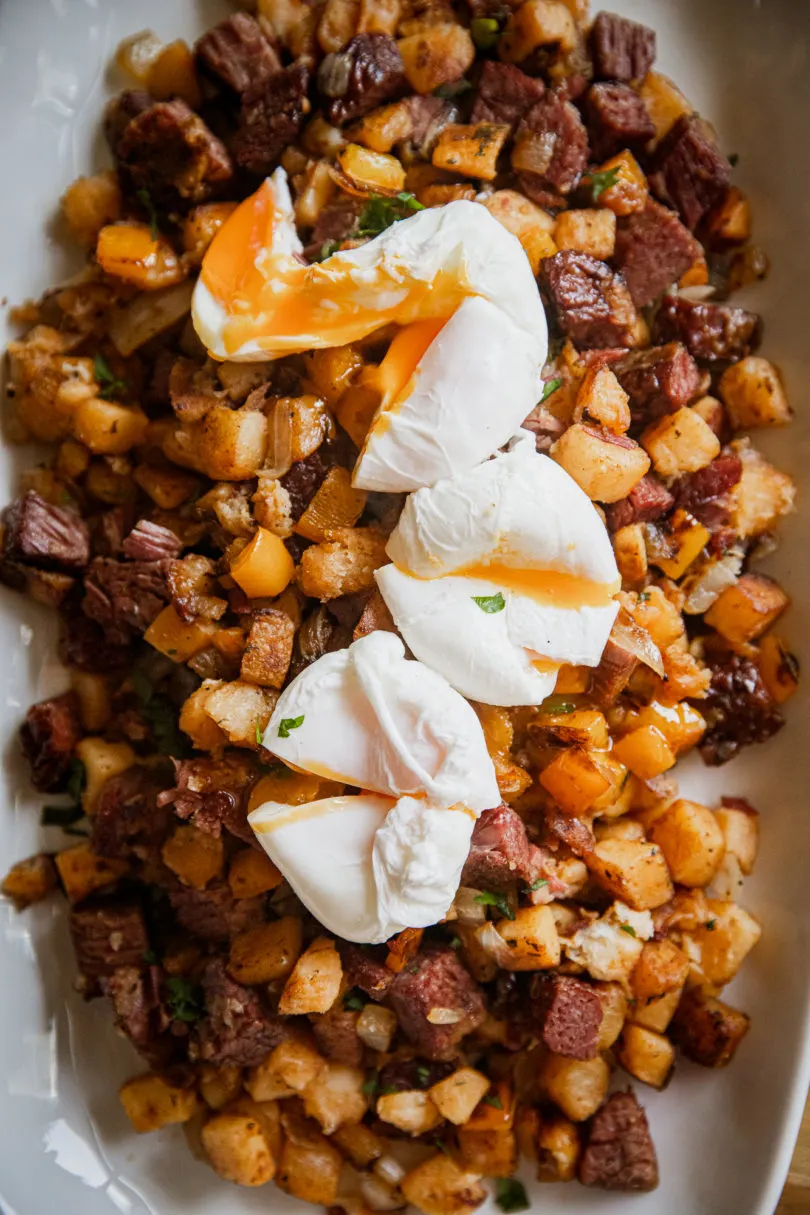 More great recipes to love!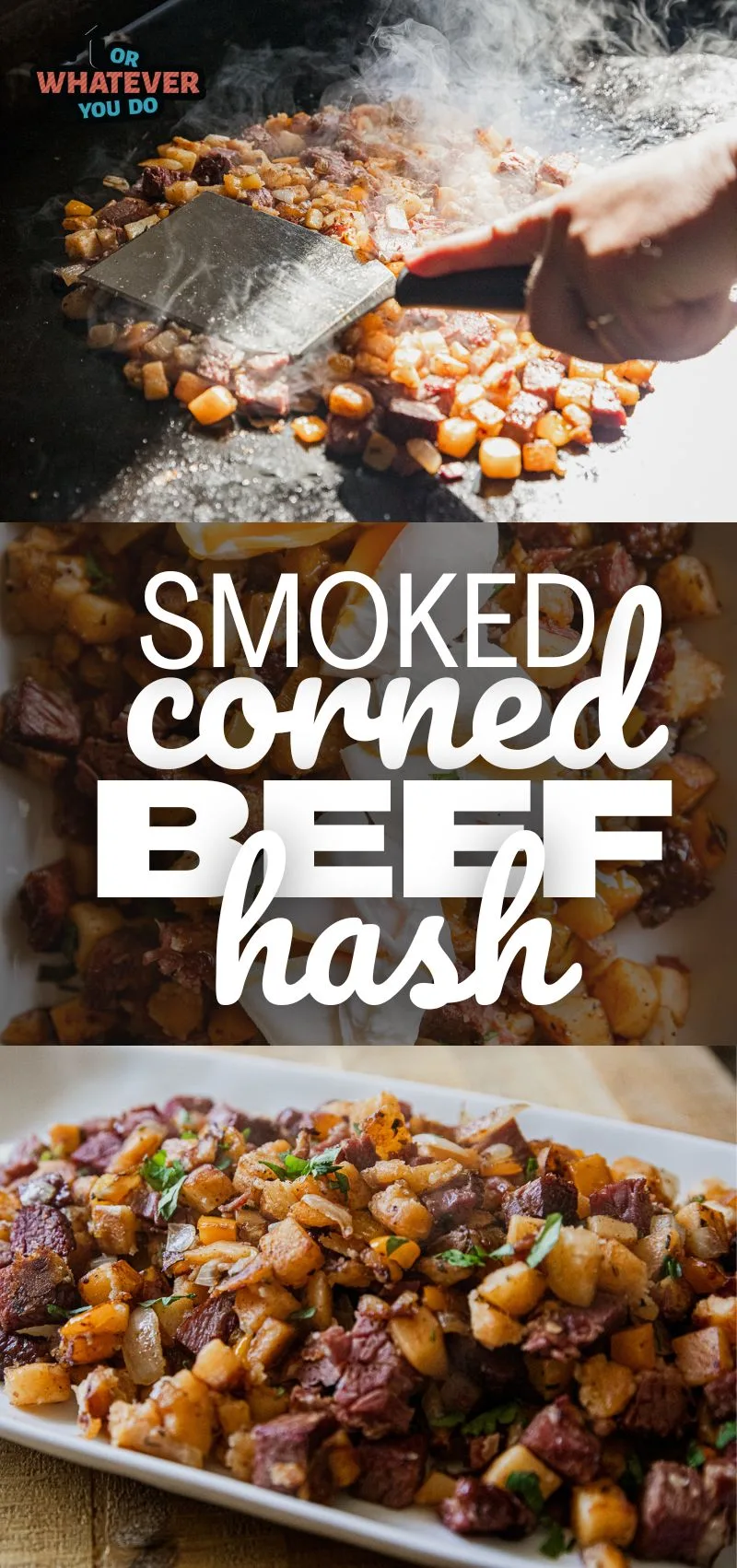 Yield: 6 servings
Smoked Corned Beef Hash on the Griddle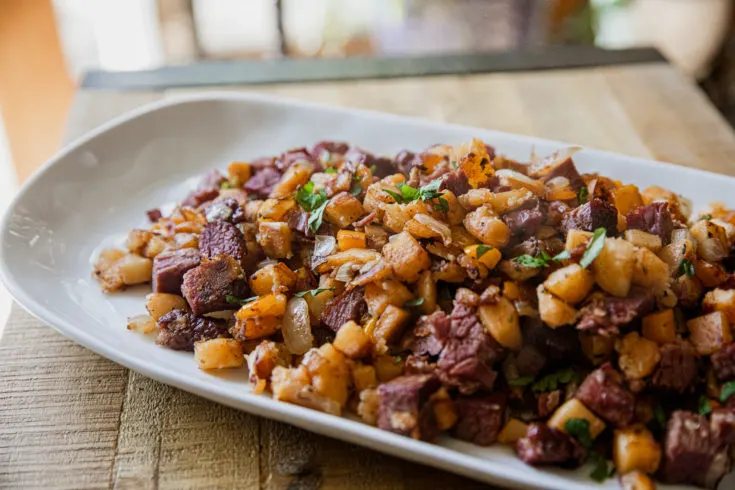 Tender smoked and braised corned beef are the star of this breakfast's show! Get our recipe for the tastiest hangover cure you've ever had.
Ingredients
4 cups diced potatoes (frozen is fine)
3 tablespoons oil
1/4 teaspoon salt
1/2 teaspoon onion powder
1/2 teaspoon paprika
1/4 teaspoon granulated garlic
1/4 teaspoon cracked black pepper
4 tablespoons butter
2/3 cup chopped onion
2/3 cup chopped bell pepper
2 cups cubed corned beef
4 poached eggs
1 tablespoon chopped fresh parsley
Instructions
Preheat your gas griddle (or cast iron pan on the stovetop) over medium-high heat. Let it get nice and hot! A big outdoor gas griddle will take ALL of 10 minutes to fully preheat. Don't rush it!
Toss the diced potatoes in the oil and seasonings.
Pour the potatoes out onto a lightly oiled griddle, place a tablespoon of butter on the top of the potatoes, cover with a dome, and let cook for 3-5 minutes.
Check the potatoes and if they are browned on the bottom flip. If not, continue cooking until they are lightly browned.
On the other part of the griddle (or in another cast iron pan), brush a light coating of oil on it and then lay down the onion and bell pepper. Add some more butter too for good measure. Cook the onions and bell peppers, stirring frequently, until they are softened and starting to get lightly browned.
During the last few minutes of cooking the potatoes, put down some more butter and the corned beef near the potatoes. Heat until everything is warmed through, flipping as needed.
Once the potatoes are fully cooked and browned, mix together the onions and corned beef with the potatoes. Turn the griddle down to low, cover, and cook the eggs. You can fry or poach them, depending on what you prefer.
Sprinkle some parsley on top before serving. Salt to taste. How much total you'll need depends on your personal preferences, what kind of potatoes you use, and how salty the corned beef is.
Recommended Products
As an Amazon Associate and member of other affiliate programs, I earn from qualifying purchases.
Nutrition Information:
Yield:
6
Serving Size:
1
Amount Per Serving:
Calories:

487
Total Fat:

32g
Saturated Fat:

11g
Trans Fat:

0g
Unsaturated Fat:

18g
Cholesterol:

218mg
Sodium:

996mg
Carbohydrates:

28g
Fiber:

3g
Sugar:

3g
Protein:

21g
Nutrition data provided here is only an estimate.