Our Smoked Butter Chicken takes tender, boneless, skinless chicken thighs and then we marinate them in Butter Chicken sauce before getting smoked on the pellet grill and then finished off in the simmer sauce right on the grill! Served with garlic naan and steamed basmati rice.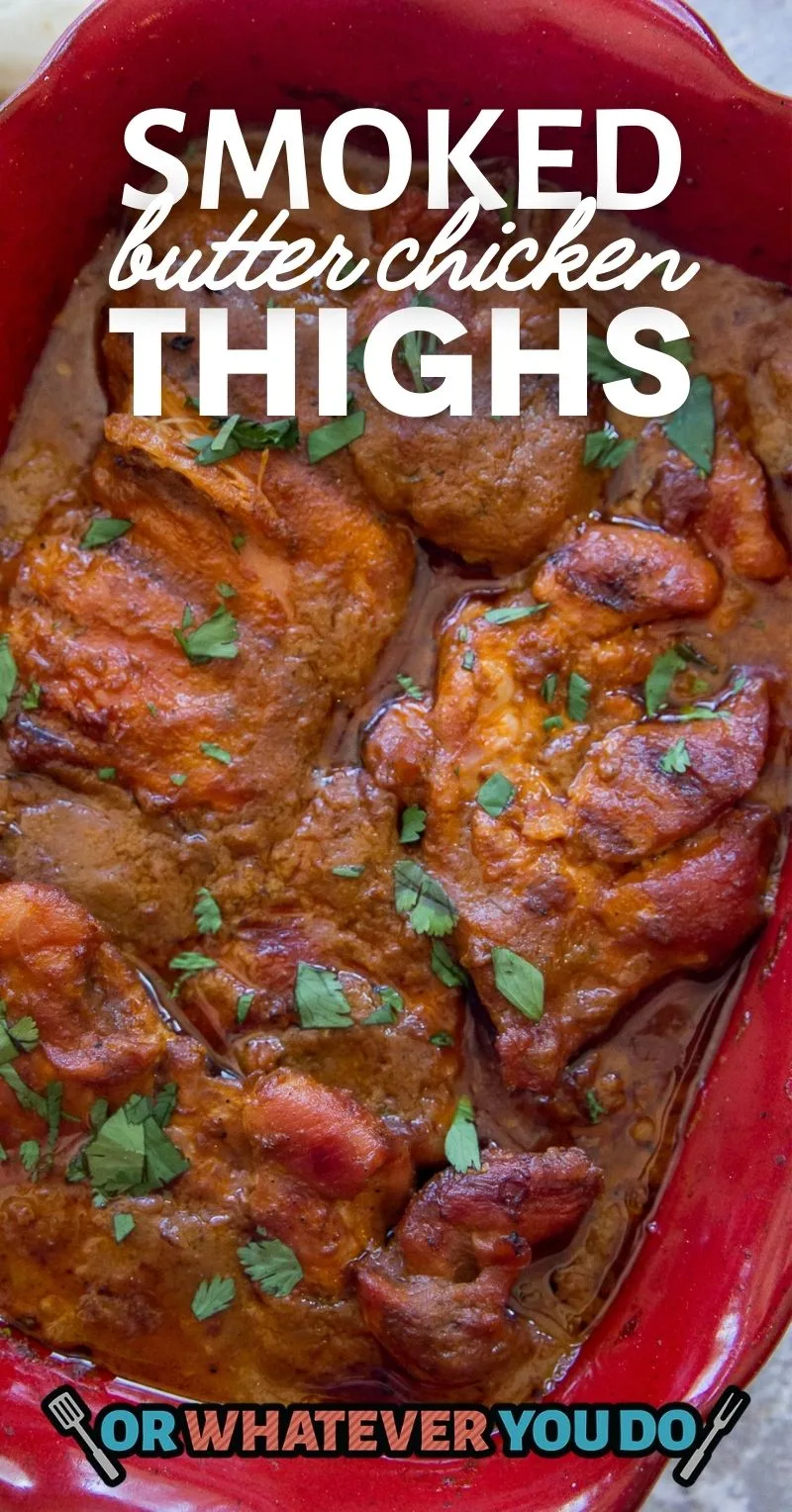 Pellet Grill Butter Chicken
Butter chicken is something I came to late in life. Really late in life. We're talking…LATE 30's, people. Over 30 years of my life went by with me over here mistakenly thinking that Indian food just wasn't for me.
I don't really know what led me down that dark, incorrect path (I mean – the lack of access to anything resembling decent Indian food until I was in my late 30's didn't help, but I digress,) but either way, I'm glad the people in my life that care about me stuck with me through all of my "I hate Indian food" days until I saw the light.
Now – this is NOT pretending to be "authentic" by any stretch of the imagination. I definitely used a jarred sauce for this and I'm not even sorry.
Jeremiah is our resident supertaster and spice master. That is not me, folks. I love salt and garlic and spaghetti, and what order I love them in depends on my mood, what phase the moon is in, and whether or not I got enough sun and/or attention that day.
If you happen to have a talent for spice or the ability to follow a recipe, I highly suggest stretching those culinary legs and making the sauce yourself. By any stretch of the imagination, this is one of those sauces that is 100% better when you make it as opposed to buy it, but also – see above. If it is a matter of not eating it at all or using some jarred sauce? Pop that jar open.
If you want to make your own sauce, here are a couple of great recipe options!
Get all of my Easy Traeger Recipes here!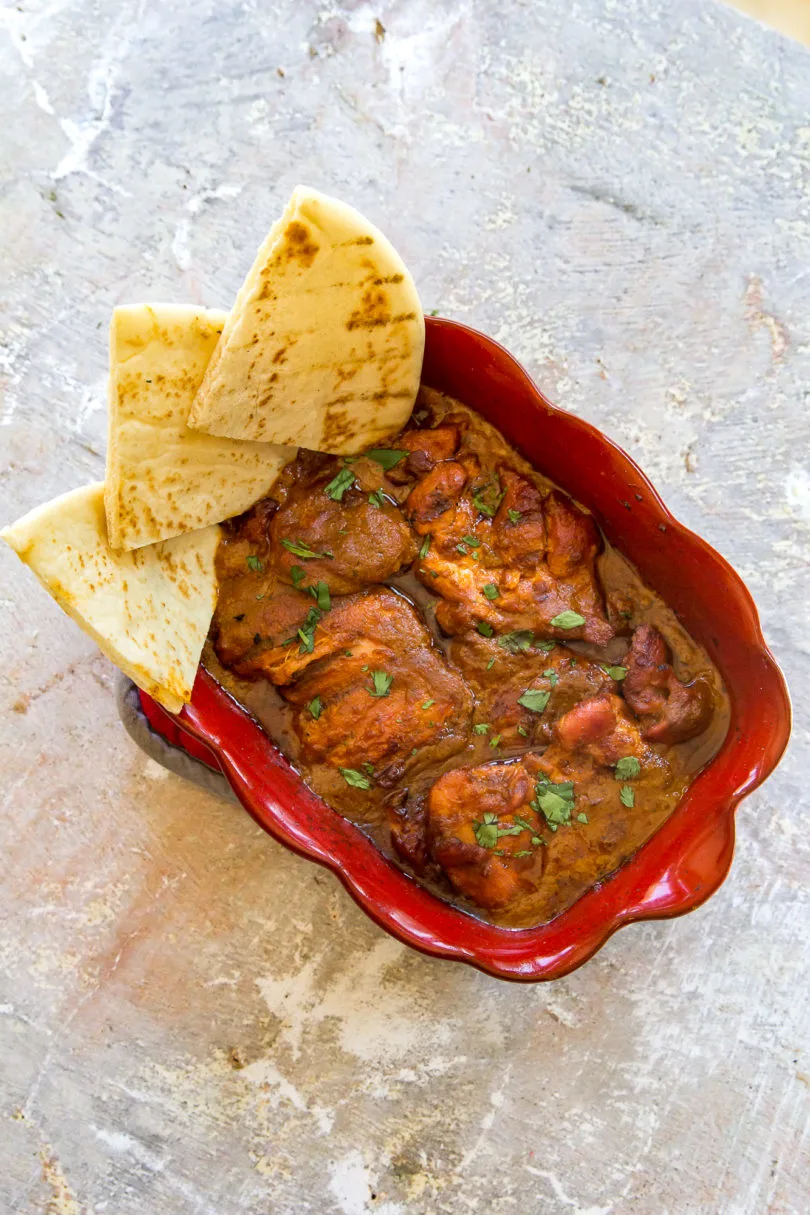 Smoked Butter Chicken shopping list
Wondering if you have to hit the store? Here's the list of items you'll need to make this recipe. For specific amounts, please refer to the printable recipe card at the bottom of the post.
chicken thighs
butter chicken sauce
salt & pepper
cilantro
basmati rice
garlic naan
See all of my chicken recipes!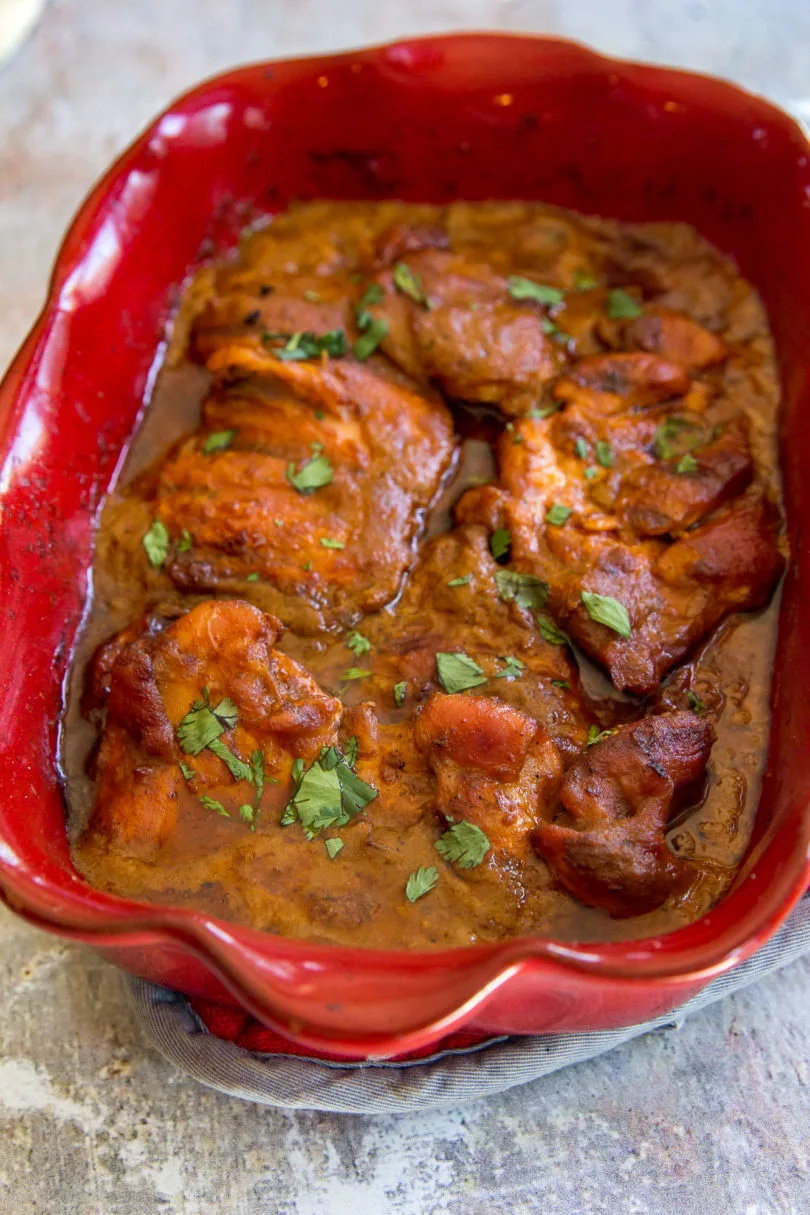 How to make Indian-style Butter Chicken on the Traeger
This is just the overview so you can see what you're actually getting into here. When you are cooking, you'll want to use the full recipe at the bottom of the page.
Marinate
Don't skip this part. It adds a ton to the flavor of the final result!
Sauce it
The chicken goes into a grill-safe baking dish and gets sauced with your choice of Indian Butter Chicken sauces. Homemade is best, but I won't judge. 😉
Serve
You'll want naan and rice with this, for sure. Also, unless you are a soap-taster – bring out the cilantro!
More Easy Traeger Chicken Recipes here!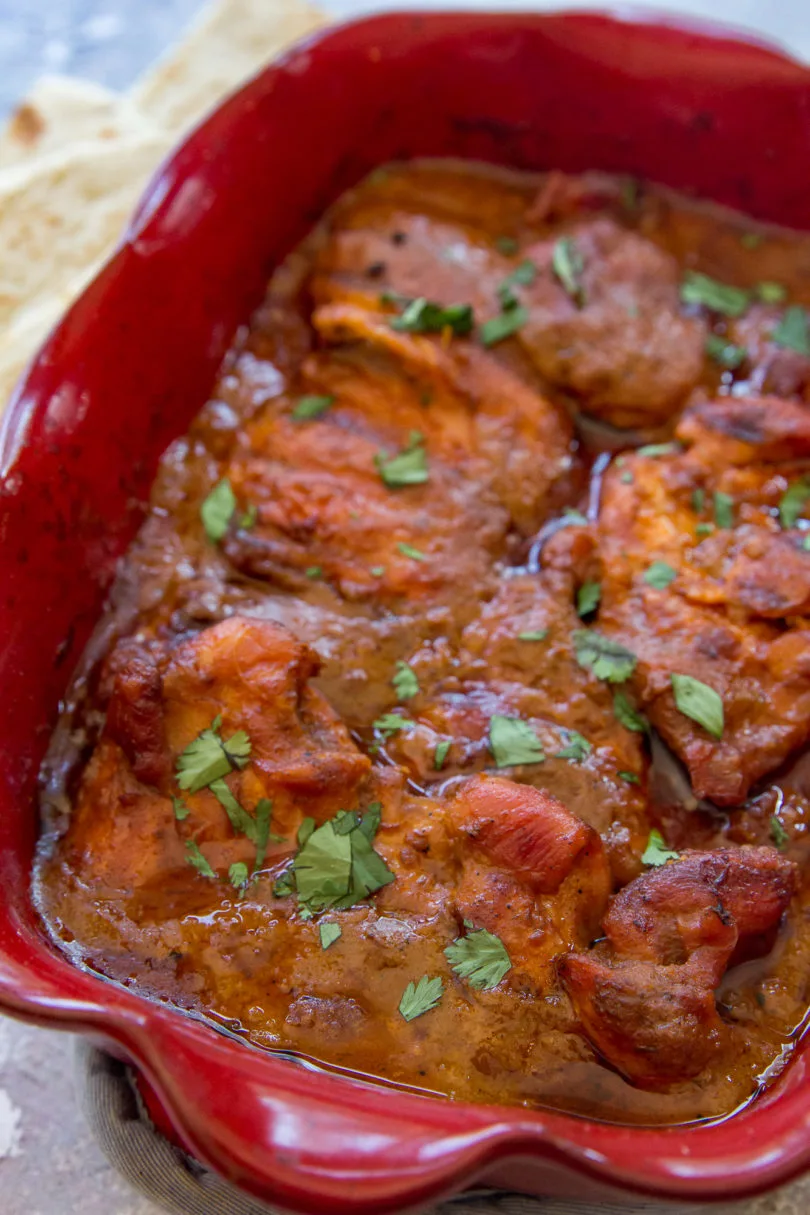 What should you serve with Butter Chicken?
My favorite way to serve butter chicken is with a big, warm pile of garlic naan. You can buy it at most stores now days, but I highly suggest giving a homemade version a try! This recipe for Homemade Garlic Naan from Cooking with Manali.
Another great (and easy) side with butter chicken is steamed basmati rice.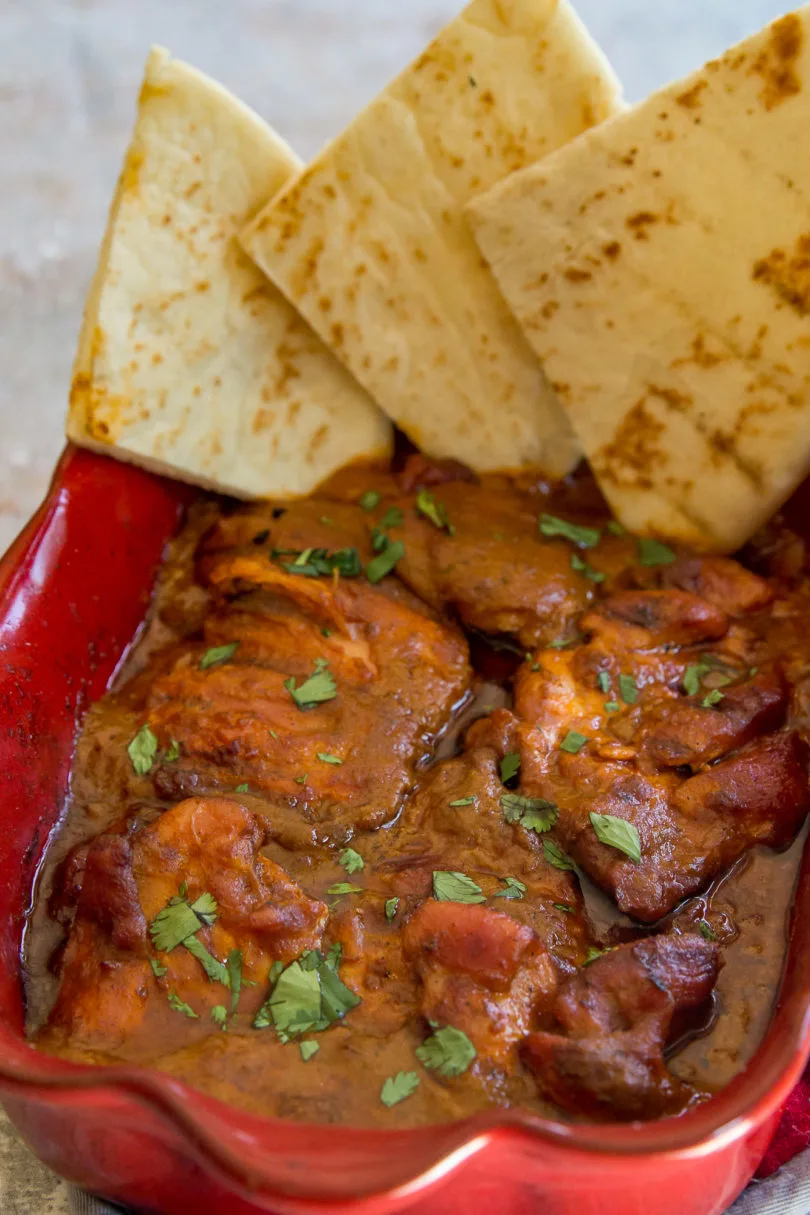 Smoked Butter Chicken FAQ
Can you use chicken breast instead of thighs?
You CAN, but that doesn't mean you should. Chicken thighs are much easier to cook and keep moist and tender than breasts are, so choose your adventure wisely.
How do you store leftovers?
This dish is perfect for leftovers. Store in an airtight container for up to three days for the best result, and store it separately from the rice and naan.
How do you reheat leftover butter chicken?
The microwave is the best and easiest way to reheat these leftovers. Just take care not to overdo it too much. You want the food hot and steaming but not cooked to death either.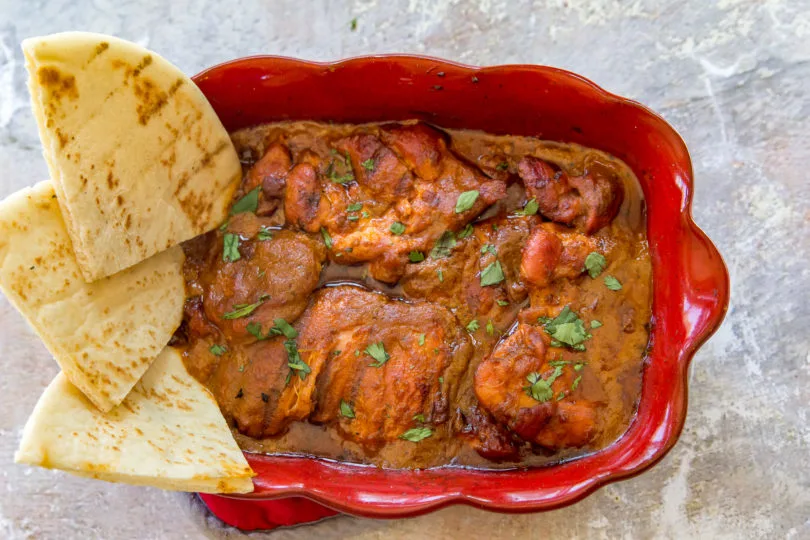 More recipes to love!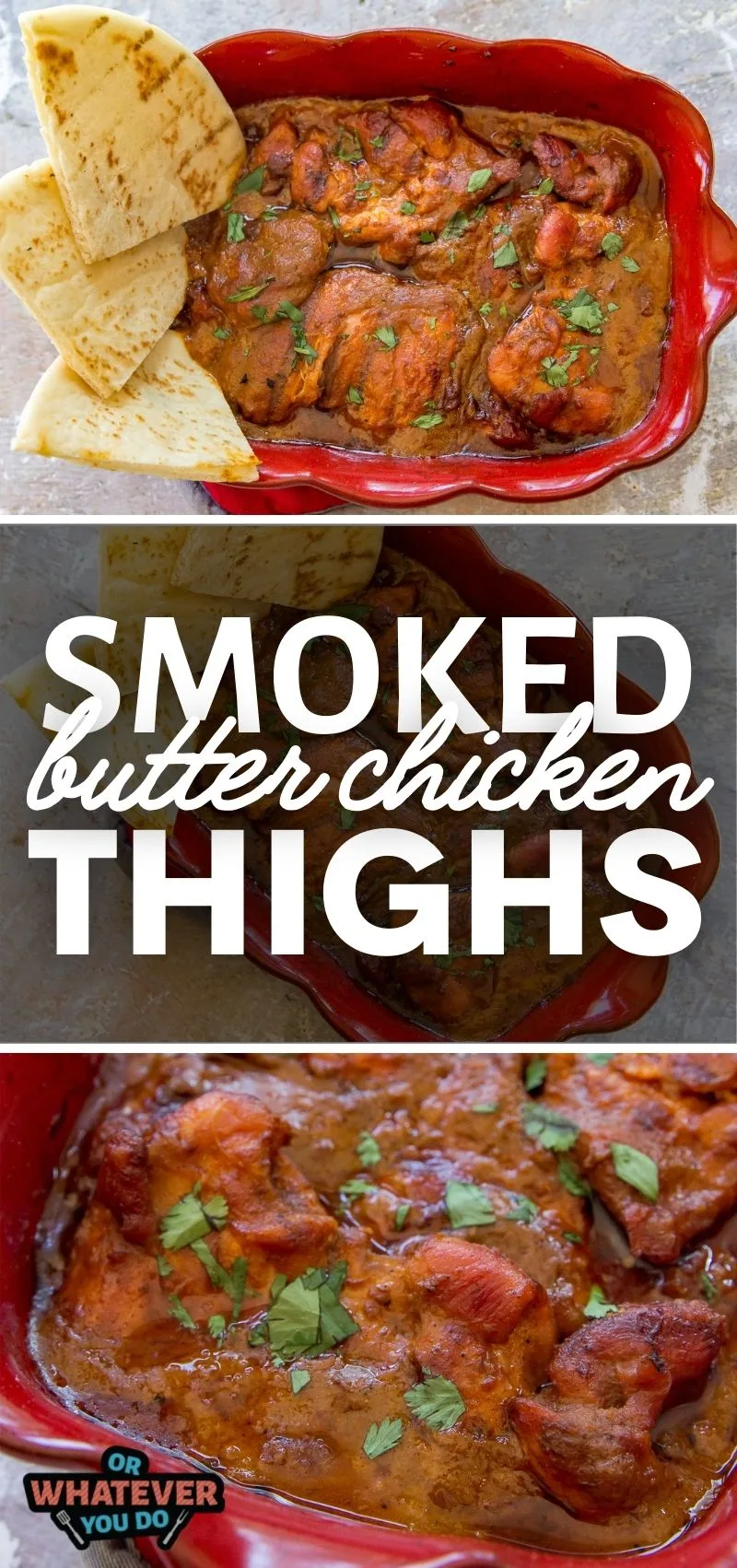 Yield: 6 servings
Smoked Butter Chicken Thighs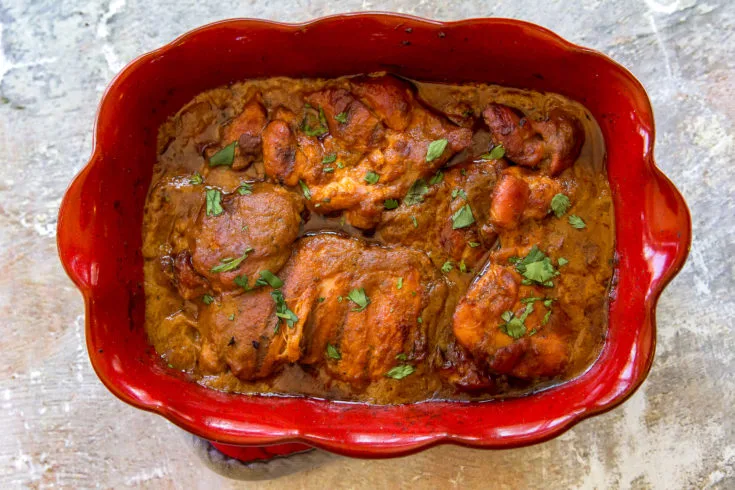 Our easy butter chicken thighs are seasoned, grilled on the pellet grill, and the sauced and finished on the grill or in the oven. Serve over steamed basmati with some garlic naan!
Total Time
1 hour
10 minutes
Ingredients
2 pounds boneless, skinless chicken thighs
4 cups Butter Chicken Sauce*, divided
1/2 cup water
cilantro
Instructions
Take your chicken thighs and trim any remaining fat or skin off.
Place the chicken thighs in a large baggie along with 1 1/2 cups of the sauce and 1/2 cup water. Let marinate for at least 4 hours, but preferably overnight.
Remove from the marinade, and preheat your grill to 200°. Place the chicken onto the grates and smoke for 30 minutes.
Place the smoked chicken thighs into a grill-safe dish and top with your butter chicken sauce. Turn the grill up to 300° and put the sauced chicken into the grill. Cook for an additional 30 minutes at 300°, and then serve over rice with garlic naan.
Notes
Homemade or Store-bought sauce is fine! If you make your own, hold off on adding the cream until the very end to prevent the cream from breaking.
Recommended Products
As an Amazon Associate and member of other affiliate programs, I earn from qualifying purchases.
Nutrition Information:
Yield:
6
Serving Size:
1
Amount Per Serving:
Calories:

496
Total Fat:

28g
Saturated Fat:

10g
Trans Fat:

0g
Unsaturated Fat:

16g
Cholesterol:

247mg
Sodium:

708mg
Carbohydrates:

11g
Fiber:

2g
Sugar:

6g
Protein:

53g
Nutrition data provided here is only an estimate.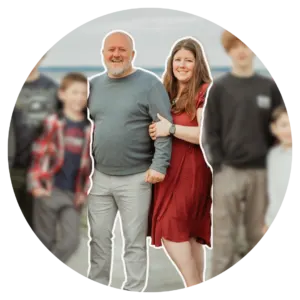 Nicole Johnson, a self-taught expert in grilling and outdoor cooking, launched Or Whatever You Do in 2010. Her blog, renowned for its comprehensive and creative outdoor cooking recipes, has garnered a vast audience of millions. Nicole's hands-on experience and passion for grilling shine through her work. Her husband, Jeremiah Johnson, also plays a pivotal role in recipe development, adding his culinary flair to the mix. Together, they form a dynamic duo, offering a rich and varied outdoor cooking experience to their followers.