Is there anything better than a big bowl of Homemade Noodles? While most of us just head to the store when we need noodles, there is something to be said about making your own noodles right at home.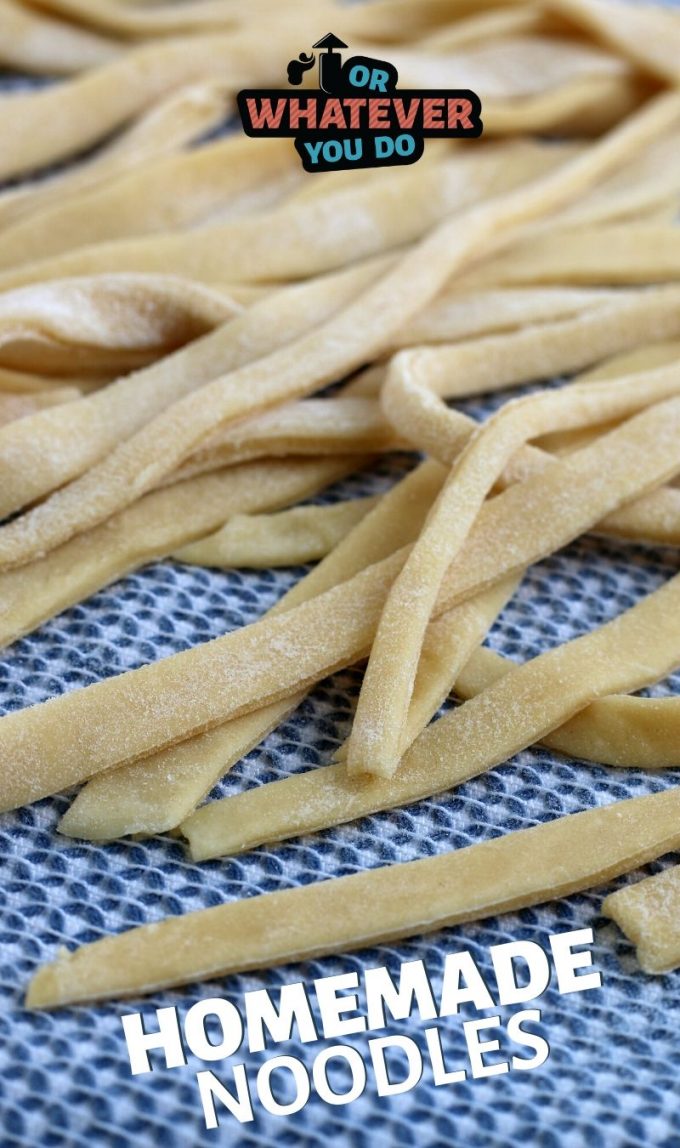 Homemade Egg Noodles
Noodles are part of the American story. We use noodles for many different meals in our home. I think it's special to set aside an afternoon a week and just make my pasta from scratch. It takes me back to the good old days of being a kid again!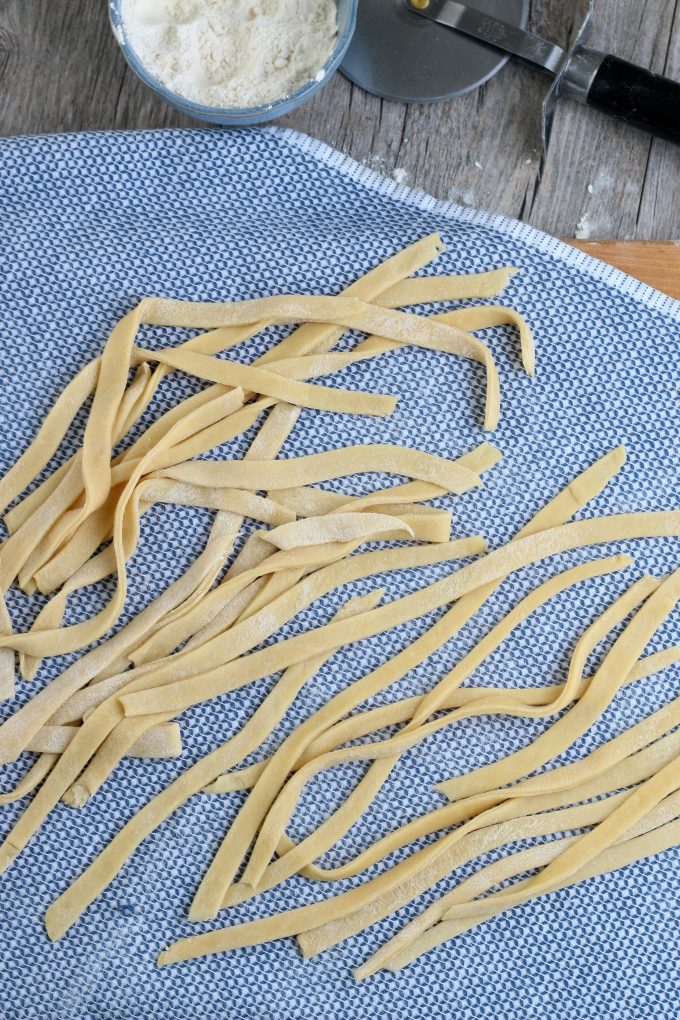 Why make egg noodles at home?
Once you've tried homemade egg noodles, it's nearly impossible to go back to the store-bought version. You can easily nail my recipe for any occasion. Need noodles for soup? This recipe will do! Craving comfort food in the summer? This homemade noodle recipe will come to the rescue.
While homemade noodles may have a bad reputation for being hard to make, it's not true! Noodles made from scratch are very easy to make.
These simple egg noodles only have THREE ingredients, in fact.
Keep in mind that you can make these noodles fresh and also use them right away. You can also freeze them for use at a later date as well.
Something to keep in mind is that these simple egg noodles will absorb the flavor of what they are cooked in, so broth of some kind is a great option. If you boil them in water, make sure it is WELL-salted.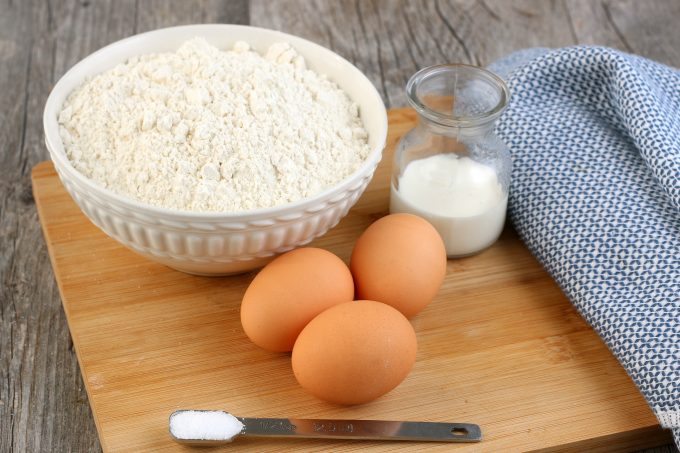 What Can I Serve With Homemade Noodles?
If you are creating homemade noodles from scratch, you may be wondering what you can serve with this dish. There are a lot of different options!
Homemade noodles are the best noodles to serve during the holidays. They are perfect with some butter and fresh herbs and go great with ham or turkey.
These egg noodles are great to serve with mashed potatoes and gravy, or serve the noodles in homemade soups.
Homemade noodles are the ultimate side dish. You can serve them with fried chicken, chicken fried steak, grilled steak, grilled chicken, or even meatloaf. The options are truly endless.
Use homemade noodles in my Instant Pot Chicken Soup!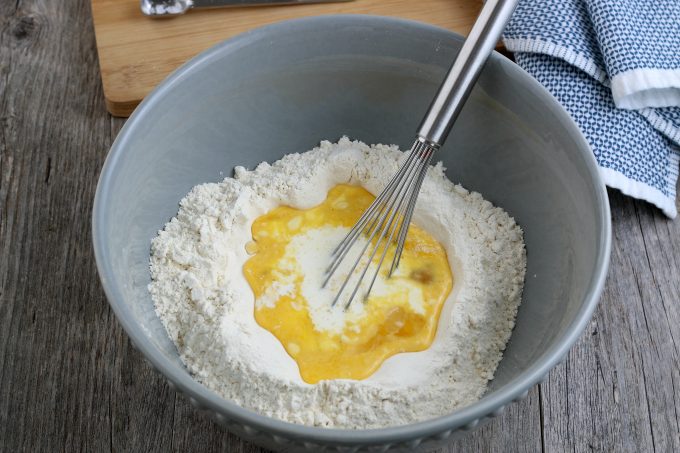 How to Make Simple Egg Noodles
A lot of people are intimidated by the idea of making homemade noodles. I was too until I realized that the steps are few, and you won't be standing in your kitchen all day trying to make something that won't turn out.
This recipe is all about combining the required ingredients, rolling out the dough, and making sure the is about ¼" thick.
Once it's reached the required thickness, you will want to cut the dough into large strips and into the desired length.
Drop them into boiling water and watch the noodles cook into something delicious.
How can I store homemade egg noodles?
This recipe has a lot of eggs in it, so you'll want to make sure and keep any leftovers in the fridge.
Uncooked
Uncooked noodles can be dried for several hours on the counter, and then stored in an air-tight baggie in the fridge for a few days, or in the freezer for a few months.
Cooked
Cooked noodles should be kept in a container in the fridge for 2-3 days at most.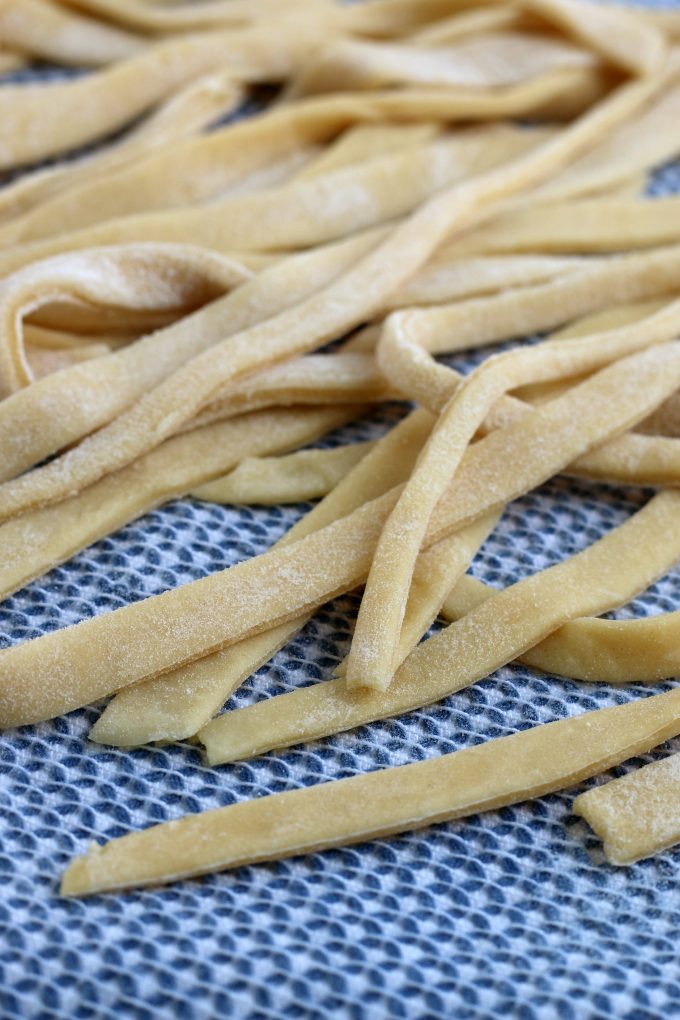 How to Reheat Homemade Noodles
Heating up homemade noodles may be easier than you thought. You simply drop the noodle in boiling water and allow it to reheat for a minute or so. You don't want to overcook the pasta, so don't leave it on high heat for too long.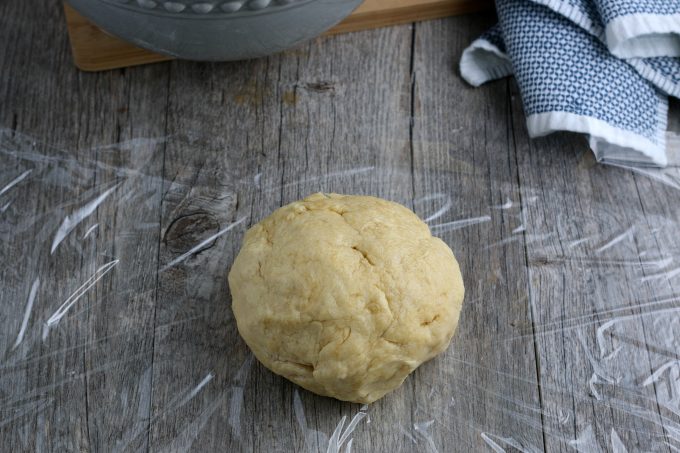 Can You Leave Homemade Pasta in Water After Cooking?
In most cases, I'd say no, but these noodles are the exception when you use them in soup. The next day, a lot of your broth will be soaked up into the noodles, but you can either add more or just enjoy a big bowl of chicken and noodle stew, like I usually do.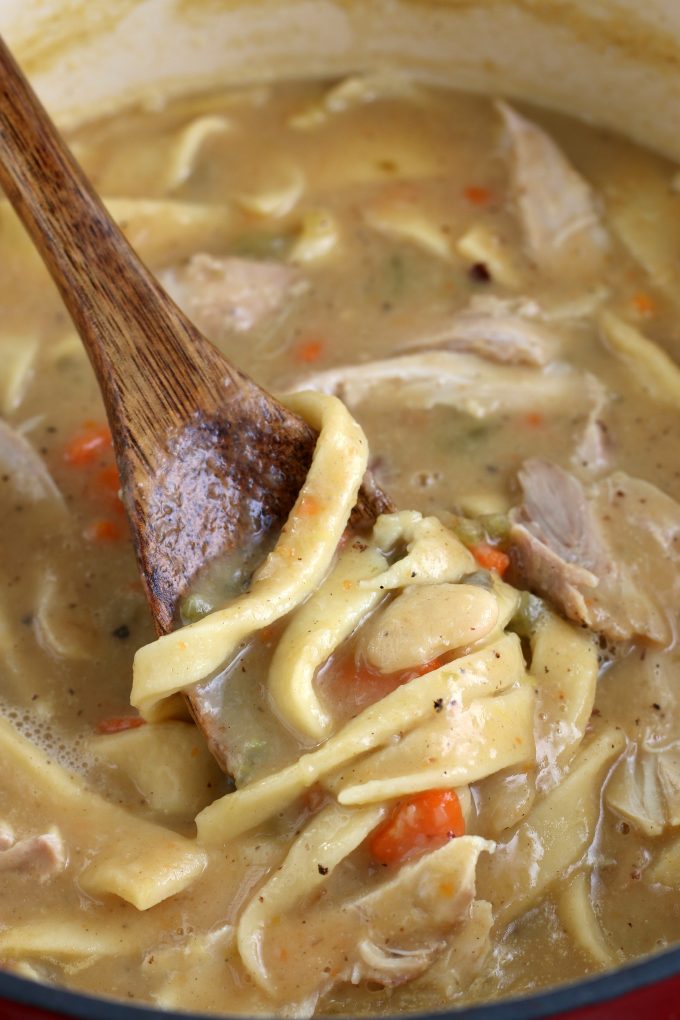 Should You Rinse Pasta With Cold Water?
Making pasta is one thing, but many people wonder if you should rinse it in cold water after cooking it.
The answer is NO.
You don't ever want to rinse pasta with cold water because it will rinse off the starch. The starch is what helps the pasta sauce stick to the pasta when you are serving it, and these egg noodles are no exception.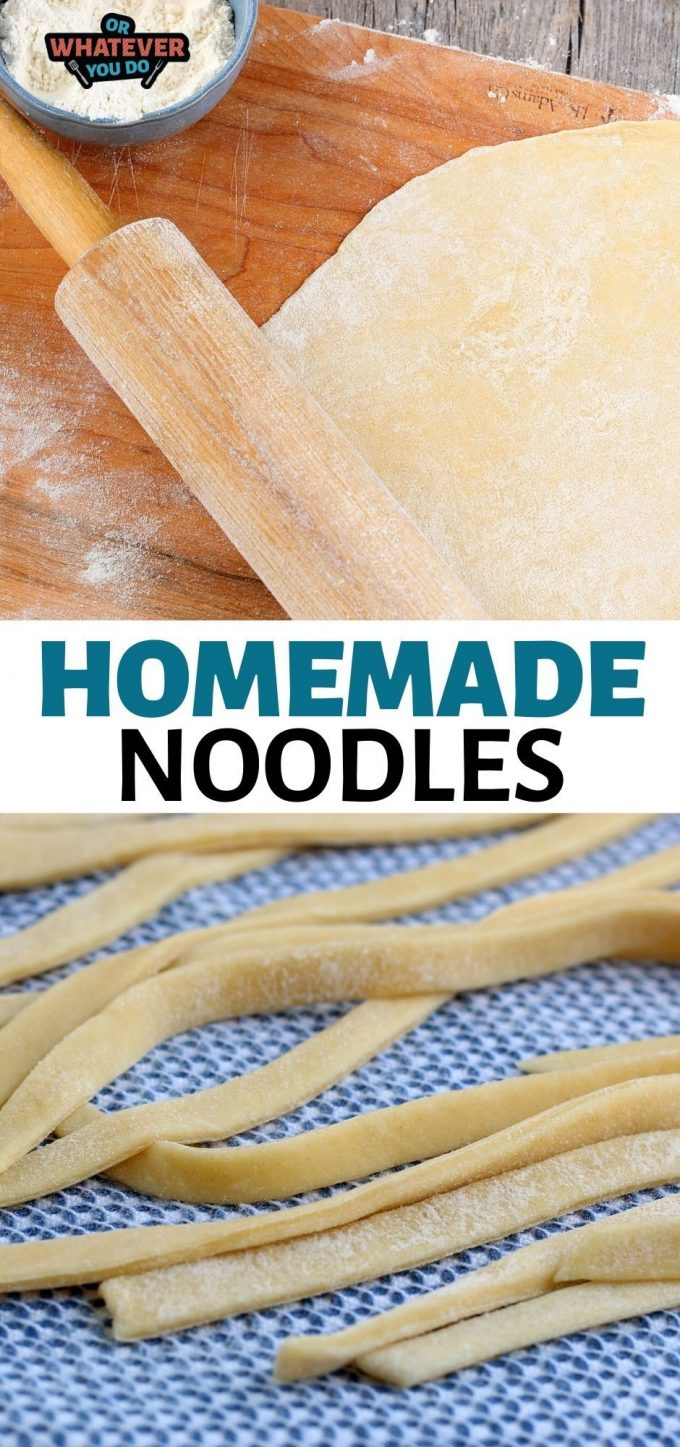 Yield: 6 servings
Homemade Noodles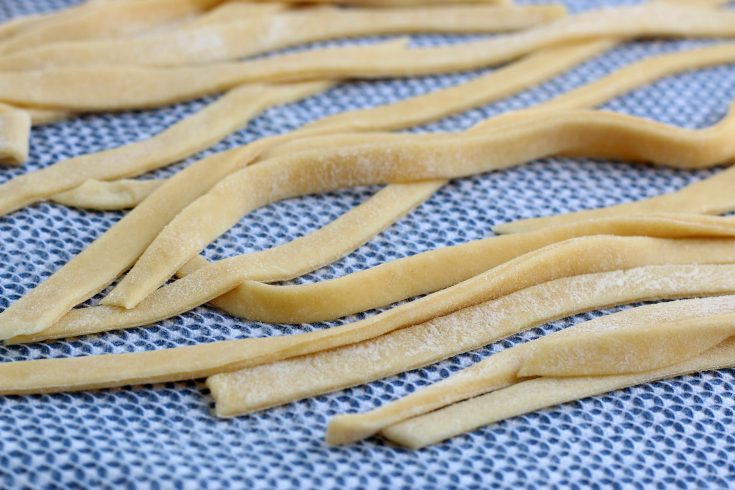 Homemade Noodles, made from scratch with just 3 ingredients!
Ingredients
3 cups flour
3 eggs
3 tablespoons half and half *
1/2 tsp salt
Instructions
Place flour in a large bowl. Make a well in the middle and add the eggs.
Using a whisk, beat the eggs in the center of the well and then add the salt and half and half. Mix well until there are no more lumps. It is okay if a little flour gets mixed in, but that's not where we are at yet so keep it chill.
Slowly start incorporating the egg mixture into the flour mixture until a soft dough forms.
When the dough is able to be formed into a ball, remove from the bowl and coat with a thin layer of oil. Wrap the dough ball in plastic wrap, and refrigerate for 10-15 minutes, or until ready to use.
Roll out into a 1/4 inch thick sheet and cut with a pizza cutter into small streips. Add to boiling soup, stirring as you add them, and cook until done which takes approximately 2-4 minutes.
Notes
You can sub in milk if you don't have half-and-half!
Nutrition Information:
Yield:
8
Serving Size:
1
Amount Per Serving:
Calories:

204
Total Fat:

3g
Saturated Fat:

1g
Trans Fat:

0g
Unsaturated Fat:

2g
Cholesterol:

72mg
Sodium:

176mg
Carbohydrates:

36g
Fiber:

1g
Sugar:

0g
Protein:

7g
Nutrition data provided here is only an estimate.