Traeger Grilled French Toast is a simple way to make French Toast for a crowd on your pellet grill, and not heat up your house in the process or slave over a frying pan for ages.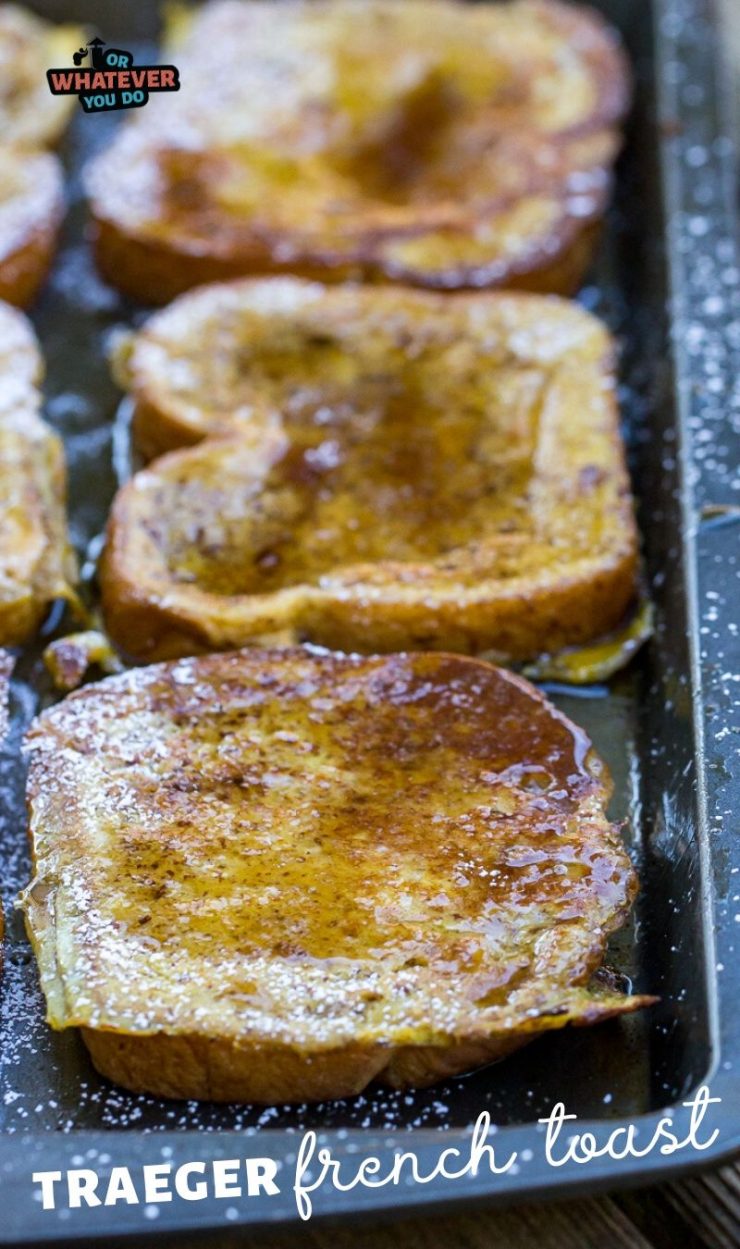 Traeger Grilled French Toast
Traeger grilled french toast might be hard to wrap your head around. Before I had a Traeger if you told me to use the grill for french toast I might have laughed in your face. This is the breakfast we are talking about here. Not a camping trip vacation somewhere out in the middle of the woods.
But then I tried it, well, because I have come to the conclusion that pretty much everything tastes amazing if the pellet grill is involved. Once again, the Traeger did not fail me.
Get our 75 ESSENTIAL Traeger Recipes here!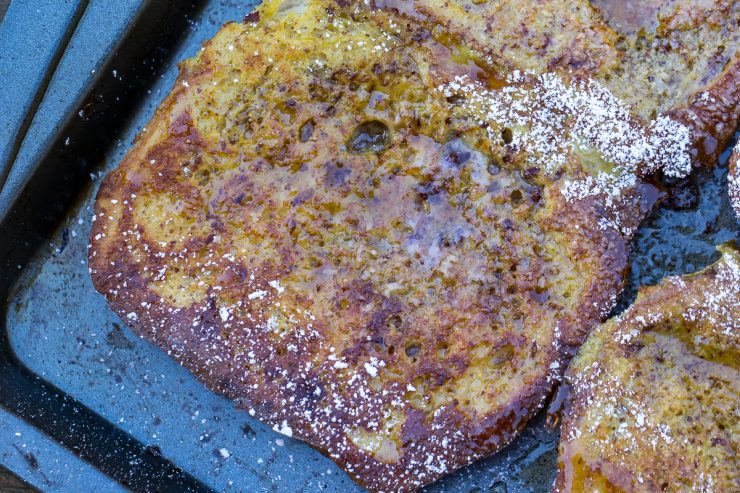 How to make French Toast on the pellet grill
French toast is such a classic breakfast item that it is hard to improve upon, but when you cook it on a pellet grill, it is even better.
Grilling takes about 15 minutes, and you flip it once in the middle.
Feel free to dress it up with your favorite toppings. Some folks like a bit of maple syrup, others love fruit, or maybe just a bit of melted butter. Don't be surprised if you start thinking about a scoop of vanilla ice cream to go with it. This french toast could easily pass for a dessert item.
All the BACON recipes, right here!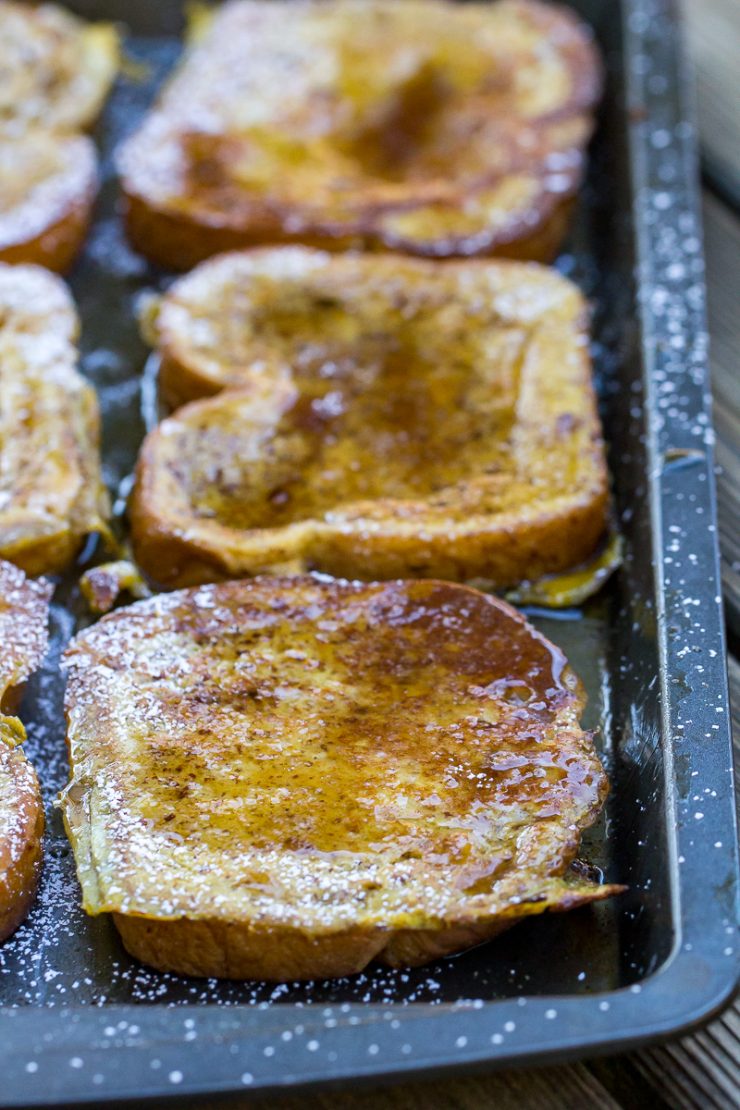 Why is it called "French" Toast?
It wasn't always called French toast. That name came along a few hundred years ago. Oddly enough, the name was coined in England, and English settlers were the ones that brought the recipe to America.
Now you know what was for breakfast on the Mayflower.
French chefs actually refer to it as "pain perdu" (pronounced "pan perdoo"). That translates to "lost bread" because originally the recipe was based on using stale bread. It was called "lost bread" because it used bread that might have otherwise been tossed to the birds.
In truth, the recipe for french bread goes way back to ancient Roman times. At this point, you could say the love for french toast has essentially been baked into our DNA after a couple of thousand years. I seriously have never known anyone to say that they don't like french toast.
More great BREAKFAST RECIPES here!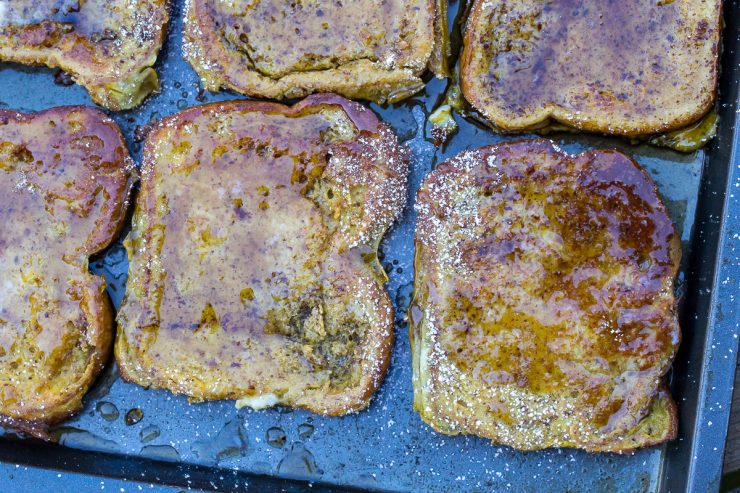 Tips for the best French Toast EVER
If you really want to get serious about your french bread, then there are some handy tricks to make it come out truly amazing.
Let your bread slices sit out a few hours and go a bit dry and stale. There is a good reason for this even though it seems really counterproductive. When you let the bread dry out some, then there is less water in the bread. You end up with a fluffier french toast and not a soggy version instead.
Let the bread sit in the egg mixture for a few hours if possible. You can even let it set up overnight in the fridge. Don't worry about it becoming soggy. The egg coating becomes smooth and less "eggy". Plus, you really get that vanilla to infuse the bread perfectly.
The type of bread you use makes a difference. Of course, any bread works, and whatever you have handy is always the best and easiest. But if you are planning ahead, then get a loaf of sweet bread like Challah or French bread like a baguette. With a loaf of bread like that then you can control the width of the bread.
I used regular sliced bread for this recipe and it works great too. Some loaf bread does have slightly thicker slices though and if you can find a loaf with nice thick slices, then you are in business!
The reason for using thicker slices of bread? It makes it easier to have a nice fluffy interior and get nice toasting on the exterior.
Follow me on Instagram!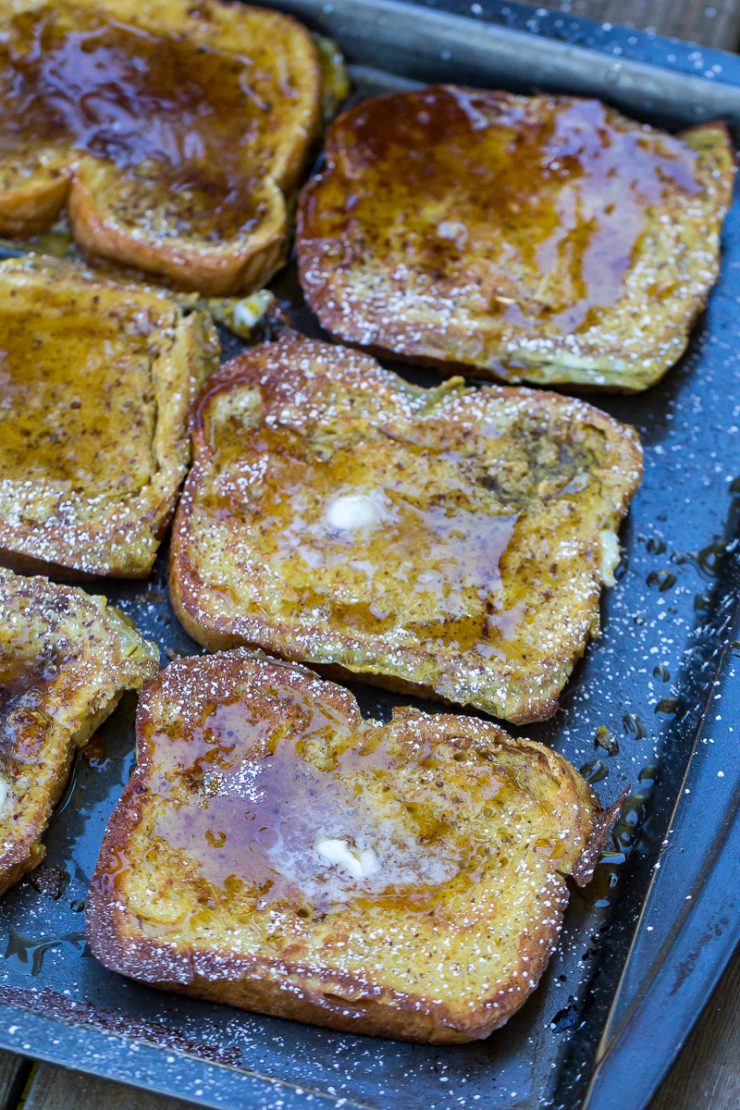 French Toast Toppings
French bread is always a great foundation for amazing toppings. Some toppings you can toast into the bread while it is still cooking. Others you will pour or spoon on when the bread comes off the heat.
Whatever way you like your french toast, it is always nice to have options.
More recipes to enjoy!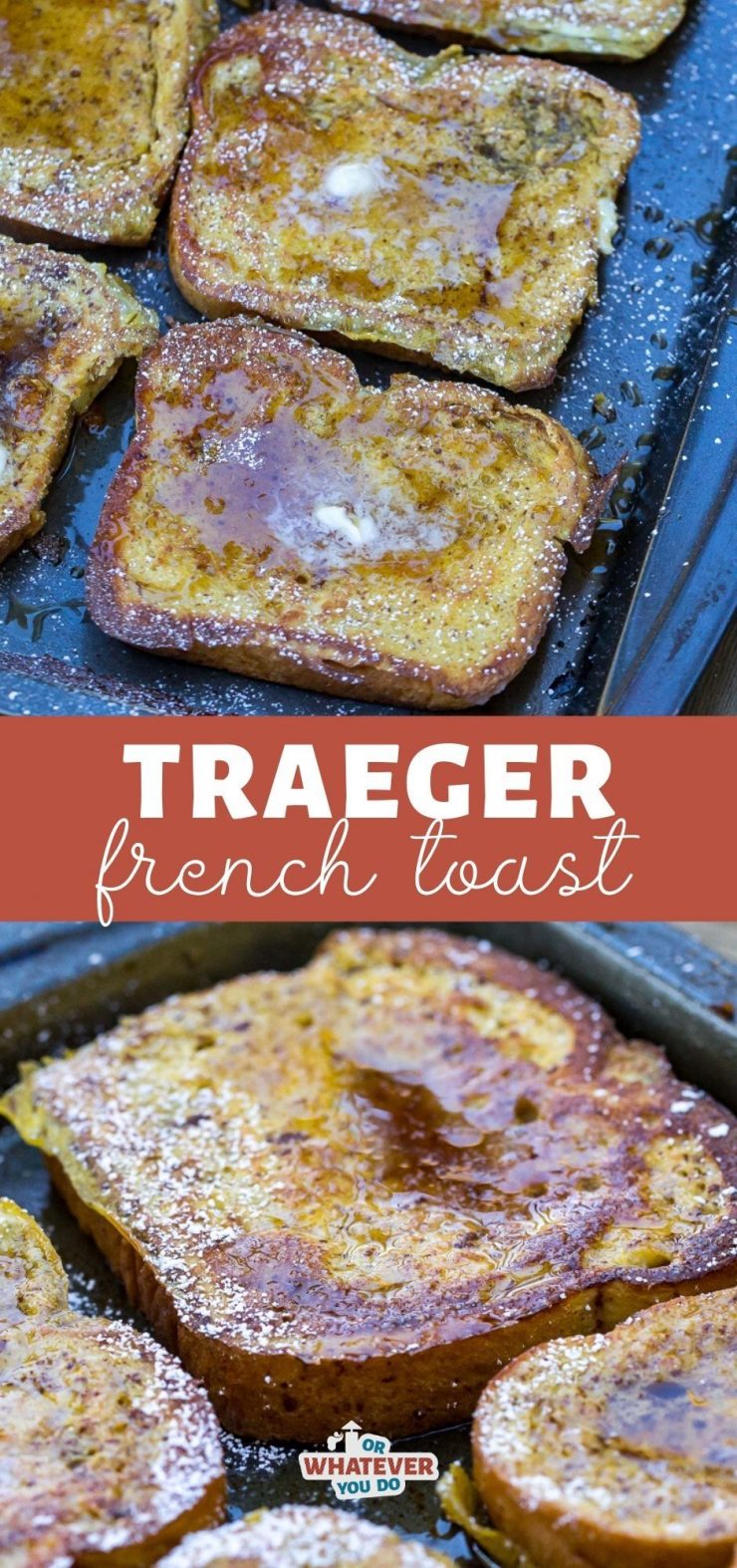 Yield: 6 servings
Traeger French Toast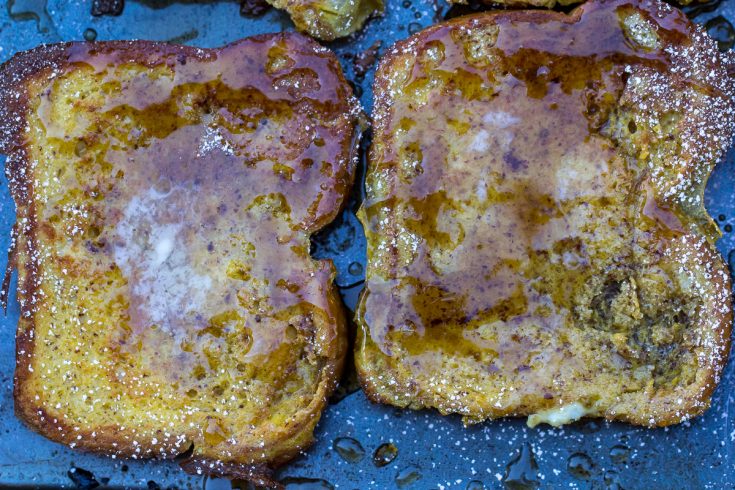 Hit the easy button and do French Toast in bulk the easy way! Make this delicious breakfast treat right on your pellet grill.
Ingredients
8 eggs
1 teaspoon pure vanilla extract
1 1/2 teaspoon cinnamon
1/8 teaspoon nutmeg
1 tablespoon sugar
3 tablespoons milk
1/4 teaspoon salt
4 tablespoons butter, melted
9-12 pieces of sliced bread (enough to line a 9x13 pan)
Instructions
Preheat your pellet grill 350°.
Combine the eggs, vanilla, cinnamon, nutmeg, sugar, milk, and salt. Whisk vigorously until combined.
Pour the melted butter into the bottom of a 9x13 inch high-sided cake pan.
Dunk the bread, flipping while it is in the mix, so it gets fully soaked with batter. Place into the pan, and then repeat until the pan is lined and all of the batter/bread is used.
Place the pan into the preheated grill. Cook for 10 minutes, and then flip. Cook an additional 5-10 minutes, and then serve with powdered sugar and syrup.
Recommended Products
As an Amazon Associate and member of other affiliate programs, I earn from qualifying purchases.
Nutrition Information:
Yield:
6
Serving Size:
1
Amount Per Serving:
Calories:

323
Total Fat:

16g
Saturated Fat:

7g
Trans Fat:

0g
Unsaturated Fat:

7g
Cholesterol:

269mg
Sodium:

512mg
Carbohydrates:

30g
Fiber:

2g
Sugar:

6g
Protein:

14g
Nutrition data provided here is only an estimate.