Instant Pot Strawberry Sauce is a perfect pair for your next ice cream sundae, cheesecake, french toast, funnel cakes, or waffles. This dump-and-go recipe is mostly hands-off besides a few minutes of stirring at the end to thicken it up a little bit!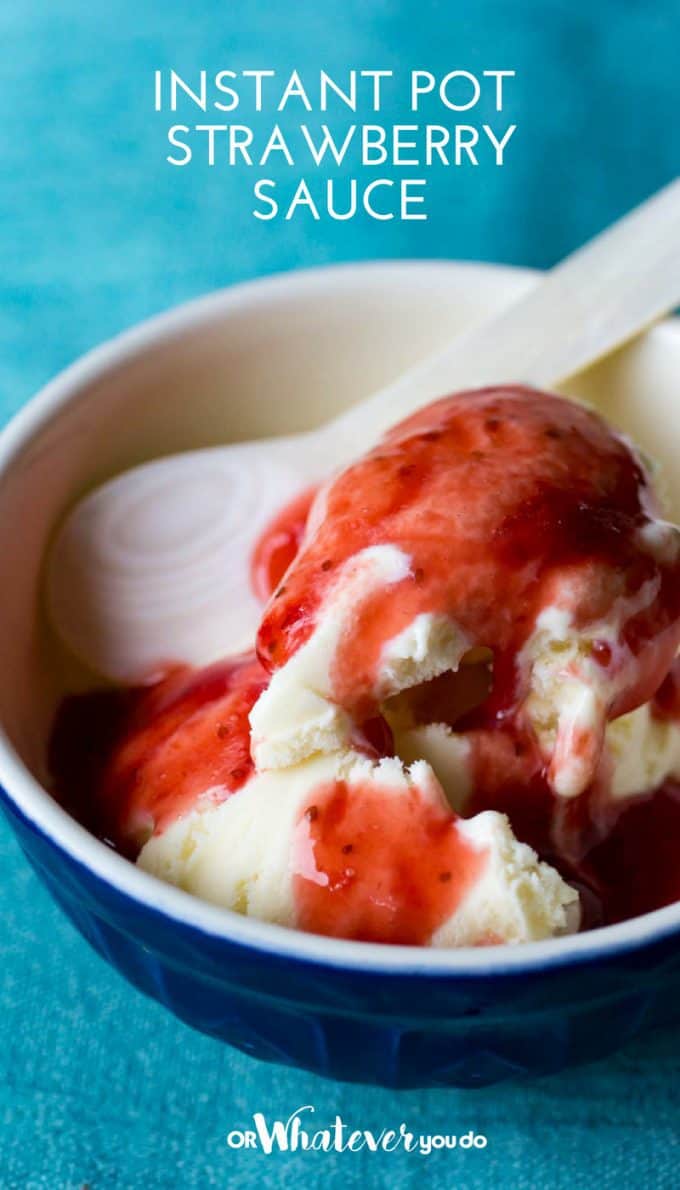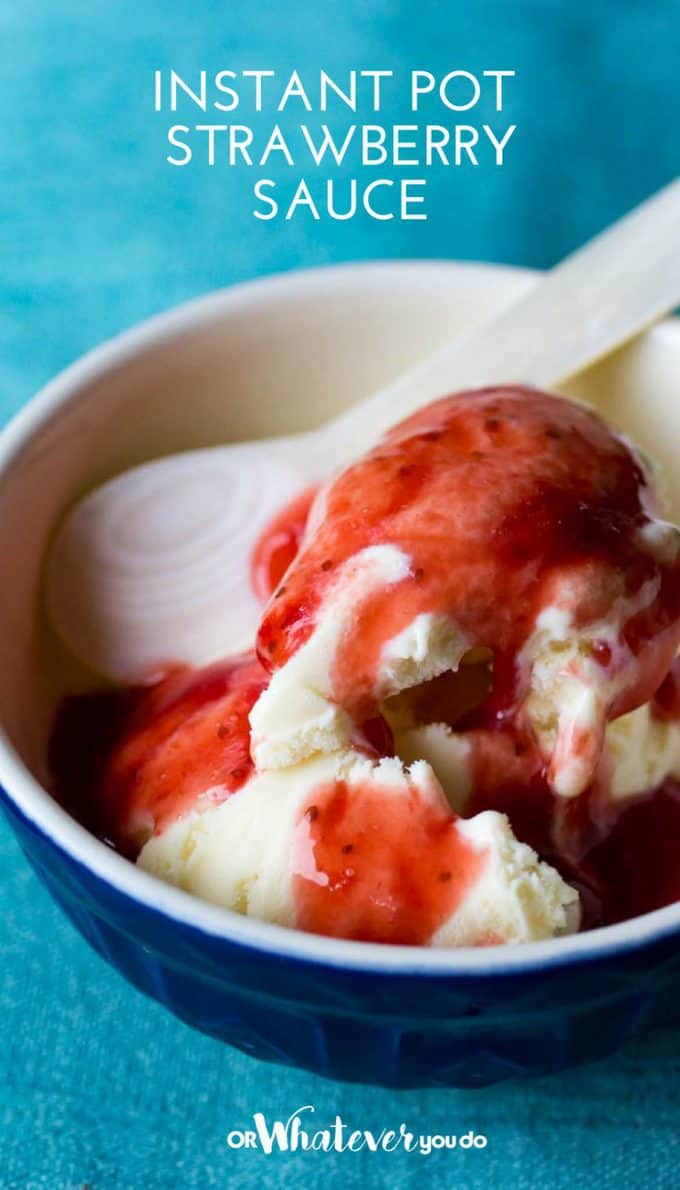 Instant Pot Strawberry Sauce
It is peak fruit season now, and there's almost nothing I like more than a good fruit sauce. It is one of my favorite things in the spring and summer, so as soon as May and June hit I start cranking out batches of jams, sauces, and all kinds of fruit-forward treats.
I love my Instant Pot for a whole bunch of different reasons, but how easy and hands-free it makes little things like this is one of the main ones.
All you do is dump the ingredients in and turn it on. You're left with a delicious and quick sauce that you can use as-is, or you can thicken it up a bit by adding a cornstarch slurry and simmering for a couple of minutes.
My kids were eating this on toast the next day, so you can also use it as a strawberry jam if you are so inclined.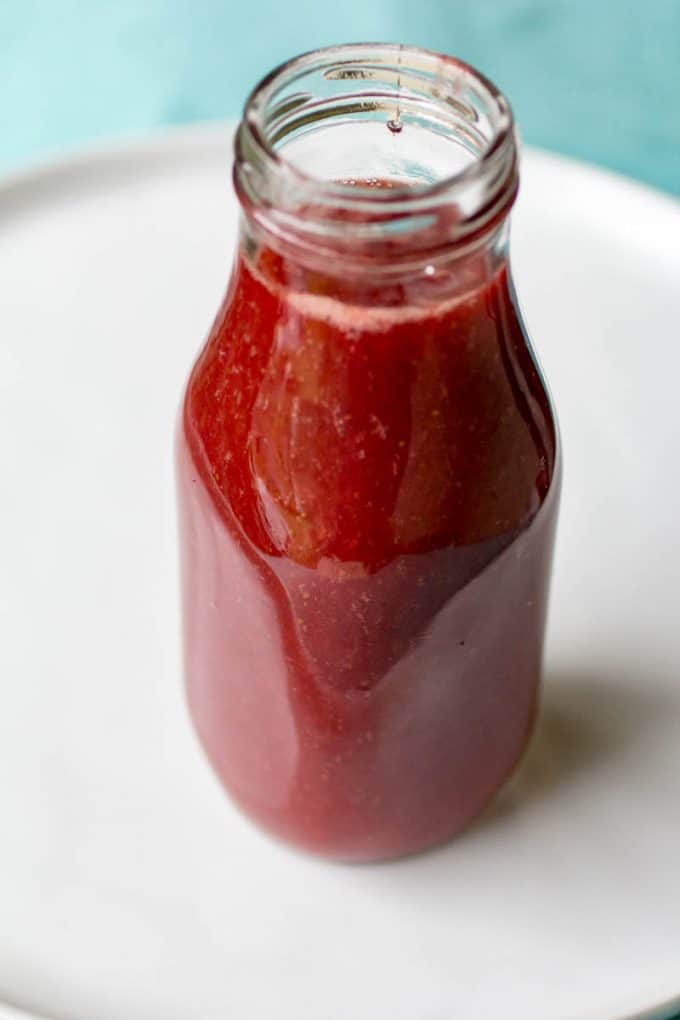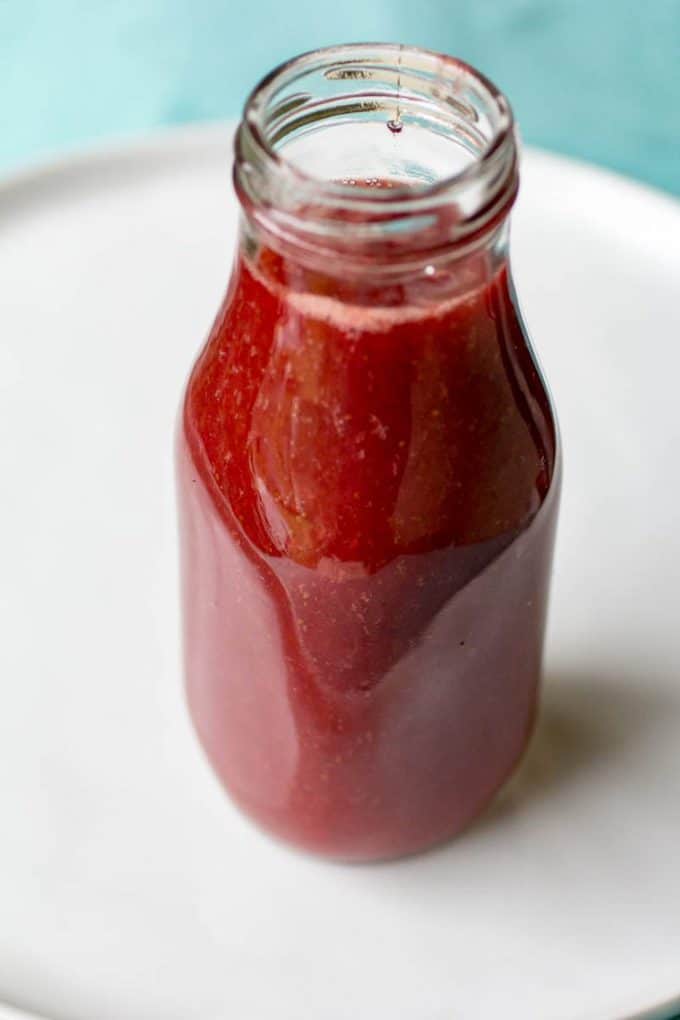 Should I Use Fresh or Frozen Berries for Instant Pot Strawberry Sauce
You can use either fresh or frozen berries for your strawberry sauce, just make sure if you use frozen that it isn't the kind of sugar already added. That would make it too sweet with the additional sugar.
What Should I Drown In This?
This vanilla bean ice cream from Happy Kitchen Rocks would be a good start. You could also try it as a dipping sauce for these darling Puff Puffs, which are deep-fried dough balls originating from Nigeria. My raspberry margarita could definitely use a strawberry makeover too, and well as my cheesecake. Instead of fluffy cherry cheesecake dip, make strawberry fluff and mix some fresh chopped strawberries with this strawberry sauce and let me know how it goes!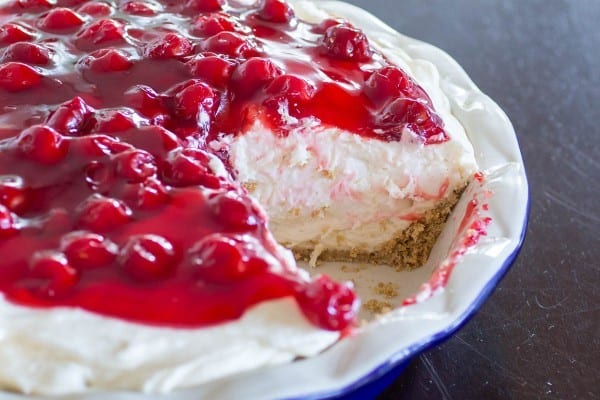 How Long Will Strawberry Sauce Keep?
Not long in this house, but that isn't because it spoils! It just disappears too fast to really investigate very thoroughly. To be on the safe side, I'd freeze any sauce you can't eat within 3-4 days. My general rule is to inspect for anything furry growing inside, but your mileage may vary there.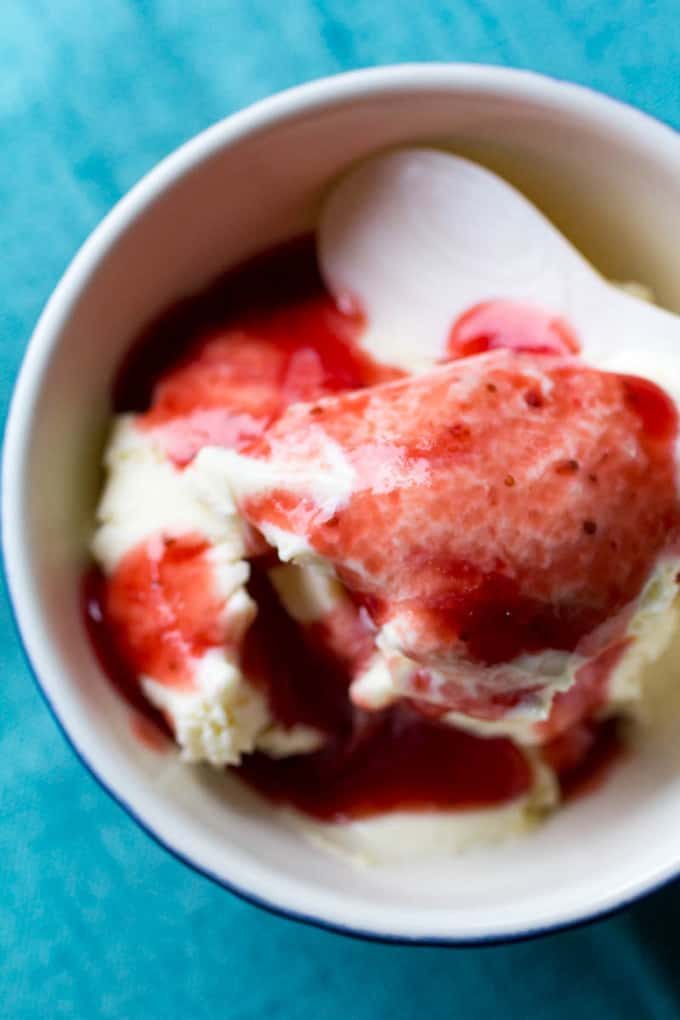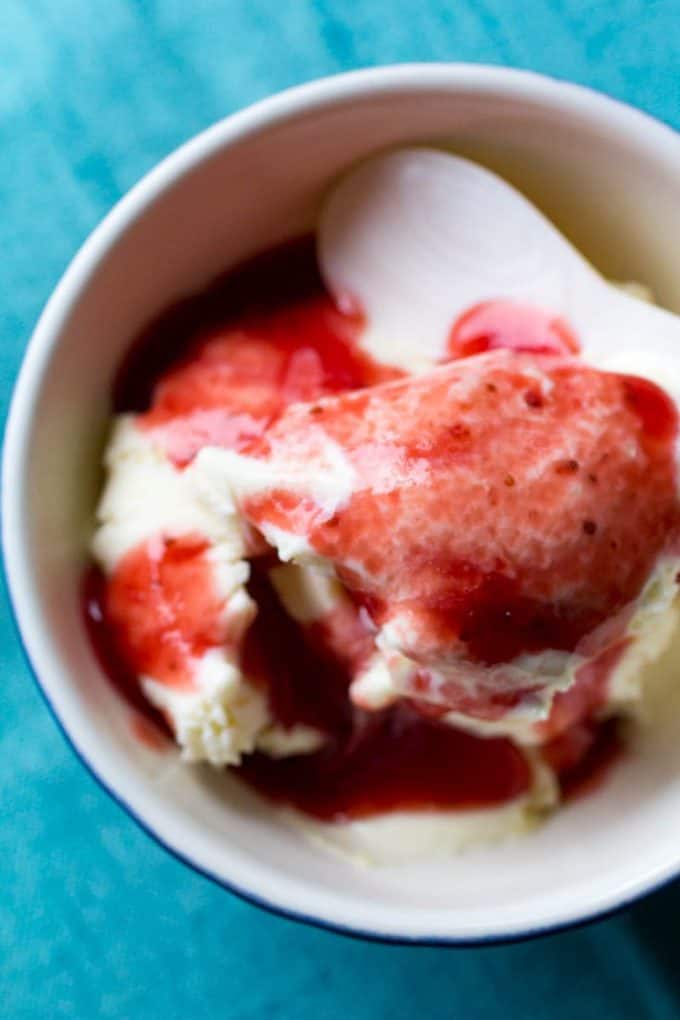 Can You Freeze Homemade Strawberry Sauce
Absolutely! In fact, if you freeze this into ice cube trays you'll have a super simple way to make a fantastic frozen cocktail this summer. Just toss a few cubes in with your favorite booze (rum or vodka would be legit! Also, tequila if you have some margarita mix on hand too. Strawberry Margs all summer long please and thank you!)
What To Do With Strawberry Sauce
This sauce is super versatile. You can dream it up, you can do it. Here are some ideas though if you are needing some!
Mix with some prosecco and pour into popsicle molds for the most delicious adult popsicle you'll ever eat.
Mix with your favorite ice cream base for a fabulous strawberry ice cream, or a delicious strawberry ribbon in a vanilla swirl ice cream.
Shake it up with your favorite cocktail for a fruity twist.
How To Thicken Strawberry Sauce
I prefer to use cornstarch to thicken my strawberry sauce, but you can sub in your thickening agent of choice if that isn't something you can get on board with. You can also just skip thickening it completely if you'd like a thinner sauce.
Instant Pot Strawberry Sauce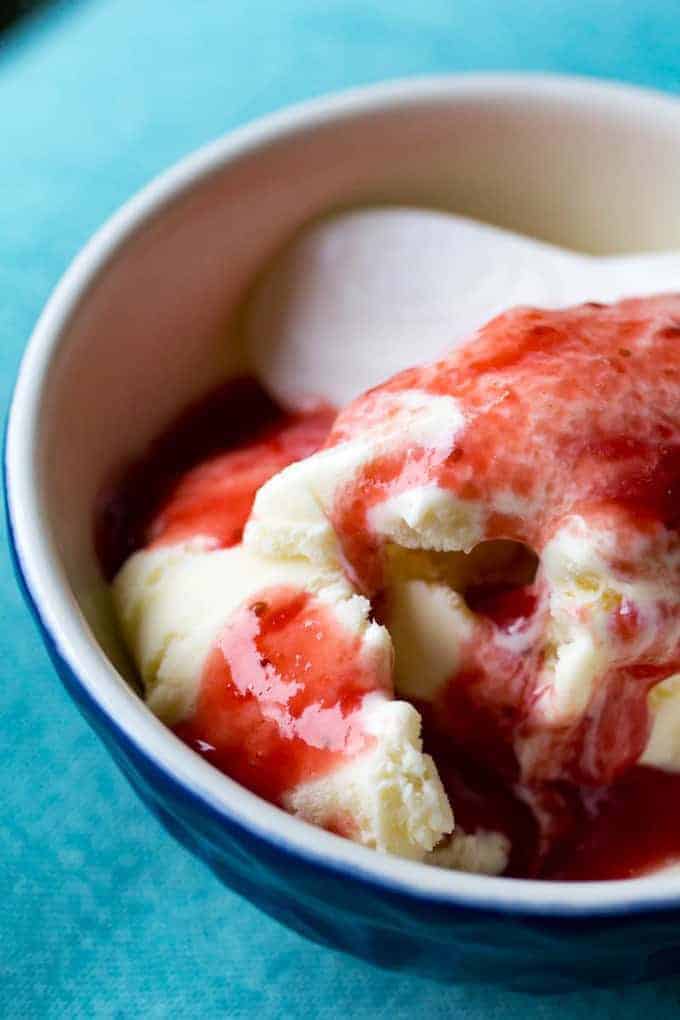 This easy Instant Pot strawberry sauce is perfect for ice cream, cheesecake, or even waffles! Sweet strawberries cooked quickly down to a smooth sauce that is packed with Strawberry flavor. You're going to love it.
Natural Pressure Release
25 minutes
Ingredients
1 pound frozen strawberries, washed and hulled
2 cups sugar
1 teaspoon Chambord
1/4 teaspoon vanilla
1/2 cup prosecco
Instructions
Place all ingredients into your Instant Pot.
Close lid, and close the vent.
Set on manual 5 minutes.
Allow to naturally release pressure for 20 minutes.
Carefully vent any remaining pressure, and then open lid when safe to do.
Mix together the cornstarch and cold water until no lumps are present.
Turn the Instant Pot to

sauté

, and whisk in the cornstarch slurry and cook for 2 minutes, or until thickened.
Recommended Products
As an Amazon Associate and member of other affiliate programs, I earn from qualifying purchases.
Nutrition Information:
Amount Per Serving:
Calories:

2