This delicious oven-roasted pork roast with gravy is so delicious, and is a perfect dinner for fall or winter! The gravy is one of my favorite things too. The inner Midwestern in you is going to have a new meat-and-potatoes favorite!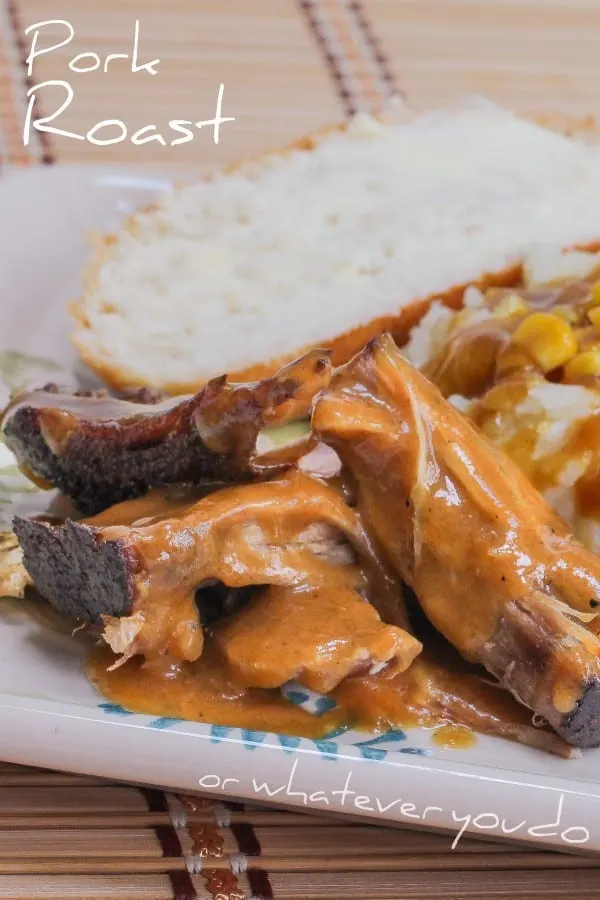 Pork Roast with Gravy
I am such a winter food girl. Soup, stews, fresh bread, and especially roasts with lots of mashed potatoes and gravy. Spring rolls around and I kind of flail for a bit getting back into the summer food swing of things. Good thing it is only March and I still have another month left of winter food wonderfulness, including this pork roast with gravy.
If you are going to bother with gravy, go all out. This gravy here is NO bouillon, and completely from scratch. It is packed with flavor, and it cannot be beaten. This post is going to differ a bit from most, as it will be more of a method than a recipe. You just never know what quantity of drippings you will get off any cut of meat, so feel free to improvise a bit, as always.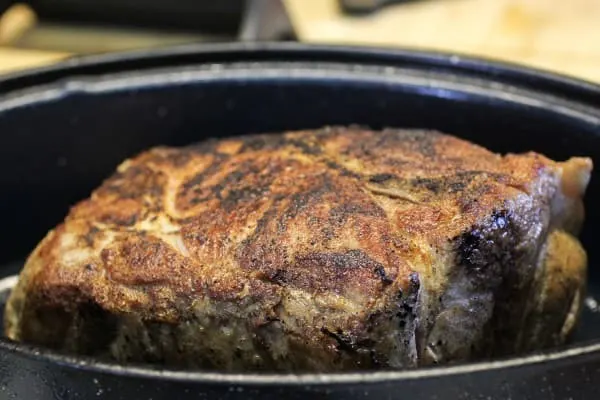 How to roast a pork shoulder in the oven
Start by buying a good bone-in pork shoulder roast. This one was about 4-5 pound I believe. You can find these for under $10 if you check the sales frequently.
Season the roast liberally with salt, pepper, onion powder, garlic powder, and some seasoning salt. I like Johnny's, but your favorite would be fine as well.
Heat 3-4 tablespoons of oil over medium-high heat in a skillet (cast iron works GREAT for this!), and brown the roast on all sides. Put it into a roasting pan that's been sprayed with cooking spray.
Now lightly cook an onion that's been sliced the long way, and cook until it is starting to get a bit tender and lightly browned.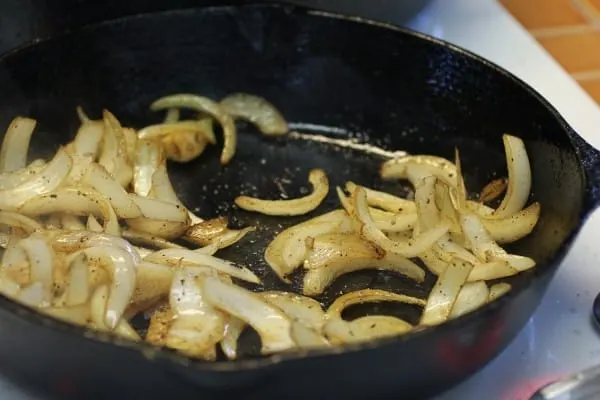 Now pour 1/2 cup of dry white wine, 1/4 cup of apple cider vinegar, and 1/2 cup of apple juice into the pan to deglaze. Stir well and get all the browned bits off the bottom, and then pour the whole thing over the roast in the pan.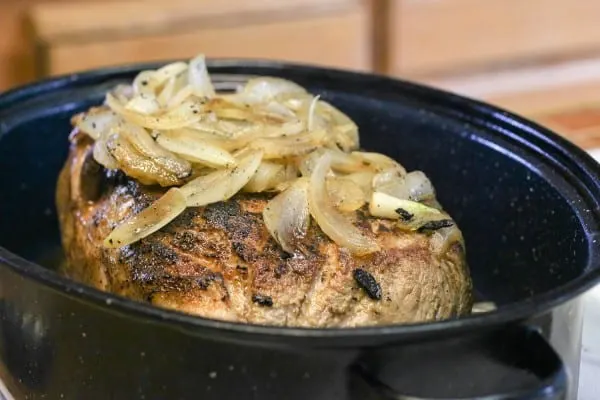 Cover the pan and roast at 275-300 for 4-5 hours, or until the roast is fall-apart tender. The amount of time it takes will vary depending on how big your roast is, how accurate your oven temp is, as well as the size of your pan and various other factors. Figure on at least 4 hours for a decent sized roast though.
30 minutes before you will be serving dinner, remove the pan and remove all the juices from the bottom of the pan. See this little thing? It is a fat separator and it is one of my very favorite kitchen gadgets. It makes this gravy making process SO much easier.
You see that layer of fat below? We need the fat to be separated from the drippings. If you don't have one of these nifty separators yet, you can get the job done with a spoon and some time. Just make sure you don't get drippings in with the fat.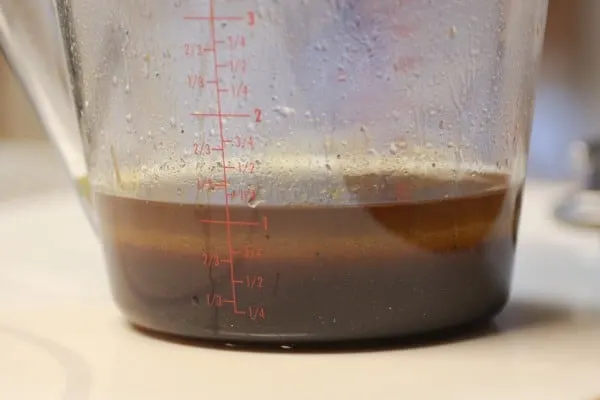 Place the fatless drippings into a pot, add a cup or two of water, to taste. You want enough so that the gravy isn't too salty, but not too much that you need to add salt or bouillon. I added about a cup and a half. Bring that to a boil, stirring frequently. After it boils, reduce the heat to medium-low, and let it simmer while you make the roux.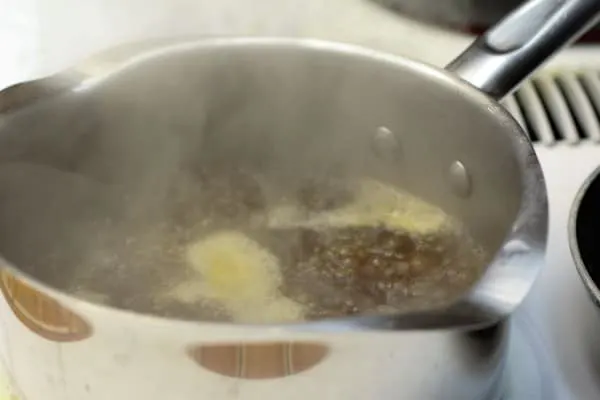 To make the roux, take the fat from the drippings and put it into a small pan. Heat over low heat, and simmer for 2-3 minutes to cook out any remaining watery drippings that may have slipped in there.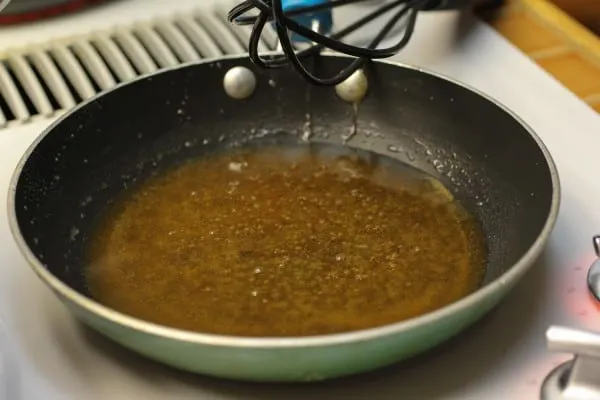 Once you have pure fat, go ahead and whisk in a generous handful of flour. You want it to be thick, but still pourable. You'll reach this consistency by adding just under equal parts of flour to the fat. So if you have 1/2 cup of fat, add JUST shy of 1/2 cup of flour. If you accidentally add too much flour, you can toss in a tablespoon or two of butter to thin it out again.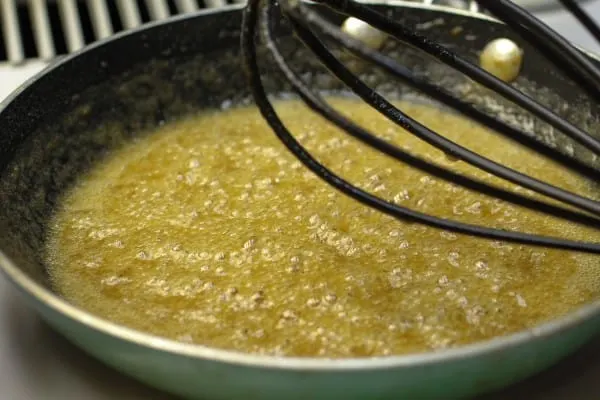 Simmer over low heat, stirring constantly. Make sure if you are using a non-stick pan to use a silicone coated whisk! Cook this roux for about 3-5 minutes, stirring constantly, and then pour slowly into the simmering broth while stirring it, and cook until thickened.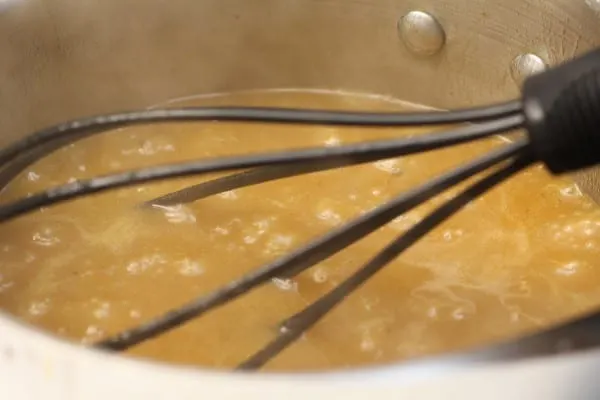 Remove the roast from the oven.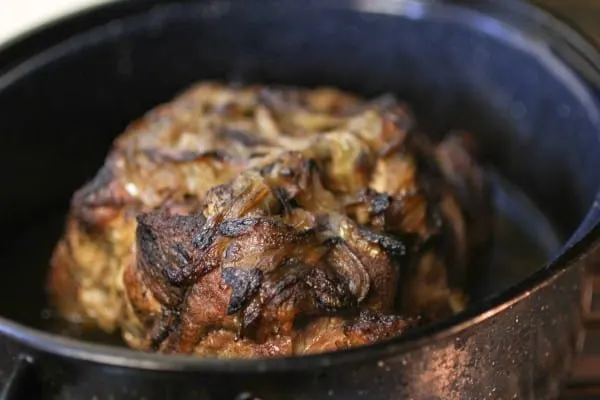 Pull off some big chunks and serve with mashed potatoes, corn, and some fresh rolls.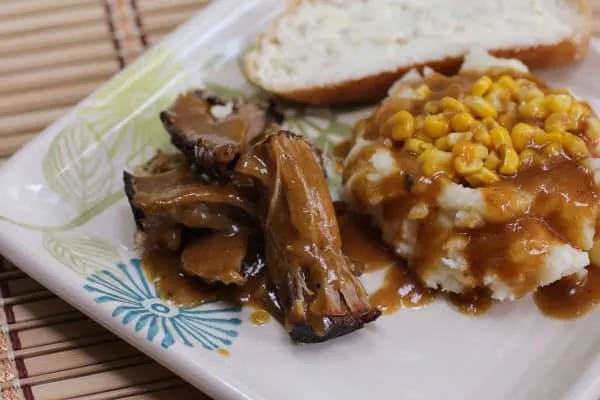 Do you mix your corn and potatoes? It is my FAVORITE. I can hardly even eat mashed potatoes without some corn mixed in!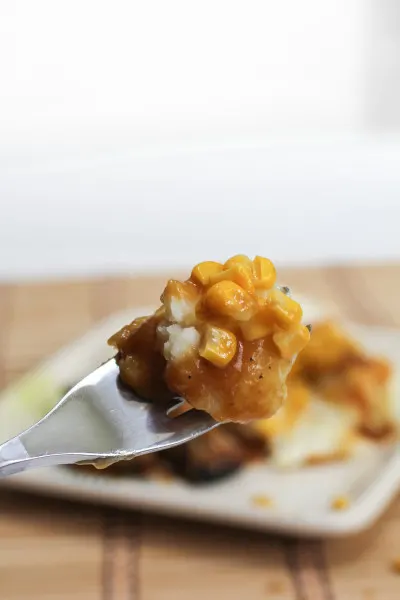 More great comfort food here!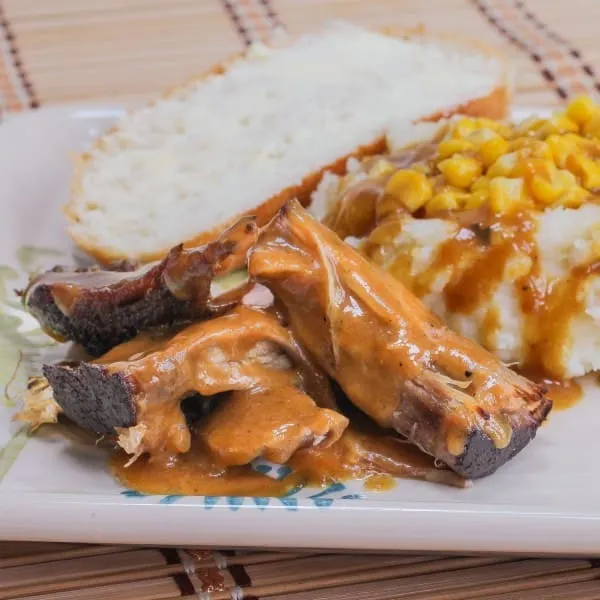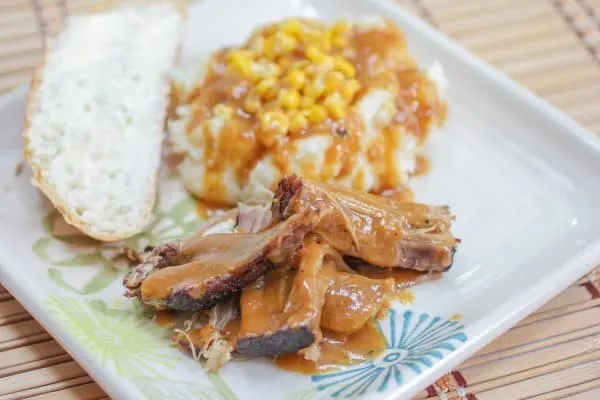 Yield: 6 people
Pork Roast and Gravy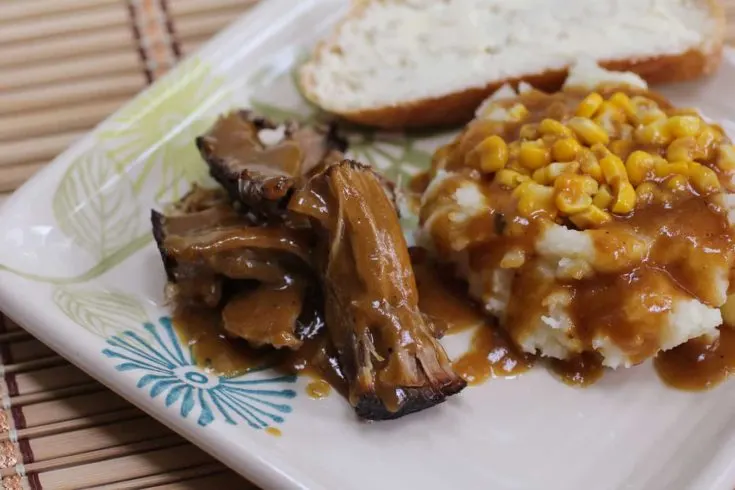 Delicious meat and potatoes comfort food at its finest!
Total Time
4 hours
20 minutes
Ingredients
1 4-5 pound pork shoulder roast, bone-in
liberal amounts of salt, pepper, garlic powder, onion powder, seasoning salt
3-4 tablespoon oil
1 large onion, sliced
1/2 cup dry white wine
1/2 cup apple juice
1/4 cup apple cider vinegar
flour for roux
1-2 cups water
Instructions
Preheat oven to 300. Liberally season all sides of roast with seasonings. Heat oil over medium-high heat, and brown all sides of roast. Put into a roasting pan and set aside.
Brown onions in the same pan for 2-3 minutes. Add wine, juice, and vinegar, and simmer for 2 minutes. Pour entire mixture over roast.
Cover the roast and bake until the roast is fork tender. It will take ~4-5 hours, depending on your particular roast and oven.
When the roast is fully cooked, remove all drippings from the bottom of the pan. Strain the fat off the top of the drippings, and heat over medium to low heat in a small skillet. Simmer for 2-3 minutes, or until any residual non-fat drippings have cooked off. Next, stir in an almost equal amount of flour, and whisk until no lumps are left. Cook over low heat for 4-5 minutes, stirring constantly.
Place the rest of the drippings into a medium sized sauce pan. Bring up to a boil, and add 1-2 cups of water to the drippings. (Taste as you are adding to make sure you aren't watering it down too much.) Bring mixture up to a simmer, and then pour in the flour/fax roux, stirring the whole time, and cook until the gravy has thickened.
Serve with mashed potatoes, corn, and fresh rolls.
Nutrition Information:
Yield:
12
Serving Size:
1
Amount Per Serving:
Calories:

652
Total Fat:

45g
Saturated Fat:

15g
Trans Fat:

0g
Unsaturated Fat:

26g
Cholesterol:

170mg
Sodium:

212mg
Carbohydrates:

11g
Fiber:

1g
Sugar:

2g
Protein:

45g