These fresh cherry cupcakes are a perfect way to use up those fresh cherries that are so abundant right now! Or break out that freezer stash that you put up last summer, and get baking. You are going to love these homemade cherry cupcakes, made from scratch!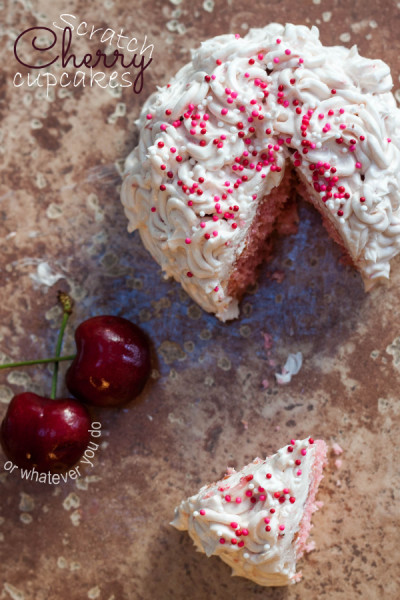 Fresh Cherry Cupcakes
These cupcakes were fantastic! I'm usually a strict yellow cake or chocolate cake girl. Occasionally I get crazy with a good marble cake, but I've never really liked these crazy fruit-flavored cakes. Until this one, that is.
This cake was filled with fresh cherry flavor. It was moist, and sweet, and had a delicate crumb. I was actually surprised how much I liked this cake.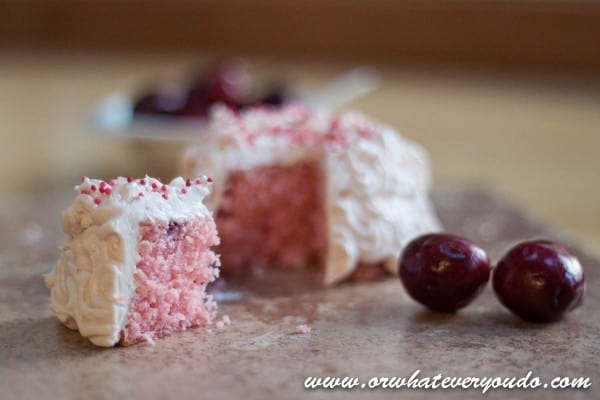 Whether you whip these up as cupcakes, bake them in ramekins for little miniature cakes as shown here, or bake in separate cake pans, grab some cherries next time you see them on sale and try this out!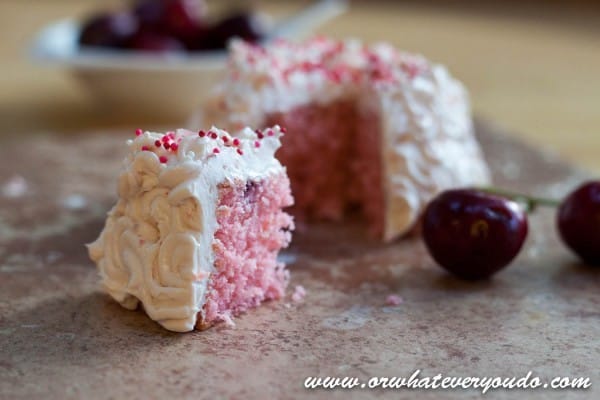 I think my favorite part of this was the delicious fresh cherry swiss meringue frosting. I LOVE swiss meringue buttercream. It isn't so sweet that your teeth ache from eating it. It is one of those frostings where it takes a bit more work than a typical powdered sugar/butter mixture, but it is worth the effort and the time.
You have to try this out and master this one. If you run into any problems, read this great run-through over at Jason and Shawnda. It gives you common problems, and simple fixes for them.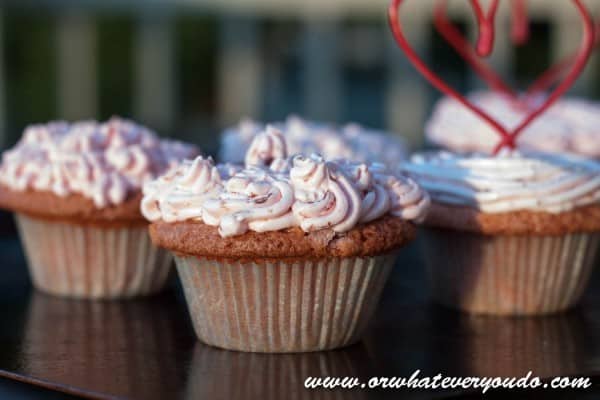 I've had some helpers lately, and an ALMOST mobile baby which has made my posting kind of sporadic. I've also been working really hard lately on the back end of the site, trying to make it more user-friendly and clean looking (unlike my house right now!)
What do you think? Do you like the new layout? The new homepage? If you run into any broken links or issues, please feel free to get in touch.
Here is Miss Amelia. She's almost 9 months old already! My last baby, ever, has been out almost as long as she was in. Crazy days. I'm less sad about it than I imagined, actually.
I LOVE the baby stuff, and she is such a good baby, but even good babies are incredibly high maintenance. She's teething (hello top fronts!) and not sleeping well, and wants to crawl SO bad it just ticks her off when she doesn't quite get it! But soon she will get it and then LOOK OUT. Occasionally she will consent to being put into her walker or her jumper, which allows me to get something done for about 15 minutes.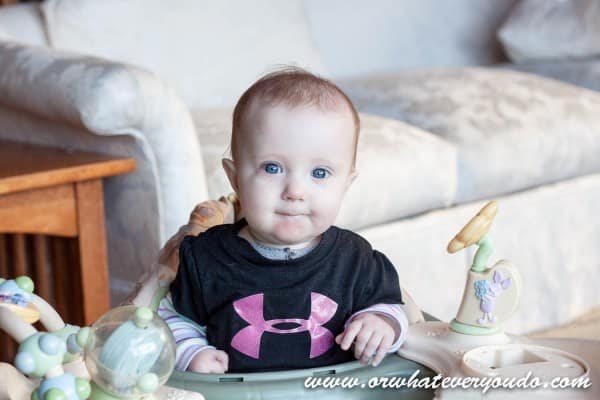 Here is Caleb who is 4 years old and is the busiest boy in the bunch. He is on full-speed, high-volume at all times, which can get pretty tiring. Mr. Caleb is starting Kindergarten this fall. Pray for his teacher. 😉 I am going to miss having him around the house with me during the day!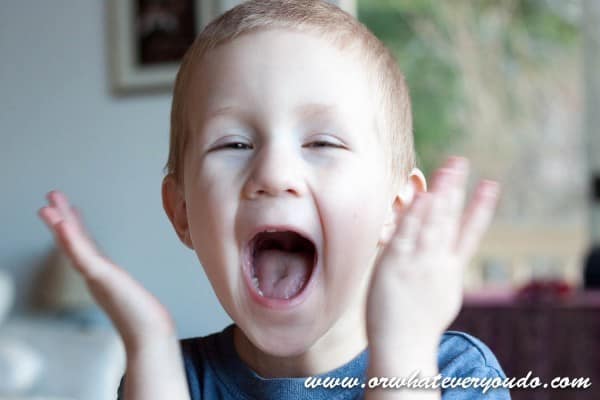 ---
Need some more awesome cupcake ideas? I've got lots!
Blueberry Lemon Cupcakes
Strawberry Stuffed Cupcakes
Marble Cupcakes
Scratch Hostess Cupcakes
---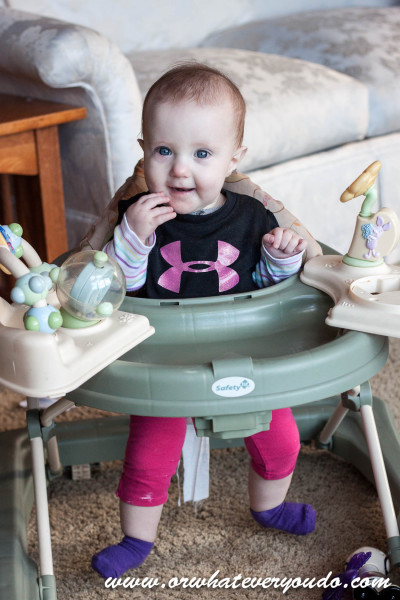 Here is Isaiah with his new glasses! He loves them, which is amusing to me. I'm so glad it isn't a battle to get him to wear them though! He's in 2nd grade this year. His current interests are Minecraft, and all iterations and variations of Minecraft. Also, he loves those tiny rubber band bracelets. I am not as big of a fan of those as the kids seem to be.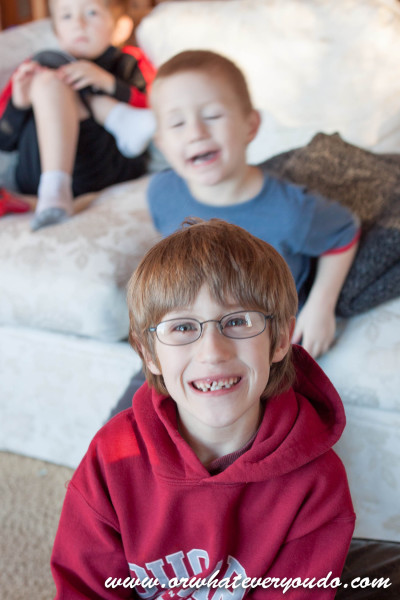 Daniel would not let me get a good picture of him this day, so I snuck one of him in the background. Here he is playing Minecraft on the PS3. He's also a Minecraft & rubber band bracelet fan.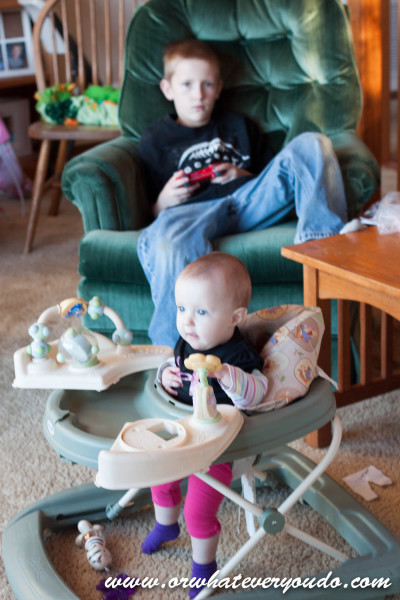 Another shot of Caleb who loves to pose these days. He's my only one!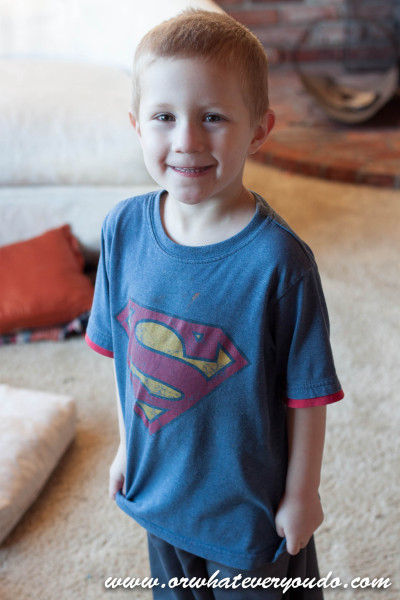 Here is Elijah! He's in 1st grade and there's a little girl in his class who swears she is going to marry him, much to his chagrin. I think it's adorable, but probably wouldn't if he was also on board with this. 😉 I told him to tell her he's way too young for smooching, so they could only be friends. I had to sneak this picture as well. He wasn't into it.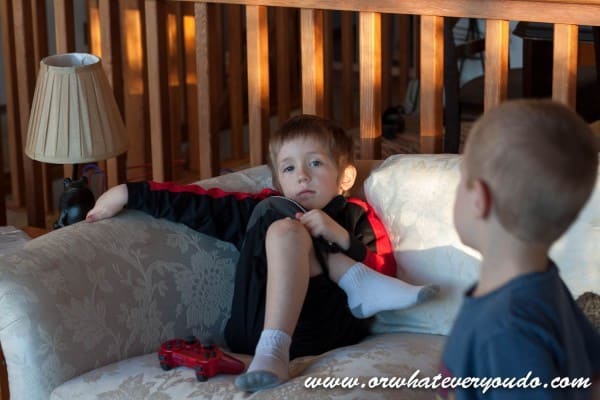 What's new in your lives? Find me on facebook or comment below. I'd love to hear about what you've been cooking, baking, or anything interesting you want to fill me in on.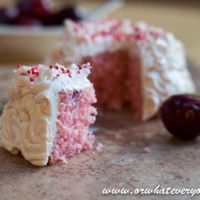 Homemade Cherry Cupcakes
Made-from-scratch cherry cupcakes are a special treat during the short cherry season here in the Pacific Northwest! Get a cherry pitter, a giant box of cherries, and go to town. Naturally flavored and colored.
Ingredients
Cake
1/2 cup butter, salted
1 1/2 cups granulated sugar
2 large eggs
1/3 cup buttermilk
1/4 cup oil
1.5 tsp vanilla
2 cups pitted, chopped cherries
2 1/2 cups cake flour
2 tsp baking powder
Fresh Cherry Meringue Buttercream:
1/3 cup pitted chopped cherries
4 large egg whites, use pasteurized eggs if you are worried about this
1 1/4 cups sugar
3 sticks butter, unsalted, room temp
Instructions
Cupcake Directions:
Preheat oven to 350°. Line a muffin tin with paper liners, and lightly spray with baking spray.
Place the butter and sugar into your mixer, and mix on medium speed until the mixture is light and fluffy. Crack the eggs into a separate bowl, and then add eggs, one at a time. Mix well after each addition until the eggs are fully combined into the batter.
Add the vanilla, oil, and buttermilk. Mix on low speed for 1 minute.
Sift the flour and baking powder into another bowl. Add slowly to the wet ingredients and mix on low until well combined. Stir in the chopped cherries by hand, gently.
Spoon the batter into your prepared pan, and bake at 350° until a tester comes out with moist crumbs. It should take about 25 - 30 minutes.
Let cool for 10 minutes in pans, then remove from pans and finish cooling on a wire rack.
Fresh Cherry Meringue Buttercream:
Whisk together the egg whites and sugar in a heat-proof bowl. Place the bowl over a pot of simmering water, and continue to whisk until the sugar is fully dissolved and the mixture reaches 160°F.
Place the egg whites and sugar mixture into your stand mixer, and beat on medium to medium high speed until stiff peaks have formed and the mixture is fully cooled. It should take about 10-15 minutes.
Cut the butter into small cubes, and add slowly while mixing.
Continue mixing until the buttercream is smooth, light, and fluffy, and is proper frosting consistency. This can take anywhere from 5-15 minutes. Just keep beating. It will come together!
Place the chopped cherries into a food processor and process until a puree has formed. Slowly drizzle into the frosting while mixing on low speed until combined.
Place in a piping bag and pipe onto the cooled cupcakes and enjoy! Best served at room temperature.
Notes
I don't actually remember how many cupcakes this made! I'm so sorry! Make sure and fill the cupcake liners 2/3 of the way full. It should make about 18-24ish though!
Nutrition Information:
Yield:

24
Serving Size:

1
Amount Per Serving:
Calories:

322
Total Fat:

18g
Saturated Fat:

10g
Trans Fat:

0g
Unsaturated Fat:

7g
Cholesterol:

64mg
Sodium:

98mg
Carbohydrates:

37g
Fiber:

1g
Sugar:

26g
Protein:

3g
Nutrition data provided here is only an estimate. If you are tracking these things for medical purposes please consult an outside, trusted source. Thanks!