Dive into the ultimate comfort food experience with our Lasagna Stuffed Shells! This incredible recipe merges two Italian favorites into one delicious meal. Jumbo shells stuffed with a blend of cheeses and topped with meat sauce, this dish offers layers of flavor in every bite. Ideal for weeknight dinners, special occasions, or meal prepping, this recipe is a must-try. Plus, it's freezer-friendly! Bookmark this page and share it with your pasta-loving friends and family. Then, prepare to wow your dinner table with this fantastic fusion of tastes and textures.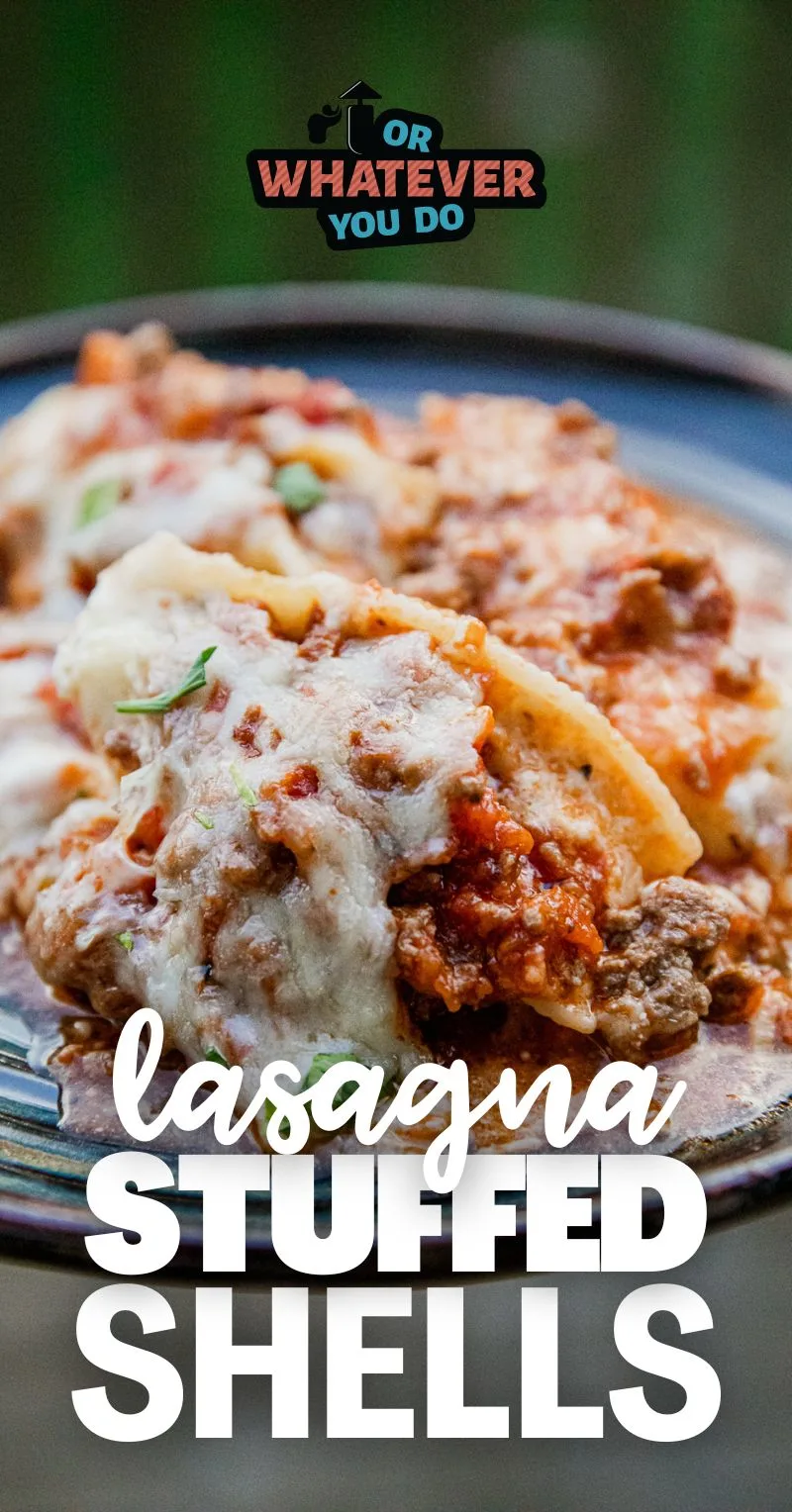 Lasagna Stuffed Shells Recipe
Need a flavorful, convenient recipe that you've probably never made before? Try our Lasagna Stuffed Shells! It combines the best of lasagna and stuffed pasta all in one easy recipe. The process is quicker than layering lasagna and easier for portioning, too.
Why make this dish? It saves time and still delivers big on taste. It's perfect for group dinners and meal prep, or to bring to a friend or neighbor who could use a home-cooked meal delivered. You only need 2-3 wheels per portion, especially if you are serving with a piece of crusty bread and a salad, so one pan can feed a small army or serve up as quick lunches for the rest of the week.
Want to mix it up? The recipe is flexible! You can use homemade meat sauce like our Bison Bolognese, or hit the "easy" button and use a store-bought sauce like Rao's or Victoria's. You can add extra veggies like spinach and amp up the spice with red pepper flakes. Customize the filling to fit your tastes and needs.
Why you'll love this dish…
All the flavors of lasagna, none of the layering.
Lots of protein in this dish with the addition of cottage cheese to the filling. Make it even meatier by adding extra ground meat like venison to the sauce.
All of the spaghetti fans in the house will go crazy over this fun twist on their favorite meal!
You need more PASTA in your life.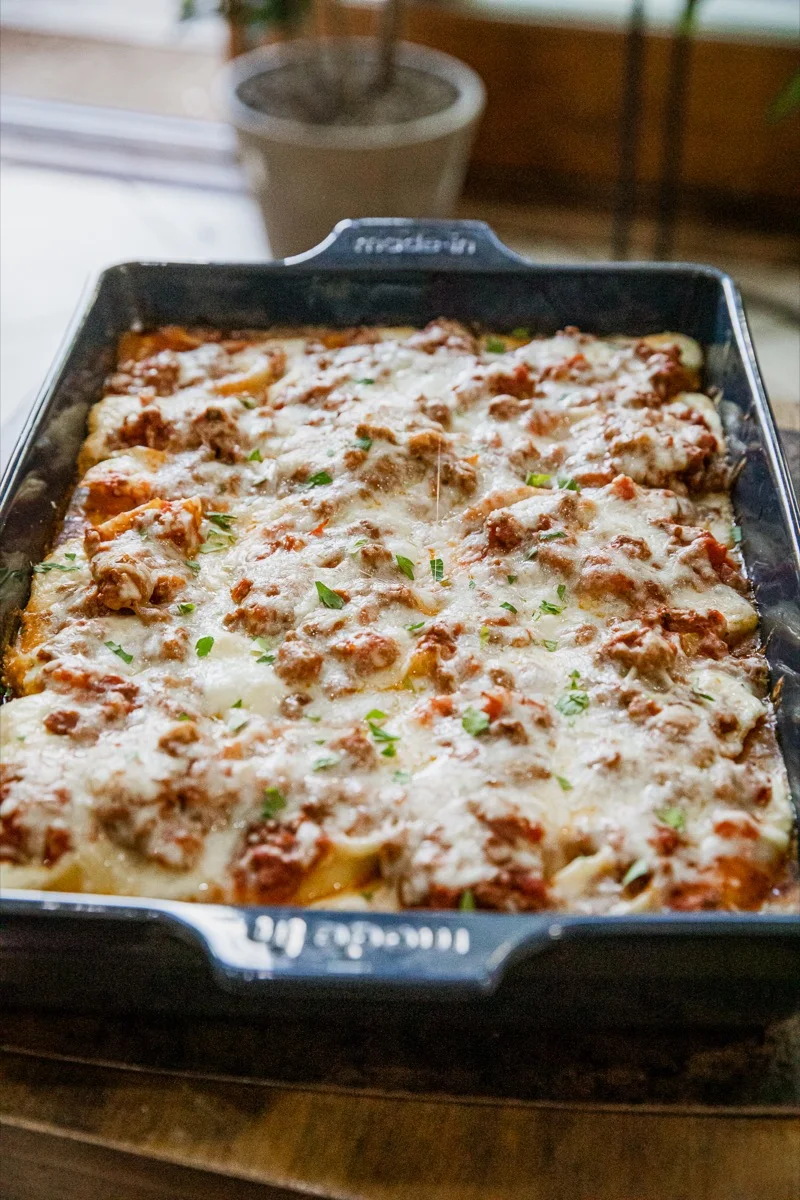 Lasagna Stuffed Shells shopping list
Wondering if you have to hit the store? Here's the list of items you'll need to make this recipe. For specific amounts, please refer to the printable recipe card at the bottom of the post.
Jumbo shells
Shredded mozzarella cheese
Ricotta cheese
Cottage cheese
Parmesan cheese
Egg
Italian seasoning blend
Salt
Ground beef
Rao's Marinara Sauce
Try our Traeger Lasagna too!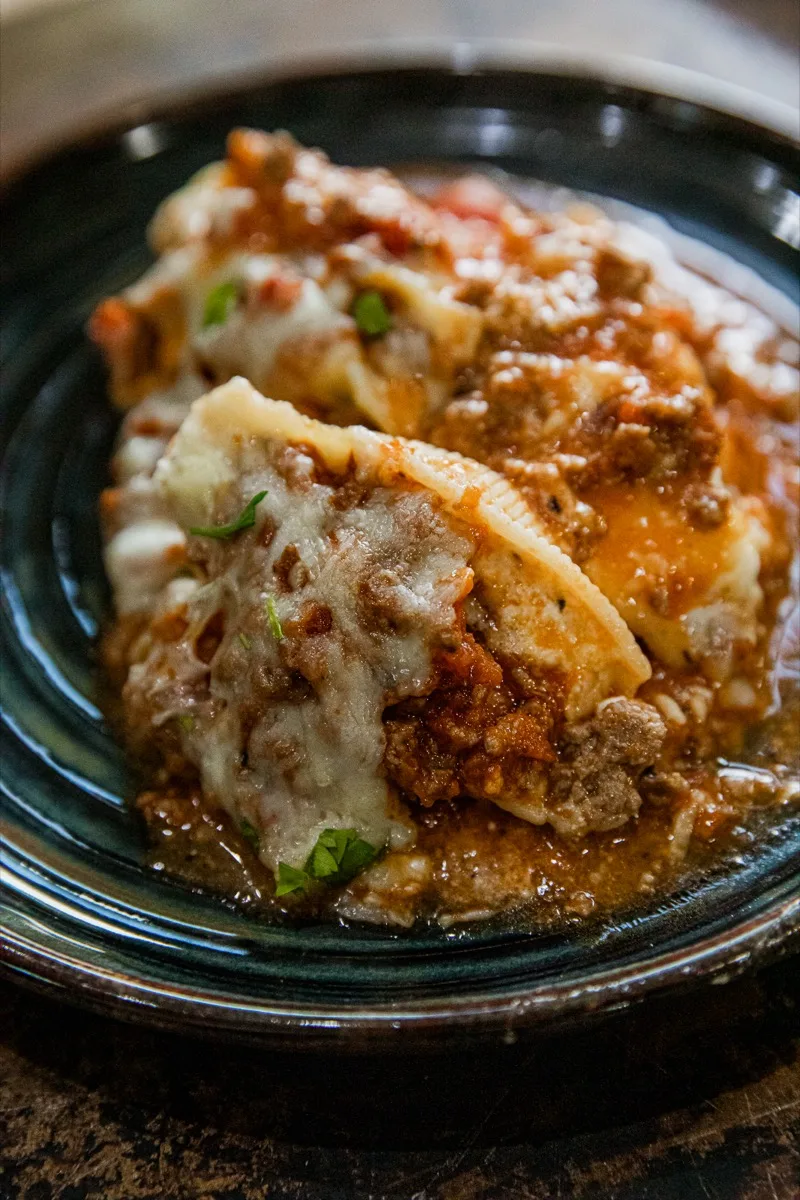 How to make Lasagna Stuffed Shells
This is just the overview so you can see what you're actually getting into here. When you are cooking, you'll want to use the full recipe at the bottom of the page.
Preheat
Get the oven going and get it preheating to 325°. Put a well-salted pot of water on to boil too.
Noodles
Par cook the shells in the boiling water. Remove and rinse with cold water.
Sauce
Brown the ground beef and add in the sauce. Let it get nice and hot over low heat. Or make your own sauce. I've included some options below in the recipe card for both.
When it is hot and done cooking, put about 2 cups in the bottom of a big 10×13 inch baking dish.
Cheese & Stuff
Mix together all the cheese-filling ingredients. Spoon it into the shells until it is all gone. Place them into the baking dish.
Top with the rest of the sauce.
Top with the mozzarella cheese from the cheese topping portion of the recipe. Sprinkle with the Italian seasoning.
Bake
Bake for 45-60 minutes or until everything is piping hot and bubbly. The internal temp of the cheese filling should be at least 160°F. Let it cool for 10-15 minutes so everyone doesn't burn their mouths on the molten lava filling, and then enjoy!
Try our Rigatoni Alfredo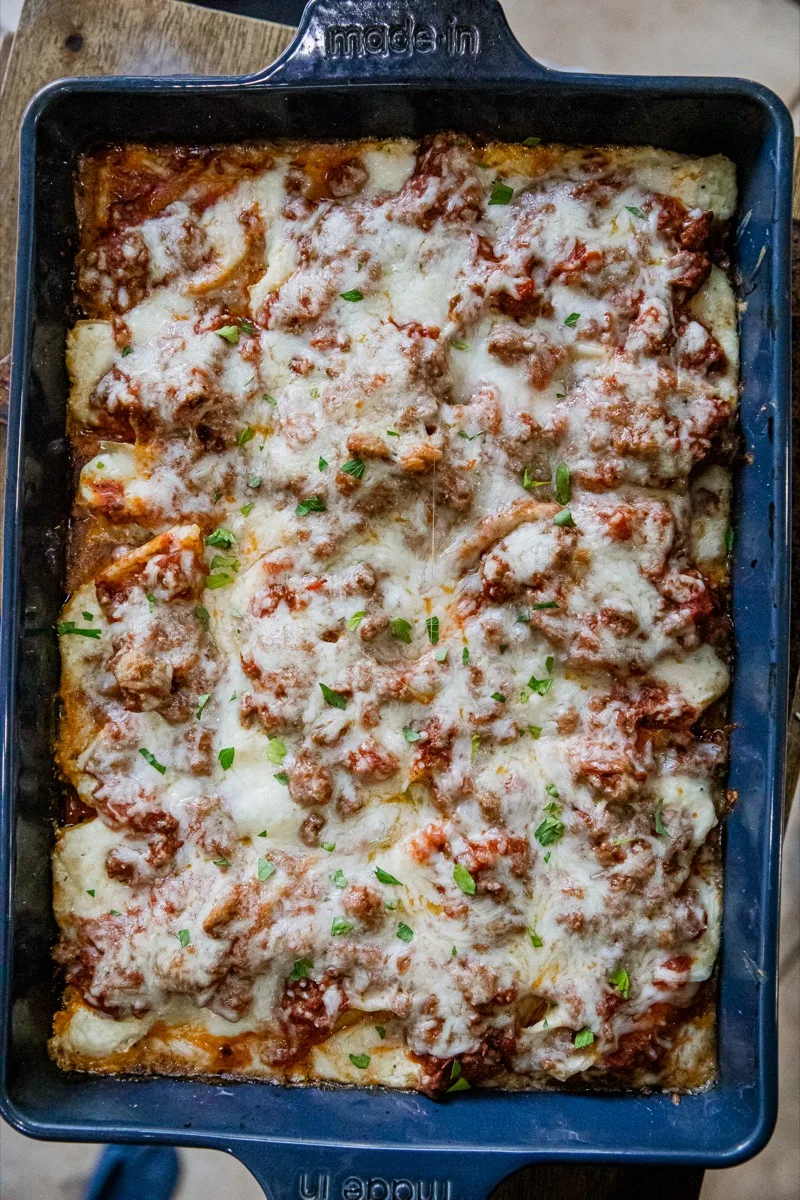 Lasagna Stuffed Shells FAQ
Can this recipe be made in advance?
Yes! This is a fantastic meal to put together the day before you want to eat it. You can even freeze this in single-serving portions if that's your thing. This would be excellent for a new mom or someone who has been under the weather and would like a home-cooked meal they didn't have to make themselves.
What's the best way to store and reheat the leftovers?
We store these in a plastic or glass container covered in the fridge. Reheating is a snap in the microwave, air fryer, or even back in the oven. Lower temps (around 225°F) are recommended so you don't crisp up all that cheese too much before the interior is heated through.
Are there any recommended additions or substitutions?
This recipe is very customizable. Are you a vegetarian? Omit the ground meat from the sauce. Want to amp UP the meat (and protein) in the mix? Add more ground beef, pork, or venison to the meat sauce. You can even whip up some meatballs and add them to the pan with the shells.
Serve with Traeger Garlic Bread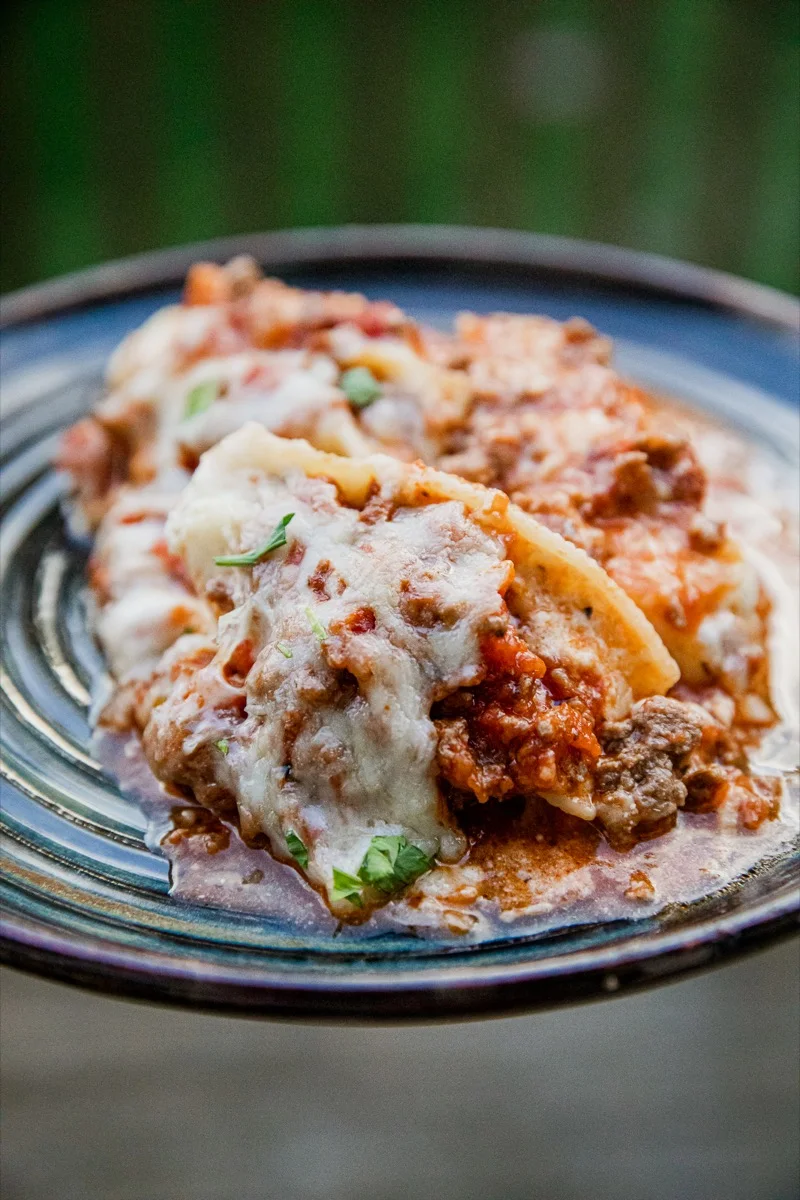 Serve this with…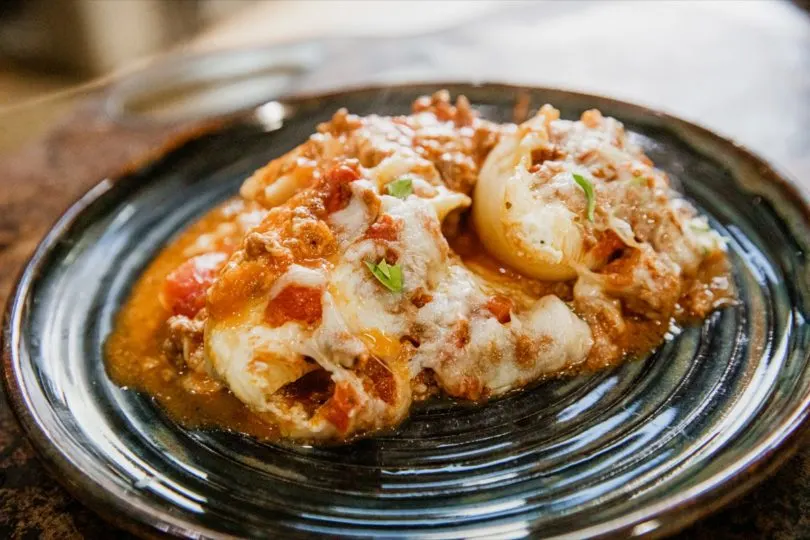 More great pasta recipes to love!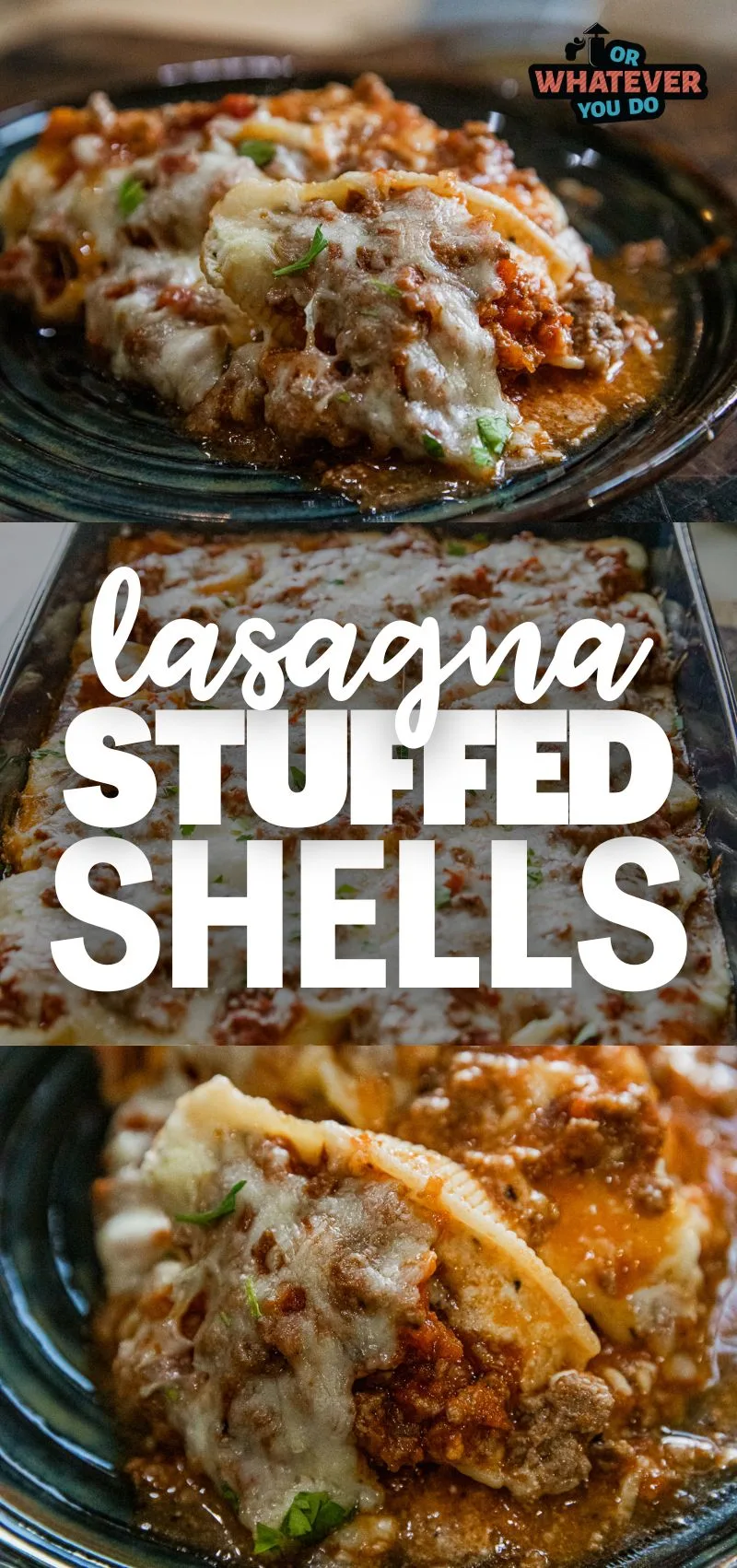 Yield: 8 servings
Lasagna Stuffed Shells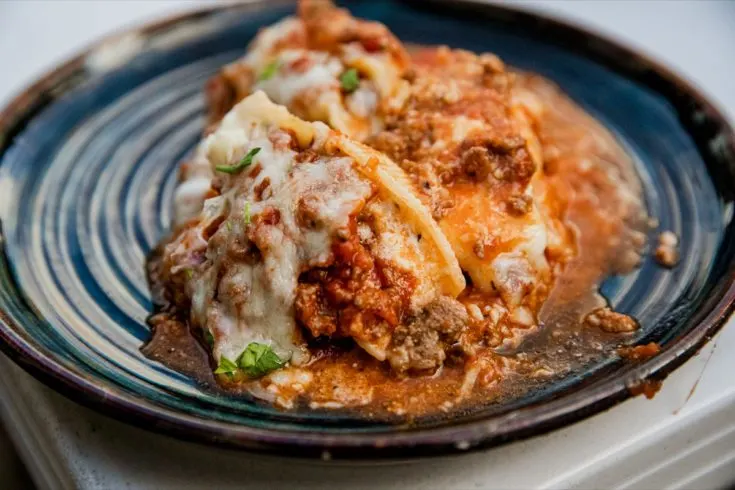 Discover a twist on a classic Italian dish. Lasagna Stuffed Shells combine pasta, cheese, and meat sauce for a mouthwatering meal.
Total Time
1 hour
20 minutes
Ingredients
Cheese Mixture
8 ounces shredded mozzarella cheese
8 ounces ricotta cheese
8 ounces cottage cheese
8 ounces grated parmesan cheese
1 egg
2 teaspoons Italian seasoning blend
1/2 teaspoon salt
Sauce
2 pounds ground beef (85/15 preferred)
2 - 28 ounce jars Rao's Marinara Sauce
OR
1 batch homemade meat sauce
Cheese topping
4 cups shredded mozzarella cheese
1 teaspoon Italian seasoning
Instructions
Preheat your oven or pellet grill to 325°F.
Parboil the jumbo shells following the boxed instructions. Only cook them for half the time called for on the box, however. When finished, rinse with cold water and set aside.
Mix together the cheese mixture ingredients until well combined. Set aside.
If making homemade sauce, make that now. If you are using store-bought sauce, brown the ground beef in a large sauce pot. Add the jarred sauce and let heat over medium heat, stirring frequently.
In a 10x13 high-sided baking dish, spoon in a couple of cups of sauce.
Fill each shell with the cheese filling mixture and place into the pan with the sauce. Repeat until they are all filled. You may have a few extra shells. That's normal.
Cover with the rest of the pasta sauce. Top with the mozzarella from the cheese topping part of the ingredient list, and sprinkle with Italian seasoning.
Bake for 45 minutes to 1 hour, or until everything is hot, bubbly, and the internal temp of the cheese stuffed into the shells is as least 160°F.
Let cool for 10 minutes on a heat-resistant surface before serving.
Serve with crusty bread and salad.
Recommended Products
As an Amazon Associate and member of other affiliate programs, I earn from qualifying purchases.
Nutrition Information:
Yield:
8
Serving Size:
1
Amount Per Serving:
Calories:

726
Total Fat:

41g
Saturated Fat:

18g
Trans Fat:

1g
Unsaturated Fat:

17g
Cholesterol:

185mg
Sodium:

2090mg
Carbohydrates:

30g
Fiber:

5g
Sugar:

13g
Protein:

57g
Nutrition data provided here is only an estimate.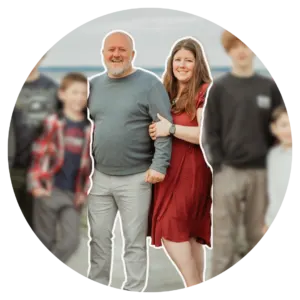 Nicole Johnson, a self-taught expert in grilling and outdoor cooking, launched Or Whatever You Do in 2010. Her blog, renowned for its comprehensive and creative outdoor cooking recipes, has garnered a vast audience of millions. Nicole's hands-on experience and passion for grilling shine through her work. Her husband, Jeremiah Johnson, also plays a pivotal role in recipe development, adding his culinary flair to the mix. Together, they form a dynamic duo, offering a rich and varied outdoor cooking experience to their followers.