Shrimp Stir-Fry
I haven't posted an actual recipe in too long!
This shrimp stir-fry is my go-to stir-fry recipe. I love the garlicky, soy-based sauce, and often double the sauce portion so I can have plenty to pour over my jasmine rice.
This recipe is so versatile. You can add whatever vegetables that you like, and whatever meat as well. I often sub chicken in for the shrimp.
---
I've got a lot more great stir-fry recipes for you to enjoy! Check them out here:
---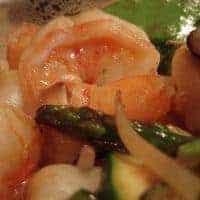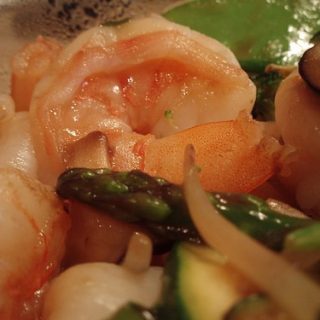 Shrimp stir-fry with vegetables and shiitake mushrooms
Ingredients
Stir-fry
1 lb shelled, deveined, large shrimp
1 lb various vegetables (onion, asparagus, peas, green beans, zucchini, carrots, peppers, etc)
1/4 lb shiitake mushrooms
3-4 Tbsp canola oil
2 Tbsp garlic, finely chopped
Sauce
2 Tbsp rice vinegar
2 Tbsp sugar
2 T soy sauce
2 T dry sherry
1/4 tsp garlic chili sauce, Sriracha
1/4 tsp sesame oil
2 tsp cornstarch
1 Tbsp water
Instructions
Mix Sauce ingredients in a small bowl, set aside. Mix slurry (cornstarch & water in a separate bowl. Set aside.
Heat oil in a large wok or pan until almost smoking. You want it very, very, VERY hot. Dump in shrimp and stir fry approximately 2 minutes, or until pink. Remove from pan.
If necessary, add more oil to pan and allow to heat again until smoking. Add vegetables and stir fry 3-4 minutes, or until crisp tender. Add garlic and stir fry 30 seconds.
Dump in sauce mixture and heat, while stirring, until simmering. Slowly pour in slurry mixture and stir until sauce is thickened. You may not need entire slurry mixture.
Serve over jasmine rice