If you have access to fresh salmon, you have got to take the plunge into preparing and cooking our whole grilled salmon recipe. We stuffed this fresh Pacific Silver (Coho) Salmon with lemon, onions, thyme, and butter before roasting it right on the grates of our pellet grill.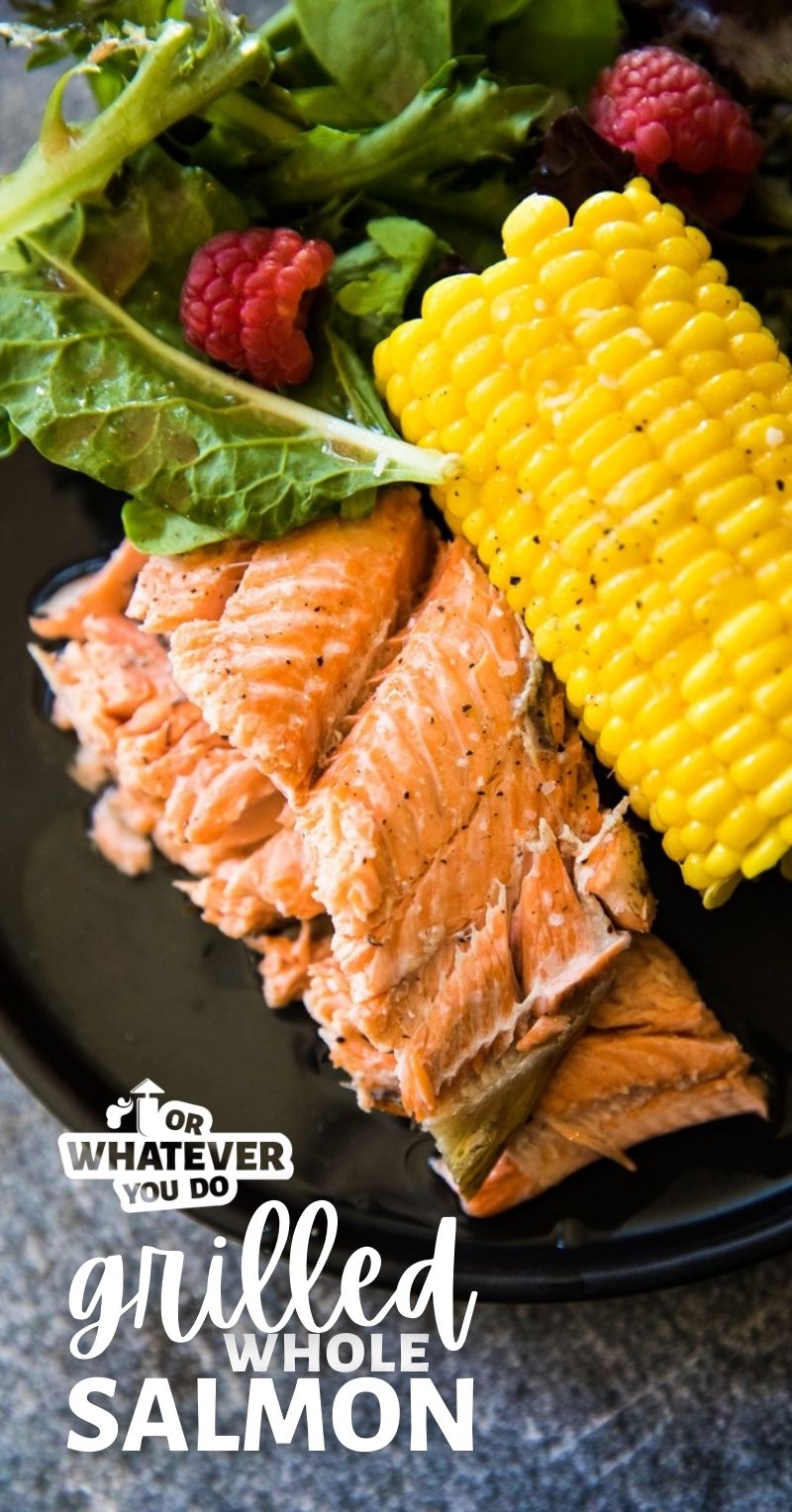 Whole Salmon on the Pellet Grill
Through all these years of catching, cooking, and eating salmon, we'd never actually kept one whole before and make it this way. It was always salmon filets. Not that there's anything wrong with that. Salmon filets are kind of my jam, they are easy to work with, cook quickly, and are delicious.
This whole salmon was incredible though. Stuffed with lemons, dill, thyme, and butter. It is beautiful, stays so moist. There are more bones to deal with when you are working with a whole salmon, but the good news is that they come out of the fish really easily after it is cooked, so it's easy to avoid them.
Check out all of my Traeger Recipes!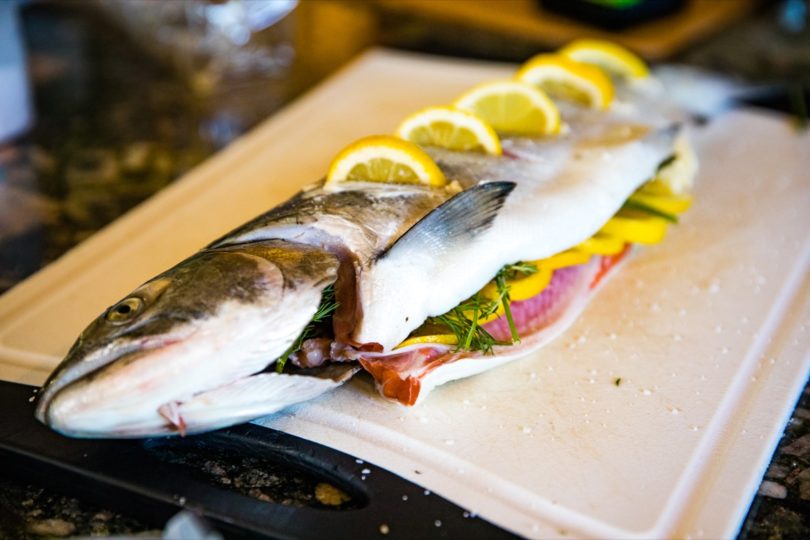 Whole Grilled Salmon Shopping List
Wondering if you have to hit the store? Here's the list of items you'll need to make this recipe. For specific amounts, please refer to the printable recipe card at the bottom of the post.
whole salmon
lemons
dill
thyme
butter
salt & black pepper
olive oil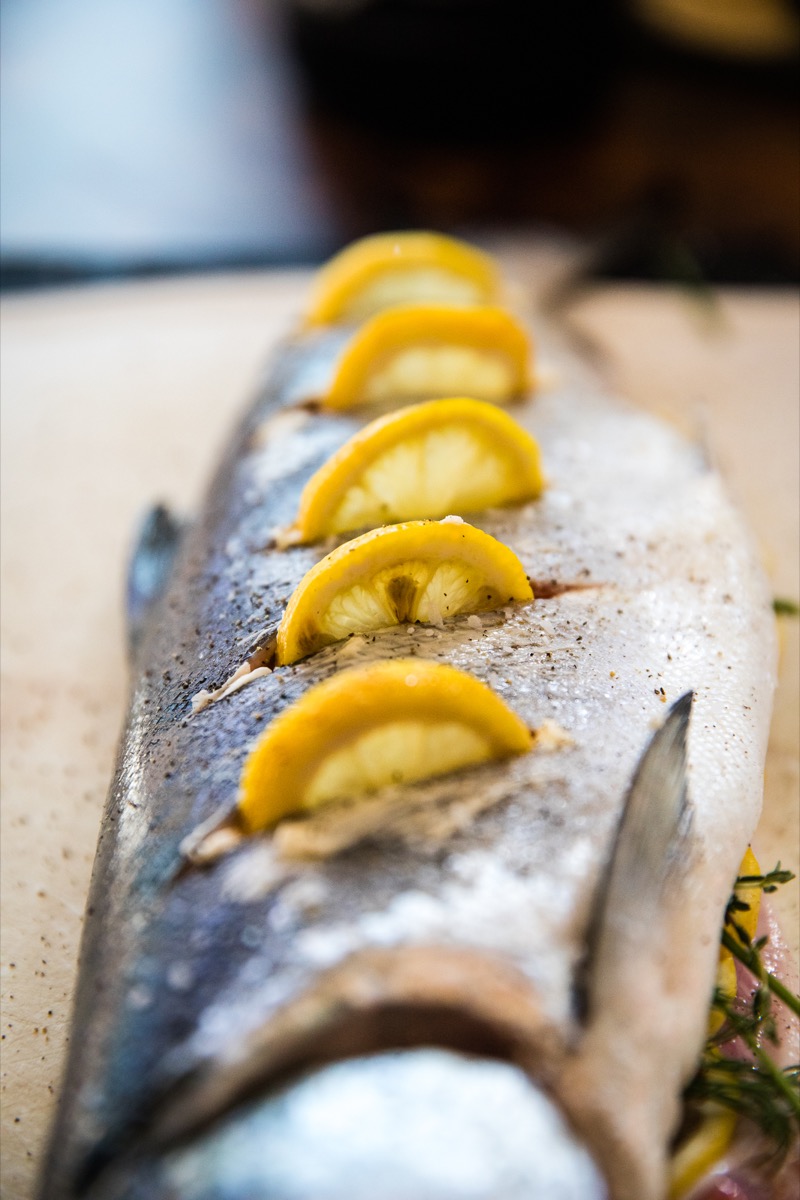 How to make a whole salmon on the pellet grill
This is just the overview so you can see what you're actually getting into here. When you are cooking, you'll want to use the full recipe at the bottom of the page.
Preheat your grill
We want this to cook hot and fast, so preheat your pellet grill to 400° according to factory directions.
Clean, slice, and stuff
Rinse the salmon, make some slits on the top, salt and pepper on the inside and outside, and stuff with lemon, butter, and herbs.
Grill it
The internal temp goal is 145° for salmon. You can go a little under that if you are comfortable with it and you know the origin of the fish and how fresh it is. But, I eat sushi so you choose your own adventure as far as food safety is concerned. 😉 It took ours about 25 minutes to be a perfect 135°.
Slice
Cut the fish into steaks. Serve with salad and a fresh vegetable.
Follow me on Instagram!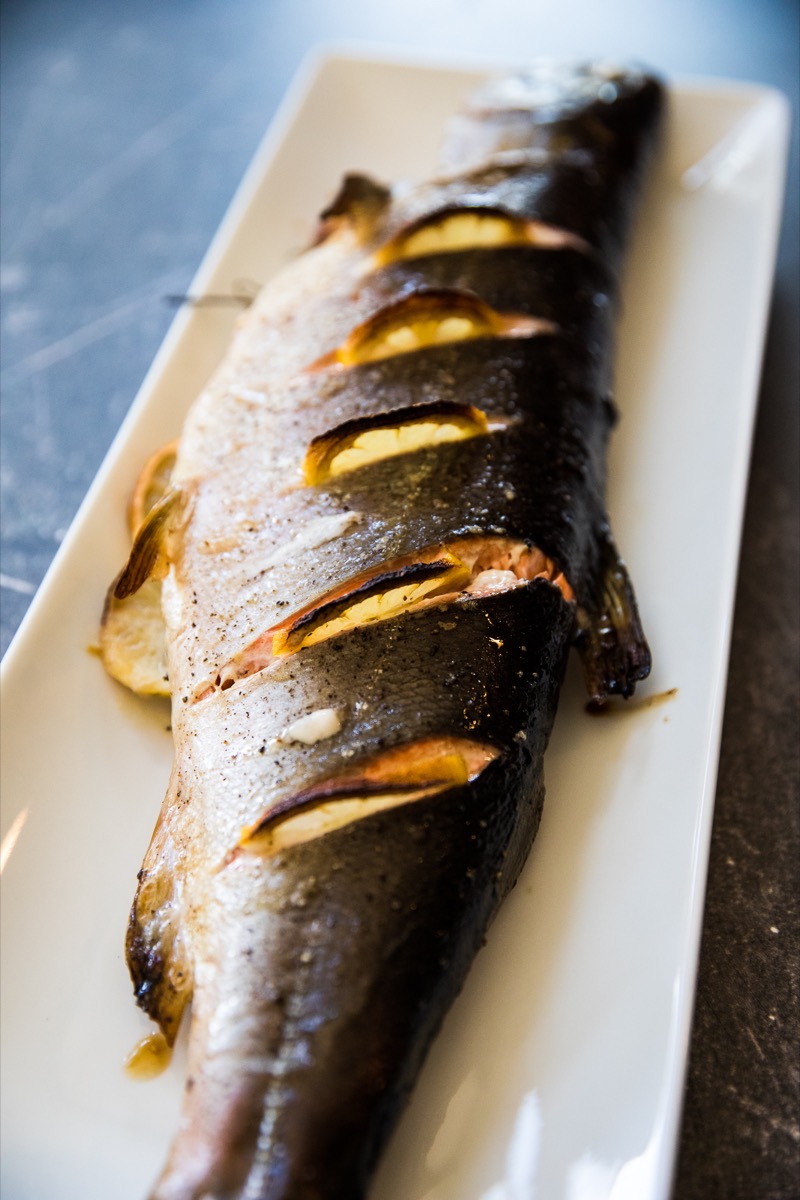 Whole Grilled Salmon FAQ
What's the best kind of salmon to use?
FRESH is best. As close as you can get it from swimming in the ocean to cooking on your grill, the better. If you don't have access to fresh salmon caught by yourself or someone you know, you'll likely need to go to a fishmonger to get a whole one. Either way, Coho, Chinook, and Sockeye are the best kinds of salmon to use for this recipe. Other kinds may work well, but we haven't tried them!
How do you store the leftovers?
Store the leftovers for 2-3 days, max, in a covered container in the fridge. De-bone first for ease of use for leftovers.
How should you reheat leftover whole grilled salmon?
Keep your fish out of the microwave, you crazies. It doesn't belong there.

Personally, when I have leftover salmon I prefer to use it in a pasta salad, like this Salmon Orzo Salad, in homemade sauces that'll do the reheating, gently – like my homemade alfredo sauce, or gently scrambled into eggs, like in my perfect scrambled eggs. Served cold on top of a homemade Caesar Salad would also be delicious!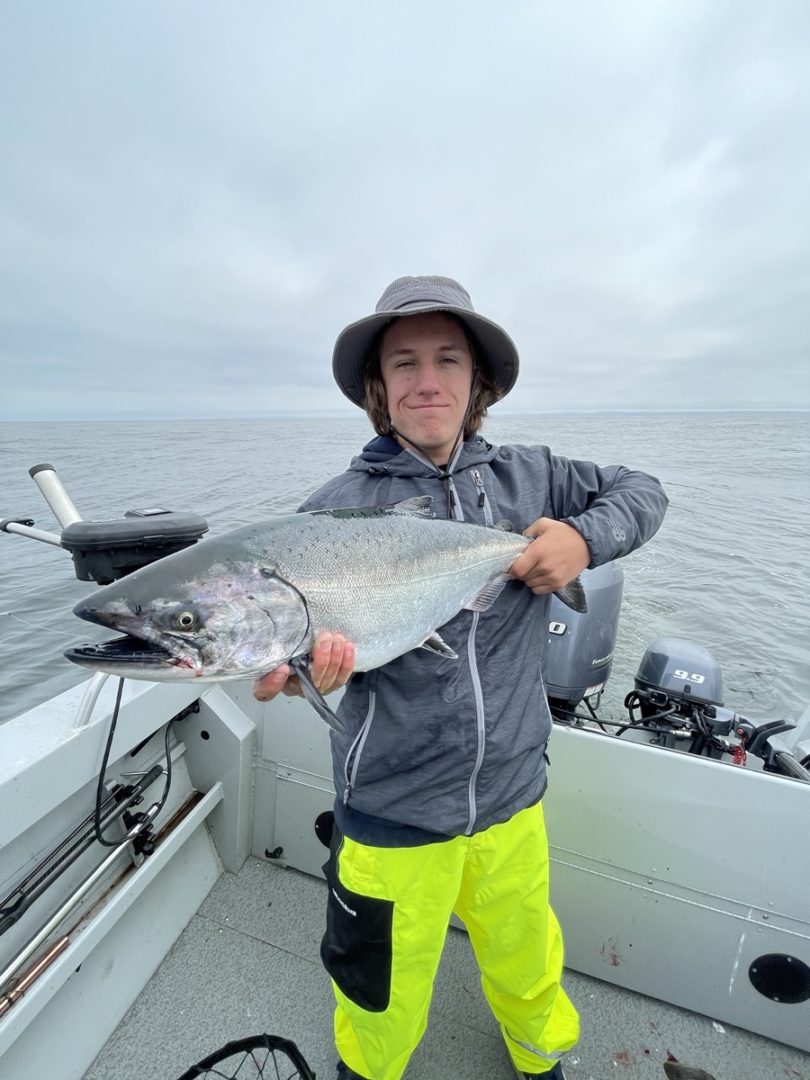 Join our Easy Traeger Recipes Facebook Group!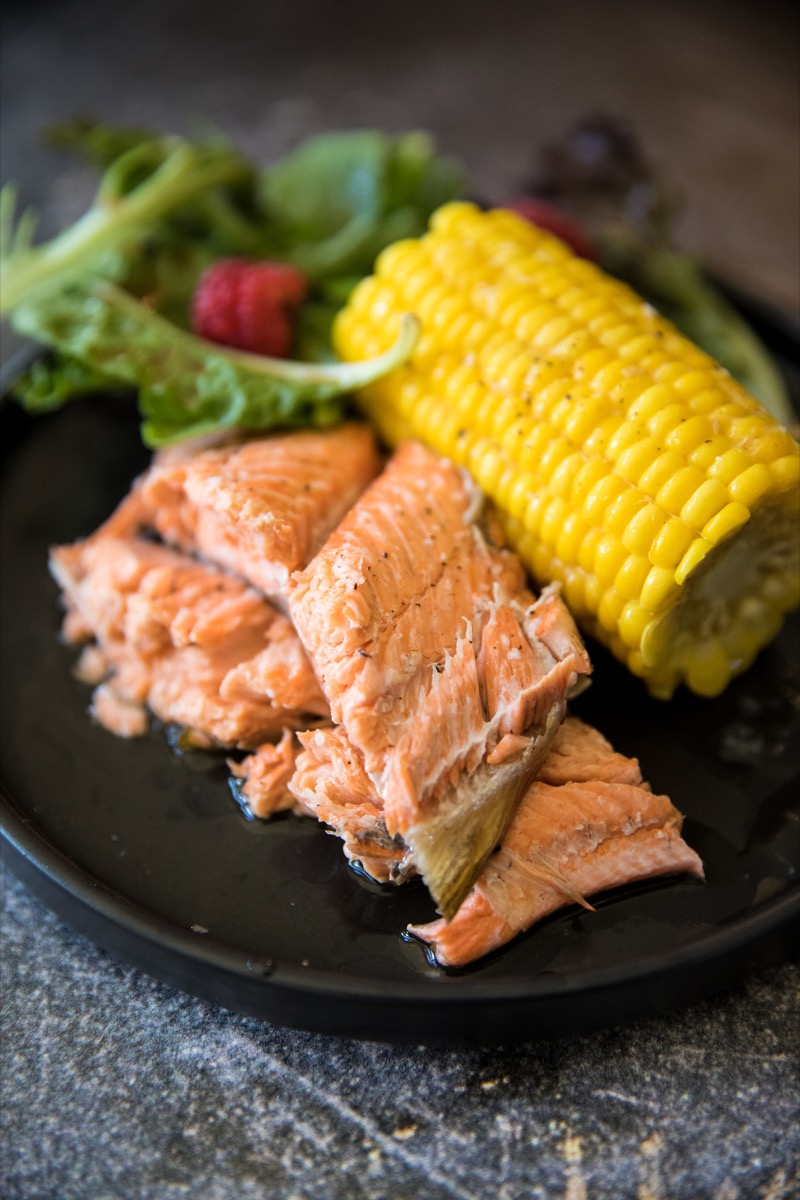 What should you serve with this whole grilled salmon?
We served our salmon with corn on the cob and a salad with homemade vinaigrette.
Some other great options would be: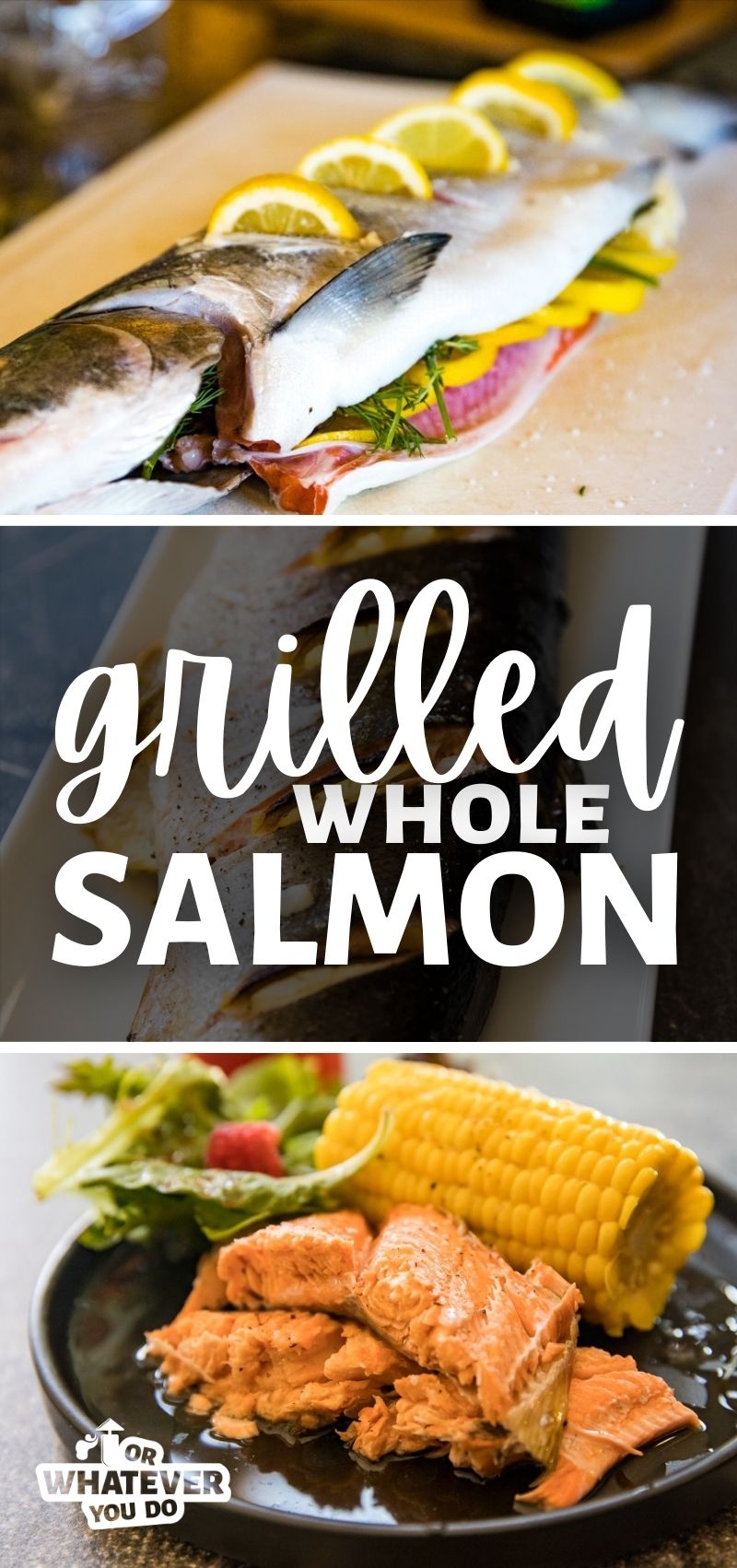 Yield: 4 servings
Whole Grilled Salmon Recipe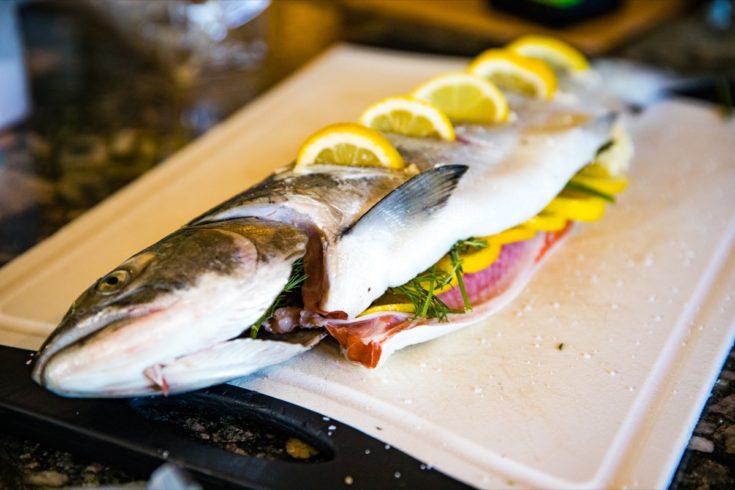 A fresh whole Pacific Coho Salmon gets stuffed with fresh herbs, lemons, and butter before being cooked on the pellet grill!
Ingredients
1 whole salmon
2 lemons
Fresh baby dill
Fresh thyme
4 ounces butter
1 teaspoon salt
1/2 teaspoon black pepper
1 tablespoon olive oil
Instructions
Clean your whole fish with cold water, inside and outside. (If you've caught the fish yourself, remember to scale it and to remove the gills when gutting it.)
Thinly slice your lemons and set them aside. Cut your butter into pats, around 1 teaspoon each.
Sprinkle some of the salt and pepper into the cavity of the fish as well.
Stuff the inside of your salmon with the fresh dill and thyme, most of the butter, and most of the lemon slices.
Use a sharp knife to score the side of the fish 1/4" deep 4-5 times. Rub your remaining butter into where you have scored your fish. Put the remaining lemon slices into the butter in the scored slices In the fish. Rub the bottom side of your fish with olive oil to prevent it from sticking to the pan or grilling surface.
Preheat your grill to 400 degrees and place the fish directly onto the grill (you can use a cookie sheet or grill mat if you are worried about sticking.)
Let the fish cook until the internal temperature reaches 145 degrees. It will take about 20-30 minutes, depending on the size of the fish.
After the fish reaches 145 degrees, remove it from the grill and serve. Watch for bones!
Recommended Products
As an Amazon Associate and member of other affiliate programs, I earn from qualifying purchases.
Nutrition Information:
Yield:
4
Serving Size:
1
Amount Per Serving:
Calories:

363
Total Fat:

34g
Saturated Fat:

16g
Trans Fat:

1g
Unsaturated Fat:

15g
Cholesterol:

97mg
Sodium:

747mg
Carbohydrates:

4g
Fiber:

1g
Sugar:

1g
Protein:

13g
Nutrition data provided here is only an estimate.