A Blue Hawaiian Colada is the type of cocktail you make when you want to take a mini-vacation to a tropical paradise. No, I am not talking about getting completely sloshed. I mean when you just want to have the sort of smile you get when you hit the beach. Like finally, time to chill and relax. Yes, life's a beach, and then you drink a blue Hawaii colada.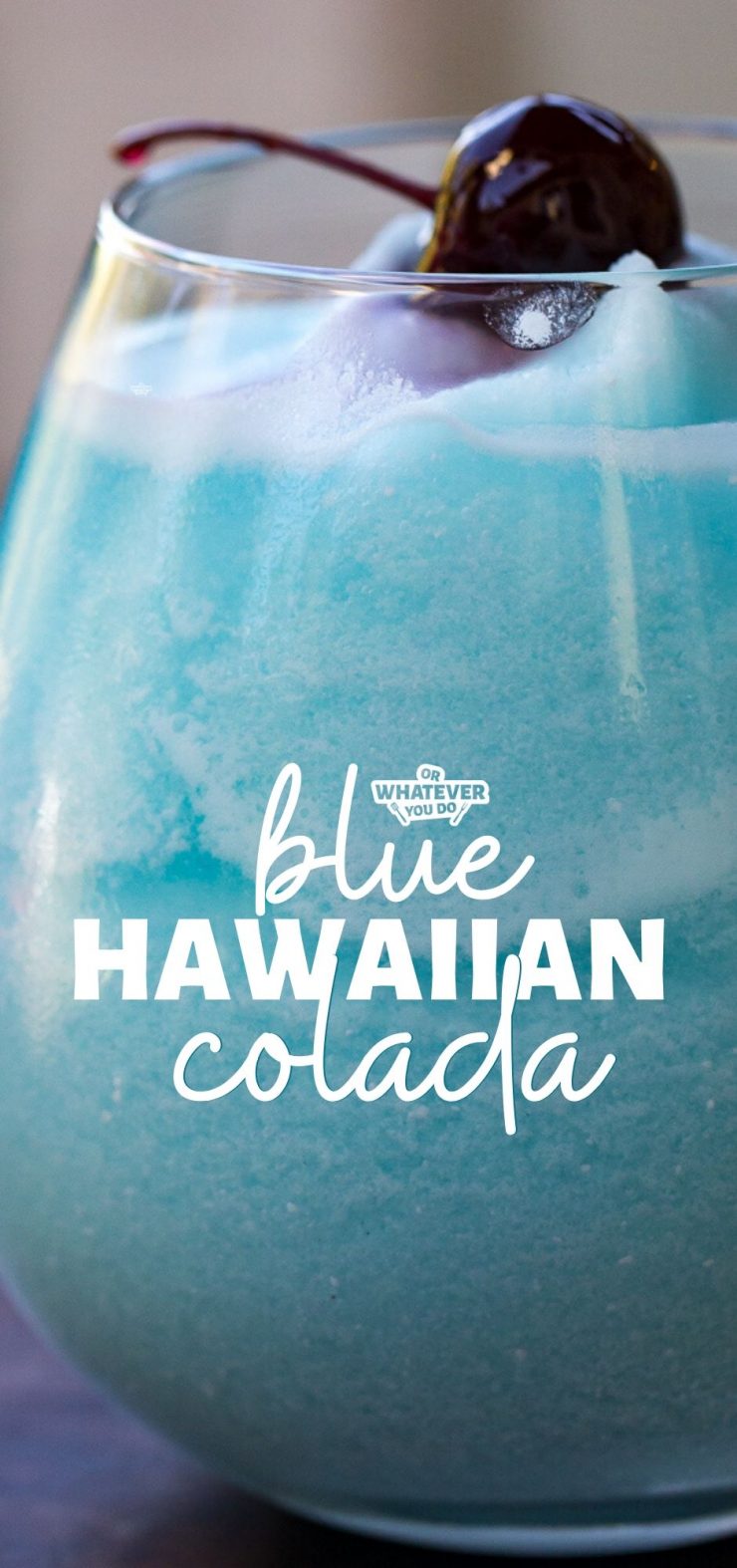 Blue Hawaiian Colada Recipe
A cocktail that is easy to mix, looks as fun as it tastes, and make even the cheaper booze taste great has its merits. The kind of cocktail where adding an umbrella garnish to add a flourish just makes it better.
Even if you don't have a pool to lounge by or a wave to ride crashing on a white sandy beach, a blue Hawaii colada will still take you there in spirit.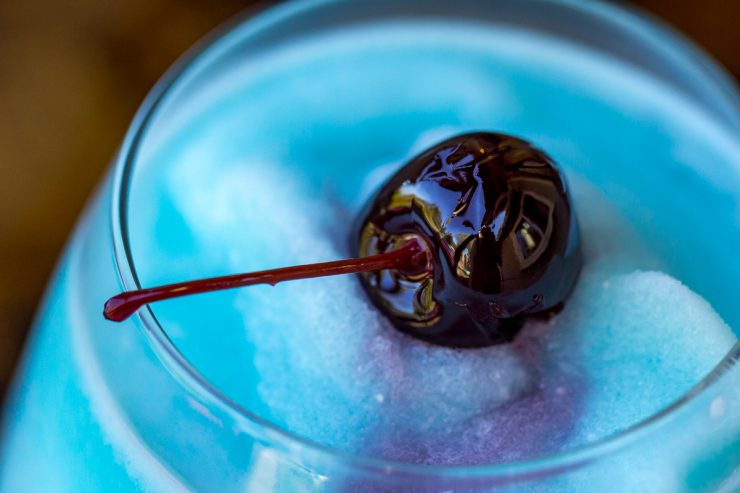 What Is Blue Curaçao?
Curaçao is a Dutch Island where the citrus fruit known as Laraha grows. This citrus fruit actually is inedible but the peel of it is very aromatic and similar to orange. If you ask me, it is sort of like an orange and a grapefruit decided to elope and a little while later came along a cute little Laraha.
If you think that blue color comes from the Laraha, then guess again. Laraha fruit looks similar to an orange which is why there is also orange curaçao. The blue color is artificial, but isn't it an amazing color?
This isn't called an Orange Hawaii colada. Where is the fun in that?
With a name like "Blue Hawaii", you get sandy beaches, hula skirts, and Elvis. In other words, you get a beach party a-go-go and someone on the ukulele. Probably me, if I've had more than one of these.
More Cocktail Recipes here!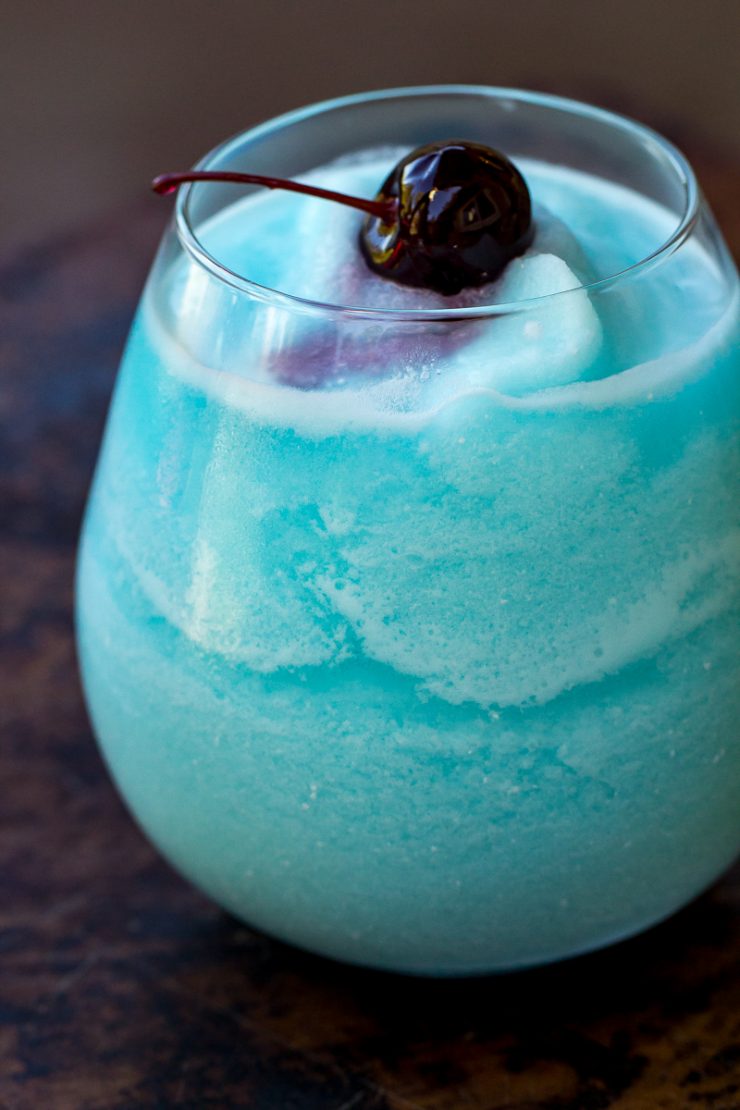 A lot of spirit in the Blue Hawaiian Colada
The alcohol in this cocktail definitely packs a kick, so make sure you drink in moderation because by golly these suckers go down pretty easy considering how potent they are. Rum, vodka, tequila… and gin? Seriously, that is like a trip down every aisle in the liquor store.
You could pour the top shelf if that is what is on your shelf, but truth be told, once the coconut milk and Curaçao are in there, the flavor of good booze will just vanish. So you are completely ok to go with the "well" brands on the shelf.
Need another cocktail that's blue? Try my Baby Blue Punch!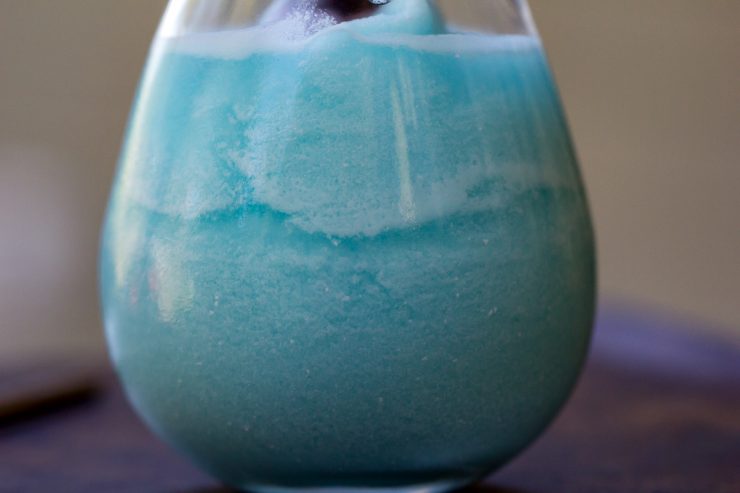 Pineapple is optional, here
In a typical classic pina colada cocktail, pineapple and coconut combine for the taste of a deserted island in the middle of a tropical paradise. With the blue Hawaii colada, the pineapple juice is optional. You can take the trip to paradise without it.
If you do use pineapple juice, then the quality of blue will change. After all, blue and yellow make green. It isn't going to taste bad. It just won't be that electric color of blue. If you want the big bright blue Curaçao effect, then substitute lemon-lime soda instead.
The citrus notes of Curaçao and the soda will perform the same flavor balances that pineapple juice does. (Those citrus, floral, sweet and sour complexities.)
If you want the color, but don't want to forsake using some pineapple, just get some pineapple chunks and those little drink umbrellas and set up skewers of pineapple on the edge of the glass. If you are wondering where to find the umbrellas, look in either the alcohol aisle or on the kitchen utensils area. Sometimes I have even seen them where you find all the baking products, or you can order them from Amazon here.
Follow me on Instagram!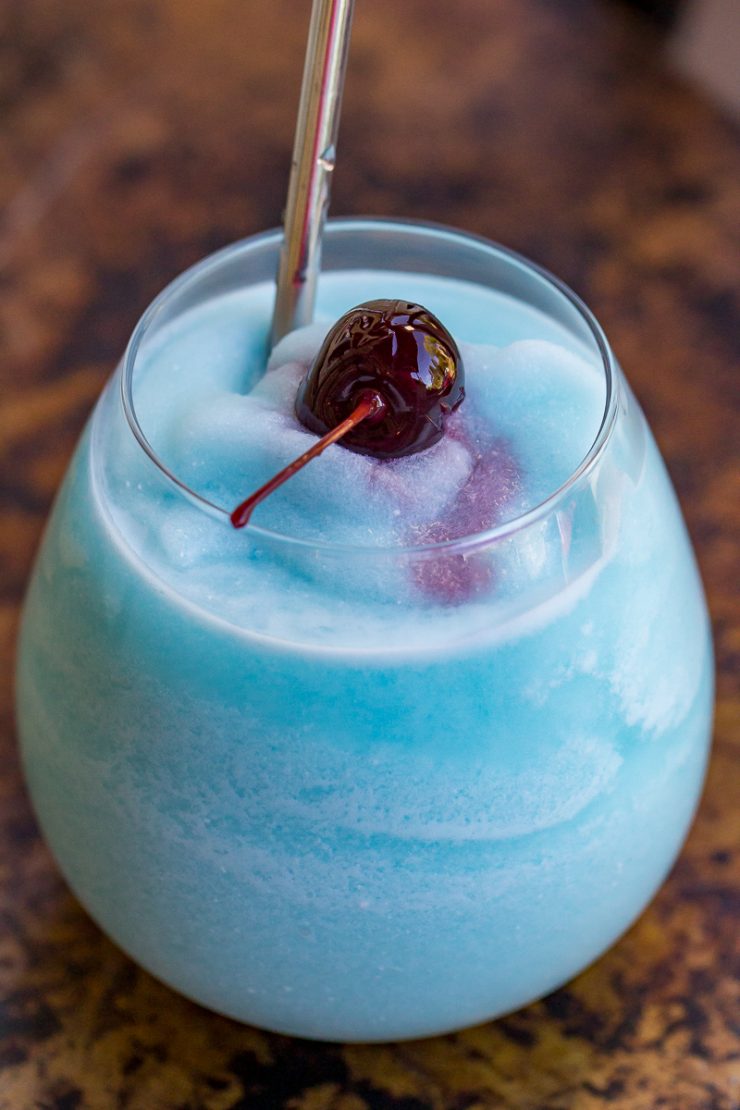 What Tiki bar appetizers go with this drink?
If you are going to serve Blue Hawaiian Coladas, then definitely you don't want to do it on an empty stomach. In this case, to really preserve the island-living vibe, it makes sense to create a pupu platter of appetizers.
(A pupu platter is like a mixed tapas plate.)
Create a few appetizers that taste great but won't sink you in the surf if you didn't wait a half-hour before swimming.
I have a few recipes I think will satisfy the requirements and fit the tropical paradise picture.
Panko shrimp – panko shrimp are super popular in Hawaii so they have to be included.
Coconut Shrimp – Bring some of those coconut flavors to your appetizer too! These shrimp are DELICIOUS.
Bbq Smoked Sausage Bites – this is just a classic pupu platter piece of the puzzle.
Grilled Crab Cakes – Imagining a crab skittering along the white sandy beach doesn't hurt the dream vacation cocktail.
Fried Wontons – what would a pupu platter be without a few wontons.
Egg Rolls – a must-have appetizer for a crowd! Freeze some for next time too!
Yield: 1 cocktail
Blue Hawaiian Colada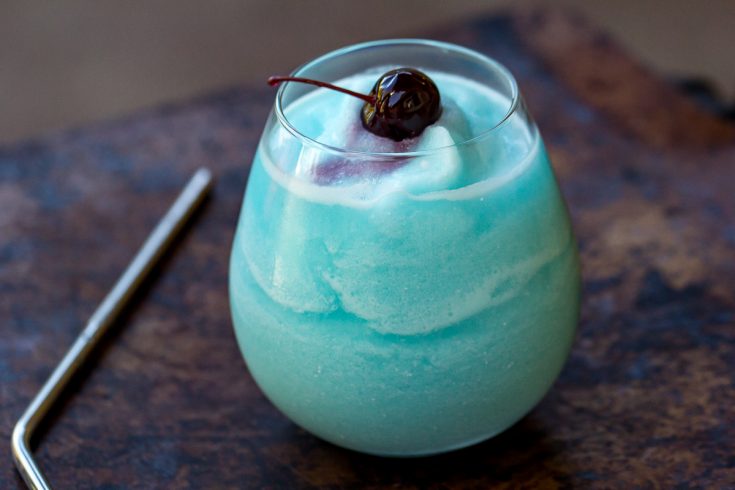 Fruity frozen cocktail with coconut, blue curacao, and all of the booze you can muster. It is a sweet drink for a hot day to be enjoyed in moderation!
Ingredients
1/2 ounce blue curacao
1/2 ounce coconut rum
1/2 ounce gin
1/2 ounce vodka
1/2 ounce silver tequila
2 ounces lemon-lime soda or pineapple juice (use lemon-lime soda if you want to keep the electric blue color)
2 ounces coconut cream
2 cups ice
Instructions
Blend and serve cold with a cherry and pineapple garnish!
Recommended Products
As an Amazon Associate and member of other affiliate programs, I earn from qualifying purchases.
Nutrition Information:
Yield:
1
Serving Size:
1
Amount Per Serving:
Calories:

482
Total Fat:

10g
Saturated Fat:

9g
Trans Fat:

0g
Unsaturated Fat:

1g
Cholesterol:

0mg
Sodium:

37mg
Carbohydrates:

71g
Fiber:

1g
Sugar:

63g
Protein:

2g
Nutrition data provided here is only an estimate.