These delicious Traeger Grilled Sweet Potatoes are actually a combination of sweet potatoes and yams. Drenched in a butter and brown sugar sauce and then baked on your favorite pellet grill.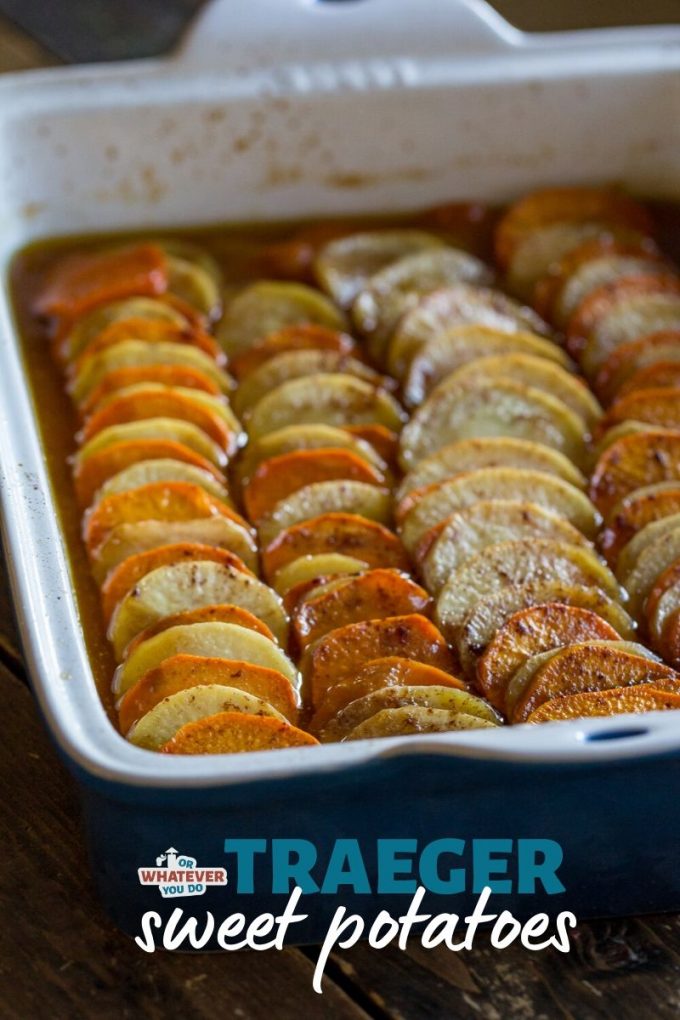 Traeger Grilled Sweet Potatoes
Sweet potatoes are a Thanksgiving classic, but if you aren't so fond of the marshmallow-topped whipped variety, you definitely need to try these. Also, they are good any time of the year. You don't need to wait until fall to enjoy them.
My sweet potatoes are sliced and layered in a big grill-safe pan, and then have a brown sugar bourbon sauce poured all over them before being baked off in the pellet grill for about 45 minutes to an hour.
You're left with delicious sweet potatoes with a caramel glaze.
Get our 75 ESSENTIAL Traeger Recipes here!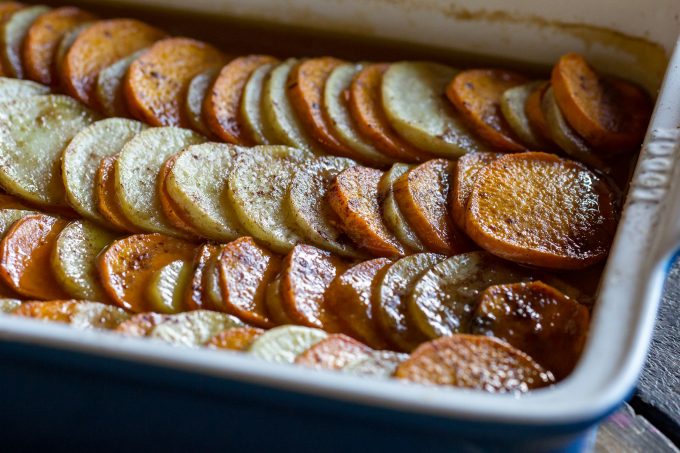 What kind of sweet potatoes are best for this?
I used both typical varieties of sweet potatoes in this dish. In fact, the orange one has probably been labeled a yam in your grocery store, but it is actually just another variety of sweet potatoes.
That's because yams are REALLY rare here in the US, and they aren't typically orange on the inside either.
So for this dish, you can use either the white-fleshed or the yellow-fleshed sweet potatoes, or a mix of the two.
More Easy Traeger Recipes here!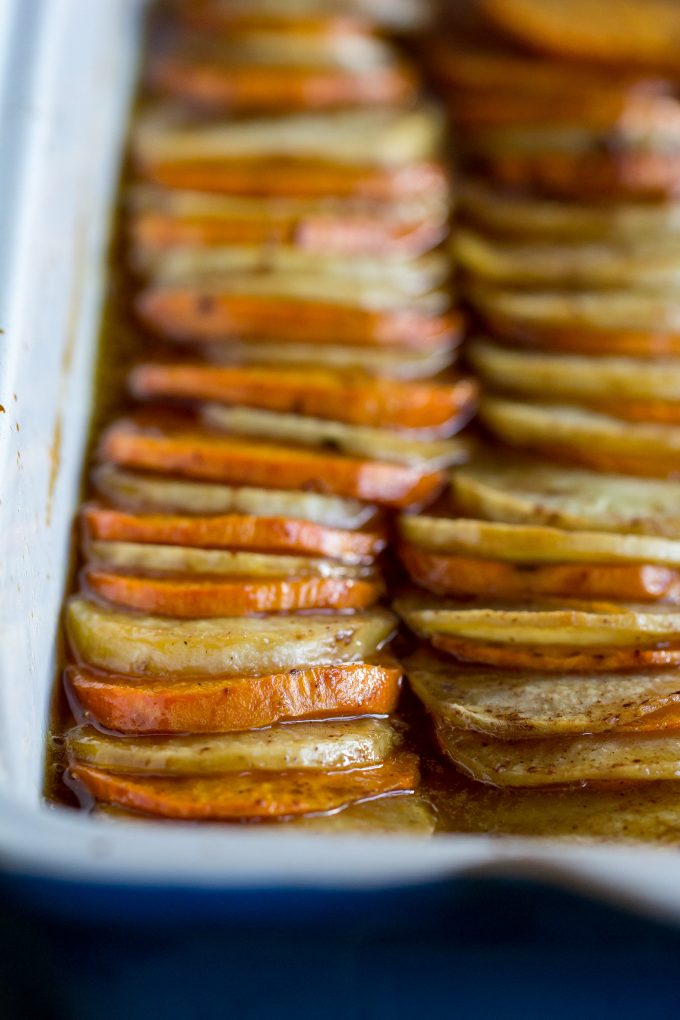 What kind of pan is best for grilled sweet potatoes?
When I'm putting something like this on the pellet grill, I will always prefer cast iron.
For this particular dish and for most of my casseroles, I use a Lodge Stoneware 9×13 inch pan and LOVE it. You can also use a metal pan, but it is thinner and you may be more apt to get some scorching on the bottom, so watch out for that.
Get more Traeger Pellet Grill Holiday Recipes here!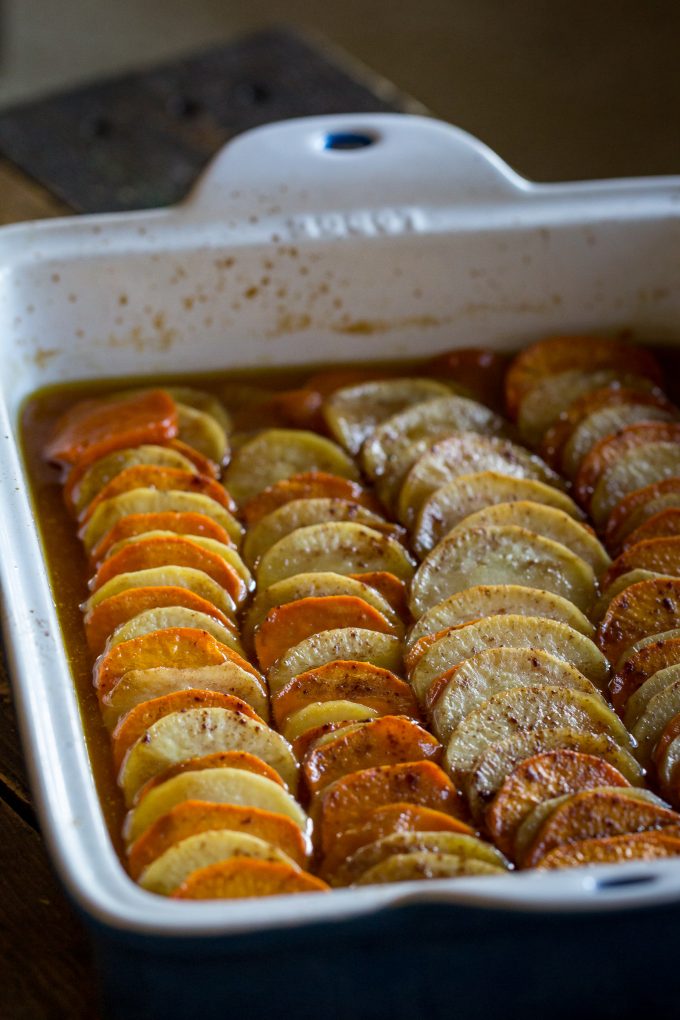 Can I skip the bourbon in the sauce?
If you are anti-bourbon, you can skip it in the brown sugar and butter sauce, but I'd recommend giving it a try. It doesn't make the potatoes taste boozy at all.
If you do skip it, the potatoes will still be delicious.
Follow me on Instagram!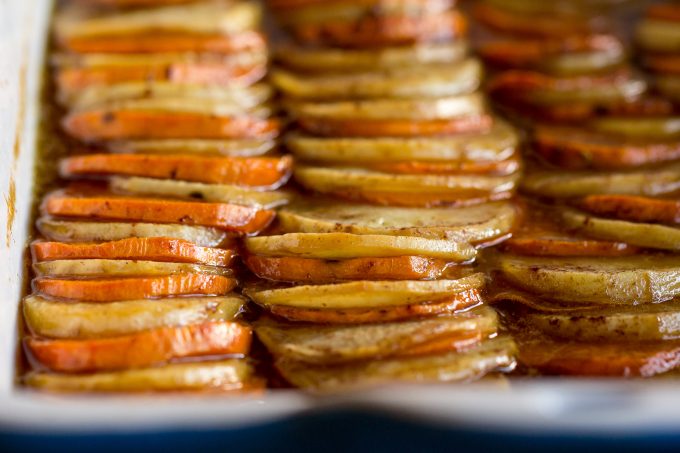 Can I double the recipe?
You can definitely double this recipe if you'd like. You can either make separate pans, or be a bit more aggressive in your layering. If you do this, it'll likely take longer to cook, but just keep an eye on things and it'll work out fine. If you use the same size pan you don't even have to double the sauce.
You'll love our Smoked Pineapple Glazed Ham too!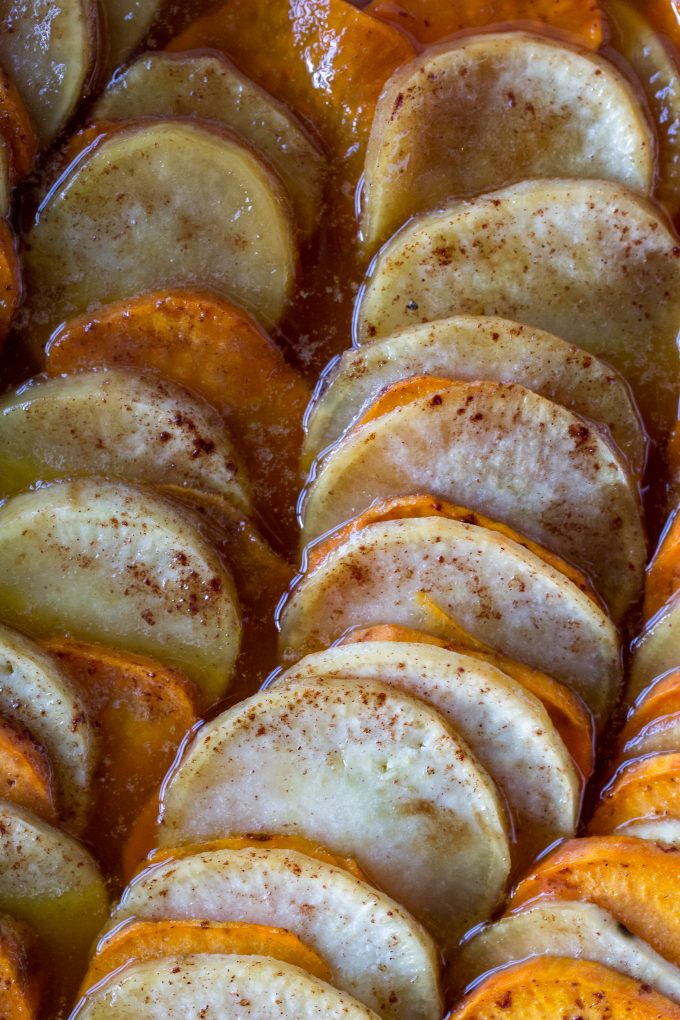 Can these be made ahead of time?
Yup!
Make them and snap them in the fridge until about an hour before you want to eat, and then toss them on the grill. You can also cook them on the grill in advance, let cool, and reheat on either the grill or in the oven before you eat.
More recipes to love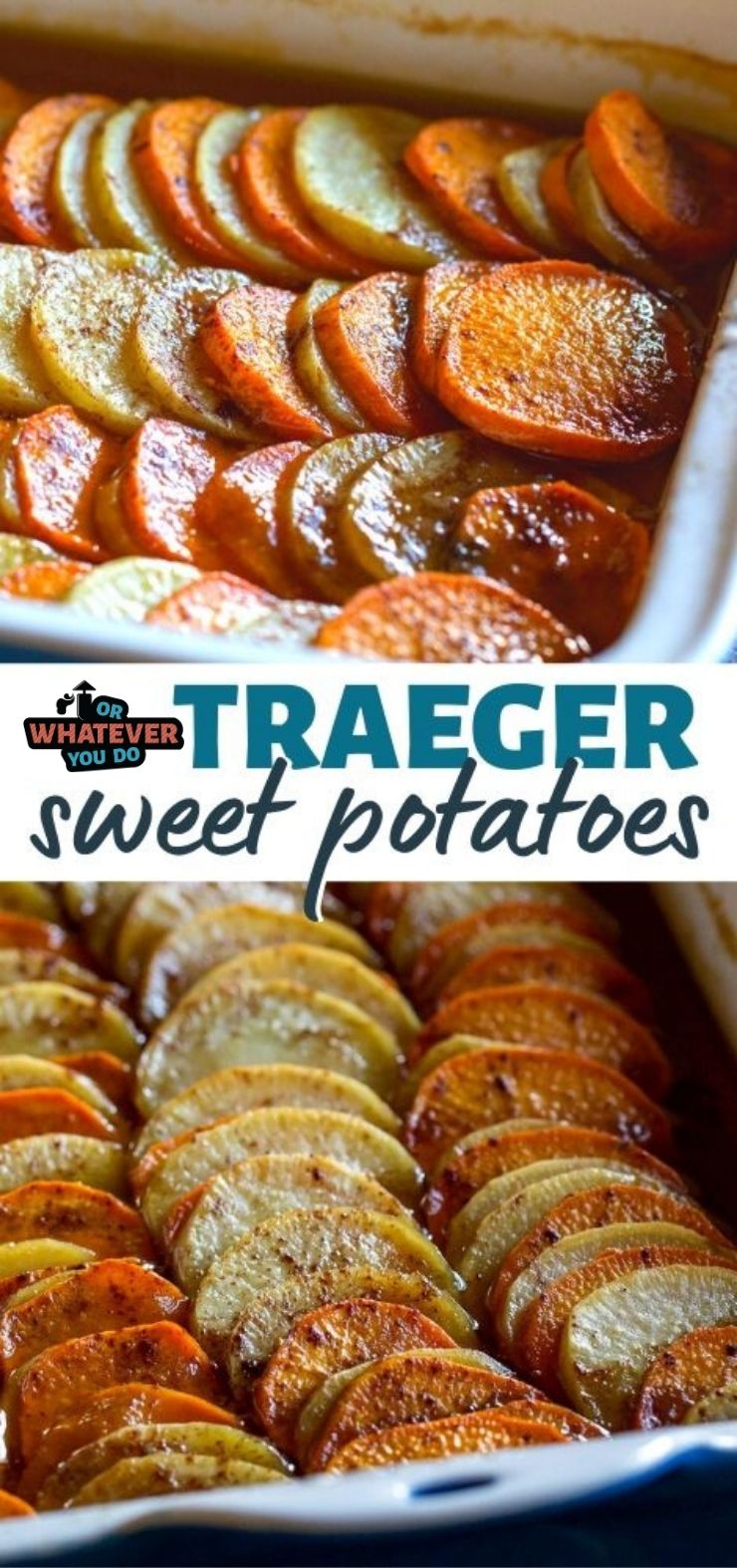 Yield: 8 servings
Traeger Grilled Candied Sweet Potatoes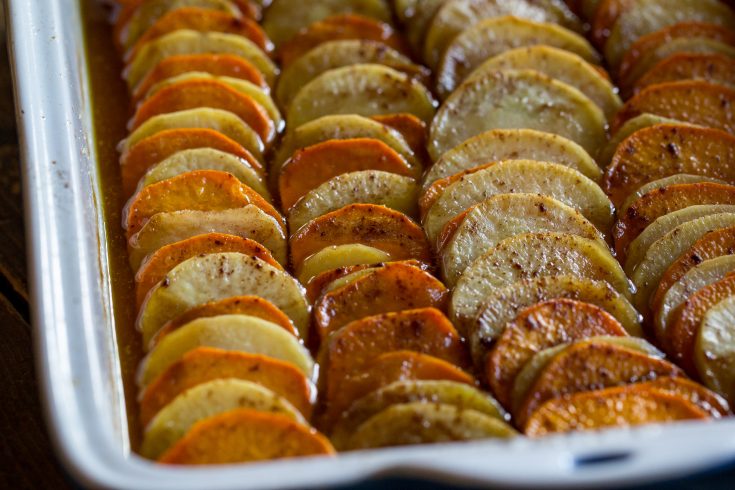 Sweet potatoes and yams are sliced and layered together in this sweet fall dish. Cooked in a brown sugar sauce spiked with bourbon and butter, and the whole thing is sprinkled with a light dusting of cinnamon.
Ingredients
2 large yams
2 large sweet potatoes
1/2 cup butter
1/2 cup maple syrup**
1/2 cup orange juice
1/4 cup Brown Sugar Bourbon*
1 teaspoon salt
1/2 teaspoon cinnamon
Instructions
Preheat the Traeger to 325°, or as close as you can get to that, according to factory directions.
Wash and peel the sweet potatoes and yams. Slice into 1/4 inch thick rounds.
Spray your grill-safe 10x13 inch baking dish with baking spray, and layer the rounds into it, alternating between yams and sweet potatoes.
In a small non-stick pot, combine the butter, maple syrup, and orange juice. Heat over medium heat, stirring frequently, until the butter is melted. Let simmer for 5 minutes. Remove from heat and set aside.
Pour the sauce over the layered sweet potatoes and yams. Sprinkle with salt and cinnamon. Cover tightly with foil.
Place onto the grill for 30 minutes, and then remove the foil and continue grilling for an additional 15-30 minutes, or until the potatoes are tender and caramelized.
Notes
* You can substitute regular bourbon if you don't have BSB.
** You can substitute honey for maple syrup if you don't have real maple syrup.
Recommended Products
As an Amazon Associate and member of other affiliate programs, I earn from qualifying purchases.
Nutrition Information:
Yield:
12
Serving Size:
1
Amount Per Serving:
Calories:

177
Total Fat:

8g
Saturated Fat:

5g
Trans Fat:

0g
Unsaturated Fat:

2g
Cholesterol:

20mg
Sodium:

251mg
Carbohydrates:

27g
Fiber:

2g
Sugar:

15g
Protein:

1g
Nutrition data provided here is only an estimate.