Mini Meatballs with Fresh Herb Marinara is a fast, easy, and delicious dinner!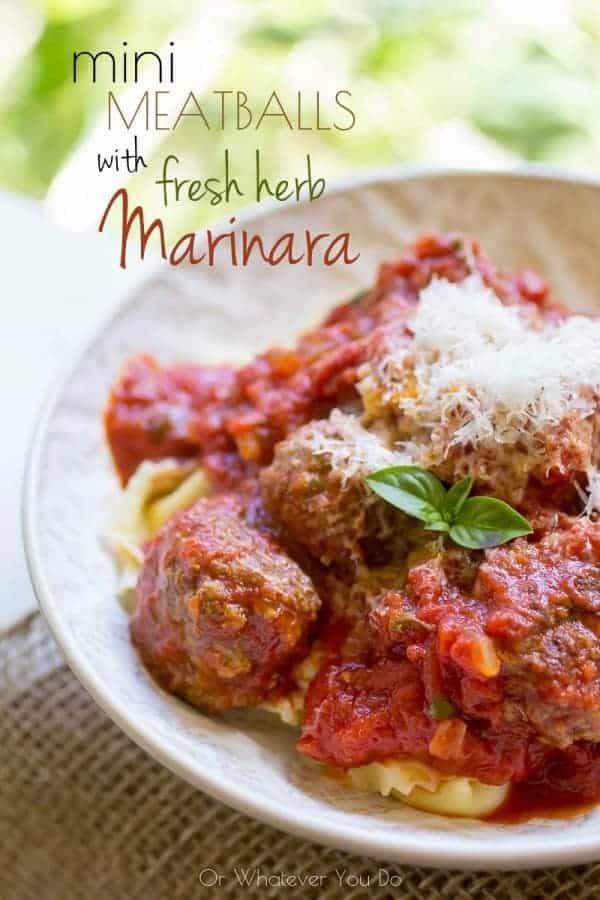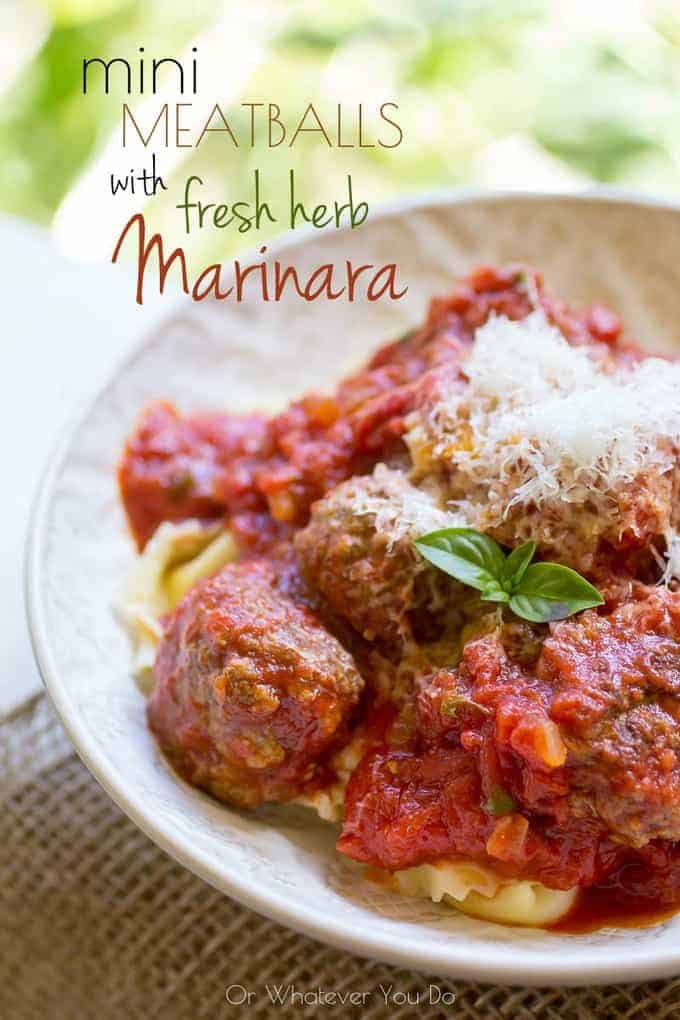 Mini Meatballs with Fresh Herb Marinara
Hey strangers! Long time no see. Well – long time no write, anyway. We're busy adjusting to life as a family of 9 with three kids 2 and under among the 7, and its been an adventure – for sure.
I went back to work at CoSchedule a couple weeks ago also after having two weeks off of the support desk, and figuring out how to make that functional and successful as a family of 9 has been an even bigger challenge.
You see, unbeknownst to me – my little girl might be the most low-maintenance toddler – EVER.
She was like, totally cool just hanging out in the living room by me playing quietly while I worked. Zero trouble. I had forgotten ( or blocked out 😉 ) how BUSY little boys are. And two 2 year olds get into exponentially more trouble than one 2 year old does.
Even with in-home help via my amazing nanny/wonder woman/keeper of my home, the munchkins see me at my desk and assume that I'm in "Mom" mode. Which I'm not, because I'm in "work" mode at my desk. Its a hard hard thing to work at home.
This week I spent all of my workdays in various restaurants, wine bars, and cafes sucking up their WIFI just so I could work in peace. Which was amazing. I mean, hot coffee on demand, and NO ONE TALKING TO ME. Not even once? That was amazing.
I'm in the process of figuring out some alternative solutions that don't involve me going completely insane by the end of the day. That's probably going to include a lot more remote work in local restaurants and businesses, so get ready Panera and Starbucks. You and I are about to become BFFs.
I think a lot of the chaos at this house will naturally settle down as well as the big kids get back into the school routine, and the littles settle into a regular nap/play schedule too.
Want to know how I'm feeling about summer right now? Read this post from the hilarious Jen Hatmaker. Sums it up PERFECTLY – only I DIDN'T really get to do the epic fun summer stuff, we stayed pretty close to home which I think compounds the issue.
The kids are tired of being home with me all day, and I'm pretty tired of having them home with me all day. They need stuff to do, man. Next summer? I'm looking into day camps, FOR SURE.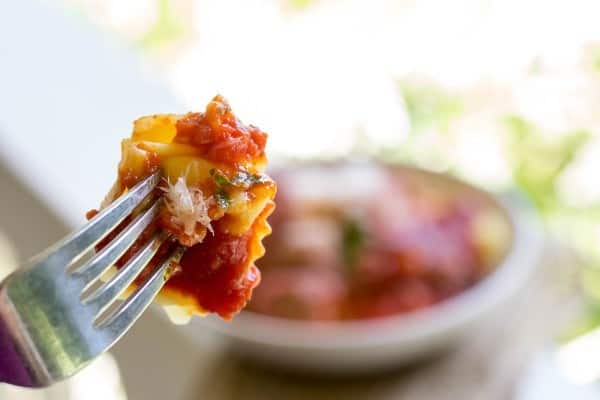 I made this for lunch the other day. LUNCH you guys. Because that's the only meal where I still have enough wits about me to actually cook something, and also happens to coincide with nap time for at least two of the littles which gives me the opportunity to stand over the stove for a bit as well.
We DID have it for dinner the next day too, so I ended up with two meals out of this which is called WINNING in my book.
We LOVE meatballs, and mini meatballs were the perfect size for the littles to tackle without a bunch of trouble or manual cutting up by me. I tossed it with tortellini for our lunch, and with spaghetti noodles of the dinner, but this works well with any noodle type, really – so pick your favorite.
Use a light hand when mixing the meatballs. Over-mixing can make them tough. This might not look especially appetizing in its raw state, but whoa. It turns into something awesome after they are pan fried and cooked in the marinara sauce for a while!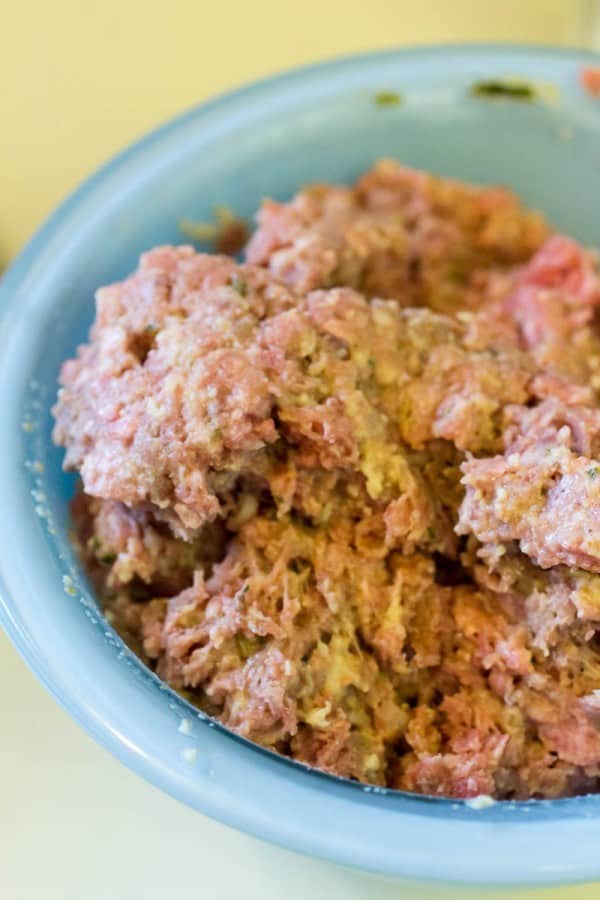 You can bake these in the oven if you'd rather not stand over the stove. Either way turns out great. You'll lose a little bit of the browned awesomeness if you do it in the oven, but not enough to cause me to recommend you always pan-fry.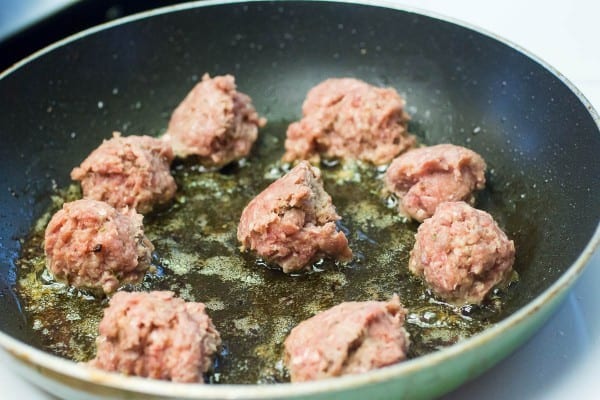 You don't have to be too picky with the formation of these. I used a cookie scoop and just did my best. They aren't perfectly round, and that's okay.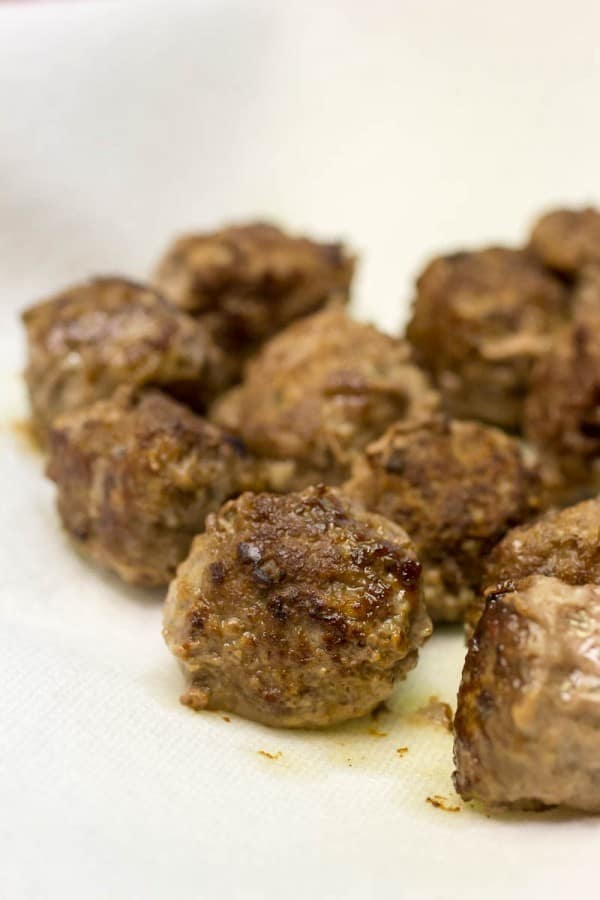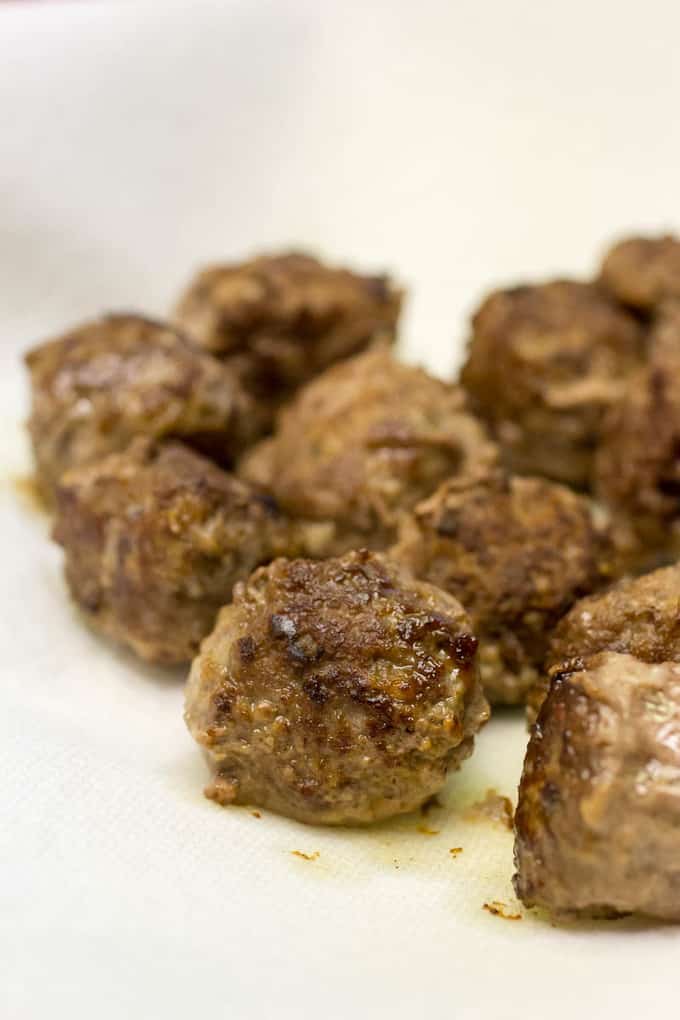 A few key points about making a good marinara –
1) Make sure you get the best tomatoes you can find. I love San Marzanos. Whole peeled tomatoes. YUM. They make an awesome marinara.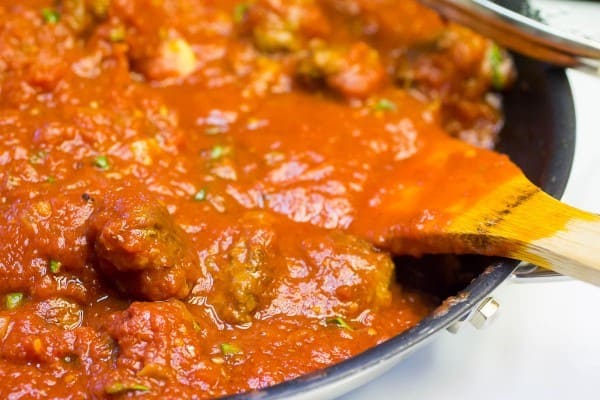 2) Don't be shy on the onions. They really help add a sweetness and flavor that's irreplaceable in the sauce.
Even if you aren't a big onion fan, still don't be shy. You cook them enough in the beginning to make them soft, and the sauce cooks the rest of them down until you can hardly tell they are physically there. Just the flavor.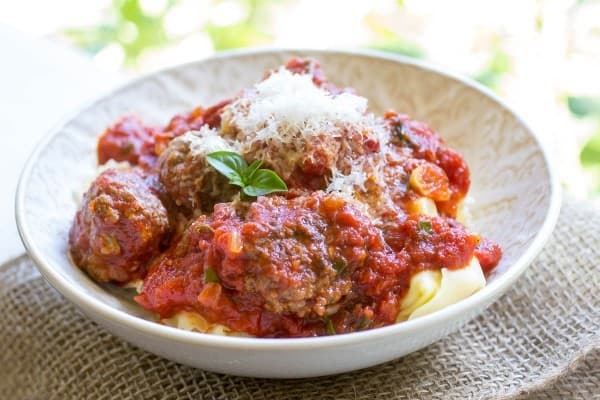 Yield: 8 servings
Mini Meatballs with Fresh Herb Marinara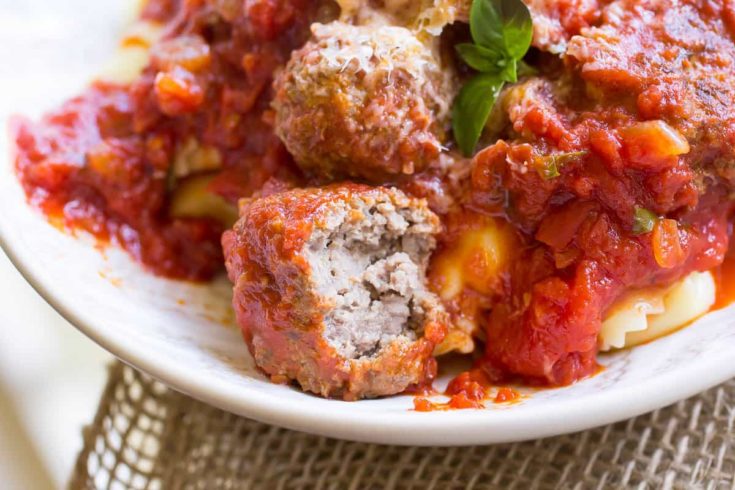 Mini meatballs are cooked right in the fresh herb marinara to make an easy classic that has always been a winner at our table.
Ingredients
Meatballs:
1 slice white bread, crust removed
3 tablespoons whole milk
1 egg, lightly beaten
1/8 cup Italian bread crumbs
2 teaspoons dried basil
1/2 teaspoon dried oregano
1/4 teaspoon chili flakes
1/2 teaspoon kosher salt
1 1/2 pounds lean ground beef
Fresh Herb Marinara
1/4 cup olive oil
2 cloves garlic, peeled and thinly sliced
1 cup finely diced onion
1/4 cup cabernet
3 28 ounce cans San Marzano Whole Peeled Tomatoes
1/4 cup chopped fresh basil
3 tablespoons chopped fresh oregano
1/2 cup freshly shredded Parmigiano Reggiano
Instructions
Meatballs
Soak the white bread in the milk until it is absorbed, and then mix in the egg, bread crumbs, basil, oregano, chili flakes, and salt. Stir with a fork until combined, and then gently mix into the ground beef.
Roll into quarter-sized meatballs, and pan fry until browned on the outside. Don't worry about the center being fully cooked, it'll finish cooking in the sauce.
Sauce
Start your sauce by sautéing the garlic and onions in the olive oil over low to medium low heat. Cook for about 5 minutes, or until the onions are soft and translucent.
Add in the red wine, and cook 2 minutes. Add in the tomatoes, and crush the whole tomatoes with a fork. Let simmer, stirring frequently, over medium heat. Cook for about 10 minutes, and then add the meatballs back into the sauce.
Stir gently periodically to prevent scorching, and let cook another 15 - 20 minutes.
Add in the fresh basil and oregano and cook for 2 minutes over low heat, and serve immediately with your favorite pasta. Garnish with lots of fresh Reggiano.
Nutrition Information:
Yield:
8
Serving Size:
1
Amount Per Serving:
Calories:

384
Total Fat:

20g
Saturated Fat:

6g
Trans Fat:

0g
Unsaturated Fat:

12g
Cholesterol:

104mg
Sodium:

370mg
Carbohydrates:

20g
Fiber:

5g
Sugar:

10g
Protein:

31g
Nutrition data provided here is only an estimate. If you are tracking these things for medical purposes please consult an outside, trusted source. Thanks!