Snowball Cookies are tender egg-free confections that whip together in a flash and are full of pecans, butter, and love.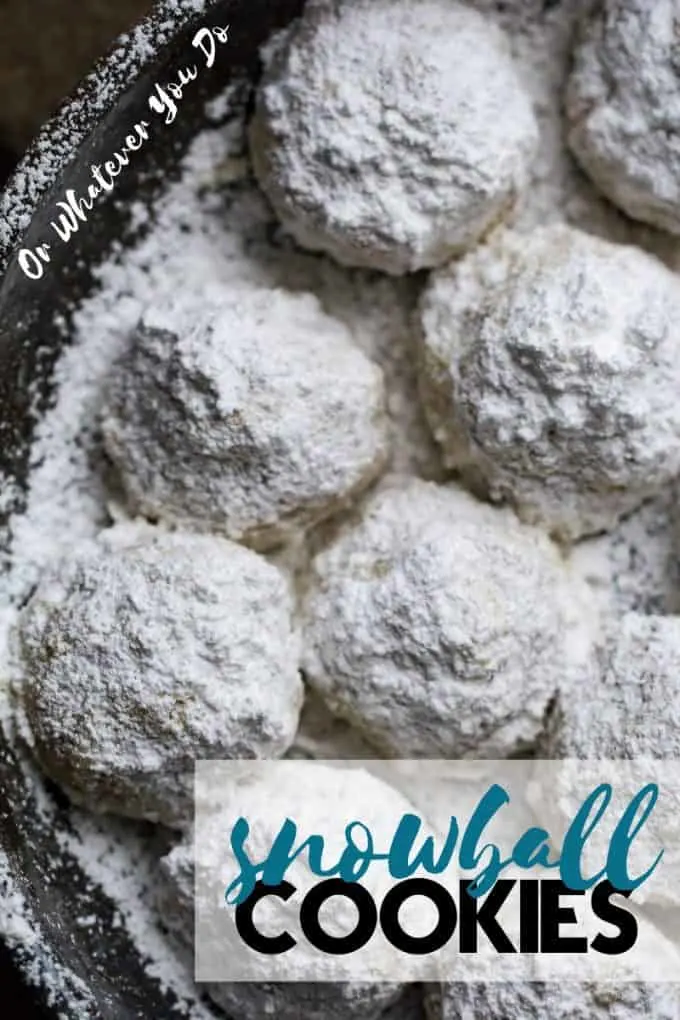 Snowball Cookies
'Tis the season everyone! As we bustle about shopping, attending parties, holiday programs, and all of the other festivities that this wonderful season brings, we sometimes forget to s-l-o-w d-o-w-n and enjoy some of the bountiful blessings that are right in front of us! I know I'm guilty!
So, why not take an afternoon to whip up a batch of Snowball Cookies and a nice cup of hot cocoa to enjoy with a few friends or family members? You know the cookies I'm talking about, they are also sometimes called Russian Teacakes or Mexican Wedding Cakes?
Ohhhh yeeeeesssssssss!!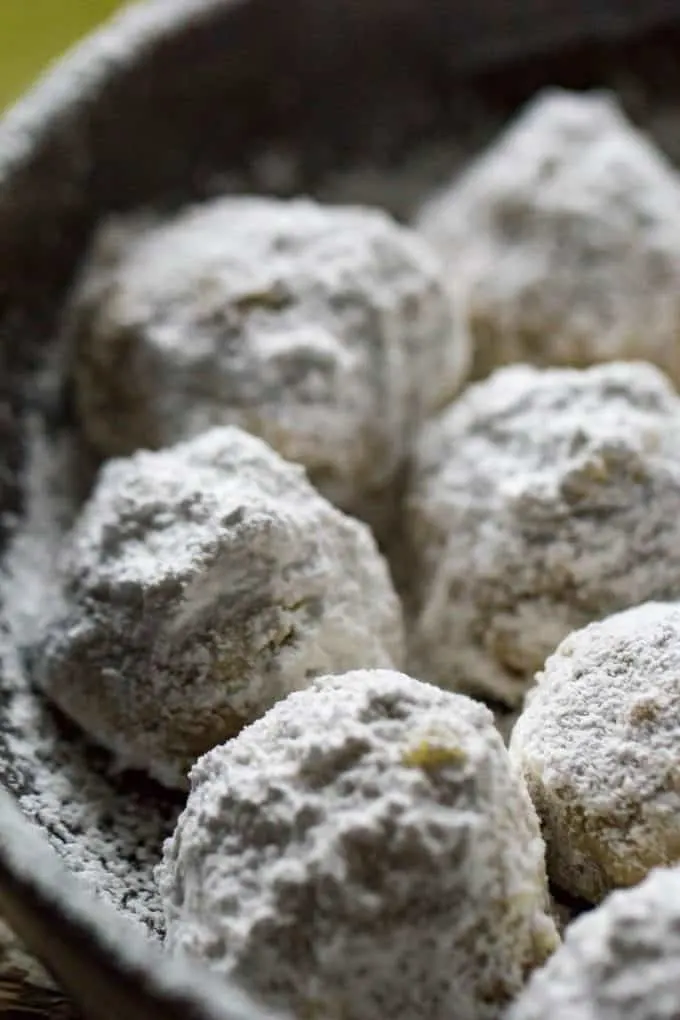 Just imagine the first bite of powdery sugar melting in your mouth and then the buttery, flaky, toasty, nutty deliciousness that follows!
The nicest thing about these cookies are they are so easy to whip up, and everyone loves them! While you're at it, make it a double or triple batch and you've got a delicious option for your cookie exchange, your neighbor, a teacher, or whoever you love to bake cookies for.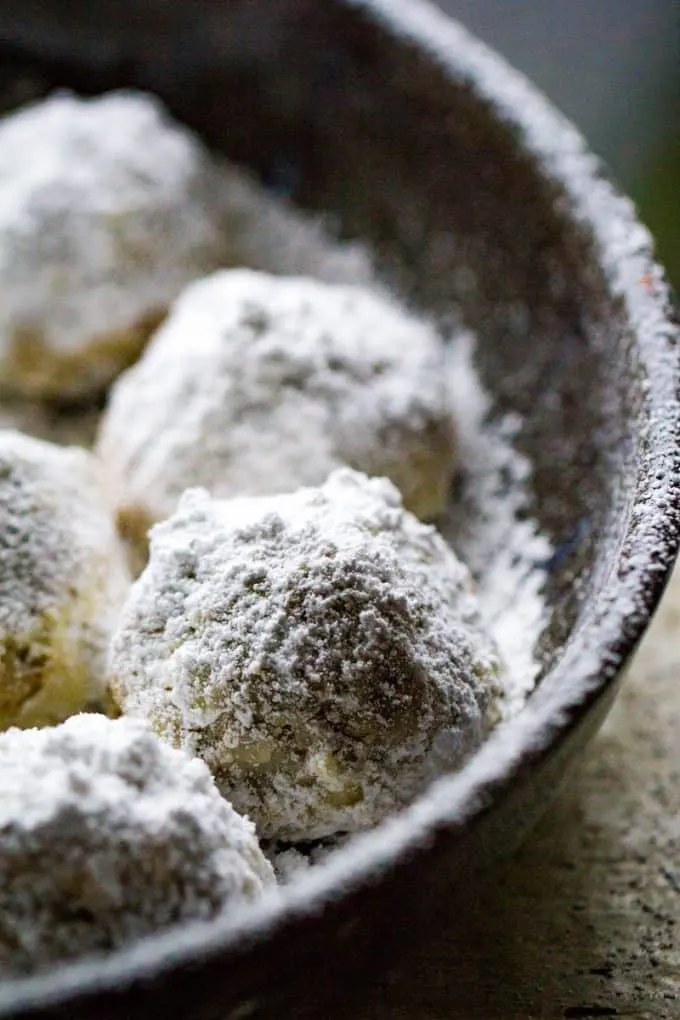 Can you freeze Snowball cookies?
YES! After you thaw them, just roll them in powdered sugar to fancy them up again! Super easy. You could also freeze these before you bake them. Just thaw them on the counter for about an hour before popping them in the oven for that final cook.
What is the best technique for freezing cookies?
Freezing cookes is easy, but you'll get better results if you follow a few easy steps.
Place them on a silicone or parchment-lined cookie sheet
Freeze for an hour or so, or until they are frozen solid.
Transfer to freezer bags.
Squeeze out all of the air out before sealing your bags. You can use a straw for this too if you want. It helps keep things from freezer-burning.
Write what they are and how to cook them on the outside of the baggie. LABEL LABEL LABEL. If you are anything like me you definitely will NOT remember what those are in 3 months when you pull them out of the freezer.
How long can you keep them in the freezer?
For up to SIX months is the general recommendation. It'll vary based on how they are stored. If you use a food saver/vacuum sealer they will last longer than just regular baggie storage with the air squeezed out.
Just think of the cookies you could stockpile!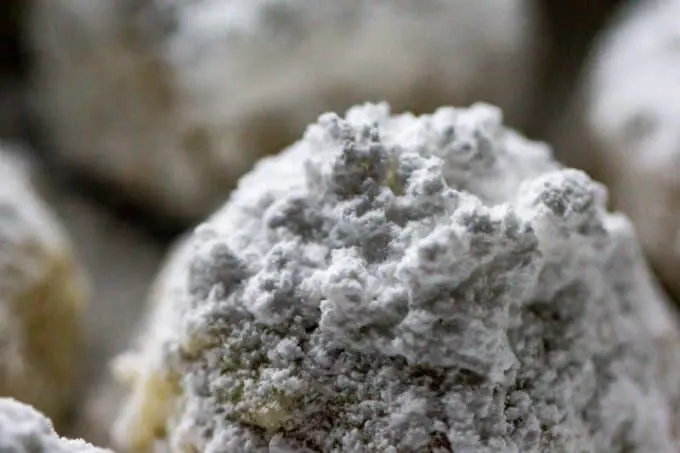 How long do fresh baked cookies stay fresh?
If you store them in an airtight container, most cookies will remain fresh for around 3 days. If you haven't eaten them all by then, it is best to freeze them for future enjoyment.
Can I Substitute anything for the nuts?
If you have someone who has allergies to nuts, you can also make these without the pecans and substitute a few mini chocolate chips instead! Or just eliminate the nuts altogether. These Snowball Cookies are delicious either way.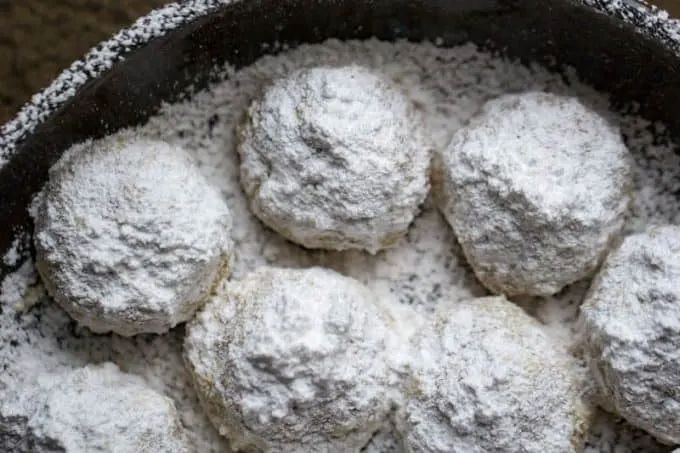 While the weather outside is frightful, the inside can be warm and delightful this holiday season. So let it snow, let it snow, let it snow! Or rain, like it is here, always. You know. Do your thing no matter where you are.
Cookie baking has been one of the most enjoyable traditions that my family has been partaking in for many years and will hopefully continue for many years to come.
Whether family members are near or far, everyone can enjoy and share in this activity. You can exchange recipes with family far away, or attempt to send some cookies their way. Just make sure you pack them securely, and spring for the fastest shipping you can.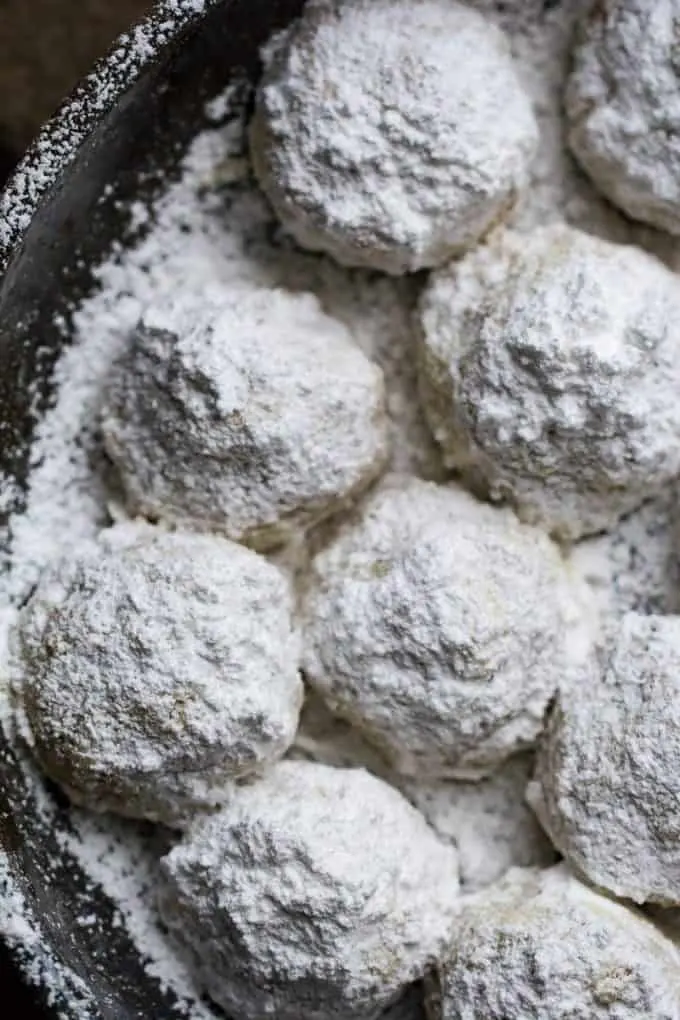 Plan a whole day to get together and bake cookies. We like to bake most of our cookies ahead of time, and then choose one or two different kinds to bake together. Unless you have a chefs' kitchen with many ovens, it tends to get a little crowded and unorganized when it comes time to bake in one oven.
If you have a Traeger or two like I do, you can always fire those up for some baking as well! They don't give off much smoke at higher temperatures, so wood fire some of your cookies and save some oven space.
We love to set up a sugar cookie table with a few dozen sugar cookies and gingerbread men, many different colors of icing and tons and tons of different colored sugars and sprinkles to decorate with the kids. They LOVE being creative and then eating their creations afterward. Plus, there's always plenty for each to take a plate home to enjoy or share with friends and neighbors.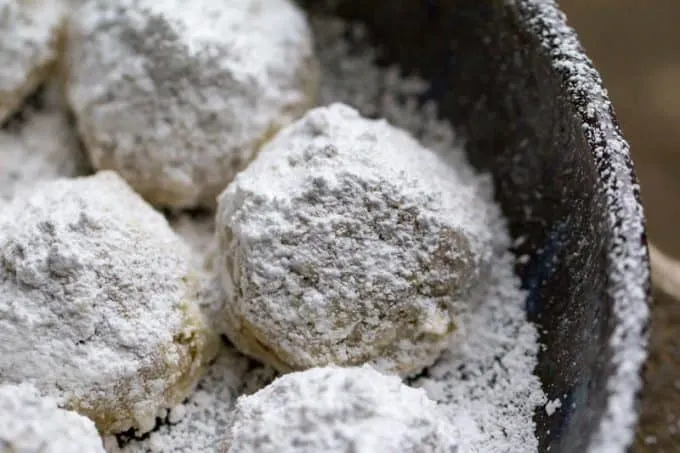 I love to share mine with elderly folks who can't bake or don't get out of their house much. This is a wonderful activity to share with anyone in need or just as a kind gesture. Little things like this are a way for you to share some goodwill this holiday season or any time of the year.
Need More Cookies for Your Holiday Baking?
Whatever your traditions may be, if baking isn't one of them yet, give it a try. It's fun for all and who doesn't LOVE a great cookie?
Make sure to take pictures of everyone covered in flour and powdered sugar. It makes for great reminiscing in years to come!
We made aprons for everyone to share years ago, and now that all the littles have grown out of theirs, we plan on making new ones or having some T-shirts made for our next Cookie Bake-off!
So have fun with it! A little imagination is all it takes to create some priceless memories this holiday season! Happy Baking to ALL and to ALL a Good Cookie!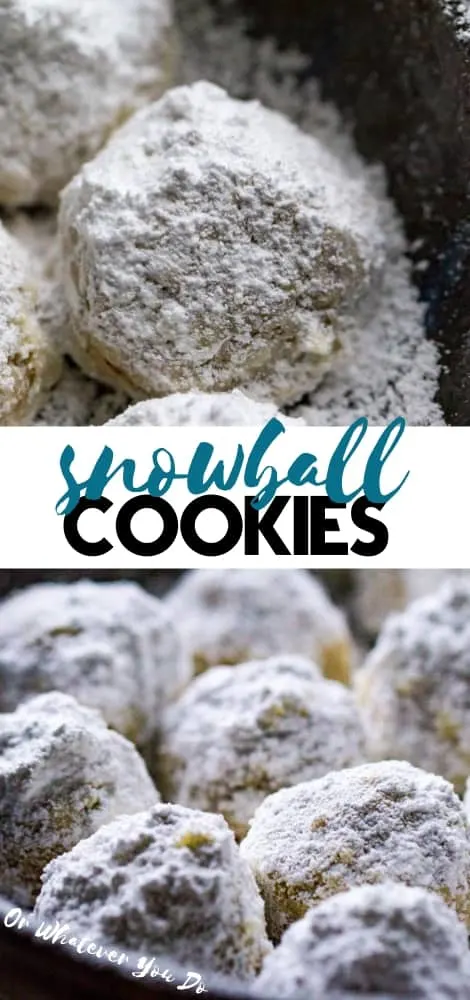 Yield: 16 cookies
Snowball Cookies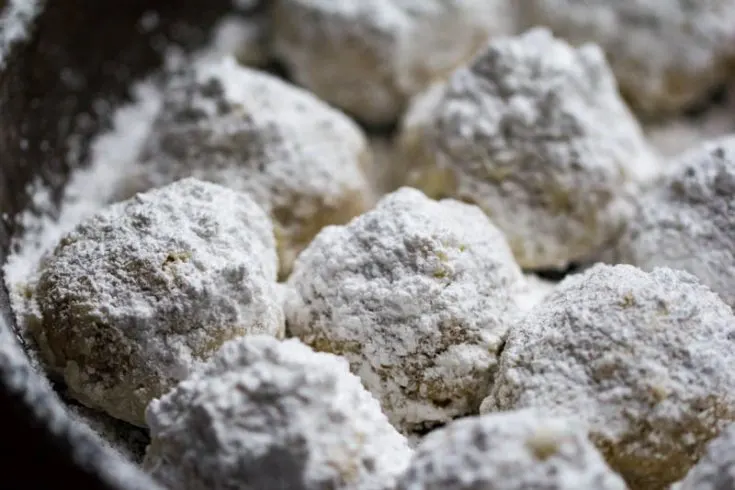 Simple pecan cookies are easy to make and bake up in just 12-14 minutes! These are a staple at our holiday cookie tables, and I can't wait for you to try them too!
Ingredients
1 cup unsalted butter, softened
1/2 teaspoon salt
2 teaspoons vanilla extract
2 cups all-purpose flour
1/4 cup powdered sugar
1 cup chopped pecans
1 cup powdered sugar, for rolling post-bake
Instructions
Preheat your oven to 350°.
Mix all ingredients together (besides the final cup of powdered sugar) until combined.
Roll into balls approximately 1-inch in diameter.
Place onto a silpat or parchment-lined baking sheet and bake for 12-14 minutes, or until JUST starting to get lightly golden brown.
Remove from the oven and cool completely.
Roll in powdered sugar, twice, and serve fresh!
Nutrition Information:
Yield:
16
Serving Size:
1
Amount Per Serving:
Calories:

241
Total Fat:

17g
Saturated Fat:

8g
Trans Fat:

0g
Unsaturated Fat:

8g
Cholesterol:

31mg
Sodium:

68mg
Carbohydrates:

22g
Fiber:

1g
Sugar:

9g
Protein:

2g