My Browned Butter Shortbread Cookie recipe is a holiday favorite around here! I can't wait for you to try them!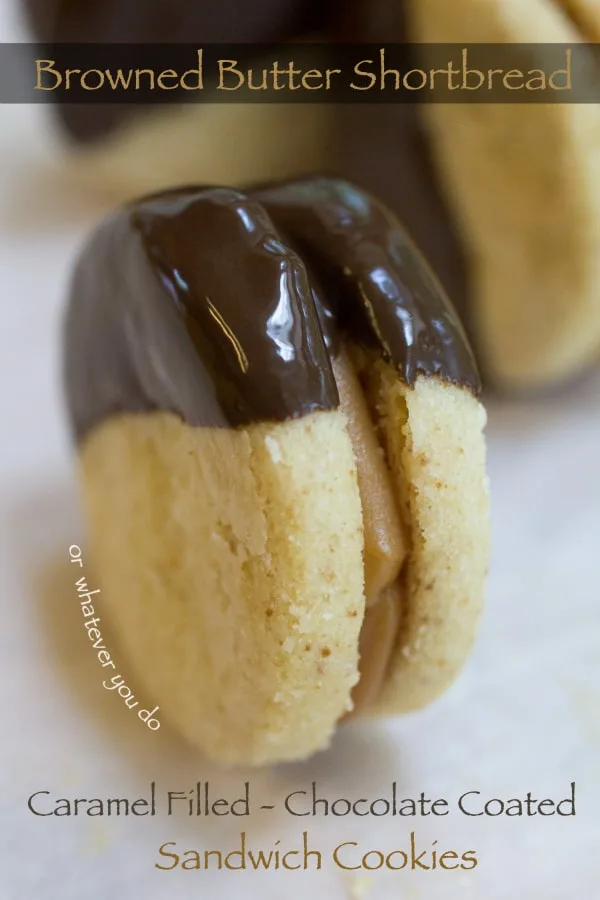 Browned Butter Shortbread Cookie
I am so excited to share these browned butter shortbread cookies with you. The browned butter trend is one crazy train I have jumped all the way on board with. Because do you know the only thing better that regular butter?
Browned butter.
That's it.
Love it on pasta tossed with myzithra cheese. LOVE LOVE it in these blueberry dutch babies. LOVE it in these soft ginger cookies too.
It gives whatever you add it to such a warm, almost nutty flavor. Sometimes I will just brown up a pound or so of butter and then just stick it in the fridge to add to things at will.
It is especially good for baking. Nothing really else can impart the same flavor as browned butter can.
These cookies would be great plain, without all the adornment, but who can resist some buttery sugar covered in chocolatey awesomeness?
Not me!
And not the family yesterday at our weekly get-together. They are all gone.
Start by browning some butter, and then chill it. You want it solid, but not hard.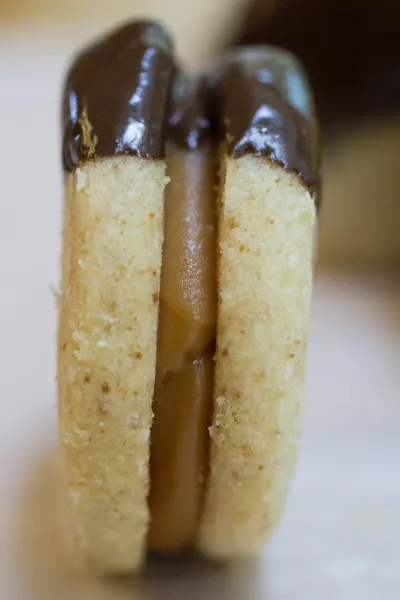 The easiest way to do this is to brown the butter the day before, stick it in the fridge overnight, and then pull it out of the fridge about an hour before you plan to bake. That's the best way. But if you are like me at all, pre-planning isn't really your *thing*. You can speed the process along by browning it and sticking it in a bowl in the freezer for 10-15 minutes. Stir it every 5 minutes until it's solidified, but not frozen.
Cream the butter and sugar together, add in the vanilla and flour, and the dump out onto a powdered sugared counter. (Use that instead of flour!)
The dough is pretty crumbly, but should stay together for you. I had to knead it a bit and press it down into a circle, reshaping every so often, before I rolled it out. Roll out the dough into about 1/3 – 1/2 inch thick. Cut it out using your favorite cookie cutters.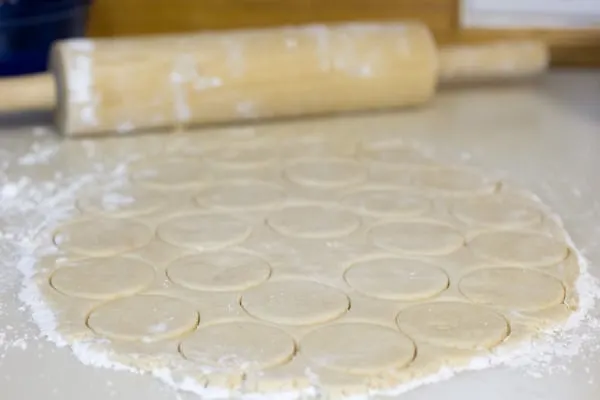 Bake at 300° for 20-25 minutes on a parchment-lined baking sheet. Watch closely! Your oven is unique, and it's likely the time will differ a bit from my baking time. Unlike the butter earlier, you don't really want them browned, just baked through and set up.
Remove onto a cooling rack.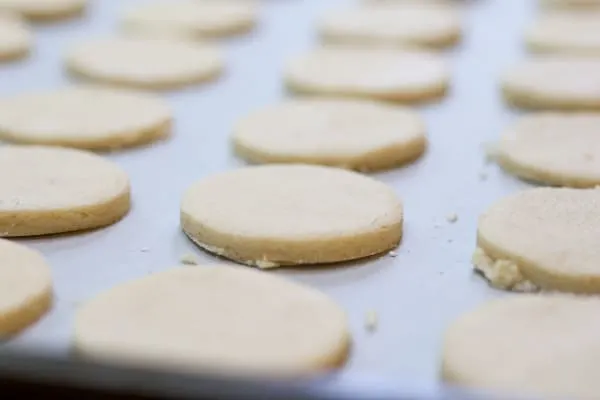 To fill the cookies, (and this couldn't get any easier) just grab a ball of caramel, roll in your hand, and press down slightly. Put it in the cookie. Press another cookie gently on top.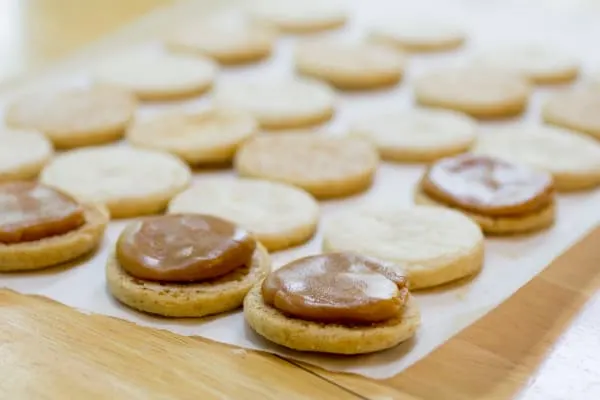 Coat in chocolate, and decorate with drizzle to get extra fancy!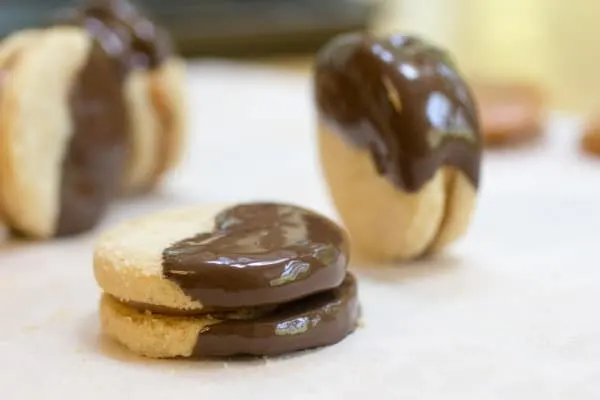 Or you can skip the sandwiching and just do some chocolate and drizzle.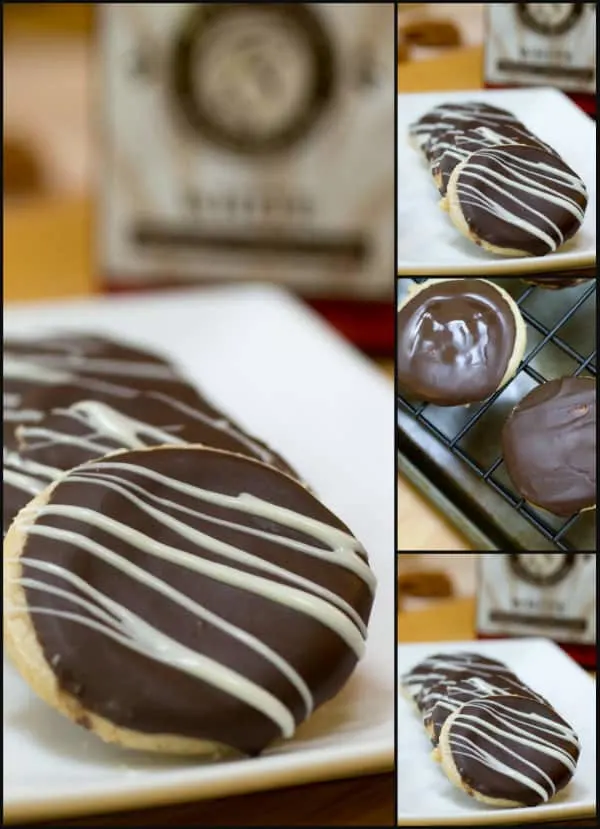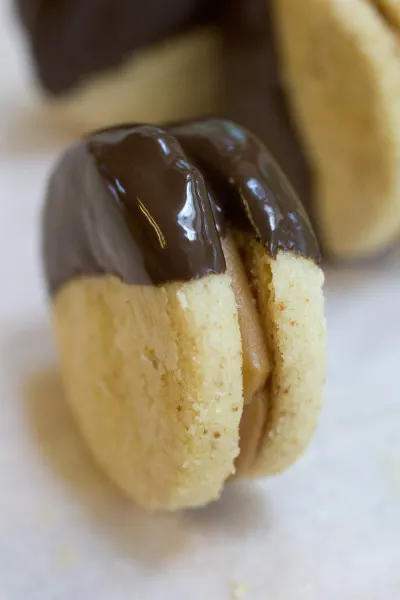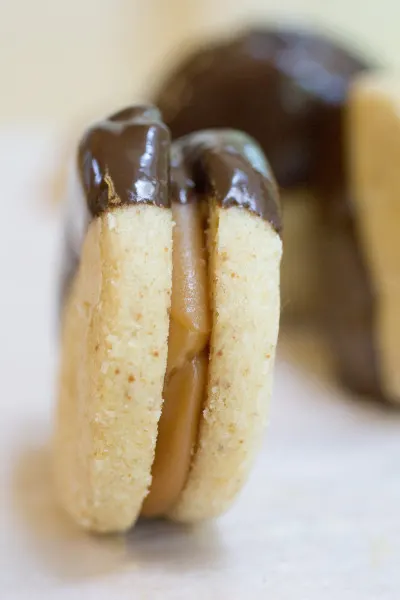 Yield: 12 cookies
Browned Butter Shortbread Sandwich Cookies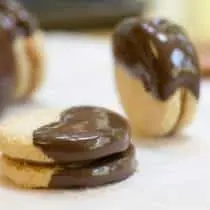 Browned Butter Shortbread Sandwich Cookies are going to quickly become a holiday favorite in your house!
Ingredients
1 cup browned butter, chilled and then brought to room temp
3/4 cup powdered sugar
1 teaspoon vanilla extract
2 cups flour, a.p. or bread flour are fine
extra powdered sugar for dusting
soft caramel
chocolate for dipping
Instructions
Preheat your oven to 300. Line a large baking sheet with parchment.
Cream together the butter and sugar. Add the vanilla and flour, and mix until combined. The mixture will look very dry and crumbly, but should come together after you shape it into a large disc with your hands. Feel free to "knead" it a little bit to help it come together.
Dust your counter with powdered sugar, and roll out the dough until its 1/3-1/2 inch thick. Transfer to a parchment lined baking sheet, and bake for 20-25 minutes, or until they are just set, and the edges are just starting to turn golden brown.
Remove from oven and cool on racks before dipping or drizzling with chocolate.
Nutrition Information:
Yield:
24
Serving Size:
1
Amount Per Serving:
Calories:

165
Total Fat:

8g
Saturated Fat:

5g
Trans Fat:

0g
Unsaturated Fat:

2g
Cholesterol:

20mg
Sodium:

67mg
Carbohydrates:

22g
Fiber:

0g
Sugar:

9g
Protein:

2g