Toffee & Chocolate Meringues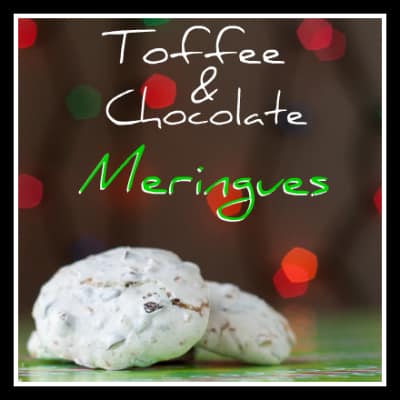 This Christmas I went completely insane, and decided to make 15 different kids of Christmas cookies, all by myself over the course of 3 days, including these Toffee Chocolate Meringues.
I was baking for my kids' teachers, and also made a box up for the Principal and Secretary of the school to share. There was also the 12-15 dozen, at least, that I sent in to work with my husband for his crew and the office staff. I also made a few bags for some special friends of mine. Also for us! Can't forget that! It was a LOT of baking. I was so tired by the end of it! Here's the list…
White Chocolate Cranberry Cookies

Chocolate Crinkle Cookies
EVERYTHING Cookies
Peanut Butter Blossoms
Toffee Chocolate Meringues
Snowballs
Soft Almond Cookies
Sugar Cookies
Vanilla Cheesecake Bites
Marshmallow Fudge
Oatmeal Cream Pies
Peanut Butter Balls
Brown Butter Ginger Cookies
Caramel Corn
Hazelnut Caramel Treasures
My mixer got a workout that week! It was fun, and I am so glad I did it. Hopefully next year I can get some company in the kitchen to come and bake with me, since I will have another baby to chase by that point!
These were declared the favorite by my kids' Principal. I am sharing this recipe that I found over on Budget Gourmet Mom. They are gluten and nut free, depending on the brand of toffee bits that you use, and if that kind of thing is something you are looking for! The original author is Rachel from La Fuji Mama. I hope you will go and check them out! Great recipes on both of those sites.
Because I was whipping out so much cookie dough at such a fast rate, I didn't always get complete pictures of the process for all of them. It FELT like I was taking a ton of pictures, but I ended up missing some pretty important shots. Such is life I guess!
These cookies came together really fast. You start by whipping some egg whites until they form stiff peaks, slowly incorporating the sugar, and then adding the vanilla. Once that is added and you have stiff, shiny egg whites, you gently mix in the chips and the toffee. Easy Easy!
Spoon small portions onto a parchment lined baking sheet.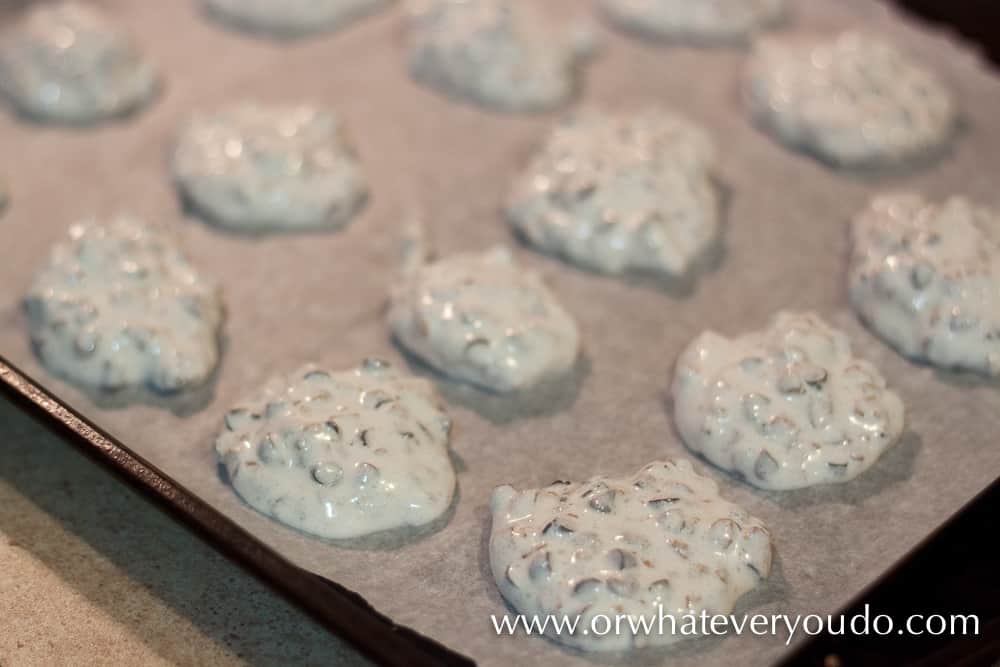 Place sheet into a preheated 350 degree oven, and then TURN THE OVEN OFF. Go to bed, and when you wake up your meringues will be perfect! Don't peek during the night. The oven needs to stay shut.
Remove from the sheet and store in an airtight container or baggie.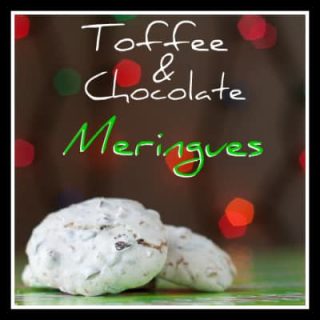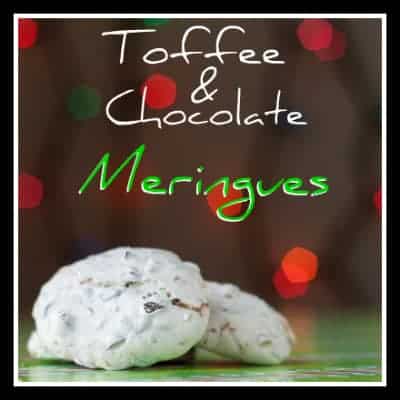 Toffee & Chocolate Meringues - Gluten/Nut Free
These cookies are tiny meringues that are loaded with toffee and chocolate! Nut-free, gluten-free, and delicious!
Ingredients
2 large egg whites
2/3 cup granulated sugar
1 cup semisweet chocolate chips
1 cup toffee bits
1 teaspoon pure vanilla extract
Instructions
Beat egg whites until stuff peaks form, and then 1 TBSP at a time, add sugar into the mixer while it is running. After the sugar is completely incorporated into the egg whites, add in your vanilla.
Using a wooden spoon, very gently mix in the toffee and chocolate chips.
Spoon tablespoons of the mixture onto a parchment lined cookie sheet. Place in a preheated oven at 350 degrees, and then turn OFF the oven. Leave the cookies, undisturbed, overnight. Don't peek!!
Remove cookies in the morning and place in a large baggies or other air tight container.
Nutrition Information:
Yield:

12
Serving Size:

1
Amount Per Serving:
Calories:

229
Total Fat:

11g
Saturated Fat:

7g
Trans Fat:

0g
Unsaturated Fat:

4g
Cholesterol:

21mg
Sodium:

38mg
Carbohydrates:

33g
Fiber:

1g
Sugar:

32g
Protein:

1g
Nutrition data provided here is only an estimate. If you are tracking these things for medical purposes please consult an outside, trusted source. Thanks!