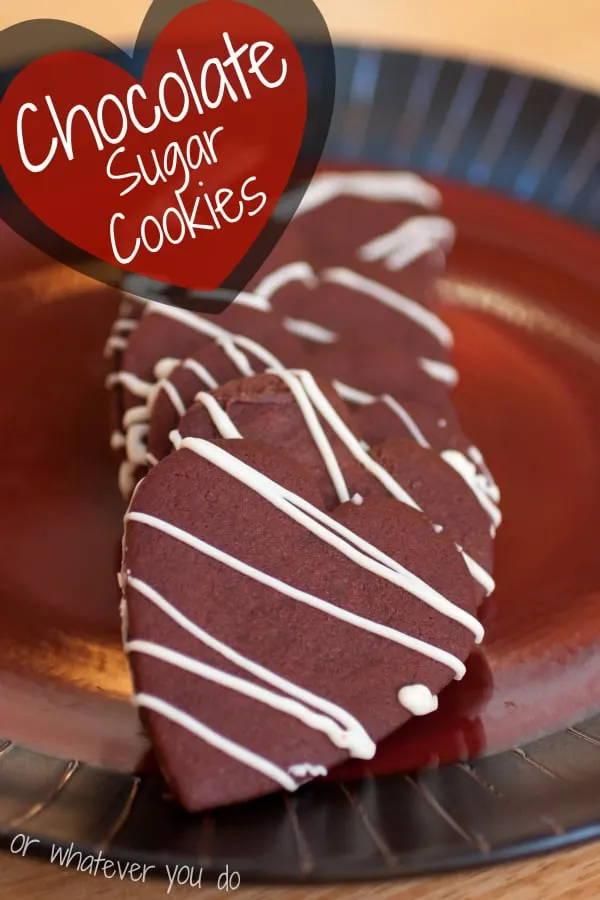 Mmmmmmmm…..
Excuse me for a minute. I'm in a chocolate coma.
Between that hot chocolate last week, and these chocolate sugar cookies I finished baking today, not to mention the box of chocolates that I may have been working on since Friday, I am all chocolated out. That is totally a word. My spell check may not think so, but I'm rolling with it.
Lots of things going on over here this week! I got some new bloggy toys.

And new photos shall be taken forevermore with this lovely thing.
Had some fun and brought the cookies featured in this post out to my sister-in-law's birthday party, where I got to eat THIS awesomeness.
I've also been doing some stocking up since we rejoined Costco. Luckily, little tiny one is still at a great shopping age.
I am in love with these cookies. They are slightly crunchy, full of chocolate flavor, and the white chocolate drizzle is the perfect topping.
First mix together the dry ingredients and set aside.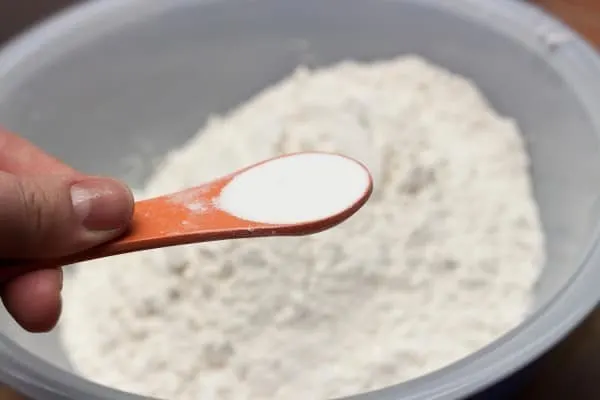 Now mix together the butter, sugar, eggs, vanilla, and cocoa until they are well combined.
I like to crack my eggs into a dish before I add them into the mixer. It will save you from getting tiny pieces of shell in the whole batch!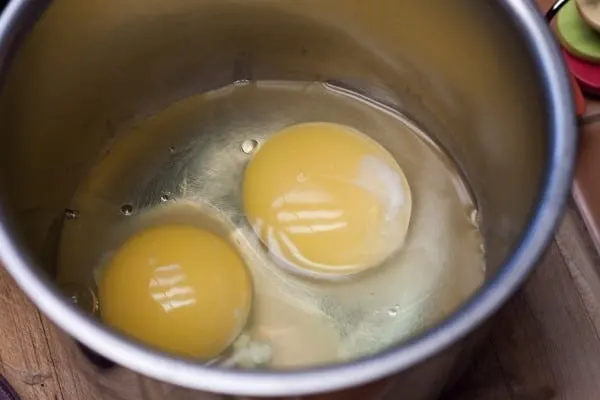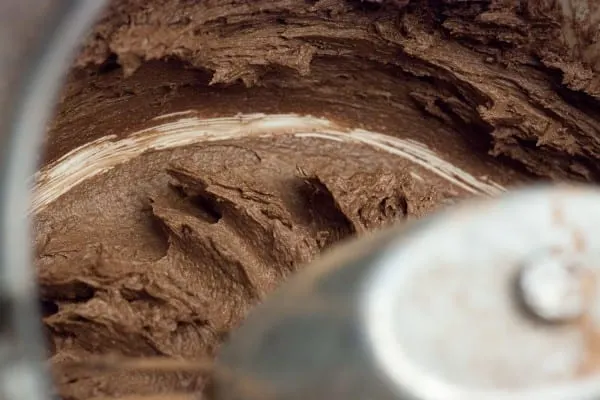 Now slowly incorporate the dry ingredients into the mixture. Mix until the flour is combined. Scrape out of mixer, wrap in plastic wrap, and chill for >4 hours < 1 week.
After the dough is chilled, lightly sprinkle a counter with cocoa powder, and roll the cookies out. These are very flexible in that you can roll them very thin, down to 1/4 inch or so, or you can keep them thicker. Thinner cookies will be a bit crunchy after baking, and thicker cookies will have a softer texture.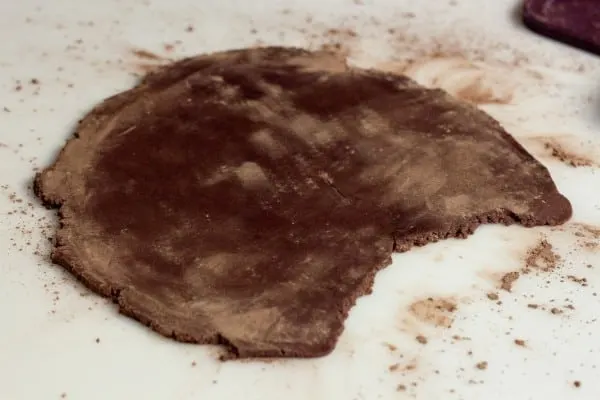 Now cut out into whatever shapes you prefer. I liked hearts and flowers.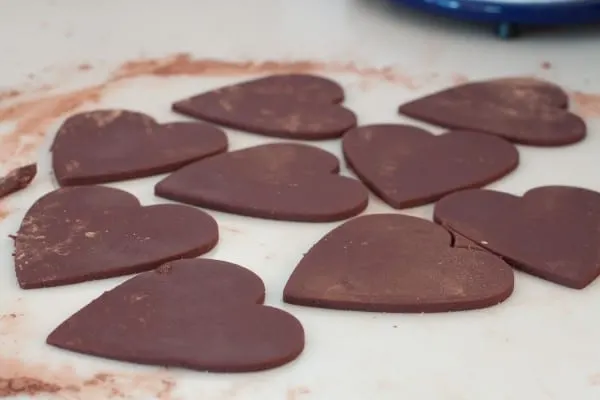 Bake at 350 for 8 minutes.
Drizzle with white baking melts.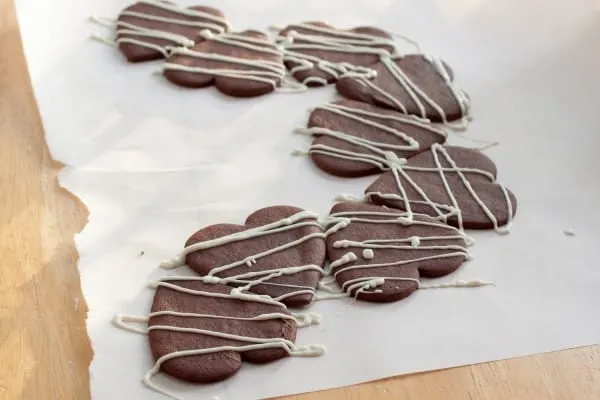 Enjoy!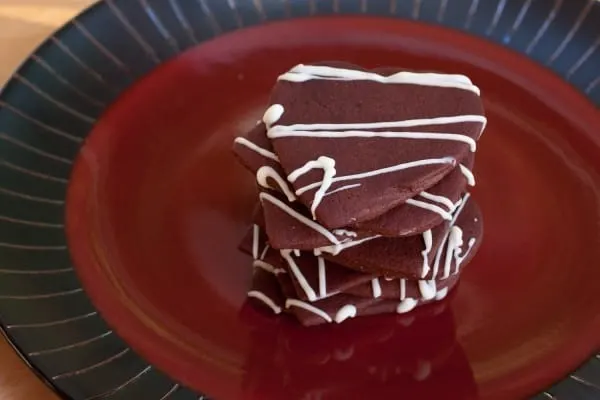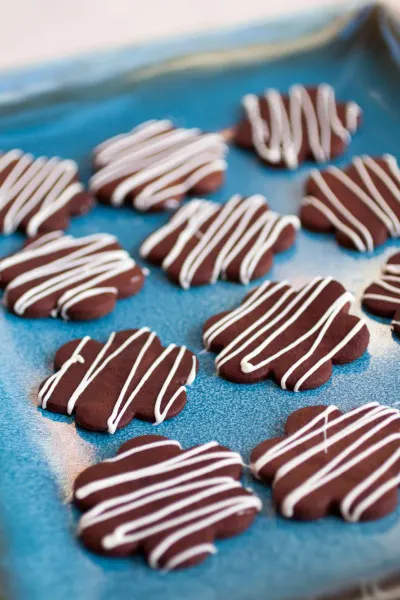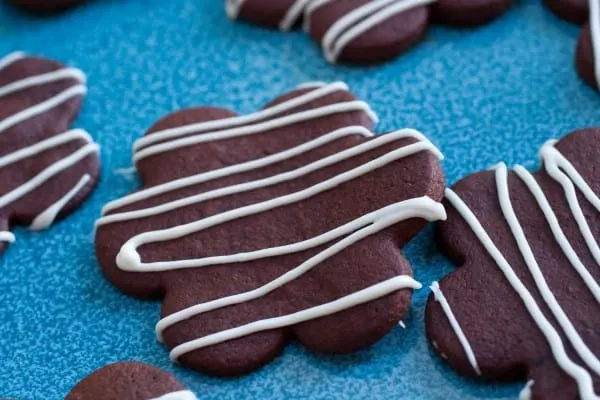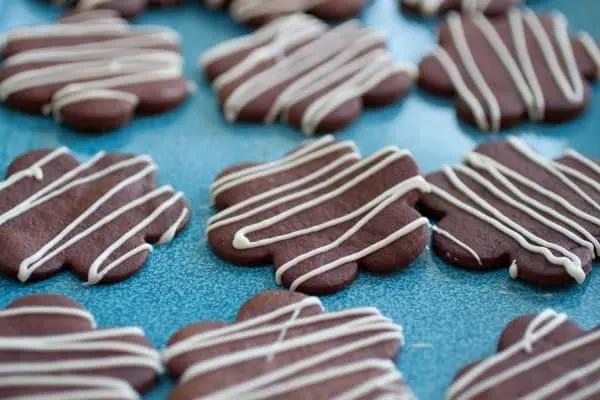 Yield: 24 cookies
Chocolate Sugar Cookies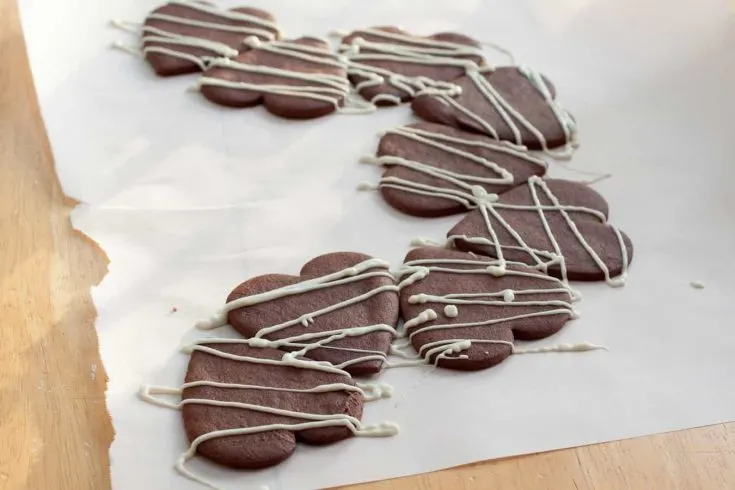 These chocolate sugar cookies are an awesome change-up from your traditional vanilla sugar cookies.
Ingredients
3 cups flour
1/2 teaspoon baking powder
1 cup salted butter, softened
1 1/2 cups sugar
2 large eggs
2 teaspoons vanilla extract
2/3 cup unsweetened cocoa powder
Instructions
Combine flour and baking powder in a bowl and stir until the baking powder is mixed into the flour.
Cream together the sugar and butter. Add eggs, vanilla, and cocoa powder. Mix until combined.
Add flour mixture and mix until combined. Chill dough for > 4 hours and up to a week. Remove from fridge 30 minutes prior to baking. Preheat oven to 350 when you remove the dough from the fridge.
Dust counter with cocoa powder and roll out cookies to 1/4 inch thickness. Cut out into cute shapes, transfer to a parchment lined baking sheet. Bake for 8 minutes. Remove from oven and cool on a wire rack. Drizzle with white chocolate baking melts.
Nutrition Information:
Yield:
24
Serving Size:
1
Amount Per Serving:
Calories:

189
Total Fat:

8g
Saturated Fat:

5g
Trans Fat:

0g
Unsaturated Fat:

3g
Cholesterol:

36mg
Sodium:

77mg
Carbohydrates:

26g
Fiber:

1g
Sugar:

13g
Protein:

3g
Nutrition data provided here is only an estimate. If you are tracking these things for medical purposes please consult an outside, trusted source. Thanks!
Recipe Credit –
Smitten Kitchen
As always…
Thank You for looking! I LOVE comments. Use the comment form below to interact, or if you like what you see, and want to see more, please feel free to jump on over to my Facebook page and like me there. I post teasers for upcoming recipes, answer any and all of your questions, and every recipe from here gets linked to there as well.

If you are a Pinterest fanatic like I am, you could also drop by and follow me there, and pinning my images is always appreciated!
Find me on Instagram!
Thanks for dropping by! Hope to see you again soon!
~Nicole~