Our Holiday Crab and Shrimp Cocktail Board is a great appetizer to serve to your family. It has a little something for everyone and can be customized endlessly to suit your needs.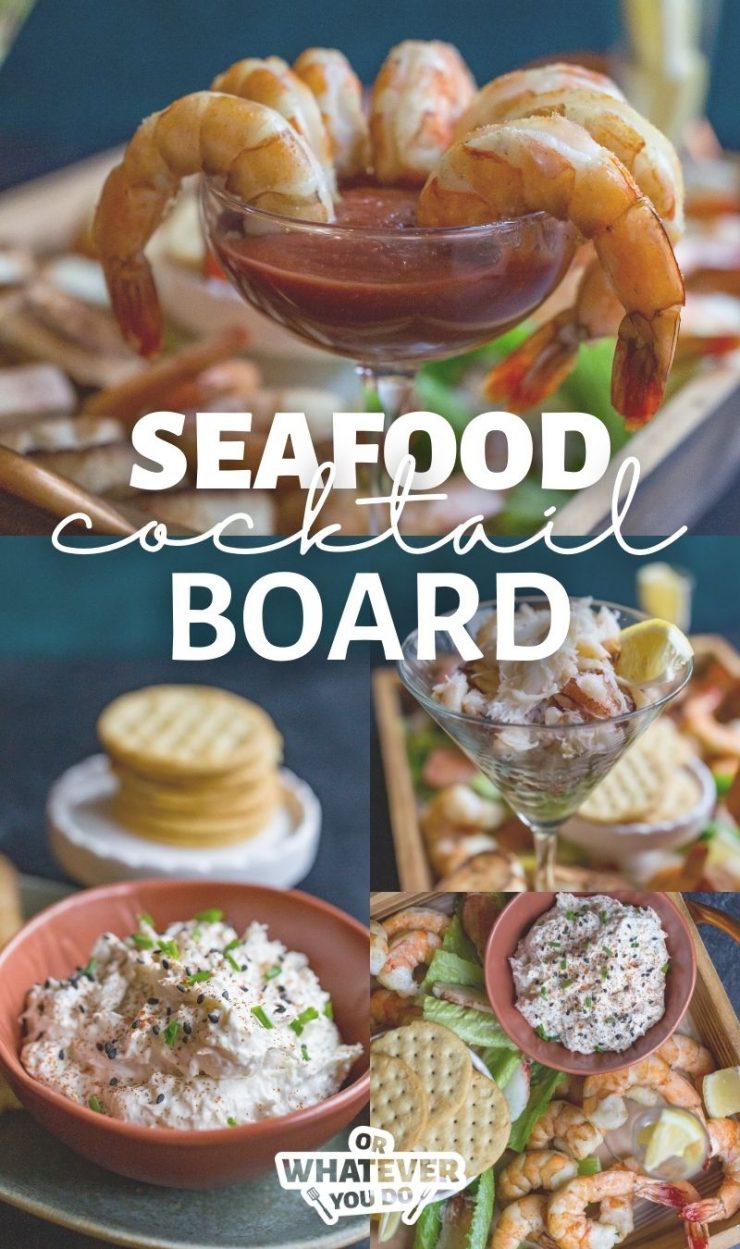 Crab and Shrimp Cocktail Board
It is holiday time, and one thing that I LOVE about holiday gatherings is the appetizers!
It is also the time of year when I tend to go ALL OUT on trying to make something really special, and I'm here to tell you that if a giant board of crab and shrimp and smoked fish and homemade smoked fish dip doesn't make you feel special just thinking about it, I don't know what will.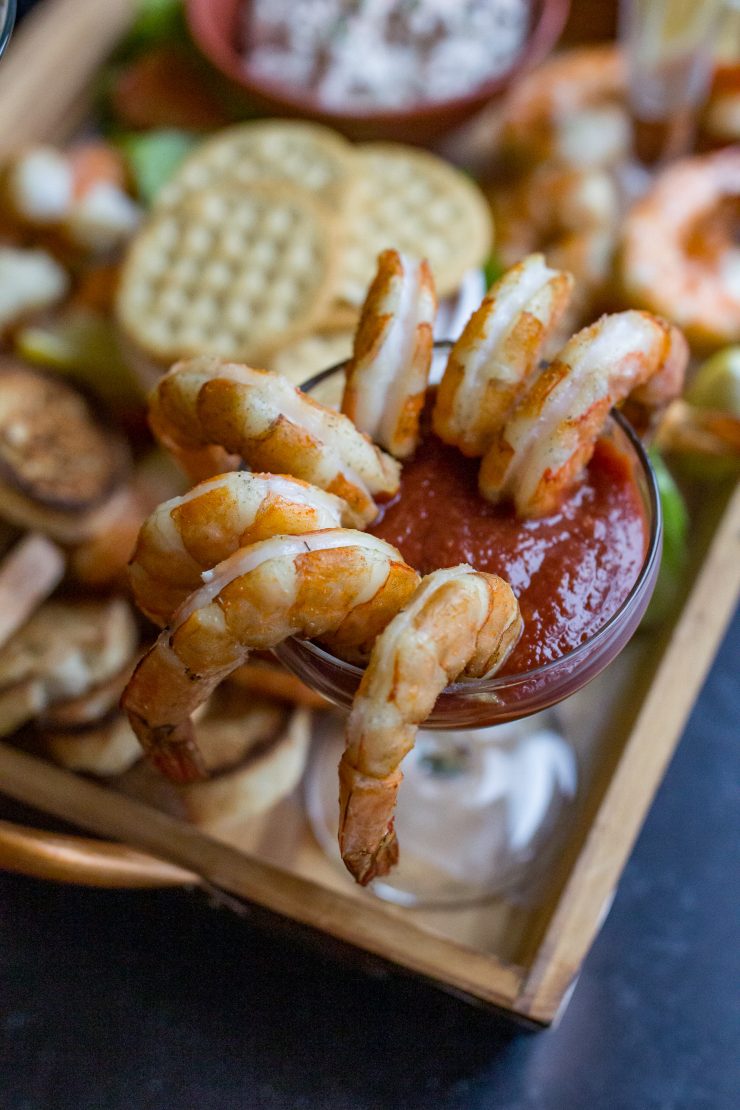 Why a Seafood Cocktail Board?
Individual shrimp and crab cocktails are cute, but when we do holidays we tend to have an appetizer smorgasbord that lives on my kitchen island, and people take a bit of everything. Making it into one big board is easier to serve and easier to store and set up in advance too.
To make things easier to grab, set out tongs and you can use lettuce to make individual crab cocktails to set on the board that are more grab-and-go friendly.
Include some cocktail sauce in the bottom along with a sprinkling of chopped celery.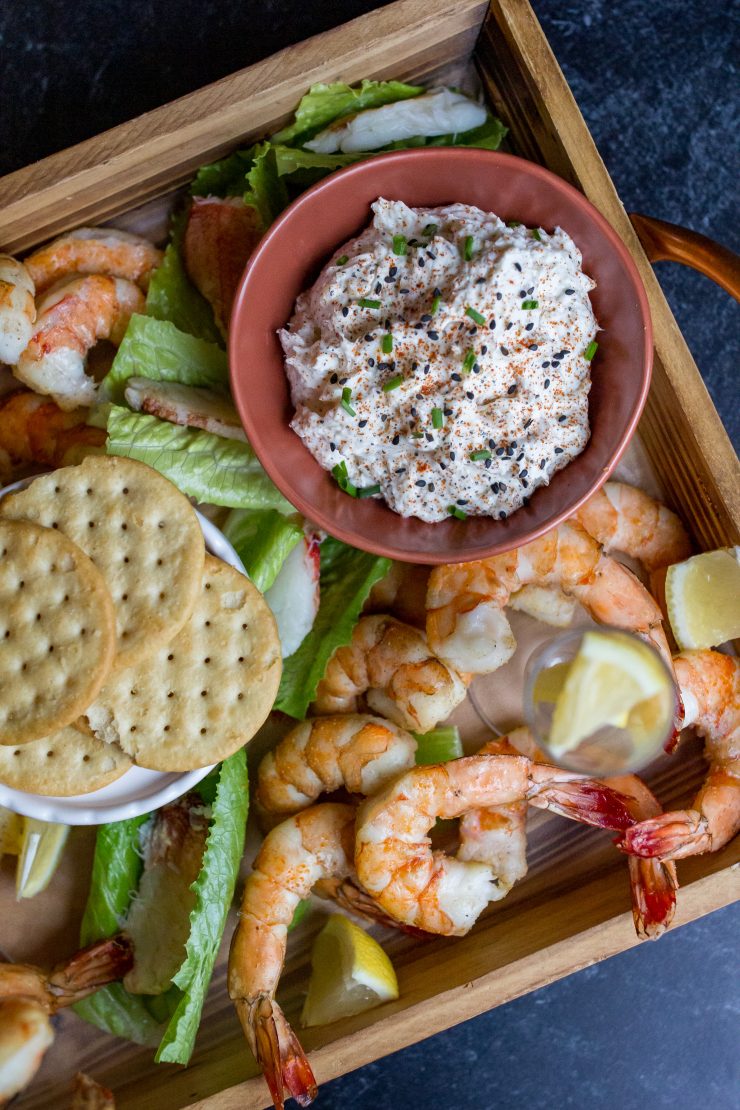 What should you include on your seafood cocktail board?
Crab
Shrimp
Smoked fish
Smoked fish dip
Cocktail sauce
Chopped celery
Lettuce
Crackers
Toasted baguette rounds
Crab Cocktail
On this board, we included a bunch of fresh Dungeness crab that's been shelled and put into a glass with chopped celery and cocktail sauce.
You could use snow crab, king crab, blue crab, or any kind of lump crab you'd like as long as it is real crab and not fake Krab.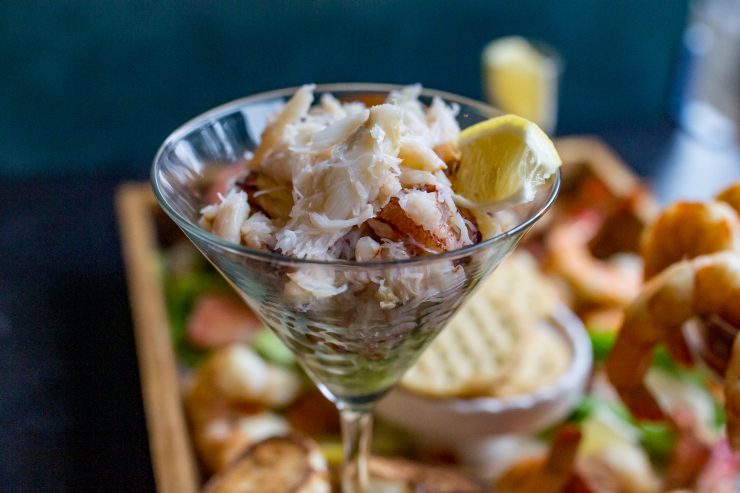 Shrimp Cocktail
On our board, we used our Traeger Grill and Chill Shrimp. It was incredible, and that's going to be my new "go-to" as far as shrimp cocktail is concerned.
If you'd like to use pre-cooked shrimp from the grocery store, you are welcome to. Sometimes you can get away with hitting the easy button and still putting out something amazing. Bite-sized shrimp is the best size for a shrimp cocktail.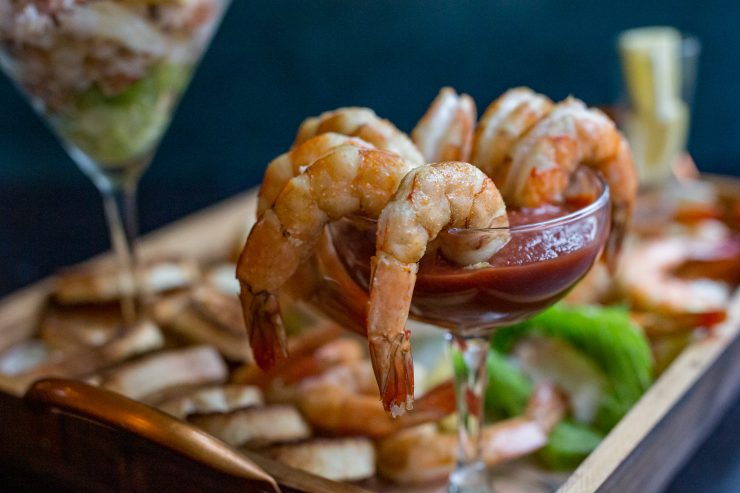 Smoked Fish
Smoked fish is a great addition to any seafood board, even though it doesn't actually get served with cocktail sauce.
Try our Maple Smoked Salmon recipe or our new Smoked Black Cod recipe for good options.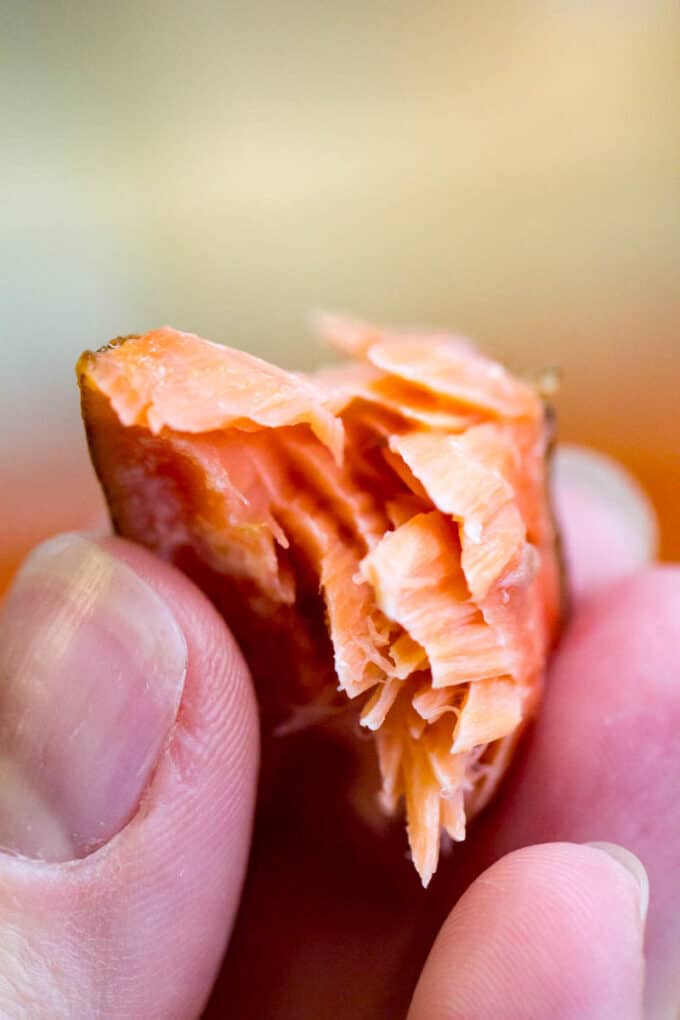 Smoked Fish Dip
As long as you have some smoked fish laying around, you might as well whip up a little batch of smoked fish dip too.
We have a fantastic Smoked Salmon Dip as well as a Smoked Black Cod Dip to choose from.
Cocktail Sauce
Cocktail sauce is an important part of this board since the majority of the board relies on it for a condiment. There are a lot of great options out there straight off the shelf. My favorites are local and require refrigeration.
You can also make your own cocktail sauce using your favorite recipe, like this easy cocktail sauce recipe from Life's Ambrosia, if that's your jam.
Lettuce, Celery, Crackers, & Toasted Rounds
These are all extras that compliment the other items on the board, so use at your discretion and pick your favorites.
Another great addition would be some smoked nuts, like these Sweet and Spicy Smoked Nuts from Grill Girl.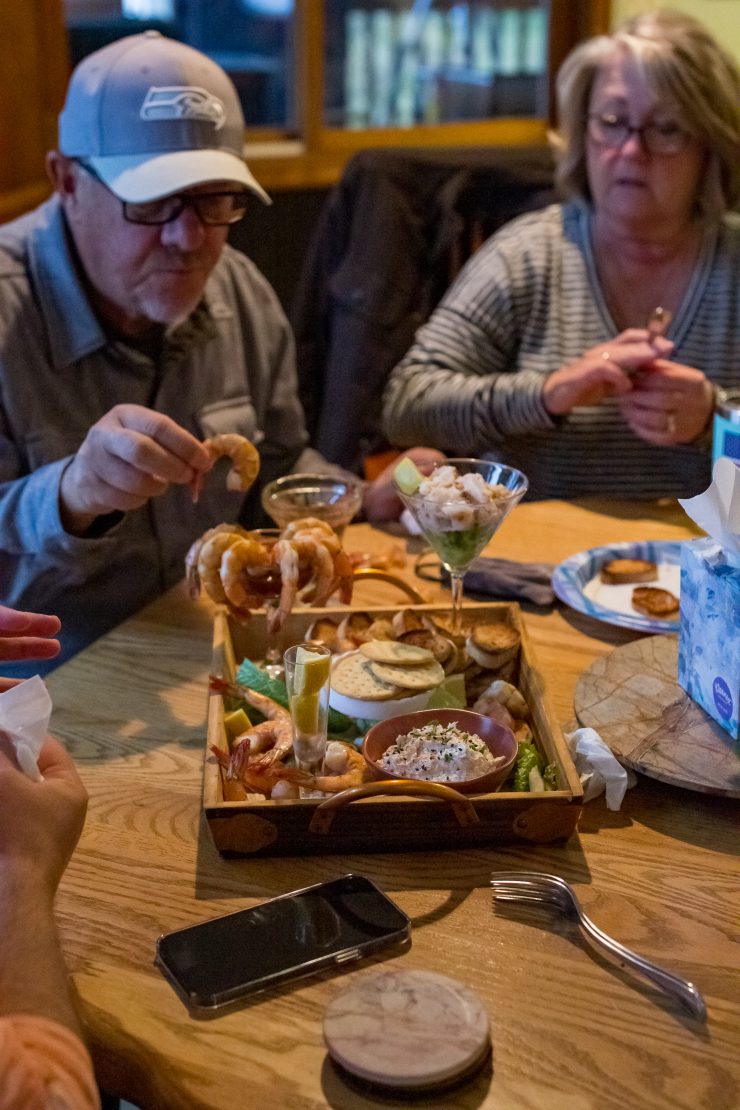 More great holiday recipes to love!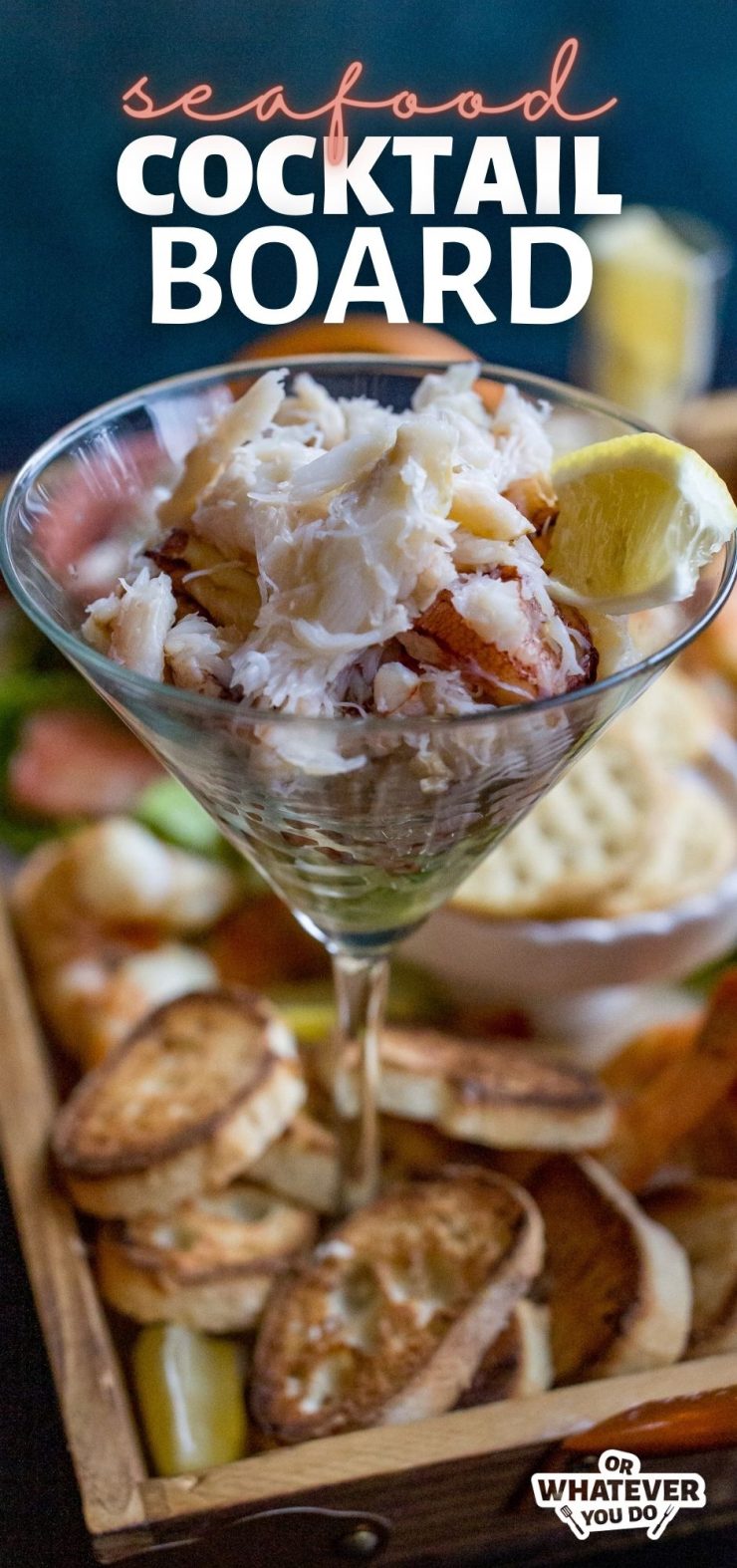 Yield: 8 servings
How to make a seafood cocktail board for the holidays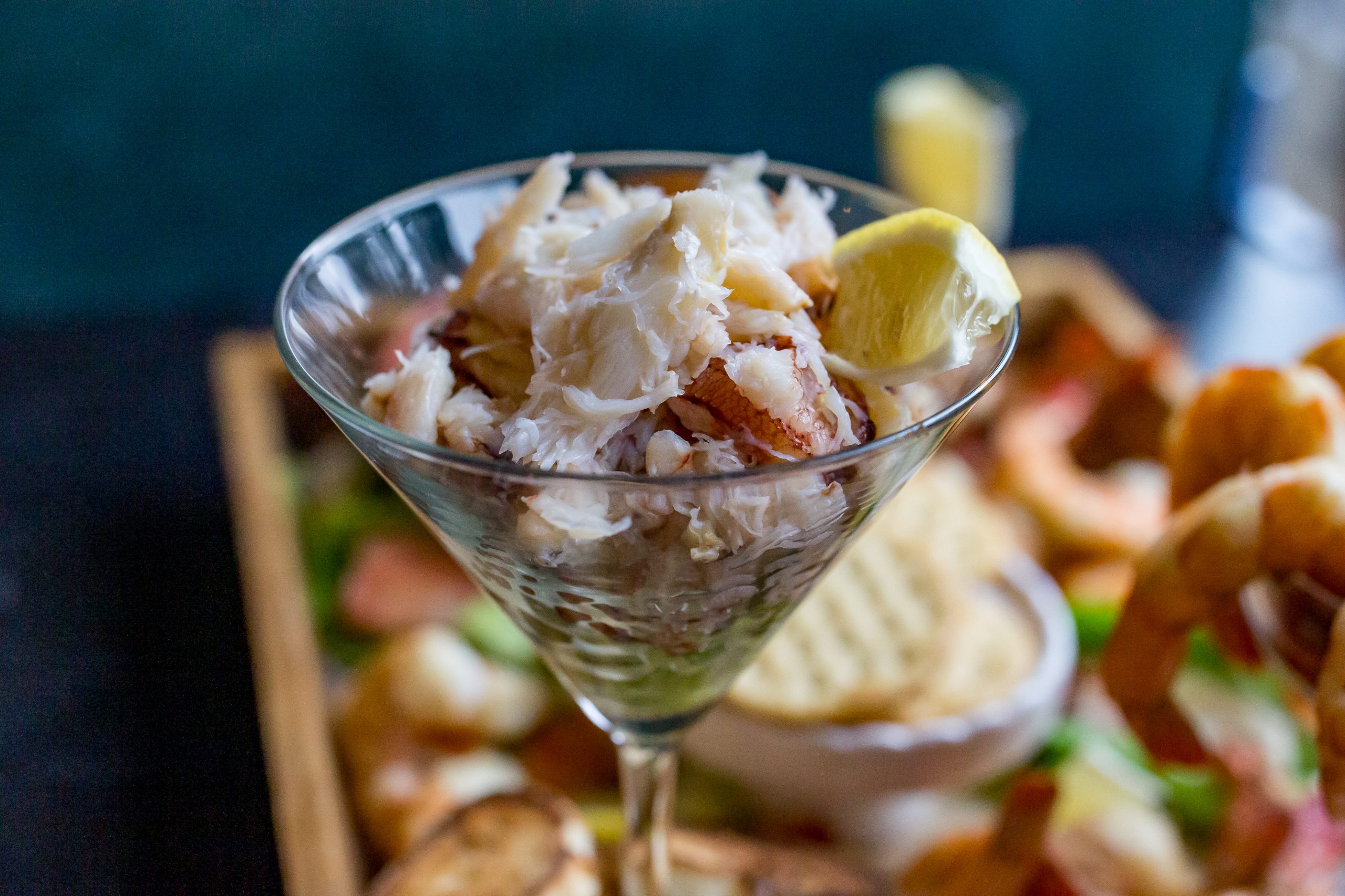 Putting together a seafood cocktail board is easy, and perfect for making the holidays special!
Materials
1 large board
2-3 small cups for cocktail sauce
Martini glass (optional)
Crabmeat
Shrimp
Smoked fish
Smoked fish dip
Celery
Lettuce
Crackers
Toasted rounds of baguette
Lemon
Instructions
Line the board with Press and Seal for easy clean-up. This is optional but I highly recommend it!
Layout your cocktail sauces, and any taller items you are using to build the board, like the martini glass.
Lay the rest of the ingredients out around the larger items on the board.
Serve cold with tongs and mini forks.
Recommended Products
As an Amazon Associate and member of other affiliate programs, I earn from qualifying purchases.