Our Blackstone Monte Cristo sandwich stopped just shy of hitting the deep fryer to give you that classic diner taste without quite so many of the classic diner calories.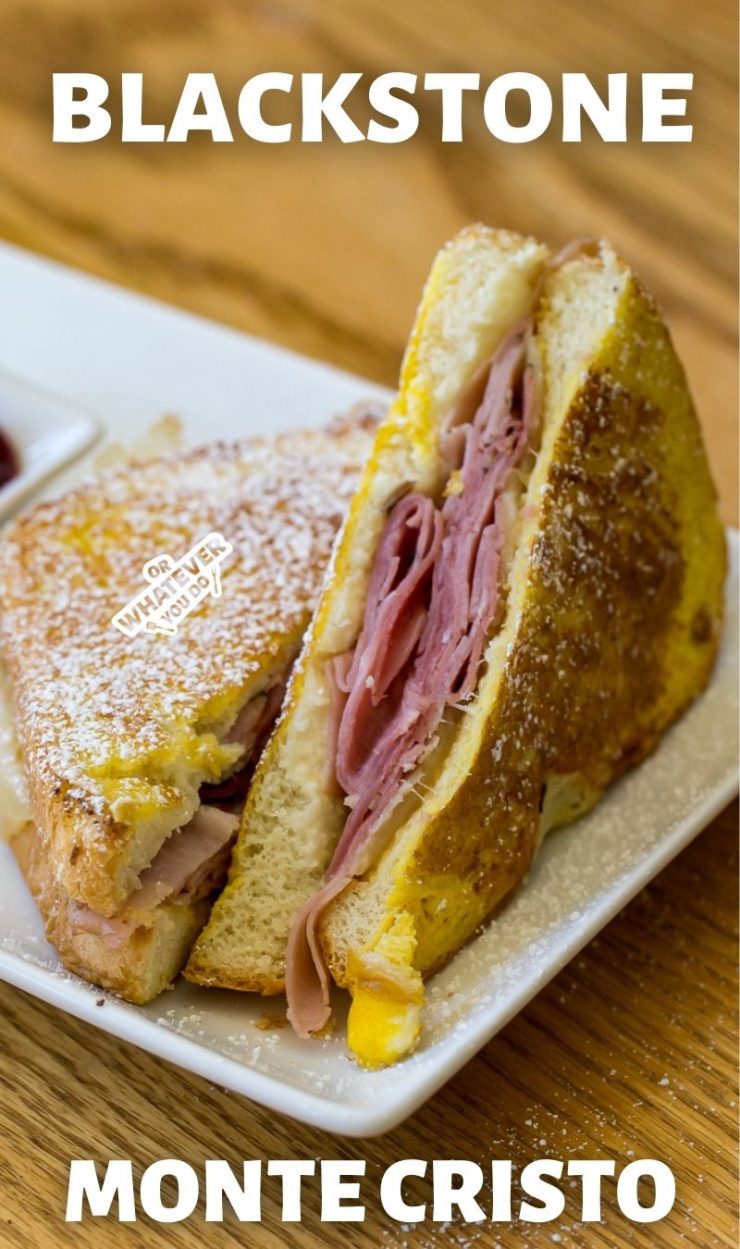 Blackstone Monte Cristo
I said "quite so many calories", but let me be clear. This is NOT low-calorie, low-carb, low-fat, or low anything. We're not compromising much here, just being a little lazy because there aren't a lot of things I'm willing to do a full "deep fry" for, and a sandwich just isn't one of them.
Get all of my BLACKSTONE RECIPES here!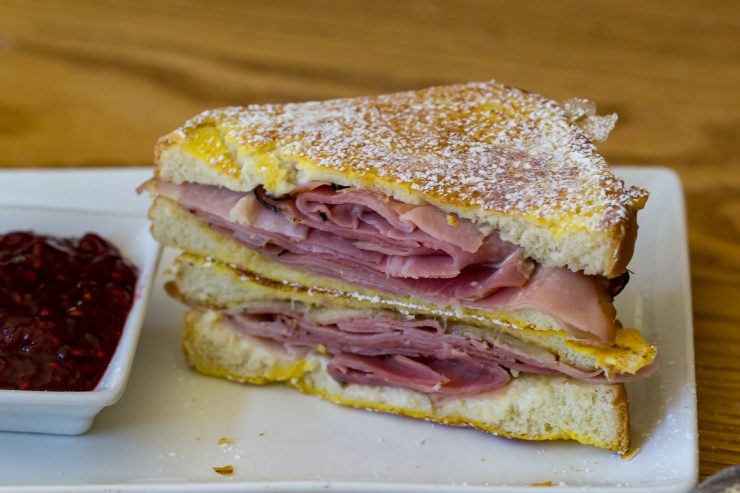 What is a Monte Cristo?
A Monte Cristo is a sandwich made with ham and cheese, then doused in an egg batter before being pan-fried, dusted with powdered sugar, and served with a side of fresh raspberry jam.
Some versions even include turkey in the mix, and some common cheeses that tend to be included with a Monte Cristo are swiss and gruyere.
Most versions also have a smear of mustard and mayo in the sandwich too.
Need more lunch ideas?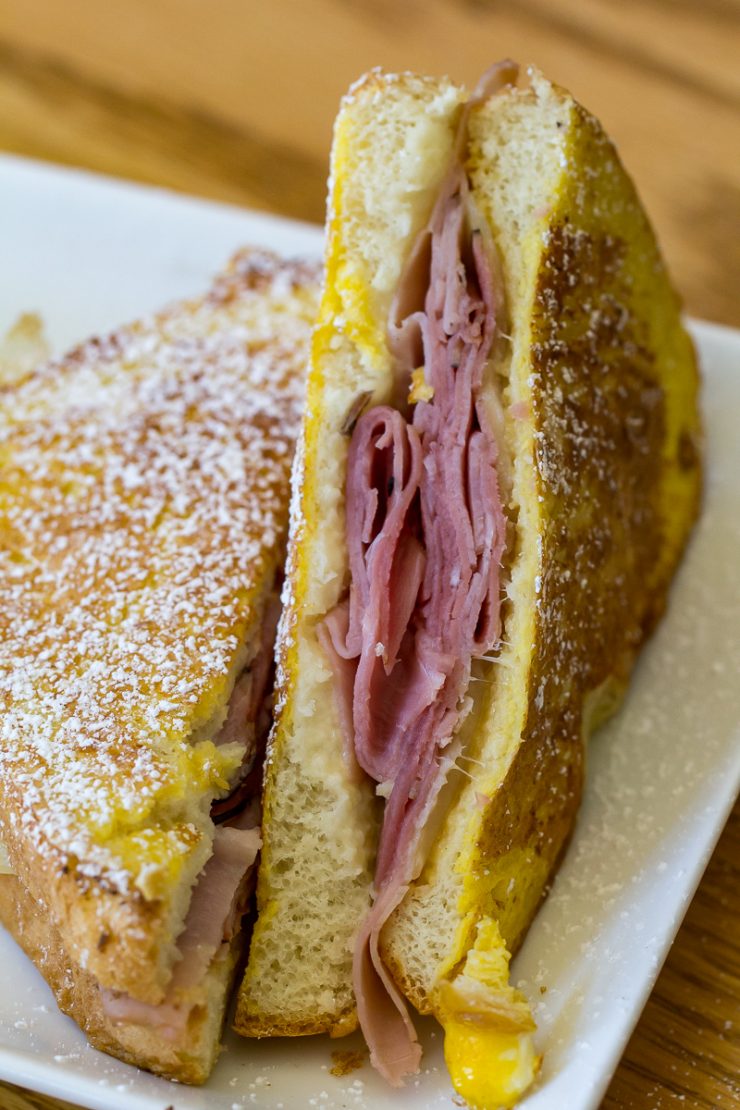 What kind of bread is best for a Blackstone Monte Cristo?
For this version, I used my favorite white bread – N @ k e d bread. Spelling it weird there so the Googs doesn't think that we're talking about any kind of funny business here. Besides my love of bread, that is.
I love this bread because it is one of the best brands I've found that doesn't include any kind of potato in it since we have to avoid that due to a food allergy in the family.
It is soft, big enough to make decent-sized sandwiches, and all of the kids like it too.
You can use your favorite kind of white bread for this, or if you want to get a little crazy you can use brioche too. Next time I whip up a batch of milk bread rolls, I'm going to make sure to make some into loaf form for sandwiches.
Follow me on Instagram!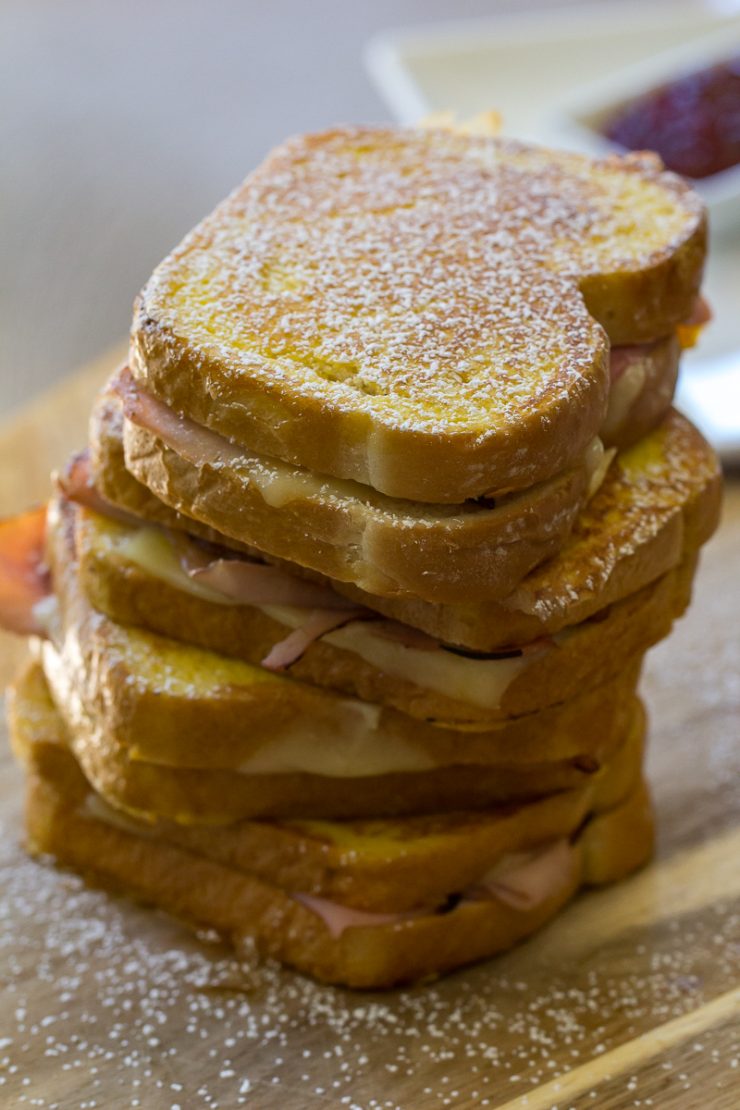 What's the difference between a Croque Monsieur and a Monte Cristo?
The egg dip and the subsequent fry are the main differentiators between these two sandwiches.
A Croque Monsieur is a grilled ham and cheese sandwich that often has some more cheese grated on top, and then that cheese is melted and browned.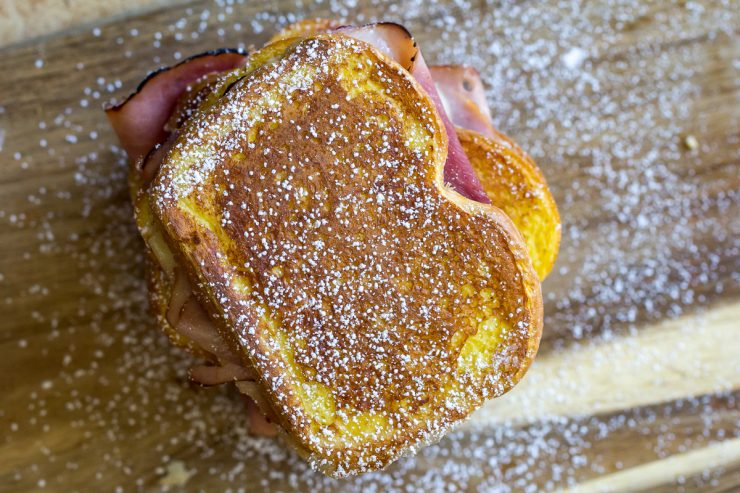 What else can I use inside the sandwich?
You can get as crazy or as simple as you'd like. For my kids, I omitted the sauce completely. For all the people with actual taste buds, I like to put mayo and mustard inside.
I like a really sharp, vinegary mustard for this so it cuts through the cheese and batter once you get to it. You use what you like best, though!
Try it with this fancy maple champagne mustard!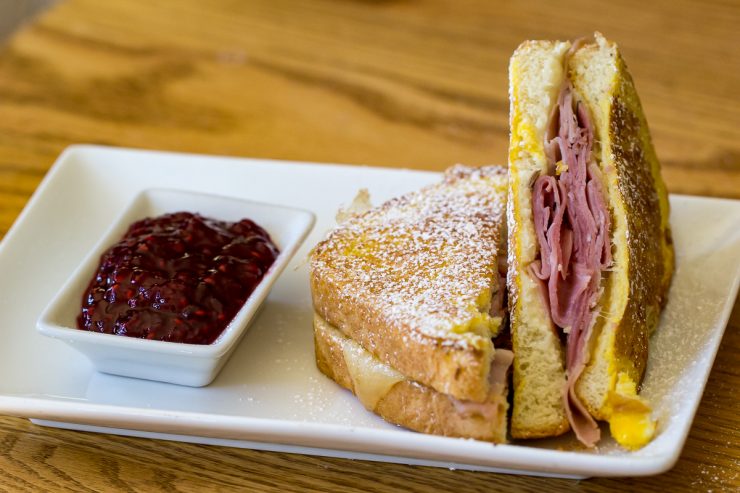 What kind of ham is best in a Monte Cristo?
When I made the sandwiches here, I used some high-quality Black Forrest Ham that was thin-sliced from the grocery store.
What I'd LIKE to do next time I make these though is to use some of our Double-Smoked Pineapple Glazed Ham.
Get my easy Side Dish recipes!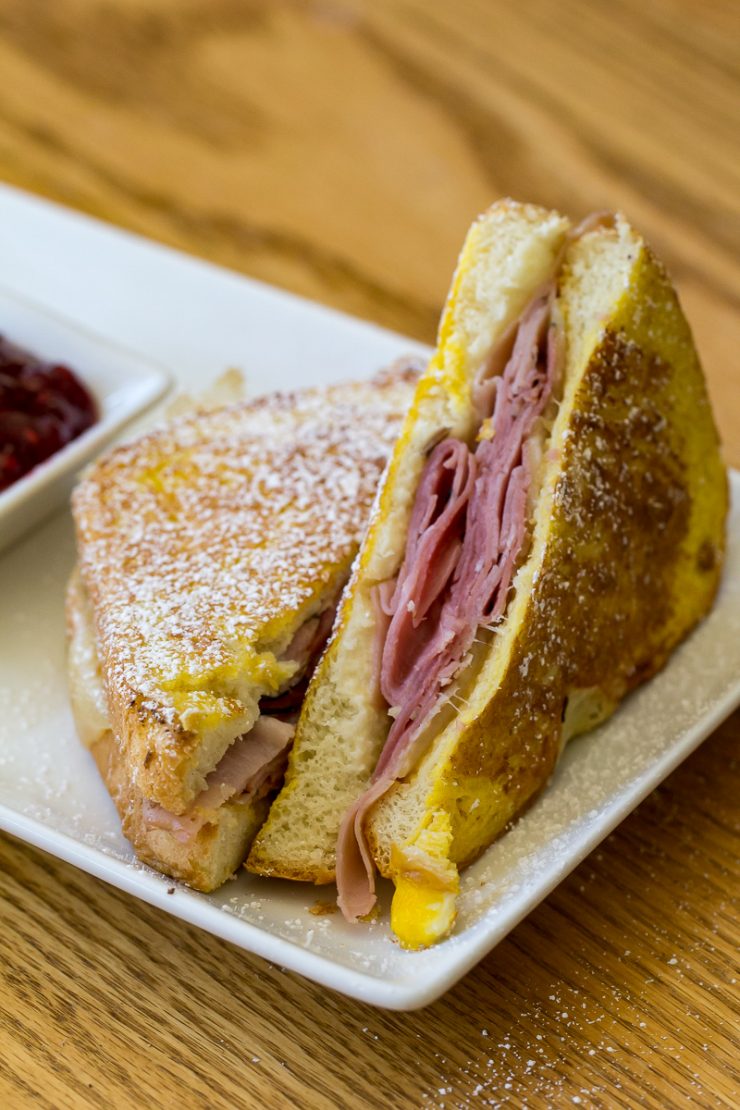 What else can you serve with a Blackstone Monte Cristo?
When I'm having sandwiches, I usually want a soup and/or salad along with it.
How about my Greek Salad to start things off, followed by this Monte Cristo and a bowl of Broccoli Cheese Soup?
Do you like kale? Try this Roasted Squash and Kale salad from The Culinary Compass!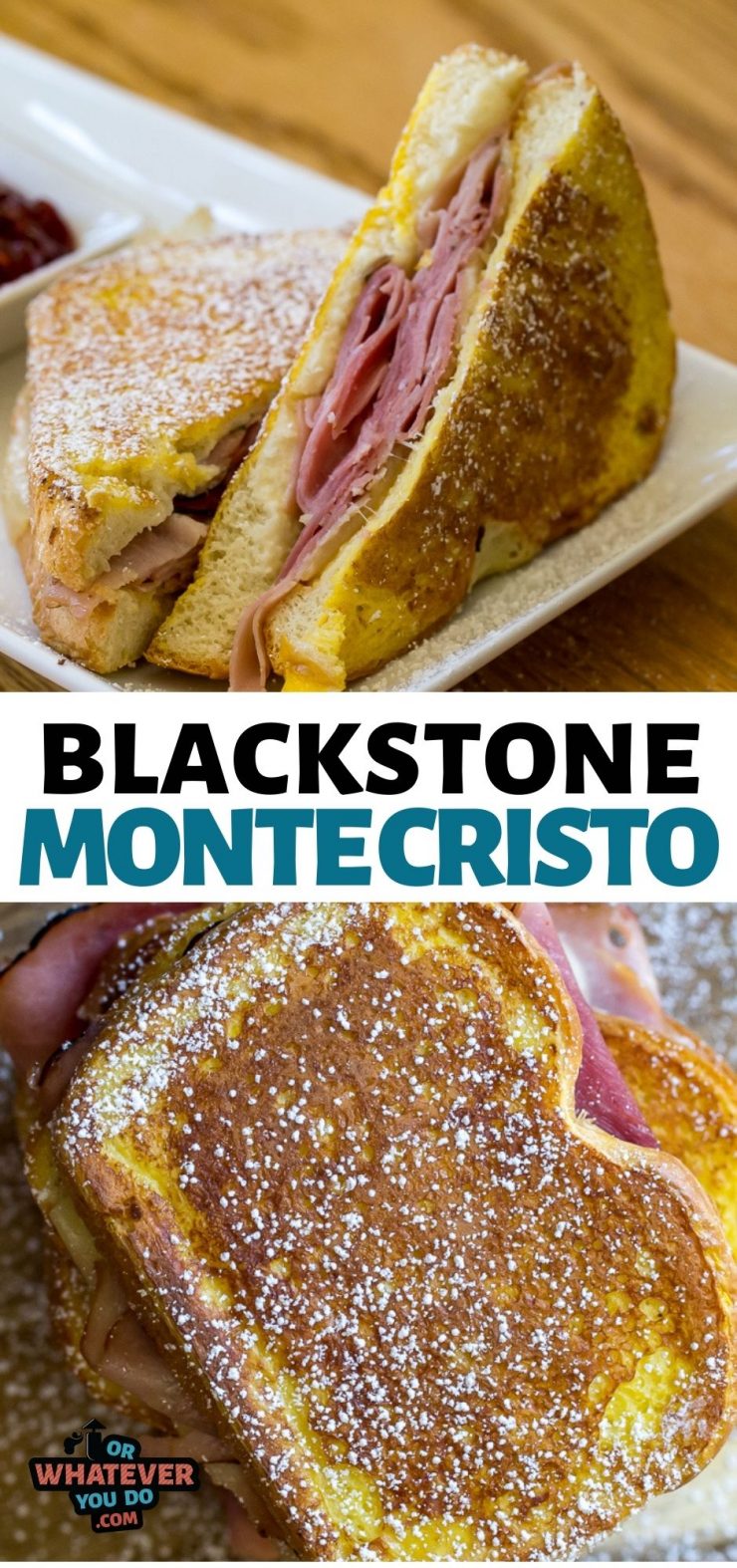 Yield: 6 servings
Blackstone Monte Cristo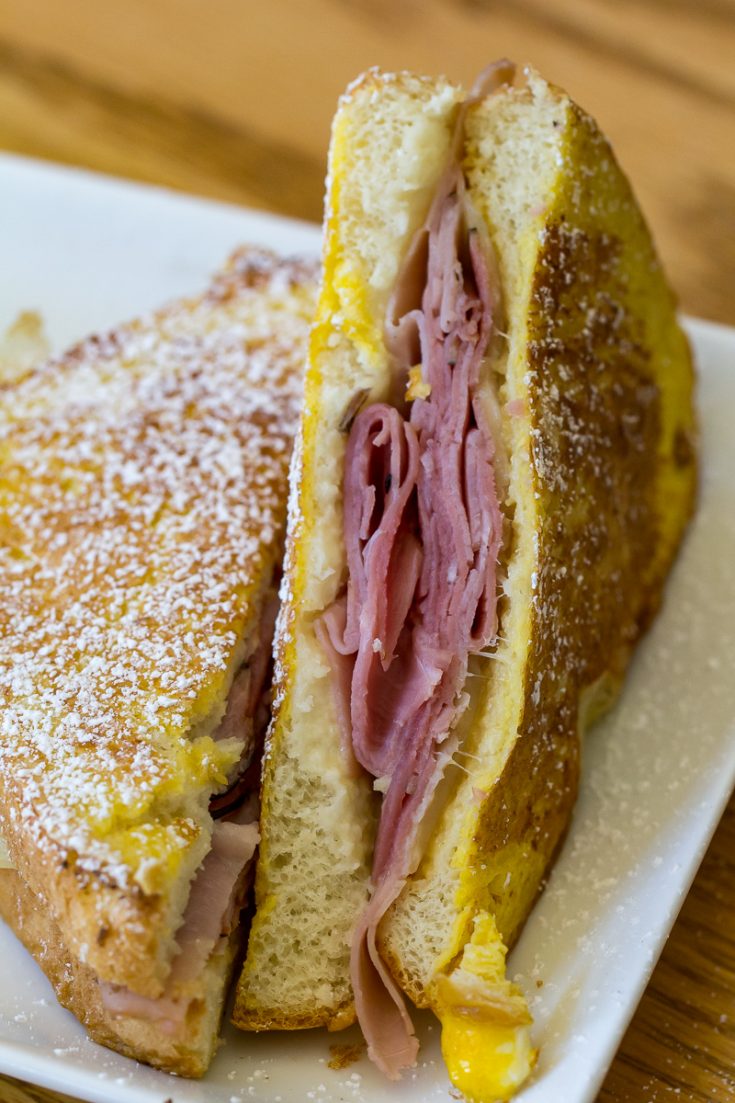 This delicious take on the Monte Cristo is made right on your Blackstone Griddle! Ham, cheese, and French Toast (basically) make up this classic diner sandwich. Don't forget the raspberry jam!
Ingredients
4 eggs
1/3 cup half and half
12 pieces of white bread
2 tablespoons mayo
2 tablespoons mustard
18 thin slices swiss or gruyere cheese
2 pounds deli thin-sliced ham
powdered sugar
Instructions
Preheat your griddle over medium-low heat.
Take the eggs and half and half and whip them together until combined in a large shallow dish.
Drench ONE side of your bread in the egg wash. Set down on a parchment-lined baking sheet, eggy side down, in a single layer.
Spread 1 teaspoon of mayo and 1 teaspoon of mustard on each sandwich bread pair, with mayo on one piece and mustard on the other.
Place one piece of cheese on each slice of bread. Evenly distribute the ham across all 12 pieces of bread.
Take the remaining 6 slices of cheese and place it on ONE half of each sandwich bread pair. (You want there to be 3 pieces of cheese in each sandwich.)
Marry the sandwich halves to make full sandwiches.
Generously butter the griddle and place the sandwiches onto it. Press down gently with a large spatula, and cover.
Cook until the bread is browned and the egg mixture is set, and then flip it over and cook covered on the other side until browned.
Remove and dust with powdered sugar and serve with a side of raspberry jam.
Recommended Products
As an Amazon Associate and member of other affiliate programs, I earn from qualifying purchases.
Nutrition Information:
Yield:
6
Serving Size:
1
Amount Per Serving:
Calories:

944
Total Fat:

50g
Saturated Fat:

23g
Trans Fat:

1g
Unsaturated Fat:

20g
Cholesterol:

325mg
Sodium:

2170mg
Carbohydrates:

53g
Fiber:

2g
Sugar:

27g
Protein:

71g
Nutrition data provided here is only an estimate.