Panko Shrimp are like a batter-fried shrimp epiphany. The revelation of golden crunchy panko crumbs makes your typical fried shrimp so much more exciting. You taste the shrimp, not just the batter.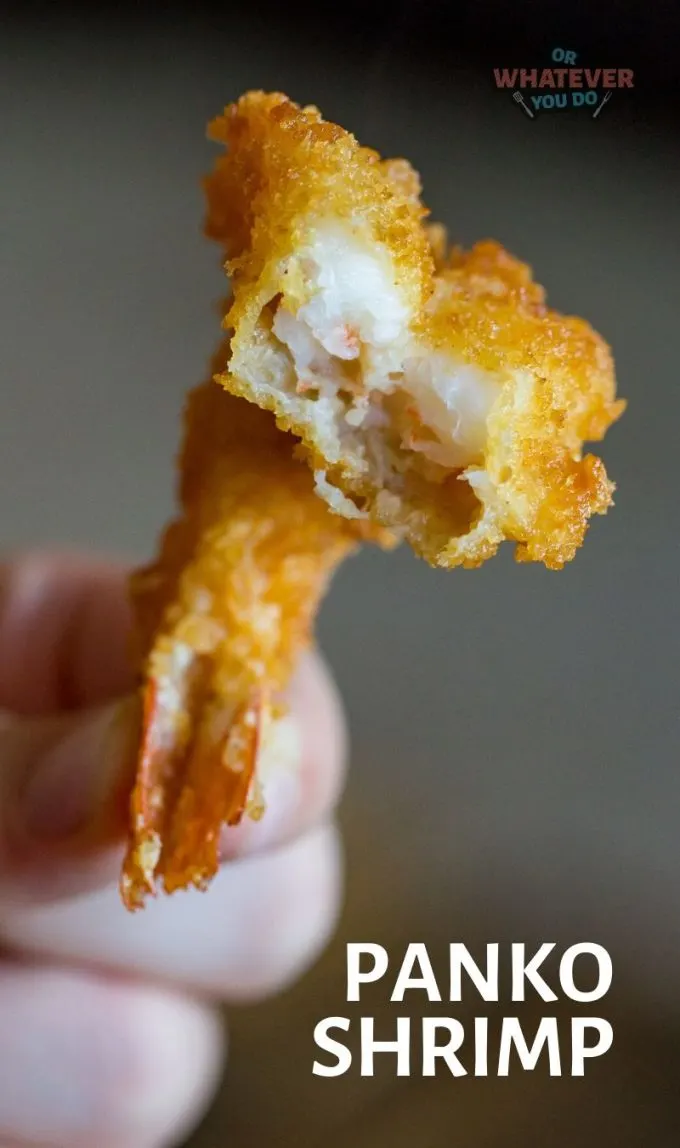 Panko Breaded Fried Shrimp Recipe
Fried shrimp are one of the all-time great appetizers. If you have ever had them tempura style, or New Orleans style in a shrimp po'boy, then you know how great fried shrimp can be.
Using panko bread crumbs to create fried shrimp works amazingly well. The light and flat shavings of panko crumbs allow the breading to fry up perfectly and get crispy and golden. They also help drain the extra oil off quickly and easily.
So, forget those days of greasy fried batter being all you taste on your shrimp!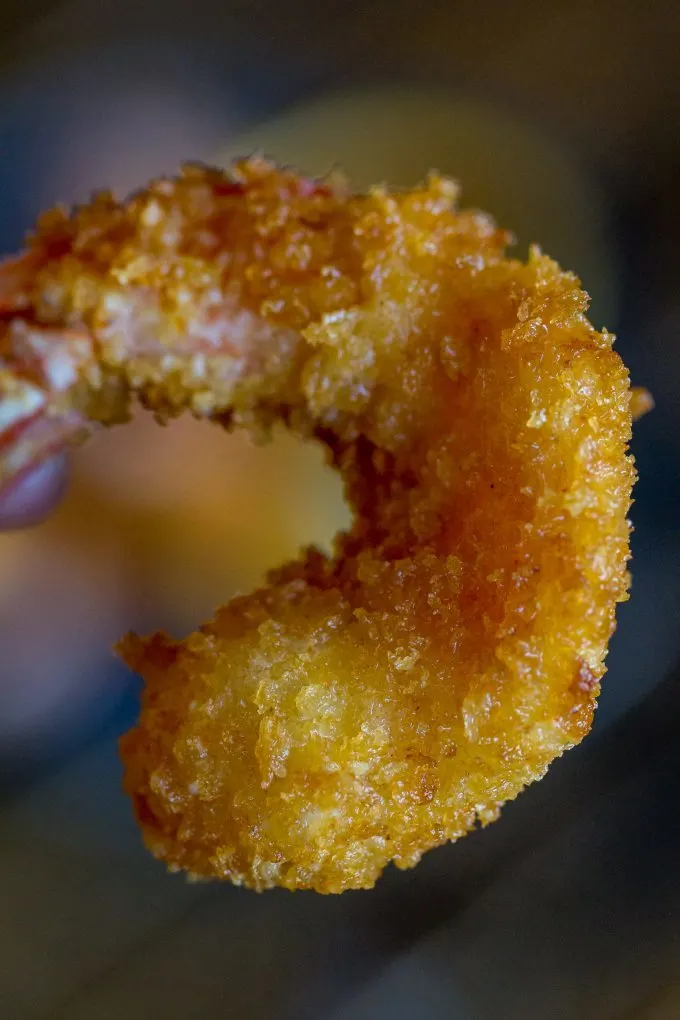 What Is Panko?
Panko bread crumbs are Japanese style bread crumbs. They differ from regular seasoned or unseasoned bread crumbs in a few key respects.
For starters, panko crumbs are shaved from specially baked bread that is "crustless", so that keeps all the crumbs very similar in color and texture. Next, panko features larger "flakes" of bread crumbs.
The larger flakes result in lighter and crispier breading when fried. The wide surface area allows hot oil to drain quickly and easily, so they stay nice and crisp, not greasy.
Best of all, panko bread crumbs make everything look extra crunchy and perfectly flaky. Also,the extra crispy crust helps keep some air underneath the shrimp. This helps prevent the bottom from becoming soggy!
More Amazing Appetizers here!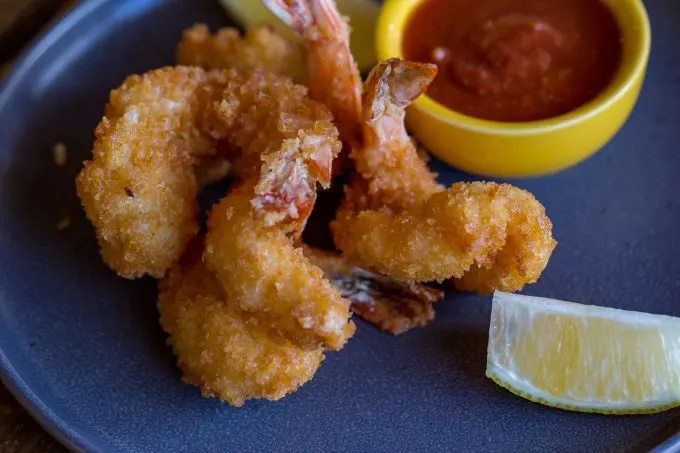 What Kind Of Shrimp Work Best For Panko Breaded Fried Shrimp?
Truth be told, you can use any type of shrimp for panko-breaded fried shrimp. But since we're going to be butterflying these you'll want to use shrimp with a bit of heft to them. So I recommend the medium to larger sizes.
Shrimp come by the "count". This refers to the approximate number of shrimp needed to make a pound. So a "9/10 count" has the larger shrimp; whereas the "40/50 count" will be those shrimpy shrimp. I recommend using anything from 20/25 count or larger.
The larger shrimp remind you that it is a shrimp. With those tiny shrimp, everyone is going to wonder if there is actually a shrimp underneath those big flakes of panko.
SHRIMP, SHRIMP, and MORE SHRIMP RECIPES are waiting for you!
The Right Temperature For Panko Breaded Fried Shrimp
Shrimp cook very quickly. Fortunately panko also browns quickly. This is another reason panko crumbs make the perfect compliment to fried shrimp. If your oil is between 375 and 400 degrees then you are ready to go.
Some folks favor briefly freezing their battered shrimp before adding them to the hot oil. Others like to go right from the breading into the fryer. Either way is fine. However, keep in mind frozen shrimp will decrease your oil temp quickly.
So, if you have breaded and frozen your shrimp first, then don't add too many shrimp at once.
Actually, make sure either way not to crowd too many shrimp in the oil. You want plenty of space, so that they can fry evenly.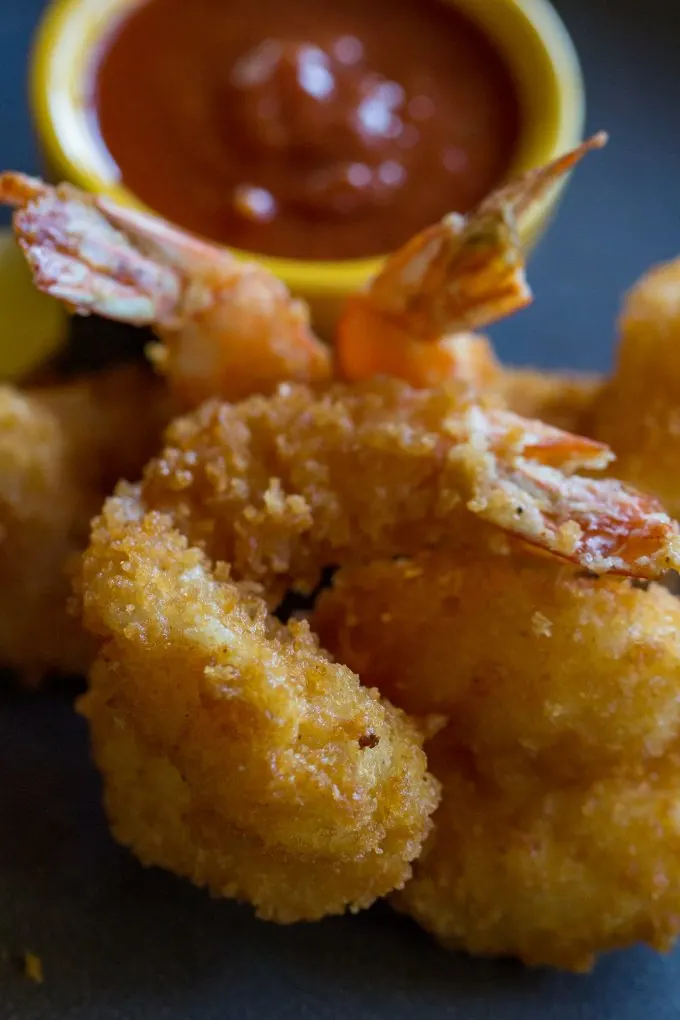 What Kind Of Oil Works Best For Panko Breaded Fried Shrimp?
Any kind of oil that has a high burning point works, for example vegetable oil, peanut oil, avocado oil, sunflower, or coconut oil.
If you want them to have a touch more Asian flair, then go with coconut or peanut oil.
More health-conscious? Then try avocado oil. Otherwise, any other oil that will not smoke at those high temps will do.
You'll love these COCONUT SHRIMP too!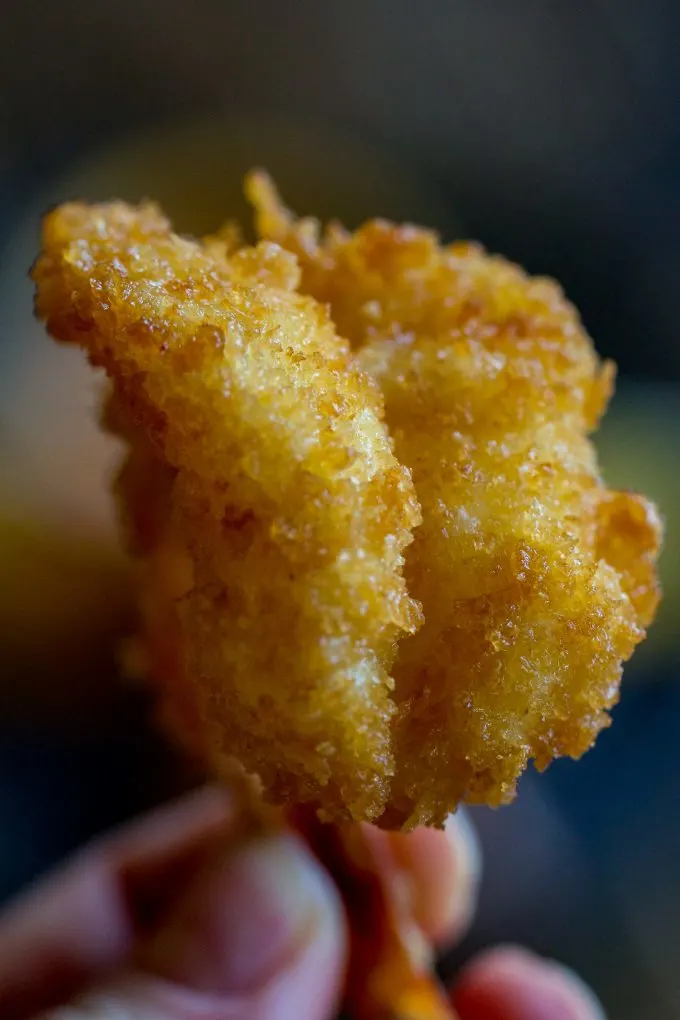 Can I Bake My Panko Breaded Shrimp?
If you have to avoid fried food for health reasons, then baking them works too. You just need to spray them lightly with a spray-on oil that will help them brown up. Also, you will need a much higher temp if you use an oven. Heat your oven to 450-475°.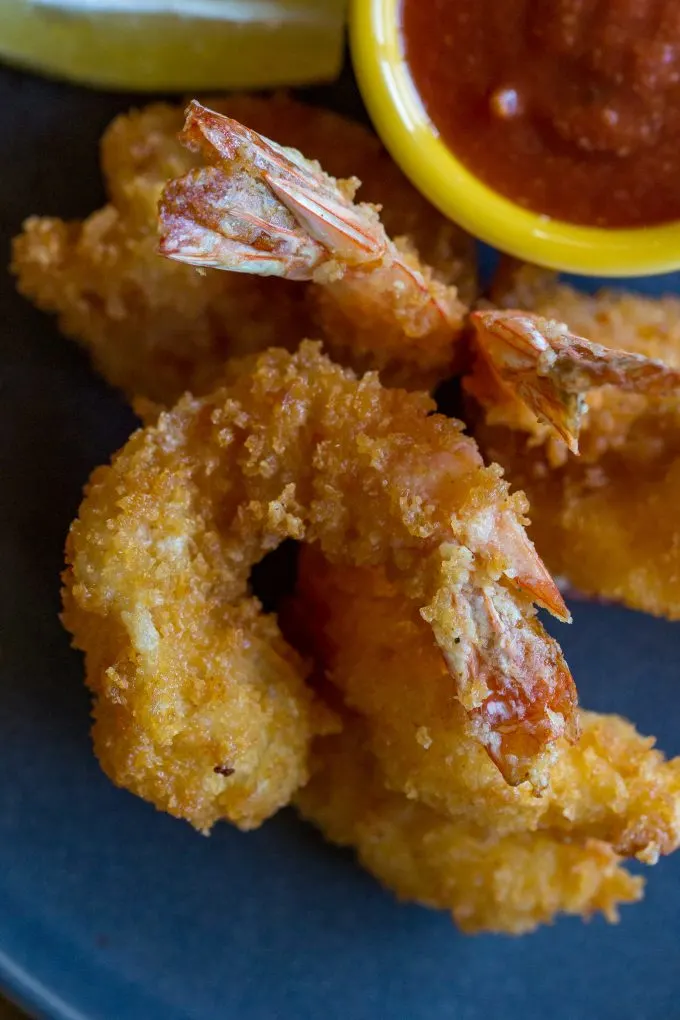 What Kind Of Sauces Do You Recommend with Panko Shrimp?
Panko breaded fried shrimp work with a wide variety of sauces. Traditionally these are served with a wedge of lemon and cocktail sauce, but you can try the following for a change-up as well.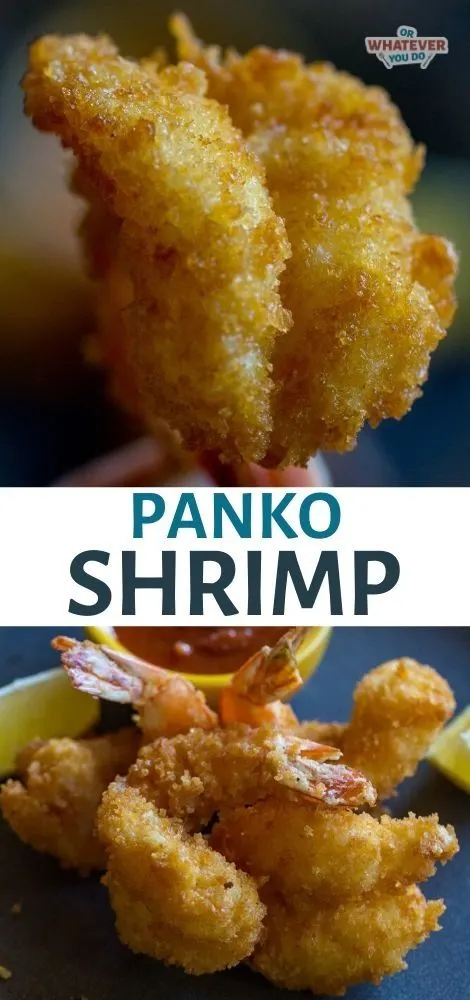 Yield: 12 servings
Panko Shrimp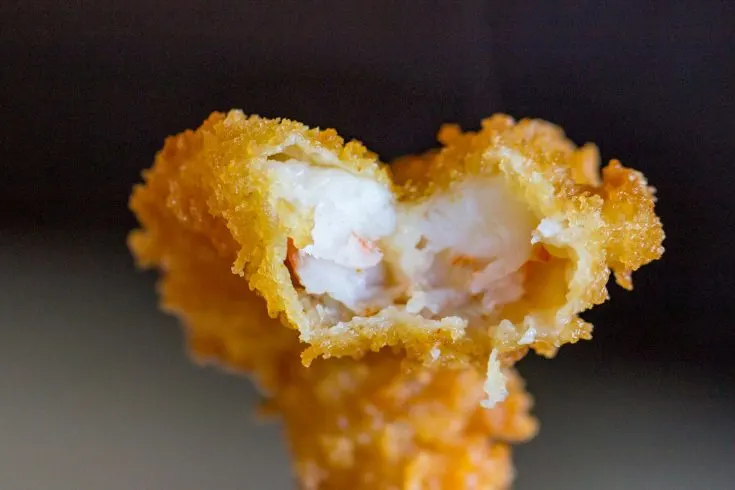 Our crispy butterflied panko shrimp are so crunchy and delicious, you're going to want to make a meal out of them. Quickly fried and then dipped into your favorite sauce, the whole family will love these for dinner or as an appetizer.
Ingredients
2 pounds raw shrimp 16-20 count, shells and tails off
1 cup flour
1 1/2 teaspoons salt
1/2 teaspoon black pepper
3/4 cup Panko
4 eggs
6 cups vegetable oil
Instructions
Butterfly your shrimp carefully and set aside.
Combine the flour, salt, pepper, and panko in a shallow bowl and set aside.
Crack the eggs into a bowl and whisk vigorously with a fork or whisk. Set aside.
Place the oil into a heavy-bottomed pot or high-sided frying pan, and heat over medium to medium-high heat.
While the oil is heating, prep your shrimp by dipping it in the egg mixture and then into the breading mixture, coating all sides evenly.
Set onto a plate carefully and continue breading the rest of the shrimp.
Once the oil is preheated, fry the shrimp in batches for 3-4 minutes, or until they are golden brown and crispy.
Remove from the oil to a paper-towel covered plate, and serve hot with sweet chili sauce.
Recommended Products
As an Amazon Associate and member of other affiliate programs, I earn from qualifying purchases.
Nutrition Information:
Yield:
12
Serving Size:
1
Amount Per Serving:
Calories:

451
Total Fat:

6g
Saturated Fat:

3g
Trans Fat:

0g
Unsaturated Fat:

2g
Cholesterol:

157mg
Sodium:

788mg
Carbohydrates:

71g
Fiber:

4g
Sugar:

4g
Protein:

25g
Nutrition data provided here is only an estimate. If you are tracking these things for medical purposes please consult an outside, trusted source. Thanks!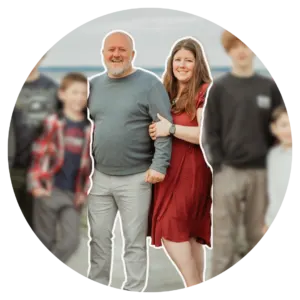 Nicole Johnson, a self-taught expert in grilling and outdoor cooking, launched Or Whatever You Do in 2010. Her blog, renowned for its comprehensive and creative outdoor cooking recipes, has garnered a vast audience of millions. Nicole's hands-on experience and passion for grilling shine through her work. Her husband, Jeremiah Johnson, also plays a pivotal role in recipe development, adding his culinary flair to the mix. Together, they form a dynamic duo, offering a rich and varied outdoor cooking experience to their followers.